Please join us in welcoming Tina from Dessert for Two to the Tasty Kitchen Blog! She's tempted us for years with all kinds of sweet and savory creations, and what better way to start things off than with these cookies from Sarah. They look perfect! Welcome to the TK Blog, Tina, and thanks for the recipe, Sarah!
When Sarah submitted this recipe to Tasty Kitchen and called it World's Best Chocolate Chip Cookies, you know I'm going to check her. I just appointed myself the official tester of all "world's best recipes." Life is pretty sweet.
So, girlfriend claimed world's best, and I claim she's right. Sarah's chocolate chip cookie recipe has a few unusual ingredients, and it has very specific instructions. I love a recipe with very strict instructions. It doesn't mean I always follow them, but it does mean that I try it exactly as written the first time around. In this case, I tested the recipe with a 2-hour freezing period, like Sarah recommends, and without a freezing period. Sarah was right, again. Girlfriend knows her cookies! Let's all tip our hats to Sarah for bringing the world dense, thick chocolate chip cookies the size of scones!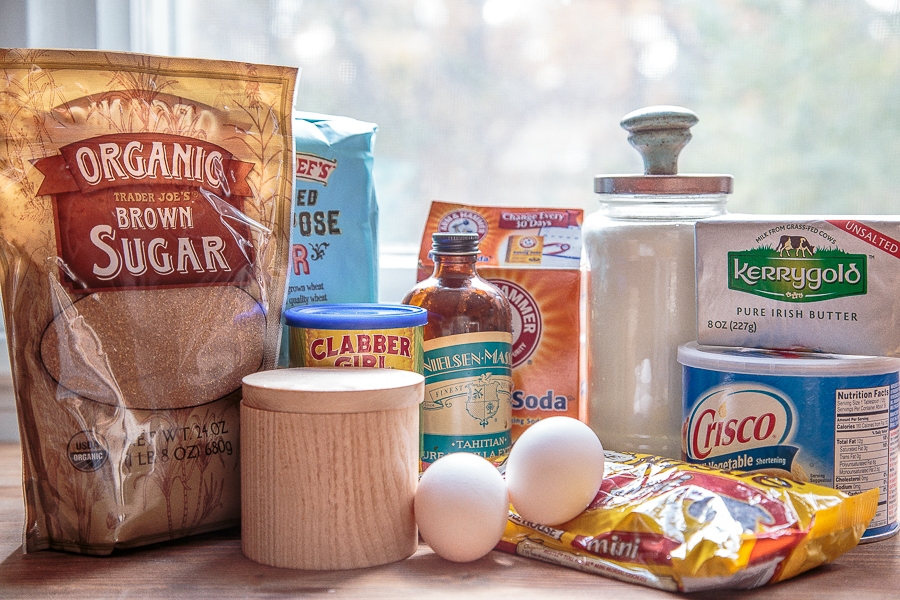 Here's your lineup of ingredients. Pretty standard for CCC (chocolate chip cookies, if you didn't know), but that corn starch is catching your eye isn't it? Are we making pudding or cookies? Definitely cookies. Make sure all ingredients are at room temperature.
It all starts out innocently enough (doesn't it always?)—cream the butter, shortening and two types of sugar together. After about 2 minutes, the mixture is fluffy and has slightly lightened in color. That's how you know it's time to add the eggs. Don't skimp on creaming!
These cookies have quite a bit more brown sugar than granulated white sugar. I think this is key to their soft, chewy flavor. I'm not complaining one bit!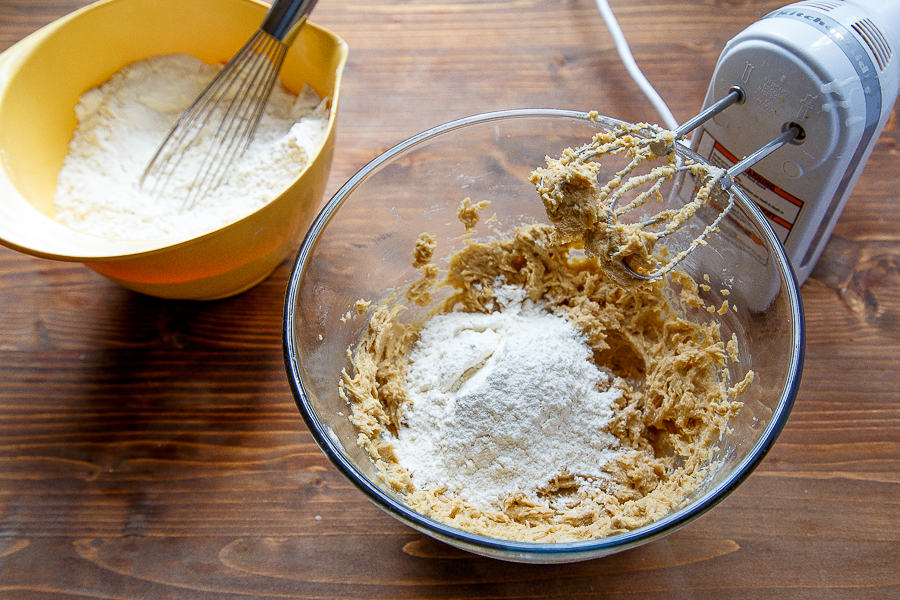 After the eggs and 1 whole tablespoon of vanilla (definitely not a typo!) are incorporated, it's time to add the dry ingredients, which includes flour, cornstarch, baking soda, and coarse salt. What does cornstarch do for cookies? I'm so glad you asked! Cornstarch makes cookies chewy. It softens the cookies and allows for that soft and chewy inside while the edges of the cookie stay crisp. Good call, Sarah. Good call.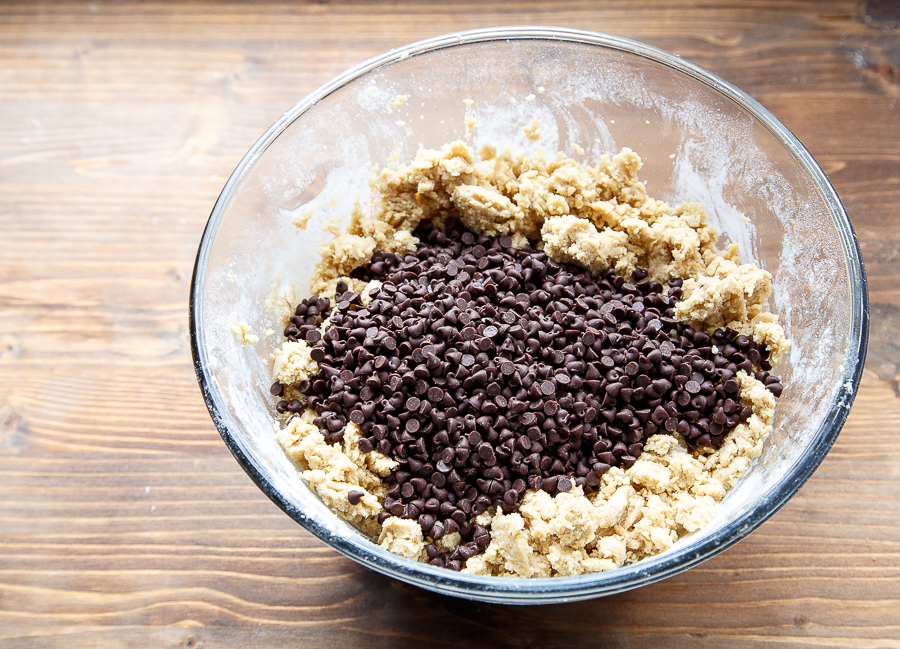 Sarah calls for mini chocolate chips. At first, I had my doubts. But I soon realized that mini chocolate chips mean I'm guaranteed a chocolate chunk in every single bite. I love the way this girl thinks!
The most important part of this recipe is to make 1/4 cup scoops of the dough and freeze them for at least 2 hours, but preferably overnight. The first time I made this recipe, I wanted cookies right away. So, I baked off 6 real quick without freezing. The cookies worked just fine, but the ones I baked the following day that had a nap in the freezer held together better and had a denser crumb. My best advice when making this recipe is to make the full batch for the freezer, but it's okay to make just a few cookies right away, too. I'm the last person to tell you to hold off on your cookie craving.
There you have it! The world's best chocolate chip cookies, if you like thick, large and dense cookies chock full of chocolate. Thanks for a great recipe, Sarah! Check out her blog, Simple & Sweets. I'm sure it's packed with more great recipes like this.
Recipe notes: The original recipe calls for salted butter, but I almost always bake with unsalted butter. I used it out of habit. Next time I bake these, I'll use salted butter, and I'm sure they'll be just as delicious.
Printable Recipe
See post on Sarah's site!
Description
The thickest and chewiest chocolate chip cookies. Hands down the best chocolate chip cookie I have ever had! This is my most requested recipe!
Ingredients
4-½ cups All-purpose Flour
2 Tablespoons Cornstarch
2 teaspoons Baking Soda
1 teaspoon Coarse Sea Salt
2 sticks Butter, Softened
½ cups Shortening
1-½ cup Brown Sugar
½ cups Granulated Sugar
2 whole Eggs
1 Tablespoon Vanilla Extract
1 bag Mini Semi-sweet Chocolate Chips, 10-12 Ounce Bag
Preparation Instructions
1. In a large bowl mix together flour, cornstarch, baking soda, and salt. Set aside.
2. In the bowl of an electric mixer, cream butter, shortening, and sugars until light and fluffy. Add eggs and vanilla and stir to combine.
3. Add your dry ingredients into the wet ones and stir just until everything is combined. Do not over mix. Mix in the mini chocolate chips.
4. Using a ¼ cup measuring cup, scoop dough into rounded discs and place on a plate that's small enough to fit into your freezer. Freeze for at least 2 hours or up to 3 months.
5. If you're not going to use the dough right away, transfer the frozen dough to a freezer bag to keep them fresh.
6. Preheat the oven to 350ºF.
7. Place frozen dough directly onto a greased cookie sheet leaving about 2 inches between each.
8. Bake for about 15 minutes or until you see golden brown spots form on top. Remove from oven and allow to cool a bit before serving.


_______________________________________
Growing up in a food-obsessed family and spending a lot of time in her Aunt Rose's restaurant as a child, Christina was destined to be a fantastic cook. She's a private chef during the day, but cooks for two at home. Like all of us, she has a sweet tooth that needs indulging after dinner. After becoming frustrated with the lack of recipes made for two, especially in the dessert category, she took matters into her own hands and started her blog, Dessert for Two, to share how she takes Southern classics (and a few surprises) and turns them into recipes that are perfect for just a few people. Her first cookbook is due out in February 2015.