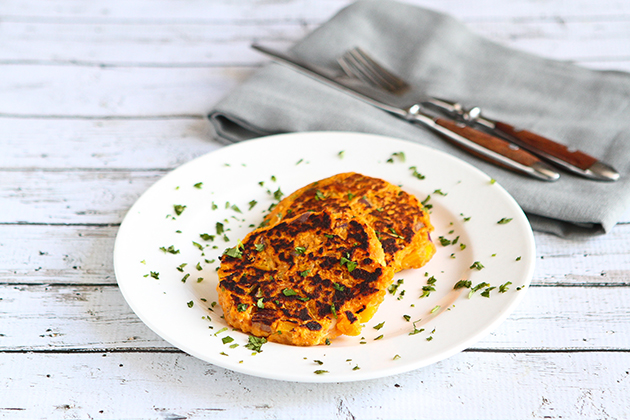 As soon as autumn hits, my craving for sweet potatoes sets in. I will eat them any way them come, whether mashed, baked, twice-baked or roasted. So, when I saw "sweet potato" in the title of these Sweet Potato Tuna Patties by Tasty Kitchen member Olivia, my curiosity was piqued. In fact, I ran straight out to the store to buy the ingredients.
If you've ever had tuna or salmon patties, be prepared for the tuna patty that will spoil you forever. From the natural sweetness of the potatoes to the zing of the chili powder, this is a recipe that you will want to make over and over again.
If you have leftovers, store them in an airtight container in the refrigerator, then reheat in a 350ºF oven when ready to eat.
Let's get started.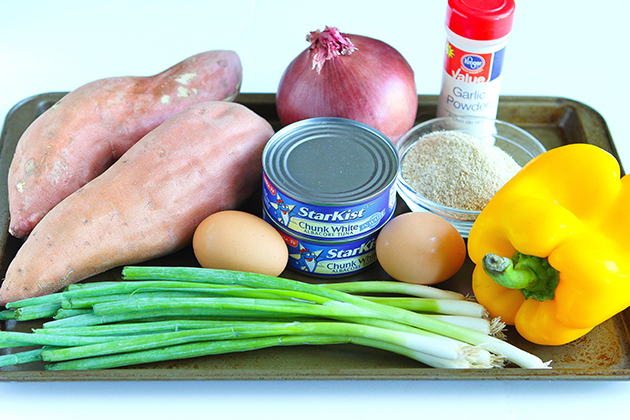 For this recipe, you will need sweet potatoes, canned tuna, green onions, breadcrumbs (gluten-free, if you prefer), eggs, red onion, yellow pepper, garlic powder, chili powder, salt and pepper.
Chop the sweet potatoes and boil them until tender when pierced with a fork, about 10 to 15 minutes. Drain and run them under cold water. This will stop them from cooking further and will cool the mixture down so that the eggs don't cook when added. That wouldn't be pretty!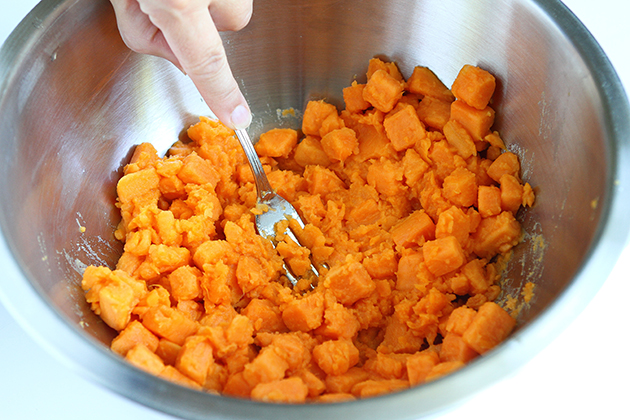 Transfer the sweet potatoes to a large bowl and mash with the back of a fork.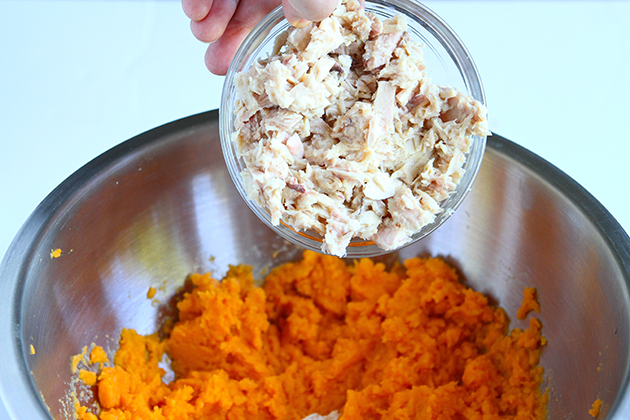 Add the tuna …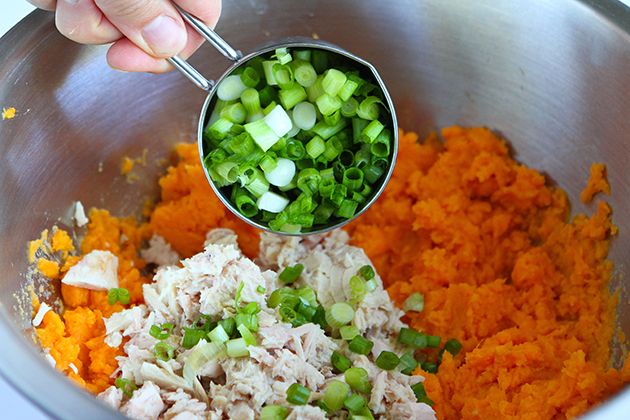 Green onions …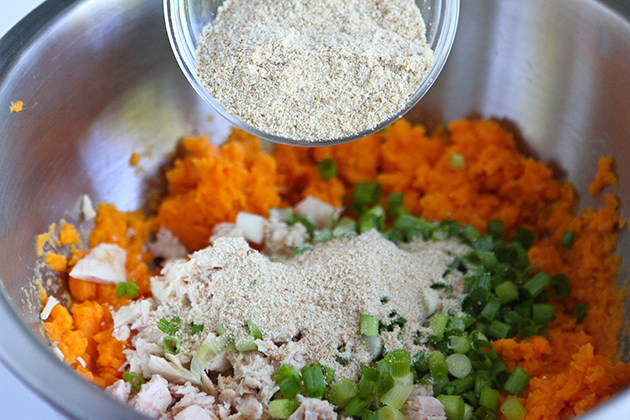 Breadcrumbs (use gluten-free breadcrumbs if you prefer) …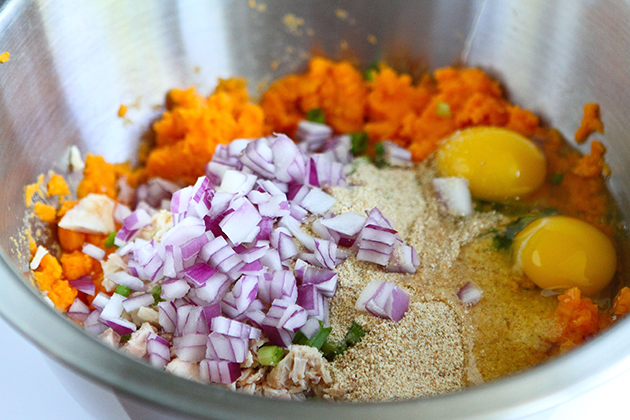 Eggs, chopped red onions …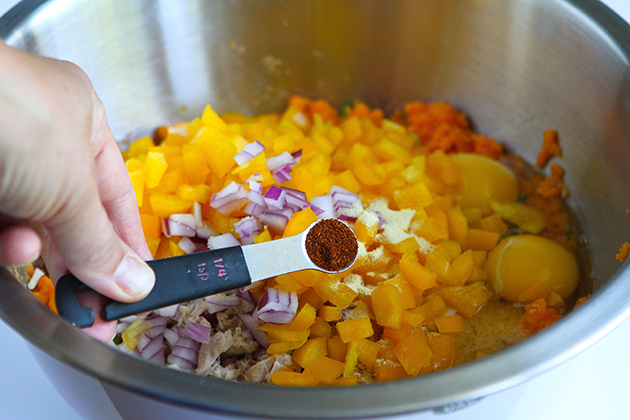 Garlic powder, chili powder, salt and pepper. What a fabulous punch of flavor!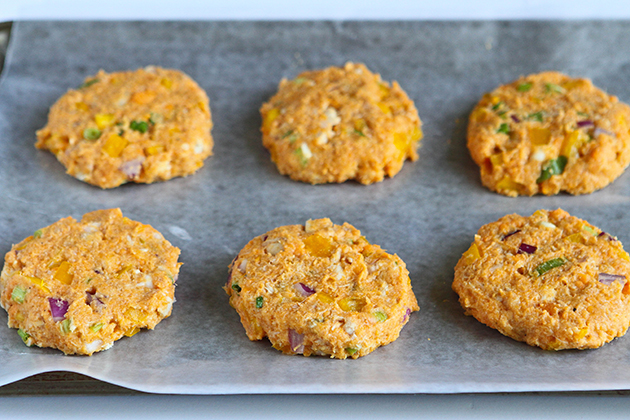 Using your hands, shape the mixture into patties. You could make mini ones for appetizer-sized patties, or larger ones for a dinner portion. I made my patties about 1/2 inch thick each and a few inches wide. Perfect for dinnertime!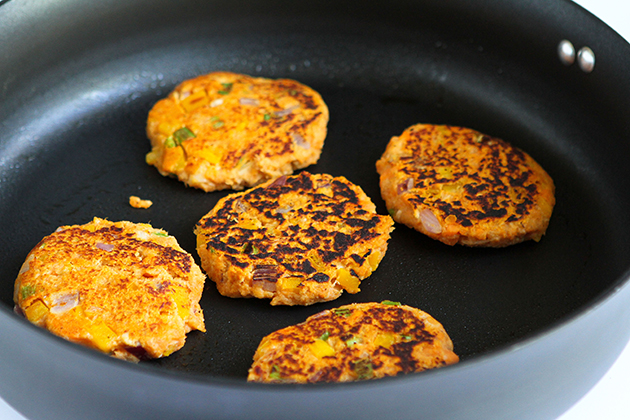 Heat a large nonstick skillet over medium-high heat and lightly coat with cooking spray. Cook the patties until perfectly golden brown, about 3 minutes per side. Serve.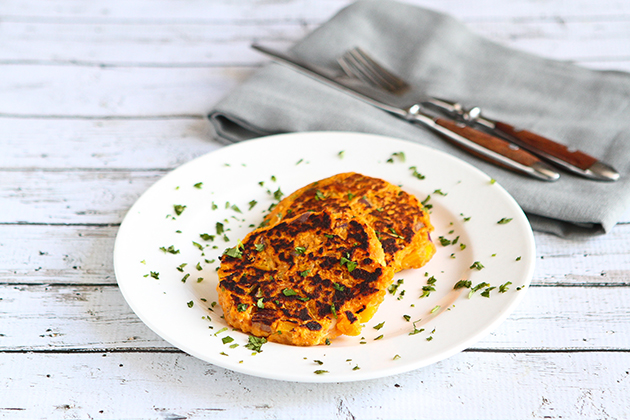 Thanks so much to Olivia for this wonderful recipe. Be sure to check out her site, Primavera Kitchen. It is filled with healthy recipes that are packed with flavor. Her Kale Sneak In Meatballs and Baked Potato with Lemon Shrimp are on my must-make list for this month.
Printable Recipe
See post on Olivia @Primavera Kitchen's site!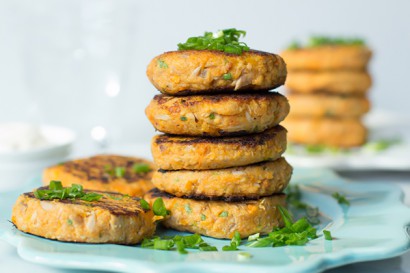 Description
These Sweet Potato Tuna Patties are very soft inside and crisp on the outside. It is a delicious, easy, quick and healthy appetizer recipe!
Ingredients
2 Medium-sized Sweet Potatoes, Peeled And Sliced Into Chunks
2 cans (180 Gram Size) Chunked Tuna In Water, Drained And Flaked
½ cups Chopped Green Onions
½ cups Gluten-free Breadcrumbs
2 whole Eggs
½ cups Diced Red Onions
1-½ cup Diced Yellow Pepper
½ teaspoons Garlic Powder
¼ teaspoons Chili Pepper
Salt And Pepper For Taste
Olive Oil Cooking Spray
Preparation Instructions
Fill a medium pan halfway full of water. Bring water to a boil and add sweet potatoes. Cook them for about 10-15 minutes or until tender. Drain and run them under cold running water. Transfer to a large bowl and mash with a fork.
Add the tuna, green onions, breadcrumbs, eggs, red onions, yellow pepper, garlic powder, chili pepper, salt and pepper. Mix well until the all ingredients are combined. Use your hands to shape mixture into your preferred size patties.
Heat a non-stick frying pan over medium-high heat and add cooking spray. Cook patties for 3 minutes per side or until golden brown.


_______________________________________
Dara Michalski is a doll and a sweetheart who clearly knows her way around the kitchen. She blogs at Cookin' Canuck, where she shares her flavor-packed recipes and fun, engaging writing. The photography's pretty incredible, too.