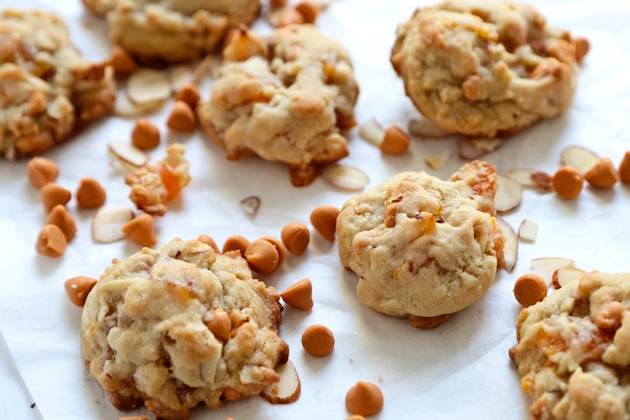 Sometimes you just need a cookie. There doesn't have to be any rhyme or reason for it, but when that craving calls, it's best to answer it. Whether it's a classic chocolate chip cookie, or an over the top creation like these Apricot Almond Butterscotch Cookies from TK member Nancy, just go with it. You will never regret that cookie you ate. Especially this one. I guarantee it.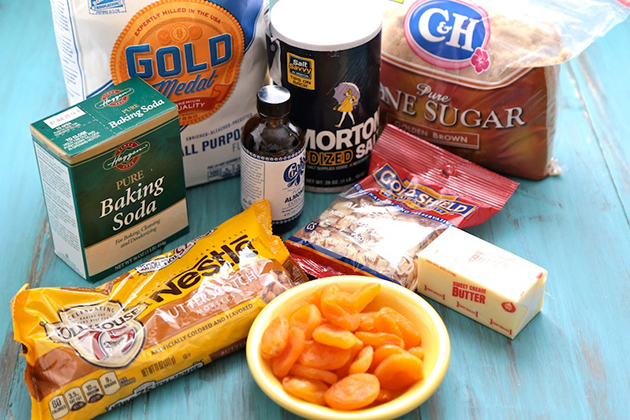 Gather your ingredients: flour, sugar, brown sugar, baking soda, egg, almond extract, salt, dried apricots, slivered almonds, and butterscotch chips.
If you're anything like me, make sure you have extra butterscotch chips on hand, because I eat them right out of the bag!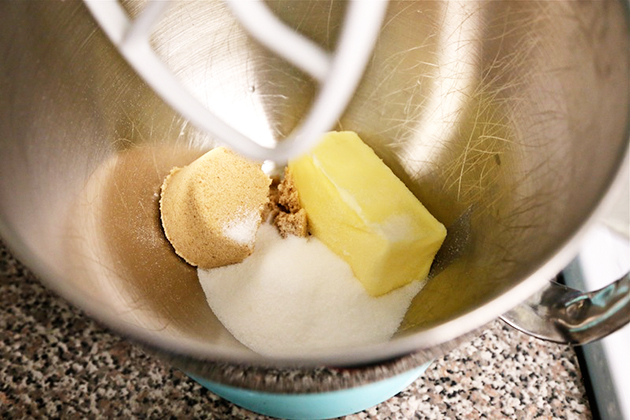 Into a large bowl or stand mixer, beat together the butter and sugars until they are combined and smooth in texture.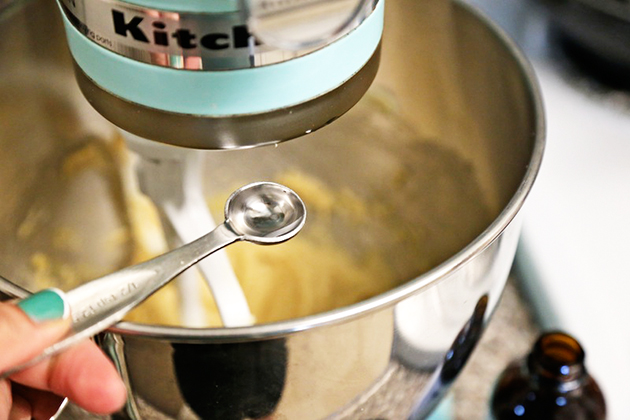 Next, add in your almond extract and mix to combine.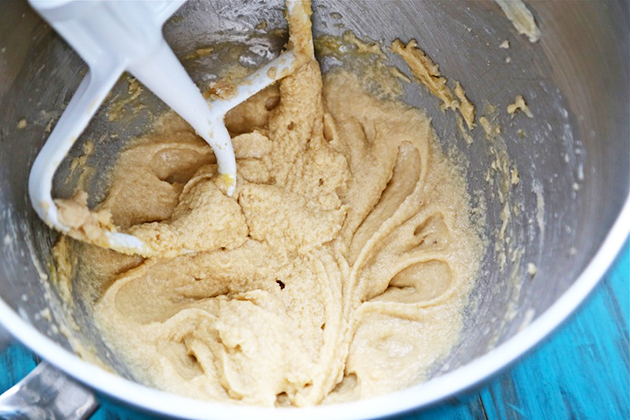 Now, the egg. Crack an egg into a small dish and check for shells before adding to your batter. Beat the egg in until it's light and fluffy.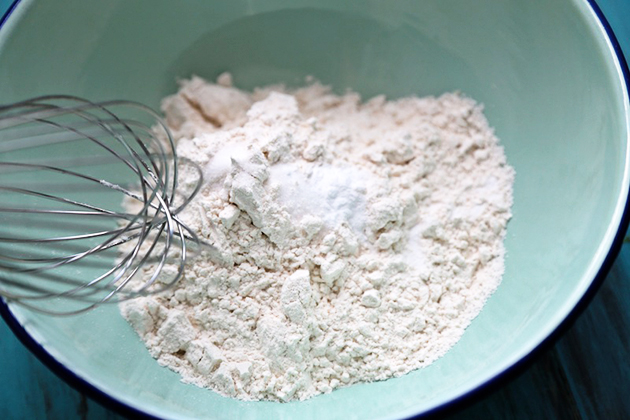 In a separate bowl, whisk together your other dry ingredients: the flour, baking soda and baking powder.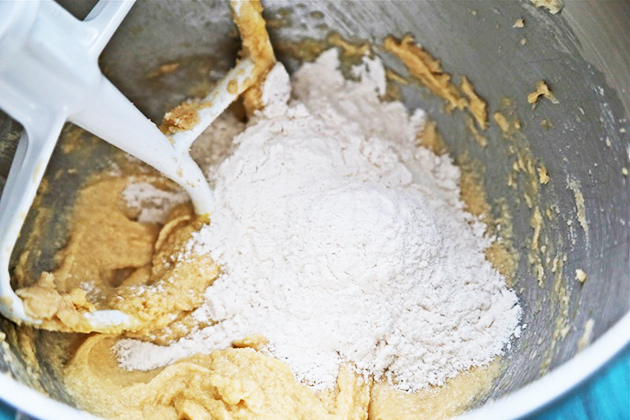 Into the bowl they go with the rest of the batter mix. Turn the mixer on low and mix until the flour is just combined. Don't over mix here! That would be a travesty.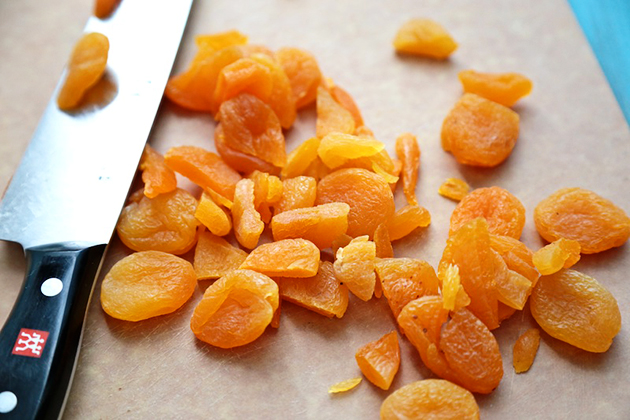 Enter stage left: the dried apricots. True story, I have a friend who has never had an apricot in her life. Woah, how is that possible? I had half a mind to ship her this batch of cookies to remedy that!
Once they're chopped into small pieces, into the bowl they go.
And don't forget the almond slices and butterscotch chips! That is, if you haven't eaten the whole bag of chips by now. Guilty.
Using a cookie scoop or a tablespoon, drop your dough onto a cookie sheet and bake for 9–11 minutes or until they're golden brown.
Let them cool slightly before devouring them straight from the cooling rack.
These are hands down amazing and going into my regular cookie making rotation. Thank you to Nancy of The Bitter Side of Sweet for this recipe! Take a look at this 5-Mitt recipe and be sure to grab others from her blog and her TK recipe box, like these Vegetable Tortilla Cups!
Printable Recipe
See post on Nancy P.'s site!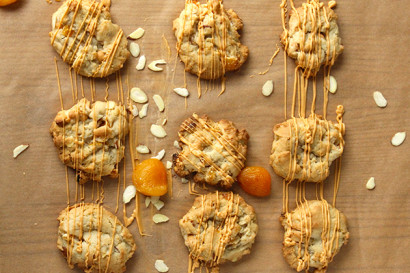 Description
A soft, chewy cookie packed with apricots, almonds and butterscotch.
Ingredients
7 Tablespoons Butter, Softened
⅓ cups Brown Sugar
⅓ cups Sugar
1 Egg
½ teaspoons Almond Extract
1-½ cup All-purpose Flour
½ teaspoons Baking Soda
½ teaspoons Salt
1 cup Dried Apricots, Chopped
¾ cups Slivered Almonds
½ cups Butterscotch Chips
Preparation Instructions
Preheat oven to 375 F. Prepare two cookie sheet pans by lining them with a Silpat mat or parchment paper.
In the bowl of your stand mixer add butter, brown sugar and white sugar. Mix until creamy. Add egg and mix until creamy. Add almond extract and continue to mix.
In a separate bowl combine flour, baking soda and salt. Add flour mixture into the mixing bowl and continue to mix. Stir in apricots, almonds and butterscotch chips.
Using two tablespoons scoop out mixture and drop onto cookie sheets spacing cookies about 2 inches apart. Bake for 9 to 11 minutes or until golden brown. Remove from oven, allow them to cool and enjoy!


_______________________________________
Megan Keno is the writer and photographer of Country Cleaver, a food blog fueled by Nutella and images of June Cleaver—if June wore cowboy boots and flannel, that is. A self-proclaimed country bum, Megan creates from-scratch recipes that range from simple to sublime and how-to's to build your cooking repertoire. But she couldn't do it without the help of her trusty—and furry—sous chef, Huckleberry. He's a world class floor cleaner.