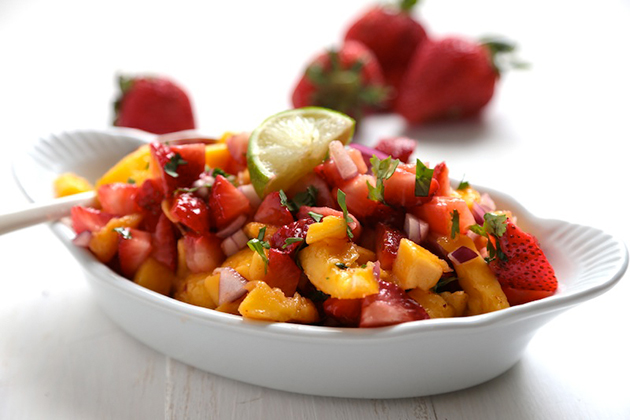 It's nearly impossible to pick your favorite thing about summer. How can you choose between long sunny days, running through the sprinkler, and bottomless glasses of lemonade? I'm adding one more thing to your favorite-things-about-summer list: this Strawberry Mango Salsa from TK member Danae. Strawberries are in season now, so head to your local farmers market and make this for your next shindig. Or just because.
And if you're anything like me and loaded up on four pounds of strawberries in one trip, then this is the perfect way to use them up!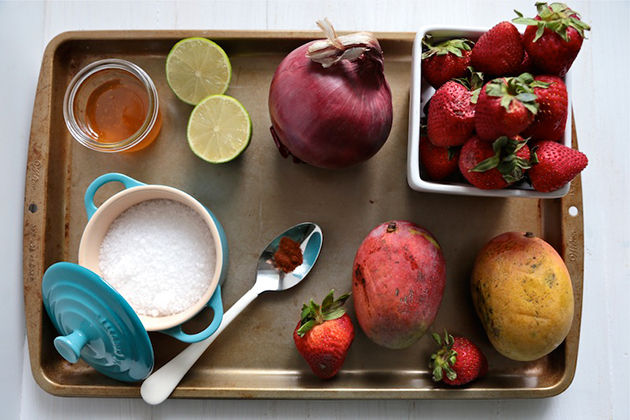 Truth be told, I reached the point where I just started eating this with a spoon. You're not judging, right? Okay, good. Whew.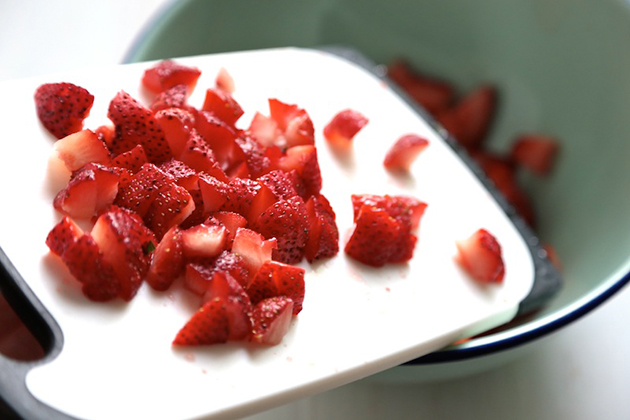 Hull and dice your strawberries into small chunks and pour into a large bowl.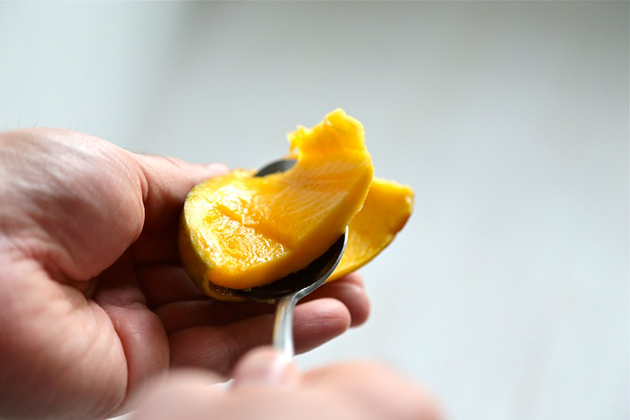 Next, we have the mango. I prefer to cut the mango away from the pit with the skin on. Trying to cut a peeled mango away from the pit always leads to a slippery mess, and I don't want to run the risk of cutting myself when the mango goes flying! Once the mango is cut away from the pit, I use a spoon to shimmy the meat away from the skin.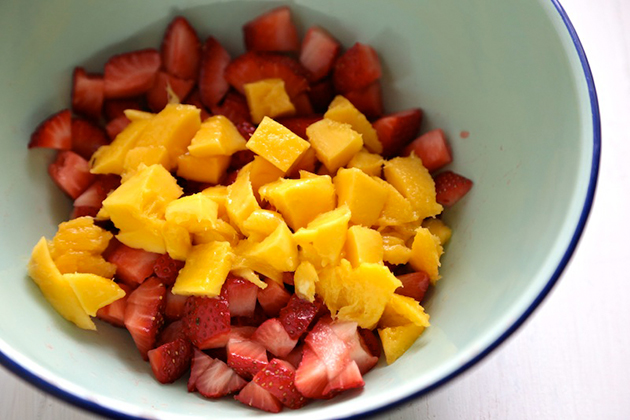 Then dice it up into small chunks and add it to the bowl along with the strawberries.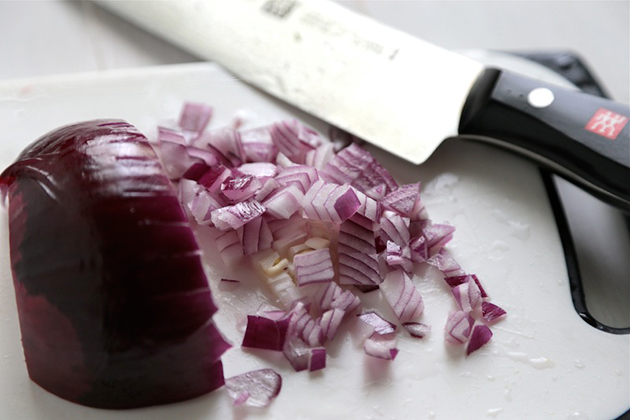 Following the mango, dice a red onion and add it into the mix.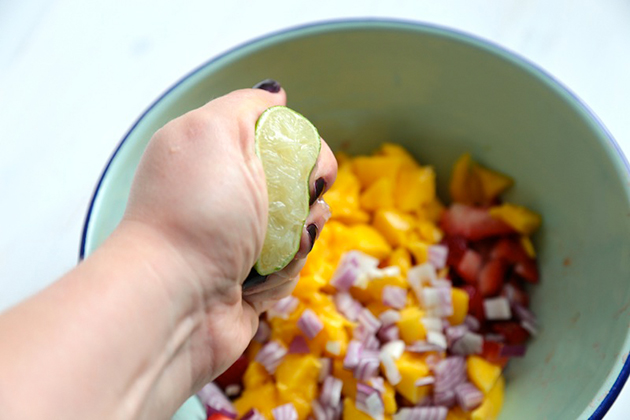 Every salsa needs a dash of fresh lime juice, so add that in.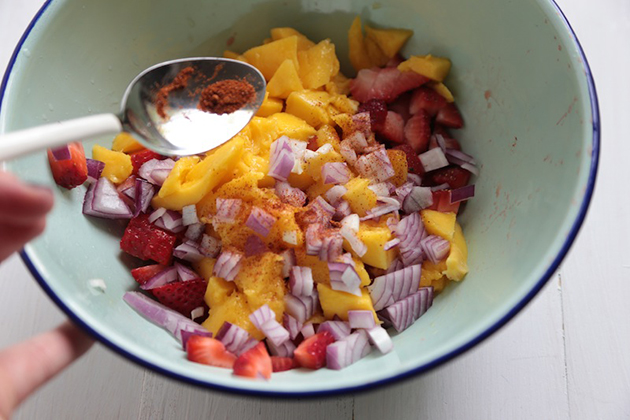 If you're up for a spicy kick, Danae added in some cayenne pepper to the mix. Good move.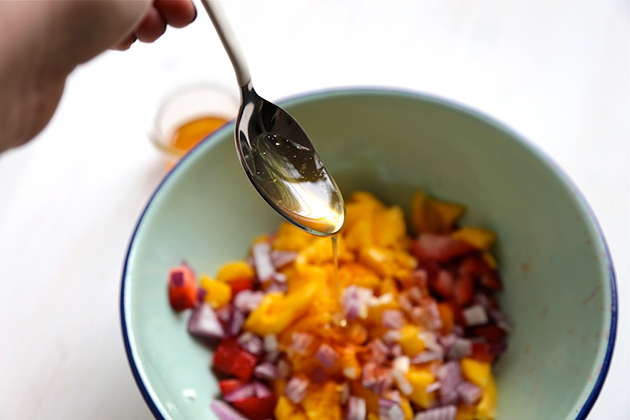 Then the honey!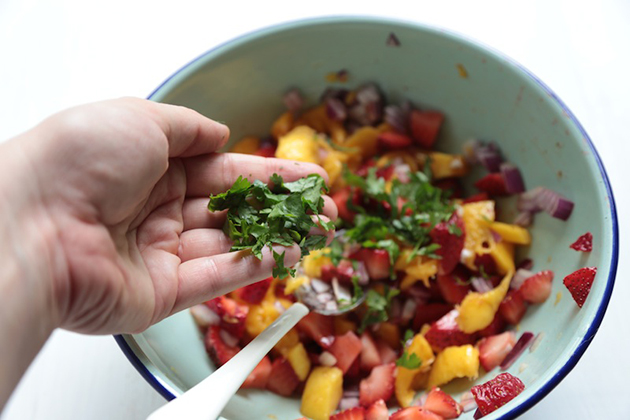 And what salsa would be complete without a boatload of cilantro? Toss that in there, too.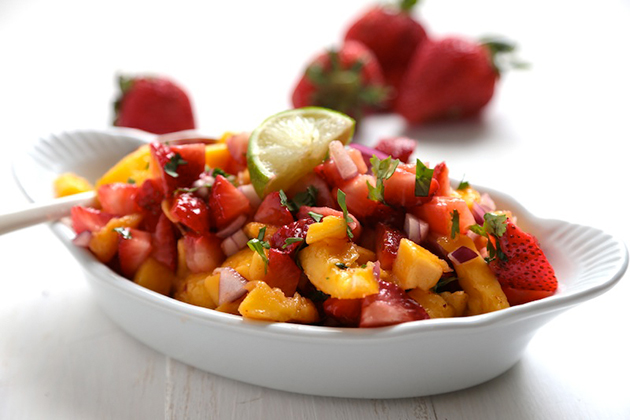 Give the whole batch one final mix to combine, and voila! If you're patient enough to let this sit and develop more flavor, it will be even better. But I understand if you're not and feel compelled to dig in right away. It's so fresh it can't be ignored.
Be sure to check out Danae's TK recipe box and her site Recipe Runner for more home-cooked goodness. Next on my must-make list is this Tomato Basil Feta Pizza. Just try and say no to that!
What is your favorite summer time salsa recipe? Post your favorite link below to share the love with the rest of your Tasty Kitchen friends!
Printable Recipe
See post on Danae | Recipe Runner's site!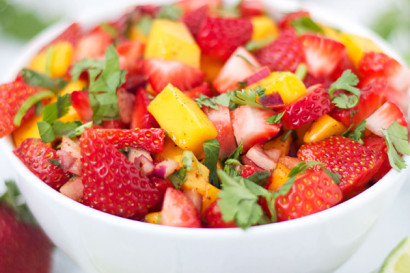 Description
Fresh and fruity Strawberry Mango Salsa! Perfect for topping chicken, fish tacos, or with a bowl of chips.
Ingredients
1 cup Strawberries, Hulled And Diced
1 cup Mango, Peeled And Diced
2 Tablespoons Cilantro, Chopped
¼ cups Red Onion, Diced
1 Lime, Juiced
1 teaspoon Honey
½ teaspoons Chili Powder
¼ teaspoons Kosher Salt
Preparation Instructions
Combine all of the ingredients in a medium size bowl and toss together. Serve immediately or cover and store in the fridge until ready to use.
Note: This salsa is best if it is used the same day it is made.


_______________________________________
Megan Keno is the writer and photographer of Country Cleaver, a food blog fueled by Nutella and images of June Cleaver—if June wore cowboy boots and flannel, that is. A self-proclaimed country bum, Megan creates from-scratch recipes that range from simple to sublime and how-to's to build your cooking repertoire. But she couldn't do it without the help of her trusty—and furry—sous chef, Huckleberry. He's a world class floor cleaner.