The winner of the grilling tools is:
#470 Lisa: "The best thing to grill is paella! The smoke from the charcoal makes it so amazing! Perfect for a big party."
Congratulations! Contact [email protected] to claim your loot.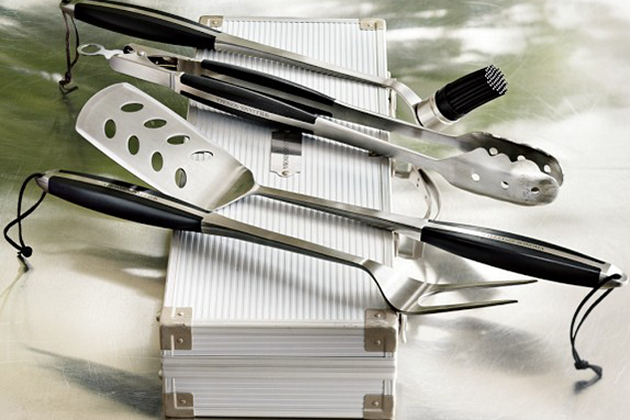 It's day two of our anniversary week of giveaways! We're celebrating five years here at Tasty Kitchen, and today we're thinking about grilling. 'Tis the grilling season, and we could all use a nice set of tools when we're making magic over an open flame. More on the giveaway in a minute, but first, feast your eyes on a few of our favorite grilled recipes.
Huevos Rancheros Burger from John of Patio Daddio BBQ. Chorizo burger. With an egg on top. Heck, yes. Patio Daddio knows his way around the grill.
Grilled Corn with Bacon Butter and Cotija Cheese from Jessica of How Sweet It Is. Whole new level. Did we mention bacon butter?.
Chipotle Chicken Kabobs with Avocado Cream from Justine of Cooking and Beer. Spicy, sweet. Kickin' chicken!.
Grilled Pineapple with Brown Sugar Rum Sauce from Dara of Cookin' Canuck. Excuse us while we eat this sauce by the spoonful.
Grilled Mozzarella, Prosciutto, and Arugula Pizza from Meagan of A Zesty Bite. Fresh and yummy. And grilling pizza is just plain fun!
Grilled Zucchini Fries—another one from our friend Patio Daddio. An easy, flavorful side dish. Helps use up some of that zucchini from the garden, too.
Now that you have a few new recipes to try, it's time for the giveaway!
We're giving away this great BBQ tool set for all your basic grilling needs.
The winner also receives this mesh outdoor cookware set so you can throw just about anything you want on the grill.
As a bonus, we'll include this Grand Grill Daddy grill cleaning brush so you can keep your grill nice and clean and always ready for the next meal!

TO ENTER
To enter this giveaway, just answer the following question in the Comments section of this post:
"What's your favorite thing to grill for guests?"
Shout out your answer below and you'll automatically be entered to win!

THE RULES
One entry per person, please. Contest ends tonight at midnight PST.
Winners will be chosen randomly and announced tomorrow morning, along with another new giveaway. The fun continues!

All anniversary week giveaways sponsored by Tasty Kitchen.