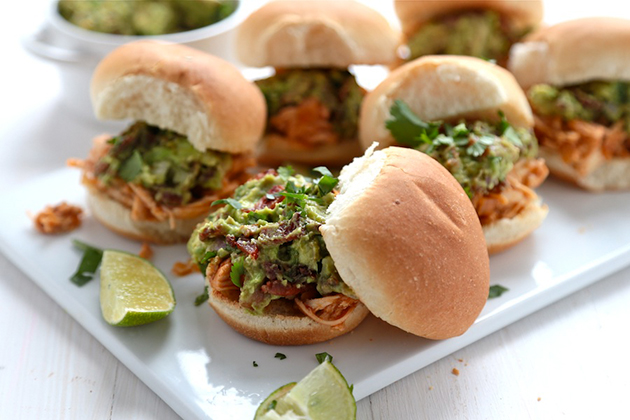 Mexican food and I have a special bond. I love it, it understands me and I can't ever turn it down. It's my food kryptonite. So when I saw Serena's recipe for Spicy Pulled Chicken Sliders with Bacon Queso Guacamole, I just swooned.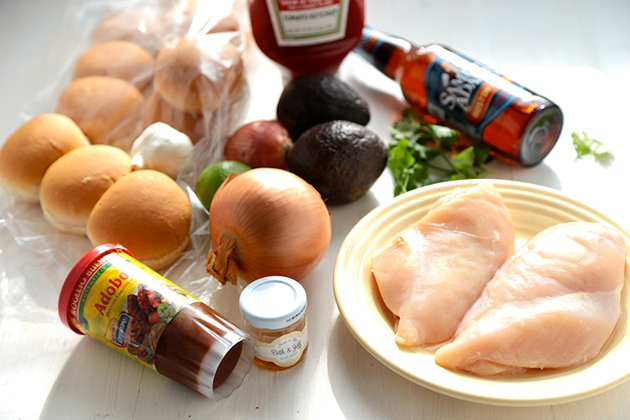 The list of ingredients wasn't overly complicated, and it helped me use up a lot of the veggies that I already had on hand.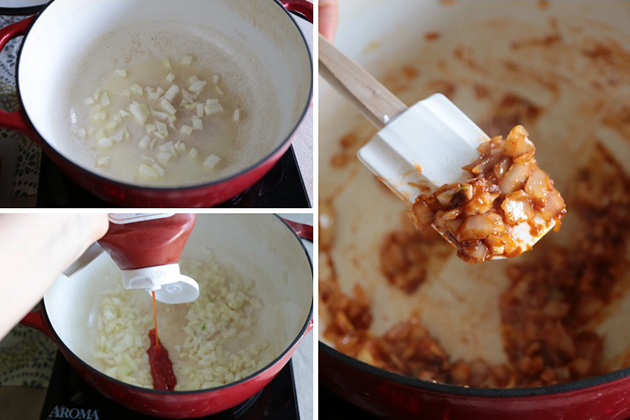 To start, dice an onion and simmer in dash of olive oil until translucent. Add in the ketchup and reduce until the onions are soft.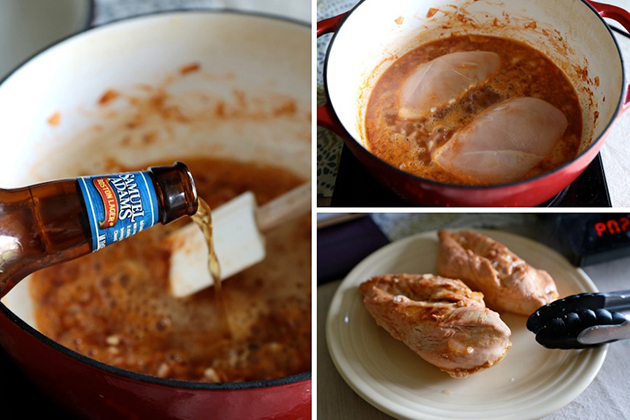 Once the onions and ketchup have reduced, pour in a bottle of beer for the braise. Serena recommends not using an IPA, because it will turn bitter after simmering, and I agree. For this I chose a lager that I had on hand and it was perfect. Add in the chicken breasts, cover and braise until cooked through.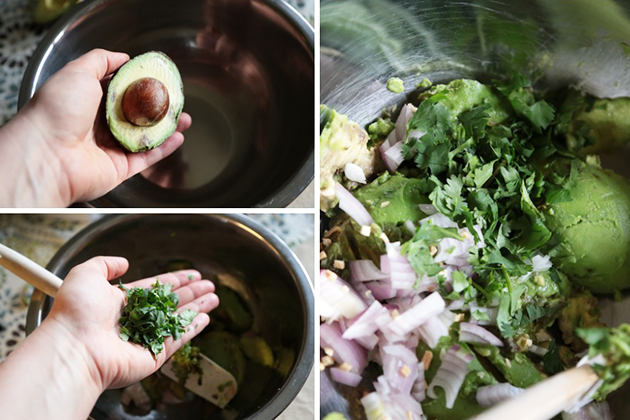 While the chicken is braising, get started on your guacamole. In a medium bowl, mix your avocado, cilantro, red onion, and all the other fixin's.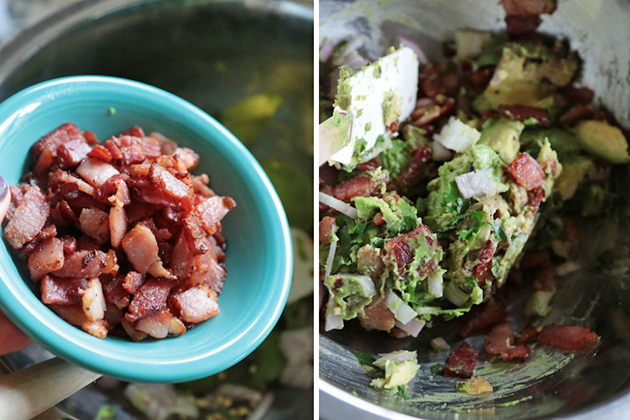 And don't forget your bacon! Priorities friends, priorities.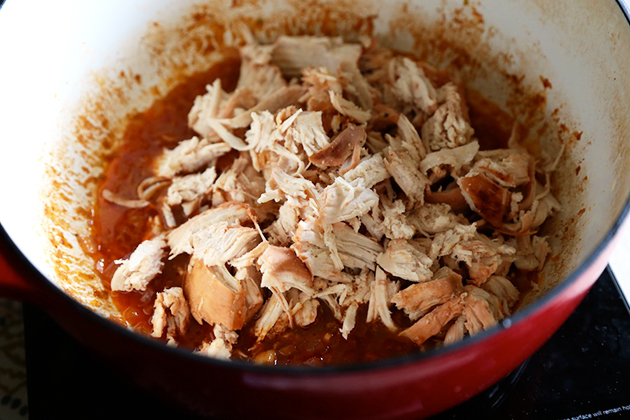 When the chicken is cooked through, shred it with a couple of forks until pulled apart. Once shredded, add the pulled chicken back into the braising sauce and stir to coat it completely. Cover and keep warm until you're ready to put your sliders together.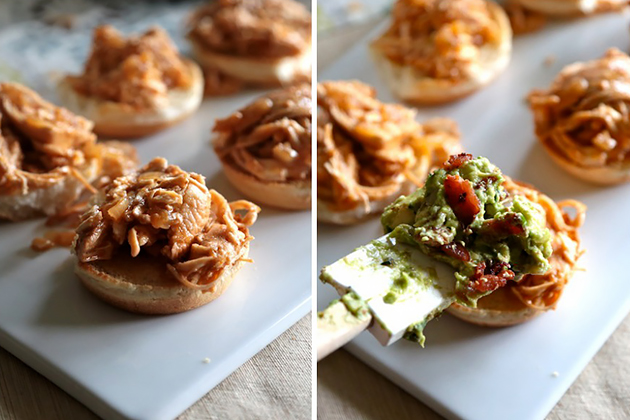 When you're ready to put your sliders together, slice the slider buns and toast them until golden brown. Top with some pulled chicken and then a hefty dollop of bacon-loaded guacamole. Finish it off with the toasted golden brown top of your slider and devour it immediately.
Thank you to Serena for her fantastic recipe. Be sure to check out Serena's Recipe Box for other inspired food, and see her site, Domesticate Me, for other great stuff—-like this Grilled Pita Pizza with Prosciutto and Chanterelles. Wowzer!
Printable Recipe
See post on Serena Wolf @ Domesticate ME!'s site!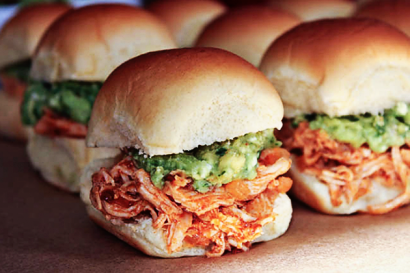 Description
These chicken sliders topped with the world's most epic guacamole are guaranteed to spice up your life and your game-day festivities.
Ingredients
FOR THE SLIDERS:
2 Tablespoons Olive Oil
1 whole Medium Yellow Onion, Minced
2 cloves Garlic, Minced
2 whole Chipotle Pepper Canned In Adobo, Finely Chopped (only Use 1 Pepper If You're Not Into Spicy)
½ cups Ketchup
1 whole Lime, Juiced
2 Tablespoons Honey
18 ounces, fluid Beer Of Your Choice (Do Not Use An IPA, As It Gets Very Bitter When Reduced)
4 whole Boneless, Skinless Chicken Breasts
36 whole Slider Buns (I Love Martin's Party Potato Rolls)
FOR THE BACON-QUESO GUACAMOLE
3 whole Avocados
1-½ whole Limes, Juiced
1 clove Garlic, Minced
¼ cups Red Onion, Minced
4 slices Cooked Thick-cut Bacon, Crumbled
½ cups Crumbled Queso Fresco
3 Tablespoons Chopped Cilantro
Preparation Instructions
For the sliders:
Heat the olive oil in a Dutch oven (or whatever large saucepan you have with a lid) over medium heat. When hot, add the minced onions and garlic and sauté for 3-4 minutes until the onions become translucent. Add the chipotles, ketchup, lime juice, honey and beer. Bring the mixture to a boil and then add the chicken breasts. Lower the heat to a simmer, cover and cook for 20 minutes.
Then remove the chicken breasts from the cooking liquid, place them on a cutting board and allow them to cool slightly. When cool enough to handle, shred the chicken using two forks (or your hands, whatever).
Bring the cooking liquid to a boil and cook until it has reduced by about half and thickened slightly. This should take about 15 minutes. While your sauce is reducing, make your guacamole.
For the Bacon-Queso Guacamole:
Slice your avocados in half and remove the pits. Score the flesh of each avocado half with a knife and spoon the flesh out of its skin into a mixing bowl. Squeeze lime juice over the avocado and mash it with a fork. Mix in the minced garlic, red onion, crumbled bacon, queso fresco and cilantro. Boom. Cover tightly with plastic wrap until ready to use. If you leave your guac hanging around uncovered, it will oxidize and turn brown. Party foul.
When your sauce has reduced, mix in the shredded chicken and cook for 3-5 minutes until heated through. Remove from heat.
Spoon your spicy pulled chicken onto slider rolls and top with bacon-queso guacamole and serve immediately. Game day just got a whole lot fancier, people.


_______________________________________
Megan Keno is the writer and photographer of Country Cleaver, a food blog fueled by Nutella and images of June Cleaver—if June wore cowboy boots and flannel, that is. A self-proclaimed country bum, Megan creates from-scratch recipes that range from simple to sublime and how-to's to build your cooking repertoire. But she couldn't do it without the help of her trusty—and furry—sous chef, Huckleberry. He's a world class floor cleaner.