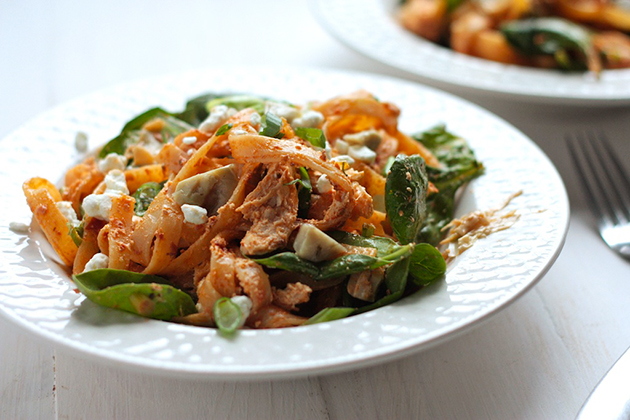 I love finding new inspiration on Tasty Kitchen. There is always new stuff to find and try. When I joined TK, I kept filling my Recipe Box with so many great community recipes that I just "had to try" but it dawned on me that I hadn't actually made any of them! Tragedy! The first recipe I ever made from Tasty Kitchen was Creamy Chicken and Sun-dried Tomato Fettucine from Natalie Perry. The flavors all combined so beautifully and the sauce was addicting! I would eat it for days on end.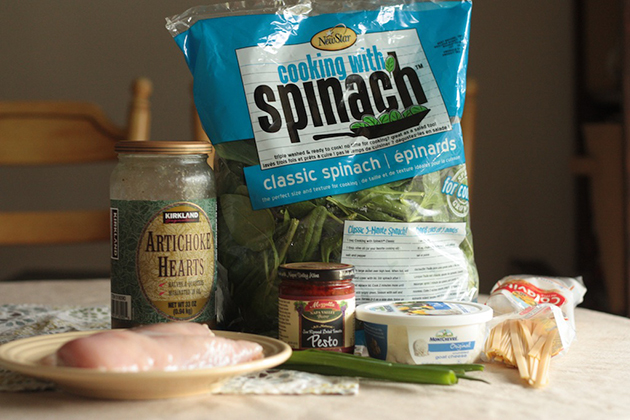 The ingredients in this dish are really simple and include fettuccine, jarred sun-dried tomato pesto (Natalie also has a recipe here in TK for a homemade version), goat cheese crumbles, spinach, marinated artichoke hearts, green onions, and salt and pepper. Shredding leftover roasted chicken into this pasta adds something nice to the dish, or keep it vegetarian for a Meatless Monday meal!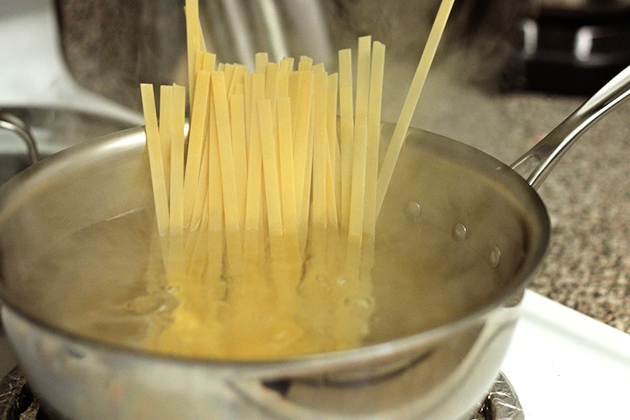 To start, bring a large saucepan of salted water to a boil. Prepare fettuccine noodles according to package directions. Before draining, reserve about 1 cup of the pasta water for making the sauce. Pour the drained pasta into a large bowl.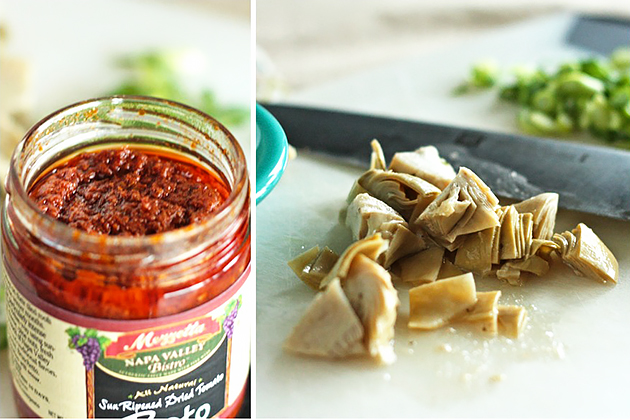 Grab the pesto and chop the artichoke hearts. Now you're ready to put this all together.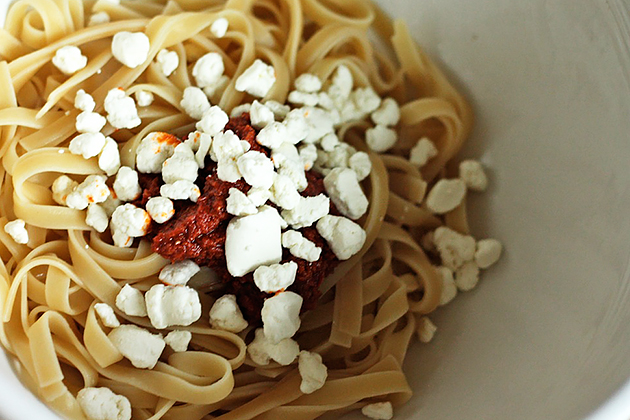 Stir the jarred sun dried tomato pesto, goat cheese, green onions, and artichoke hearts into the pasta and coat the noodles evenly. Add in some of the reserved pasta water if the sauce is too thick. Add in spinach and combine. The heat from the pasta will help the spinach wilt slightly. If you think it needs a little extra seasoning, add in a little salt and pepper to taste.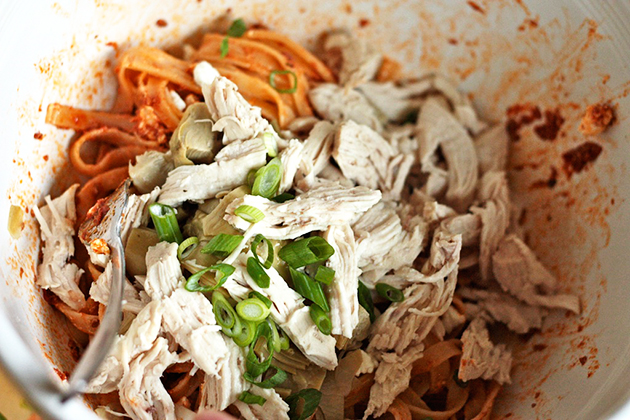 If you do add chicken, stir it in at this step and toss to coat the chicken in the creamy sauce.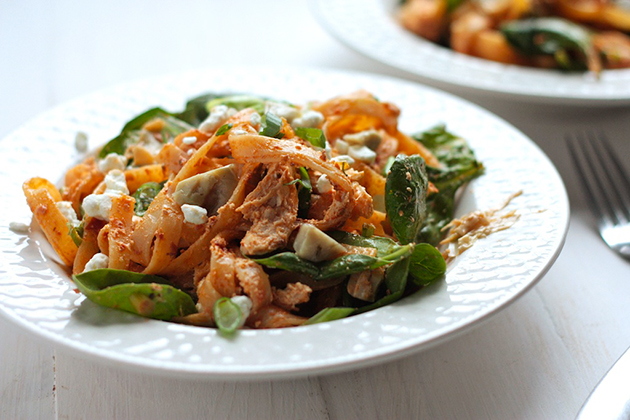 Then serve! I always add a little more goat cheese to the top. The creamy tang is just too irresistible for words!
A big thank you to Natalie for this wonderful dish. Be sure to check out Natalie's blog, Perry's Plate, for more amazing recipes, including loads of paleo-inspired dishes. She's just brimming with creativity and healthy eats!
Printable Recipe
See post on Natalie | Perry's Plate's site!
Description
Made with a homemade sun-dried tomato pesto and comes together in under 30 minutes!
Ingredients
8 ounces, weight Whole Wheat Fettucine (spaghetti Or Linguine Would Also Work)
1-½ cup Cooked Diced Or Shredded Chicken
1 cup Jarred Marinated Artichoke Hearts, Chopped
2 cups Chopped Fresh Baby Spinach (about 3 Big Handfuls)
⅓ cups Sun-dried Tomato Pesto (also In My Recipe Box)
1 whole Green Onion, Sliced Thinly
2 ounces, weight Goat Cheese, Plus More For Garnish
⅛ teaspoons Salt And Black Pepper (or To Taste)
Preparation Instructions
Bring a large pot of water to boil. Add 2 tablespoons salt to the water, then add pasta. Cook according to package directions, until al dente. Meanwhile, prepare other ingredients.
When pasta is finished cooking, remove a cup of the pasta water from the pot and set aside. Drain remaining water and place cooked pasta in a large bowl. Add remaining ingredients and stir until the pesto and goat cheese have coated everything and the spinach has wilted. If it gets too thick and cumbersome, add reserved pasta water a few tablespoonfuls at a time to loosen things up. The pasta should be lightly coated with a sauce, but not watery.
Makes about 4 servings.


_______________________________________
Megan Keno is the writer and photographer of Country Cleaver, a food blog fueled by Nutella and images of June Cleaver—if June wore cowboy boots and flannel, that is. A self-proclaimed country bum, Megan creates from-scratch recipes that range from simple to sublime and how-to's to build your cooking repertoire. But she couldn't do it without the help of her trusty—and furry—sous chef, Huckleberry. He's a world class floor cleaner.