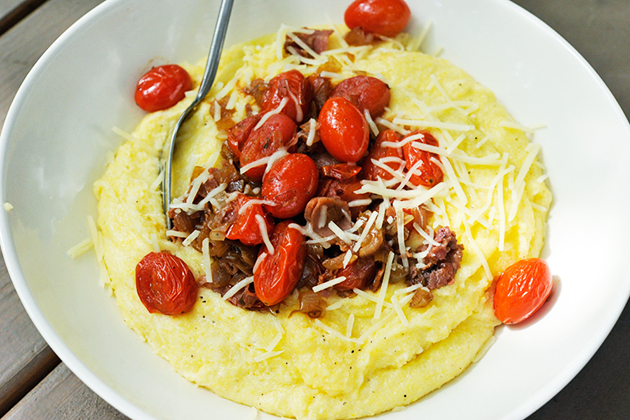 My latest delicious discovery comes from the talented Melanie Feehan: luscious-looking Parmesan Polenta with Tomatoes and Prosciutto. It's a quick and easy dish that provides the fresh comfort that we all love.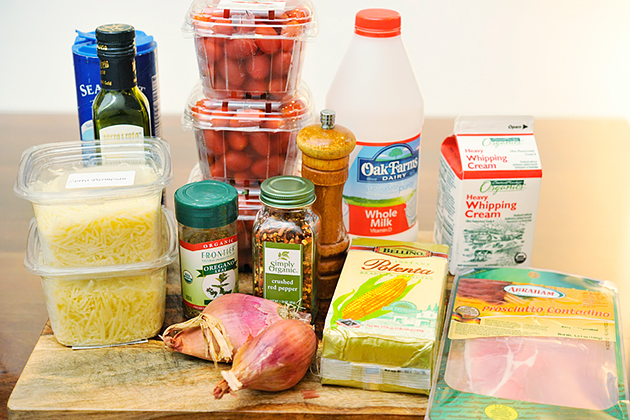 For the polenta, you'll need water, salt, quick-cooking polenta, grated Parmesan cheese, milk, heavy cream, black pepper to taste. For the tomato and prosciutto topping, you'll use olive oil, grape tomatoes, diced shallots, diced prosciutto, dried oregano, dried red pepper flakes, salt and pepper to taste.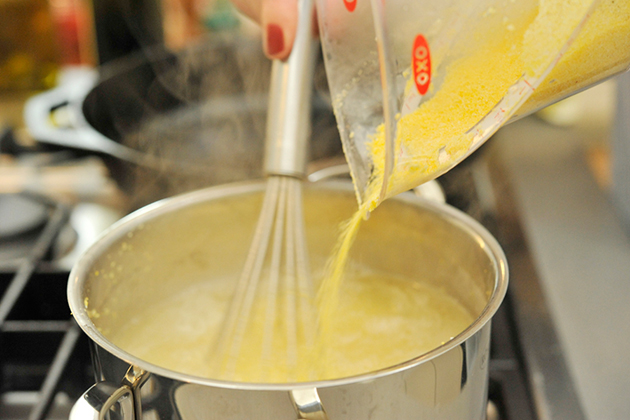 Boil then salt the water. Slowly stir in the polenta in a continuous stream. Continue to stir and cook for five minutes.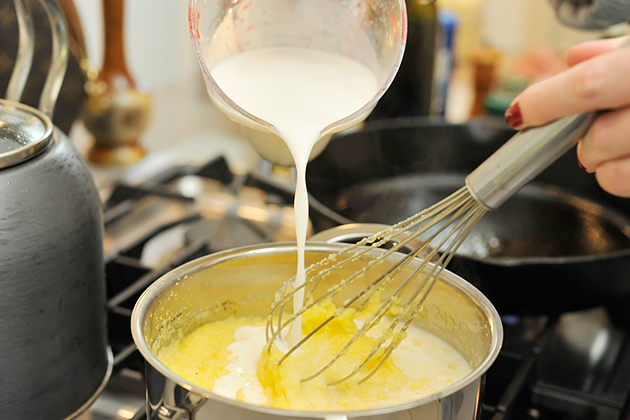 Add milk …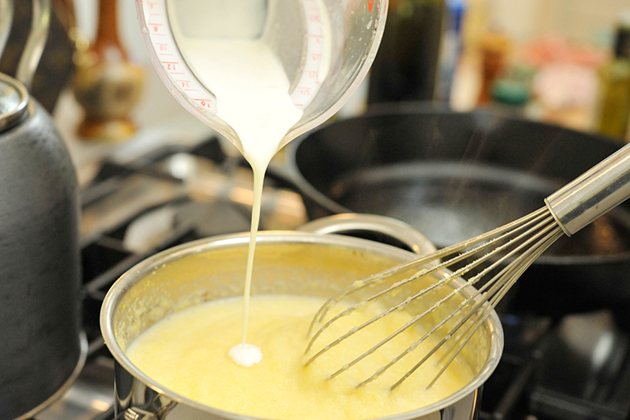 Cream …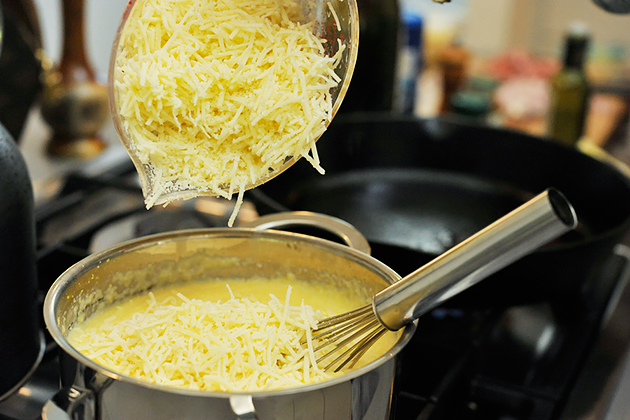 And cheese! Lots and lots of cheese.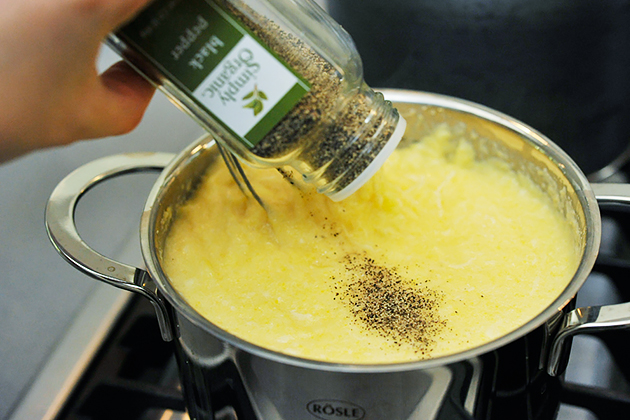 Season generously with pepper. Reduce to low heat.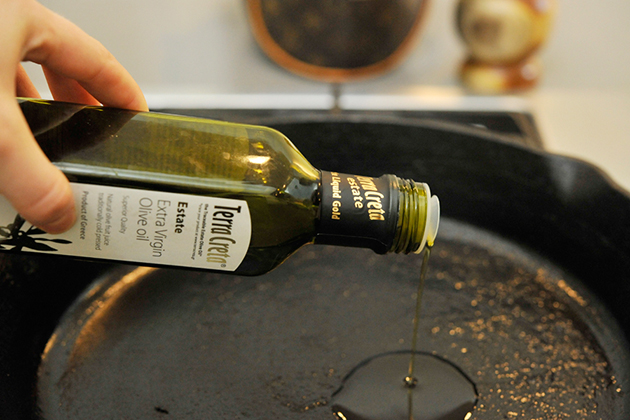 Begin the tomato topping by heating the oil over medium heat.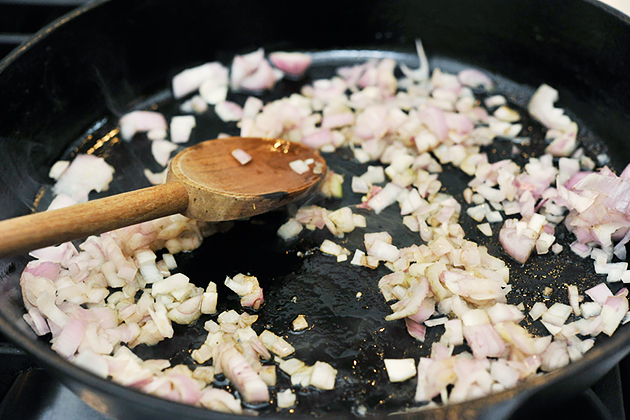 Stir in the shallots.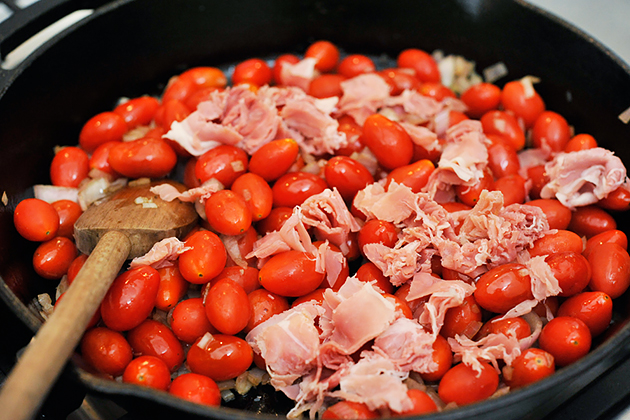 Add the tomatoes and the prosciutto.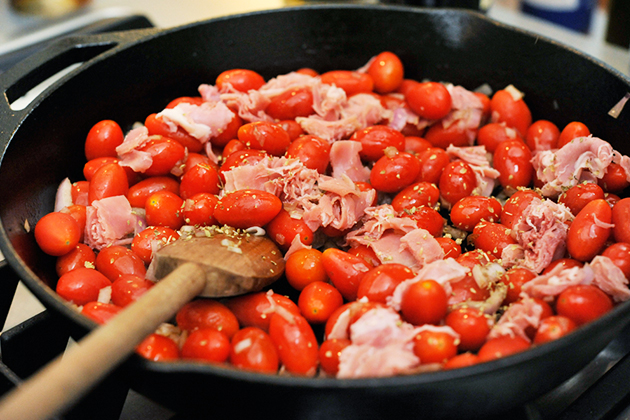 Stir in the seasonings, cover, and cook for ten minutes until the tomatoes are softened and the prosciutto crispy.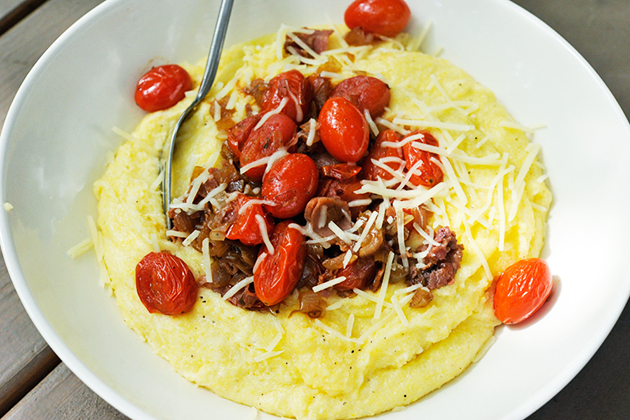 Spoon the polenta into a serving dish then top with your tomato and prosciutto mixture. Garnish with a little extra cheese and serve.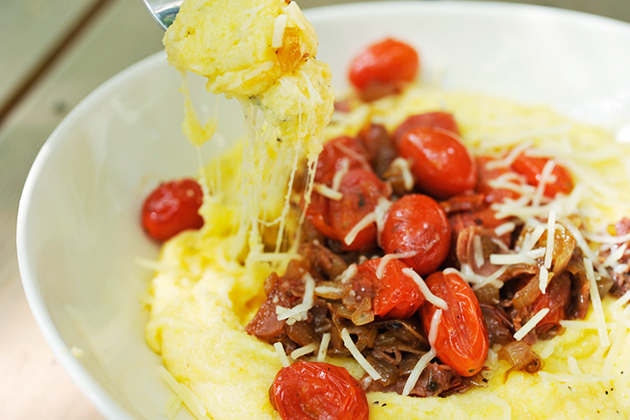 Gorgeous. Simply gorgeous.
For other simple and delicious recipes like this, visit Melanie's blog A Beautiful Bite. Her food lives up to its name!
Printable Recipe
See post on A Beautiful Bite's site!
Description
Creamy cheesy polenta topped with pan-cooked tomatoes and prosciutto. A wonderful way to use up ripe tomatoes.
Ingredients
FOR THE POLENTA:
4 cups Water
1 teaspoon Salt
1 cup Quick Cook Polenta
2 cups Parmesan Cheese, Grated
1 cup Milk
4 Tablespoons Heavy Cream
Black Pepper To Taste
Optional Garnishes: Basil Chiffonade And Grated Parmesan Cheese
FOR THE TOMATO AND PROSCIUTTO TOPPING:
3 Tablespoons Olive Oil
3 cups Small Tomatoes (like Grape)
½ cups Shallots, Diced
¼ cups Prosciutto, Diced
½ teaspoons Dried Oregano
½ teaspoons Crushed Red Pepper Flake
Salt And Pepper, to taste
Preparation Instructions
Bring water to a boil in a medium sized pot. Then add salt. Slowly pour in the polenta in a continuous stream, stirring continuously until incorporated. Keep stirring and cook for five minutes. Then add cheese, milk, cream and a generous amount of fresh ground black pepper. Reduce heat to low and prepare tomatoes.
In a large skillet, heat olive oil over medium high heat. Add the rest of the topping ingredients and give it a stir. Reduce heat to medium. Cover and cook for ten minutes.
Pour polenta onto a large serving dish and top with tomato mixture. Garnish with basil chiffonade and grated Parmesan cheese.


_______________________________________
There's so much to say about Georgia, we don't know where to start. Leaving Wall Street for the French Culinary Institute, followed by a stint at the Gramercy Tavern and La Chassagnette in France, her passion for food and food traditions are evident and inspiring. Visit her site at Georgia Pellegrini, where you'll find more recipes, photos, learn all about her wonderful books Girl Hunter and Food Heroes, and enjoy her latest adventures.