There's nothing like ending a hard day of work with a healthy dish your family will surely find irresistible. This Garden Vegetable Ragu from TK member Laurie is especially perfect for a hearty yet meatless. They'll never guess it's actually (gasp!) good for them!
To make it, you will need: olive oil, butter, diced onion, sliced zucchini, sliced yellow squash, carrot (peeled and grated), minced garlic, tomato sauce, diced can tomatoes, dry red wine (e.g. Merlot), sugar, basil, oregano, italian seasoning, parmesan cheese, salt and pepper.
After heating the olive oil and butter in a Dutch oven over medium heat, add the veggies and sauté until golden brown.
Pour in tomato sauce and canned diced tomatoes.
Add the red wine …
Season with the dried herbs, salt, pepper …
And sugar.
Stir, cover, then reduce heat to a simmer for 35-40 minutes. Finally, add half of the Parmesan. The red wine sauce will thicken as it cooks.
Boom! A chunky, savory sauce you can serve over pasta, rice, even spaghetti squash if you really want to increase the nutrition factor. Thank you, Laurie! For other hearty recipes that are sure to please your loved ones, visit her blog Simply Scratch.
Printable Recipe
See post on Laurie - Simply Scratch's site!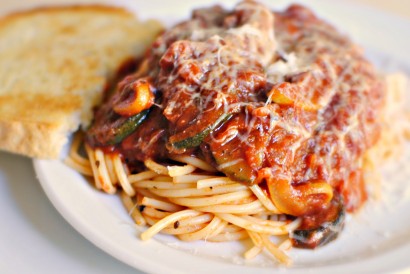 Description
Comfort food made healthy… who knew? It's so hearty you won't even notice it's all vegetables!
Ingredients
1 Tablespoon Olive Oil
1 Tablespoon Butter
1 whole Medium Onion, Diced
2 whole Small Zucchini, Trimmed And Sliced Into Half Moons
2 whole Small Yellow Squash, Trimmed And Sliced Into Half Moons
1 whole Medium Carrot, Peeled And Grated
2 cloves Garlic, Minced Or Pressed Through A Garlic Press
1 can (28 Oz. Or Two 15 Oz.) Tomato Sauce
2 cans Diced Tomatoes (15 Oz. Cans)
1 cup Good Dry Red Wine (like Merlot)
1 teaspoon Sugar
1 teaspoon Dried Basil, Or More To Taste
1 teaspoon Dried Oregano, Or More To Taste
½ teaspoons Italian Seasoning (or More To Taste)
Kosher Salt And Black Pepper To Taste
1 cup Parmesan Cheese, Divided
Optional Add-ins Listed Below (Italian Sausage, Sliced Mushrooms)
Preparation Instructions
Heat a tablespoon of olive oil and butter in a very large, deep skillet or a Dutch oven on medium heat.
Once hot and working in batches, sauté the onions, zucchini and yellow squash until soft and slightly golden. Remove to a bowl after each batch. When done, add all the vegetables back into the skillet, including the carrot and the garlic. Cook for 1-2 minutes. Pour in the tomato sauce and the diced tomatoes. Add in the cup of red wine. Season the sauce with the sugar, dried herbs, a little salt, and a lot of black pepper. Stir, cover and reduce heat to simmer for 35-40 minutes. Lastly add the half cup of Parmesan (reserve the rest to garnish), taste and adjust seasonings if needed.
Serve over pasta or prepared spaghetti squash.
Optional Ingredients:
1/2 to 3/4 pound of Italian Sausage; for a spicy and meaty ragu. If preparing this with the Italian sausage… Brown up the ground sausage, remove it from the pan, then sauté the onions, squash etc in the sausage renderings, adding olive oil if needed.
8 ounces of fresh mushrooms, which you will slice and saute with vegetables.
Parmesan Cheese Rind; just throw the cheese rind in while sauce simmers and remove it before serving.


_______________________________________
There's so much to say about Georgia, we don't know where to start. Leaving Wall Street for the French Culinary Institute, followed by a stint at the Gramercy Tavern and La Chassagnette in France, her passion for food and food traditions are evident and inspiring. Visit her site at Georgia Pellegrini, where you'll find more recipes, photos, learn all about her wonderful books Girl Hunter and Food Heroes, and enjoy her latest adventures.