Chilly evenings, to me, call for a big pot of Bolognese bubbling away on the stove.
As soon as the cold weather sets in, there isn't anything I crave more than this Orecchiette Bolognese. Maybe it's the different meats and spices, maybe it's the wine, or all of the above? I'm not quite sure but I'm pretty certain I give a little sigh after each and every bite I take.
Fact: This is the fourth time I've made Nam's recipe. Yes, fourth! Nam posted this recipe a while back and it has been in my recipe repertoire ever since. And after the third time of making this amazing sauce it dawned on me that maybe I should share it with all of you here on the Tasty Kitchen Blog because honestly, it's way too good not to!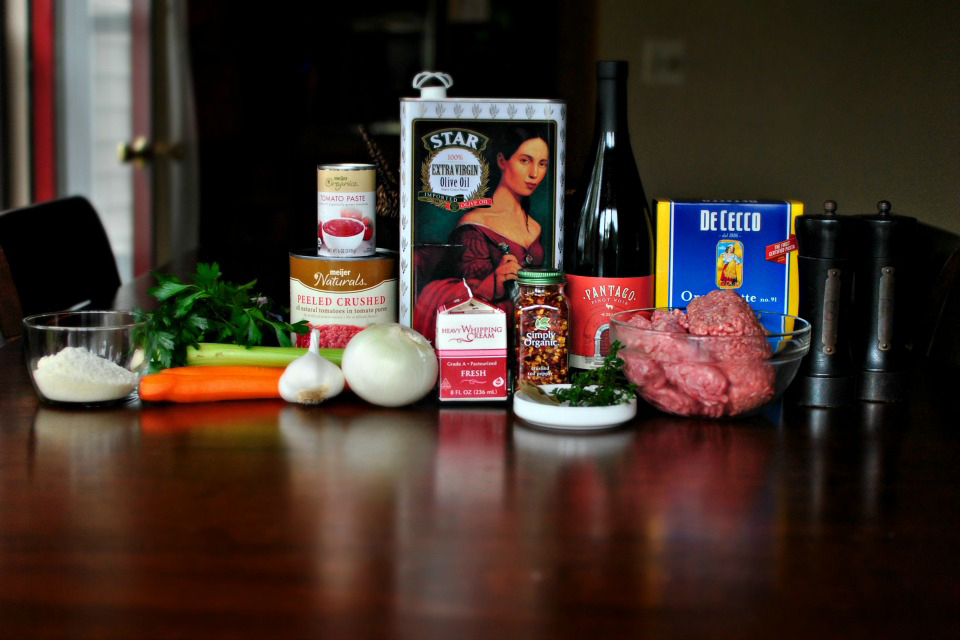 The base to any Bolognese is the mirepoix or the combination of celery, onions and carrots. And from thereon out you build and layer ingredients, simmer and layer some more to create the magnificent flavors of this Bolognese sauce. Then the sauce simmers until your nostrils can no longer stand the fabulous aroma and you simply need to have a big bowl of pasta ASAP.
So grab your celery, carrots, onion and garlic. Use a sharp knife to dice them pretty fine.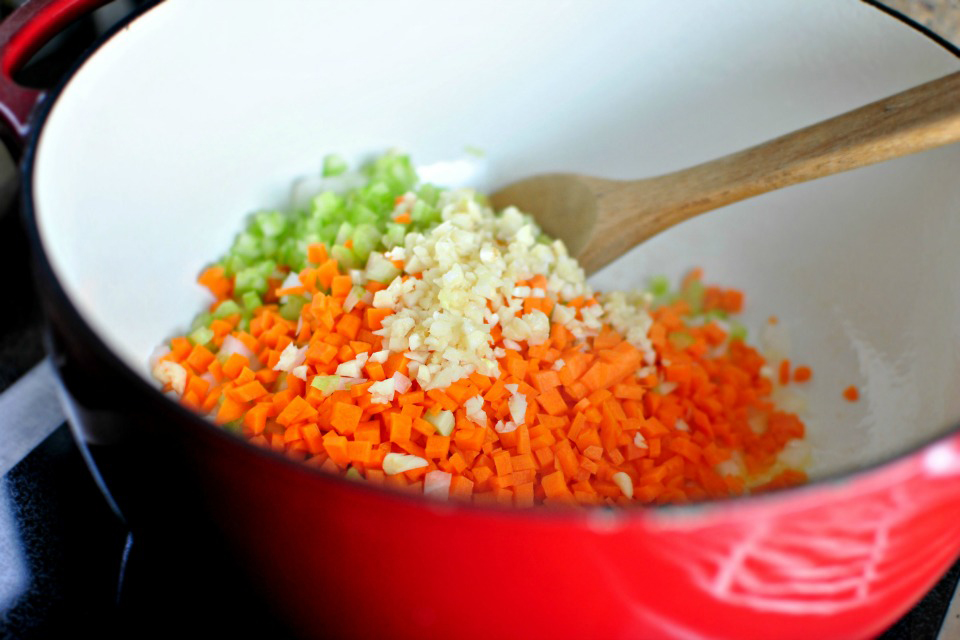 Add a little olive oil to a 4 to 5-quart Dutch oven and add the minced vegetables and garlic to the pot.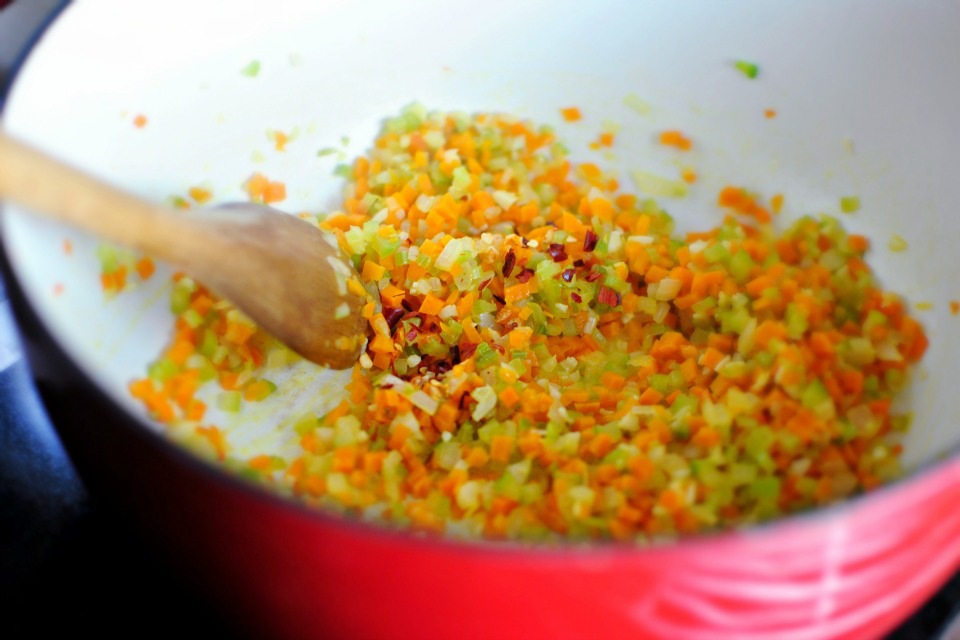 Sauté until the vegetables are soft, stirring occasionally. Measure and add in the red pepper flakes and continue to cook for an additional minute.
Now add in both the ground beef and veal and use a wooden spoon to break up the meat into small pieces.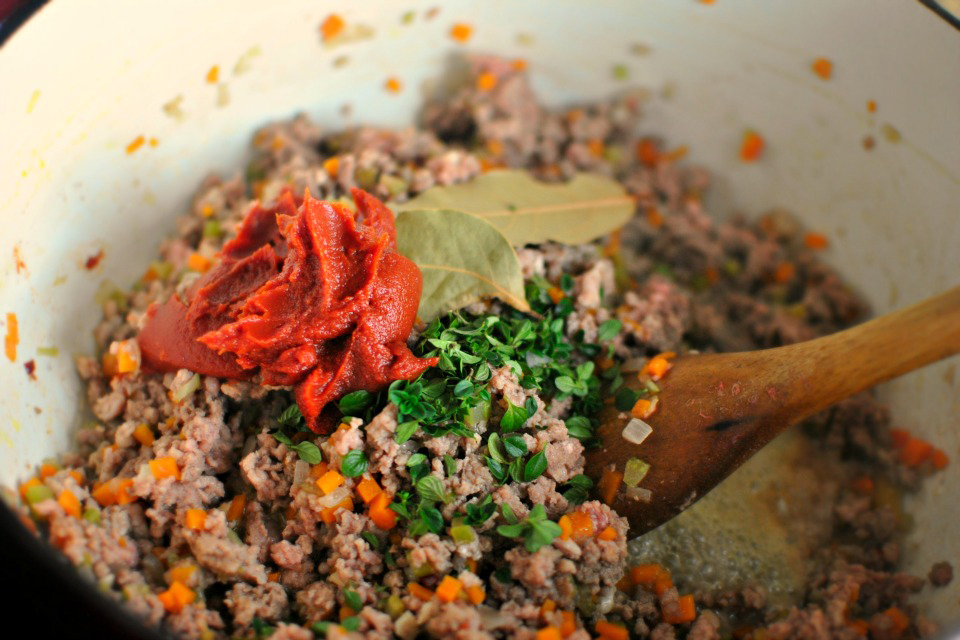 Once the meat is fully cooked, add in the fresh thyme, bay leaf and tomato paste.
Stir to combine and cook for 2-3 minutes.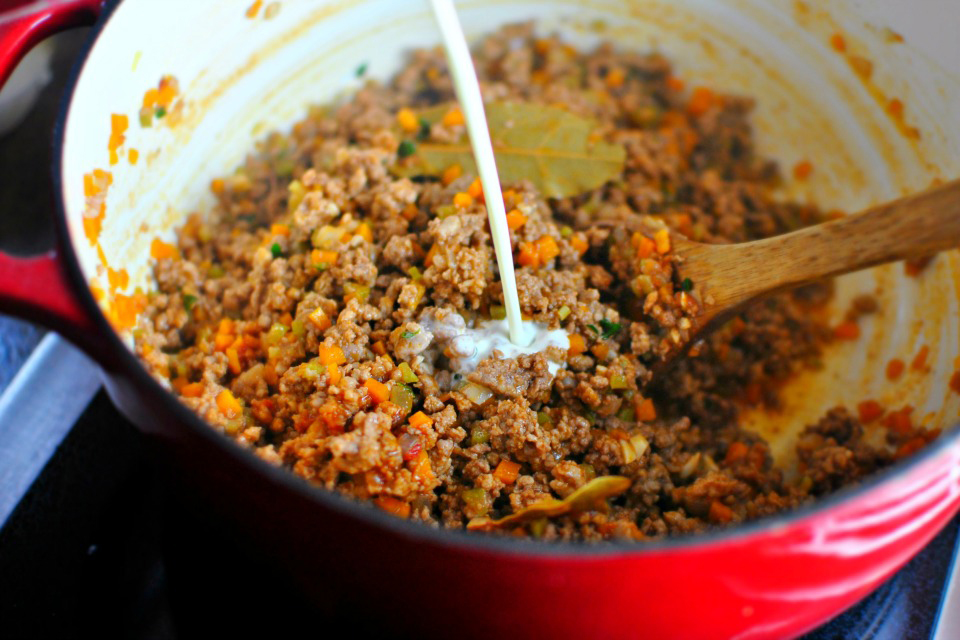 Now add in the heavy cream (or whole milk) and let it simmer until the cream has evaporated, about 10 minutes.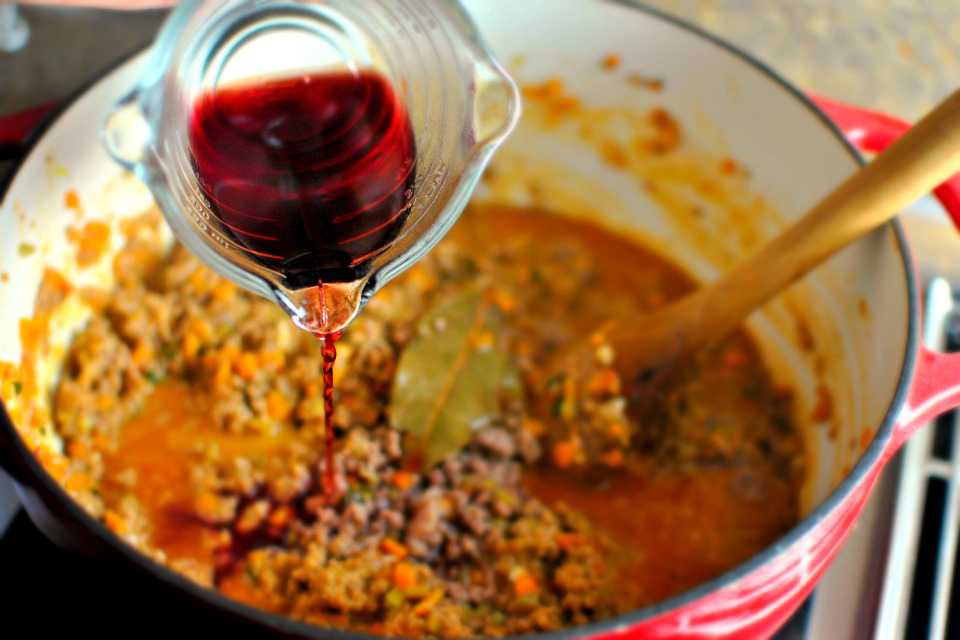 Once that is done, add in the wine. Just like the heavy cream, let it simmer until evaporated, about 10 more minutes.
Next add in the crushed tomatoes and their juices.
Stir and bring the sauce to a boil, then reduce to the lowest setting and simmer for 2-1/2 hours, stirring every 20 minutes or so. In the last half hour is when I like to bring a large pot of water to a boil, season with kosher salt and make the pasta as directed on the package. My rule of thumb: the sauce can always wait for the pasta and not the other way around. So I make sure the pasta sauce is pretty much done before starting on the orecchiette.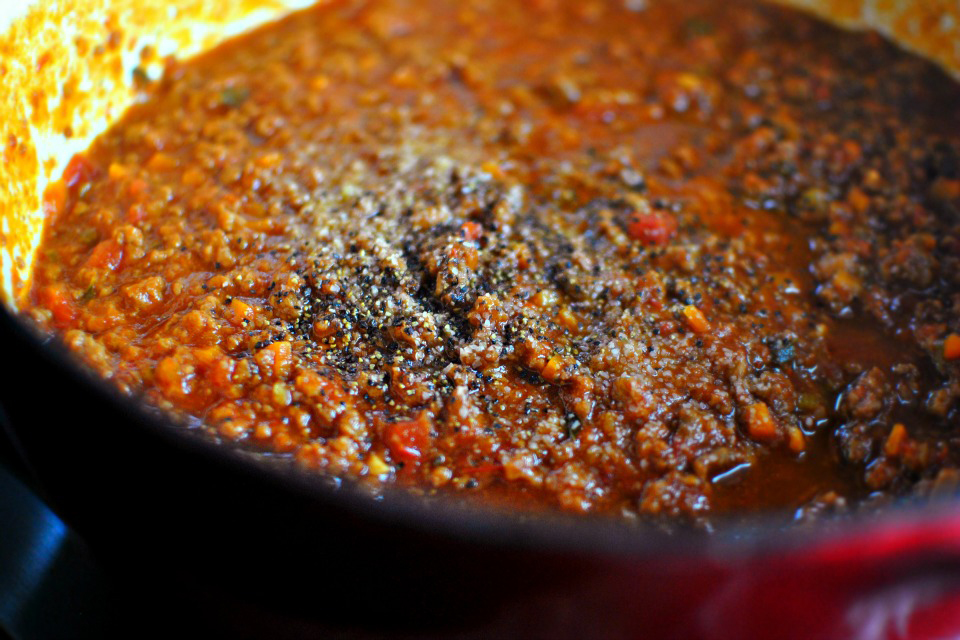 I quickly check the Bolognese sauce and season with kosher salt and fresh ground black pepper to taste.
Remove the bay leaves before combining the sauce with the cooked and drained orecchiette.
Simply serve with minced parsley and, in my case, lots of fresh grated Parmesan cheese!
I'm so excited to feature this recipe on the Tasty Kitchen Blog. It's my go-to Bolognese because it's so simple and straight-forward. Oh, and it's pretty darn delicious, too! This also freezes beautifully so you can definitely make a double batch and freeze it for a quick and cozy dinner on a busy weeknight. The wine is subtle, but the sauce has so many flavors going on and will have you licking your bowl. Trust me on this.
Be sure you check out Nam's blog The Culinary Chronicles and browse through her well-established TK recipe box. She's has a plethora of delicious recipes to choose from!
Thank you Nam for this gem of a recipe. It definitely is a much-loved recipe in our home—and many others, I'm sure!
Printable Recipe
See post on Nam | The Culinary Chronicles's site!
Description
Orecchiette Bolognese, rich and meaty and deliciously tummy-warming.
Ingredients
3 Tablespoons Olive Oil
1 cup White Onion, Finely Minced
1 cup Carrots, Finely Minced
1 cup Celery, Finely Minced
1 Tablespoon Fresh Garlic, Finely Minced
½ teaspoons Dried Red Chili Flakes (or Less Depending On Your Heat Preference)
1 pound Ground Beef
½ pounds Ground Veal
1 Tablespoon Fresh Thyme Leaves
2 whole Bay Leaves
2 Tablespoons Tomato Paste
1 cup Milk Or Cream
1 cup Dry Red Wine
1 can (28 Oz. Size) Crushed Tomatoes
Kosher Salt And Black Pepper To Taste
1 pound Orecchiette Pasta, Cooked Al Dente
Grated Parmesan Cheese
Fresh Italian Parsley, Chopped
Preparation Instructions
Heat olive oil in a large heavy pot. Add onions, carrots, celery, and garlic. Saute until softened but not browned. Add chili flakes and sauté for an additional minute. Add beef, veal, and ½ teaspoon of kosher salt. Use a wooden spoon to crumble the meat and break into small pieces. Once the meat is no longer pink, add thyme and bay leaves. Add tomato paste and cook for an additional 2-3 minutes.
Add the milk and bring to a simmer. Continue simmering until all the milk has evaporated and only clear juices remain, about 10 minutes. Add the wine and bring to a simmer. Continue simmering until all the wine has evaporated, about 10 minutes.
Add tomatoes with their juices and bring to a boil, then place the heat at the lowest setting. Continue on this very low simmer for 2 – 2 ½ hours, stirring every 20 minutes until you get a rich, thick meaty sauce. Check for seasonings and add kosher salt and pepper accordingly.
Toss the cooked orecchiette in the bolognese sauce and serve topped with parmesan cheese. Garnish with Italian parsley and enjoy!


_______________________________________
Laurie is the force behind Simply Scratch, a blog that documents her efforts to find and create recipes that are made simply from scratch. (We think it's sweet that her mother-in-law helped her set up her blog and get started.) We love her recipes; they're not just tried and true, but they look gorgeous as well. Check out her blog and you'll become a fan too.