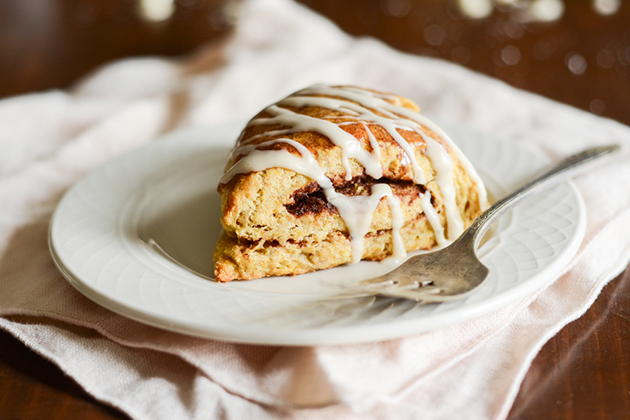 Everything about these scones just screams fall. What could be cozier than a steamy cup of tea shared with your sister, accompanied by a pumpkin scone filled with warm, cinnamony goodness and a maple glaze.
Just as I finished photographing these lovely Pumpkin Cinnamon Roll Scones (brought to us by the amazing Erin), my sister and her little girls stopped outside our door on an ATV. It was a chilly day, so of course I invited them in for a spot of tea, even though my house was a mess from baking. I put a kettle of water on to boil and we settled in for a chat. We agreed that these were some of the best scones we'd ever tasted—so soft and tender.
Let me show you how to make them: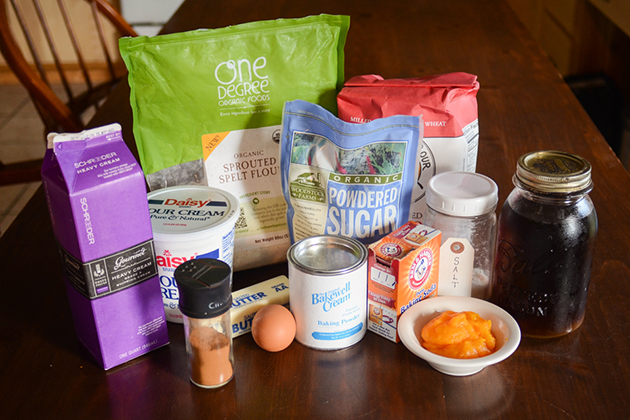 Here's everything you'll need: flour (I used spelt and all-purpose), baking powder, baking soda, salt, butter, egg, maple syrup, pumpkin puree, buttermilk (I used a combination of sour cream and cream), cinnamon, powdered sugar and milk (I used cream).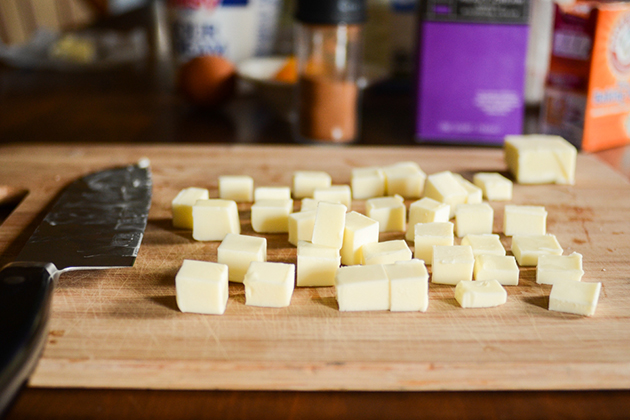 Begin by prepping your butter: cut it into small cubes. Now it's ready for cutting into the flour.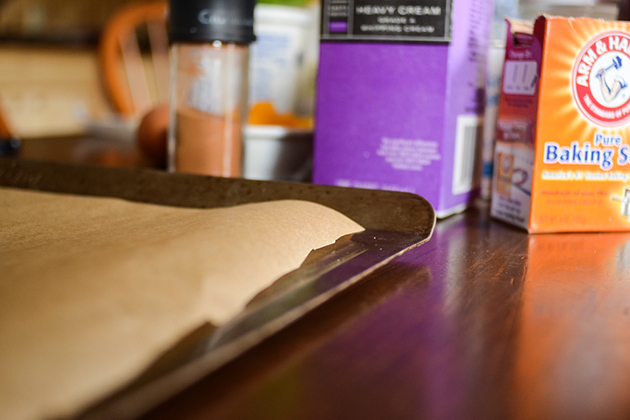 Line a baking sheet with parchment paper and preheat your oven.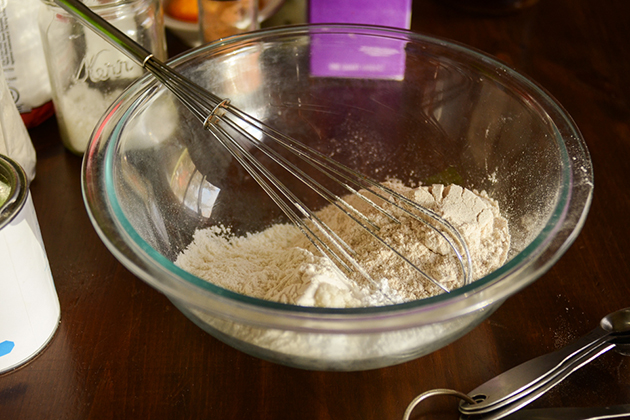 Whisk together the dry ingredients: flour, baking powder, baking soda and salt.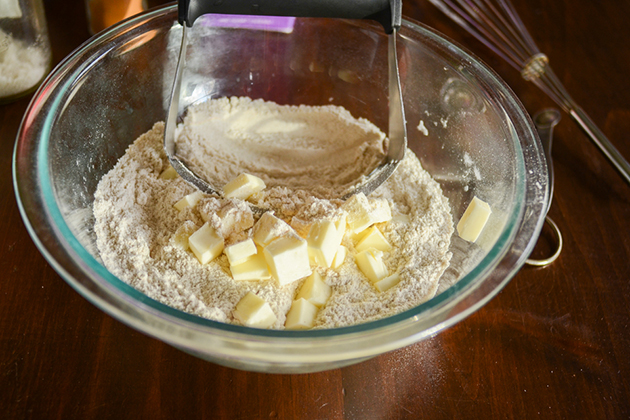 Cut the butter into the dry ingredients using a pastry cutter, two knives, a fork, your fingers … you get the picture.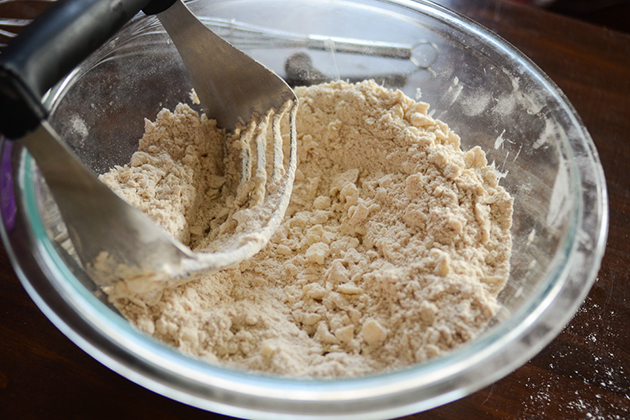 You want the butter to be in little pea-sized pieces. Like this.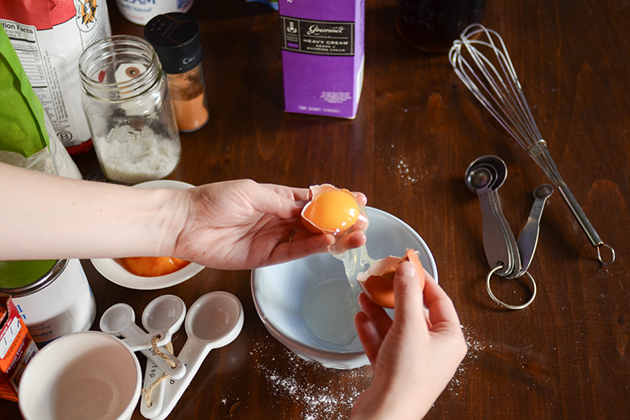 Place the white of your egg into a medium bowl. Save the yolk for later.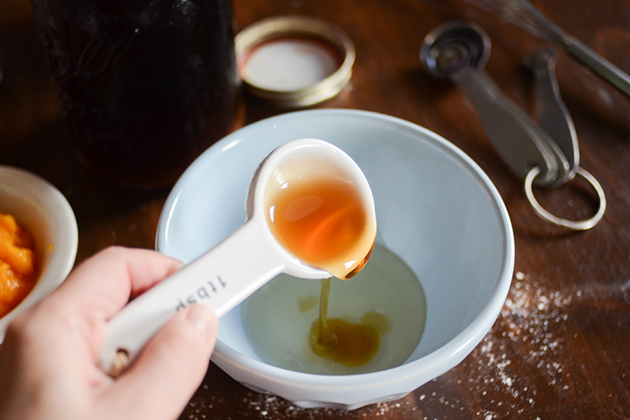 Add the maple syrup …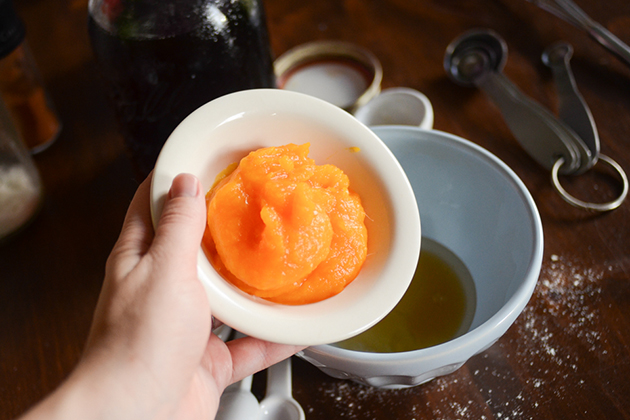 Pumpkin puree …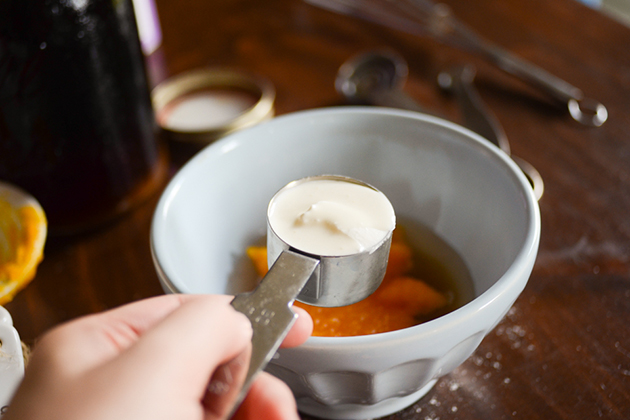 And buttermilk. Stir.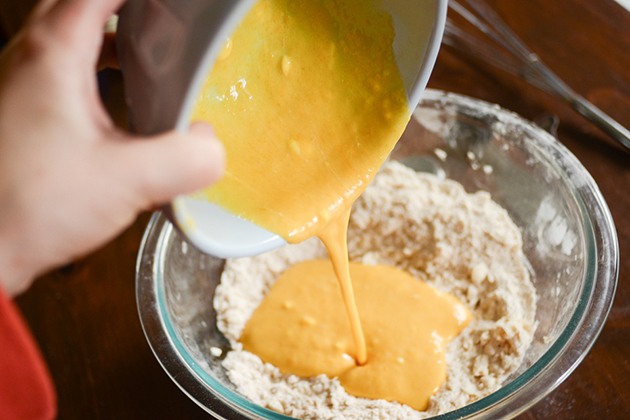 Add this mixture to the flour/butter mixture.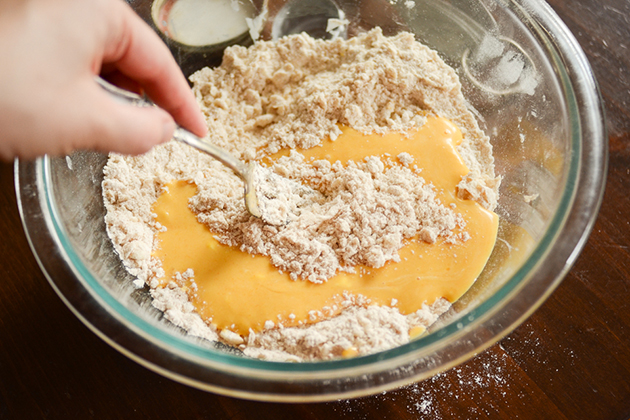 Stir just until the dough pulls together.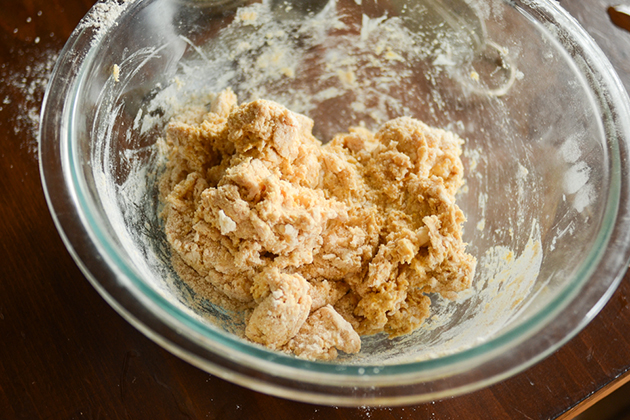 Like this.
Scrape the dough onto a flour surface and pat into a 20×8-inch rectangle (I made a half recipe, so mine was 10×4).
Mix together the melted butter, maple syrup and cinnamon.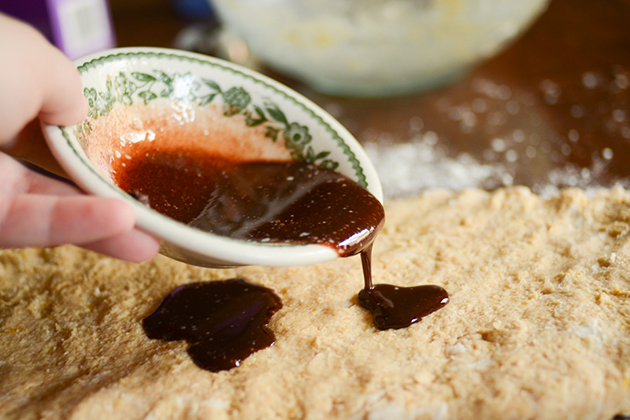 Pour about half of this mixture over the dough …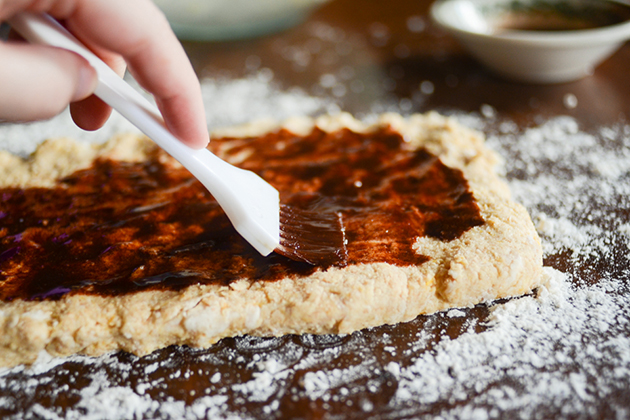 And brush with a pastry brush evenly across the dough.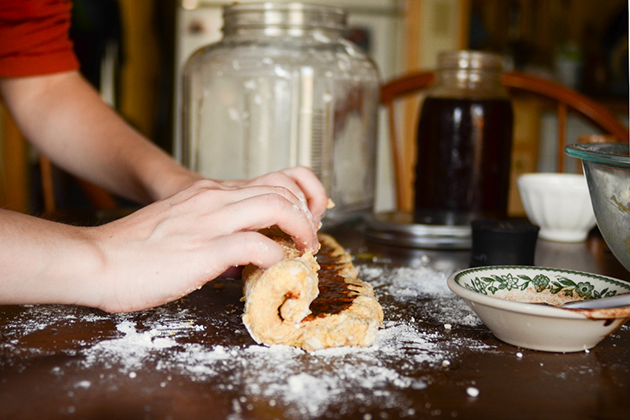 Roll up the dough lengthwise like you would cinnamon rolls.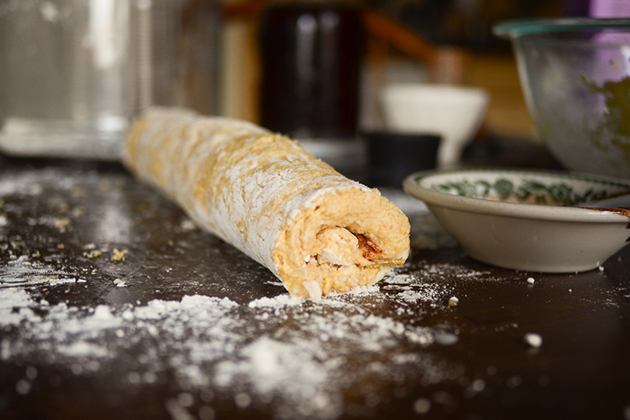 Isn't that pretty?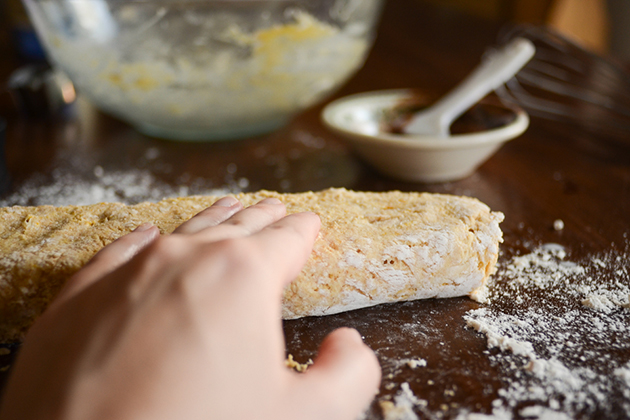 Flatten the dough slightly by patting it into a rectangle that stands about 1-1/2 inches high.
Cut the log into triangles.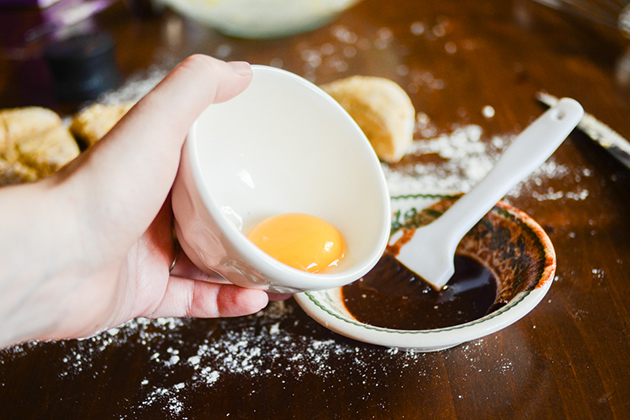 Now to make the egg/cinnamon wash, add the egg yolk to the remaining filling.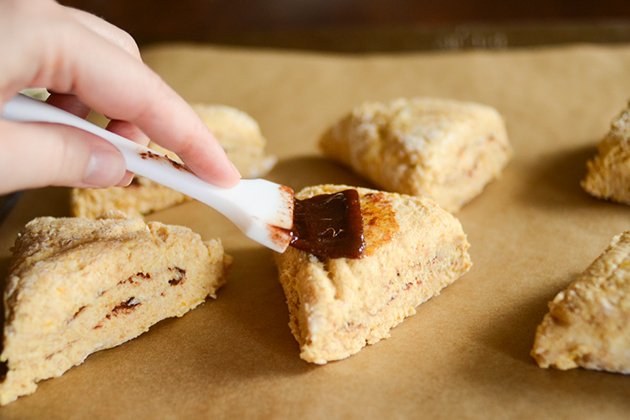 Brush over the tops of the scones.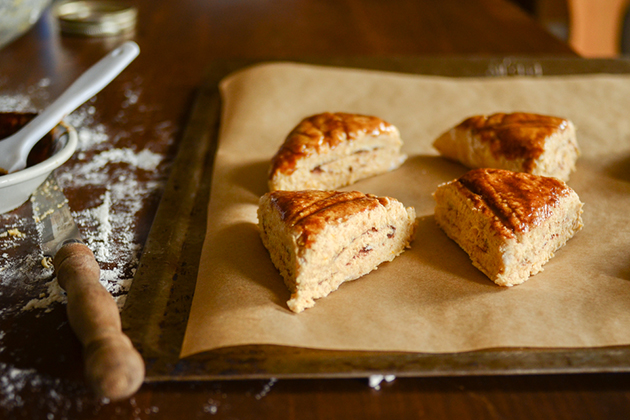 Bake in your preheated oven until nice and golden.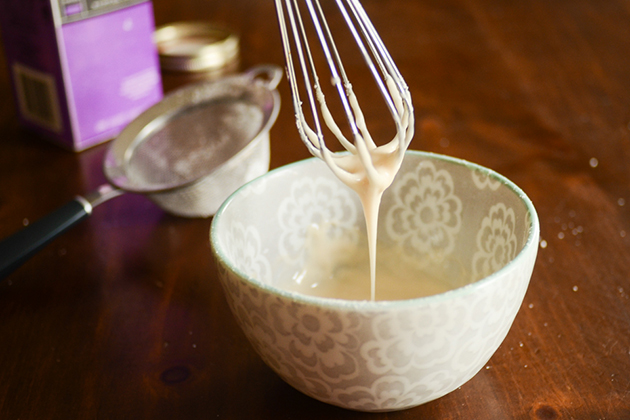 Meanwhile, whisk together the icing ingredients: powdered sugar, maple syrup and cream or milk if needed.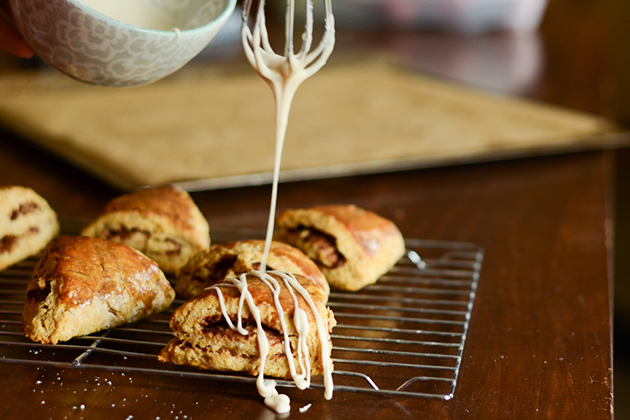 Once the scones have cooled slightly, drizzle them with the maple glaze.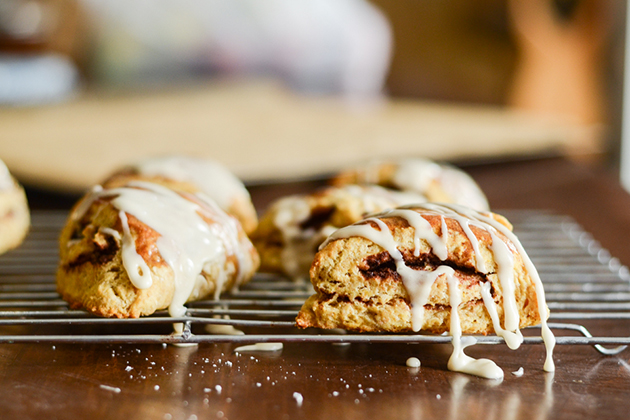 Admire how pretty your fresh-baked scones are and serve with butter and a warm cup of tea.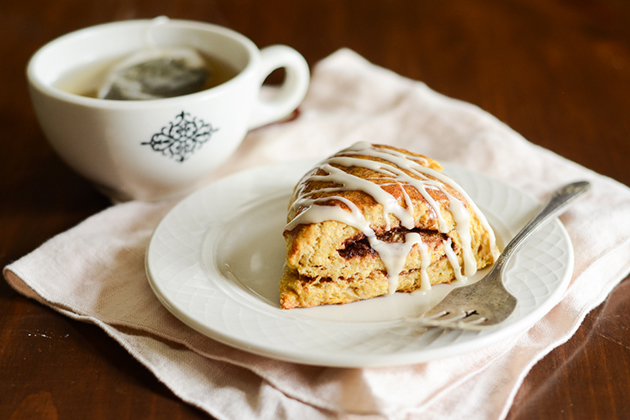 Notes:
1. The pumpkin flavor is definitely not overpowering in these scones. In fact, I could barely taste it. But I suspect that the puree had something to do with how soft and tender these scones were.
2. I thought perhaps the dough could have used a little more sweetener. Next time I might add a tablespoon or two of evaporated cane juice.

Many thanks to Erin for sharing this brilliant recipe with us! Make sure to check out her blog, Naturally Ella, where she shares recipes with a seasonal, healthy focus. This Chocolate Cake with a Peanut Butter Glaze looks particularly scrumptious.
Printable Recipe
See post on Erin's site!
Description
A delicious fall scone that's full of pumpkin and cinnamon!
Ingredients
3 cups Whole Wheat Pastry Flour
2 Tablespoons Baking Powder
½ teaspoons Baking Soda
1 teaspoon Salt
14 Tablespoons Butter, Divided
2 Egg Whites
4 Tablespoons Maple Syrup, Divided
¾ cups Pumpkin Puree
¼ cups Buttermilk
1 Tablespoon Cinnamon
2 Egg Yolks
½ cups Powdered Sugar
2 Tablespoons Milk
Preparation Instructions
Preheat oven to 425ºF and cover a sheet tray in parchment paper (or a reusable Silpat mat).
In a large bowl, sift together all the dry ingredients. Cut in 12 tablespoons of butter (using pastry blender, two knives, or my favorite—your hands) until butter is in little pea size pieces. In a smaller bowl, whisk together egg white, 2 tablespoons of maple syrup, pumpkin, and buttermilk. Stir into dry ingredients until dough pulls together.
Scoop out onto a floured surface and carefully pat dough into a rough 20×8 rectangle. Melt the remaining 2 tablespoons butter and combine with 1 tablespoon maple syrup, and cinnamon. Brush about half onto the rectangle. Starting with the end closest to you, roll the dough (like you would a cinnamon roll).
Once you have a round log, carefully shape into a rectangle log that stands about 1 1/2″ high and that has a width of about 3″. Cut log in half and divide each half into six triangles.
Whisk together any remaining filling mixture with egg yolks. This gives you a nice golden color on the scones. Place on the baking tray, brush with the butter/egg mixture.
Bake for 12-15 minutes or until the scone has a harder outer shell and has browned. Remove from the oven and let cool slightly before icing.
To make icing, combine powdered sugar and remaining 1 tablespoon of maple syrup. Add milk if it's too thick or powdered sugar if it's too thin. You want to reach a thick yet pourable consistency. Drizzle glaze over the scones.


_______________________________________
Newly-married Erica Kastner shares her wonderful recipes and amazing food photography on her blog, Buttered Side Up. She also writes about crafts and posts more of her beautiful photography in her personal blog, Simple Days. There really isn't much that this amazing young wife and mother can't do, and we're thrilled she does some of it here.