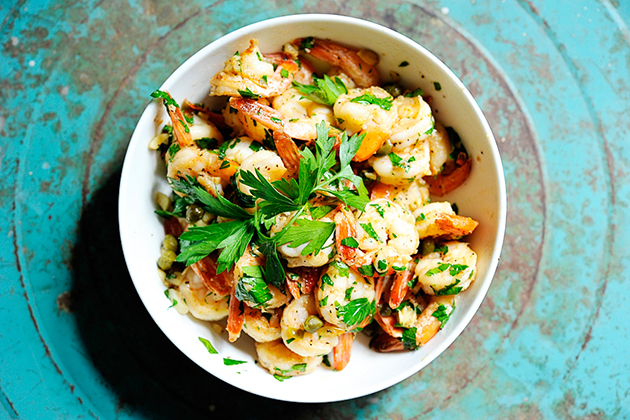 Colleen is my new recipe hero. This Incredible 10-Minute Garlic Shrimp will hardly make it to the table; it is filled with such flavor, you'll be eating it from the pan. It is also great served room temperature or cold the next day on salads.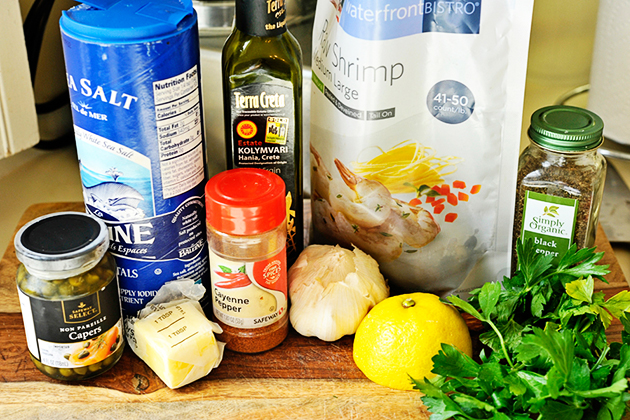 To make it you will need: olive oil, garlic, shrimp, salt, pepper, butter, lemon juice, capers, cayenne, and parsley.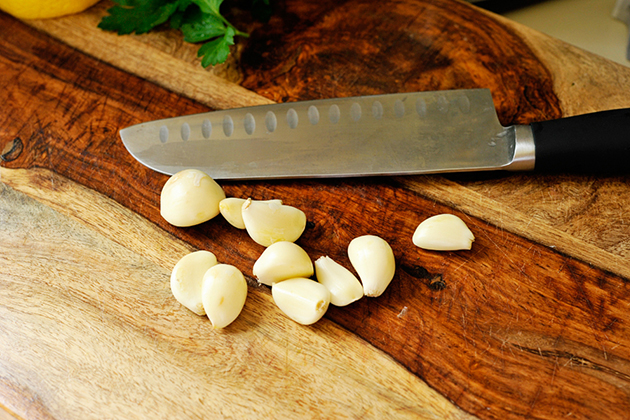 Chop the garlic cloves finely …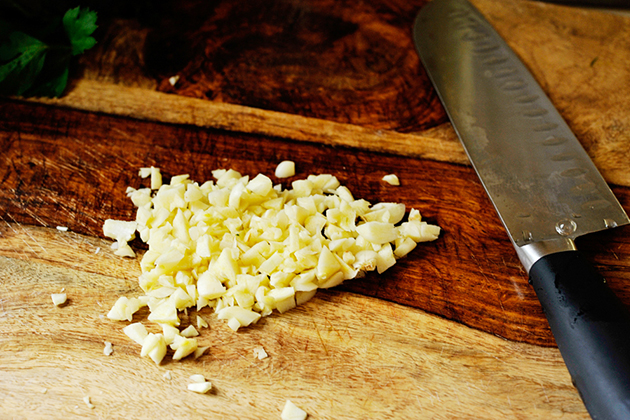 Like so.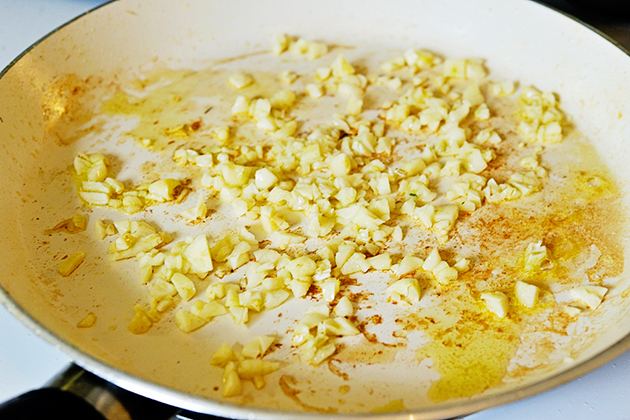 Heat the olive oil over medium-high heat in a pan. Add the garlic and sauté for 30 seconds.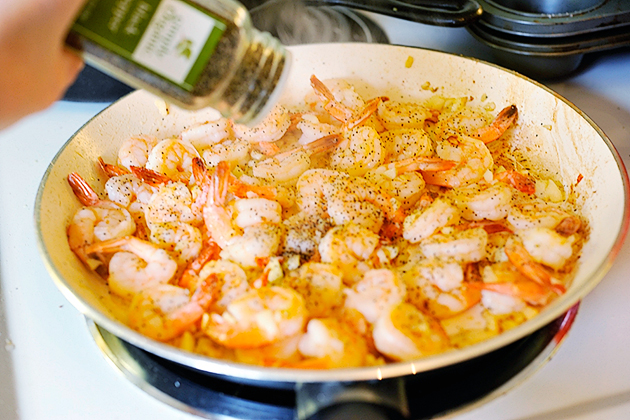 Add the shrimp and sauté for another 1-2 minutes, then lower the heat to medium. Season with salt and pepper and give it a stir.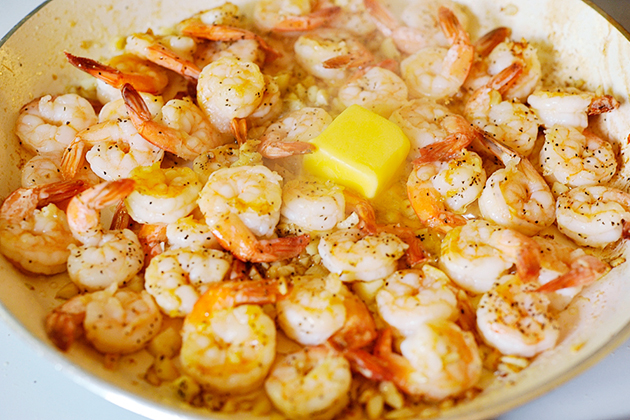 Then add a pat of butter …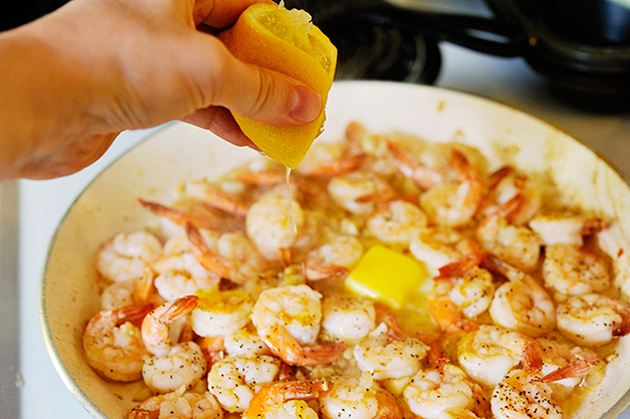 And a squirt of lemon juice.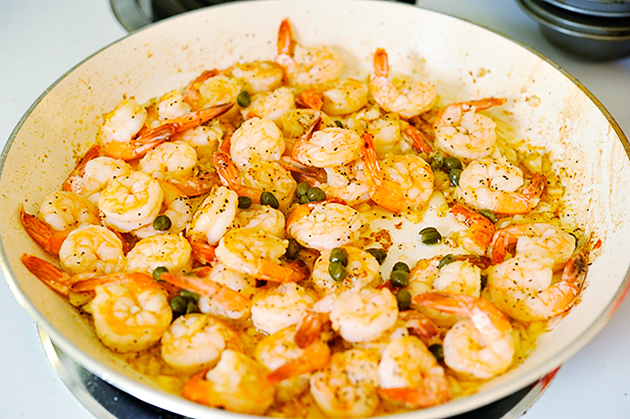 Continue to sauté until cooked through, about 2 minutes more, turning them over as needed to ensure they cook evenly. Remove from the heat and add the capers and caper juice, red pepper flakes …
Cayenne …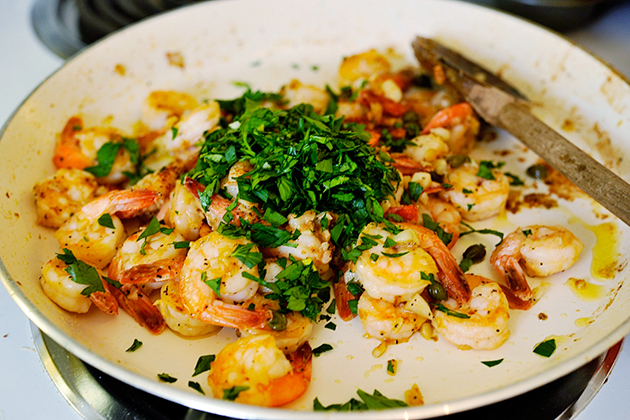 … and parsley.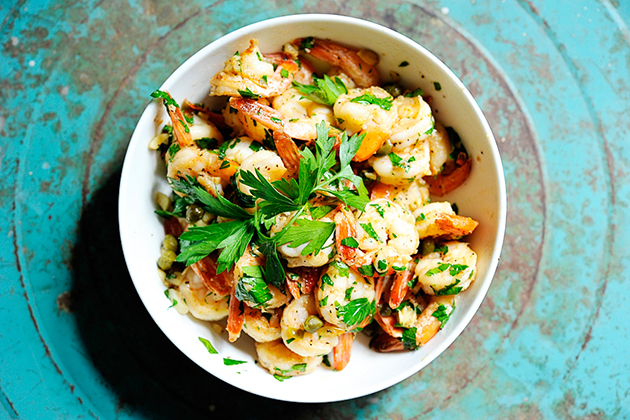 Serve immediately with some crusty bread. You will swoon, I promise.
Visit Colleen's website, Souffle Bombay, for other heavenly treats!
Printable Recipe
See post on soufflebombay's site!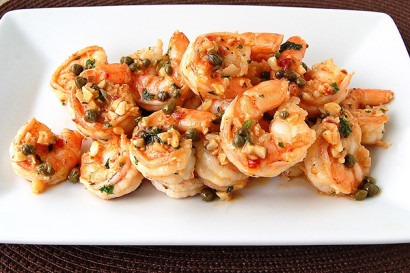 Description
Easy to prepare and full of flavor. This is perfect for 2 or 20!
Ingredients
3 Tablespoons Olive Oil
10 cloves Garlic, Chopped
2 pounds Shrimp, Shells And Tails Removed (21-25 Size Is Perfect)
Sprinkle Of Kosher Salt And Black Pepper
1 stick Butter, Divided Into Chunks Of About 1 1/3-Tablespoons Each
⅓ cups Fresh Lemon Juice
3 Tablespoons Capers And A Bit Of The Juice
Red Pepper (Cayenne) To Taste, I Like It Spicy So I Usually Use At Least 1/2 Teaspoon
2 Tablespoons Chopped Fresh Parsley
Preparation Instructions
Heat olive oil in a large pan over medium-high heat. Add the garlic and saute for 30 seconds. Add shrimp and saute for 1-2 minutes, then lower the heat to medium. Sprinkle with salt and pepper and add in 3 chunks of butter and the lemon juice. Continue to saute until cooked through (about 2 more minutes), turning occasionally to ensure an even cook. Remove from heat, add capers and caper juice, sprinkle with the red pepper and parsley and add in remaining butter. Toss until the butter is melted and serve immediately.
Enjoy!
Notes:
This is a fabulous appetizer as well as a great meal with a hunk of crusty bread and a salad or even some pasta.
If you like cilantro more than parsley, feel free to substitute. If you are not into capers (gasp!), feel free to leave them out—but I wouldn't!
If you are cooking for a crowd and serving this as an appetizer, I would make 2 batches since it cooks up so fast. That way it stays nice and hot while your guests gobble it up!


_______________________________________
There's so much to say about Georgia, we don't know where to start. Leaving Wall Street for the French Culinary Institute, followed by a stint at the Gramercy Tavern and La Chassagnette in France, her passion for food and food traditions are evident and inspiring. Visit her site at Georgia Pellegrini, where you'll find more recipes, photos, learn all about her wonderful books Girl Hunter and Food Heroes, and enjoy her latest adventures.