Summer is synonymous with potlucks, picnics, and BBQs. Starting with Memorial Day and ending with Labor Day, and of course not forgetting Independence Day and regular backyard get-togethers, it seems like there's something going on every week! Where I live, summer is a short and sweet affair so we have to make the most of it.
I know a lot of people who have a signature dish they make for summer parties. We usually ask everyone to choose a course and bring a dish to pass instead of planning the entire menu, but based on who is coming, we know exactly what we'll be having for dinner. If my mom is coming, she's bringing a side dish and it's one of two things: her homemade taco salad or her homemade baked beans. I have a friend who is known for her killer chocolate chip cookies, and another friend who makes what I think is the best fruit salad in the world (I need to get her recipe—I have no idea why hers is so much better!).
I don't really have a signature summer party dish. If there's a type of dish that hasn't been claimed, such as a side, meat, or dessert, I'll just bring that. But then I saw Tasty Kitchen member Andrea's recipe for this irresistible-looking Crunchy Asian Slaw, and this salad makes me want to claim it as my signature for future summer picnics! It's fresh with bold flavors and a great nutty crunch factor. It's the perfect summer party food.
Give it a try!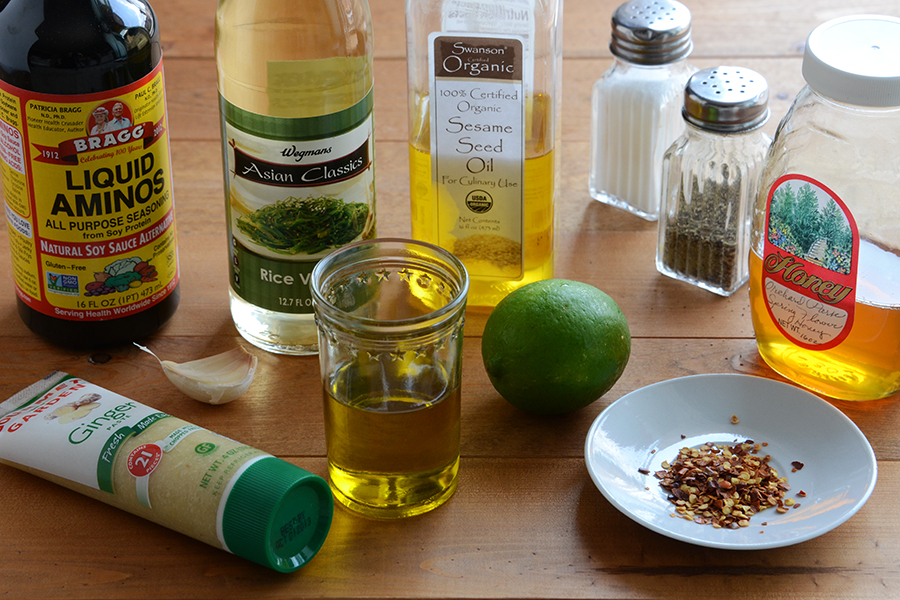 Whip up the dressing first. You'll need garlic, Fresno peppers, ginger, tamari or soy sauce, rice vinegar, honey, sesame oil, lime (my last one), olive oil, and salt and pepper.
I couldn't find Fresno peppers so instead I used 1/2 teaspoon crushed red pepper flakes in place of each Fresno pepper (or you could use a jalapeño pepper for each Fresno pepper). Also, for the life of me I couldn't find fresh ginger (which I usually never have trouble finding!), so I used 1 teaspoon fresh ginger in the squeeze tube. And I used Liquid Aminos instead of tamari or soy sauce because that's what I had on hand. That's the beauty of cooking (as opposed to baking)—recipes are usually quite forgiving!
Mince the garlic or grate it on a microplane.
Whisk together all the dressing ingredients except the olive oil, salt, and pepper. Then gradually stream in the olive oil as you whisk.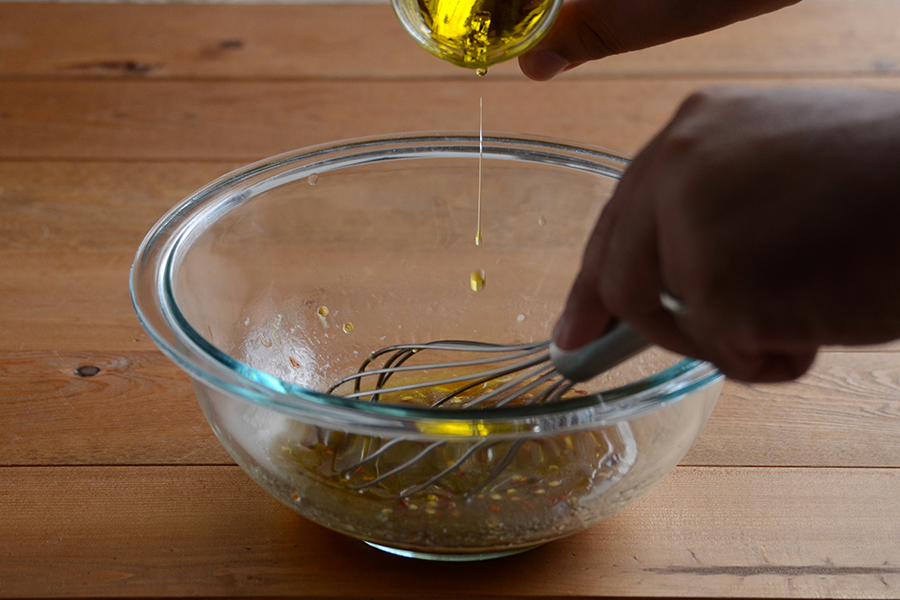 I'm normally a one-woman show, but I was lucky enough to make this on a day when my husband was home, so he is my hand model.
Once it's whisked up, give the dressing a taste and add salt and pepper if desired.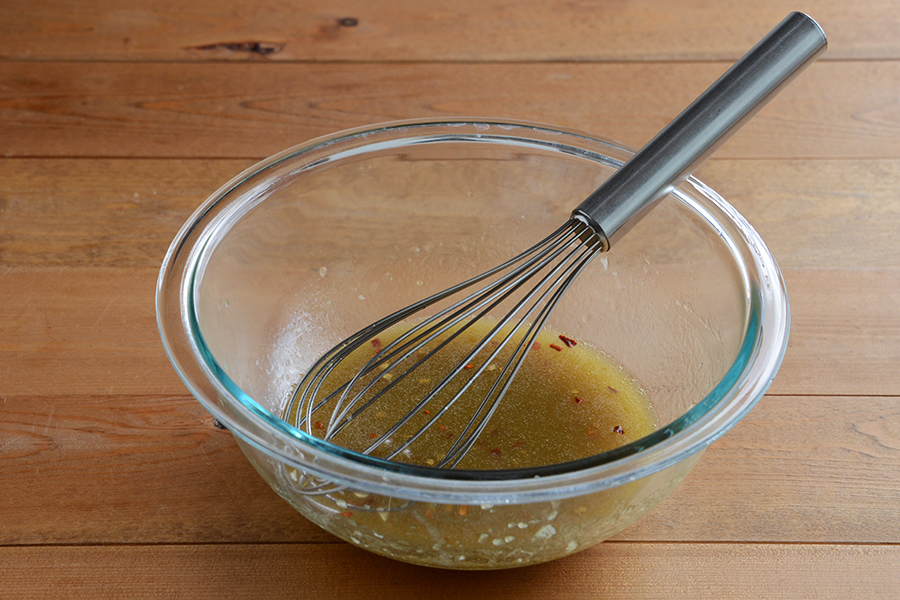 Here's how the dressing looks finished. Set it aside for now and move on to the veggies.
For the slaw you'll need: Napa cabbage, red cabbage, carrot (I used 2 small-medium carrots instead of 1 large), red pepper, green onion, butter, crushed ramen noodles, sesame seeds, slivered almonds, and lime (I was out of lime, so I grabbed a lemon instead).
A quick tip: I've found that the easiest way to crush ramen noodles is while they're still in the package. You can do it with your hand or using a heavy object (like a rolling pin) but don't be too rough or the package will explode open!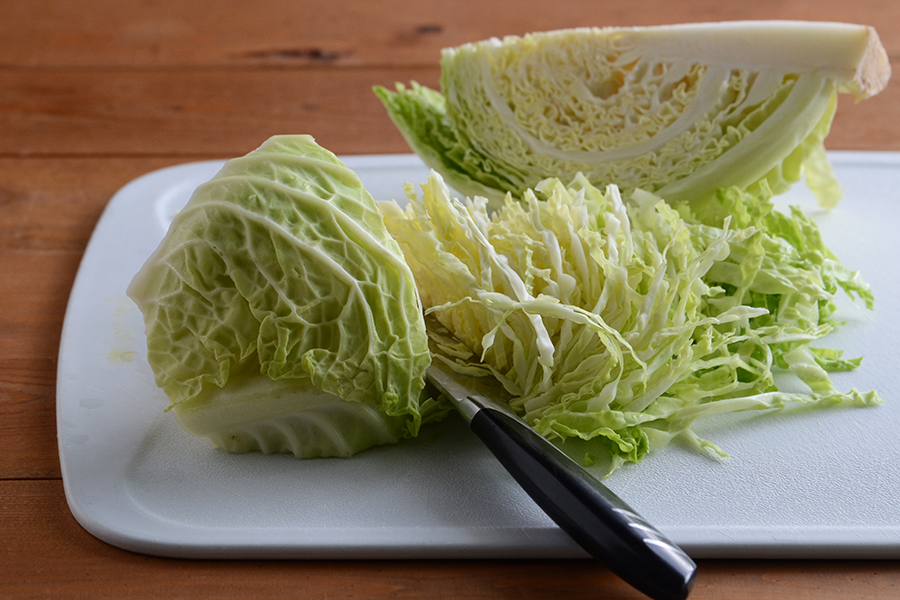 Thinly slice the Napa cabbage …
And the purple cabbage (note that there is more cabbage pictured than what you need in this salad; I was also chopping it for something else).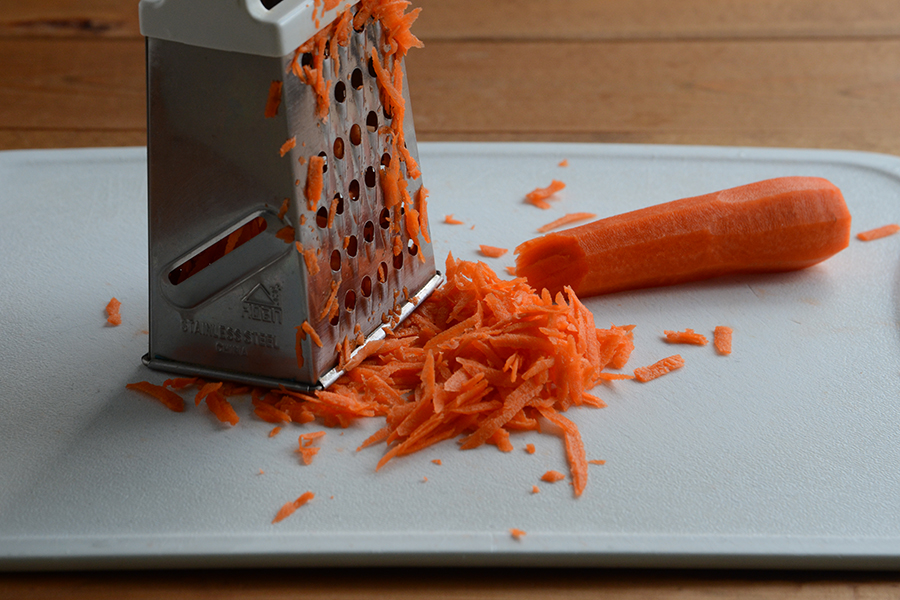 Shred the carrot.
Chop the red pepper.
Slice the scallion.
Add the cabbages, carrot, red pepper, and 3 of the scallions into a large bowl. Now it's time to toast the ramen and up the crunch factor even more.
Melt the butter in a medium skillet over medium heat.
Add the crushed ramen, slivered almonds, and sesame seeds and cook until browned, about 4 to 5 minutes, stirring frequently. It will smell amazingly nutty and delicious. Let this mixture cool for a few minutes.
Add the dressing and ramen mixture to the bowl of veggies.
Give it a good toss. Sprinkle the remaining 2 sliced scallions on top along with additional sesame seeds if you want.
Then serve up this gorgeous slaw! Instead of squeezing the extra lime on top and tossing it together, I like to serve the slaw with lime wedges on the side so people can add more if they want.
It goes well with just about anything you can whip up on the grill: BBQ chicken, burgers, steak, or even seafood. Signature dish, anyone?
A big thank you to Andrea for sharing her delicious recipe on Tasty Kitchen! Be sure to check out her beautiful blog Recipes for Divine Living for more inspiration.
Printable Recipe
See post on Andrea's site!
Description
This salad is fast and easy to make and has great crunch. Awesome dressing!
Ingredients
FOR THE SALAD:
3 cups Napa Cabbage, Thinly Sliced
2 cups Green Or Purple Cabbage, Thinly Sliced
1 Large Carrot, Shredded
½ Red Pepper, Chopped
5 Green Onions, Chopped (use 2 Of Them For Garnish)
2 Tablespoons Butter
1 package Ramen Noodles, Noodles Only, 3 Ounce Package
1 Tablespoon Sesame Seeds + More For Garnish
½ cups Slivered Almonds
1 whole Lime, Juiced
FOR THE DRESSING:
1 clove Garlic, Minced
2 Fresno Peppers, Seeded And Minced
1 teaspoon Ginger, Freshly Microplane Grated
1 Tablespoon Tamari (regular Soy Sauce Will Work)
1 Tablespoon Rice Vinegar, Preferably Seasoned
1 Tablespoon Honey
1 Tablespoon Sesame Oil
1 whole Lime, Juiced
¼ cups Olive Oil
1 pinch Salt And Pepper, If Needed
Preparation Instructions
Prepare dressing by combining all of the listed ingredients (except olive oil and salt/pepper) in a medium-sized bowl. While whisking everything together, slowly stream in oil as you continue whisking. Taste and add salt and pepper if needed. Set aside.
In a large bowl combine cabbages, carrot, red pepper and 3 of the chopped green onions. Set aside.
Melt butter in a skillet over medium heat. Crunch up the ramen noodles and add them into the melted butter. Add sesame seeds and slivered almonds as well and brown everything, stirring often. Once it's nicely browned, remove the skillet from the heat.
Add the noodle mixture to the cabbage mixture along with dressing. Toss to combine. Juice the lime over the top of the salad. Add remaining 2 green onions and more sesame seeds, if desired. Toss to combine, then serve.


_______________________________________
Faith Gorsky is the writer, recipe developer, photographer, and food stylist behind the blog An Edible Mosaic. She lives in Upstate New York and loves to travel, especially to places steeped in rich culture and history. She also enjoys reading, vintage shopping, watching movies, and is enamored with ancient cultures. She just released her first cookbook, "An Edible Mosaic: Middle Eastern Fare with Extraordinary Flair" (Tuttle Publishing), a collection of authentic Middle Eastern recipes handed down to her from her husband's family.