This salad is many things. It's colorful, it's healthy and it has one of my favorite ingredients: quinoa. For me, quinoa is a lot like brown rice in taste and texture, so it works splendidly in this salad and especially with soaking up all those amazing Thai flavors.
When Monique posted this recipe for Crunchy Cashew Thai Quinoa Salad with Ginger Peanut Dressing on Tasty Kitchen, I found myself drooling all over my keyboard. With that said, I knew right away I was going to make it and it was going to be all kinds of amazing. A salad that can be served as wholesome vegetarian main dish or as a side to jazz up any main course is more than alright in my book. So if you're like me and always on a hunt for a good quinoa recipe, you better stop and try this recipe. I promise you'll be glad you did.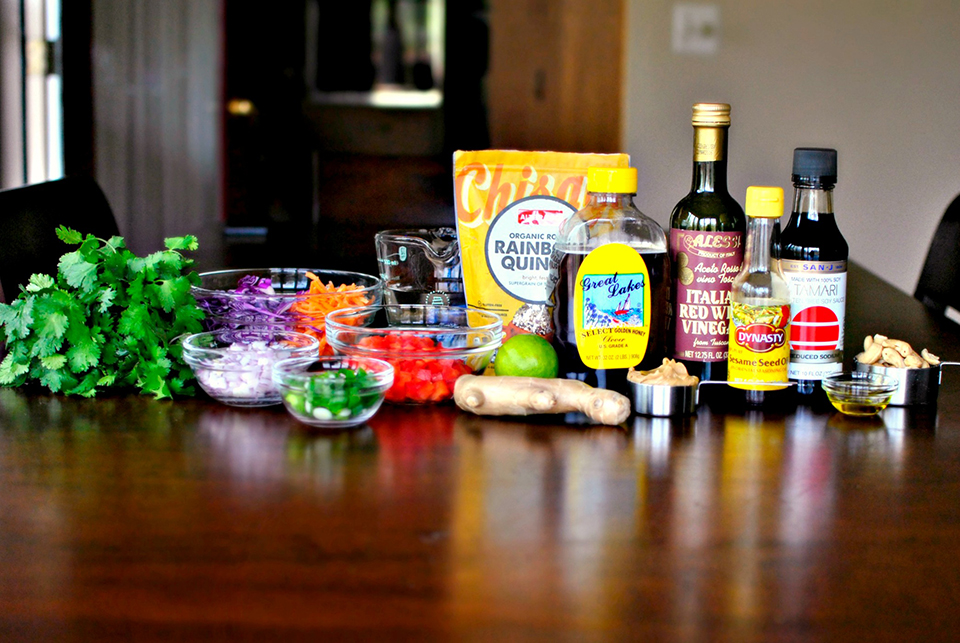 I just love when a recipe contains a rainbow of vegetables. It truly makes for a colorful and enticing salad, no? This salad is loaded with red bell peppers, purple cabbage, carrots and green onions just to name a few, and the ginger peanut dressing is as amazing as it sounds.
To make the quinoa, start by bringing 1 1/2 cups of water to a boil in a sauce pan.
While you're waiting for that to happen, rinse and drain 3/4 cup of uncooked quinoa.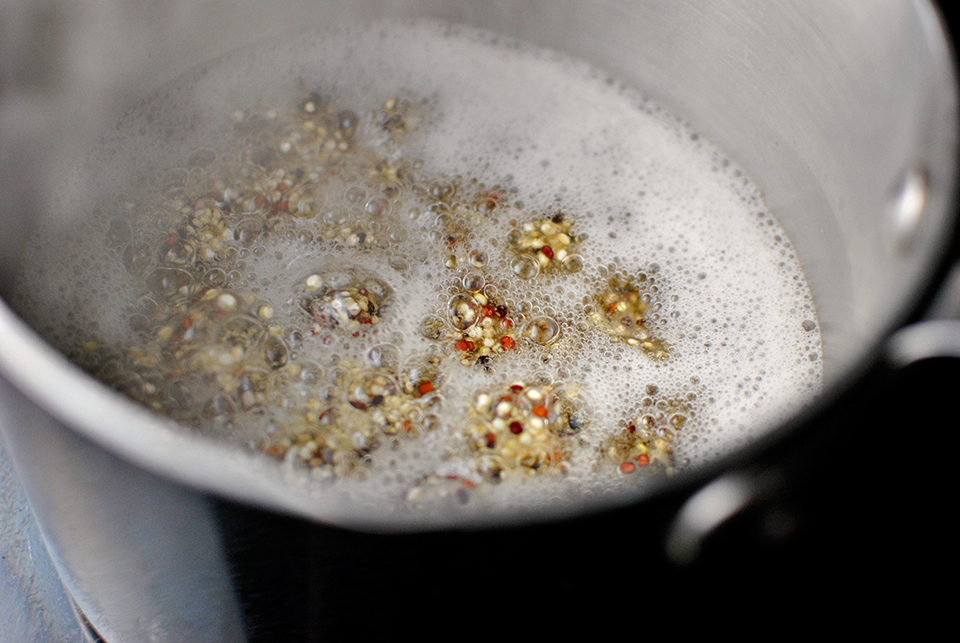 Add the rinsed quinoa to the boiling water, cover and reduce the heat to low and let simmer for 15 minutes or until the quinoa has absorbed every last drop of water.
While the quinoa is cooking away on the stove, it's a great idea to get started on the dressing. Start by combining 1/4 cup of peanut butter with a tablespoon of honey. Pop it into the microwave for about 20 seconds to warm it slightly so it's easier to stir.

Measure and add in the 3 tablespoons of soy (I used gluten-free tamari), 1 tablespoon of red wine vinegar and a teaspoon of sesame oil.
Grate in 2 teaspoons of peeled fresh ginger root into the bowl with the peanut butter and honey.
Lastly, add in a teaspoon of olive oil.
Give it a good stir to incorporate all those flavorful ingredients and set it off to the side for a quick second.
Once the quinoa is cooked, fluff with a fork and transfer it to a large bowl.
Pour in the ginger peanut dressing.
Add in the chopped red bell pepper, red onion, purple cabbage and cilantro.
Toss all those together until coated with dressing.
Simply garnish with a few cashew halves (peanuts work too!), then scatter a few green onions over top and a squeeze or two of fresh lime.
This salad is fresh, light and has so much textural deliciousness. I could really just live on this salad alone and be quite alright with it. I loved it, and I know you'll love it—it's a total win-win situation!
There's more where this came from, so please be sure to check out Monique's recipe box here on Tasty Kitchen—and visit Monique's blog Ambitious Kitchen, where she cooks and bakes up just about anything your heart (and stomach) could ever want, like whole wheat coconut banana waffles with chocolate chips and roasted almonds. And she captures all of it with beautiful photography. 
Thank you Monique for sharing this healthy and flavor-packed salad!
Printable Recipe
See post on Monique of Ambitious Kitchen's site!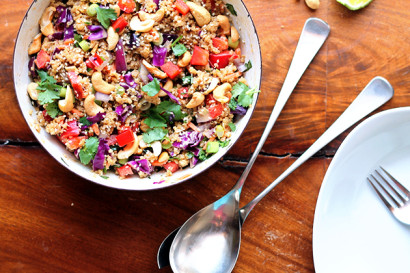 Description
Delicious vegan (and easily made gluten free) salad with Thai flavors and a perfect crunch. It's even better the next day!
Ingredients
FOR THE SALAD:
1-½ cup Water
¾ cups Uncooked Quinoa
1 Red Bell Pepper, Stem And Seeds Removed, Then Diced
½ Red Onion, Diced
1 cup Shredded Red Cabbage
1 cup Shredded Carrots
½ cups Chopped Cilantro
½ cups Cashew Halves Or Peanuts, (honey Roasted Is Good)
¼ cups Diced Green Onions
Fresh Lime, For A Bit Of Tang
FOR THE DRESSING:
¼ cups All Natural Peanut Butter
1 Tablespoon Honey (use Agave If Vegan)
2 teaspoons Freshly Grated Ginger
3 Tablespoons Soy Sauce, Gluten-free If Desired
1 Tablespoon Red Wine Vinegar
1 teaspoon Sesame Oil
1 teaspoon Olive Oil
Water To Thin, If Necessary
Preparation Instructions
To cook quinoa: Rinse quinoa with cold water in a mesh strainer. In a medium saucepan, bring the water to a boil. Add in quinoa and bring mixture to a boil. Cover the pan, reduce heat to low and let it simmer for 15 minutes or until quinoa has absorbed all of the water.
Remove pan from heat and fluff quinoa with fork. Place in a large bowl and set aside to cool for about 10 minutes. You should have a little over 2 cups of quinoa.
To make dressing: Add peanut butter and honey or agave into a medium-sized microwave safe bowl. Heat in the microwave for 20 seconds. Add in ginger, soy sauce, vinegar, and both sesame and olive oil and stir until mixture is smooth and creamy. If you want a thinner dressing, simply stir in a teaspoon or two of water or olive oil.
Add as much or as little dressing as you'd like to the quinoa. I always start out with a little bit of dressing and usually add more to suit my taste preferences. Alternatively you can save the dressing for later and add when you are ready to eat; however the flavors of the dressing usually soak into the salad so I love adding it to the quinoa first.
Next fold the red pepper, onion, cabbage, carrots, and cilantro into the quinoa. Garnish with cashews and green onions. Serve chilled or at room temperature with lime wedges if desired.


_______________________________________
Laurie is the force behind Simply Scratch, a blog that documents her efforts to find and create recipes that are made simply from scratch. (We think it's sweet that her mother-in-law helped her set up her blog and get started.) We love her recipes; they're not just tried and true, but they look gorgeous as well. Check out her blog and you'll become a fan too.