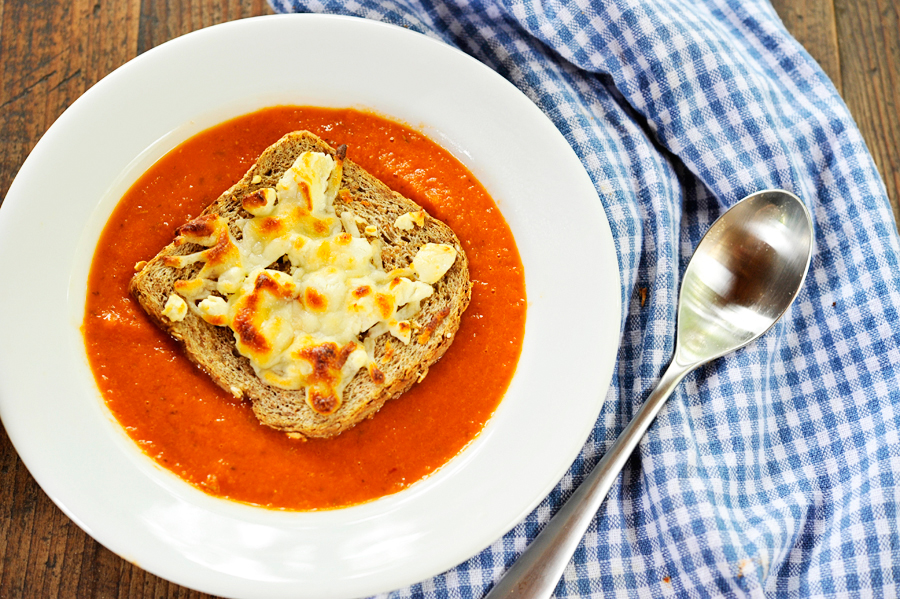 This Tomato Basil Soup with Cheesy Bread from Tasty Kitchen member Serena was so divine. The texture is silky, the color is beautiful, and it is full of robust flavor. The cheesy bread can be left out or swapped for crumbled crackers or straight up cheese. There are so many tasty options.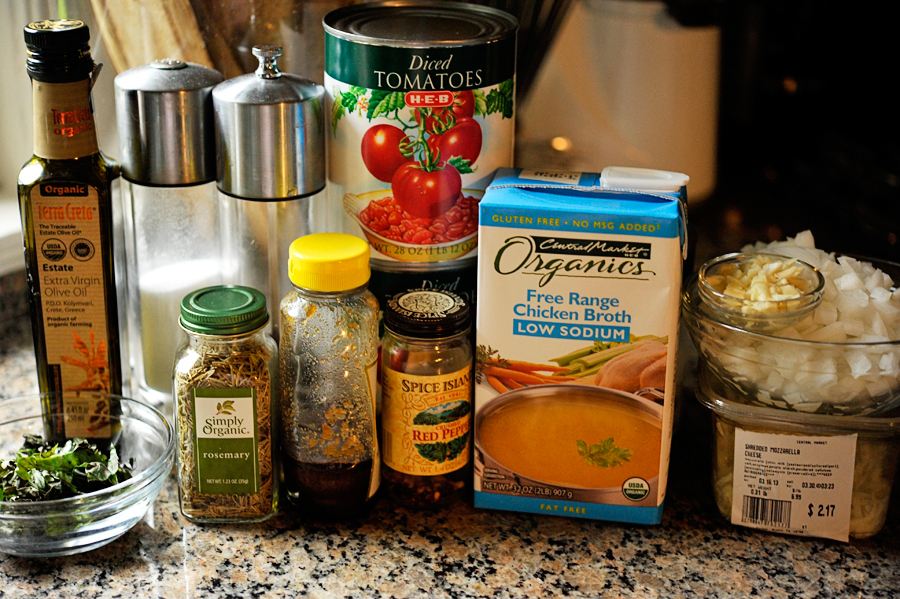 To make it you will need: olive oil, salt, pepper, diced canned tomatoes, vegetable or chicken stock, onion, garlic, red pepper flakes, honey, rosemary, and basil. For the cheesy bread you'll need your favorite bread and cheese.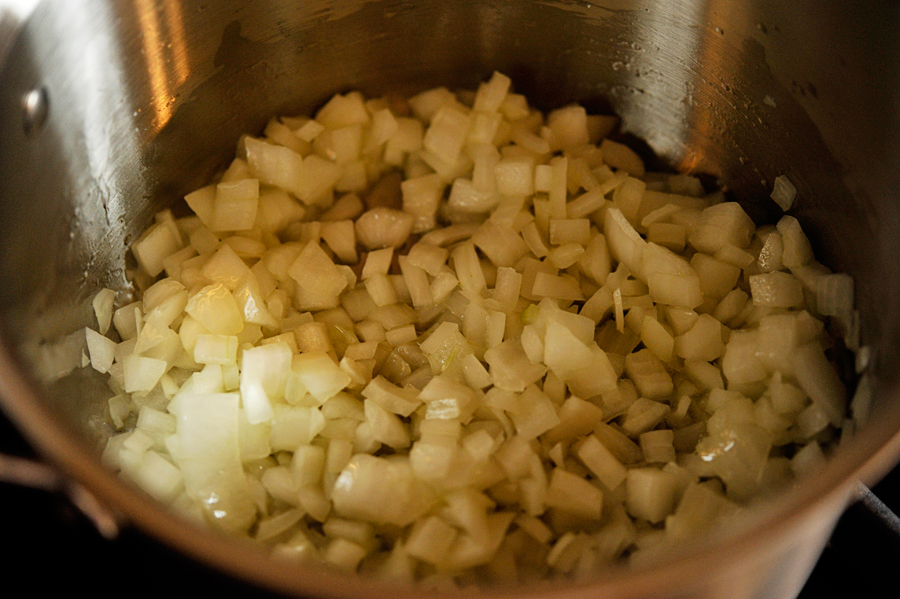 Begin by sweating the onions in some olive oil in a pot.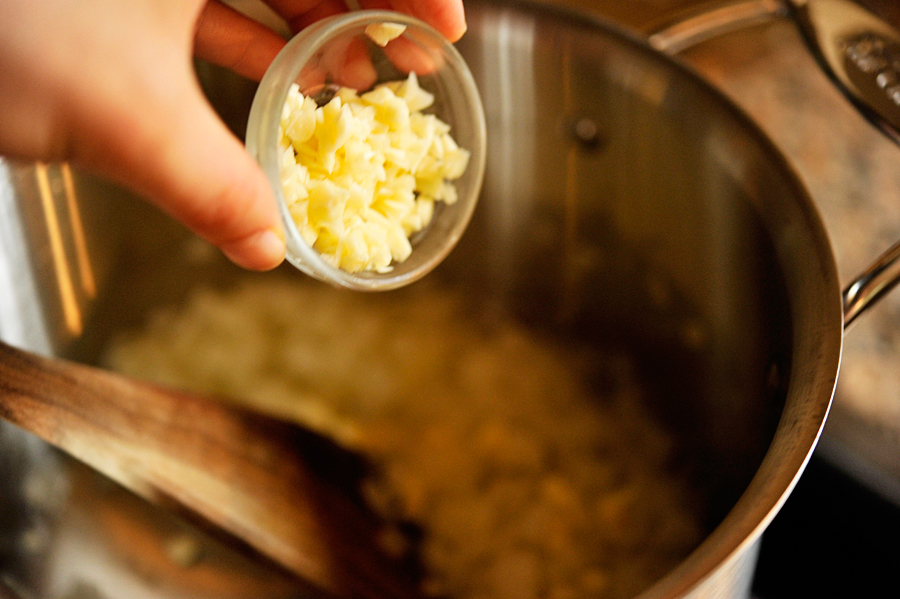 Once they are nice and translucent, add in the garlic and sweat some more. The room will smell amazing!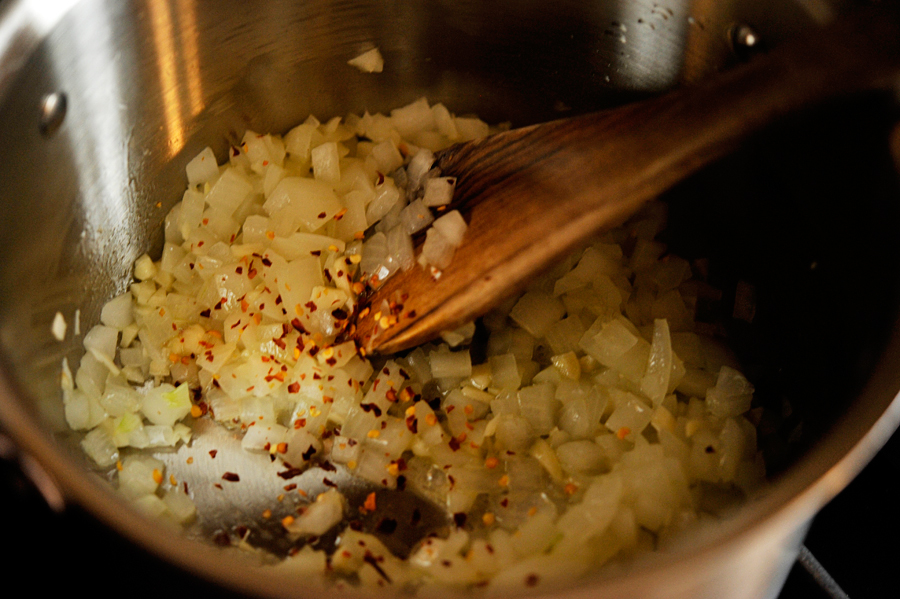 Add the red pepper flakes …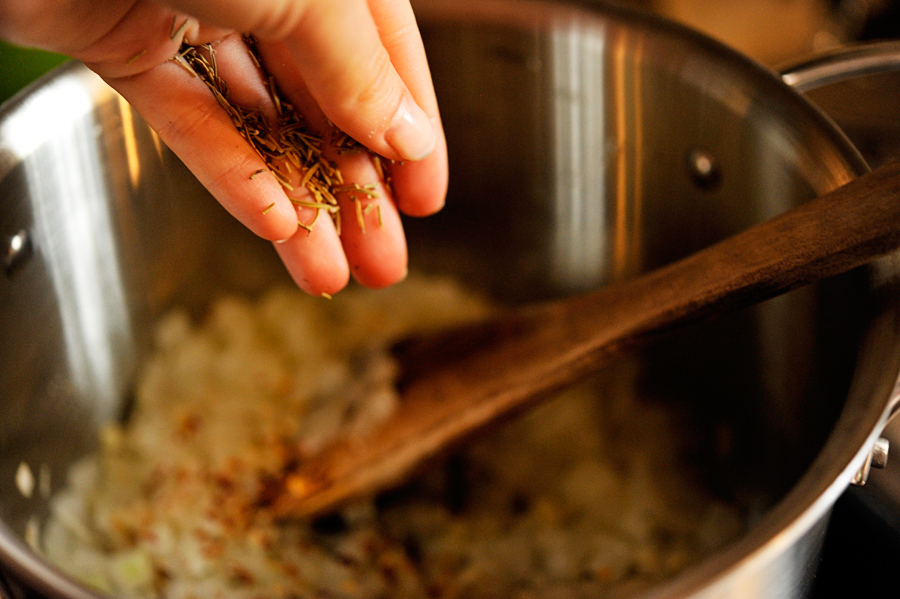 And the rosemary …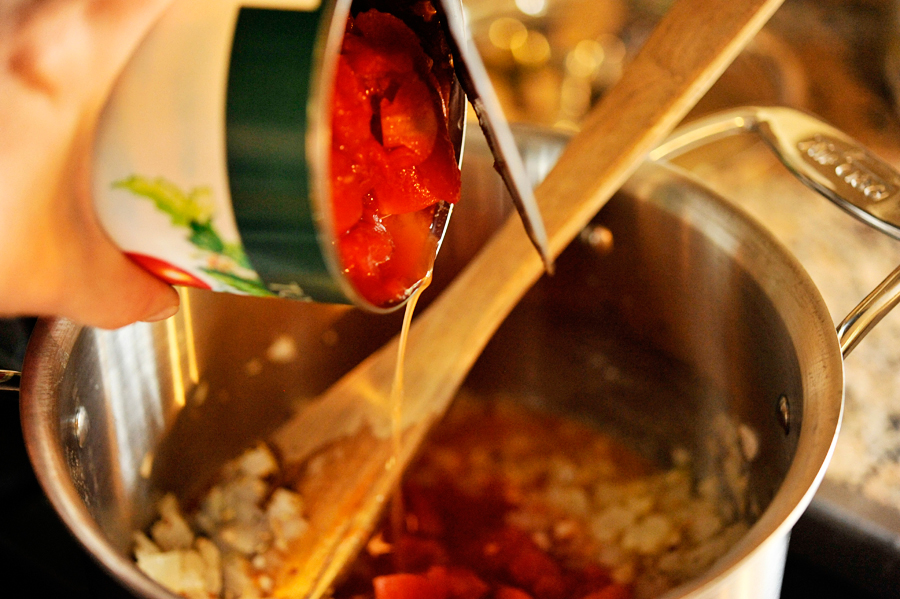 Then pour in the tomatoes.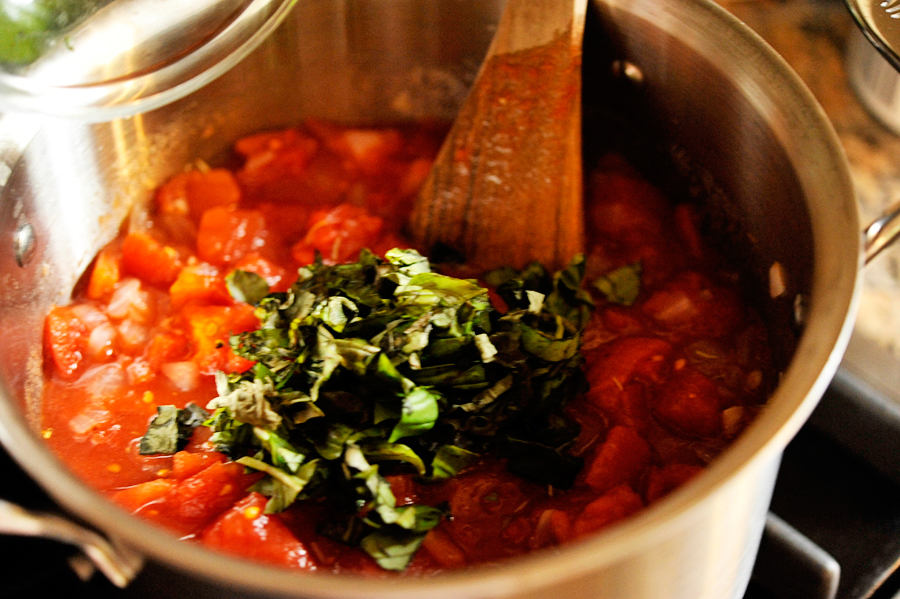 Add your basil and stir it in. Other fresh herbs would also be nice here—go wild!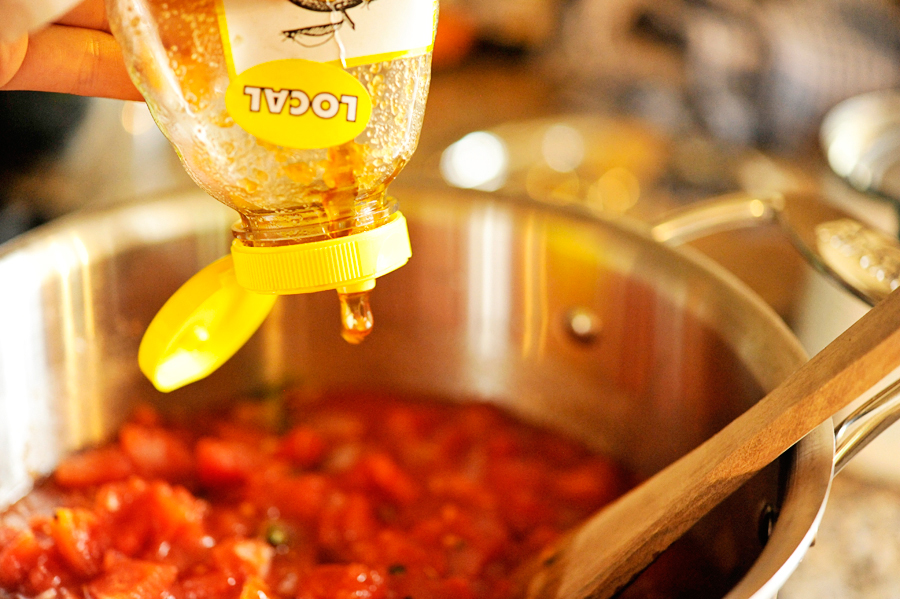 Add a drizzle of honey. This really balances the acidity of the tomatoes.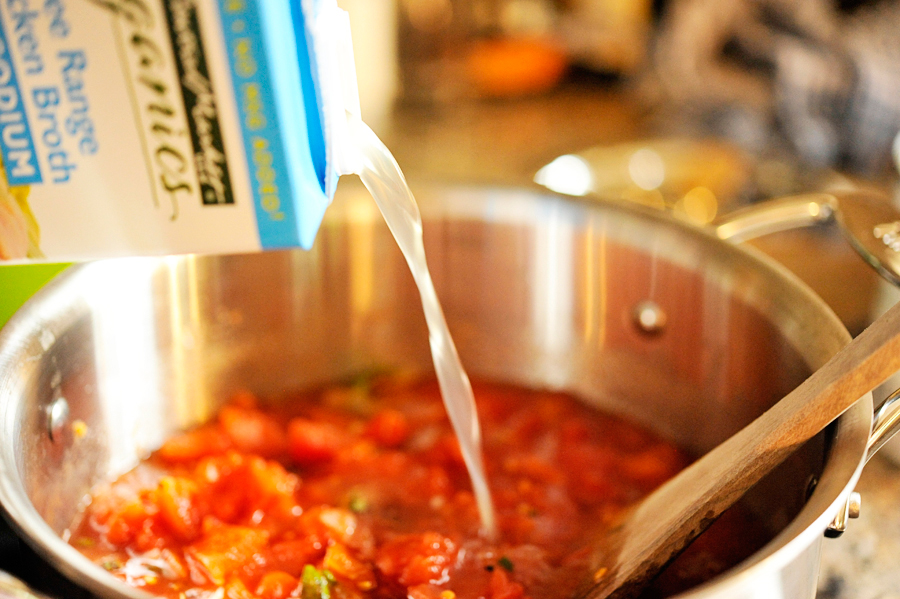 Pour in the stock to cover and let simmer away partly covered.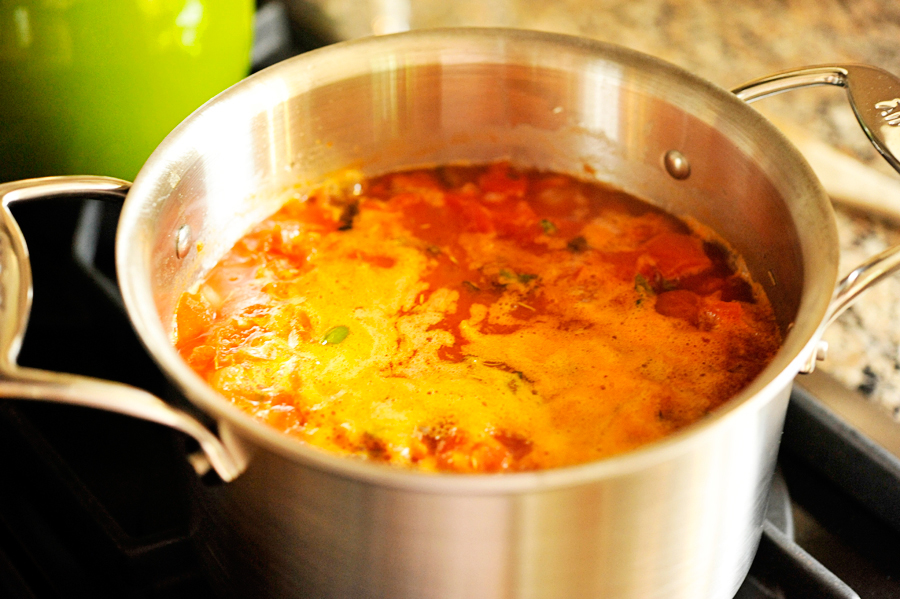 After about 30 minutes, turn off the heat and let it cool slightly.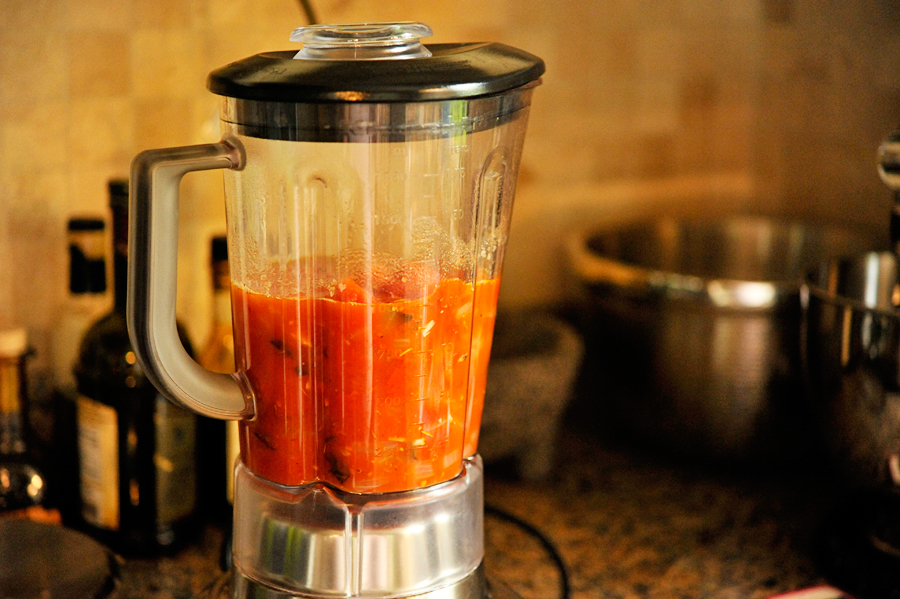 Puree in a blender in batches, making sure to keep a dishtowel over the top to protect your hands just in case. An immersion blender would also work directly in the pot.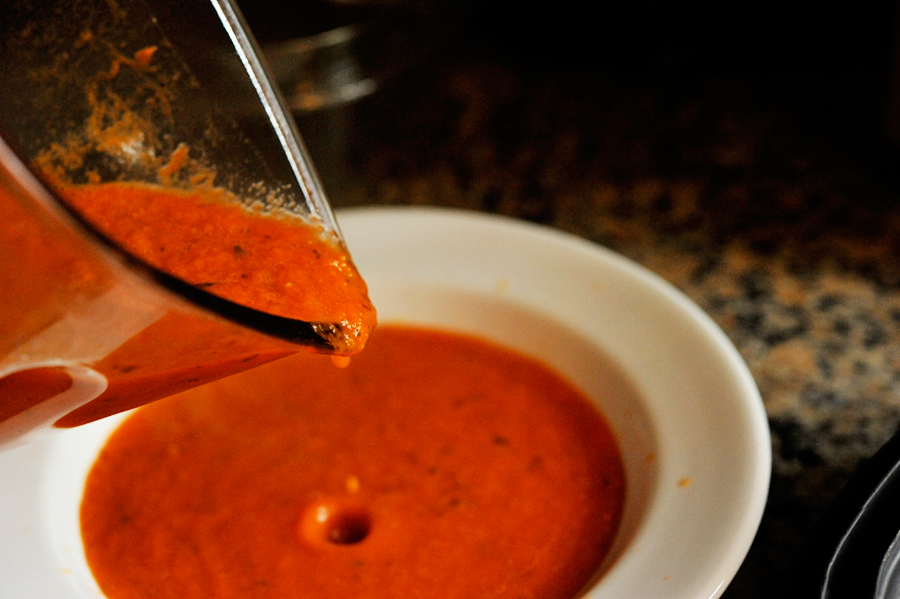 Transfer the soup to a bowl and sprinkle with some fresh chopped basil if you wish or some bread toasted with your favorite cheese.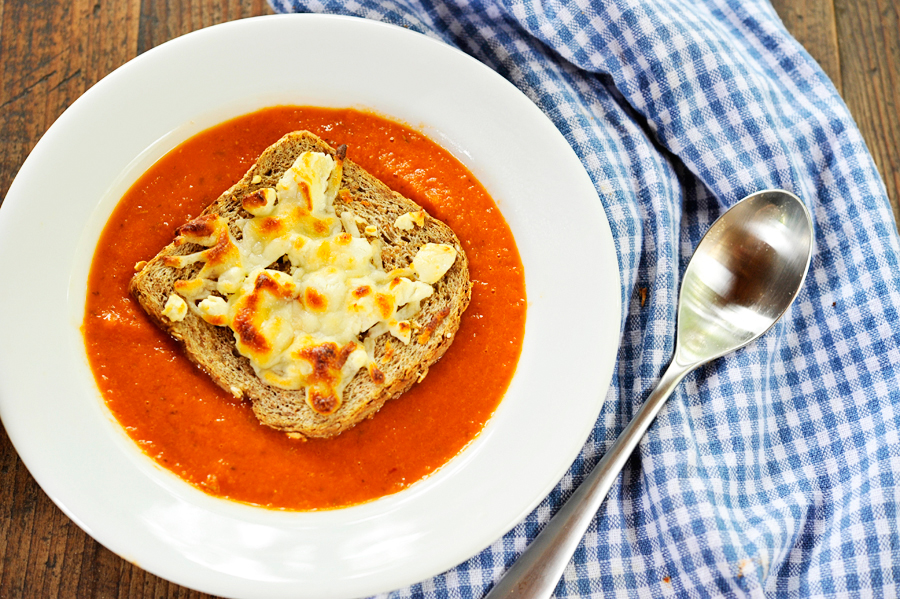 This is hearty and satisfying and quite healthy. I could eat it every day of the week. Thank you Serena for sharing this with us! Visit her website Serena Bakes Simply From Scratchfor other wonderful treats!
Printable Recipe
See post on serenabakessimplyfromscratch's site!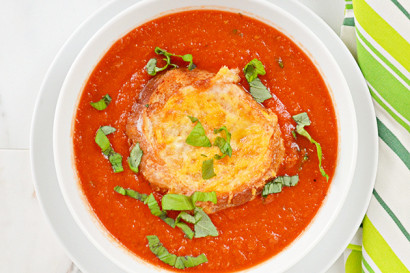 Description
Tomato Basil Soup With Cheesy Bread. A delicious easy weeknight meal.
Ingredients
1 Tablespoon Olive Oil
½ whole Onion, Diced
3 cloves Garlic, Minced
1 pinch Red Pepper Flakes (optional)
1 teaspoon Rosemary
84 ounces, weight Canned Diced Tomatoes
2 cups Chicken Or Vegetable Stock
1 Tablespoon Honey
½ teaspoons Sea Salt (or To Taste)
½ teaspoons Pepper Or To Taste
½ cups Fresh Basil, Chopped
1 whole Baguette, Sliced
1 cup Mozzarella Cheese, Grated
1 cup Cheddar Cheese, Grated
Preparation Instructions
Heat olive oil in a stock pot over medium-high heat and add onion. Saute onion until softened. Add garlic, red pepper flakes and rosemary and mix to combine. Add canned tomatoes with juice, stock and honey. Bring to a simmer then reduce heat to low and cook for 15-20 minutes.
Season soup to taste with sea salt and pepper.
If using an emulsion blender blend soup in the pot until smooth. If using a blender, remove soup from heat and allow it to allow to cool for 5-10 minutes. Then blend the soup in the blender, making sure to only fill the blender 1/4-1/3 full and work in small batches. Hold lid tight on the blender using a kitchen towel but be careful. If the blender is too full the hot soup will expand and force the lid off causing a mess. Pulse blender until soup is smooth then pour the pureed soup back into the pot. Repeat with remaining soup until all soup is pureed. Return soup pan over low heat and heat until warm.
Remove soup from heat and stir in basil.
Preheat oven to 450 F.
Place sliced baguette on cookie sheet. Spread mozzarella cheese and cheddar cheese evenly over baguette.
Place baguette in preheated oven and bake for 3-5 minutes or until cheese is bubbly and light brown.
Place soup in bowls and top with cheesy bread or serve bread on the side for dipping.


_______________________________________
There's so much to say about Georgia, we don't know where to start. Leaving Wall Street for the French Culinary Institute, followed by a stint at the Gramercy Tavern and La Chassagnette in France, her passion for food and food traditions are evident and inspiring. Visit her site at Georgia Pellegrini, where you'll find more recipes, photos, learn all about her wonderful books Girl Hunter and Food Heroes, and enjoy her latest adventures.