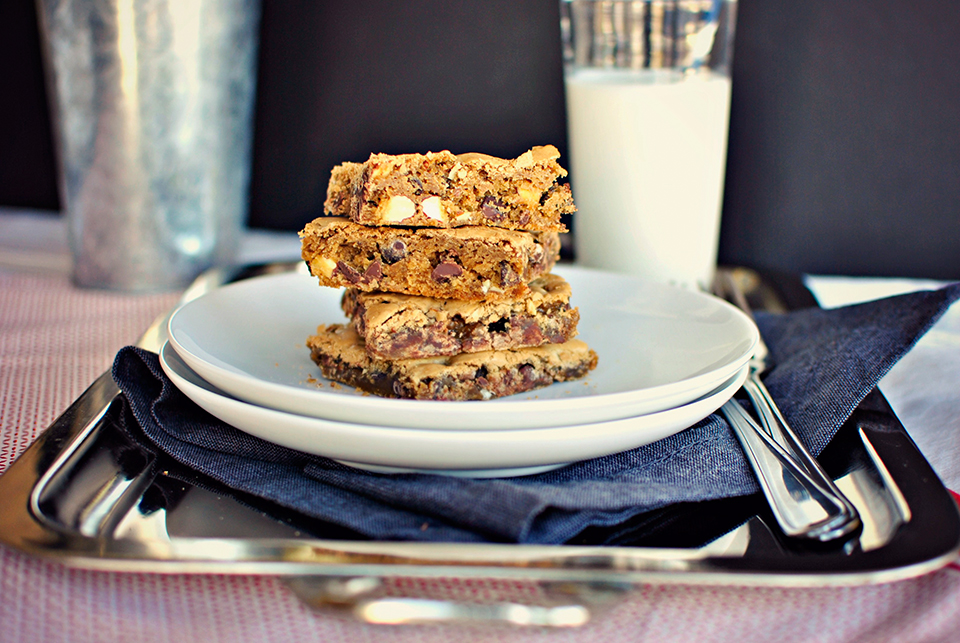 So what if I told you this was my first go at blondies? It's true! Not a day in my thirty-something years on earth have I ever had a blondie until the other day. Truly it was only a matter of time, and when my eyes locked on Sharon's recipe for Brown Butter Chocolate Chip Blondies I knew that it was time for me to take the plunge.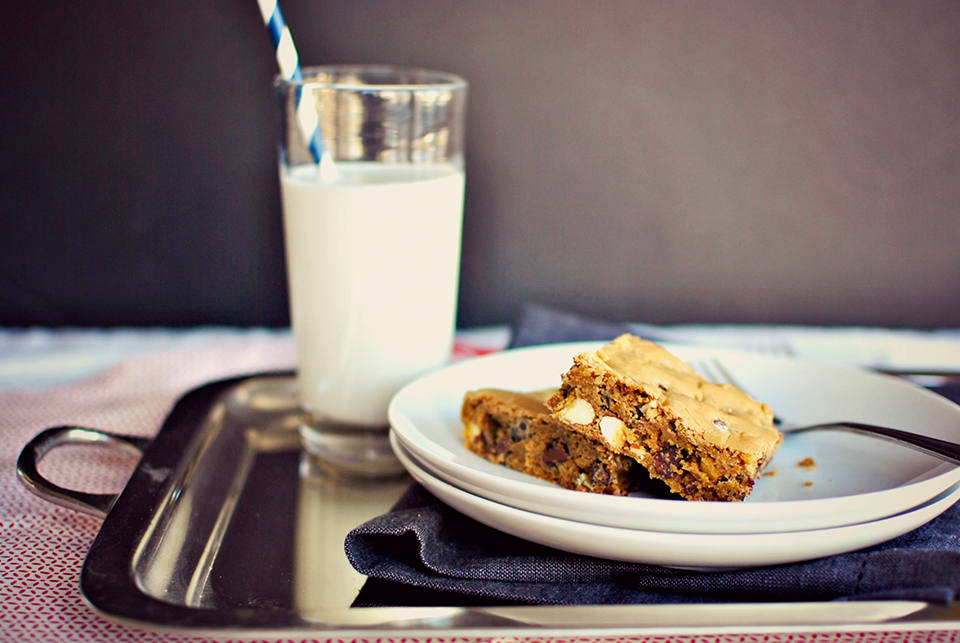 If you're like me and new to the blondie scene, then there's no better way to start your journey off right then with a decadent and amazing recipe such as this. Sharon adapted this recipe from Clementine, a bakery/cafe in LA, and shared it with us back in 2011—and I'm so glad she did. You guys have to make these. You'll know what I mean once you take your first bite, as they're simply amazing!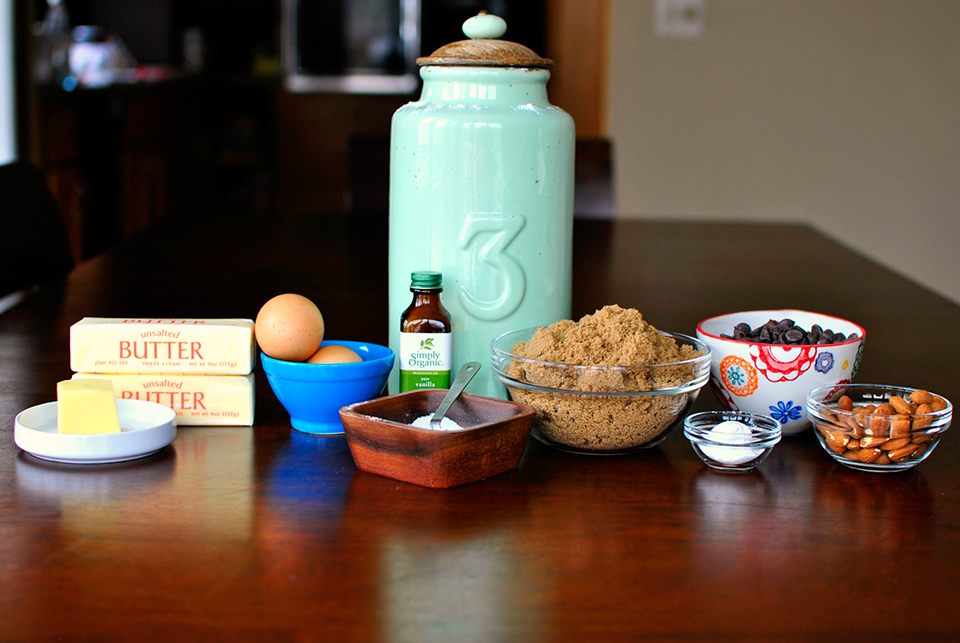 For these bars you'll need just some basic pantry ingredients: flour, brown sugar, vanilla, baking powder, eggs, butter, salt, and of course… what blondie is complete without chocolate chips and nuts? Sharon's recipe called for walnuts, but since I didn't have any I substituted almonds and they worked out perfectly! And never mind the second stick of butter you see. I was getting it out for something entirely different and somehow it ended up in this shot.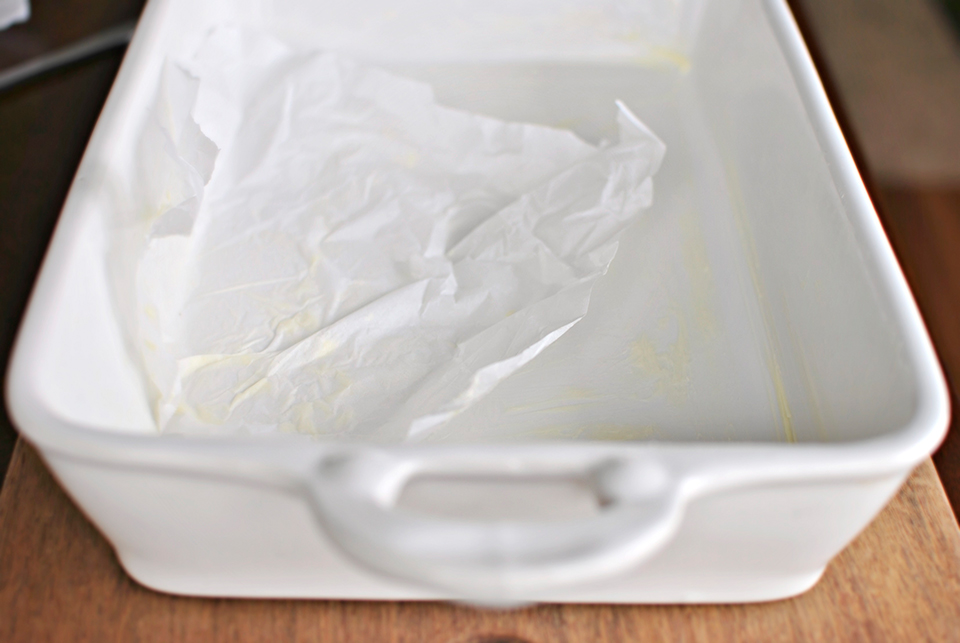 Start by buttering a 9×13 baking dish, making sure to get every nook and cranny.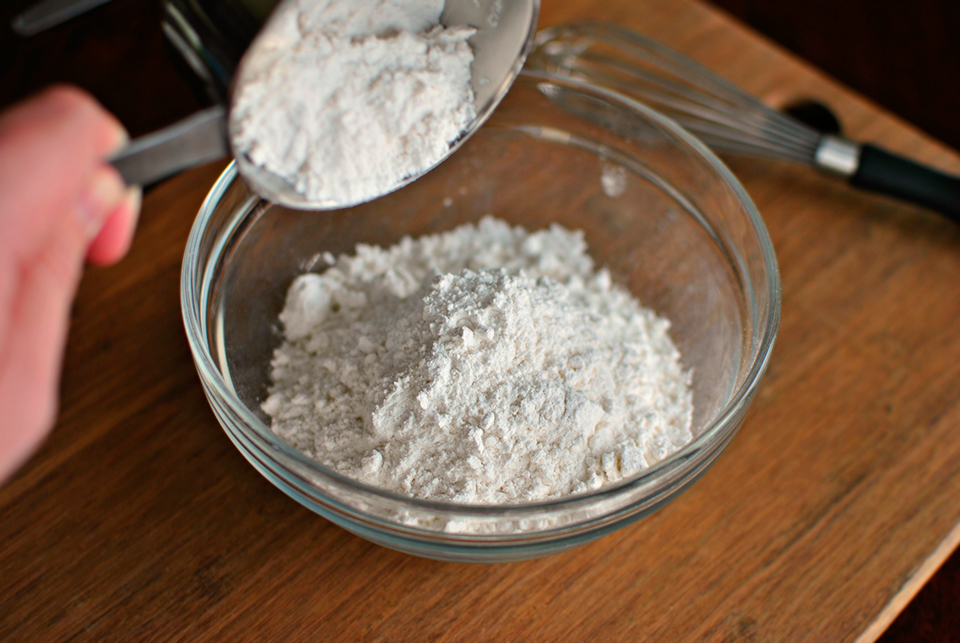 Then in a medium bowl measure 1-3/4 cups of all purpose flour …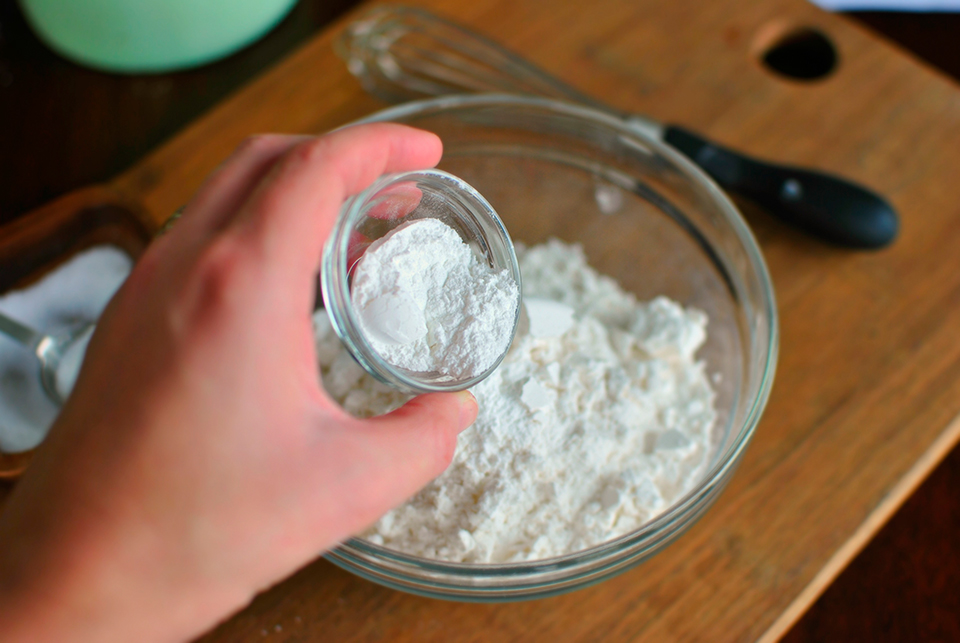 And I also added in 2-1/2 teaspoons baking powder.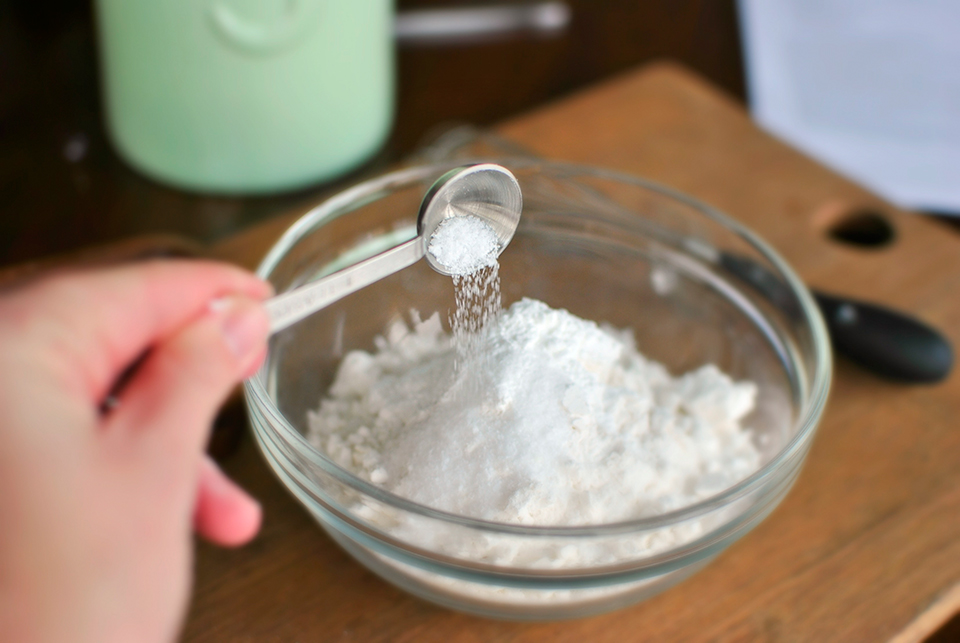 Measure and add in 2 teaspoons of salt (I used kosher).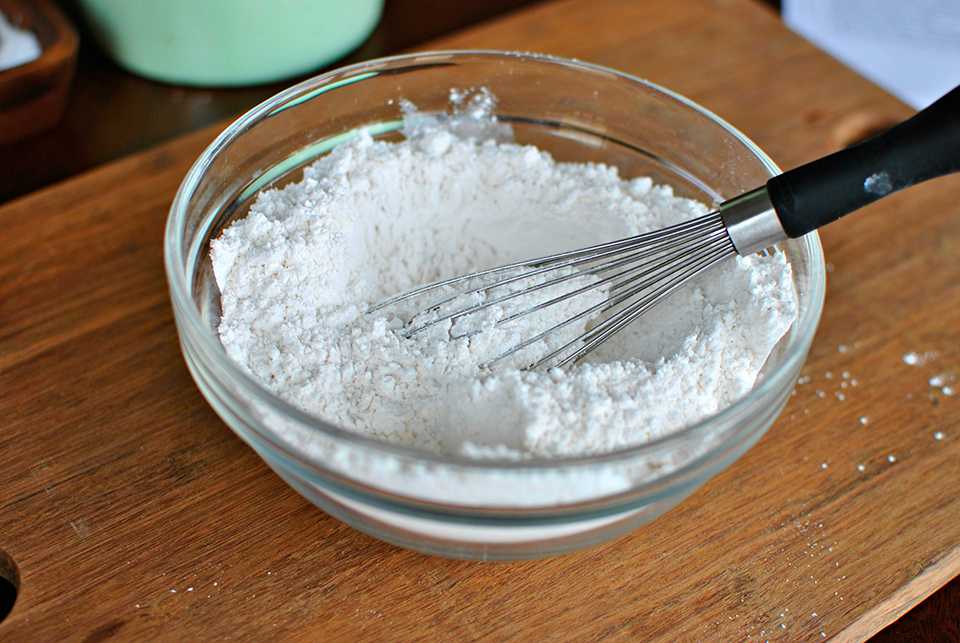 And gently whisk those together and set the bowl off to the side for a moment.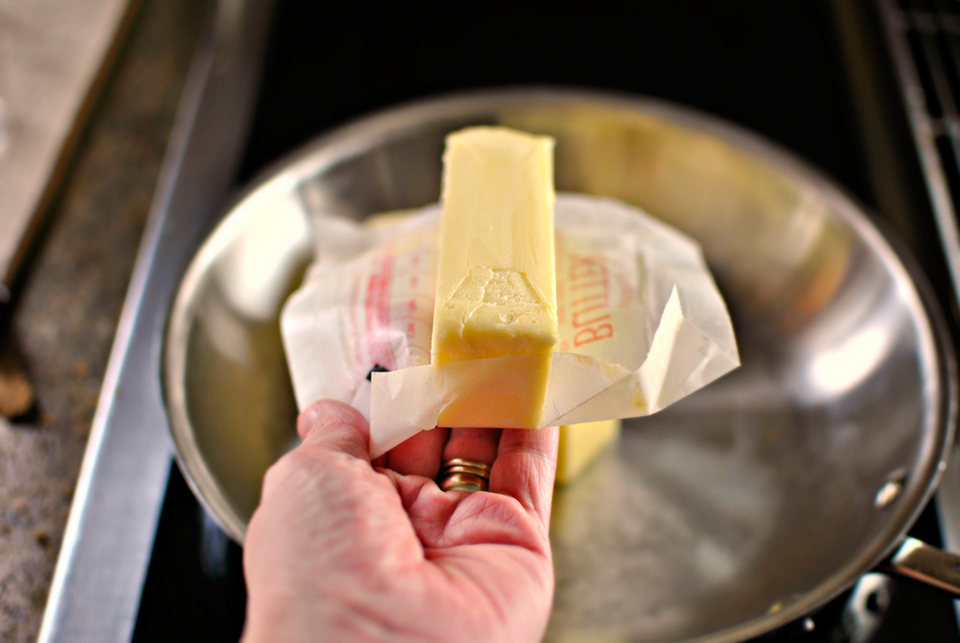 In a small skillet add the 10 tablespoons of butter.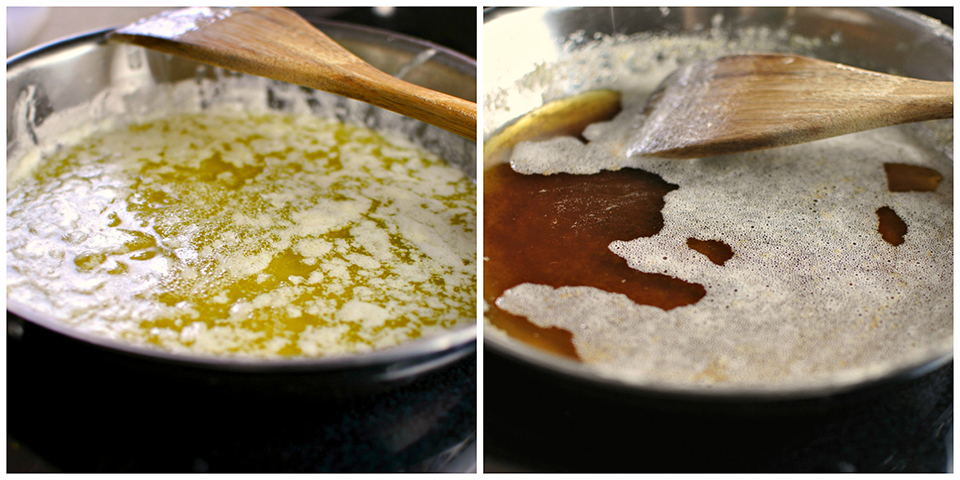 Slowly melt over medium heat, stirring occasionally. Once it reaches a dark amber, color pull it off the heat to cool slightly.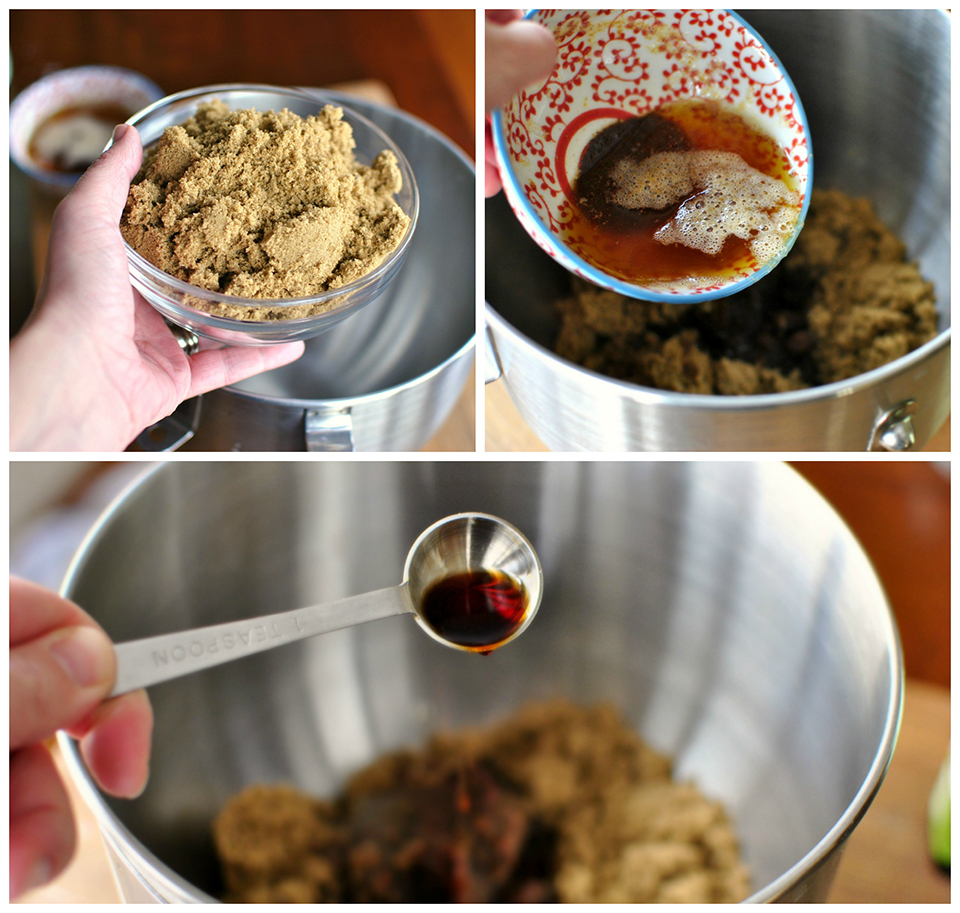 In the bowl of your stand mixer, add in the 2-1/4 cups of brown sugar, the browned butter and a teaspoon of real vanilla extract.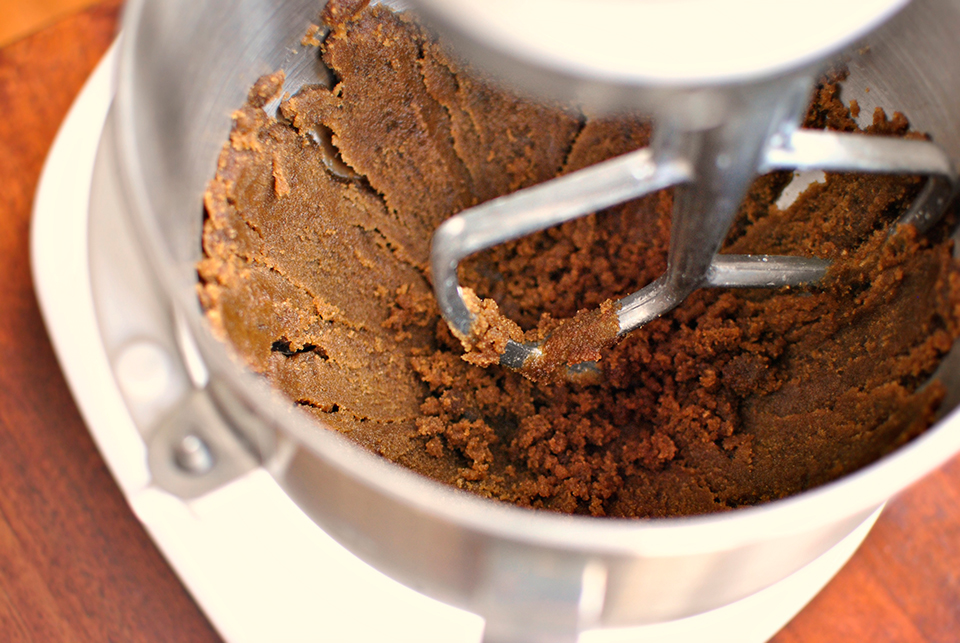 Blend those together until combined.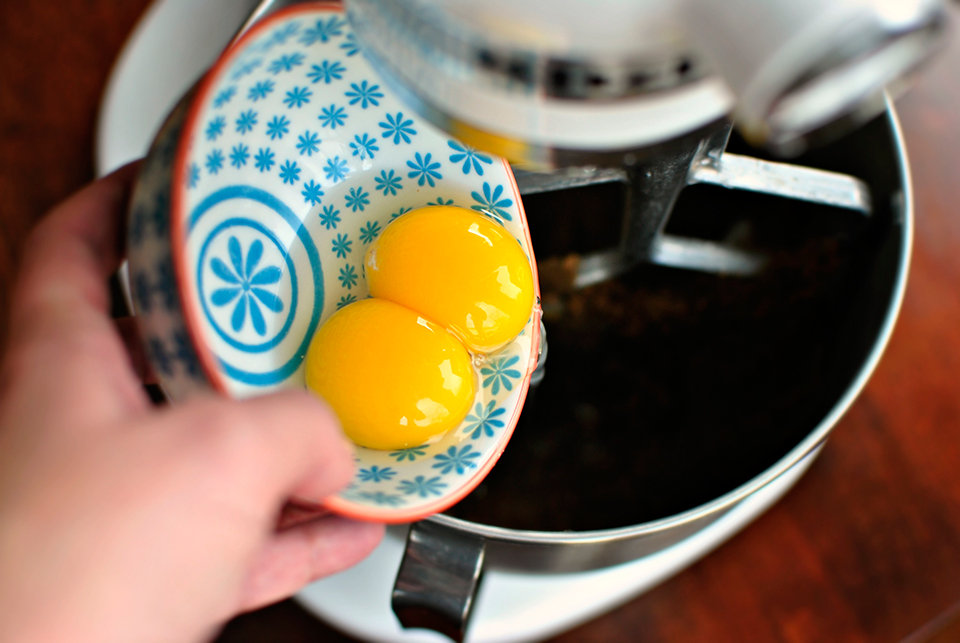 Slowly add in one egg at a time, mixing well after each one.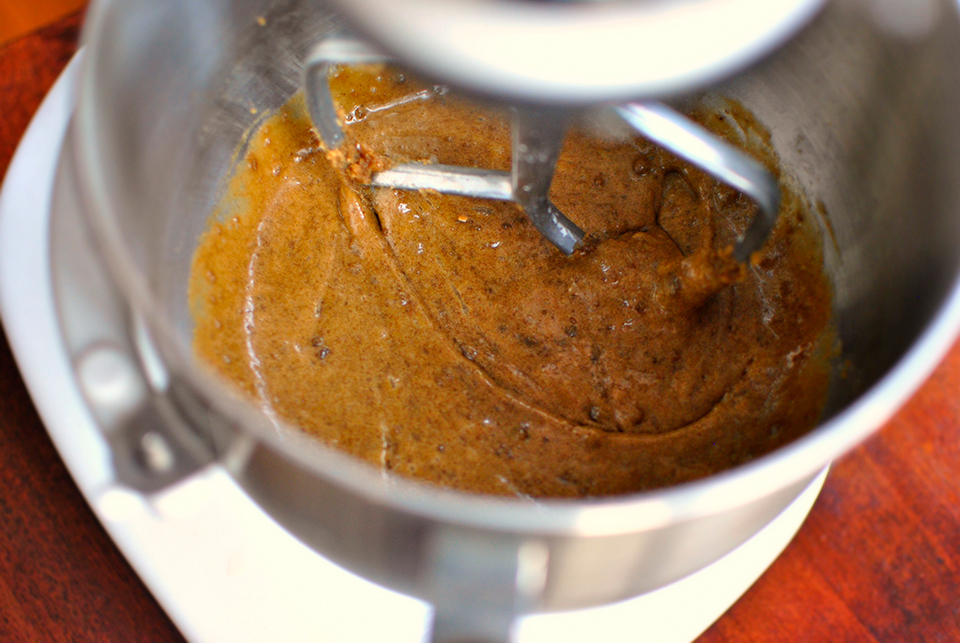 Now it's time to add in the dry ingredients.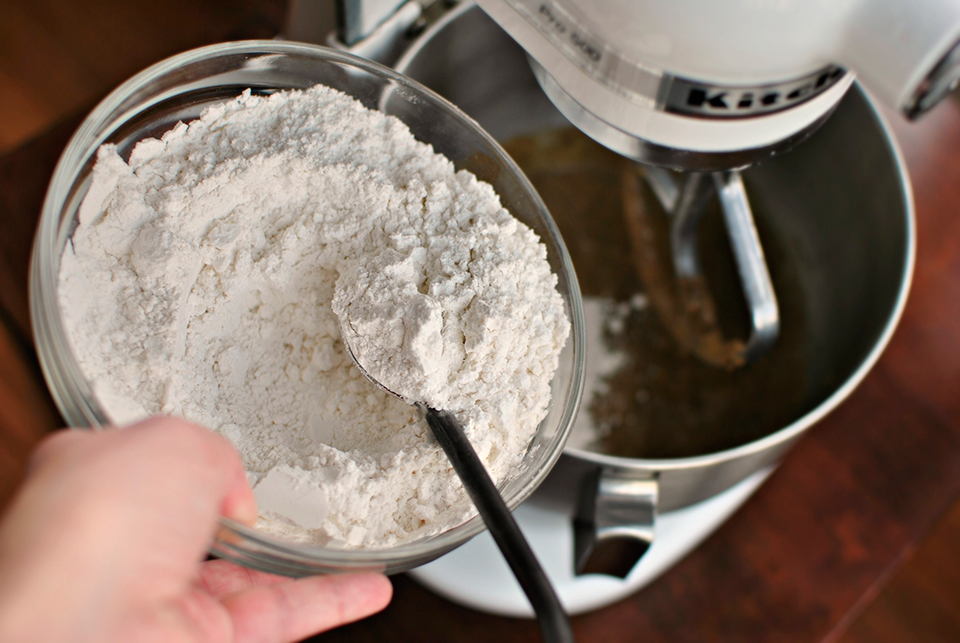 Gradually add in the flour mixture, mixing after each spoonful.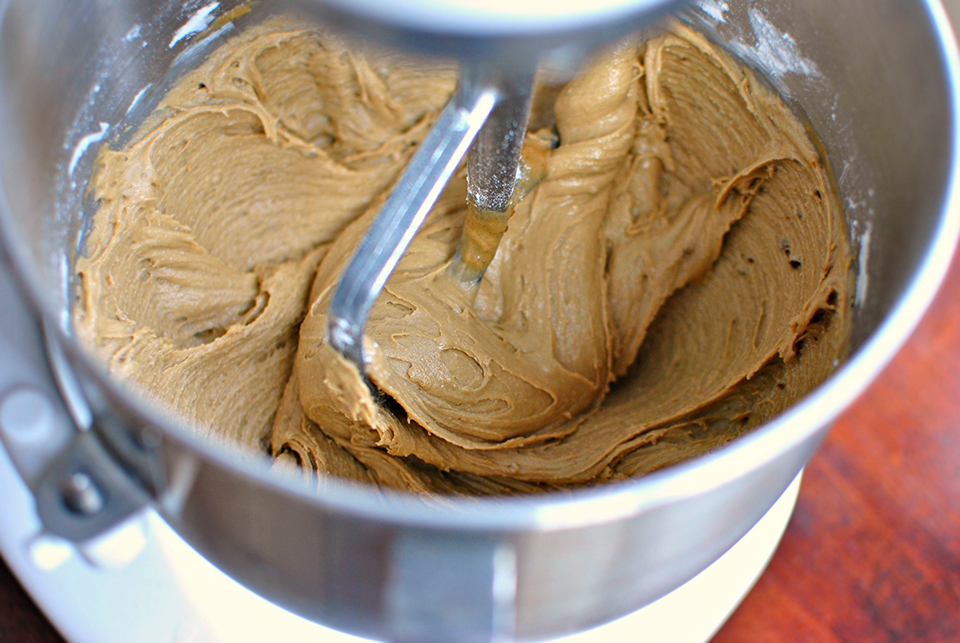 Stop once all of the flour has been incorporated.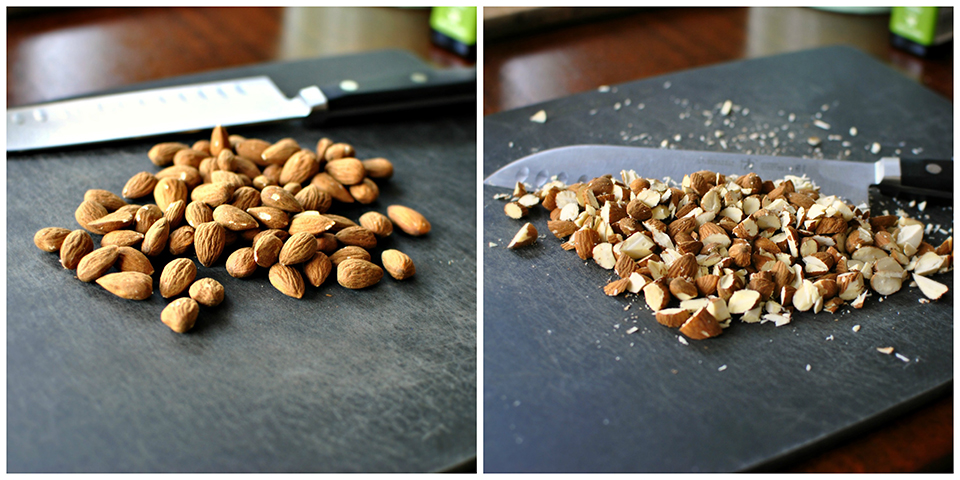 I gave a half cup of almonds a rough chop. They added a deliciously crunchy texture to these bars, which is never a bad thing. However if you have a nut allergy, simply omit this step.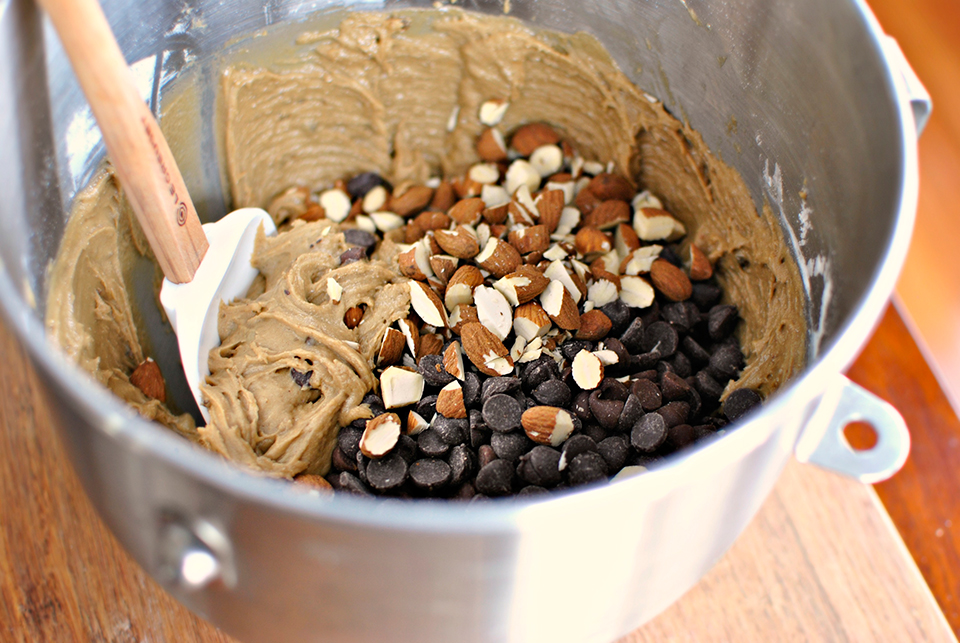 Add the chopped almonds along with 1-1/4 cup of semi-sweet chocolate chips to the blondie batter.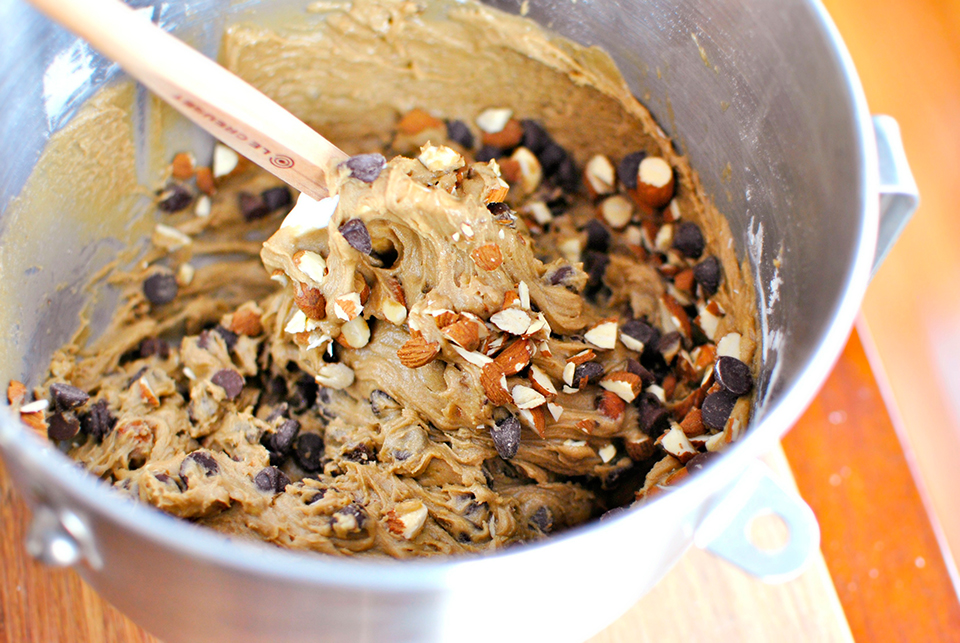 Then give it a good stir by hand until combined.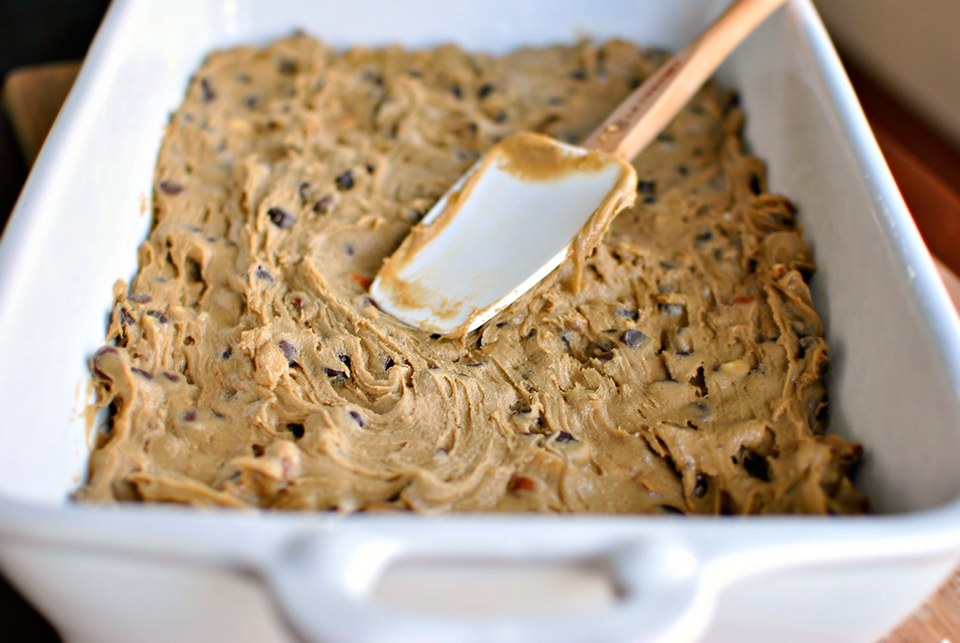 Pour and spread evenly into the prepared baking dish and bake at 325ºF for 20-25 minutes.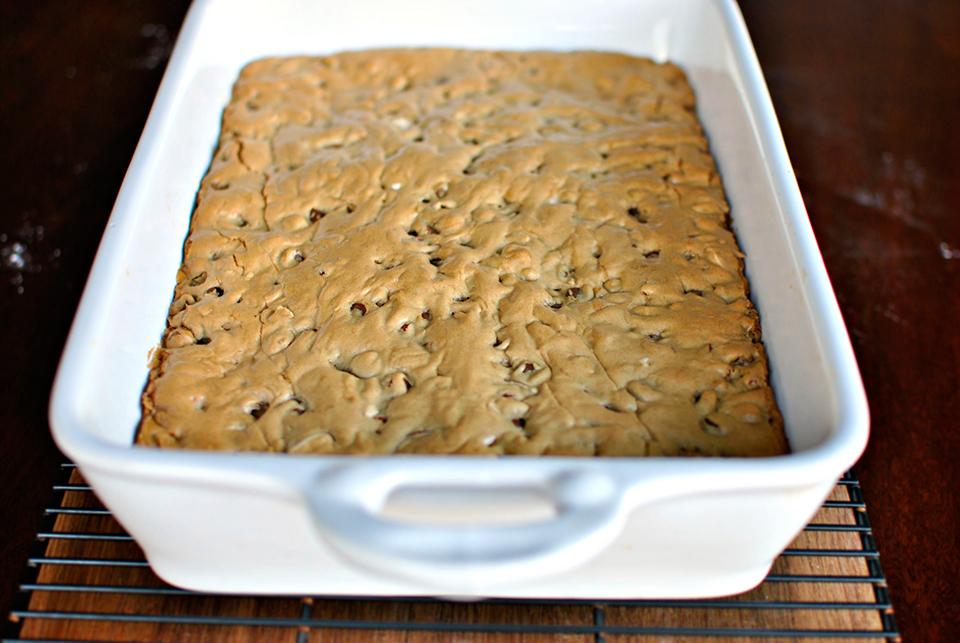 Let these bars cool completely before cutting into squares and serving.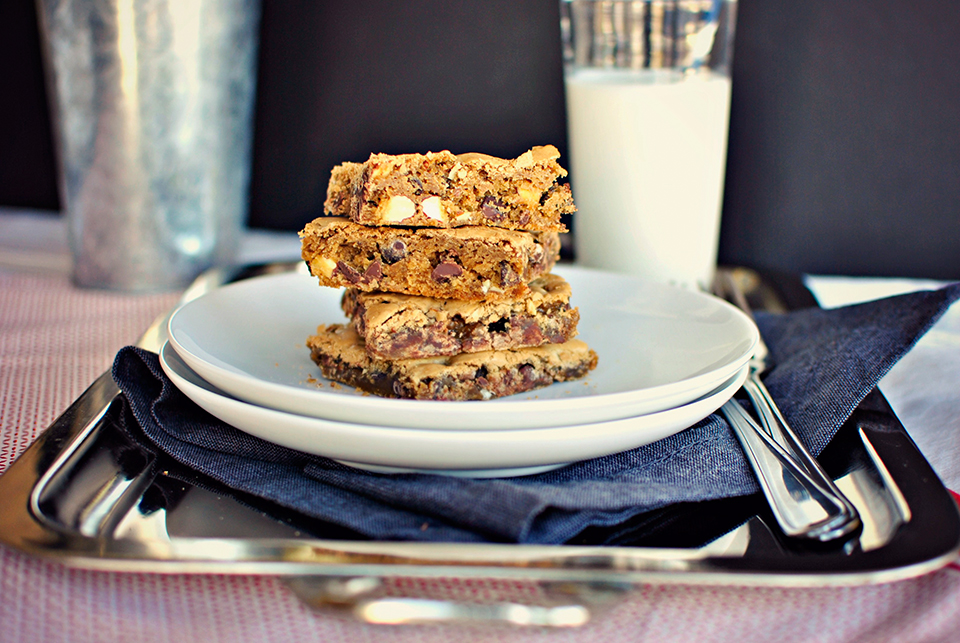 Grab yourself a fork and a tall glass of milk. (The fork is of course optional.)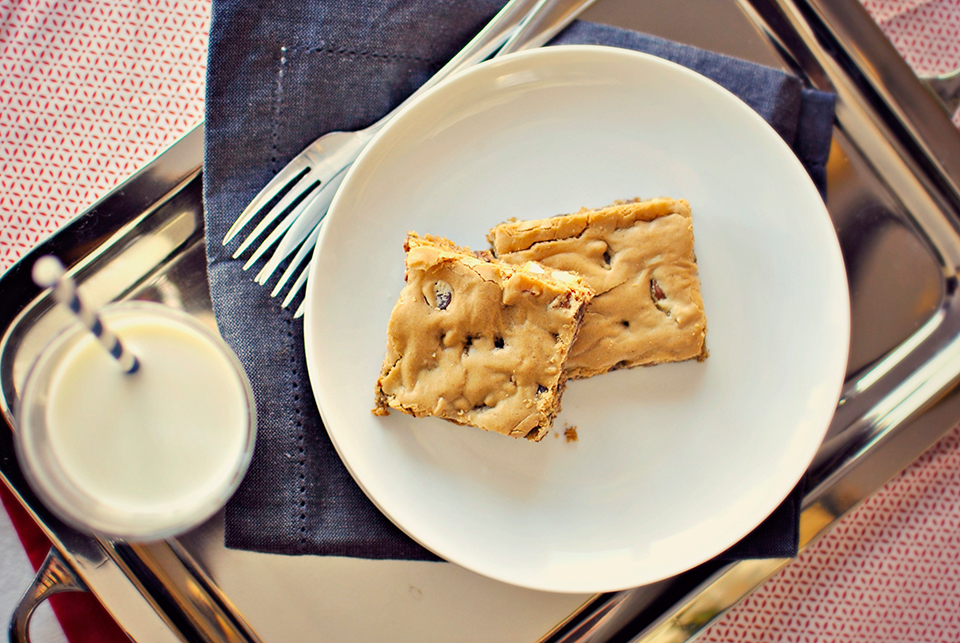 These blondie bars are quite easy to whip up and yield a chewy, buttery bar. What I love the most is that they have this rich taste of butterscotch about them, without there being an ounce of it in the recipe! They're incredible and I just know you all are going to love them.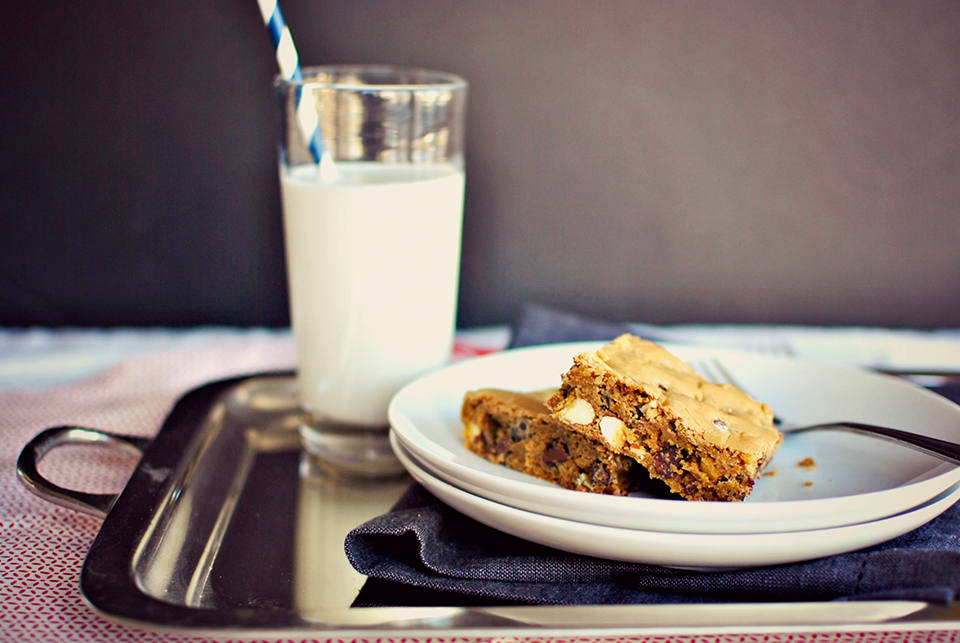 Thank you Sharon for sharing these fantastic bars with us on Tasty Kitchen! 
You guys, Sharon has many more creative and delicious recipes right here in her TK recipe box, like Boozy Bacon Brown Butter Oatmeal Raisin Bars or Cara Cara Orange Sorbet! Be sure to also check out her lovely blog Cheesy Pennies for even more amazing recipes.
Printable Recipe
See post on Cheesy Pennies's site!
Description
These are exactly what a great blondie should be: sweet, chewy, buttery and full of caramel flavor, with the perfect hit of salt to balance everything out.
Ingredients
1-¾ cup Flour
2-½ teaspoons Baking Powder
2 teaspoons Scant Kosher Salt
10 Tablespoons Butter
2-¼ cups Brown Sugar
1 teaspoon Vanilla
2 whole Eggs
1-¼ cup Chopped, Toasted Walnuts (optional)
1-¼ cup Semi-sweet Chocolate Chips (optional)
Preparation Instructions
The best blondies I've ever eaten. As they bake, this smooth little crust forms on top that just melts in your mouth. Awesome! This is an adaptation of a recipe from Clementine, a bakery/restaurant here in LA.
Butter a 13×9 pan and preheat oven to 325ºF.
In a small bowl, whisk flour, baking powder and salt together, and set aside.
Place butter in a small saucepan over medium heat. After the butter melts, continue cooking for 5-8 minutes, stirring frequently. It may foam up, which is fine. Watch carefully, as your goal is to see the milk solids and salt in the butter begin to turn brown, but you don't want to have them burn. If they do, the butter will have a very bitter taste. When the butter is a light tan/golden color and begins to smell toasty, immediately remove from heat.
Place brown sugar into a large mixing bowl, then pour in the browned butter and vanilla. Mix on medium speed with an electric mixer until combined. Blend in the eggs. Add the dry ingredients, mixing on low speed until dough is smooth and a little bit shiny. Fold in the nuts/chocolate chips by hand.
Spread dough evenly into the prepared pan. Bake for 25 minutes, or until top is puffed, smooth, and light brown. When you remove the pan from the oven, the top may collapse. This is perfectly fine; it means your blondies will be dense and chewy, just as they should be.
Cool for at least 20 minutes, then serve.


_______________________________________
Laurie is the force behind Simply Scratch, a blog that documents her efforts to find and create recipes that are made simply from scratch. (We think it's sweet that her mother-in-law helped her set up her blog and get started.) We love her recipes; they're not just tried and true, but they look gorgeous as well. Check out her blog and you'll become a fan too.