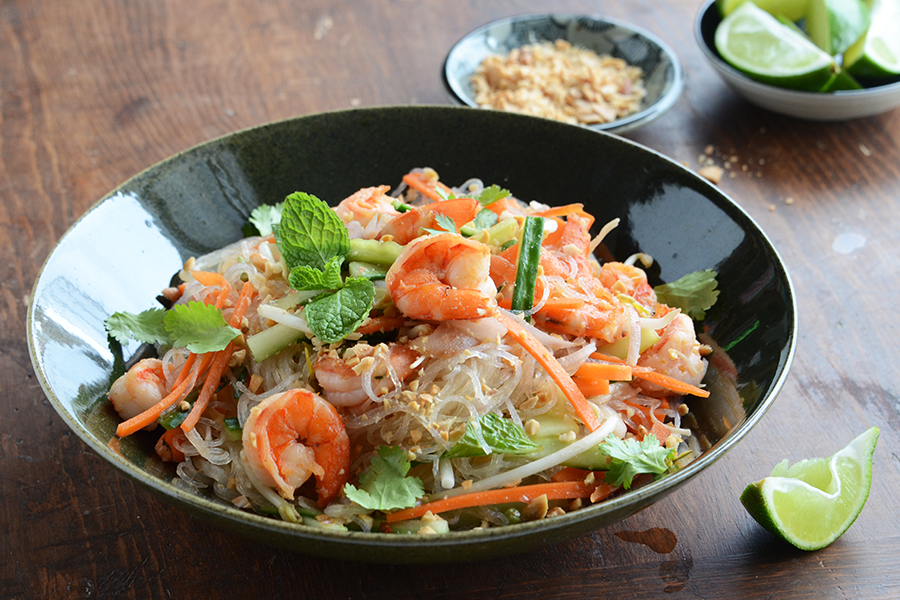 Even though I'm a winter-loving girl, I'm secretly longing for summer's arrival. Which is pretty much blasphemy around these parts; I'm in snow-country, just about as north as a girl can go. Although spring has just arrived, I'm ready to welcome summer. In fact, I'll take summer in any form I can get.
Even roll form.
Summer rolls have always been a favorite of mine: Fresh, bright-flavored veggies, perfectly cooked shrimp, and chewy noodles, all wrapped up in a pretty little rice paper package. Add a great dipping sauce and what more could anyone want, right? (Because sauces not only make food more flavorful, but they also make eating more fun…that's what my niece says and I'm inclined to agree!) When I first saw Vicky's recipe for Vietnamese Summer Roll Salad, I couldn't wait to make it.
Summer rolls are great, but this salad is fantastic. Why not turn a starter into a complete meal?
Start by getting out all your ingredients.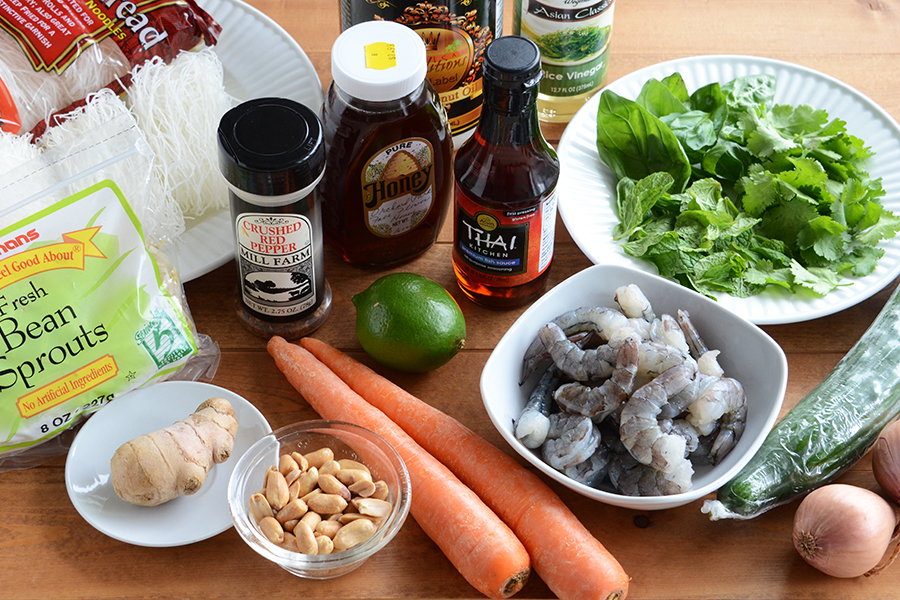 You'll need bean thread noodles, honey, coconut oil, rice vinegar, fish sauce, fresh herbs (basil, mint, and cilantro), shrimp, cucumber, shallot, carrot, lime, ginger, bean sprouts, peanuts, and red chilies. For the life of me, I couldn't find red chilies and I didn't have time to make the 30-minute drive to the closest Asian grocery in my area (strangely enough, I don't live in the middle of nowhere—we just need better grocery stores nearby!), so I used crushed red pepper flakes.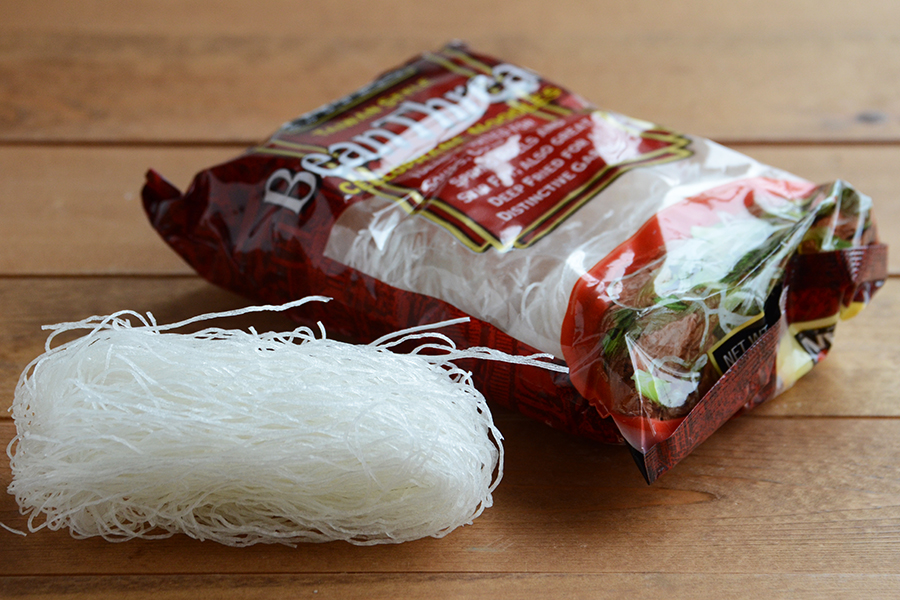 Because they're so purty, here's a close-up of the bean thread noodles. You might also find them called cellophane noodles or glass noodles. I found these in the international aisle of my regular grocery store.
Now for a little prep work.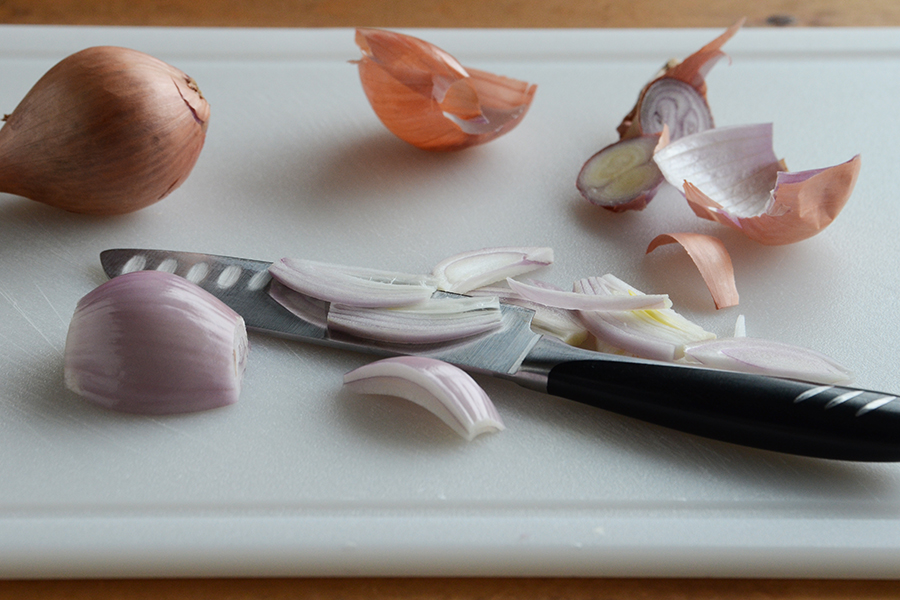 Thinly slice the shallots.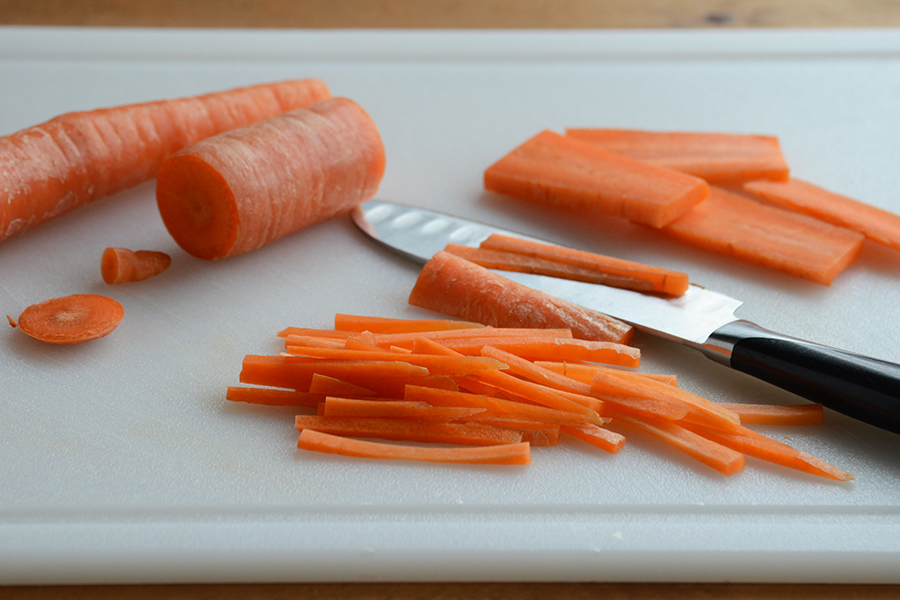 Julienne the carrots by trimming off the ends and cutting them each into 2 to 3-inch pieces; cut each piece lengthwise into planks, then cut each plank lengthwise again into thin sticks. It sounds complicated but it's not, and once you get into it, it goes pretty fast. (If you want, you can peel your carrot before you start cutting it; I always give my carrots a good scrub but leave the peel on.)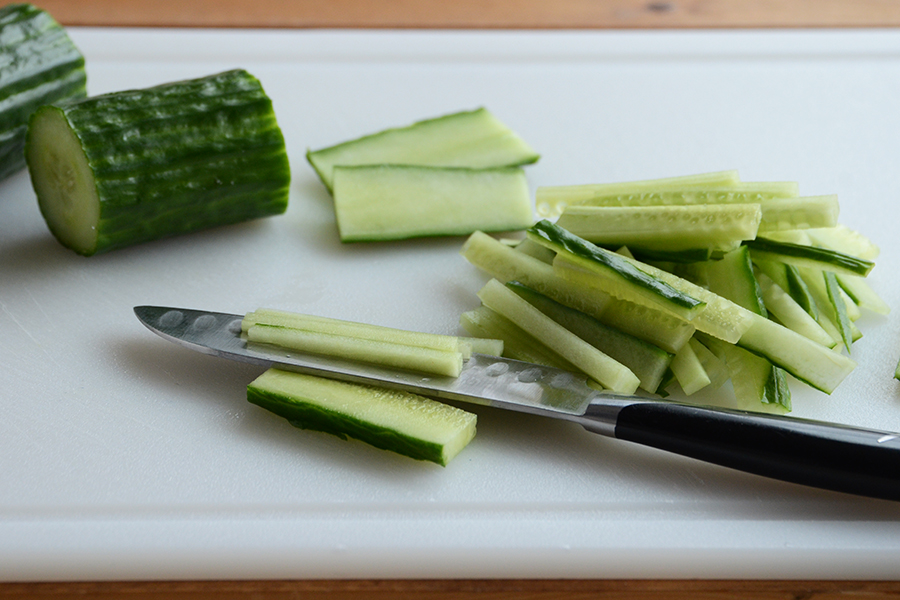 Julienne the cucumber the same way.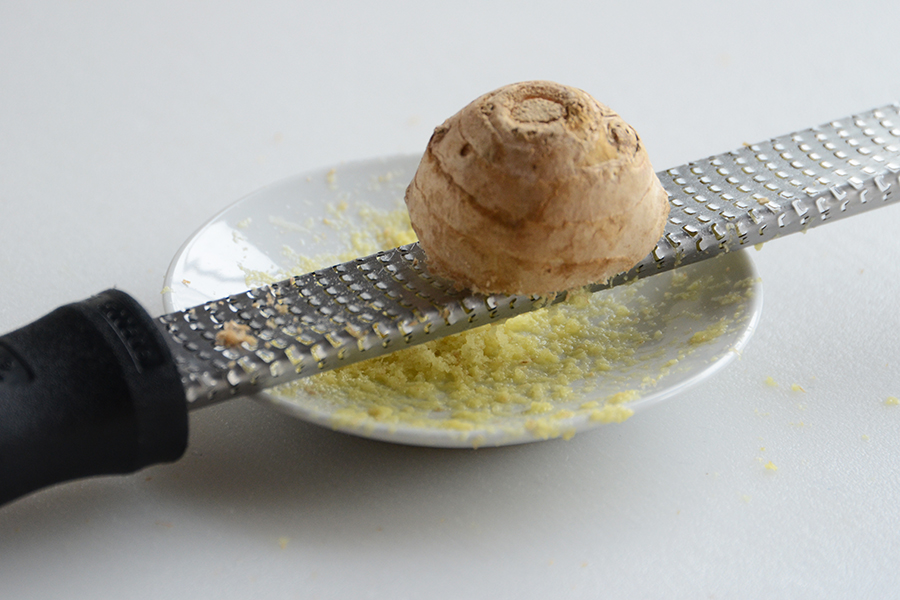 Grate the ginger. I like to use a microplane for this, and I keep my ginger in the freezer so it grates up easily.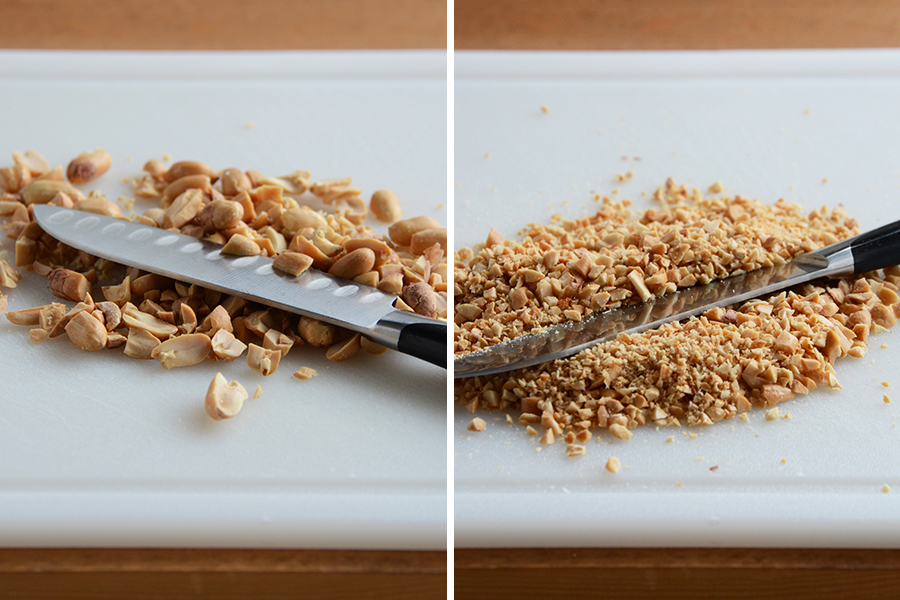 Smash the peanuts. You can keep chop them by hand until they're as finely chopped as you like, or use a food processor (but be careful you don't end up with peanut flour or nut butter if you use your processor). If you're like me and cleaning your food processor is the bane of your existence, know that this is really easy to do by hand. And heads up, I chopped up extra peanuts (around 3 tablespoons) to serve alongside the salad so people could add more on top if they wanted.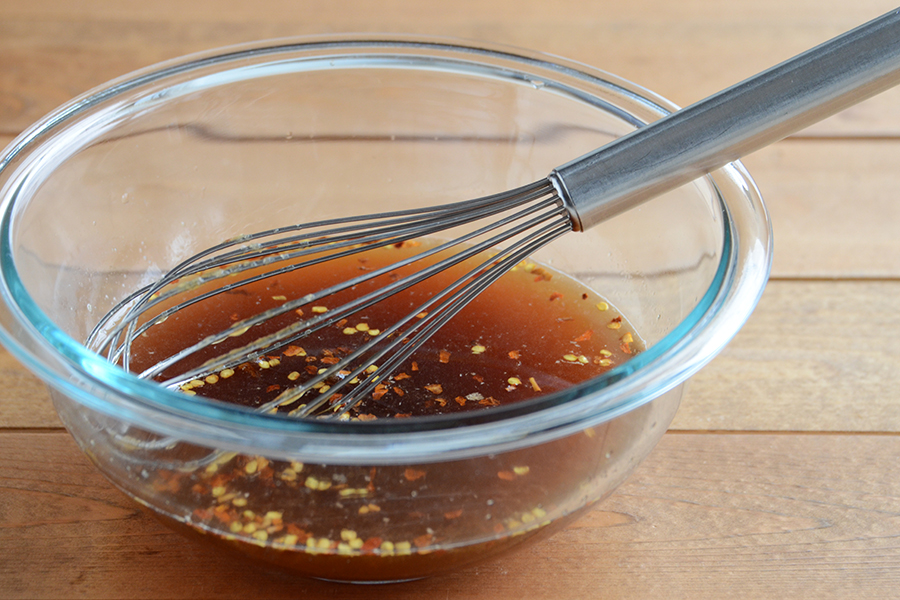 Whisk up the dressing: fish sauce, rice vinegar, ginger, red chilies (I used about 2 teaspoons crushed red pepper flakes instead; you can use more or less to taste), and honey. There was quite a bit of extra dressing pooled in the bottom so next time I'll make a little less; I'm planning to decrease both the rice vinegar and fish sauce to 1/2 cup, and also add 2 tablespoons of soy sauce for even more depth of flavor.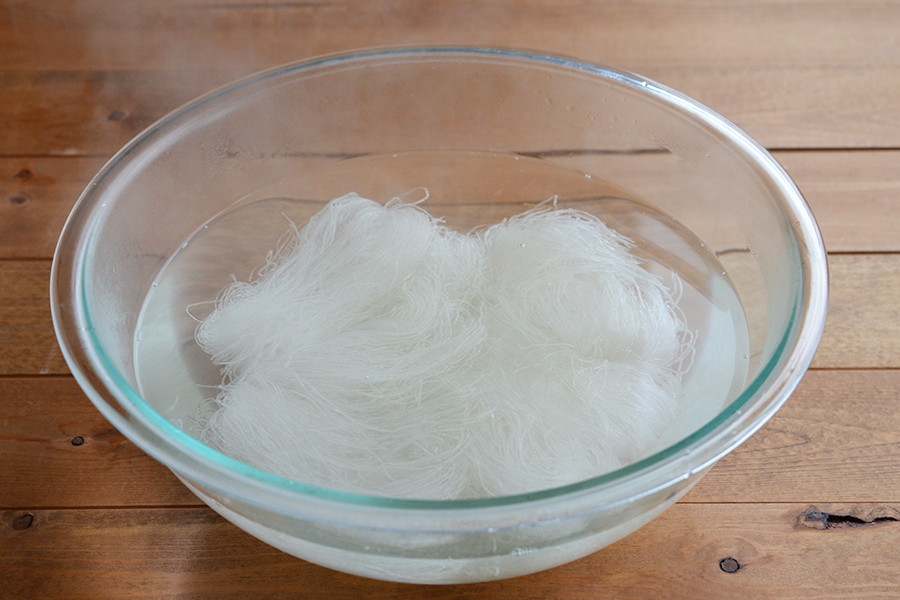 Cook the noodles following what it says to on the package directions—but be careful not to overcook them! I soaked my noodles in warm water for about 10 to 15 minutes, then drained them in a colander and rinsed them under cold running water.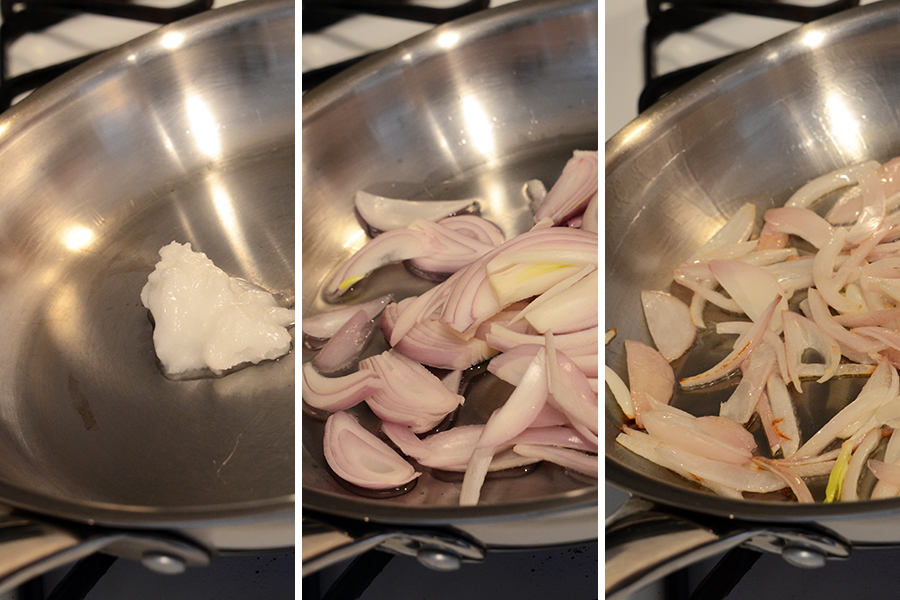 Add the coconut oil to a medium pan over medium-high heat. Once melted, add the shallot and cook until it starts to brown in spots. Use a slotted spoon to transfer the browned shallot to a paper towel-lined plate. (Thank you, Vicky, for reminding us of that trick! I don't always remember to do that, but shhhh, don't tell.)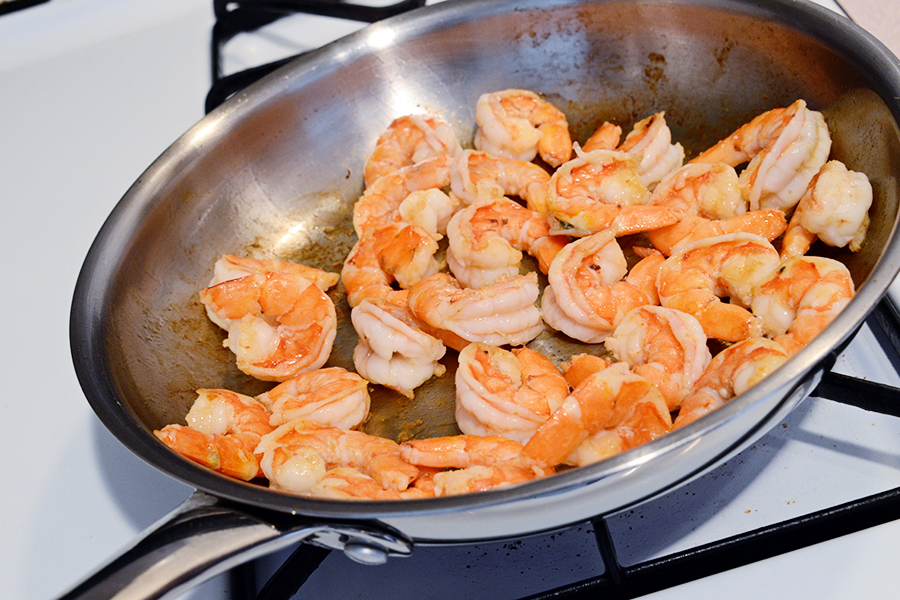 Add the shrimp to the pan and cook until it turns completely pink, about 3 to 4 minutes.
The recipe calls for 1/2 pound of shrimp, but if you're getting it without the shell/vein/tail removed I recommend getting about 2/3 to 3/4 of a pound to account for the lost weight when you clean your shrimp. Heck, I love shrimp so much in here I think next time I'll increase it to a full 1 pound either way.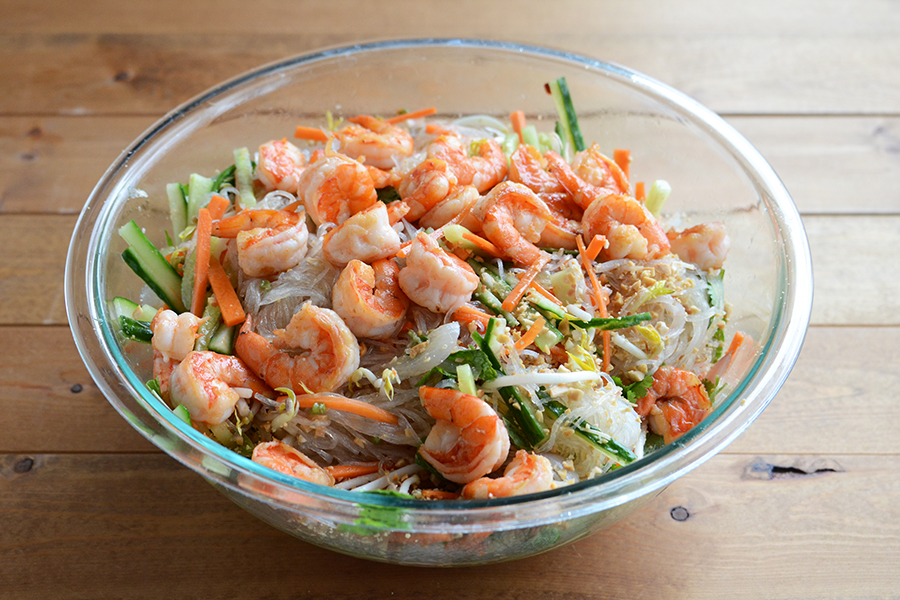 Now for the fun part: Add everything to a large bowl (be sure you don't forget the fresh herbs—I almost did!) and give it all a good toss. This makes a lot of salad. That's a 4-quart bowl in the photo!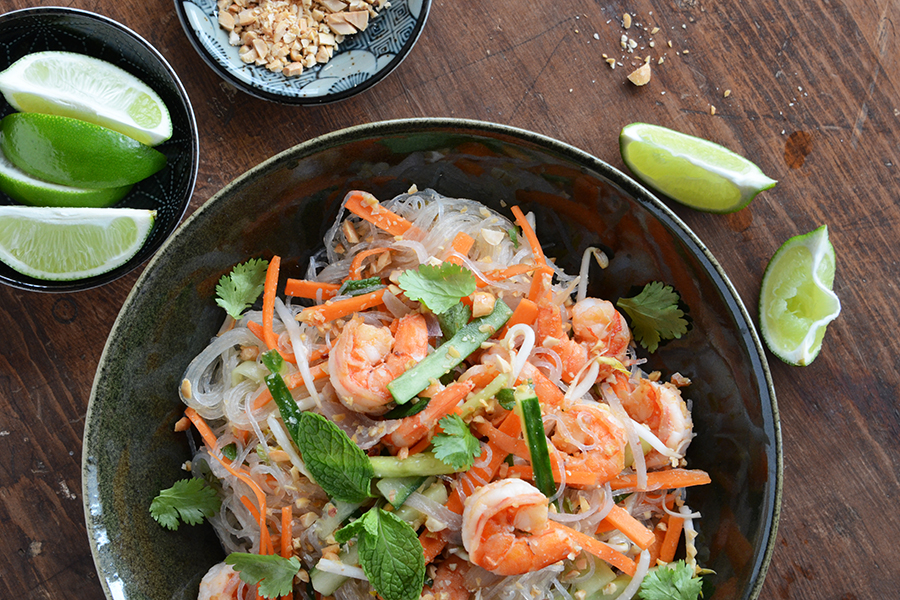 Put the salad into pretty individual bowls to serve it up. Don't forget the fresh lime wedges to squeeze on top, and remember, I chopped up extra peanuts to serve alongside so people can add more as they want. Gorgeous, isn't it?
Thank you to Vicky for sharing a fantastic recipe with us! Be sure to check out Vicky's beautiful blog Avocado Pesto for what she calls a "smorgasbord of ethnic cuisines" (I love that description!). Also, a big thank you to Running with Tweezers for the original inspiration for this recipe!
Printable Recipe
See post on Vicky @AvocadoPesto's site!
Description
A deconstructed summer roll salad. Less time consuming than making the rolls but full of all the same flavors.
Ingredients
8 ounces, weight Bean Thread Noodles
1 Tablespoon Coconut Oil
2 whole Shallots, Thinly Sliced
½ pounds Shrimp, Shells, Veins And Tails Removed
¾ cups Fish Sauce
¾ cups Rice Vinegar
2 Tablespoons Ginger, grated
2 whole Small Red Chilies, Diced
2 Tablespoons Honey
1 whole Medium Cucumber, Julienned
2 whole Carrots, Peeled And Julienned
1 cup Bean Sprouts
⅓ cups Fresh Basil, Chopped
⅓ cups Fresh Cilantro, Chopped
⅓ cups Fresh Mint, Chopped
⅓ cups Roasted Peanuts, Smashed
3 whole Lime Wedges
Preparation Instructions
1. Bring a pot of water to a boil and add noodles. Cook 3-5 minutes making sure not to overcook (refer to the package instructions for the specific timing for your noodles). Put the noodles into a colander to drain and rinse with cold water to stop the cooking process.
2. In a pan heat coconut oil over medium-high heat and add shallots. Cook until shallots are starting to get golden brown. Remove them from the pan and drain on a paper towel. Add shrimp to the pan and cook until cooked through, roughly 3-4 minutes. Then remove the shrimp from the pan.
3. To make the dressing: In a small bowl whisk together the fish sauce, rice vinegar, ginger, red chili pepper and honey.
4. To assemble the salad: In a large bowl add cucumber, carrot, bean sprouts and noodles, toss to combine. Add all of the herbs, shallots and peanuts, and top with shrimp. Squeeze lime wedges over the salad. Pour the dressing over the salad when ready to eat, otherwise noodles will get soggy. Serve with additional lime wedges.
Recipe adapted from Running With Tweezers.


_______________________________________
Faith Gorsky is the writer, recipe developer, photographer, and food stylist behind the blog An Edible Mosaic. She lives in Upstate New York and loves to travel, especially to places steeped in rich culture and history. She also enjoys reading, vintage shopping, watching movies, and is enamored with ancient cultures. She just released her first cookbook, "An Edible Mosaic: Middle Eastern Fare with Extraordinary Flair" (Tuttle Publishing), a collection of authentic Middle Eastern recipes handed down to her from her husband's family.