Who doesn't like fish tacos? They are the best meal for those gorgeous sunny spring and summer days. Add in some cabbage slaw doused with an avocado crema and some salsa and I seriously don't think you can go wrong. If you're into having a cerveza, then pour one and call it a day!
These flaky Fish Tacos with Avocado Cabbage Slaw from TK member The Culinary Chronicles are totally to die for. I made them twice this week and both times they were excellent!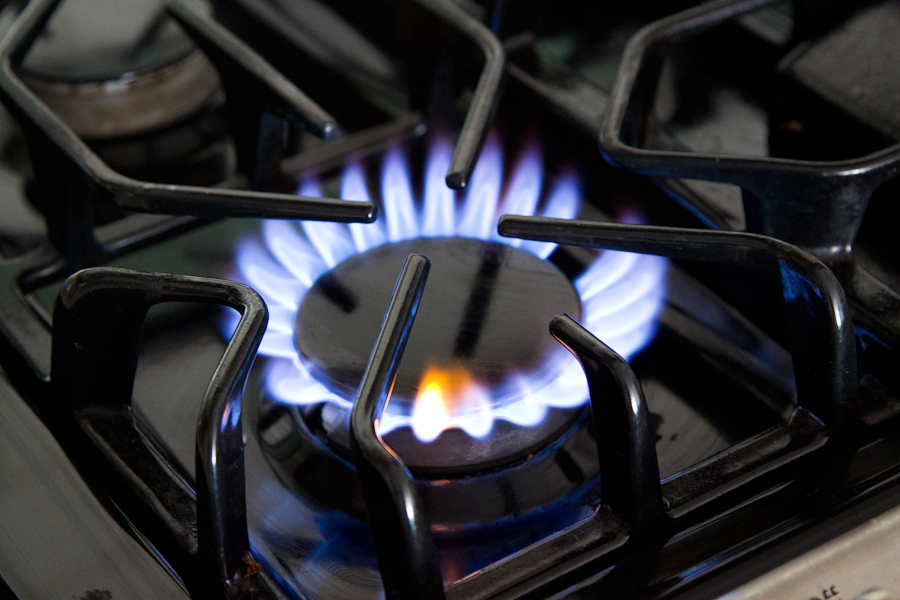 Okay, here's what to do. First we are going to torch some tortillas, which means you need to turn on your burner.
Place a small corn tortilla over the open flame for a few seconds
And then give it a flip to toast the other side for a few seconds more. Repeat this process with all the tortillas and then wrap them in a clean kitchen towel and set them aside.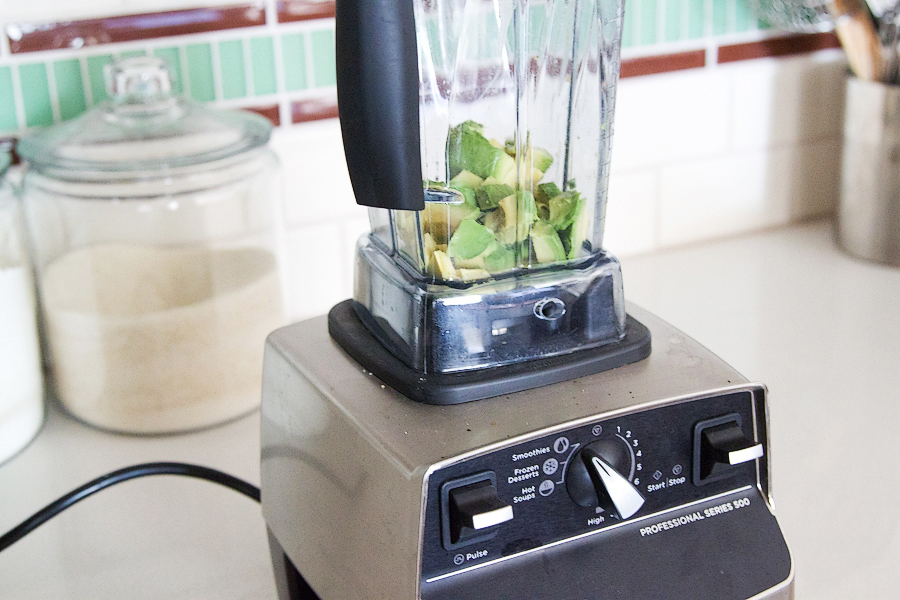 Next we're going to put some avocado in a blender …
Followed by some crema or sour cream. I only had sour cream on hand and let me tell you, it's pure perfection.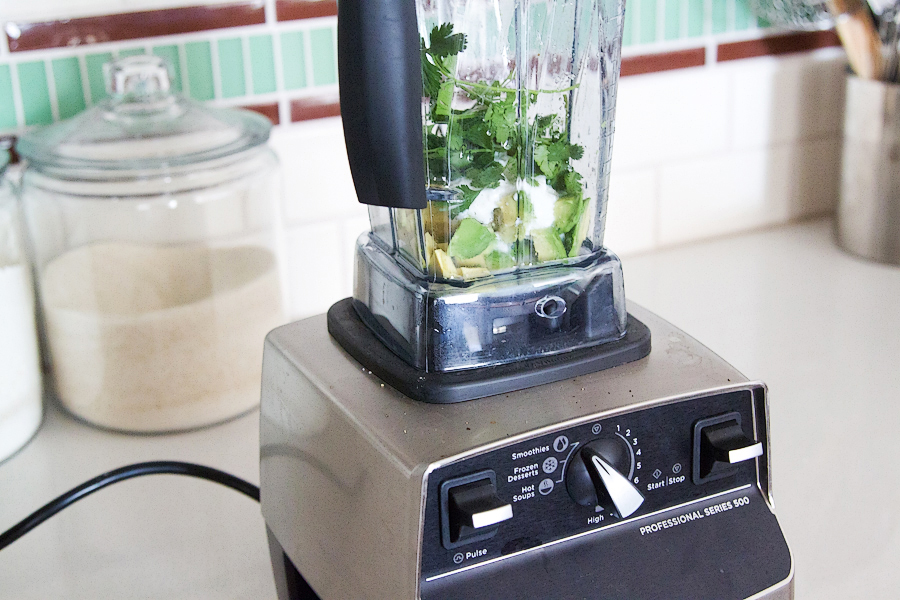 Throw in some fresh cilantro and jalapeño pepper …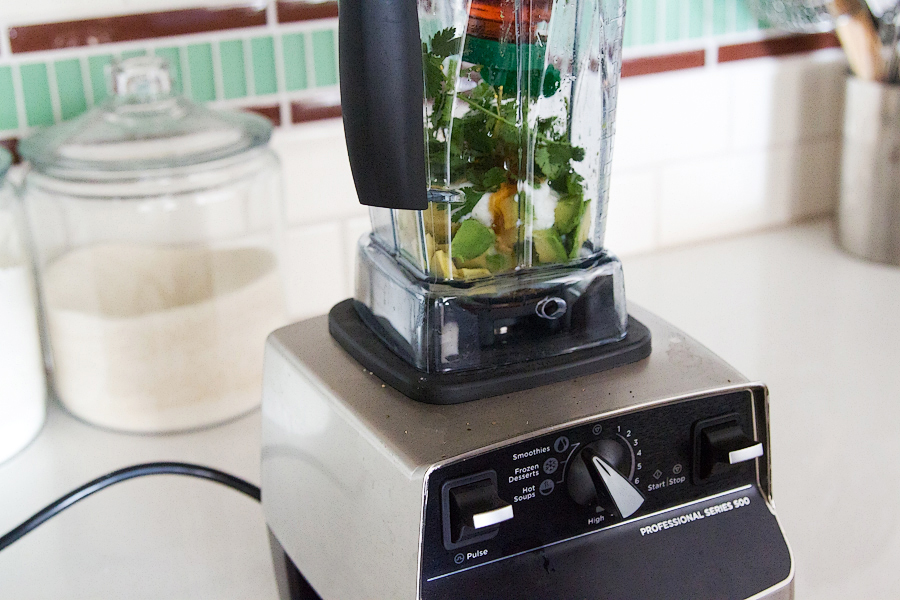 Followed by some agave nectar just to give it a hint of sweetness.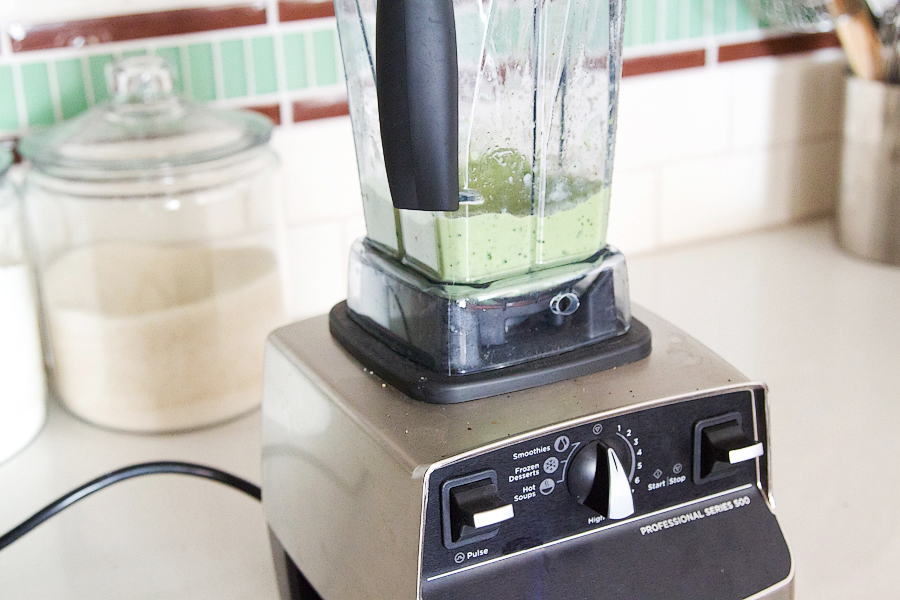 Blend it until everything is smooth and then remove the avocado crema to a bowl.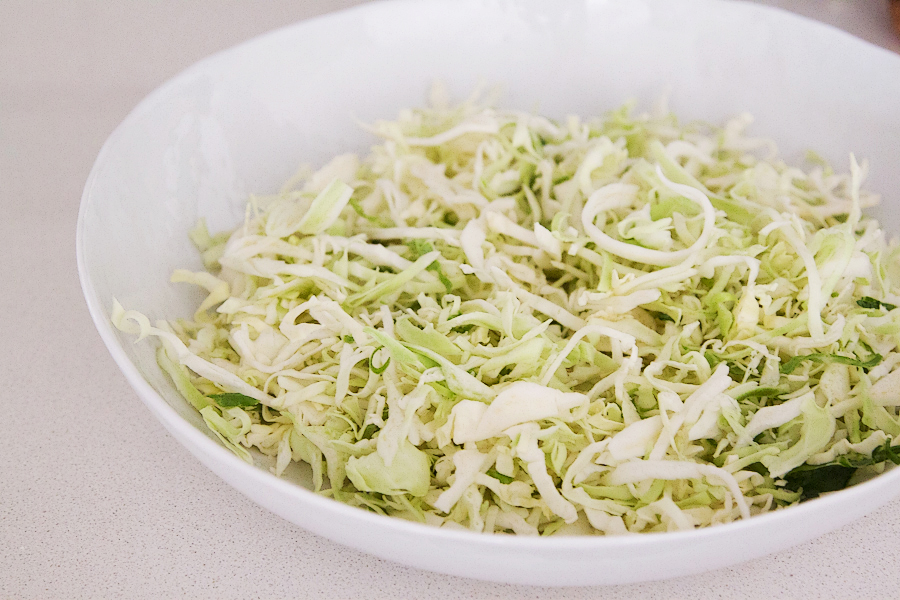 I just used some pre-shredded cabbage from Trader Joe's, but if you shred your own, just go ahead and shred it and place it into a big bowl.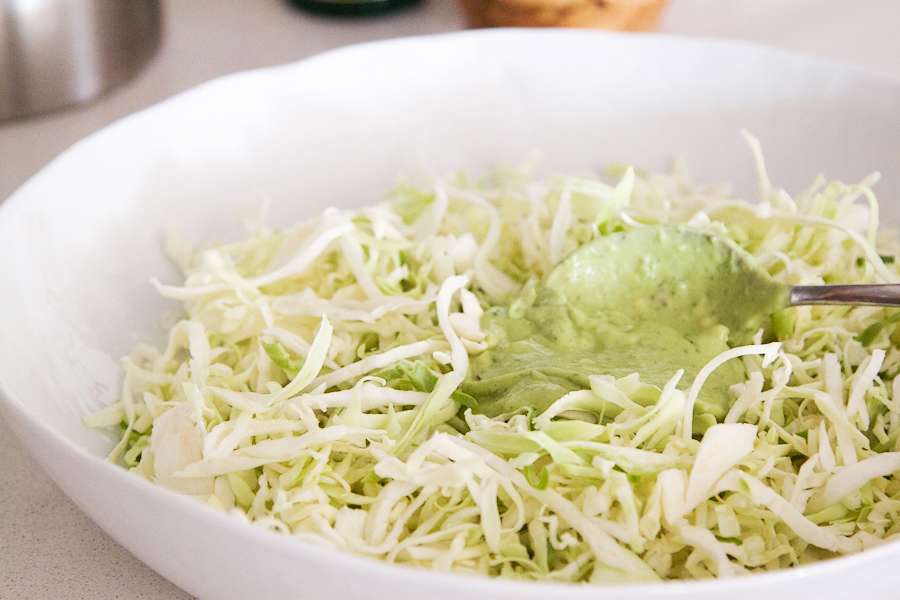 Add in a few spoonfuls of the avocado crema. Reserve some crema for later but be sure to add enough to give all the cabbage a good coating.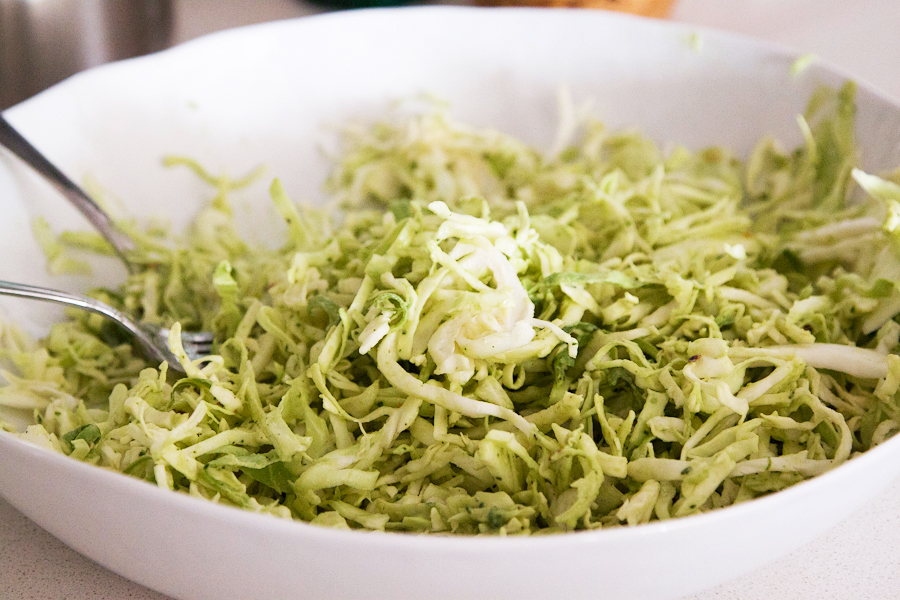 Toss it all together and season it with salt and pepper as needed.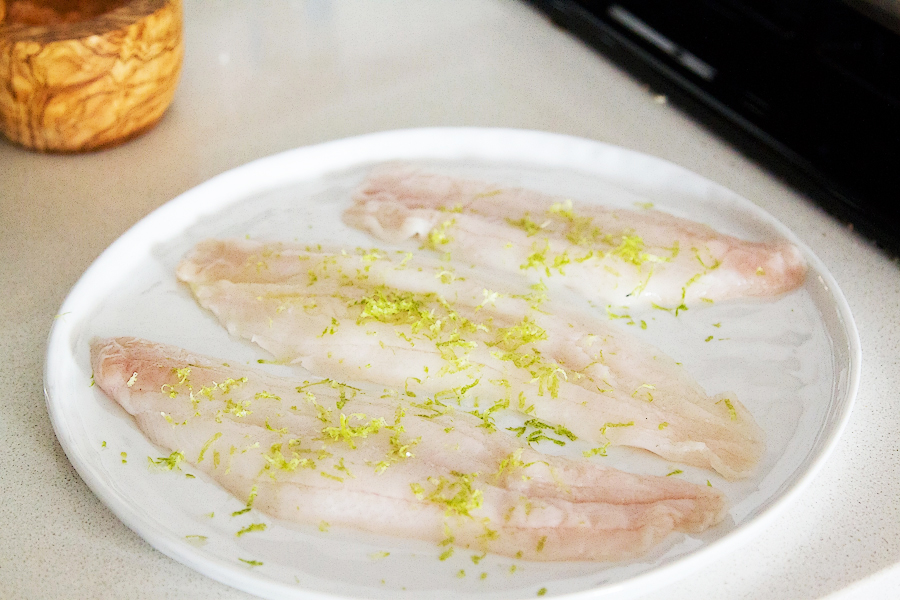 Alright let's move onto the fish. Season some white fish of your choice with some lime zest.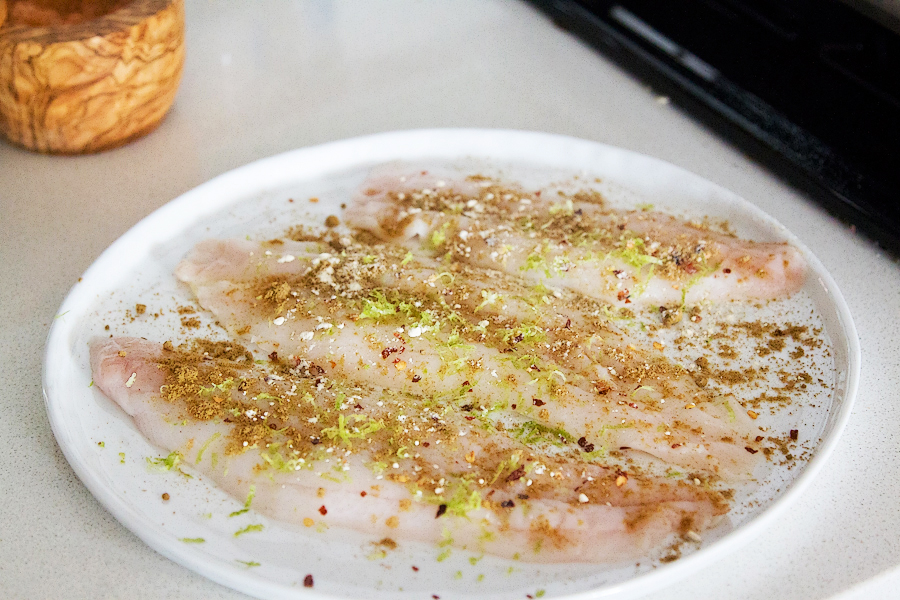 Then add in some red pepper flakes, followed by ground cumin and some garlic powder. You could use fresh garlic too, but I was concerned about the garlic burning when I broiled the fish so I opted for the powder.
Lastly, let's add on some chopped cilantro.
Throw the fish in the fridge to marinate for a few minutes and then transfer it to a parchment-lined baking sheet and season it with salt and pepper. I used the juice of 1 lime to juice on top of the fish and then drizzled a touch of olive oil on top. Into the oven it goes on broil for a few minutes on each side until the fish can easily be flaked apart.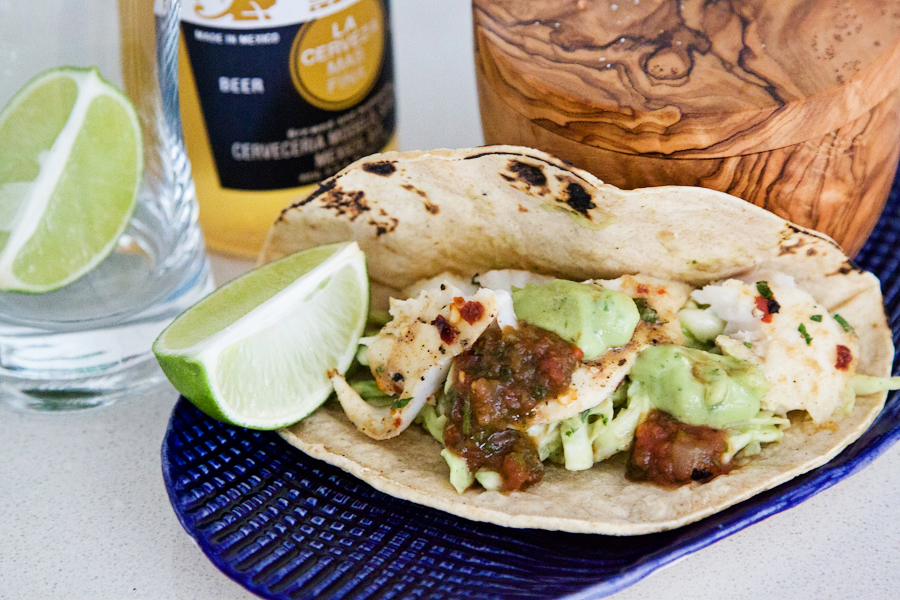 And now you're in the home stretch. Just assemble the tacos with the cabbage slaw, flaked fish, extra avocado crema and some salsa! Serve it up and enjoy.
A big giant avocado-filled thank you to Nam of the amazing blog The Culinary Chronicles for giving us another amazing recipe featuring avocado! These tacos are a winner and you will totally dig them!
Printable Recipe
See post on Nam | The Culinary Chronicles's site!
Description
Fish tacos with a creamy avocado-cabbage slaw.
Ingredients
½ pounds Firm White Fish Fillets, Such As Cod Or Tilapia
2 cloves Garlic, Finely Minced
1 teaspoon Lime Zest
2 Tablespoons Chopped Cilantro, Plus More For Garnish
¼ teaspoons Red Pepper Flakes
2 pinches Ground Cumin
2 Tablespoons Vegetable Oil
Kosher Salt And Pepper To Taste
4 whole Corn Or Flour Tortillas
1 cup Chunky Salsa
Lime Wedges
FOR THE SLAW:
1 cup Ripe Avocado, Diced
¼ cups Mexican Crema, Or Sour Cream
¼ cups Fresh Cilantro, Chopped
½ whole Jalapeno Pepper, Finely Diced And Seeded
1 Tablespoon Lime Juice
½ Tablespoons Agave Or Honey
Kosher Salt And Pepper To Taste
2 cups Shredded Cabbage
Preparation Instructions
In a shallow dish, coat the fish with garlic, lime zest, cilantro, red pepper flakes, cumin, and oil. Season with kosher salt and pepper. Allow to marinate for 20 minutes in the refrigerator.
For the slaw, in a blender, puree the avocado, crema, cilantro, jalapeno pepper, lime juice and agave until smooth. Season with salt and pepper. In a large bowl, toss the cabbage with a few spoonfuls of the avocado puree until lightly coated. Cover the bowl with plastic wrap and refrigerate.
Preheat the oven broiler and arrange the marinated fish on a baking sheet. Place the baking sheet a few inches away from the broiler, and broil the fish for 2-3 minutes on each side or until the fish becomes opaque and flakes easily with a fork.
Warm the tortillas. Divide the fish, salsa and slaw amongst the tortillas. Sprinkle each taco with the extra chopped cilantro and serve warm with lime wedges on the side.


_______________________________________
Gaby Dalkin is the young lady behind What's Gaby Cooking, a food blog that's bursting at the seams with incredible recipes and food photography. She's a personal chef and professional recipe developer, and if you follow her on Twitter, you'll soon discover her two-fold obsession: guacamole and cheese. She has small feet, a large heart, and a smile that can light up the whole building. We're pretty stoked to have her here.