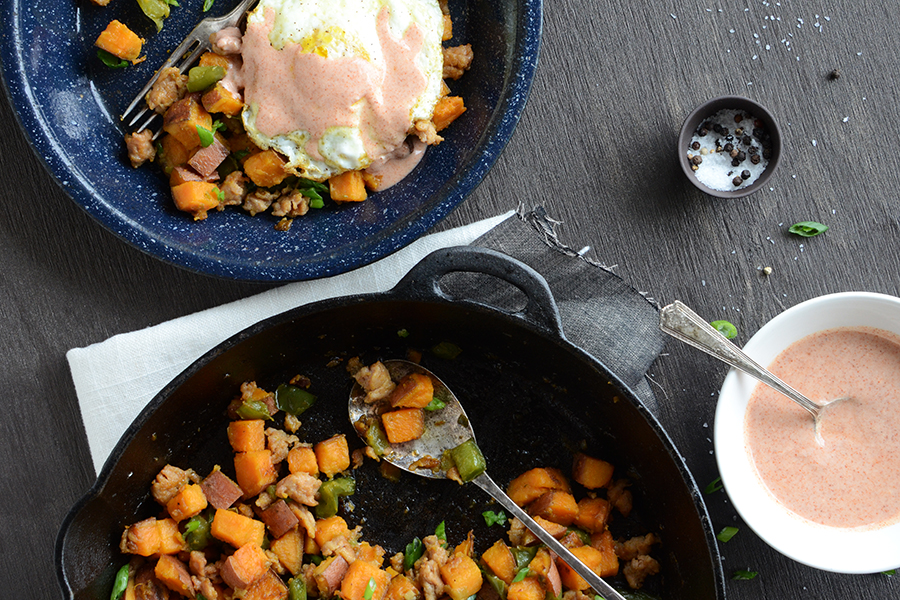 Breakfast is without a doubt my favorite meal of the day. It could be any kind of breakfast food: pancakes, waffles, crepes, omelets, eggs and toast, it makes no difference to me. I'm always looking for an excuse to make breakfast any time of day, and a new recipe to make it. Tasty Kitchen member Jayne's recipe for Sweet Potato Hash Paprika Yogurt Sauce caught my attention just by reading the title! I couldn't wait to make this.
To start, do a little prep work.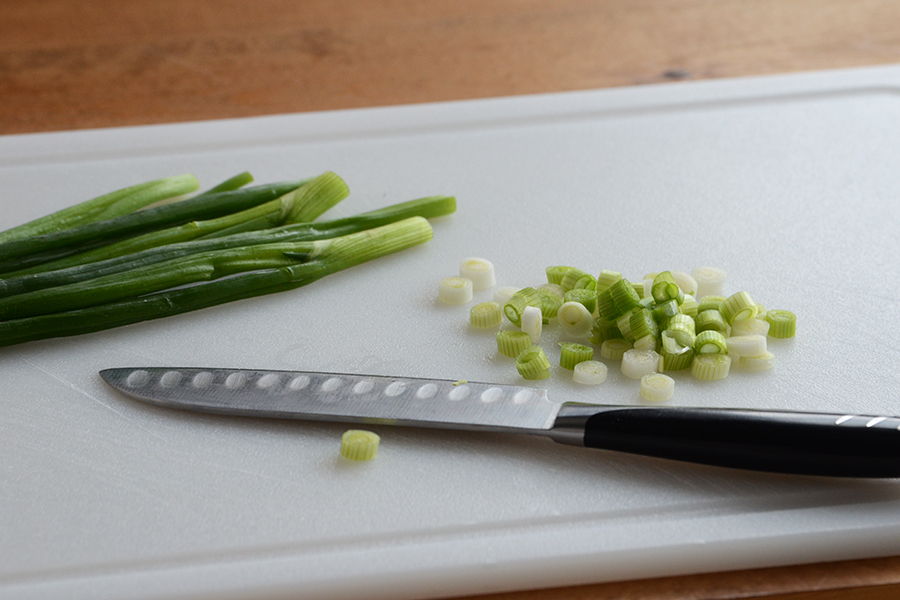 Slice up some scallions.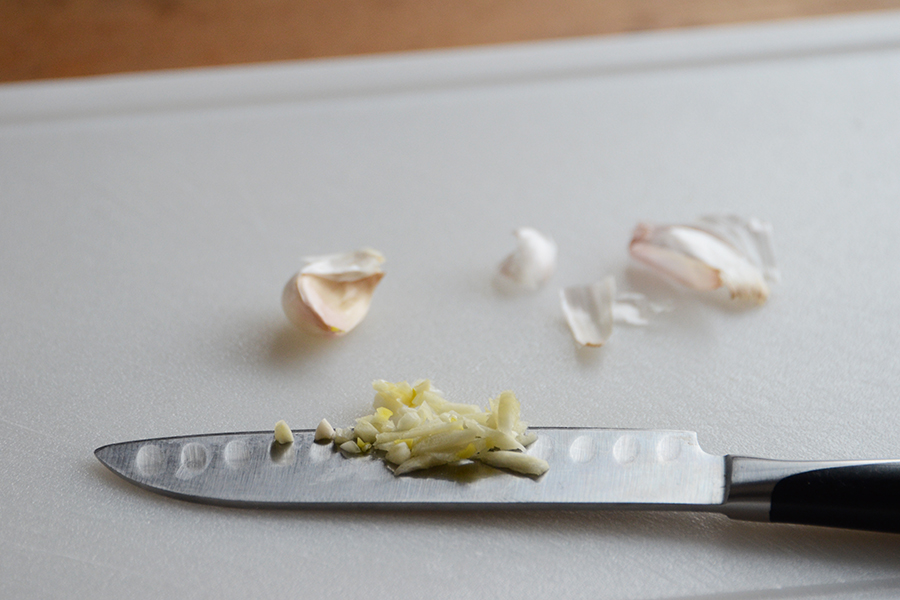 Mince some garlic.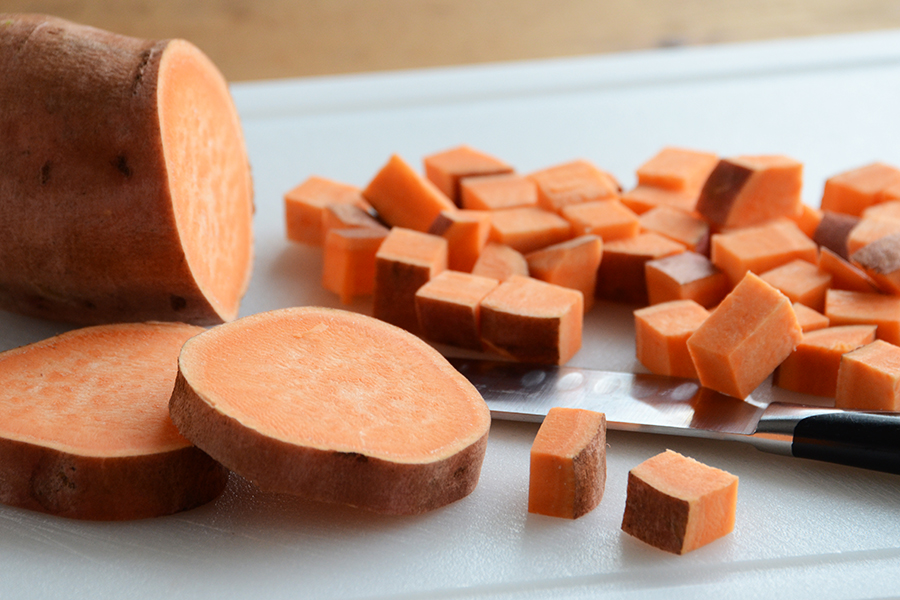 Cut up a yam. I used a yam instead of a sweet potato just because of personal preference but use whatever you prefer. The original recipe didn't say what size potato to use, so I used a 1-pound yam.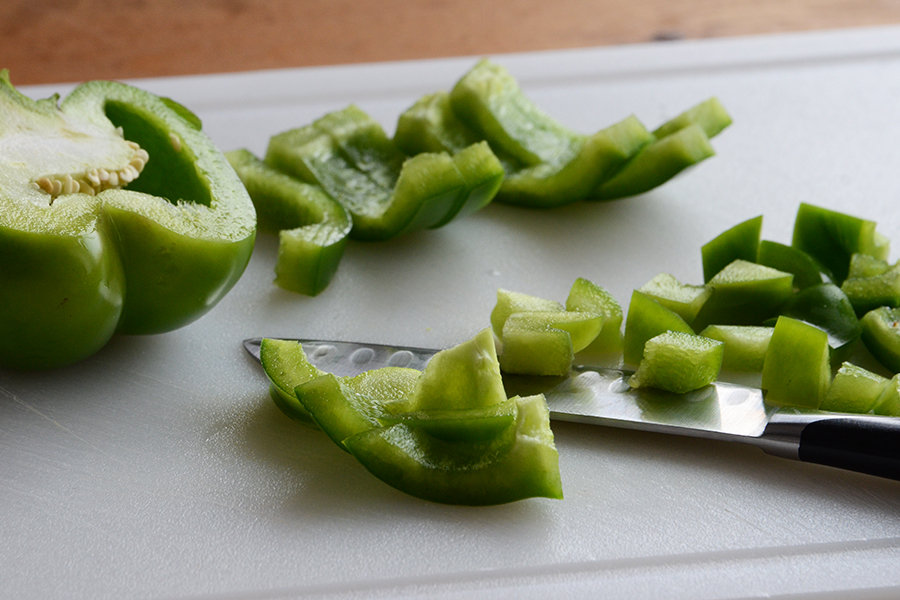 Now this part is optional, but I chopped one medium-sized green bell pepper. This wasn't in the original recipe, but I added it because I love adding bell pepper to potato hash (red bell pepper is also a favorite!). It's a great way to get another veggie in, but it's up to you whether you want to use it or not.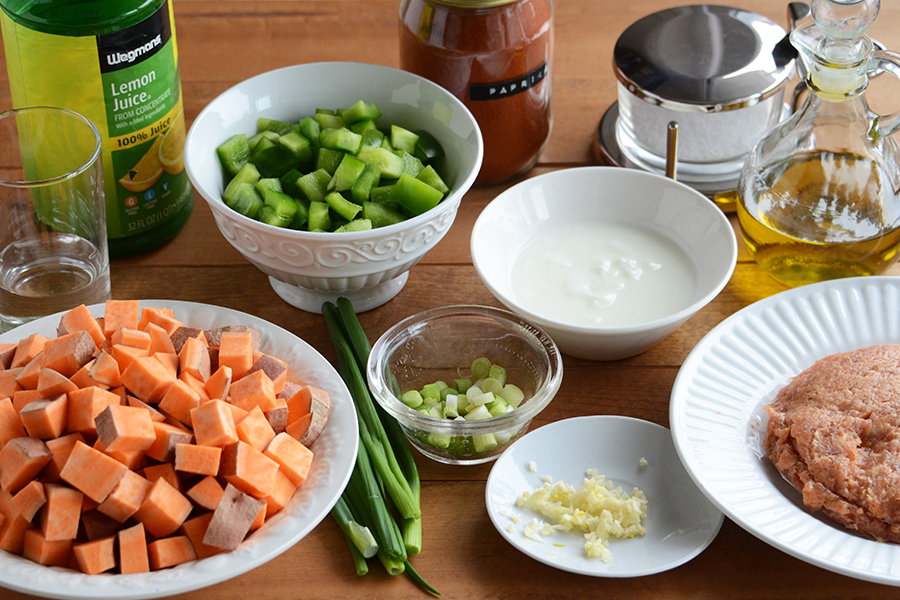 Assemble the ingredients: yam (or sweet potato), scallion or spring onion (the white, light green, and dark green parts), Italian sausage (I used a mild Italian turkey sausage), water, lemon juice (I keep a bottle of lemon juice in the fridge for recipes like this that use such a small amount of lemon juice that it isn't really necessary to squeeze a whole lemon for), green bell pepper (if you want to include it), paprika, yogurt, salt, and olive oil. Notice that the dark green part of the scallion isn't sliced yet—I like to wait and do that right before I serve it.
Just a quick note about the sausage: the original recipe calls for 1 whole sausage, casing removed. I wasn't sure how much the sausage weighed so I went with half a pound; I figured a single sausage probably weighs anywhere from 1/4 to 1/2 a pound, and I wanted to err on the side of a little more. Oh, and instead of using sausage that was stuffed in casing and removing the casing, I just used sausage meat that was shaped into patties.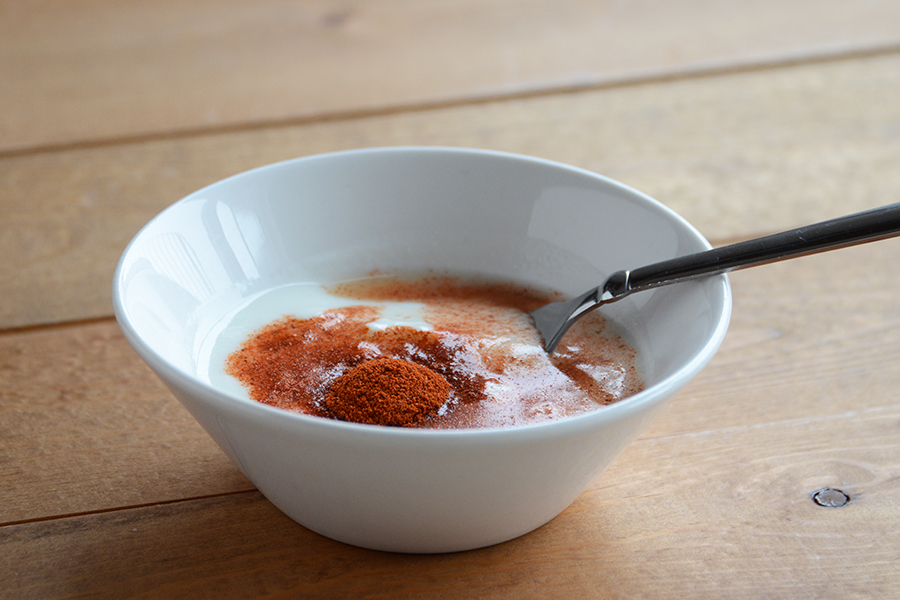 Whisk up that tasty yogurt sauce (just yogurt, lemon juice, paprika, and salt!).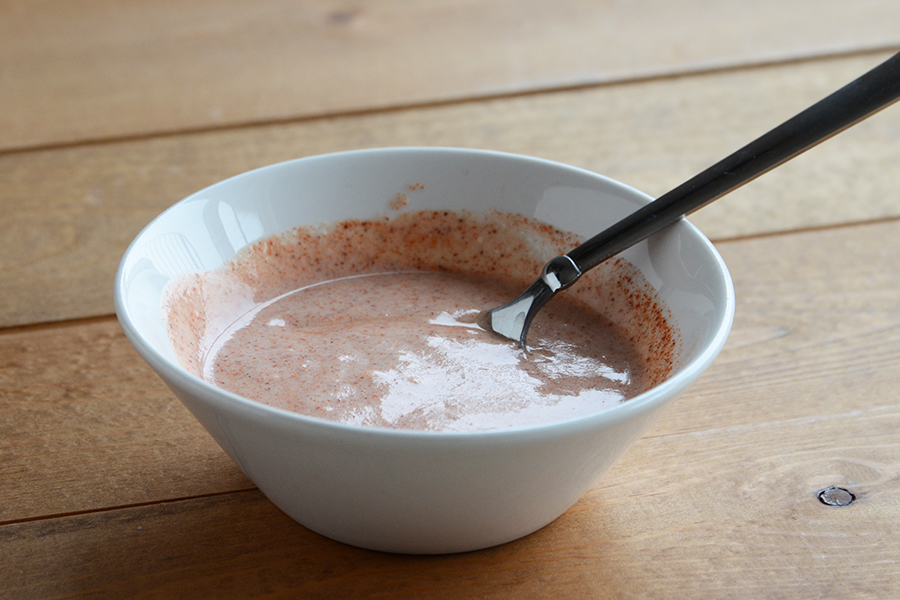 Once mixed, you can cover the bowl and pop it in the fridge until you're ready to serve.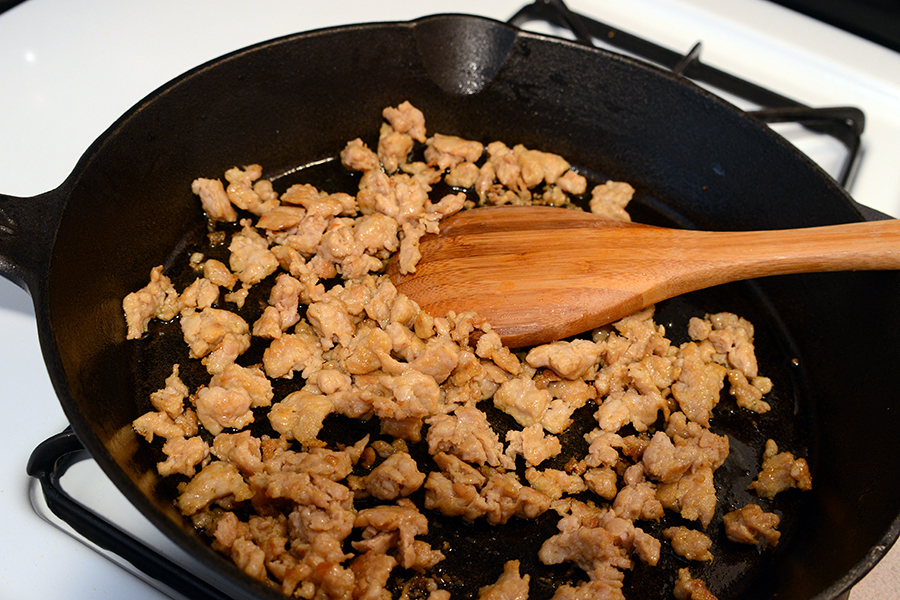 Brown the sausage in some olive oil in a large skillet over medium-high heat. I used my cast-iron beauty because what says hash more than a cast-iron skillet, right?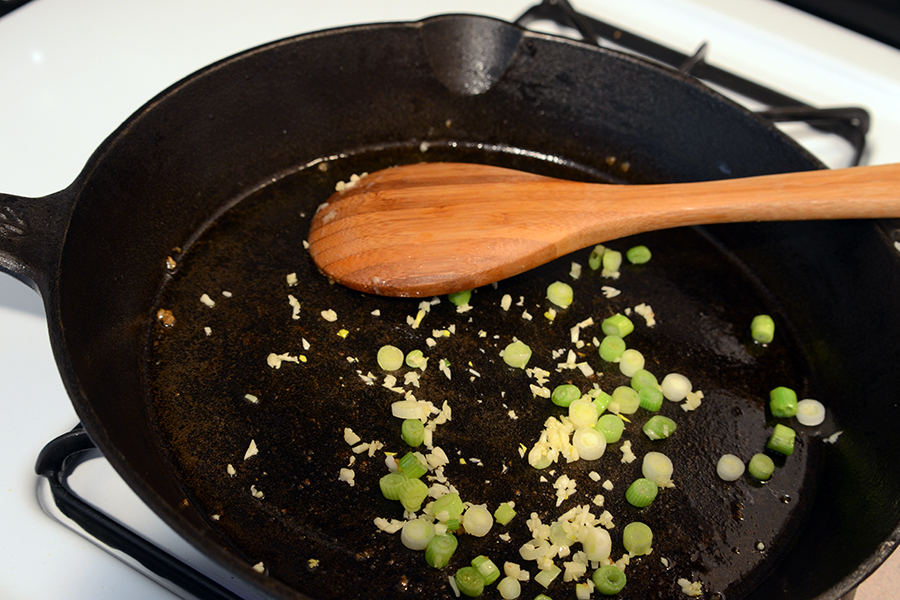 Use a slotted spoon to transfer the browned sausage to a bowl (or a paper towel-lined plate if you want to drain off any excess oil!). Then turn the heat down to medium-low and stir in the white and light green parts of the scallion (or the white part if you're using a spring onion), along with the garlic.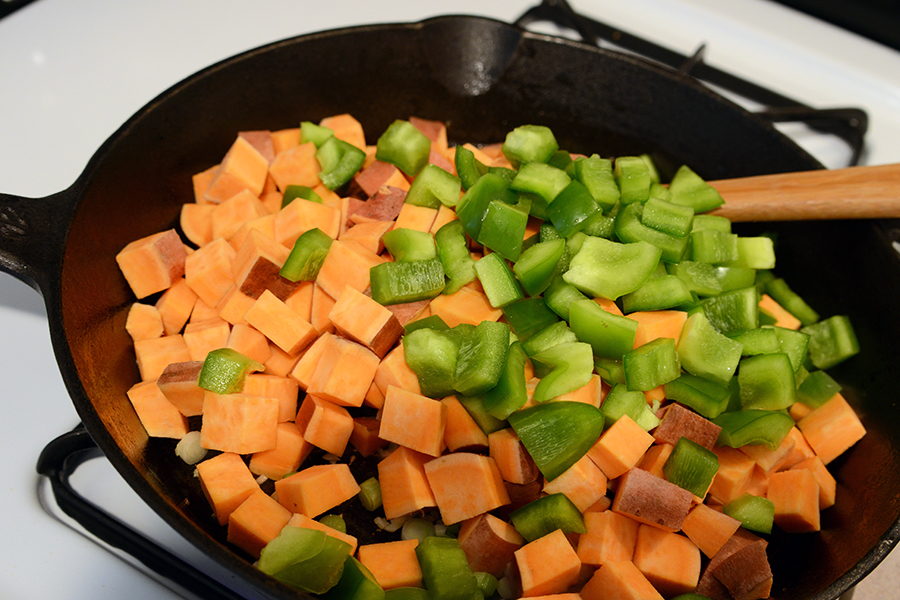 Once the onion is fragrant and soft, add the yam (or sweet potato), green bell pepper (which is optional), and water (you can use stock if you prefer). I also added a pinch of salt and pepper since I used water instead of stock.
Cook (covered) until the potatoes are tender but not mushy, which was about 10 to 15 minutes for me. During this time, use a metal spatula to give the potatoes an occasional toss to make sure that they aren't sticking to the bottom of the skillet, and that you don't need to add more water. (Since I used a pretty big yam, I found I needed a touch more olive oil, around 1 to 2 tablespoons.)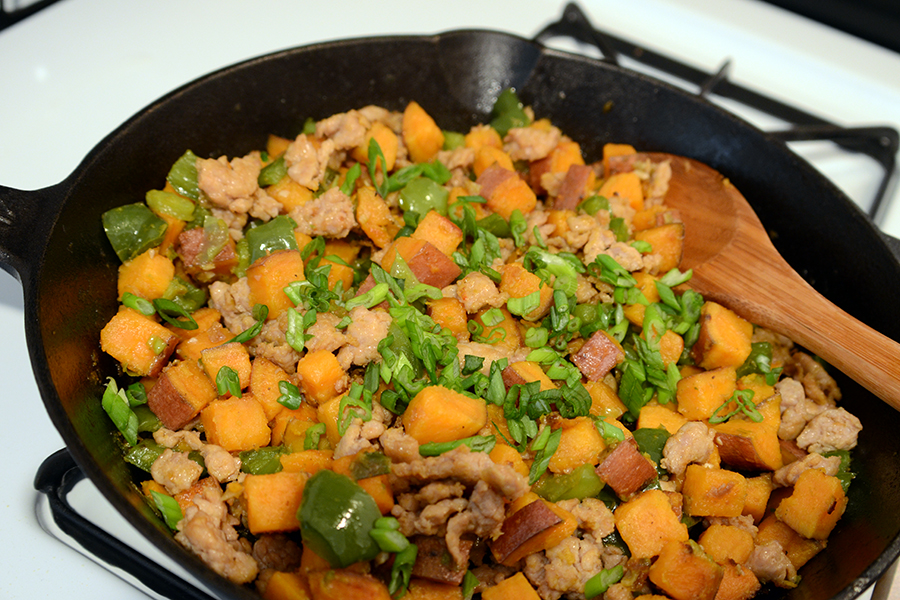 Once the potatoes are cooked, toss in the browned sausage and top with the sliced dark green part of the scallion.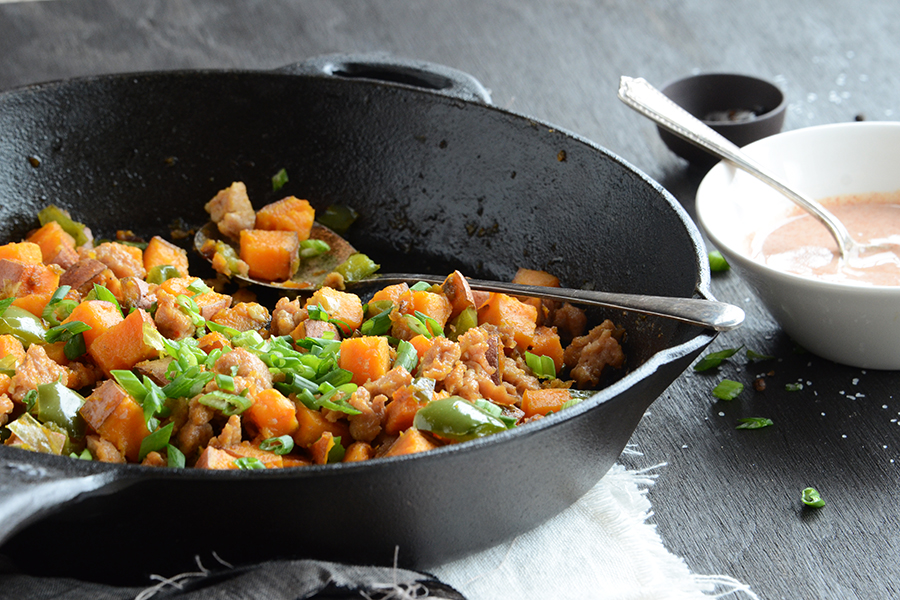 Don't forget the paprika yogurt sauce! Now just look at that thing of beauty. But it's about to get even better.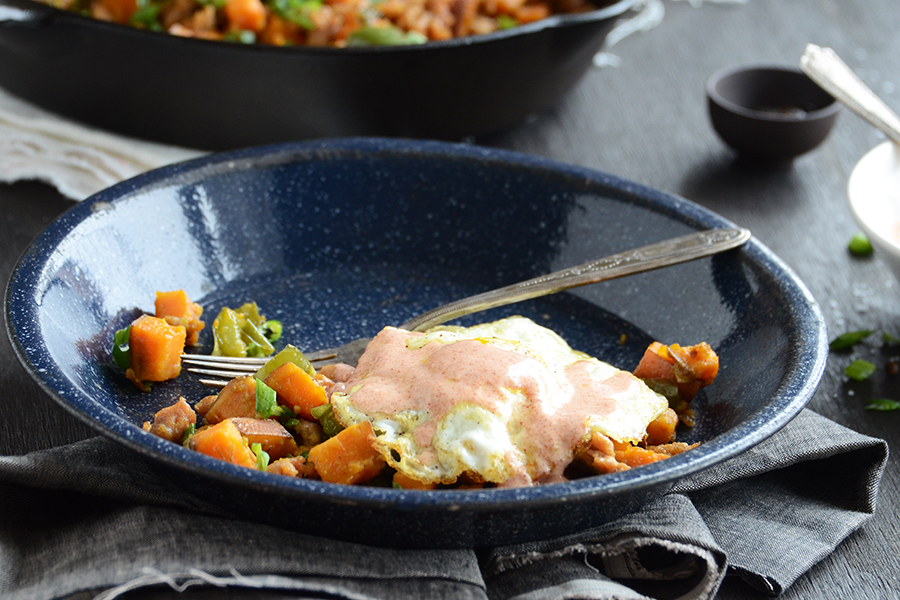 Jayne suggests serving this hash with an egg on top, and I seized the day and went with it. It was a brilliant suggestion. Topped with that tangy paprika yogurt sauce, breakfast doesn't get any better.
This was a fantastic meal, and definitely not just for breakfast—leftovers the next day made a wonderful dinner too. The only thing I want to mention is that, the way I made the recipe (with a 1-pound yam, 1/2-pound sausage, and the addition of 1 green bell pepper), eaten alone it made three to four servings, instead of the two servings that the original recipe makes. And if you serve this hash with two eggs per person, I think you could easily get four servings out of it! Like Jayne said, sliced fruit on the side is also a great serving idea. A beautiful brunch doesn't get much easier.
A big thank you to Jayne for such a great recipe. Be sure to check out her blog Tenacious Tinkering for more of her delicious dishes!
Printable Recipe
See post on Jayne | Tenacious Tinkering's site!
Description
A power-packed brunch with sweet potatoes, tangy yogurt and herby Italian Sausage.
Ingredients
4 Tablespoons Natural Yogurt
1 teaspoon Lemon Juice
½ teaspoons Hungarian Paprika
1 pinch Salt
1 Tablespoon Olive Oil
1 whole Italian Sausage, Casing Removed
1 clove Garlic, Minced
2 Tablespoons Sliced White Parts Of Spring Onions
1 whole Sweet Potato, Peeled And Cubed
¼ cups Water Or Stock (more If Needed To Get Potatoes To Soften)
2 Tablespoons Sliced Green Parts Of Spring Onions
Preparation Instructions
Mix up natural yogurt, lemon juice, paprika and salt to make the sauce and set aside. You can make a bigger batch ahead of time and store in the refrigerator to top roasted meats or eggy dishes. (Certified yummy!)
For the hash, heat up a skillet or pan with the olive oil. Toss in sausage, breaking it up with a spoon, and let it sear for about 1 minute. Remove and set aside.
In the same pan on medium low, add in minced garlic and white parts of spring onion. Stir around for about 1 minute until softened and caramelized.
Add in cubed sweet potato with water or stock. Let it come to a simmer and cover.
Once water has evaporated, check and see if potatoes are tender but not falling apart. Sprinkle in reserved cooked sausage and sliced green parts of spring onion. Toss until combined and plate. Pour over a spoonful of paprika yogurt sauce and enjoy!
Serving suggestion: Top with fried egg and sliced fruit to make it a square meal!


_______________________________________
Faith Gorsky is the writer, recipe developer, photographer, and food stylist behind the blog An Edible Mosaic. She lives in Upstate New York and loves to travel, especially to places steeped in rich culture and history. She also enjoys reading, vintage shopping, watching movies, and is enamored with ancient cultures. She just released her first cookbook, "An Edible Mosaic: Middle Eastern Fare with Extraordinary Flair" (Tuttle Publishing), a collection of authentic Middle Eastern recipes handed down to her from her husband's family.