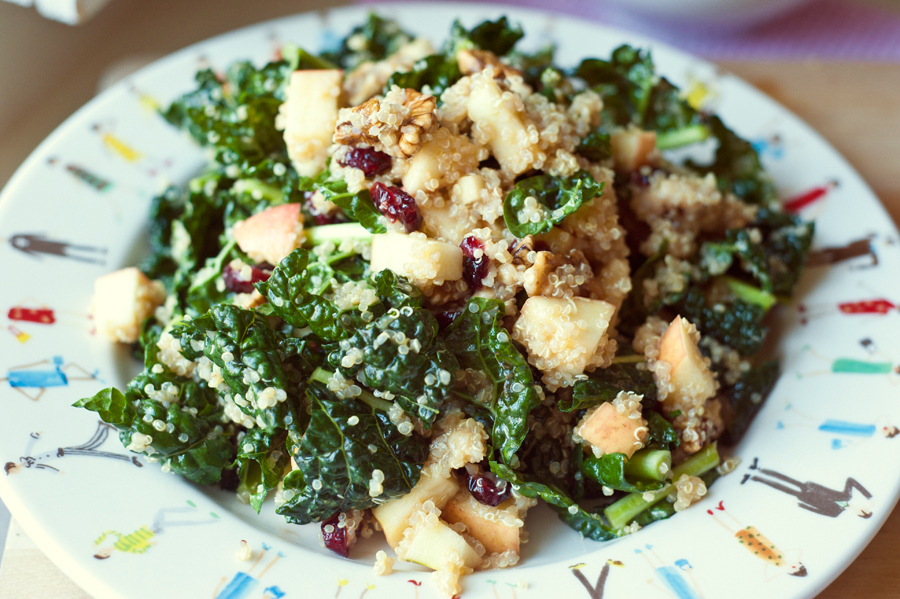 I'm a kale fanatic and I like it any which way. This Protein-Packed Massaged Kale Salad recipe from TK member KGracie71 caught my eye because it is totally raw, relying on the acid from the vinaigrette to tenderize the kale. Keeping it raw means it has a great texture and maximum nutrition in each bite. It also has great color! It is a heavenly kale concoction.
To make this you will need: kale, cooked quinoa, dried cranberries, apple, walnuts, lime, garlic, olive oil, balsamic vinegar and honey.
Start by making your vinaigrette in a bowl. Pour in the olive oil …
Followed by the balsamic vinegar …
Followed by the lime juice and crushed garlic clove.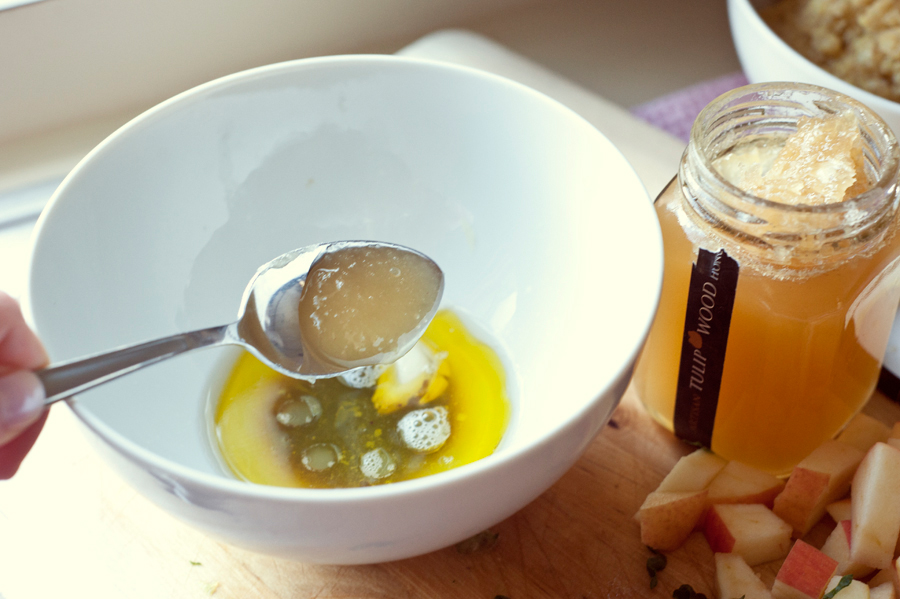 Then add the honey. I used less honey than the recipe called for and it was sweet enough for me, so add it in batches and taste to see what suits your fancy.
Give it a stir and let the garlic infuse for a few minutes.
Add the kale to a large bowl and pour the dressing all over. Stir it well.
Give the kale a massage with your hands for about 5 minutes. This will help it break down and tenderize nicely.
Next add your quinoa. Toss it in and stir. I like to make quinoa in large batches and toss it into salads throughout the week. It's a great source of protein. So feel free to make extra and save the rest.
Toss in your apple…
Then the walnuts…
And the cranberries.
Stir it all together. This can be made in advance and stored covered in the refrigerator. It will tenderize further with time and the flavors will blend nicely.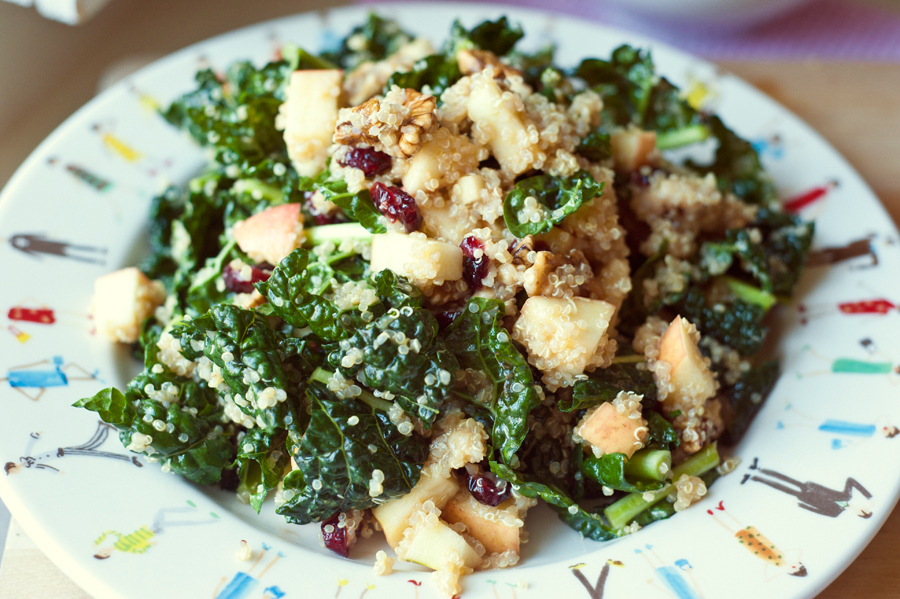 You will feel very, very healthy after a big plate of this; it is very satisfying. Thank you to Karla for sharing this recipe with us! Check out her website Forty Cakes for other delicious treats.
Printable Recipe
See post on Karla @ FortyCakes's site!
Description
So much protein! So much taste! So much health!
Ingredients
FOR THE SALAD:
1-½ cup Cooked And Cooled Quinoa
5 cups Kale
½ cups Walnuts
¼ cups Dried Cranberries
1 Apple, Chopped
Salt And Pepper, to taste
FOR THE VINAIGRETTE:
¼ cups Olive Oil
2 Tablespoons Balsalmic Vinegar
1 Lime, Juiced
1 clove Garlic
3 Tablespoons Honey
Preparation Instructions
Prepare quinoa according to package directions. Let cool.
For the vinaigrette:
Whisk together the olive oil, vinegar, juice from the lime, garlic and the honey. Set aside while you prepare the salad.
For the salad:
Put chopped kale in a large bowl and pour the vinaigrette over the beautiful leaves. Massage the vinaigrette into the kale for about 5 minutes. The size of the kale will decrease significantly and you should be able to feel the kale becoming more tender.
After the massage, add in the quinoa. Toss together with the kale.
Once those are well combined, toss in the walnuts, cranberries and chopped apples. Season with a bit of salt and pepper, to taste.
It would be great served with goat cheese or some other kind of cheese but was excellent without it as well.


_______________________________________
There's so much to say about Georgia, we don't know where to start. Leaving Wall Street for the French Culinary Institute, followed by a stint at the Gramercy Tavern and La Chassagnette in France, her passion for food and food traditions are evident and inspiring. Visit her site at Georgia Pellegrini, where you'll find more recipes, photos, learn all about her wonderful books Girl Hunter and Food Heroes, and enjoy her latest adventures.