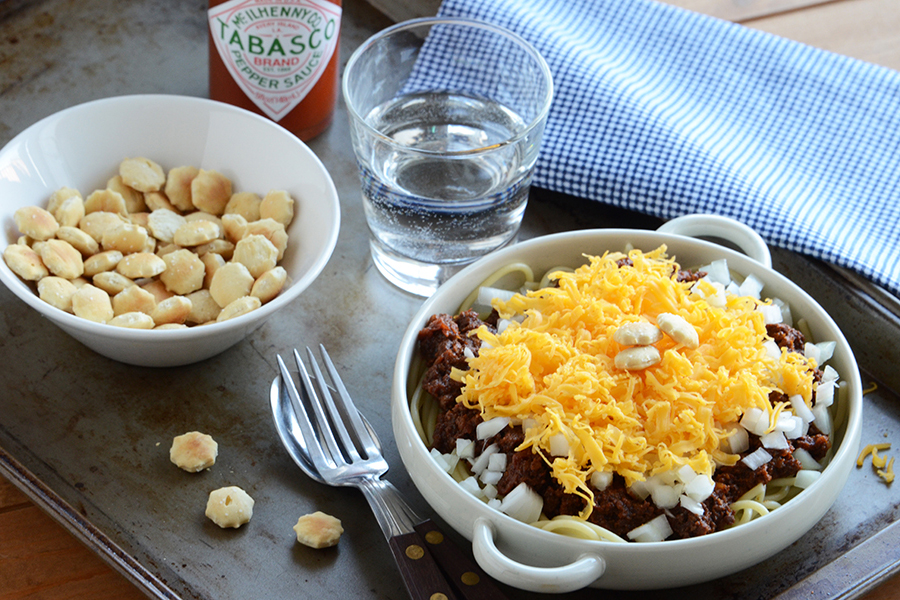 Have you ever been to Cincinnati? If so, you've probably had their very unique chili. It's like eating chicken wings in Buffalo or lobster in Maine—if you want to experience a regional favorite, it's a must-try!
A couple years ago I had Cincinnati chili while visiting a friend in Cincinnati. Since then, I've only dreamt of having it again. For a while now, I've been looking for what looked like an authentic version; that is, a bean-less version (you can serve it with beans on the top if you go five-way, but I'll get to that in a second) that has chocolate. I was pretty excited when I found Tasty Kitchen member Dax Phillips' recipe for Cincinnati Chili!
First things first, a little bit about how they do chili in Cincinnati. It starts with a complex, rich-flavored, warmly-spiced meat sauce that has a touch of chocolate added, usually in the form of unsweetened cocoa powder. Then that incredible sauce is served one of the following "ways": two-way (chili over spaghetti noodles); three-way (chili over spaghetti noodles topped with shredded cheese); four-way (chili over spaghetti noodles topped with shredded cheese and diced onion); five-way (chili over spaghetti noodles topped with shredded cheese, diced onion, and kidney beans). And there you have it. Deliciousness in chili form, Cincinnati-style.
Ready to get started?
There is minimal prep work required for this recipe! Just dice 2 cups of onion (which is about 2 medium-large onions).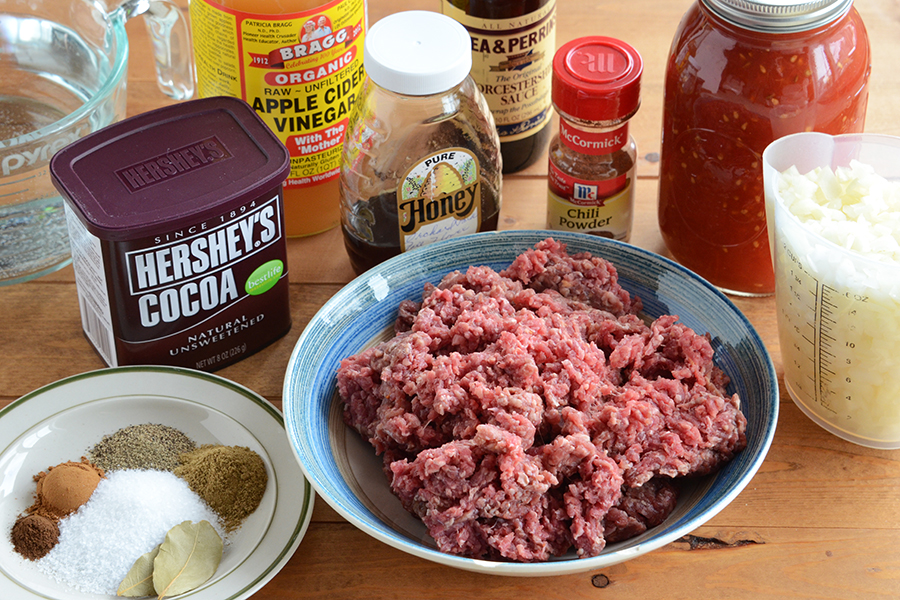 Then get out all your ingredients. Here we have: a plate of spices (cloves, cinnamon, black pepper, cumin, salt, and bay leaves), ground beef (I used 90% lean, but 95% lean would be even better), unsweetened cocoa powder, diced onion, apple cider vinegar, Worcestershire sauce, honey, chili powder (the original recipe calls for 5 tablespoons of chili powder, but I will only use 4 tablespoons next time), crushed tomatoes, and water. I only have 4 cups of water pictured, but I actually did use another 1 cup to make it 5 cups total, like the recipe says, so that the beef was fully covered. Oh, and next time I will add 1/4 teaspoon ground allspice as well.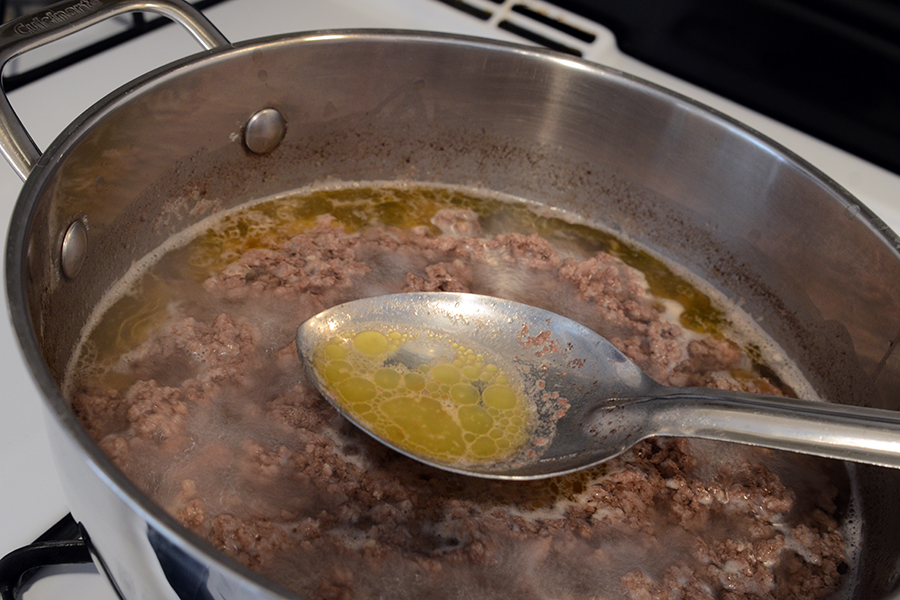 The first cooking step is the initial boiling of the beef. This is the most hands-on part of the cooking process, since it requires you to skim off the fat/other stuff that floats to the top. Not to worry, the chili is worth this extra work!
Here's how the beef looks after boiling uncovered (and skimming off the fat) for about 45 minutes.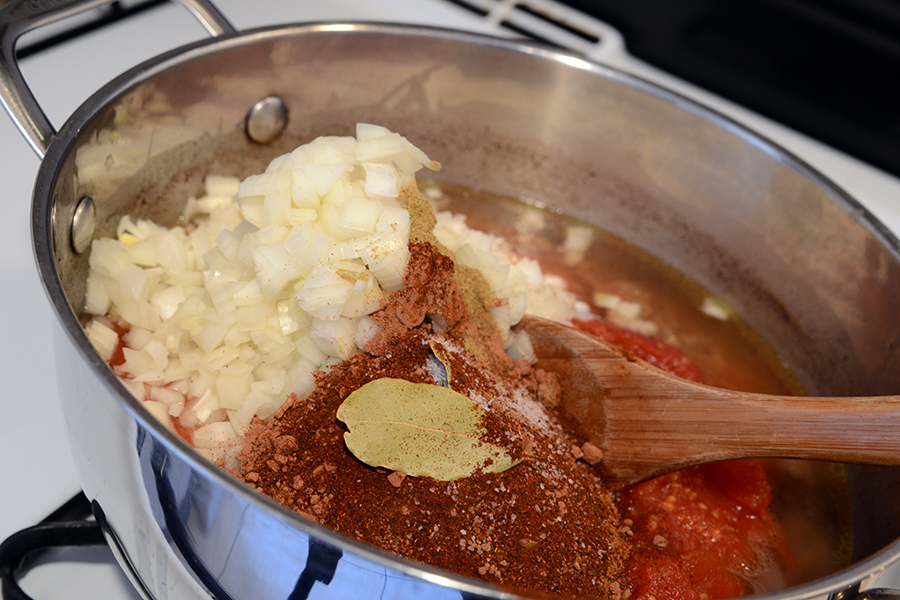 Now you can add all the other chili ingredients …
And give it a good stir.
Bring the chili to a boil, cover the pot, turn the heat down, and simmer for 3 to 3 1/2 hours, stirring every so often.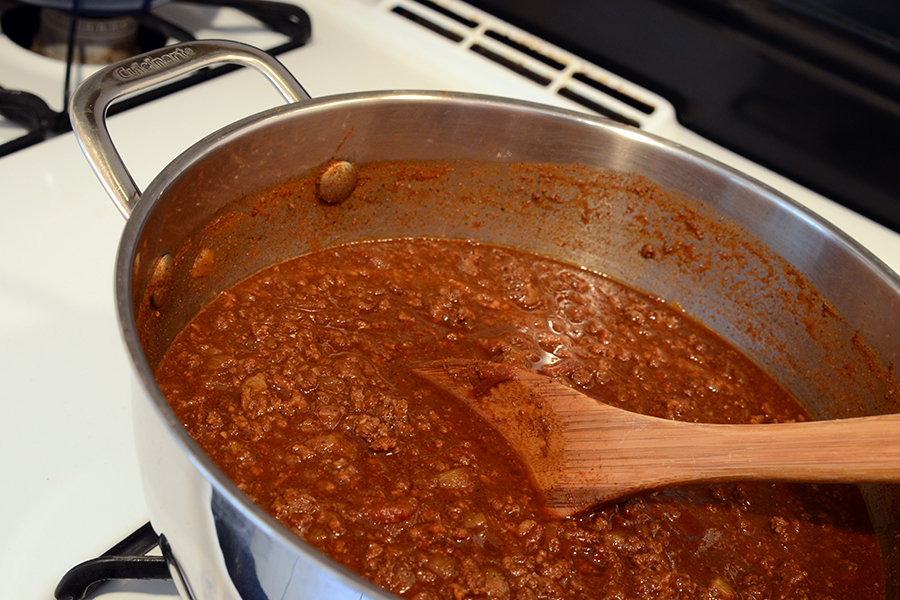 Here it is after cooking for 90 minutes.
And here it is after cooking for 3 hours. Mine was super thick and just starting to stick on the bottom at that point, so I knew it was done. (Yours might need to go for the full 3 1/2 hours, like the recipe says.) It cooks down a lot; the total volume I had after cooking was 6 cups of chili.
Here's where the recipe gets a little time-consuming: Dax recommends letting the chili cool to room temperature and refrigerating it overnight so you can remove the fat that rises to the top the next day. This is what my chili looked light the next day—about 2 tablespoons of liquid fat that had pooled on the top that I was able to remove (and that was with using 90% lean ground beef and being very diligent about skimming the fat off during the boiling process). Even though it doesn't seem like a lot of fat to skim off, I also recommend this step. The flavors of the spices mingle beautifully overnight.
The next day, when you're ready to serve, heat up the chili (you can add a splash of water if necessary, if it's too thick). If you're planning to serve this four-way (chili over spaghetti noodles topped with shredded cheese and diced onion) like Dax and I did, cook and drain your pasta to al dente according to the package directions.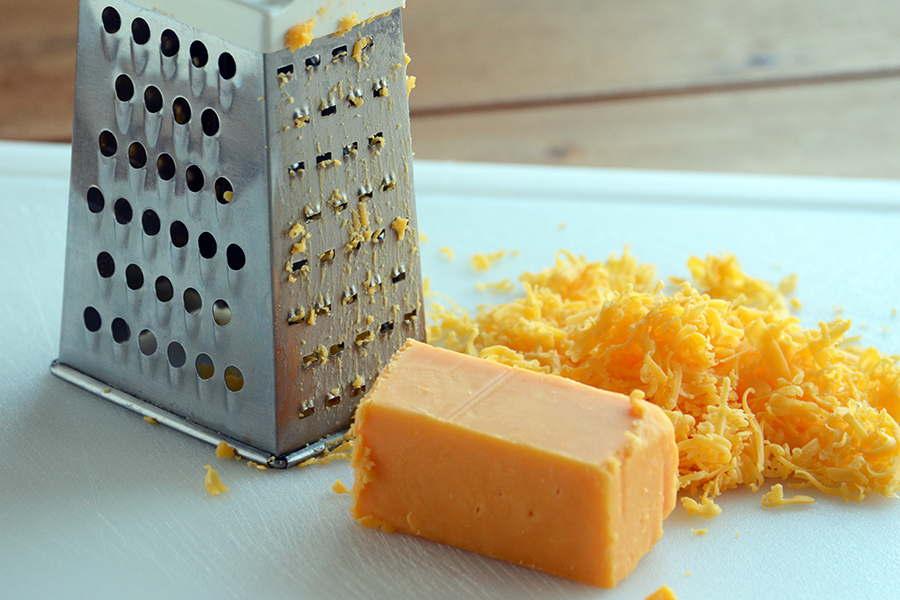 Shred your sharp cheddar cheese. I wanted a little bit of a finer shred for this (I like how it melts that way), so I didn't use the side with the biggest holes on my box grater.
Then assemble the toppings you'll need to serve: cooked spaghetti noodles, shredded cheese, oyster crackers, diced onion, and hot sauce.
To serve, line a shallow bowl with spaghetti noodles, top with a ladle of chili, a handful of diced onion, and a sprinkle of shredded cheese. Add a few oyster crackers and a dash of hot sauce! (If you decide you want to go five-way, you can add kidney beans on top.)
Cincinnati Chili is the perfect dish for a new twist on an old favorite, and this recipe is incredible—definitely restaurant quality! A huge thanks to Dax for a great recipe; I know it will become a cold-month regular in my kitchen. Be sure to check out his blog Simple Comfort Food for more comforting classics and fresh new flavors with a comfort spin!
Printable Recipe
See post on Dax Phillips's site!
Description
A simple twist on a chili con carne, this classic Cincinnati chili will warm you from your head to your toes.
Ingredients
FOR THE CHILI:
2 pounds Ground Beef
5 cups Water, Enough To Cover The Ground Beef
28 ounces, weight Crushed Tomatoes
2 cups Onion, Finely Diced
2 Tablespoons Cocoa Powder
¼ teaspoons Ground Cloves
1 Tablespoon Worcestershire Sauce
5 Tablespoons Chili Powder
1 teaspoon Cinnamon Powder
½ Tablespoons Cumin Powder
1 Tablespoon Cider Vinegar
2 whole Bay Leaves
1 Tablespoon Honey
1 Tablespoon Salt
1 teaspoon Cracked Black Pepper
¼ cups Red Kidney Beans, Cooked (optional)
TO SERVE:
½ pounds Spaghetti Noodles, Cooked According To Package Instructions
1 cup Onion, Finely Diced
1 cup Sharp Cheddar Cheese, Grated
½ cups Oyster Crackers
1 dash Hot Sauce
Preparation Instructions
Begin by getting a large pot on the stove. Add the ground beef and water, and bring to a boil. Once the water is boiling, reduce the heat to medium, and begin stirring the beef, breaking it up as you stir. Continue this process for about 45 minutes. Skim off any of the crud that might float to the top and discard it.
Next, add all of the remaining chili ingredients on the above list, giving a good stir. Bring this mixture to a boil, then reduce heat to a simmer, cover, and let it cook for approximately 3 1/2 hours, stirring from time to time. When done, remove bay leaves.
Now if you are living on the edge and like that fatty flavor, you could go ahead and serve this right now, but instead, I recommend that you take it off of the stove, let it cool, then place it in the refrigerator overnight. The reason you will probably want to do this is that when you remove the chili the next day, the fat that was cooked off from boiling the ground beef will rise to the top, allowing you to remove all of that fat. So do just that, and remove that thin layer of fat from the chili.
Once you have removed the fat, put it back onto the stove, bringing it up to a boil and heat throughout, then get ready to serve.
Remember now, I went four-way, which means, spaghetti, chili, onions, and cheese.
To serve, add a layer of the cooked spaghetti on the bottom of your bowl. Ladle a generous amount of the chili on top of the spaghetti. Top with onions, and a lot of grated cheese. Place a small handful of oyster crackers on the side, and dig in!
You will be surprised not only with the awesome texture of this chili, but more importantly, the flavor. You get the richness from the cocoa powder, and the clove and cinnamon really stand out. But it is also the texture you get from the onion and cheese that make this chili just melt in your mouth.
Give it a shot, and I hope you enjoy the recipe!


_______________________________________
Faith Gorsky is the writer, recipe developer, photographer, and food stylist behind the blog An Edible Mosaic. She lives in Upstate New York and loves to travel, especially to places steeped in rich culture and history. She also enjoys reading, vintage shopping, watching movies, and is enamored with ancient cultures. She just released her first cookbook, "An Edible Mosaic: Middle Eastern Fare with Extraordinary Flair" (Tuttle Publishing), a collection of authentic Middle Eastern recipes handed down to her from her husband's family.