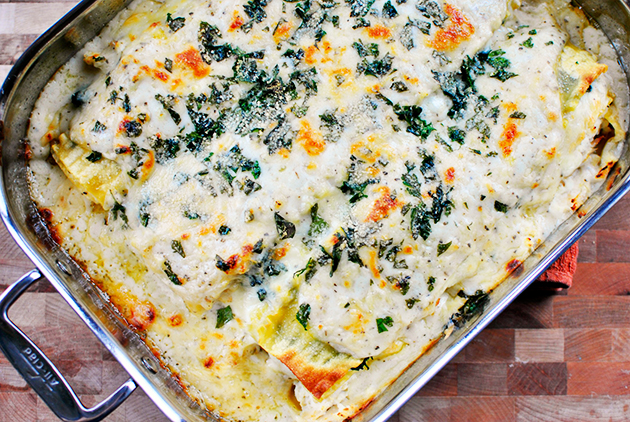 I'm a complete and utterly in love with all forms of lasagna. There's just something about those layers of cheese, noodles and sauce that I can't help but get weak in the knees over. So you probably can understand why I was instantly intrigued when I found Anna and Chelsea's recipe for a White Cheese and Chicken Lasagna.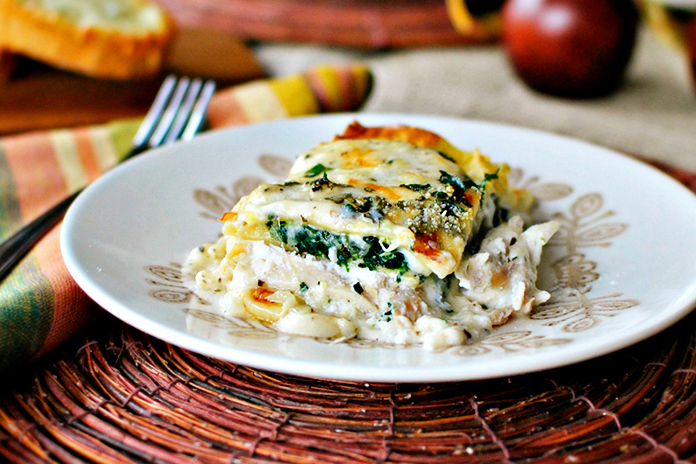 Chicken, cheese, spinach and as if there wasn't already an abundance of cheese here, there's also a white cheese sauce! I know! You might want to break open a bottle of wine, slip on some comfy pants because it's about to get rich and cheesy up in here.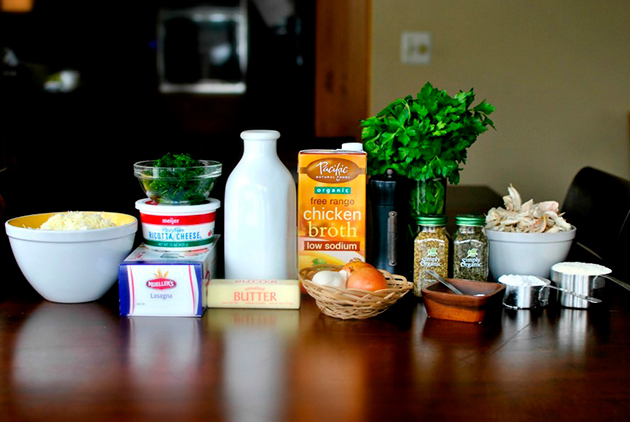 To make this lasagna happen, all you need is chicken (I used rotisserie chicken and it was fabulously easy), lasagna noodles, frozen spinach (thawed and squeezed dry), butter, milk, chicken broth, onion, garlic, flour, salt and pepper, dried oregano and basil, fresh parsley, ricotta, Parmesan and mozzarella cheese.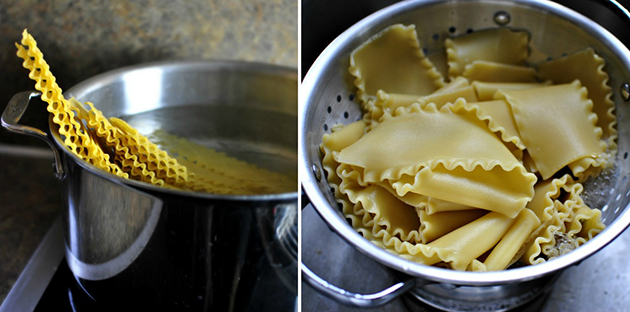 Start by bringing a large pot of water to a boil. Season it generously with sea salt and drop in the entire package of noodles. Even though you only need 9 noodles, sometimes they crack or split while they're boiling, so I just make them all to be on the safe side. Cook the noodles for 8-10 minutes, then drain and rinse with cold water.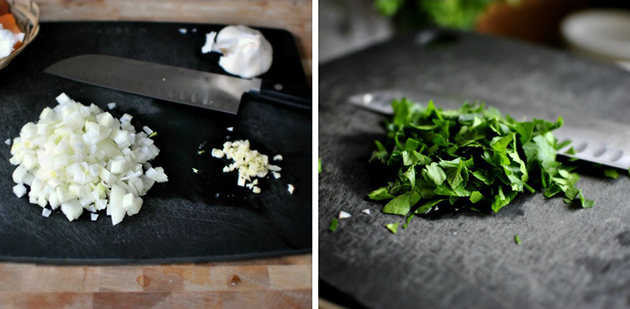 Next get some prep out of the way and chop up a medium onion, mince the garlic clove and give a small handful of parsley a good, rough chop.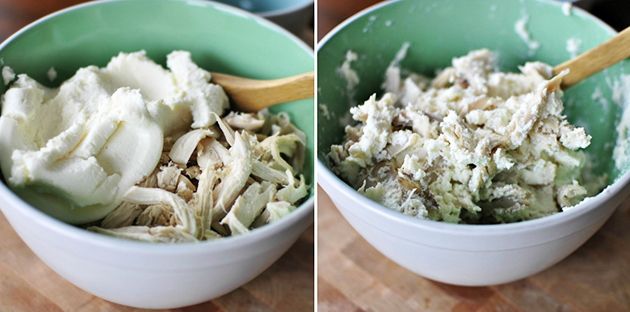 In a medium bowl, combine the chicken and the ricotta. This step wasn't listed in the recipe directions, but I found it to be much easier to spread the mixture out over the noodles. Plus my husband isn't a huge fan of big clumps of ricotta, and this solved that.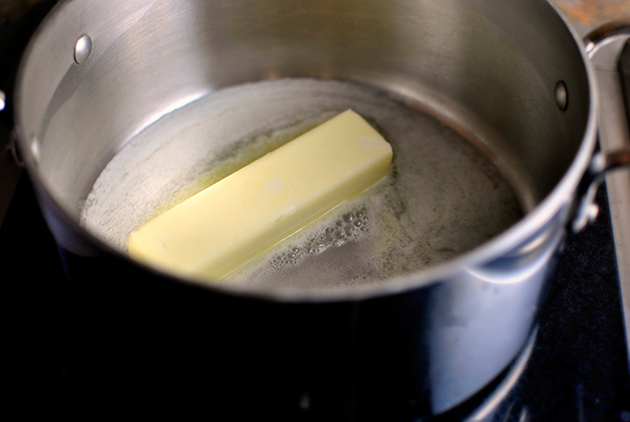 In a good-sized sauce pot, melt a stick of butter.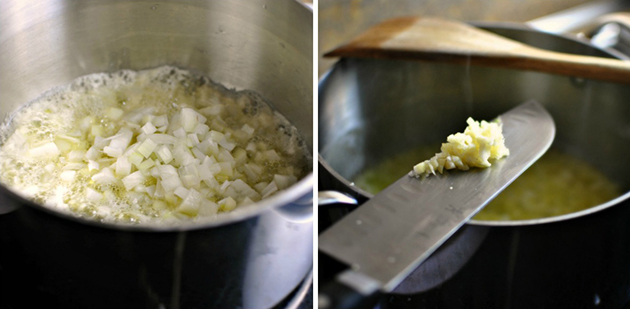 Add in the onions and garlic, cook until the onions are soft and translucent. This is my most favorite smell in the entire universe.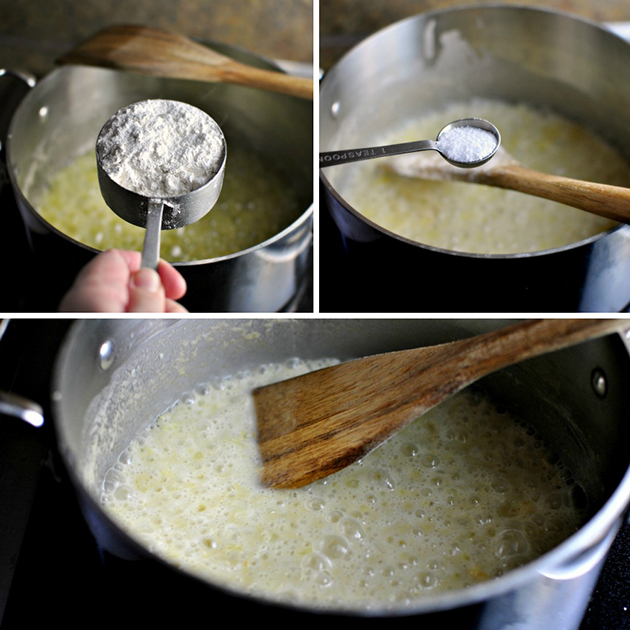 Now you can stir in the flour and salt. Keep stirring until it's nice and bubbly.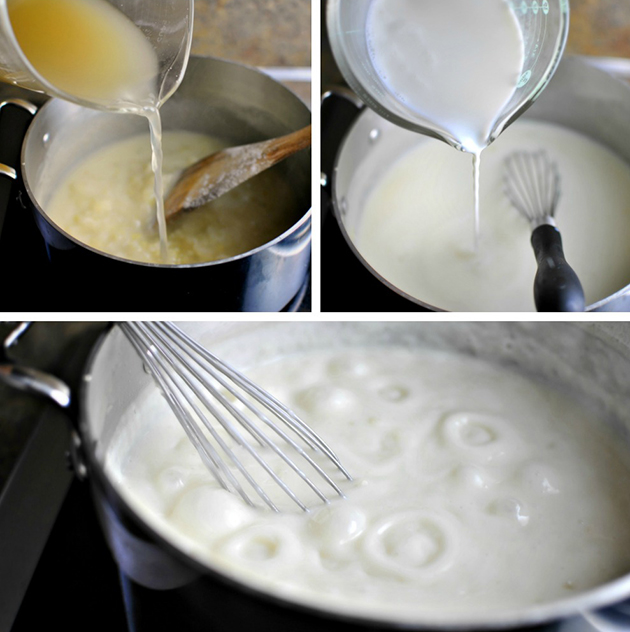 Gradually whisk in the broth and the milk and stir constantly for one minute until smooth.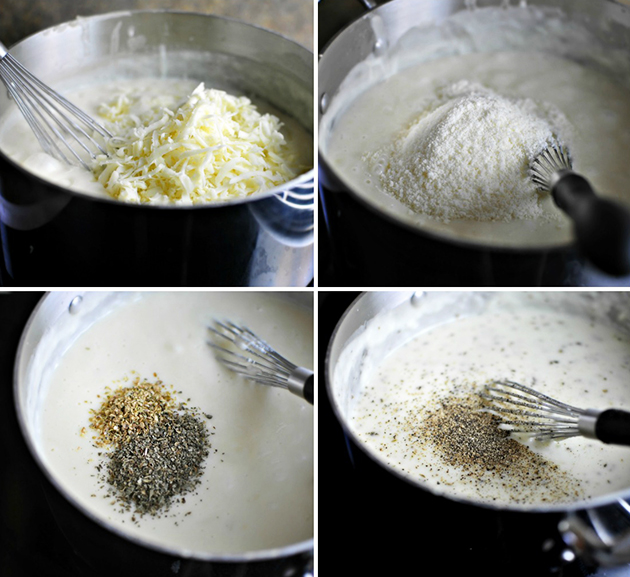 Lastly, add in the 2 cups of mozzarella, 1/2 cup of Parmesan, 1 teaspoon of both dried basil and oregano, then season with 1/2 teaspoon of black pepper. Once stirred and the cheese has melted, immediately remove the sauce from the heat.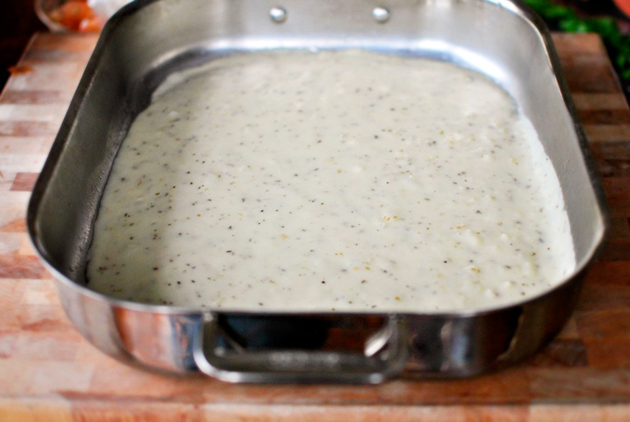 Spread 1/3 of the cheesy sauce on the bottom of a lasagna pan or 13×9 baking dish.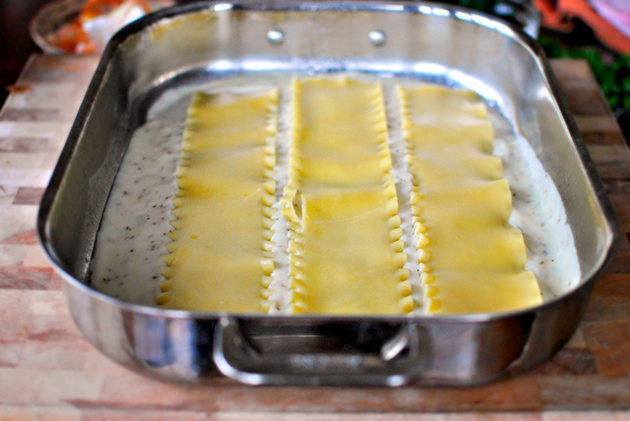 Layer 3 noodles over the sauce.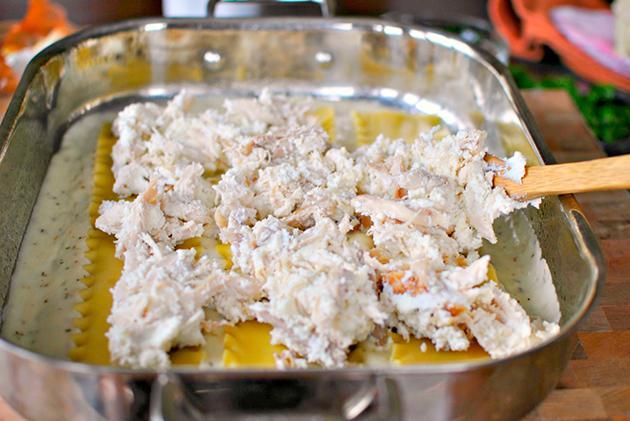 Top with the chicken and ricotta mixture and spread evenly.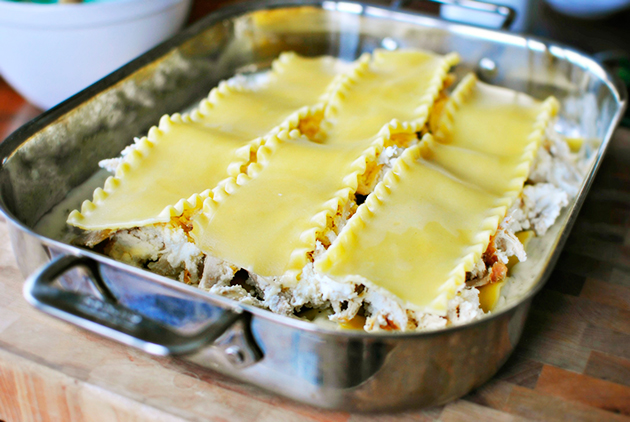 Top with three more lasagna noodles.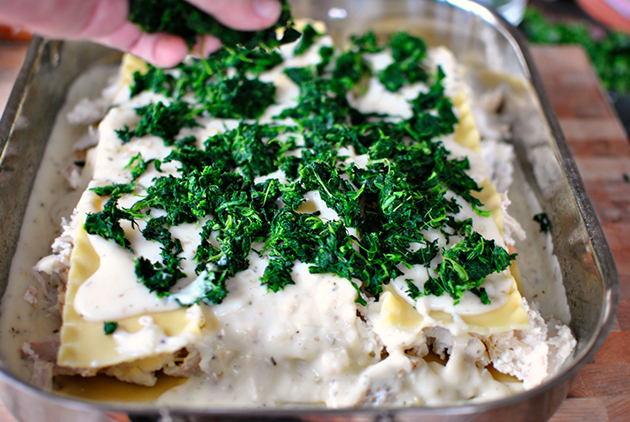 Drizzle with 1/4 of the remaining sauce and evenly sprinkle with all of the thawed spinach.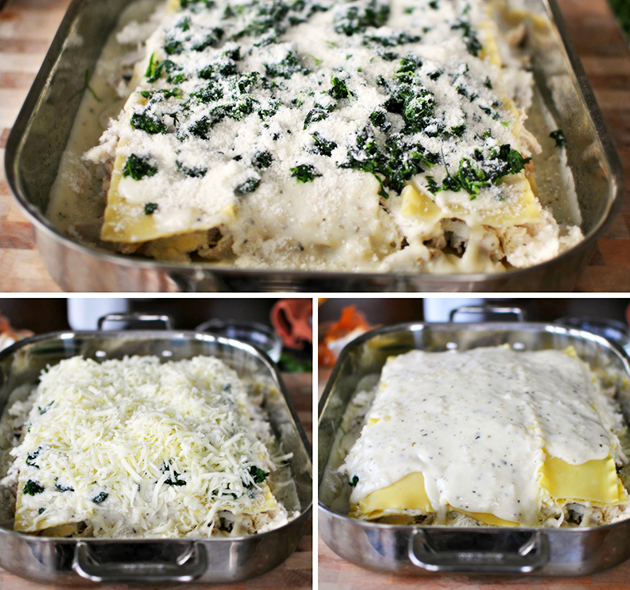 Sprinkle with a 1/2 cup of Parmesan cheese, the remaining 2 cups of mozzarella, add the last three lasagna noodles and pour all of the remaining sauce over top.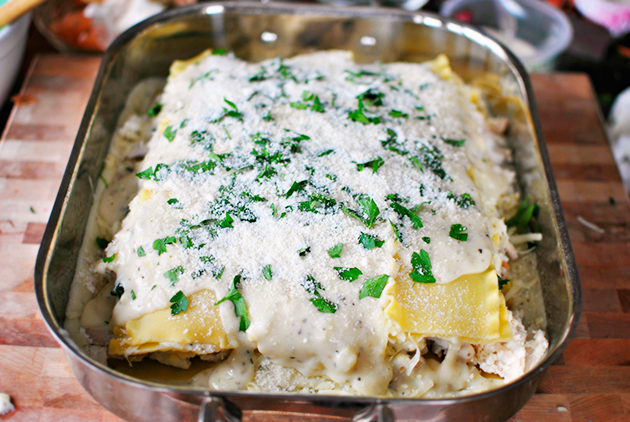 Sprinkle with the tablespoon or so of chopped parsley and the remaining Parmesan cheese. Bake this in a preheated 350ºF oven for 35-40 minutes.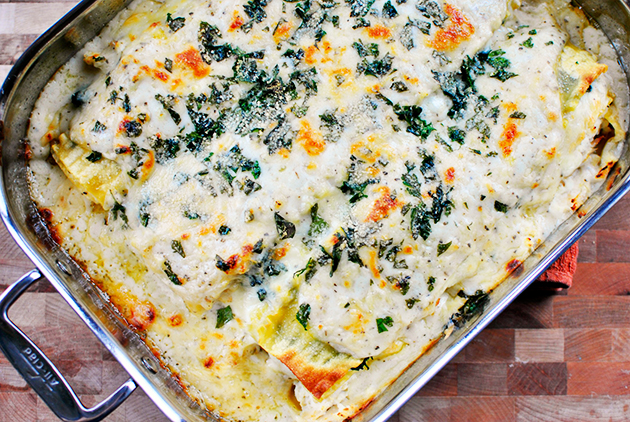 The lasagna is done when it's all golden and bubbly. I flicked on the broiler to get some of that cheese crispy and golden, but that's totally optional. Let the lasagna stand for 5 minutes before cutting and serving.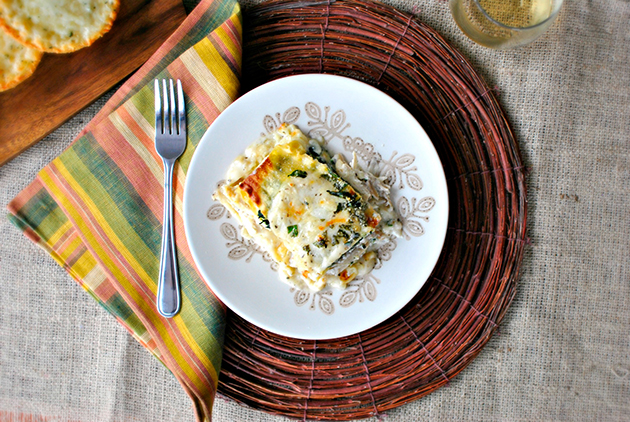 This time of year, it's cold and blustery in most parts, so serving lasagna on a winter night with a nice crisp Caesar salad and thick slices of garlic bread is total comfort food to the max. You guys are really going to dig this. And those crispy bits? Amazing!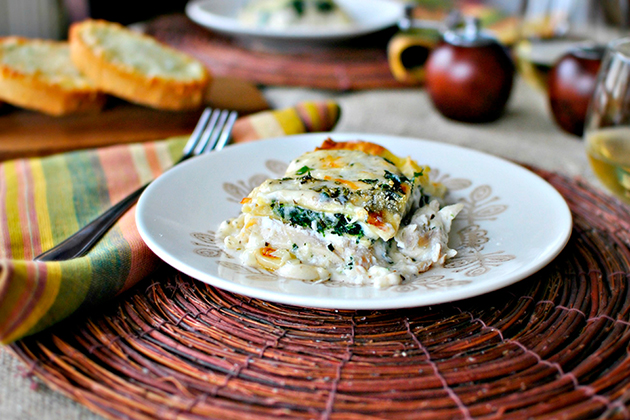 Anna and Chelsea are two beautiful sisters that joined forces to create their cozy and eclectic blog Hidden Ponies. Stop by their site for anything your heart may desire—like a few (or 20) Homemade Almond Joys, or maybe Churros perhaps? You can also find a lot of their recipes right here in their TK recipe box.
Thanks for the great recipe, ladies!
Printable Recipe
See post on Anna (Hidden Ponies)'s site!
Description
Creamy, cheesy, belly-pleasy—comfort food at its finest.
Ingredients
9 whole Lasagna Noodles (not Oven-ready)
½ cups Butter
1 whole Onion, Chopped
1 clove Garlic, Minced
½ cups All-purpose Flour
1 teaspoon Salt
2 cups Chicken Broth
1-½ cup Milk
4 cups Shredded Mozzarella Cheese, Divided
1 cup Grated Parmesan Cheese, Divided, Plus Additional 1/4 Cup For Topping (optional)
1 teaspoon Each, Dried Basil And Oregano
½ teaspoons Ground Pepper
2 cups Ricotta Cheese
2 cups Cooked, Cubed Chicken
1 package (10 Oz. Size) Frozen Chopped Spinach, Thawed And Drained
1 Tablespoon Chopped Fresh Parsley
Preparation Instructions
Preheat oven to 350ºF. Bring a large pot of lightly salted water to a boil. Cook lasagna noodles in boiling water for 8-10 minutes. Drain and rinse with cold water.
Meanwhile, melt the butter in a large saucepan over medium heat. Cook the onion and garlic in the butter until tender, stirring frequently. Stir in flour and salt; simmer until bubbly.
Mix in the broth and milk, and boil, stirring constantly, for 1 minute. Stir in 2 cups of mozzarella cheese and 1/2 cup Parmesan. Season with basil, oregano and ground black pepper. Remove from heat and set aside.
Spread 1/3 of the sauce mixture on the bottom of the 9×13 inch baking dish. Layer with 1/3 of the noodles, and all of the ricotta and the chicken. Arrange 1/3 of the noodles over the chicken and layer with 1/4 of the sauce mixture, the spinach, and the remaining 2 cups of mozzarella cheese and 1/2 cup Parmesan cheese.
Arrange remaining noodles over cheese and spread remaining sauce evenly over noodles. Sprinkle with parsley and additional 1/4 cup Parmesan cheese (optional).
Bake for 35 to 40 minutes in the preheated oven. Let stand 5 minutes before cutting and serving.
Enjoy!


_______________________________________
Laurie is the force behind Simply Scratch, a blog that documents her efforts to find and create recipes that are made simply from scratch. (We think it's sweet that her mother-in-law helped her set up her blog and get started.) We love her recipes; they're not just tried and true, but they look gorgeous as well. Check out her blog and you'll become a fan too.