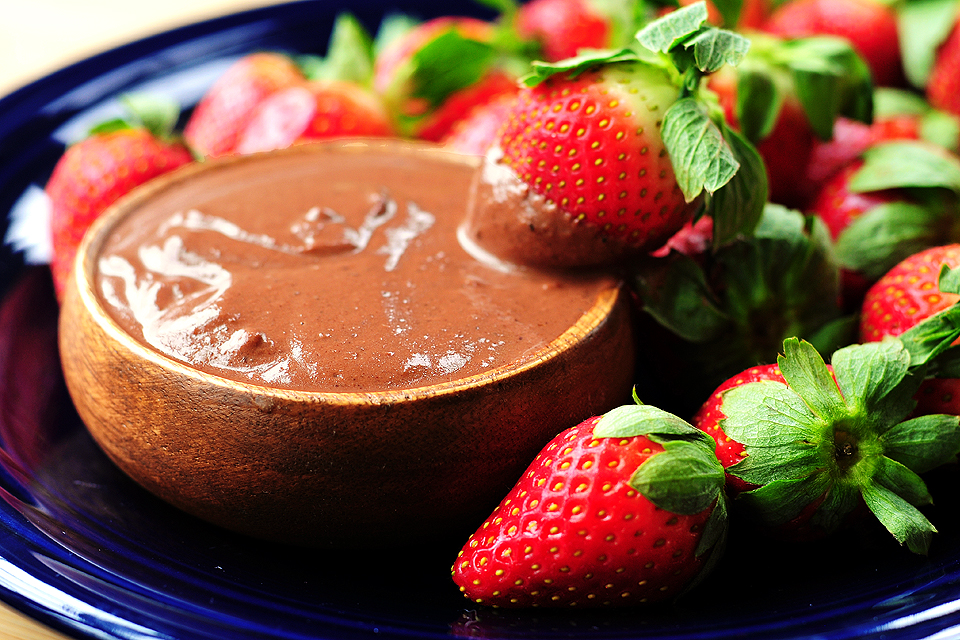 Last summer, I ran across this recipe for The Ultimate Mexican Hot Chocolate from member Sharon and filed it away in my Tasty Kitchen recipe box waiting for cooler, hot chocolate weather. Anything with "ultimate" and "chocolate" in the title is a must-do on my list. I like me some chocolate, man. At first glance, I thought this recipe was a hot chocolate for sipping, but this hot chocolate, with subtle hints of cinnamon and chili, is a thicker consistency and meant for dipping, not sipping. But you can bet I thought about sipping it. Pretty darn good, y'all.
Sharon shares on her site, Cheesy Pennies, how this dipping chocolate is the perfect companion for churros. I'm on a brief hiatus from the churros and the doughnuts or anything resembling the such right now, so I chose strawberries for dipping. Plus, strawberries and chocolate? Yeah. A no-brainer. But, if you and churros are still friends, get yourself some and get to dipping right away.
Let me show you how easy the road to the Ultimate Mexican Hot Chocolate is.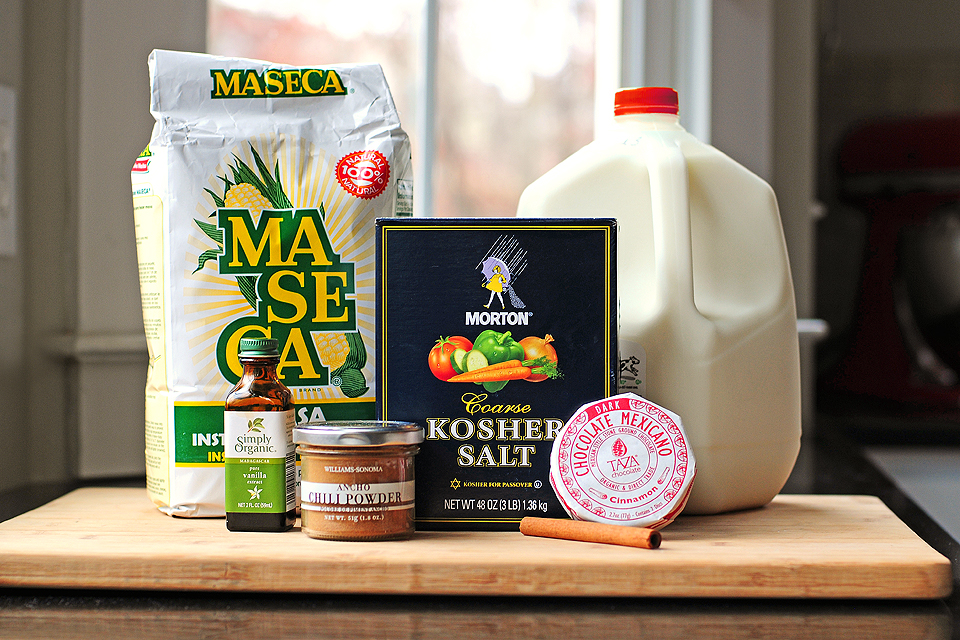 You'll need a few things: milk, masa harina, Mexican chocolate (or semi-sweet chocolate chips—see note on full recipe below), cinnamon stick, salt ancho chili powder (optional), and vanilla.
As Sharon explains in the full recipe listed below, both the masa harina and Mexican chocolate can be found in Latin markets or in well-stocked supermarkets.
Begin by heating the milk in a saucepan over medium heat until small bubbles begin to appear around the edges.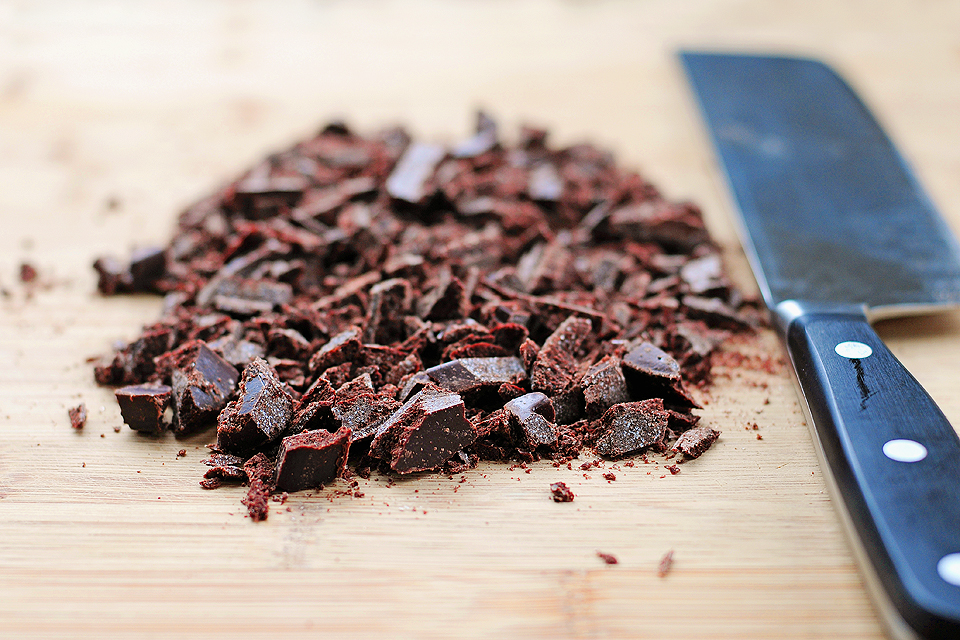 While the milk was warming, I chopped the chocolate. Mexican chocolate has a little cinnamon added, and, depending on the brand, possibly a chili powder of some kind. I found some at my local grocer. Latin markets should have a selection of this chocolate, too.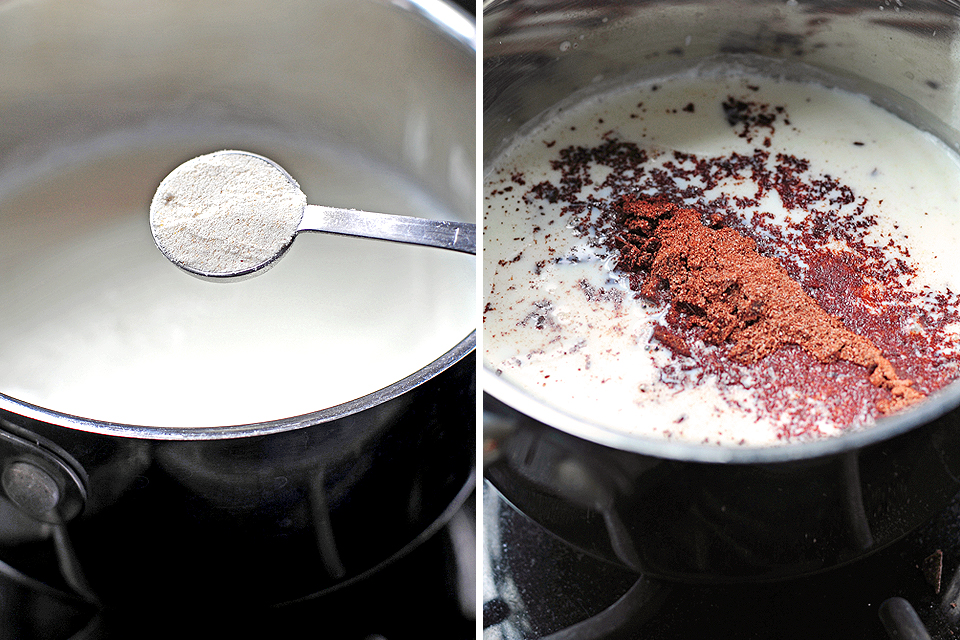 Once the milk is warmed, add in the masa harina and chopped chocolate.
Whisk until combined, and chocolate is melted.
Bring to a boil over medium-high heat, then reduce to a simmer. I watched carefully at this point, stirring occasionally to avoid scalding. The mixture will begin thickening up as it simmers.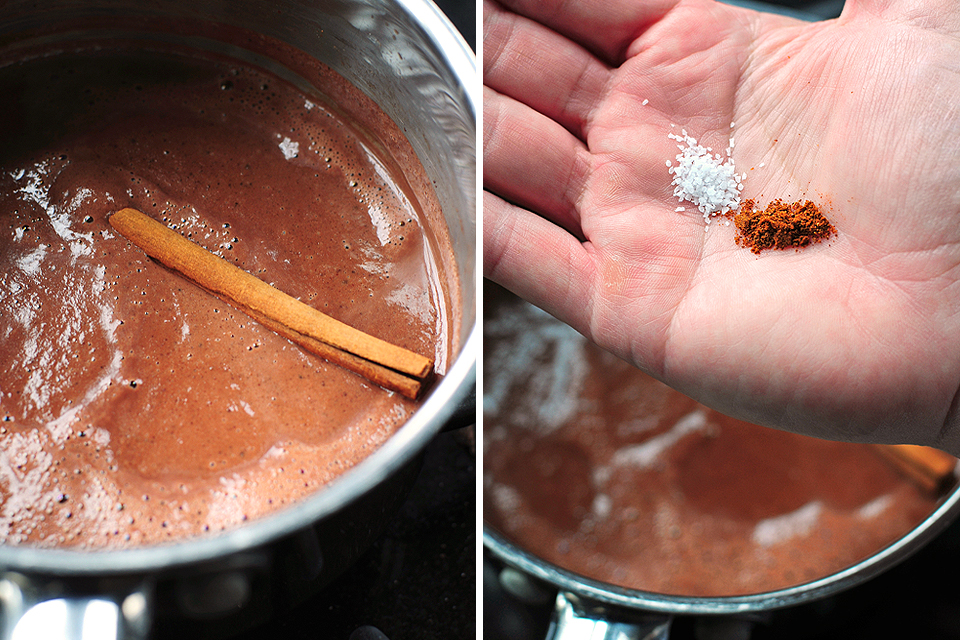 Next, add the stick of cinnamon, as well as a pinch of salt and ancho chili powder. My pinches were kinda biggish (probably about 1/16 teaspoon). Whisk again to combine.
Simmer for about 5 minutes. The mixture should be thickening up quite nicely at this point.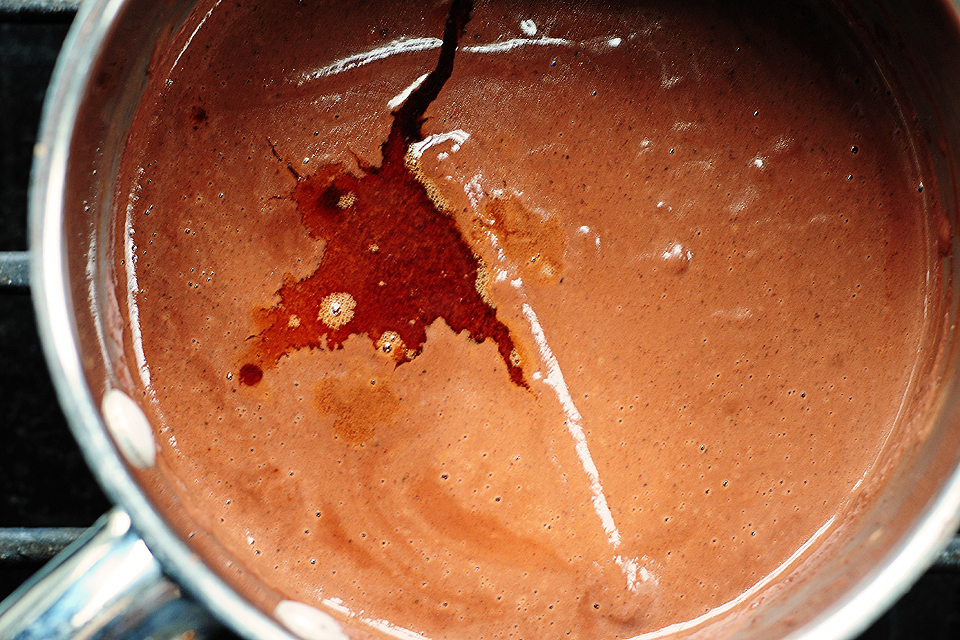 Once thickened, remove from heat, then stir in the vanilla. The recipe calls for a dash of vanilla. I'm sure I added at least a teaspoon.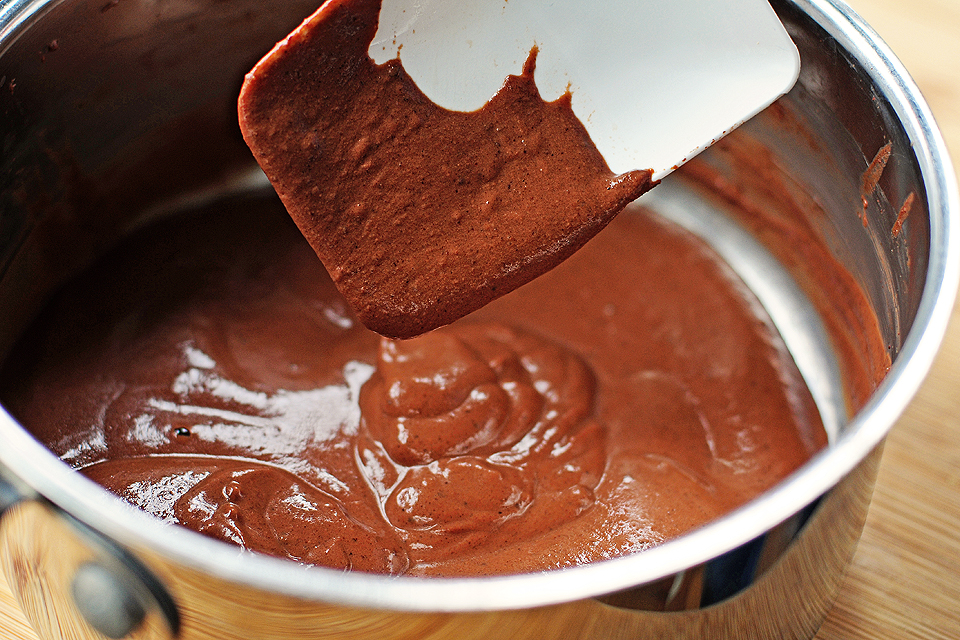 At this point I was ready to forget all about the strawberries and just eat it from the spatula. Such a wonderful aroma!
Serve the chocolate with churros, doughnuts, strawberries, bananas, pound cake, graham crackers, pretzels, apples, or whatever you think goes well with chocolate.
(Shhh … don't tell, but I tried it with a corn chip. I did. And it was a good thing.)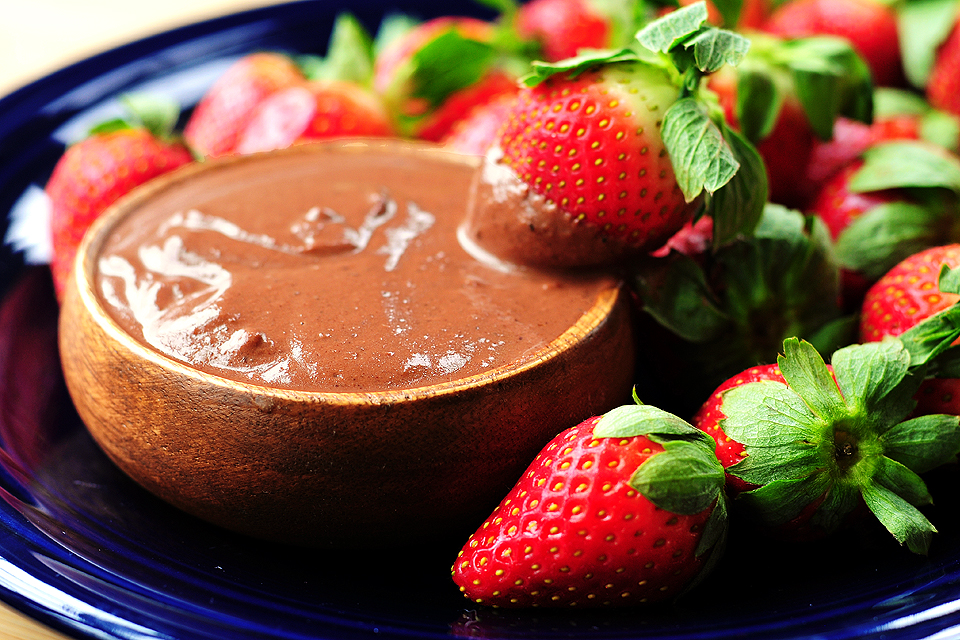 Many thanks to Sharon from Cheesy Pennies for sharing this dipping (or decadent sipping) chocolate with us. I'm thinking this will be making a reappearance around here real soon—especially when my churro/doughnut hiatus is over.
Printable Recipe
See post on Cheesy Pennies's site!
Description
Thick, rich, and oh so indulgent, this is a warm and wonderful way to end a meal: a hint of cinnamon, a pinch of pepper, and chocolate! An insanely good dip or a sinfully good sip—you decide!
Ingredients
1 cup Whole Milk
1 teaspoon Masa Harina
3 ounces, weight Mexican Chocolate, Chopped Or Semi-sweet Chocolate Chips (See Note)
1 stick Cinnamon Or 1/2 Teaspoon Ground Cinnamon
Pinch Of Salt
Pinch Of Ancho Chili Powder (optional)
Dash Of Vanilla
Preparation Instructions
In a medium saucepan, heat milk over medium heat until small bubbles appear around the edges. Stir in masa harina and chocolate, and whisk to combine until chocolate is melted. Allow to come to a boil, then lower the heat to simmer, add the cinnamon sticks/cinnamon, salt, and chili powder, and whisk again. Simmer for 5 minutes, until nicely thickened. Remove from heat, stir in vanilla, and serve immediately.
Notes:
Masa harina is corn flour, used to make tamales. Mexican chocolate has a little cinnamon flavor in it already. Both of these ingredients can be found in Latin markets or in some well-stocked supermarkets.


_______________________________________
Amy Johnson is a blogger who writes about food, travel, the home (both inside and out), and various observations and random musings about anything and everything. Visit her blog She Wears Many Hats for a dose of deliciousness, practicality, hilarity, or just plain fun. She lives in South Carolina with her husband and two children.