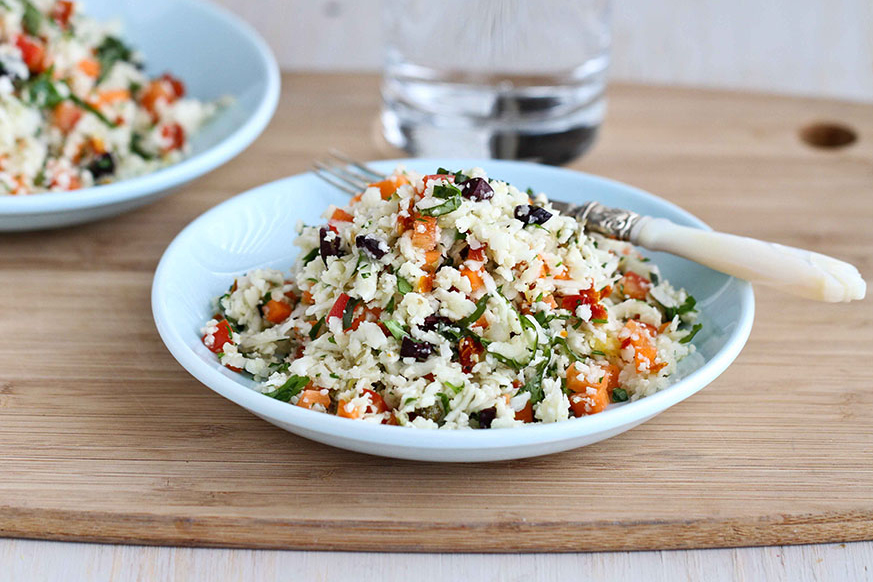 This Raw Cauliflower Couscous recipe shocked the heck out of me. When I first looked at the list of ingredients, I thought, "Okay, I like all of these things. But raw? Shouldn't I roast them or something?" It turns out that Tasty Kitchen member Spontaneous Hausfrau knew what she was doing when she grated cauliflower (a first for me) and tossed it with more veggies, olives, capers and a light dressing.
If you're holding tight to your New Year's resolutions, this is a salad to put in your meal rotation. Even if your resolutions already stood up and walked out the door as soon as you encountered the first decadent cupcake (and who could blame you?), I beg you to still give this a try. I think you'll be as surprised as I was.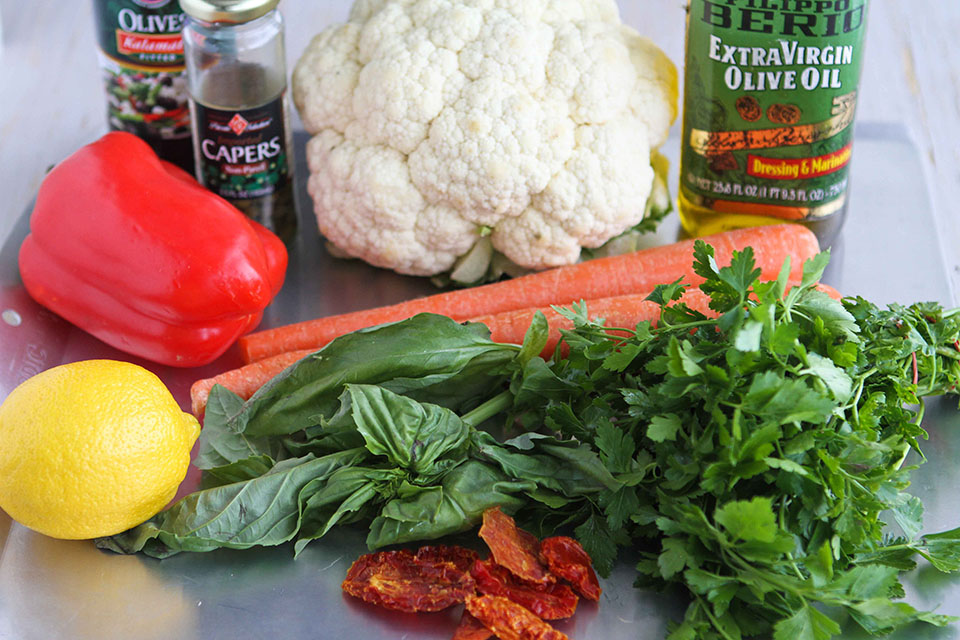 Here is everything you're going to need. Well, and a little salt and pepper.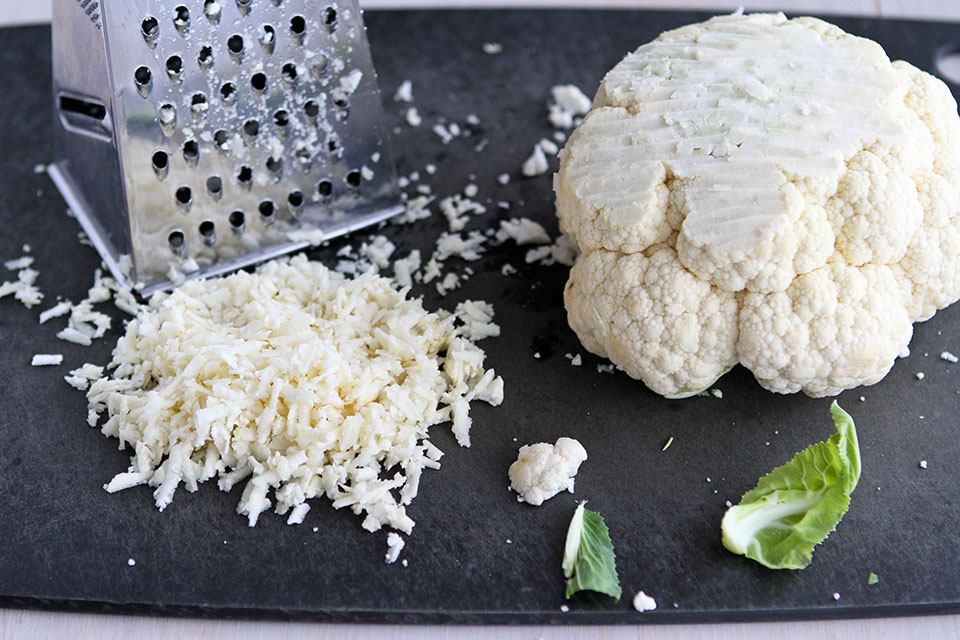 Grate the cauliflower to form lovely little shreds of cauliflower. This is the coolest part and I'm still wondering why I never thought to do this.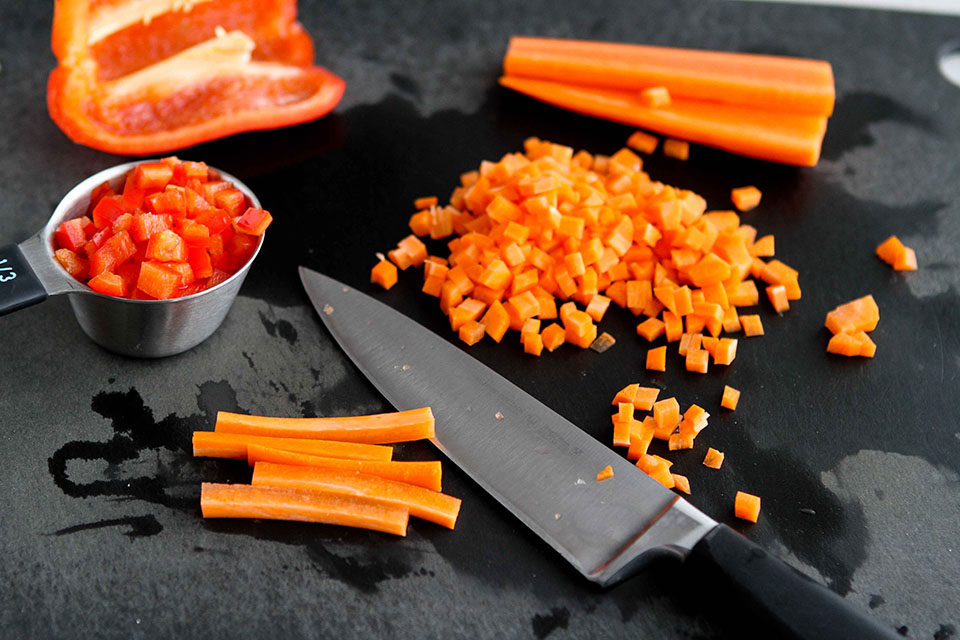 Finely dice some carrots and red bell pepper. You want the pieces to be little so that they don't overwhelm the delicate pieces of cauliflower.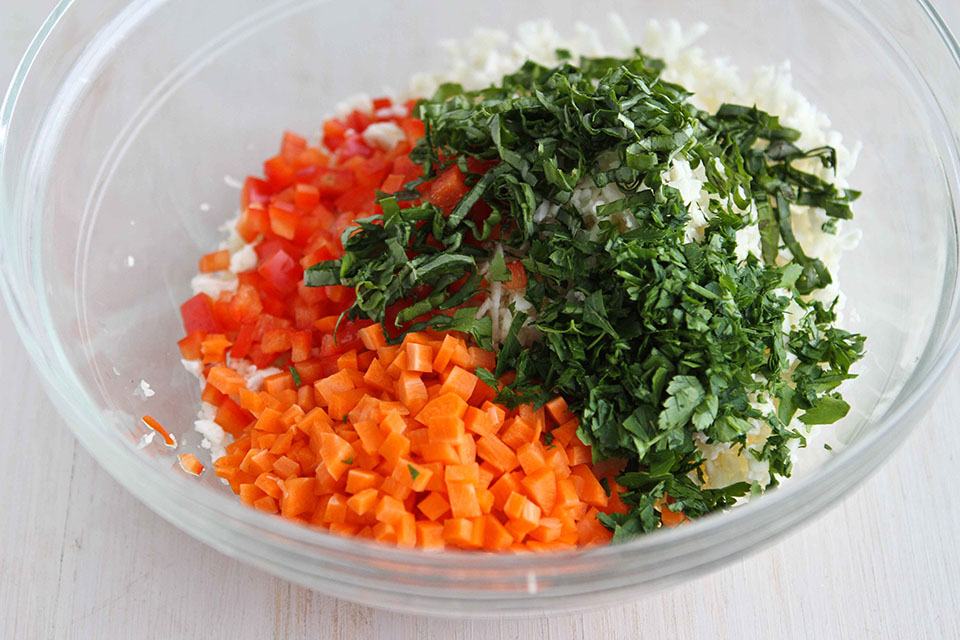 Chop up some fresh basil and parsley and toss them into a bowl with the cauliflower, carrots and red pepper pieces.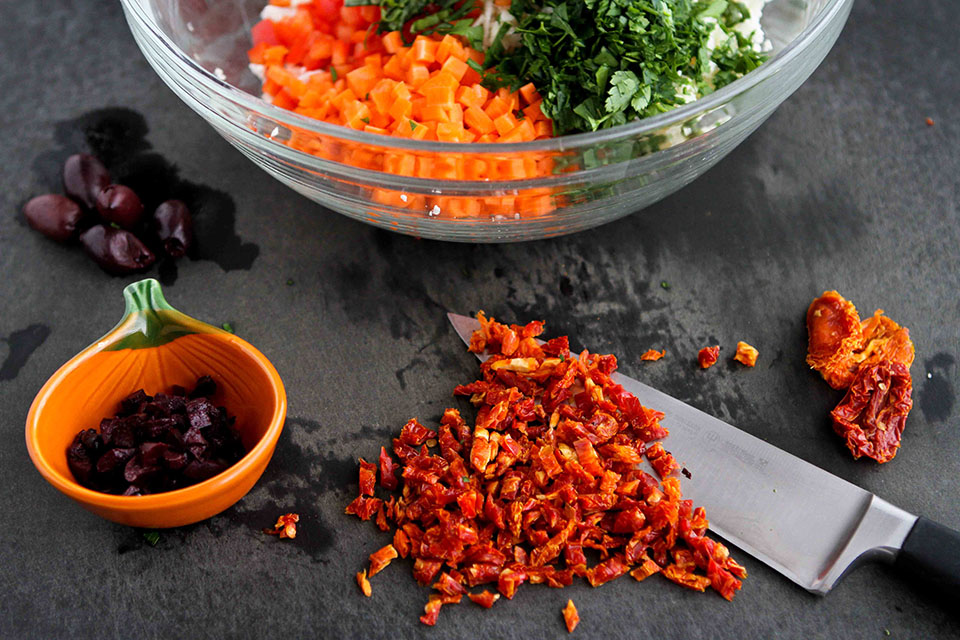 Drizzle in a bit of olive oil, then add some finely diced sundried tomatoes and kalamata olives. This is where the punch of the flavor comes from.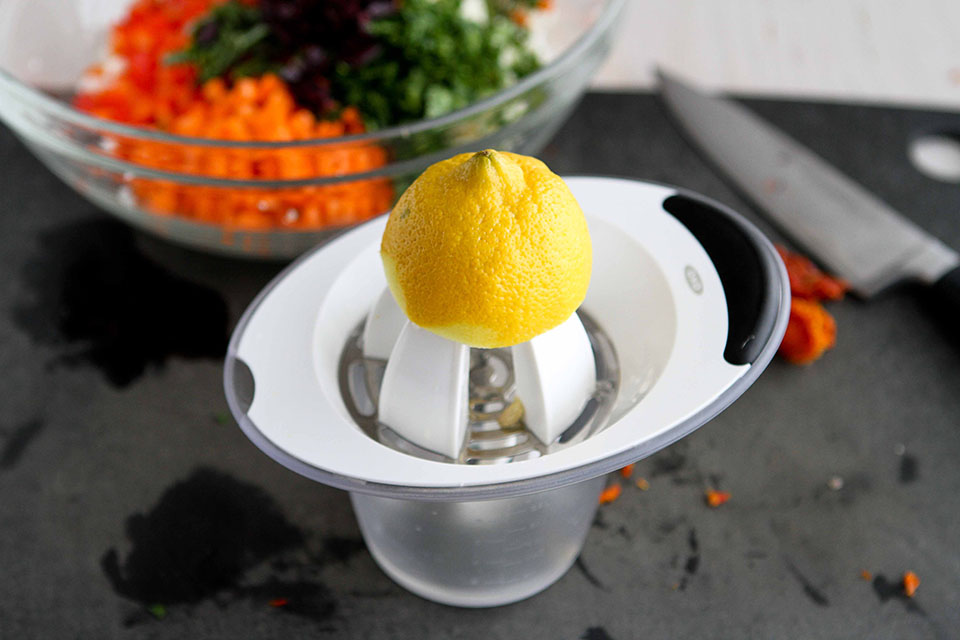 Add some fresh lemon juice for some tang.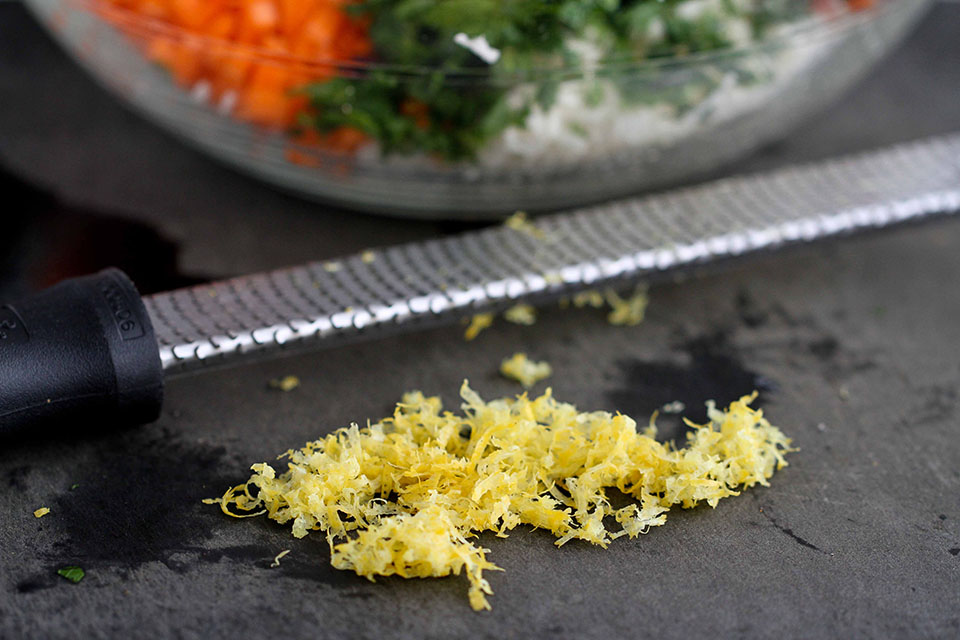 And some lemon zest for extra flavor.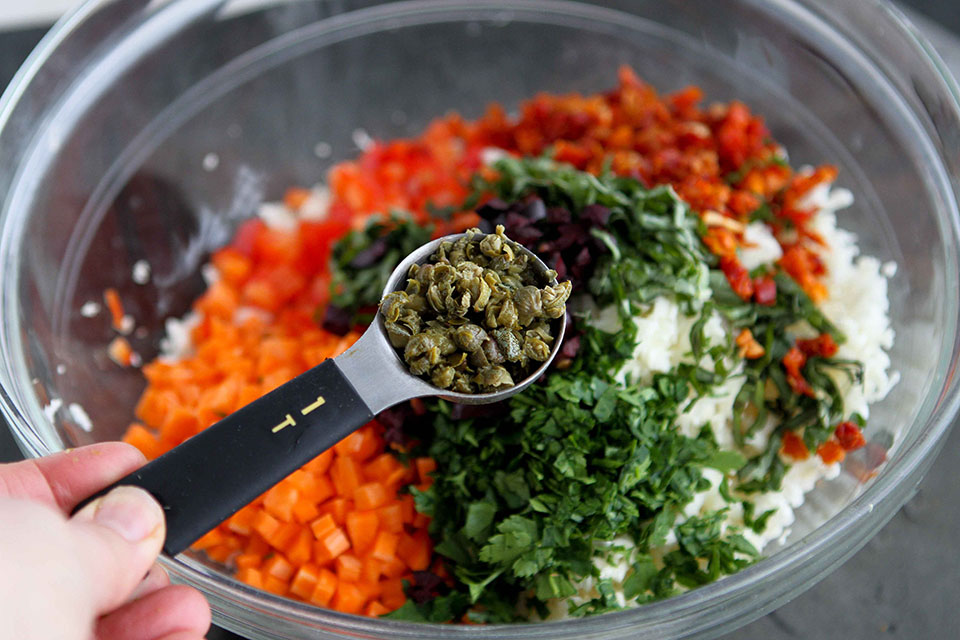 Chop some capers and toss them into the bowl. I'm always tempted to add extra capers because I'm a bit smitten with their flavor. Is it strange that I like to eat them straight? Okay, there's no need to answer that.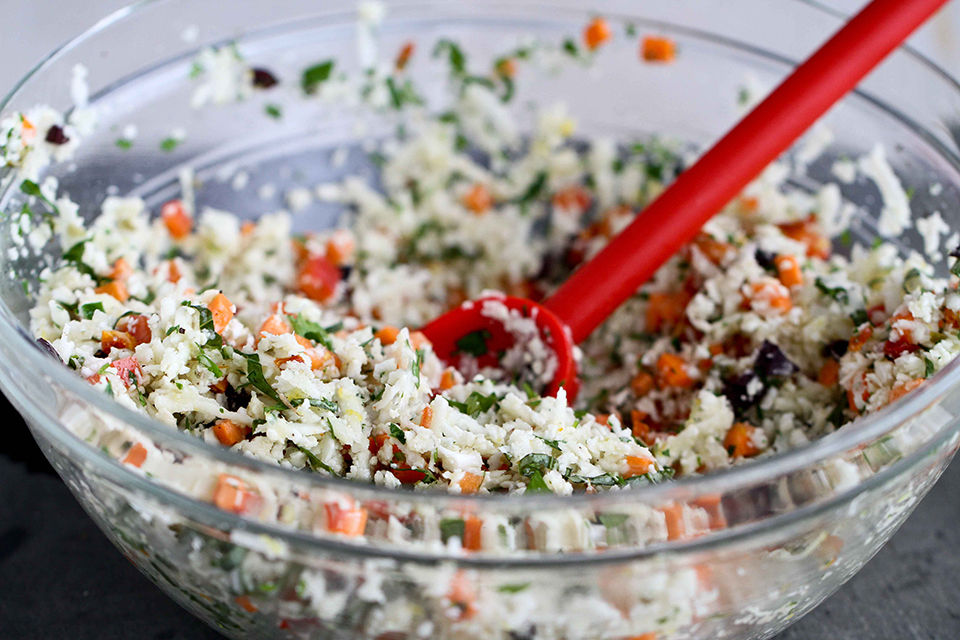 Season with salt and pepper, stir everything together and serve it up. It's that easy.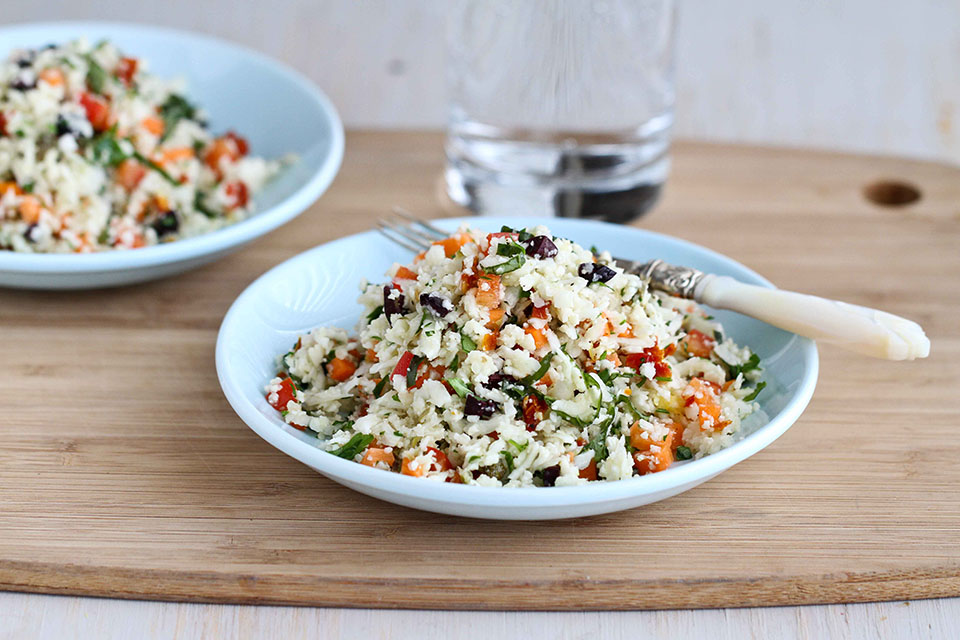 Thank you to Sally for this delicious recipe. Be sure to check out Sally's blog, The Spontaneous Hausfrau, for more of her inspired recipes.
Printable Recipe
See post on Spontaneous Hausfrau's site!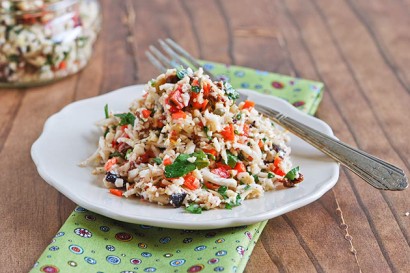 Description
A crunchy, raw salad full of vegetables and zesty flavor.
Ingredients
3 cups Cauliflower, Shredded
½ cups Carrots, Finely Diced
⅓ cups Red Pepper, Finely Diced
4 Tablespoons Basil, Chopped
4 Tablespoons Parsley, Chopped
3 Tablespoons Olive Oil
3 Tablespoons Sundried Tomato, Finely Diced
2 Tablespoons Kalamata Olives, Finely Diced
2 Tablespoons Lemon Juice
1 Tablespoon Capers, Minced
2 teaspoons Lemon Zest
½ teaspoons Salt
⅛ teaspoons Pepper
Preparation Instructions
Combine all the ingredients in a large bowl and toss until combined. Chill for at least 1 hour to let the flavors combine.


_______________________________________
Dara Michalski is a doll and a sweetheart who clearly knows her way around the kitchen. She blogs at Cookin' Canuck, where she shares her flavor-packed recipes and fun, engaging writing. The photography's pretty incredible, too.