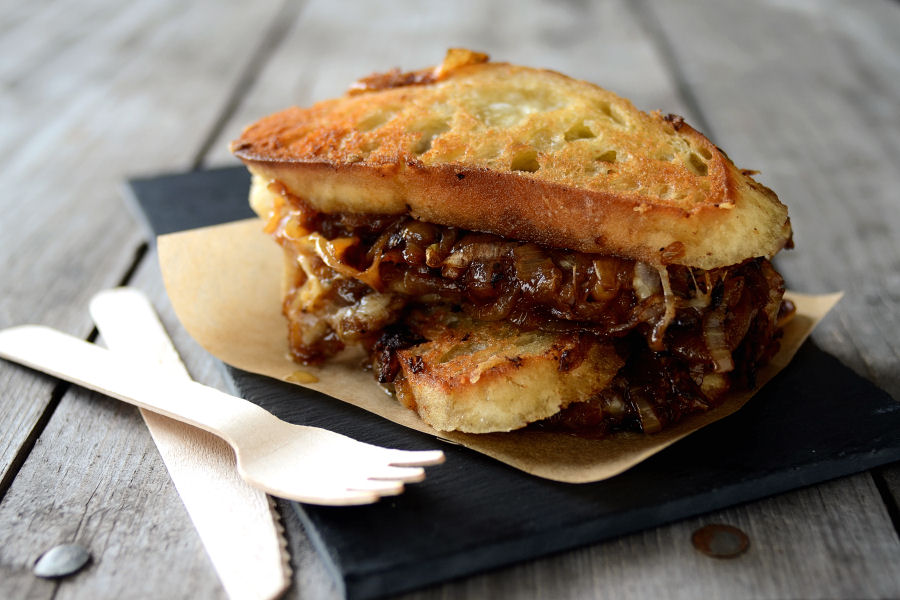 Oh boy. I'm bonkers excited about these sandwiches, ya'll.
When I first saw Joy post them I thought: That needs to happen in my kitchen. I mean, two whole onions reduced to caramely goodness and paired with melty cheese? Count me in.
Then, when Erika mentioned that Laurie had shared the recipe here on Tasty Kitchen, I knew I had to make if for ya'll. It was a totally non-selfish decision.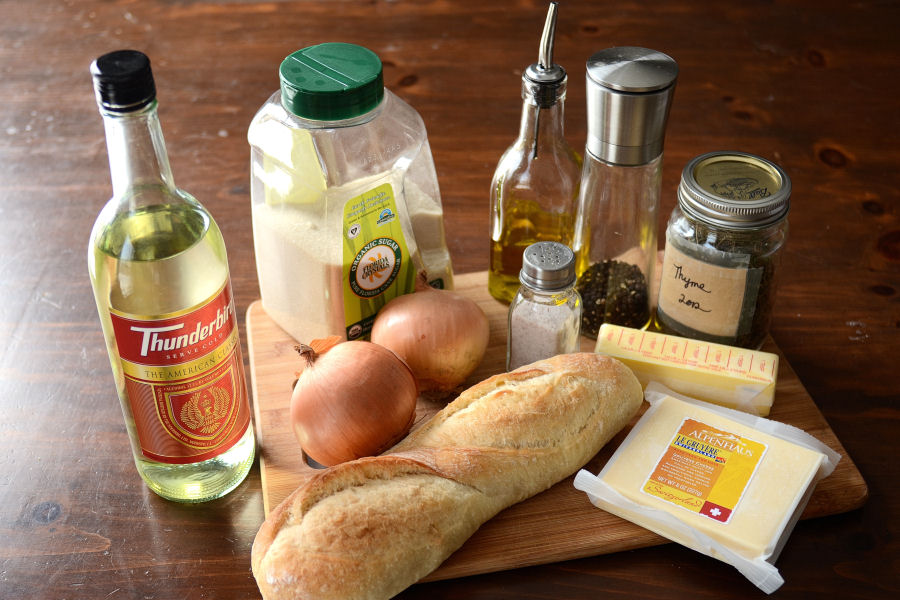 Here's what you'll need to make these fancy grilled cheese sandwiches: butter (of course), olive oil, onions, salt and pepper, sugar, thyme (fresh or dried), beer or white wine (or beef stock if you're not one for using alcohol), bread and Gruyere cheese.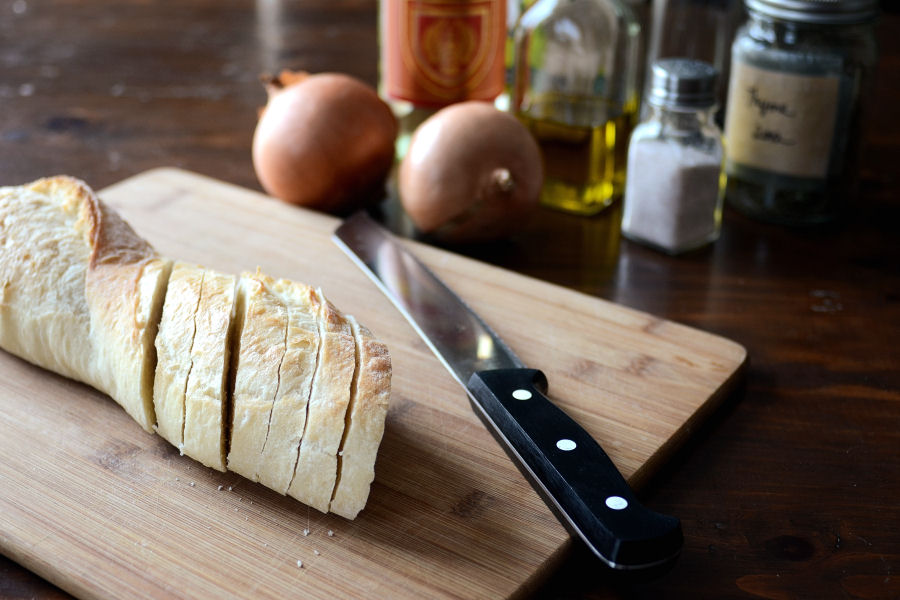 Start by prepping your ingredients. Slice the bread.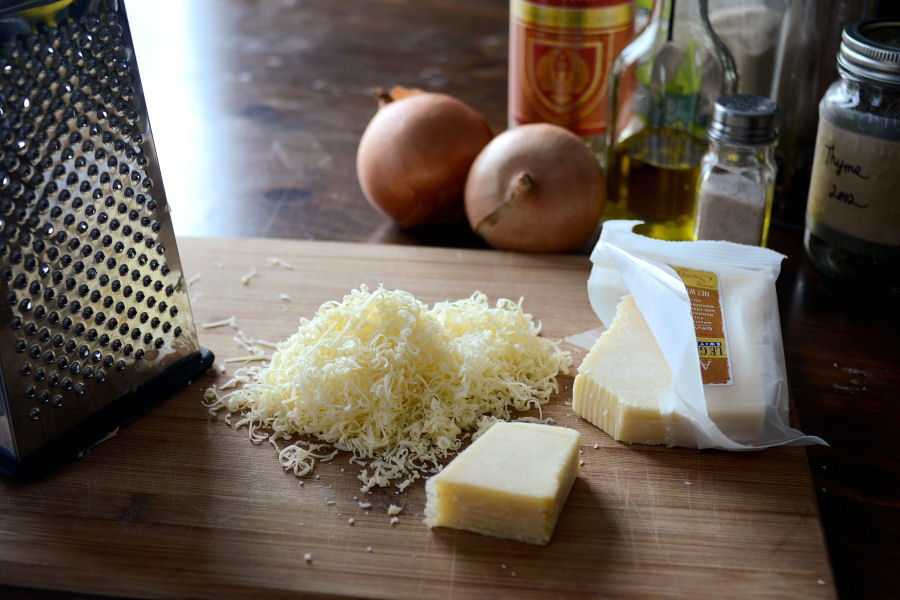 Grate the Gruyere.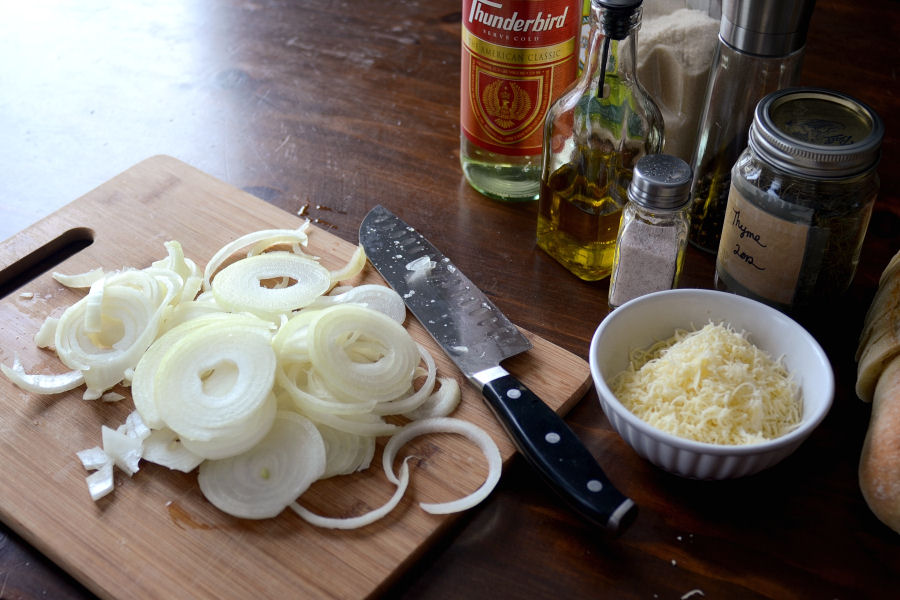 Slice the onions about 1/4-inch thick.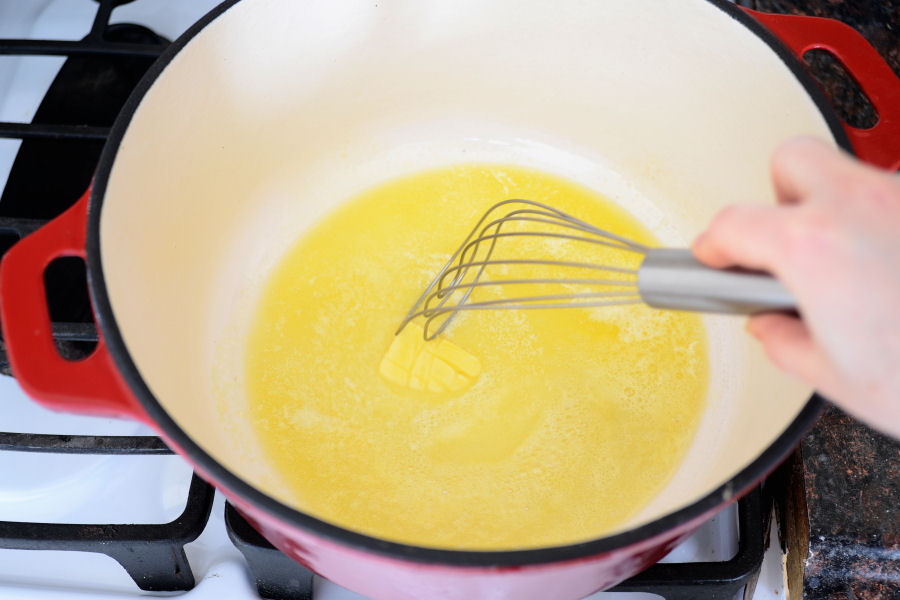 Melt the butter and olive oil in a skillet or Dutch oven.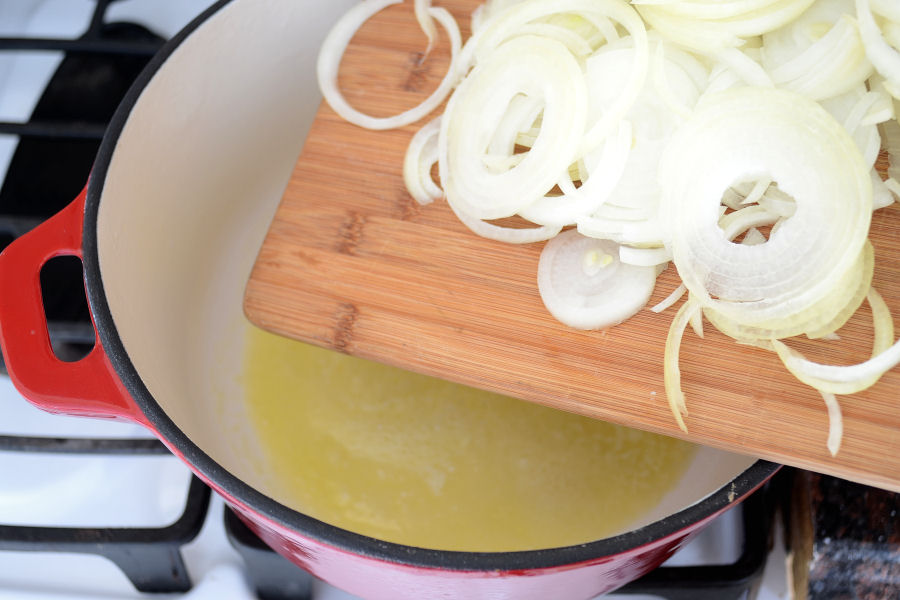 Once the butter/olive oil is nice and hot, add the onions. Give 'em a stir so they're coated in that buttery goodness.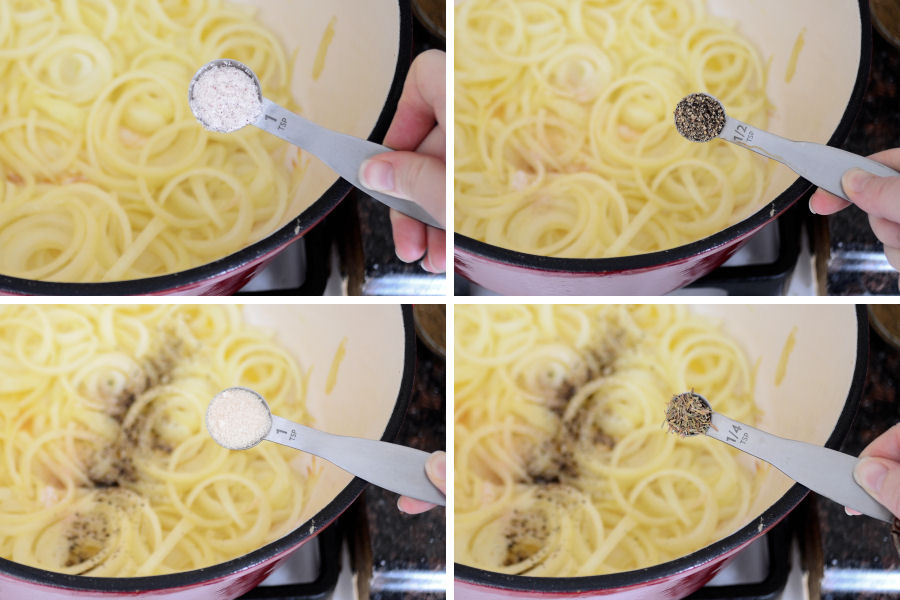 Add the salt, pepper, sugar and thyme.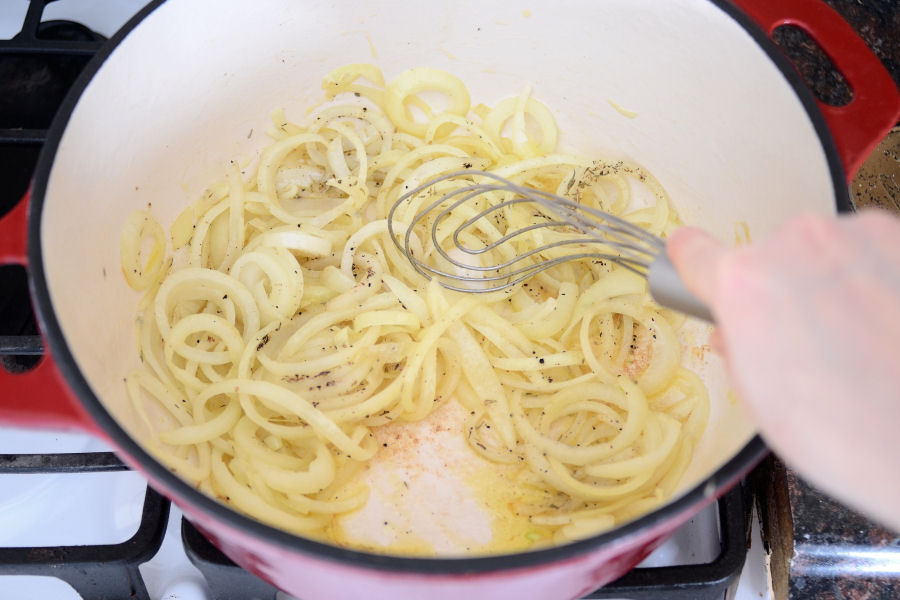 Give it another good stir.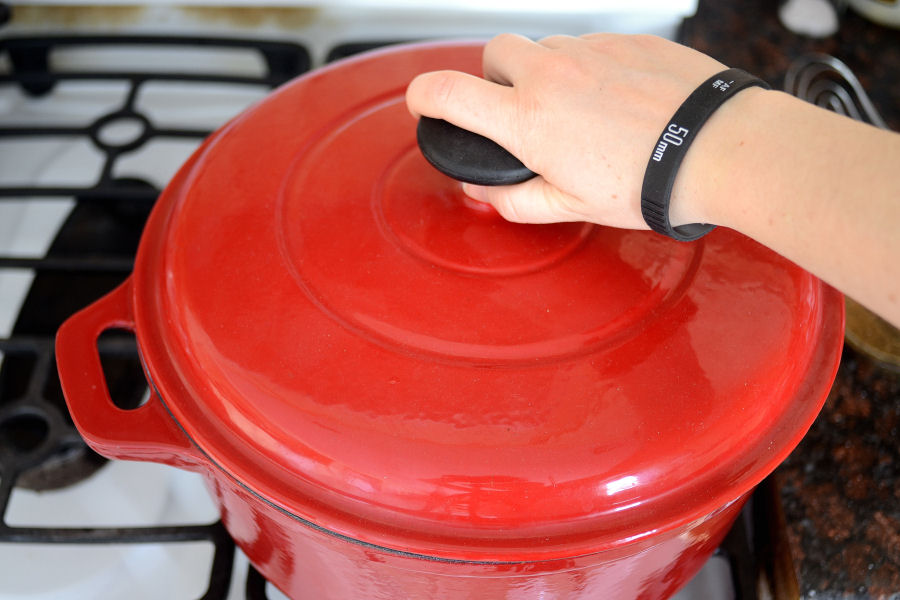 Cover the pot and let cook until the onions are soft and wonderfully golden brown, stirring occasionally.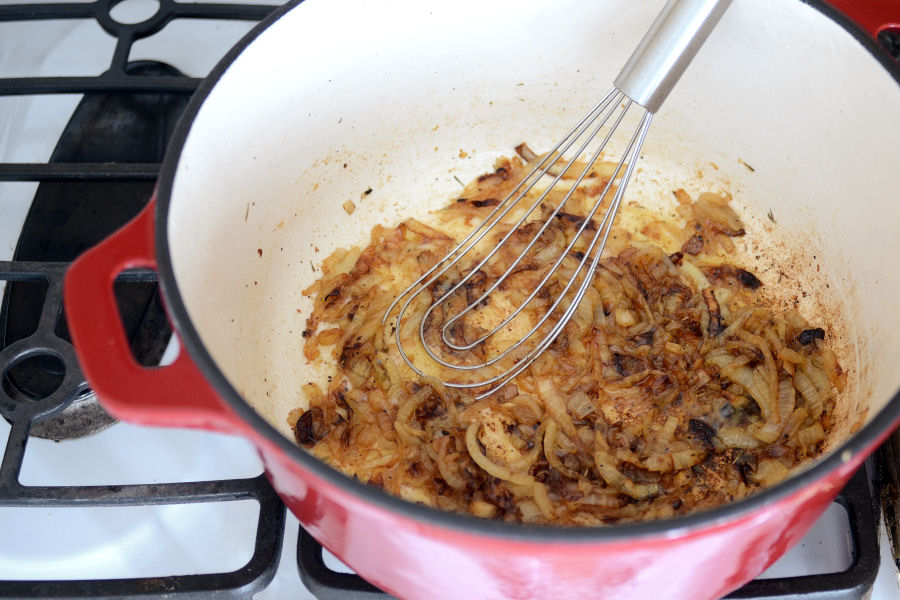 You could stir less occasionally than I did if you're obsessed with evenly browned onions.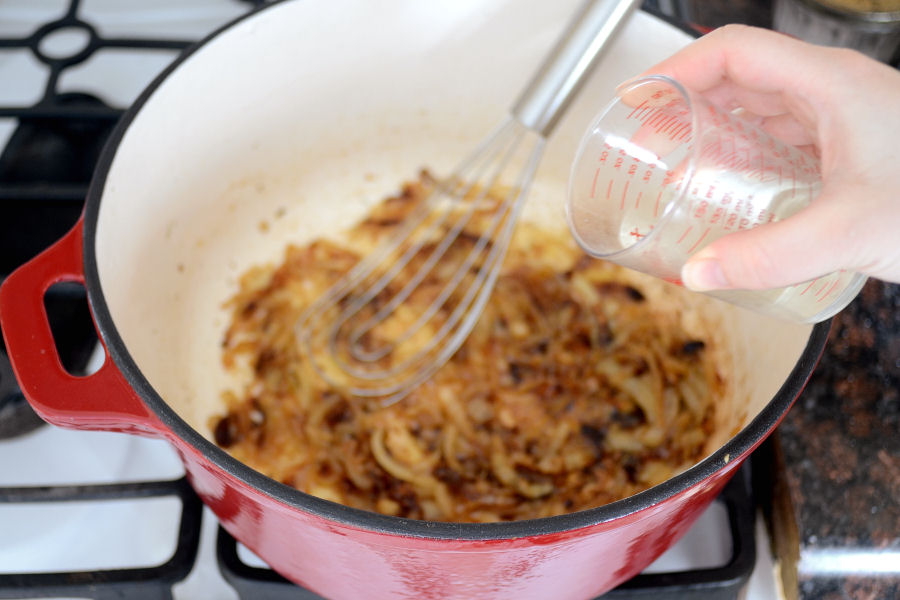 Add the wine/broth …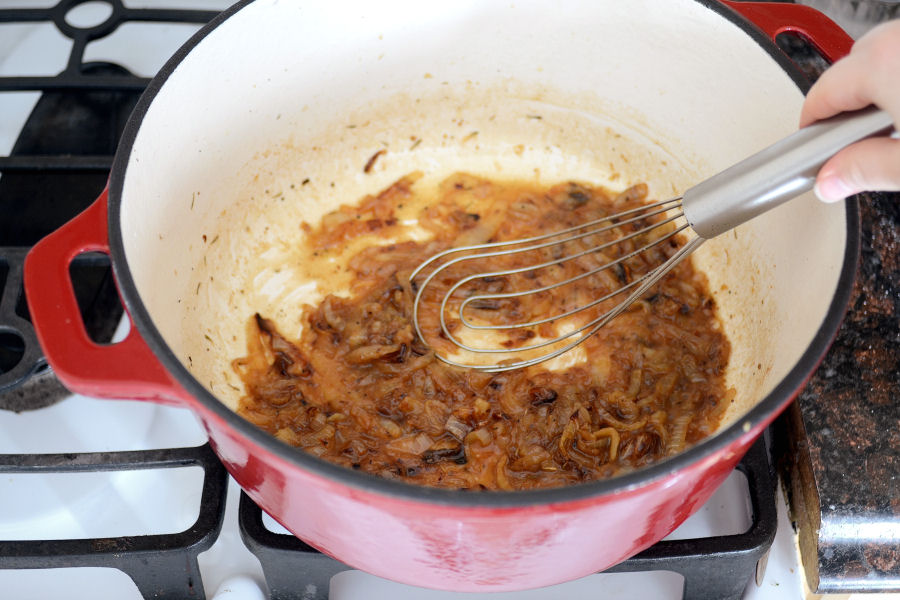 And scrape up any pieces of onion that stick to the bottom of the pan. Remove from heat.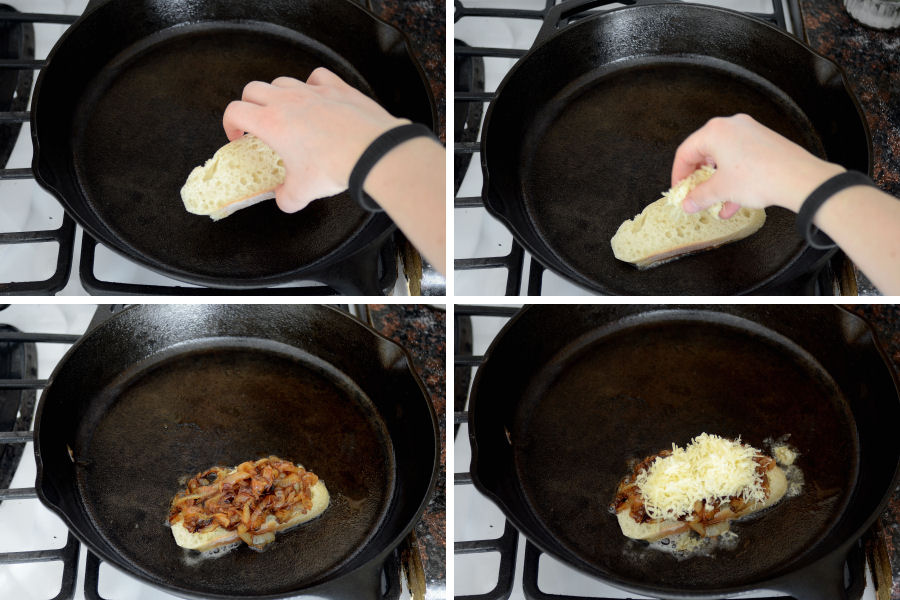 Now it's time to assemble and cook your sandwiches!
Preheat a large skillet over medium to medium-high heat. Butter four slices of bread on one side. Place a slice on the skillet, buttered side down. Sprinkle on a bit of the shredded cheese. Top with half of the onions and more cheese.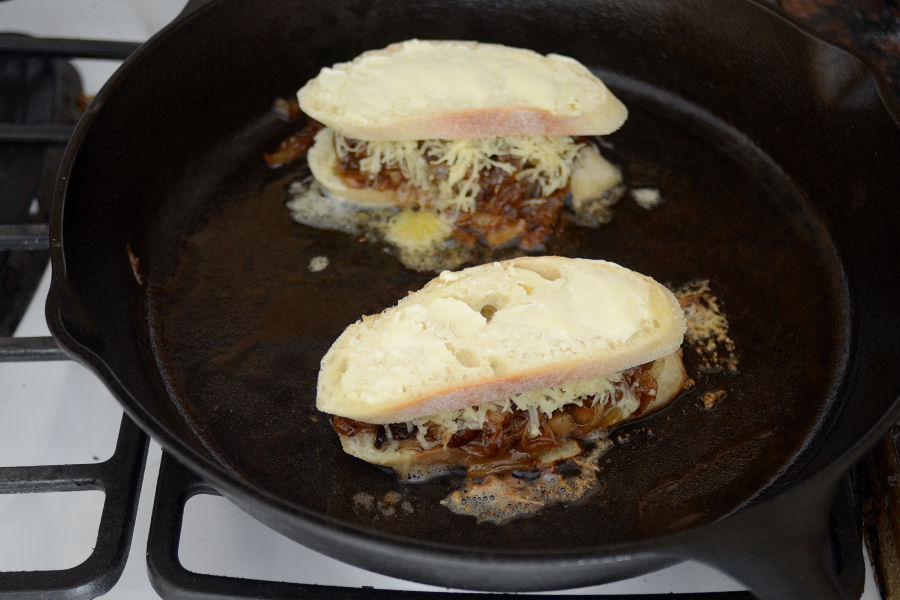 Put a second slice of bread on top, buttered side up. Repeat with a second sandwich.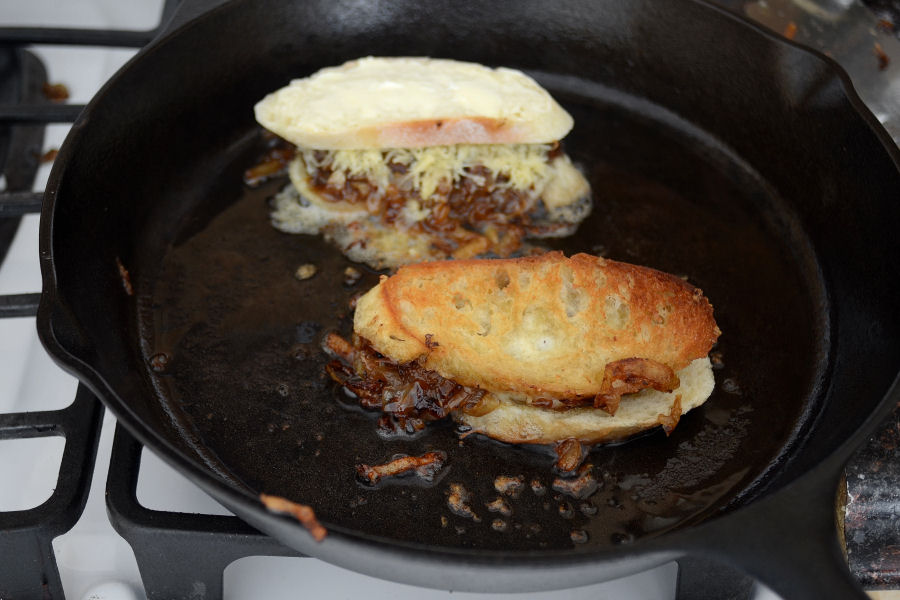 When the underside gets nice and crispy and browned, flip the sandwich and continue to cook until the other side is beautifully golden and the cheese is melted.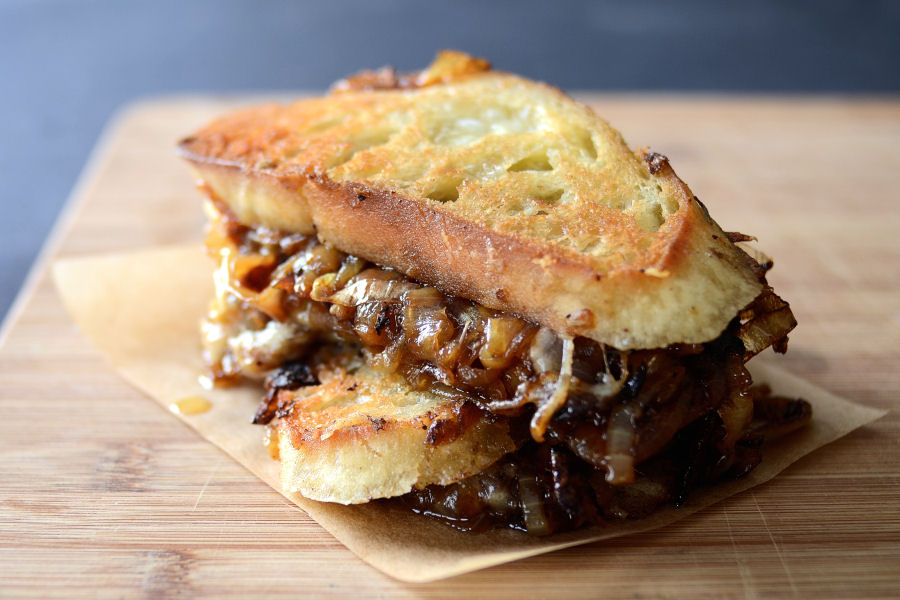 Eat immediately—just don't singe your mouth in your eagerness to consume.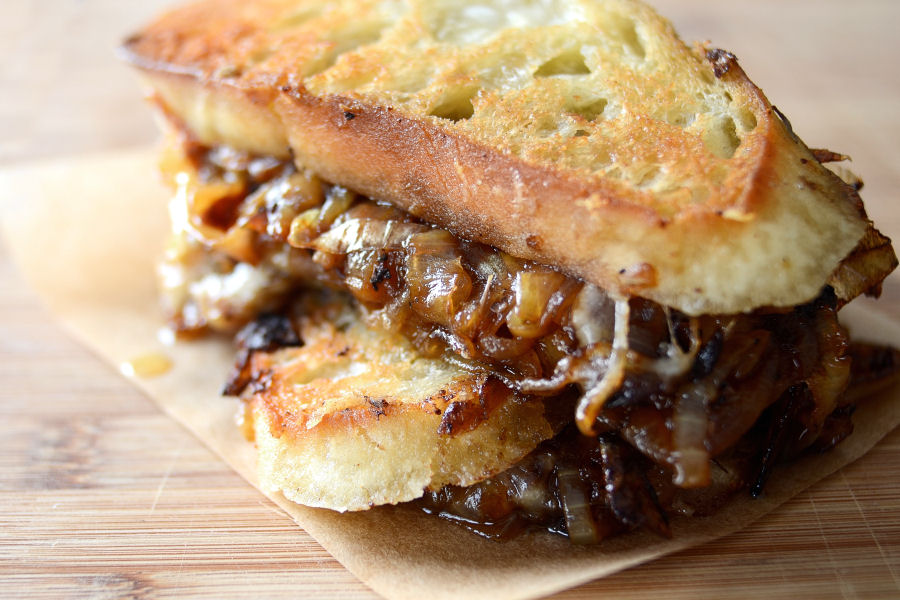 Even though Reuben dislikes onions—and French onion soup in particular—he admitted that these sandwiches were pretty good, and, if he did like onions, he would probably love these. High praise from an onion despiser!
Many thanks to Jessica of Portuguese Girl Cooks for coming up with this incredible sandwich, and to Laurie for sharing this crazy-good recipe. You should definitely check out Laurie's blog Simply Scratch for more irresistible food. Excuse me while I attempt to tear myself away from her Fudgy Peanut Butter Bars …
Printable Recipe
See post on Laurie - Simply Scratch's site!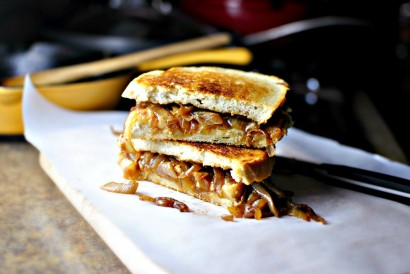 Description
French onion soup in grilled cheese form. This is what heaven tastes like!
Ingredients
3 Tablespoons Butter, Plus More For Buttering Bread
1 Tablespoon Olive Oil
2 whole Medium Yellow Onions, Sliced 1/4 Of An Inch Thick
1 teaspoon Kosher Salt
½ teaspoons Black Pepper
1 teaspoon Sugar
1 teaspoon Fresh Thyme Leaves
3 Tablespoons Beer (beef Stock Or White Wine Can Be Substituted)
4 slices Sourdough Bread
½ cups Grated Apple Smoked Gruyere Cheese (or More If Desired)
Preparation Instructions
In a large skillet over medium heat, melt the butter and olive oil together. Add in the onions and stir so they are coated in all the fat. Cook undisturbed for 5 minutes.
Stir and add in the salt, pepper, sugar and thyme. Stir, cover the pan with a lid and let cook. Stir occasionally until the onions are soft and deep golden in color. Reduce the heat if you notice the onions are browning too soon.
Add in the beer, scrape any bits that accumulated on the bottom of the skillet, and then remove them off the heat.
On a preheated griddle or large skillet, place a slice of buttered bread (butter-side down) and top it with a little shredded smoked Gruyere. Add half of the onion mixture and then more of the cheese. Top with a second slice of buttered bread (butter-side up).
Flip when the bottom is crispy and golden; repeat on second side.
Cut in half and serve.
Recipe adapted from Portuguese Girl Cooks, via Joy the Baker.


_______________________________________
Newly-married Erica Kastner shares her wonderful recipes and amazing food photography on her blog, Cooking for Seven. She also writes about crafts and posts more of her beautiful photography in her personal blog, EricaLea.com. There really isn't much that this amazing young lady can't do, and we're thrilled she does some of it here.