Note: I've been doing a bit of housecleaning here at the Tasty Kitchen Blog and haven't been able to stop thinking about this post from the step-by-step archives. It has chocolate. And hazelnuts. In cake form. I'm just as smitten now as I was before. And rumor has it there's some kind of romantic holiday coming up—a day that most definitely calls for chocolate. Make this and knock someone's socks off! – Erika
(Republished from 2011.)
Tasty Kitchen's Erika emailed me last week asking if I'd seen this Chocolate Hazelnut Cake recently submitted by Sabrina (Eatdrinkandbemerry). She said she thought of me. I don't know why. Why would I like chocolate, and sugar, and butter, and hazelnuts, and Nutella, and peace, and love, and all things good? Hmmm? I don't get it.
Anyway, I decided to go ahead and make it, ya know, since she twisted my arm and everything. That Erika is one smart cookie, and knows a good cake when she sees one. And this … this is one good cake. One marvelously good cake. Sabrina describes it as tasting like a Ferrero Rocher chocolate, and she's right on. The super moist, chocolatey cake is topped with a Nutella and mascarpone whipped cream, with a creamy Nutella and whipped cream center. Whoa.
I know you wanna see how to make it, right? Let's do this thing.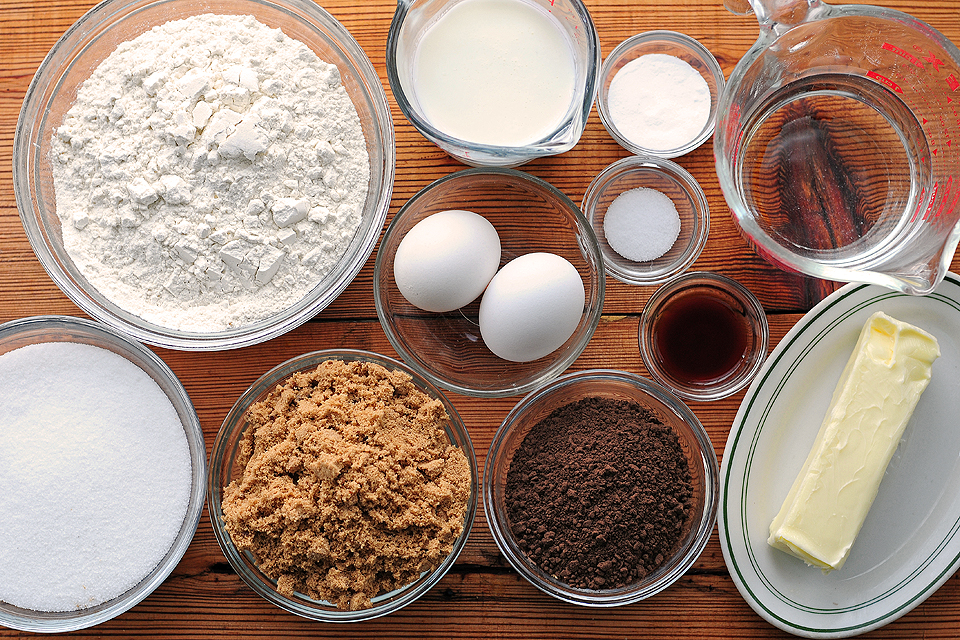 For the cake, you'll need flour, cocoa powder (I used dark cocoa powder), baking soda, salt, butter, granulated sugar, brown sugar, eggs, vanilla extract, water, and buttermilk.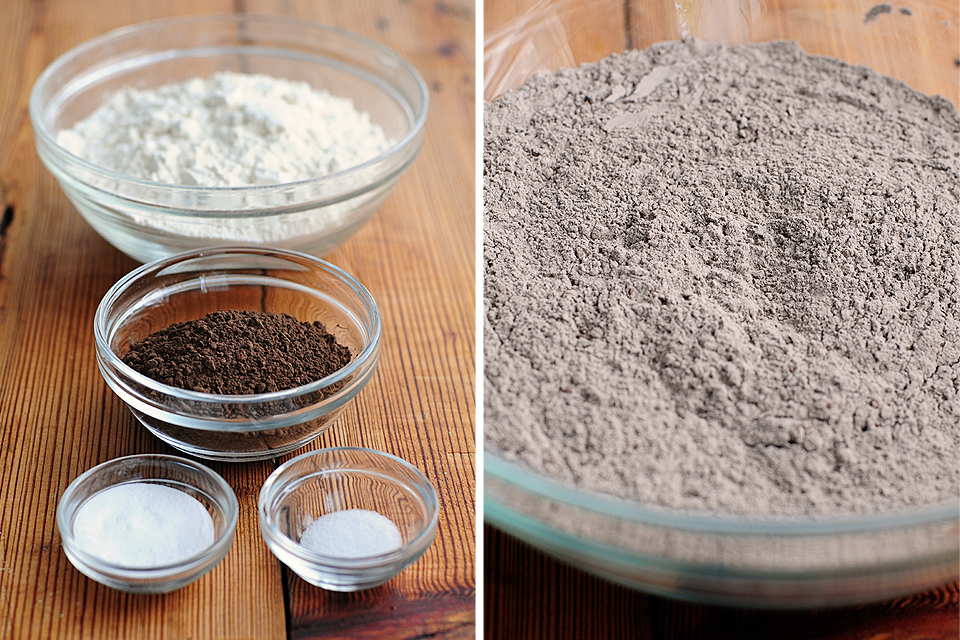 Begin by combining the flour, cocoa powder, baking soda, and salt in a bowl. (The directions say to sift, but shhh. Don't tell. I whisked it all together lightly.)
In a mixing bowl, beat together the butter and sugars for about 2-3 minutes.
Add the eggs and vanilla and combine well.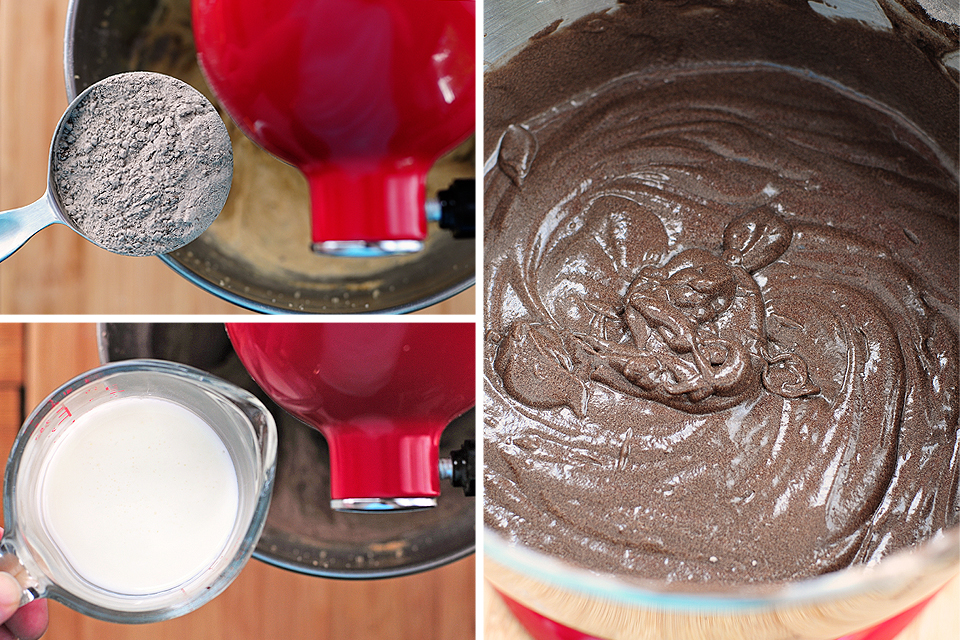 Next, alternate adding the flour mixture with the water and buttermilk. Beat on low speed until thoroughly combined. Make sure to not over beat.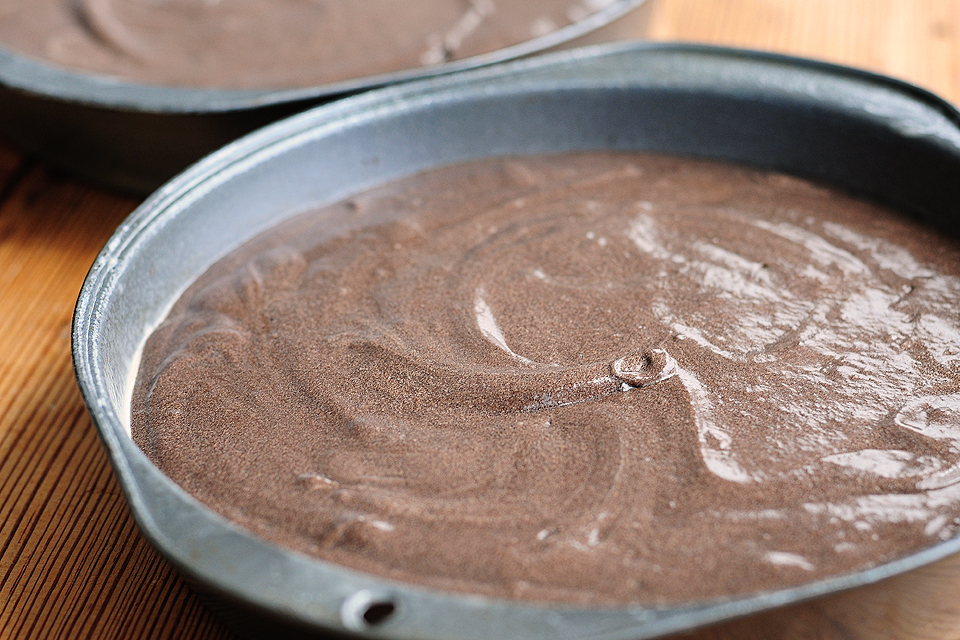 Divide batter mixture evenly into 8″ greased and floured round cake pans. Bake for about 30 minutes or until a toothpick or cake tester comes out clean. It took about 35 minutes in the Johnson kitchen. Cool cakes in the pans for about 10 minutes, then transfer to cooling rack(s) to cool completely.
(Note: I used my old 8″ angled sided cake rounds. I'd recommend using an 8″ cake round that's straight edged and 2″ tall if you can. It worked fine as you'll see later, but would make for easier decorating if the edges were straight and not angled.)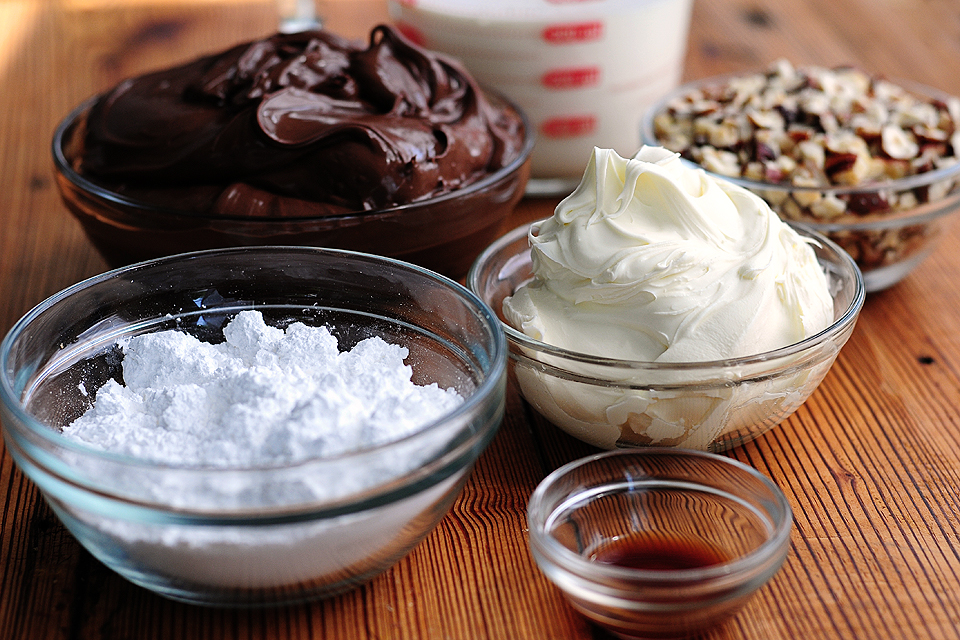 While the cakes are baking, go ahead and make the whipped cream topping. The whipped cream topping calls for mascarpone cheese, powdered sugar, vanilla extract, heavy whipping cream, Nutella, and hazelnuts.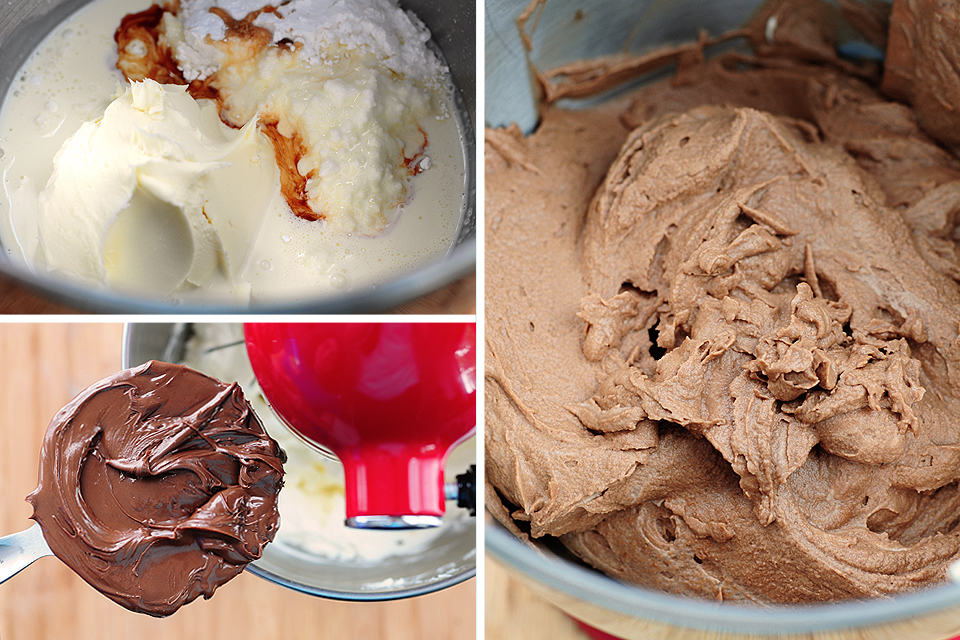 Whip together the mascarpone cheese, sugar, vanilla, and heavy whipping cream until peaks form. Add 1 cup of the Nutella and gently mix until blended well. Refrigerate until ready to use.
When cakes have cooled and you're ready to begin assembling layers, microwave the remaining Nutella a tad bit (about 30 seconds depending on your microwave) to loosen so it will be easy to spread. Spread the warmed Nutella over the top of the bottom layer of the cake. Put the cake in the freezer for 5-15 minutes for the Nutella to harden. Remove the cake from the freezer and spread a layer of the whipped cream over the layer of Nutella.
Add the second layer and frost the sides and top with whipped cream.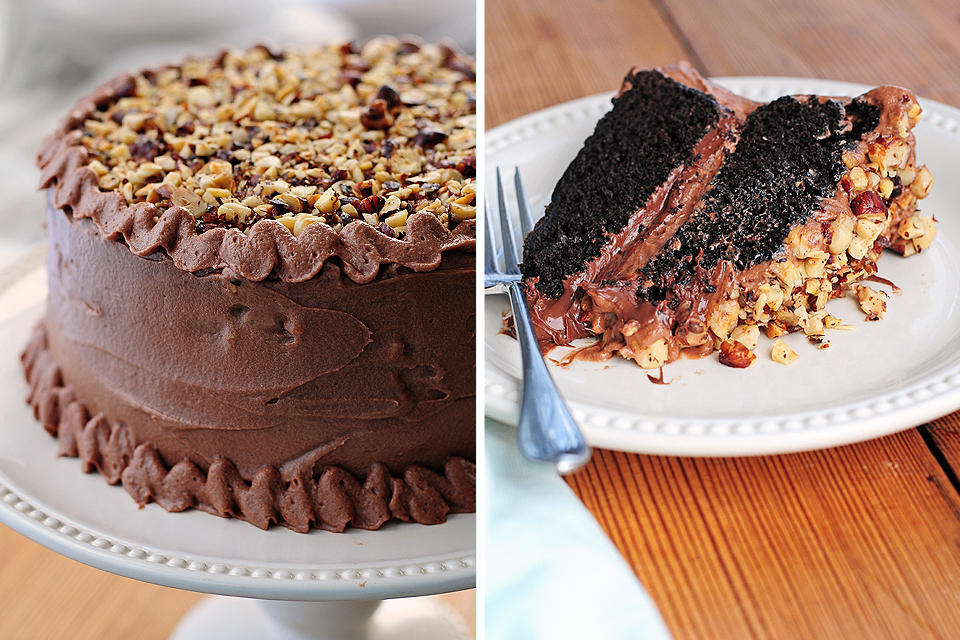 Top with chopped hazelnuts, and add any extra piping decorations to the edges to finish off if desired.
I tend to have a more rustic style when decorating cakes. I'm sure y'all can do much better. Refrigerate until ready to serve.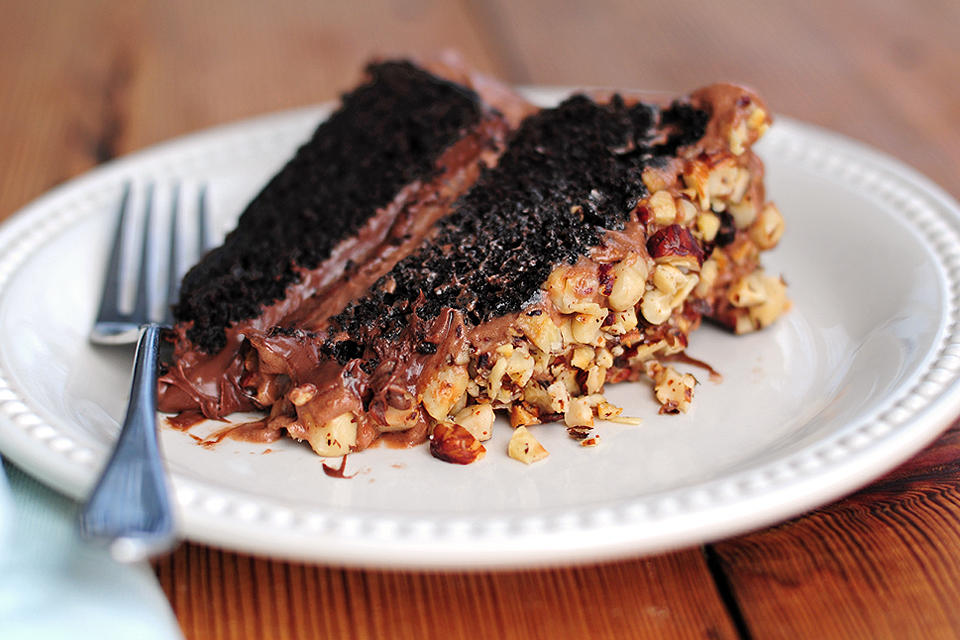 Delicious! It's a decadent and rich cake for sure. Definitely a cake for special occasions. I think the next time I make this cake (and there will be a next time), I'll make cupcakes, with a thin layer of Nutella, topped with a swirl of the whipped topping and sprinkled with the chopped hazelnuts. The perfect cupcake indeed.
Many thanks to Sabrina for submitting this tempting Chocolate Hazelnut Cake. It's a keeper. (Check out Sabrina's blog Eat, Drink & Be Merry for more of her killer recipes!)
Printable Recipe
See post on eatdrinkandbemerry's site!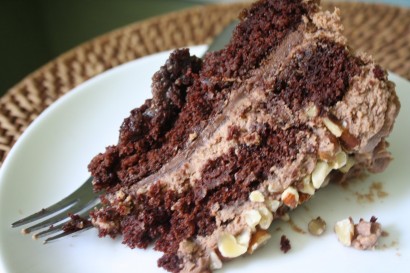 Description
This cake tastes like one of those wonderful Ferrero Rocher candies! (It even has the smooth a creamy chocolate hazelnut center!) This recipe is perfect if you're looking to celebrate a special occasion or to satisfy another one of those Nutella cravings!
Ingredients
FOR THE CAKE:
2 cups All-purpose Flour
½ cups Unsweetend Cocoa Powder
1-½ teaspoon Baking Soda
½ teaspoons Salt
1 stick Butter, At Room Temperature
1 cup Granulated Sugar
1 cup Light Brown Sugar
2 Large Eggs, At Room Temperature
2 teaspoons Vanilla Extract
1 cup Lukewarm Water
½ cups Buttermilk
FOR THE CREAM:
8 ounces, weight Mascarpone Cheese, At Room Temperature
¾ cups Powdered Sugar
1 teaspoon Vanilla Extract
1-¼ cup Heavy Whipping Cream
2-½ cups Nutella, Divided
1-½ cup Chopped Hazelnuts, For Topping
Preparation Instructions
Preheat oven to 350ºF.
Sift together the flour, cocoa powder, baking soda, and salt into a bowl. In another bowl, with an electric mixer on medium-high speed, beat the butter and sugars until light and fluffy, about 2 to 3 minutes. Add the eggs and vanilla and beat until combined. Add the flour mixture in 3 additions, alternating with water and buttermilk, beating on low speed until just combined; scape down the sides of the bowl as needed. Beat on medium-high speed just until no traces of flour remain, about 30 seconds; do not overbeat.
Divide the batter evenly into 2 8-inch round pans that have been greased and floured. Bake for about 30 minutes or until an inserted toothpick comes out clean.
To make the cream, whip together cheese, sugar, vanilla, and heavy whipping cream with electric beaters until peaks form. I chill a stainless steel bowl in the freezer so it whips faster. Add 1 cup Nutella and beat until well blended.
Microwave the remaining 1 1/2 cups Nutella (for the inside layer) for 30 seconds or until it is easy to spread but not too loose that it will run off your cake. Spread evenly over the bottom layer of the cake and set in the freezer for 5 to 10 minutes. Once the Nutella layer sets, spread a layer of chocolate hazelnut whipped cream over it. Top with other cake layer and frost the sides and top of the cake with cream. Top with chopped hazelnuts. Feel free to pipe a design around the top and bottom sides of the cake; you will have more than enough cream to do so!


_______________________________________
Amy Johnson is a blogger who writes about food, travel, the home (both inside and out), and various observations and random musings about anything and everything. Visit her blog She Wears Many Hats for a dose of deliciousness, practicality, hilarity, or just plain fun. She lives in South Carolina with her husband and two children.