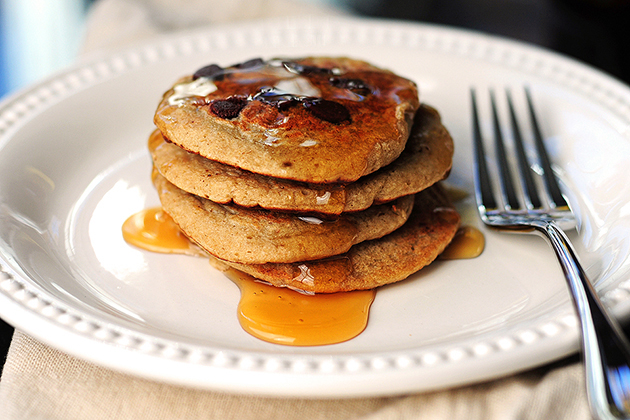 Looking for a healthy change of pace in your breakfast routine? These Oatmeal Chocolate Chip Banana Pancakes submitted by Monique of Ambitious Kitchen are just the ticket. Packed with healthy oats, and bananas, and sprinkled with a few chocolate chips, they are sure to set your day on the right track.
I was curious how they would work with no flour involved, but the batter blended into a smooth consistency. The texture is more dense and moist than a flour-based pancake, but we found them hearty and filling, and full of flavor. After a few bites, I began thinking of different tasty combinations using the banana/oatmeal batter base. Warm spices would add a nice touch, as well as chopped walnuts or pecans. Or what about a coconut-and-lime combination? That sounds like the perfect tropical twist to accompany the banana. I think this recipe lends itself well to experimenting, and is certainly a great option for all of those eating gluten-free (make sure you use gluten-free oats!) or vegan.
Let me show you how easy they are.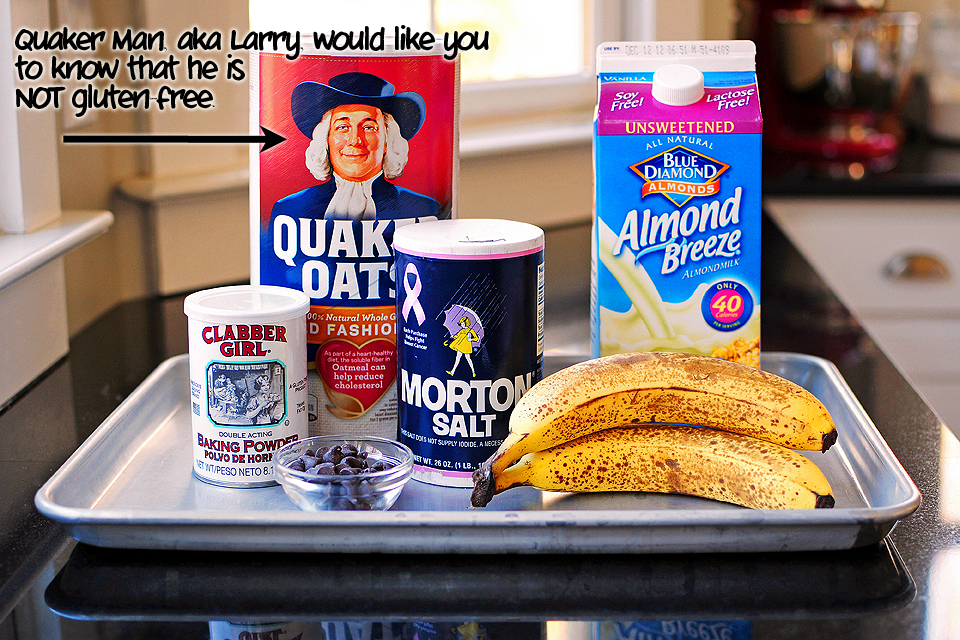 You'll need a blender, and a short list of ingredients: ripe bananas, unsweetened vanilla almond milk, old-fashioned rolled oats, baking powder, salt, and chocolate chips. Of course, don't forget your favorite pancake toppings. Monique suggests peanut butter! She sounds like a smart lady.
An important note!
If you are preparing this for those who need to avoid gluten: Please make sure you use oats that are certified gluten-free oats! Monique does mention that in the recipe, but in case you missed it there and missed it a few paragraphs above, ya can't be too careful. The oats in the photo are not gluten-free. Over and oat out.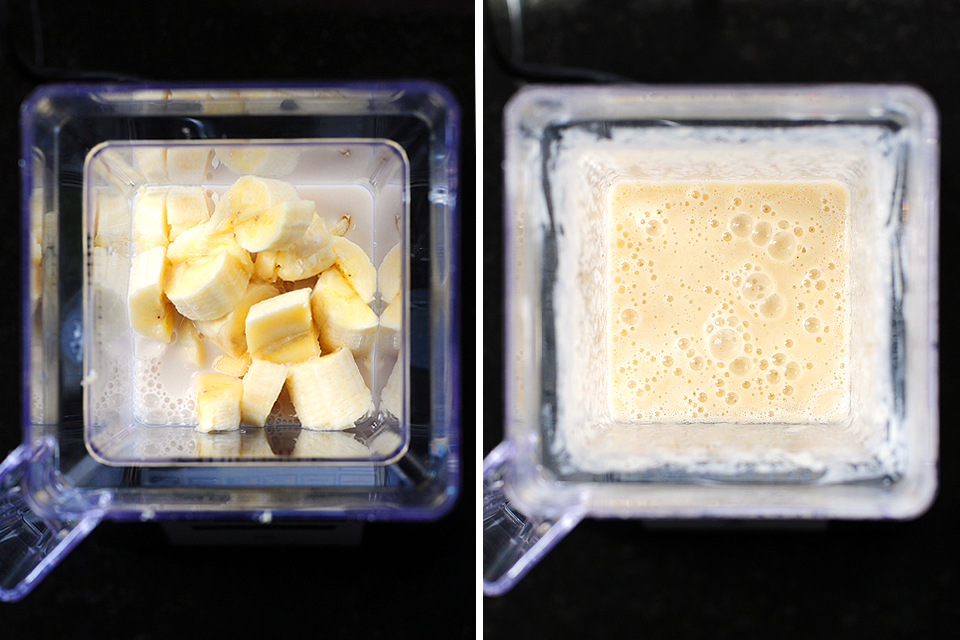 Begin by adding the banana and vanilla milk to a blender, and blend until smooth.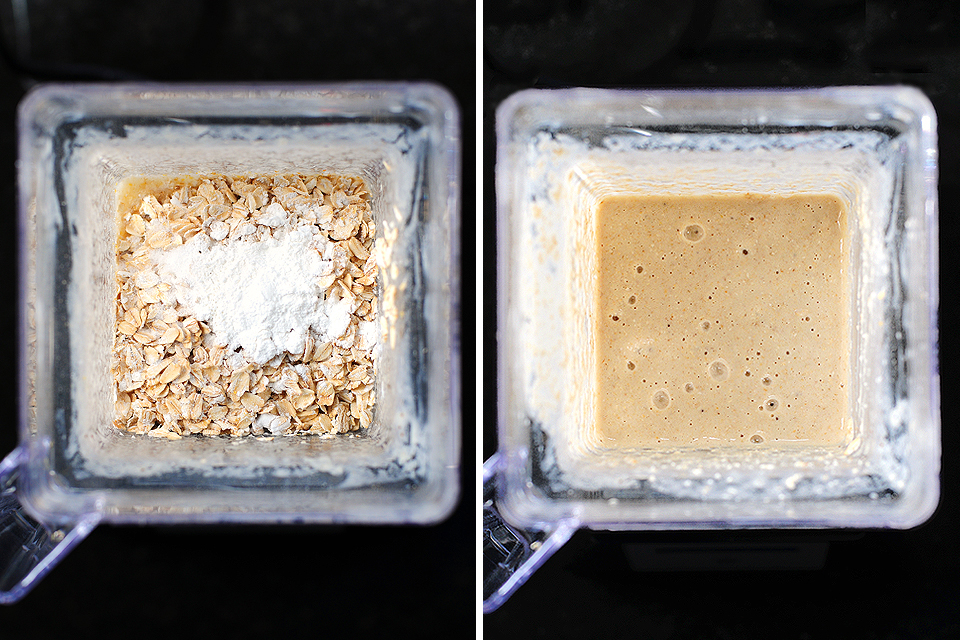 Next, in go the oats, baking powder, and salt. If you want to add any spices (cinnamon would be mighty nice), now would be the time to do it.
Blend until combined, then let sit for a few minutes until the batter thickens up. If it gets too thick, add a bit more almond milk, a little at a time.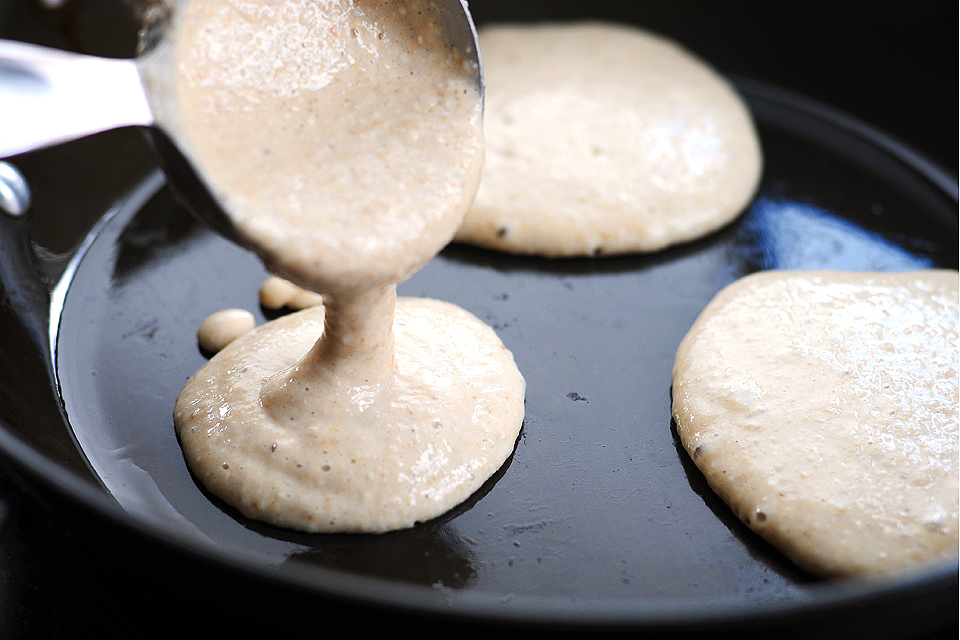 While you wait for the batter to thicken up, using cooking spray, olive oil, or butter, lightly coat your preferred pancake cooking surface, and heat over medium. A nonstick skillet or griddle is always nice.
Once skillet is ready, drop batter by 1/4 cupfuls onto surface. Gently spread with a spoon if needed.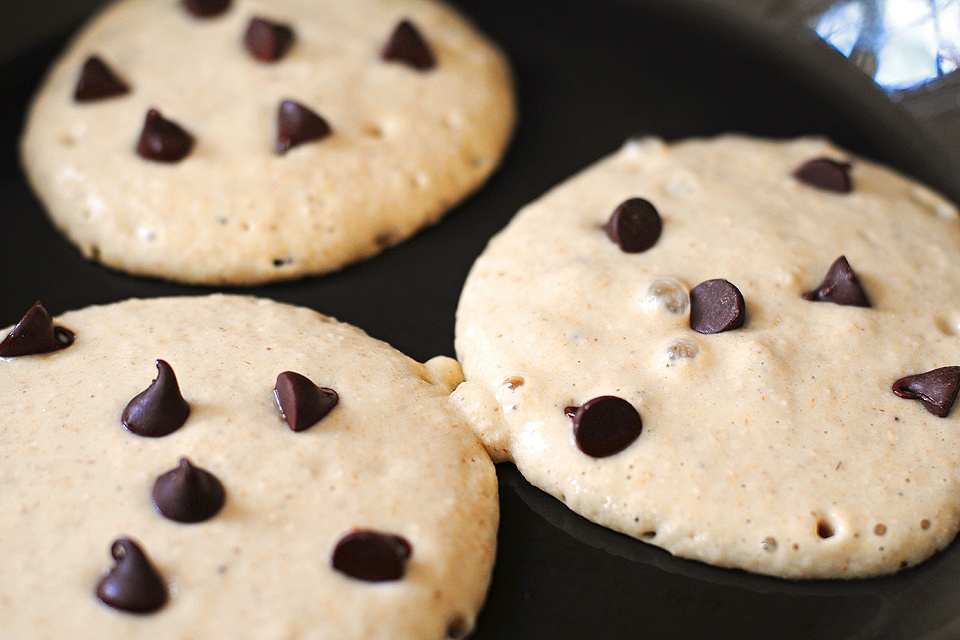 Sprinkle some chocolate chips on each pancake. Watch for bubbles to appear (about 2 minutes), then flip pancakes.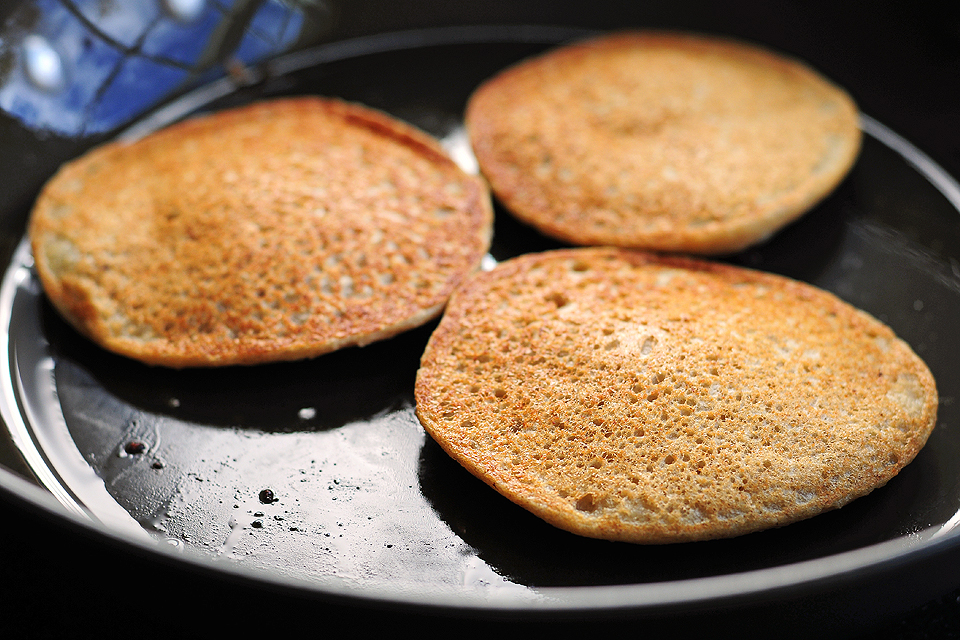 Cook until golden brown (about another 2 minutes). Repeat until all batter is used, adding more cooking spray, oil, or butter as needed.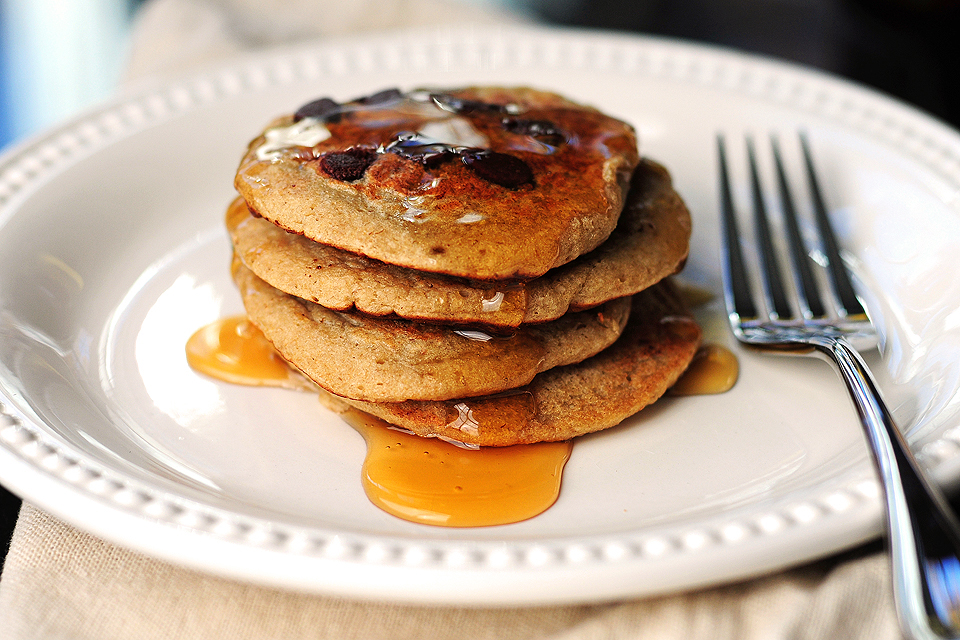 Top with your favorite pancake partner, and dig in. We added a major drizzling of honey to ours, which was lovely, but I'm thinking of trying peanut butter the next time around.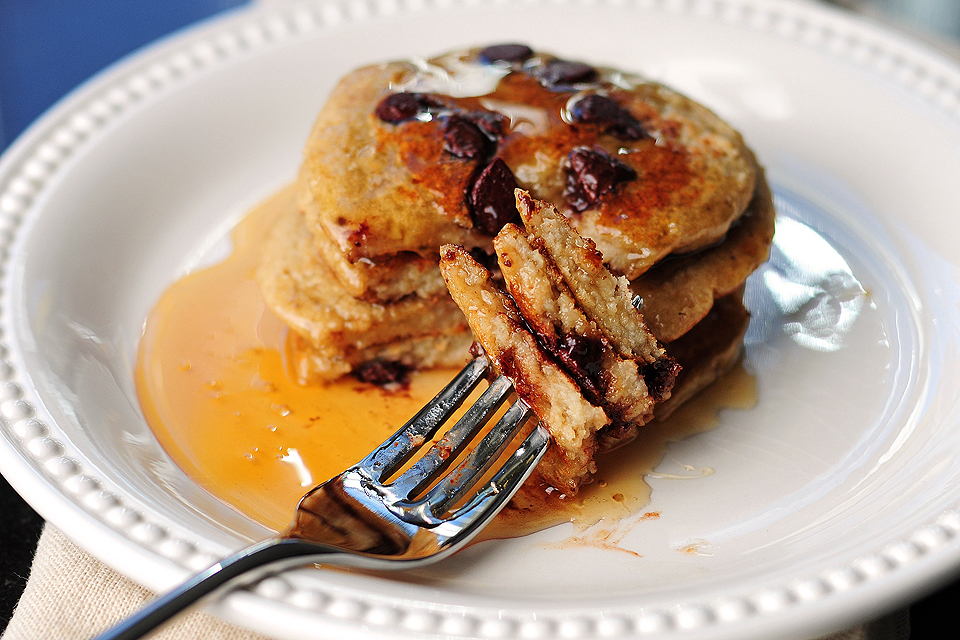 Thanks Monique for sharing this new option for enjoying pancakes. Visit her blog, Ambitious Kitchen, for more of her recipes. She describes herself as someone passionate about pancakes, and I can definitely see why. I know I have many gluten-free friends that will be happy to try this recipe, too.
Printable Recipe
See post on Monique of Ambitious Kitchen's site!
Description
Easy, delicious banana pancakes that are made in a blender with only 6 ingredients total! Plus they just happen to be vegan and gluten-free!
Ingredients
2 Medium Ripe Bananas, Cut Into Chunks
¾ cups Unsweetened Vanilla Almond Milk
1 cup Old-fashioned Rolled Oats (gluten-free If Desired)
1-½ teaspoon Baking Powder
¼ teaspoons Salt
2 Tablespoons (Heaping) Chocolate Chips, Vegan If You Prefer
Preparation Instructions
In a blender, add chunks of banana and almond milk. Puree for 30 seconds or until thoroughly blended and smooth. Next add oats, baking powder, and salt into the blender; blend again until batter is well-combined, about 1 minute. Set aside to thicken up. After a few minutes, check the consistency of the pancake batter; it should be somewhat thick. If it appears too thick, add a tablespoon or two of almond milk and blend again.
Lightly coat a large nonstick skillet or griddle with vegan cooking spray or olive oil and heat over medium. Drop batter by 1/4 cupfuls onto skillet and gently spread out a bit with a spoon. Place 5-6 chocolate chips on top of each pancake and cook until bubbles appear on top, about 2 minutes. Gently flip cakes and cook until golden brown on underside, 2 minutes. Wipe skillet clean and repeat with more oil or cooking spray.
Top with peanut butter, maple syrup, fruit, or chocolate chips.


_______________________________________
Amy Johnson is a blogger who writes about food, travel, the home (both inside and out), and various observations and random musings about anything and everything. Visit her blog She Wears Many Hats for a dose of deliciousness, practicality, hilarity, or just plain fun. She lives in South Carolina with her husband and two children.