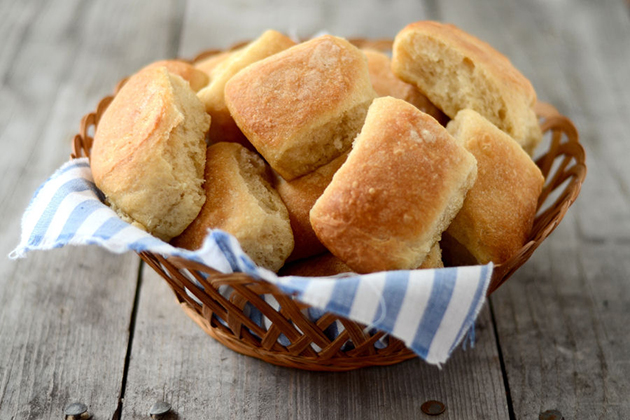 Let's face it. There's just nothing like fresh, homemade bread. Sure, you can get some wonderful, artisan breads at local shops, but they can't come close to magic of the smell and taste of home-baked bread pulled from the oven and spread with butter and jam (or honey).
But here's the problem: With busy lives, especially around the holidays, there's precious little time to spend agonizing over kneading and rise times. And so homemade bread is often neglected.
This recipe, brought to us by Terri, is about as low-fuss as yeast bread gets. All you have to do is mix everything in a large bowl, let it rise, form into buns, and bake once they're puffy. Still skeptical about no-knead bread? Let me assure you, it is good. Like, really good: fluffy and flavorful and soft. Let me show you!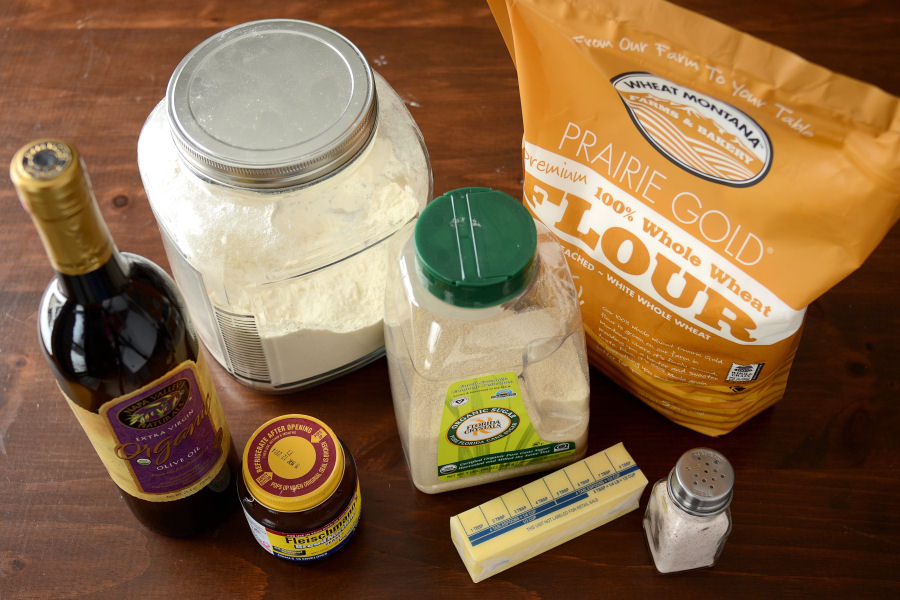 To begin, grab the few ingredients you'll need: yeast, sugar, oil (I used olive, but if you don't like the flavor, you could use melted butter or vegetable oil), salt, flour (I used part white, part wheat), butter, and water.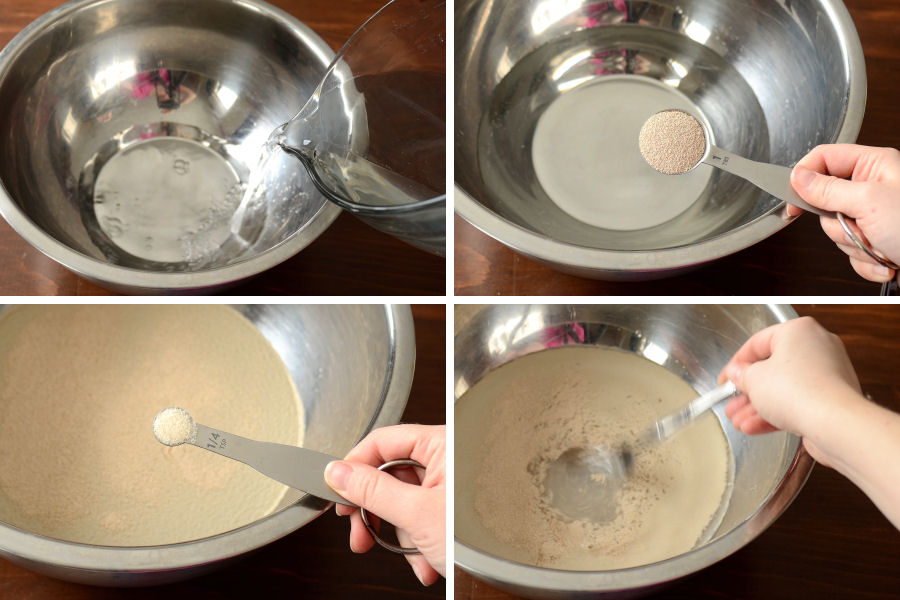 Pour some warm water into a large mixing bowl and sprinkle in the yeast and 1/4 teaspoon of sugar. You can gently stir it with a fork if you wish.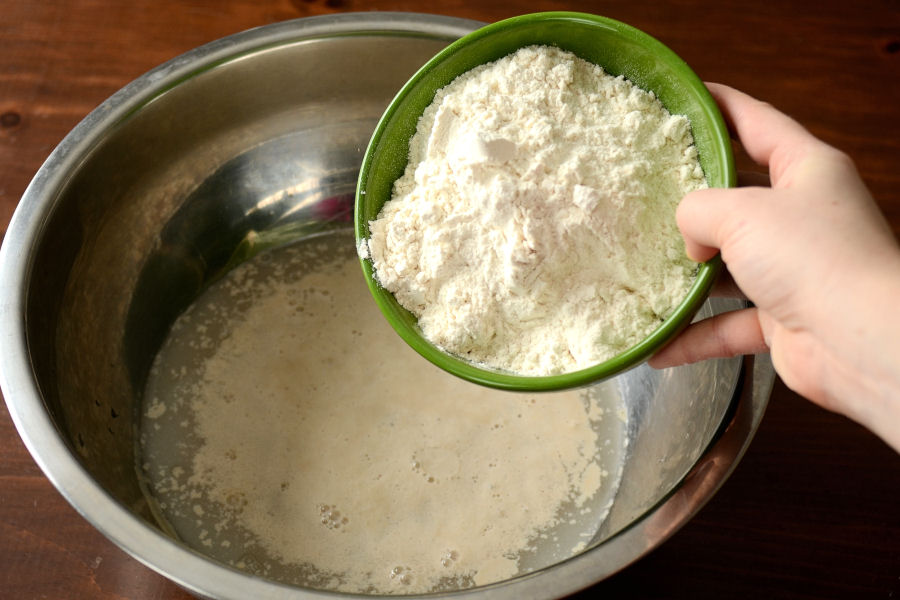 Let the yeast "activate" in the water (about 5 minutes). Then add the flour …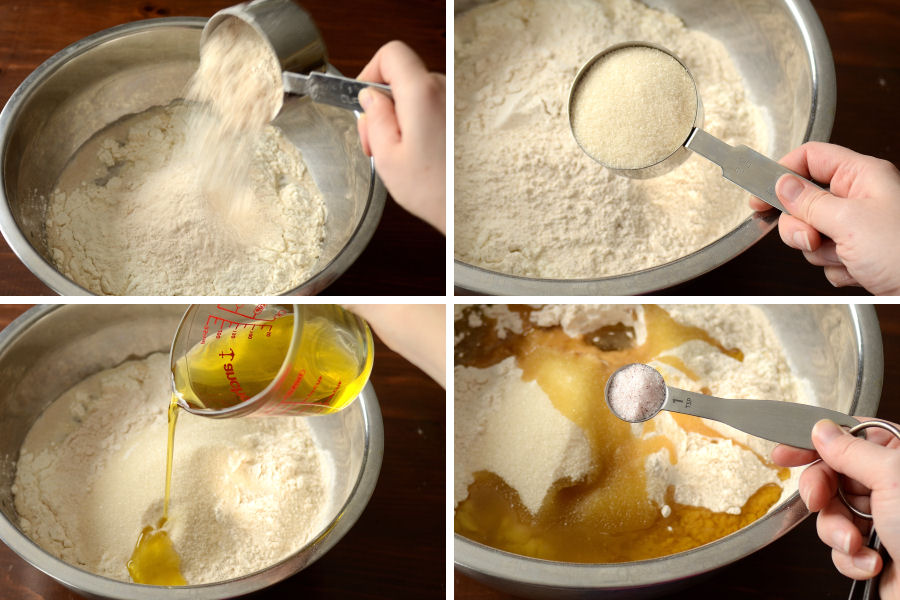 … wheat flour (if using), sugar, oil and salt.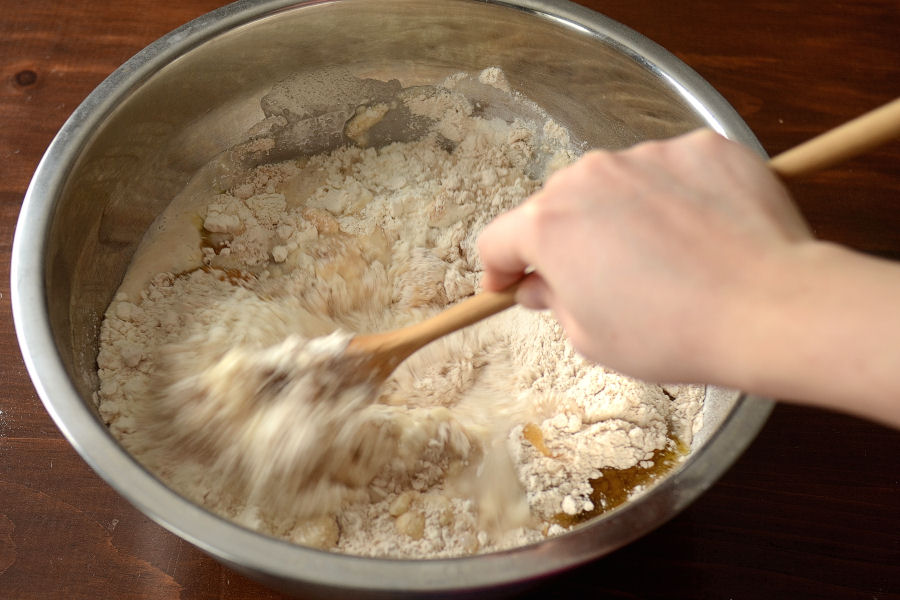 Stir it all together.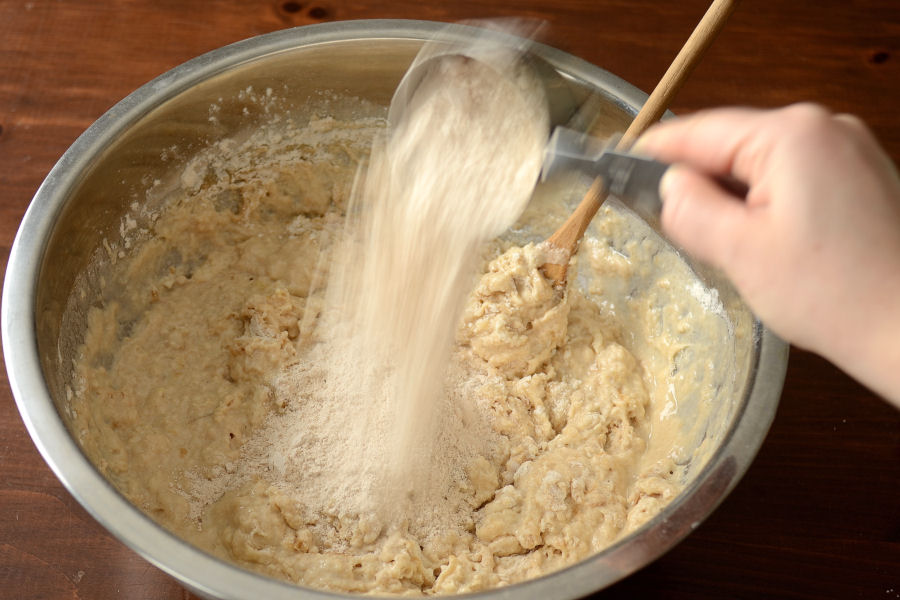 If the dough is too wet, you can add more flour. The right texture is soft and sticky, but not soupy.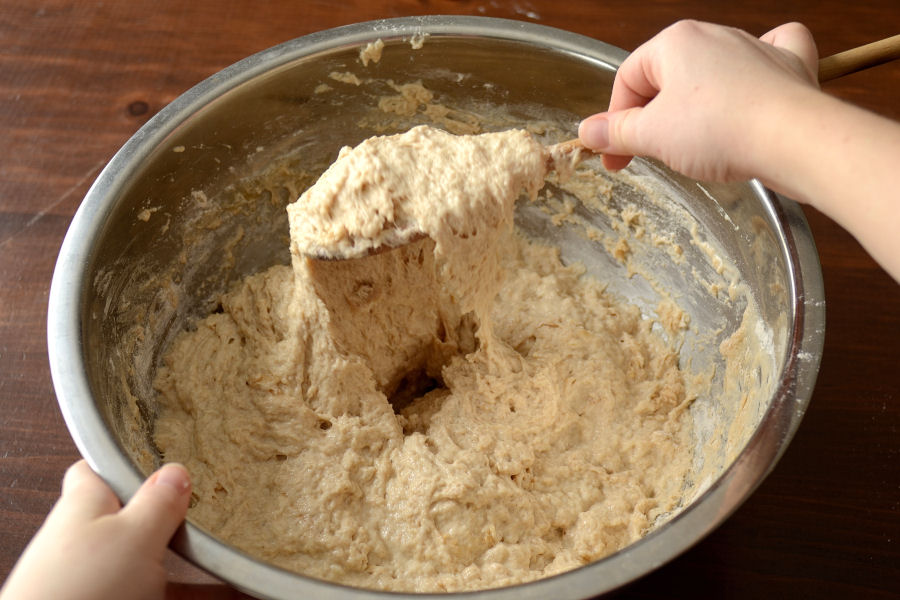 See that? That's how it should look. Don't stir too much! After all, these are no-knead.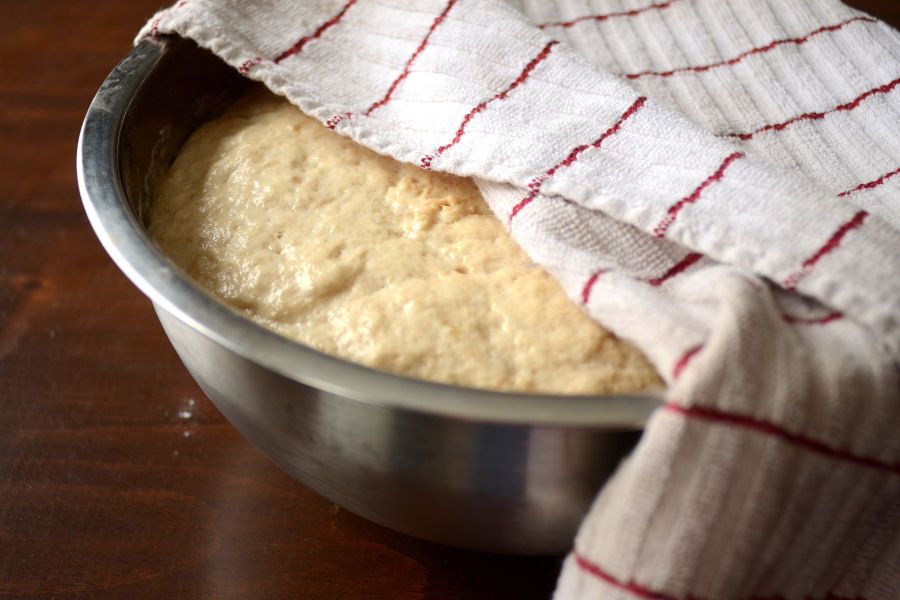 Cover the dough and set aside to rise until doubled. This only took about and hour for me, but it all depends on how warm your house is.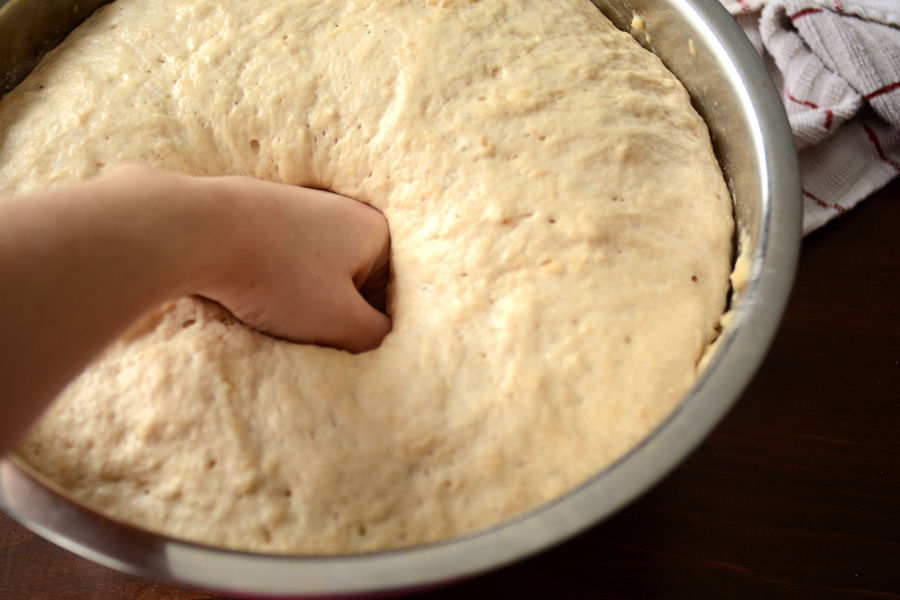 Now, give that dough a punch!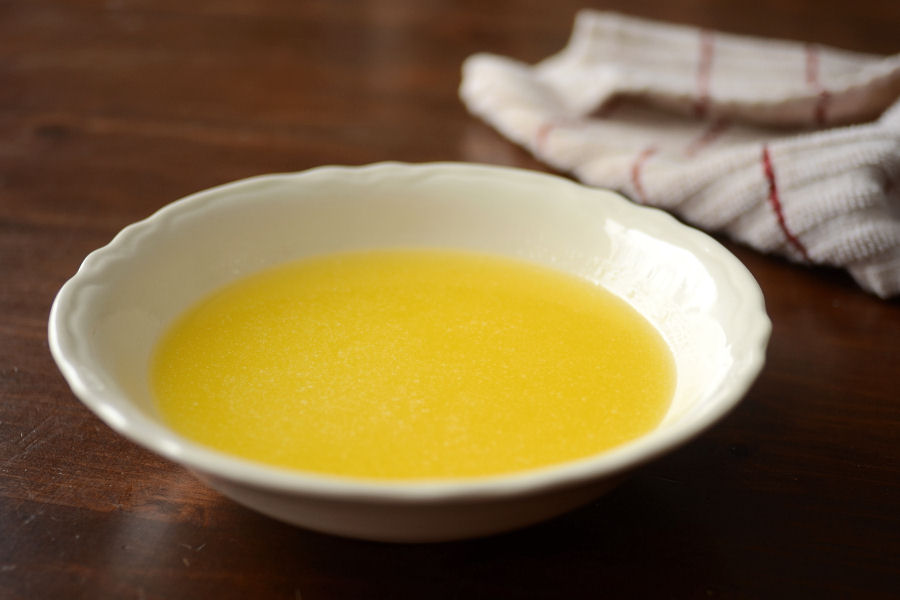 Ahhh … melted butter.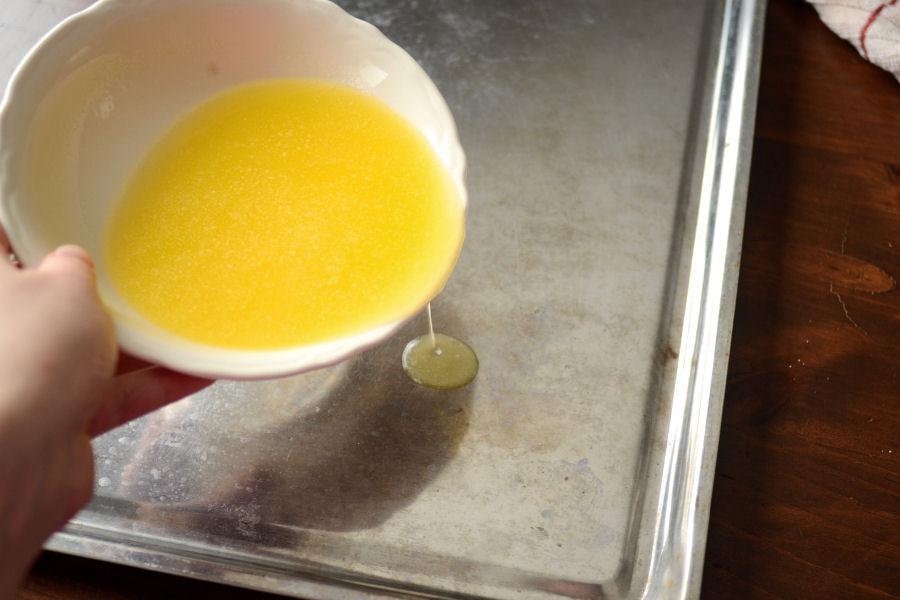 Pour a little onto a rimmed baking sheet.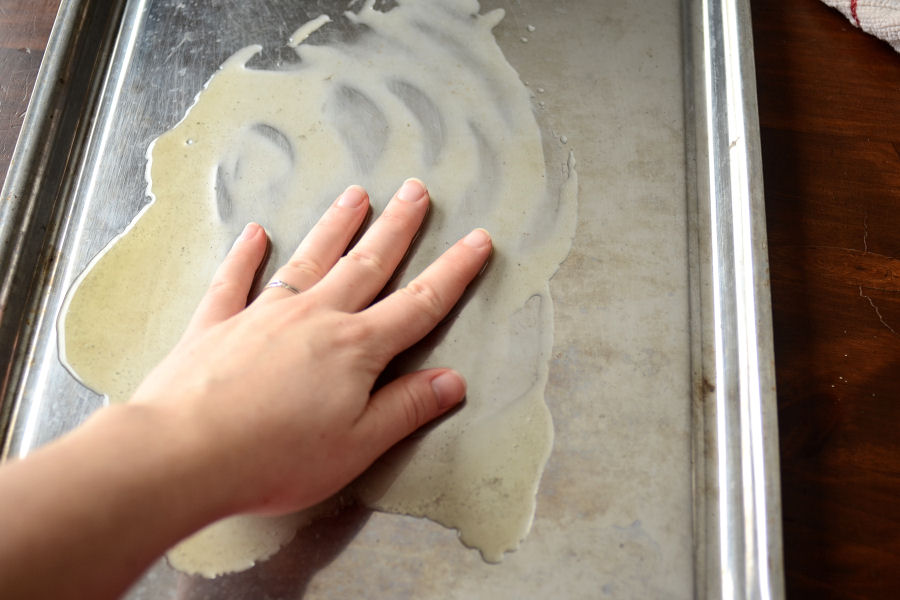 Get your hands in it and smear it around.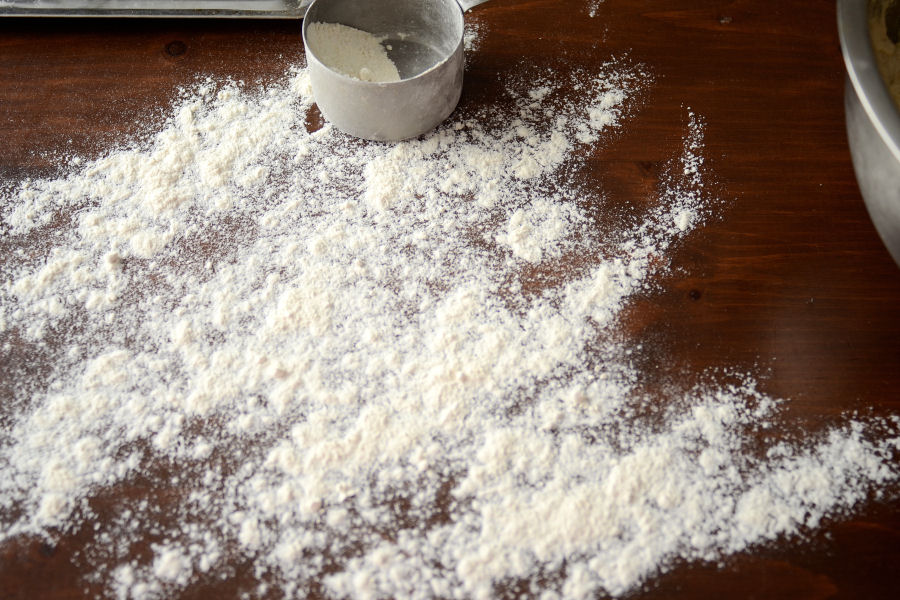 Now it's time to make a mess! Sprinkle your work surface generously with flour.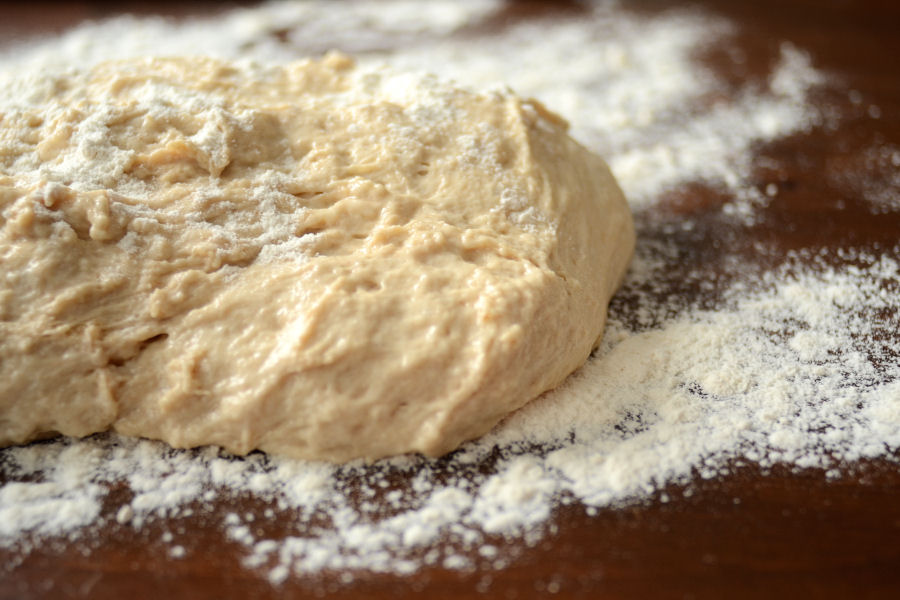 Scoop your risen dough out onto your counter/table and sprinkle with some more flour.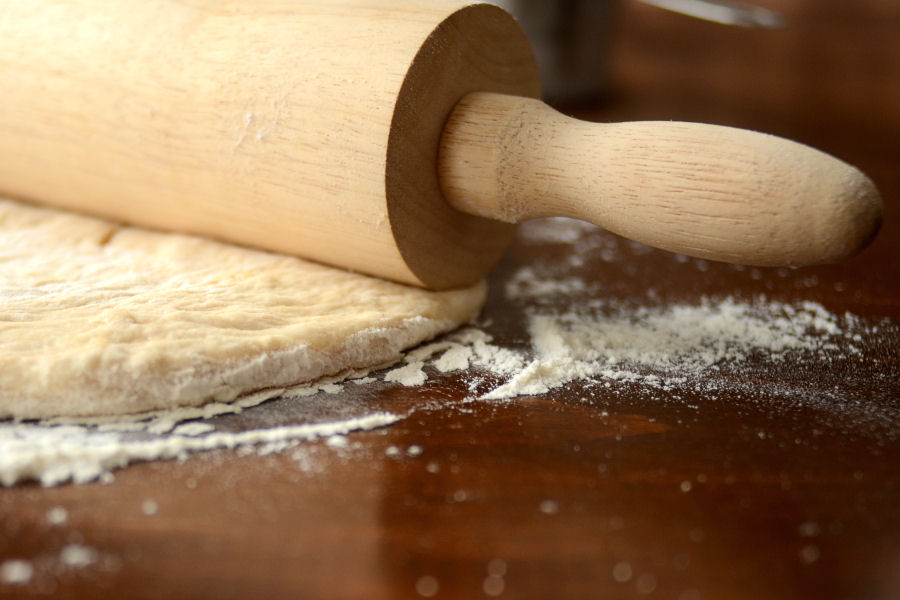 Roll the dough out to about a 1/2-inch thickness.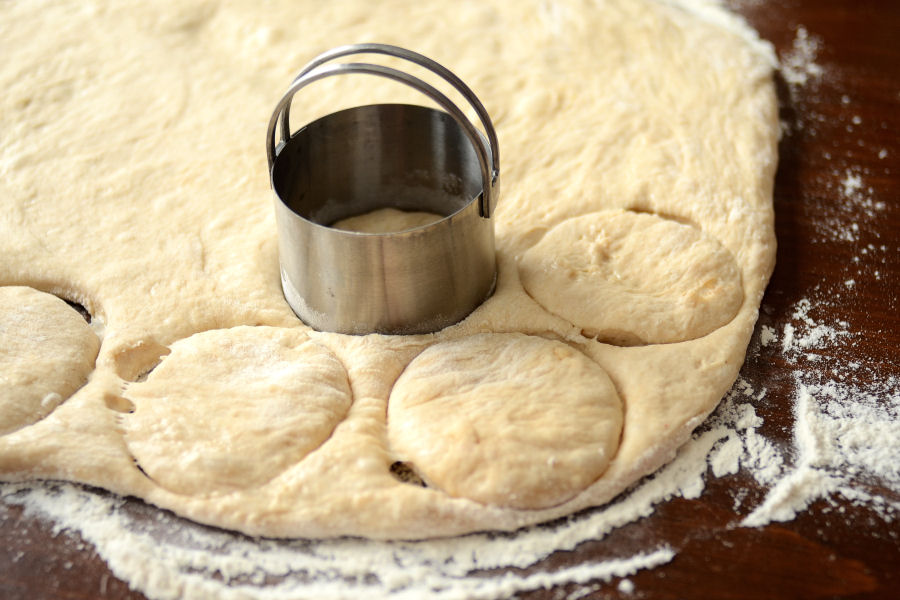 Take a round cookie/biscuit cutter and stamp out circles of dough. You could get your circles closer together than mine.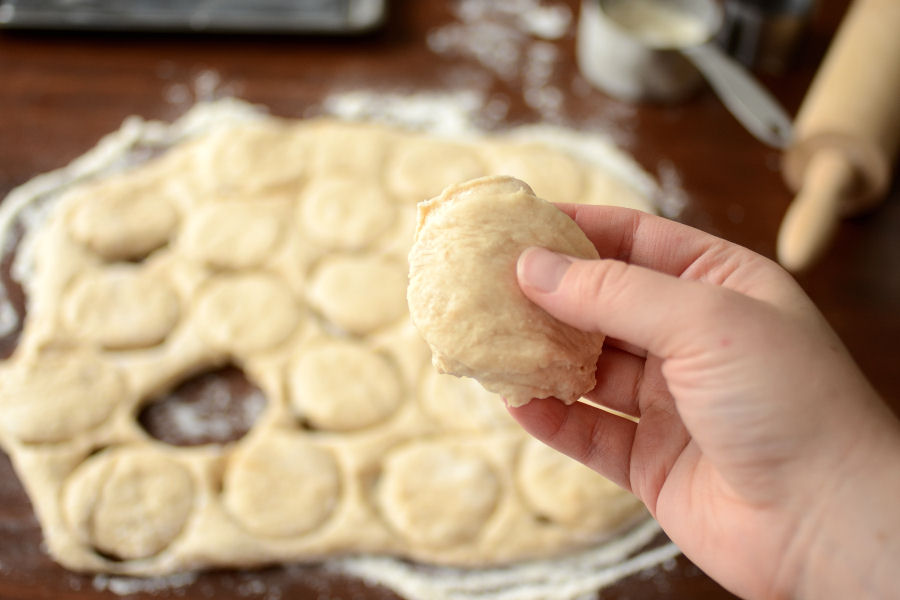 Grab a circle of dough …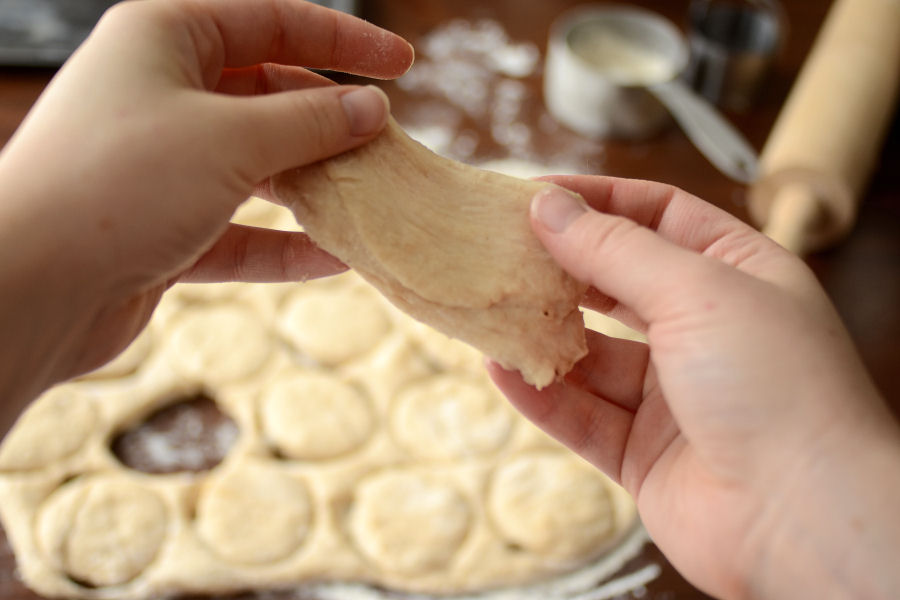 And stretch it out a bit.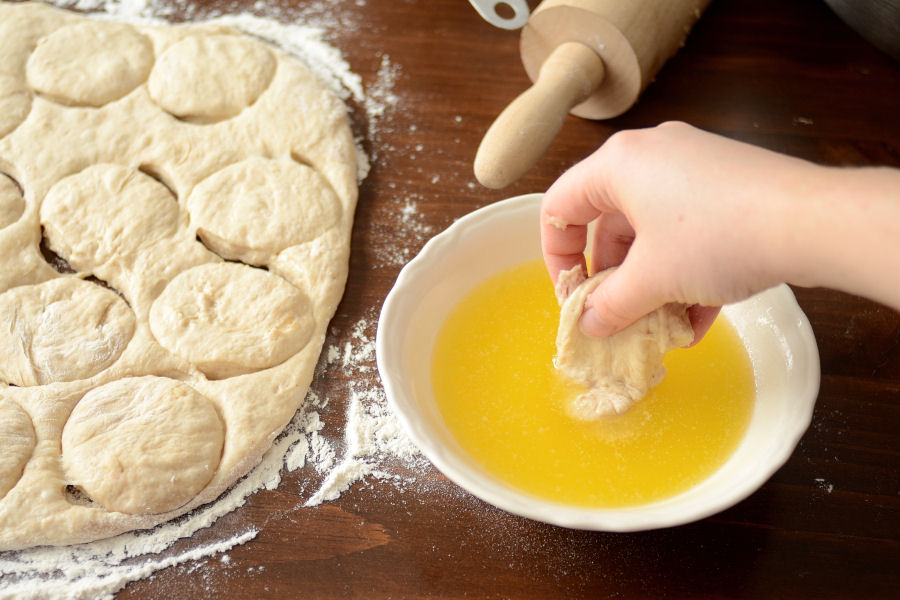 Dunk half of it into the melted butter …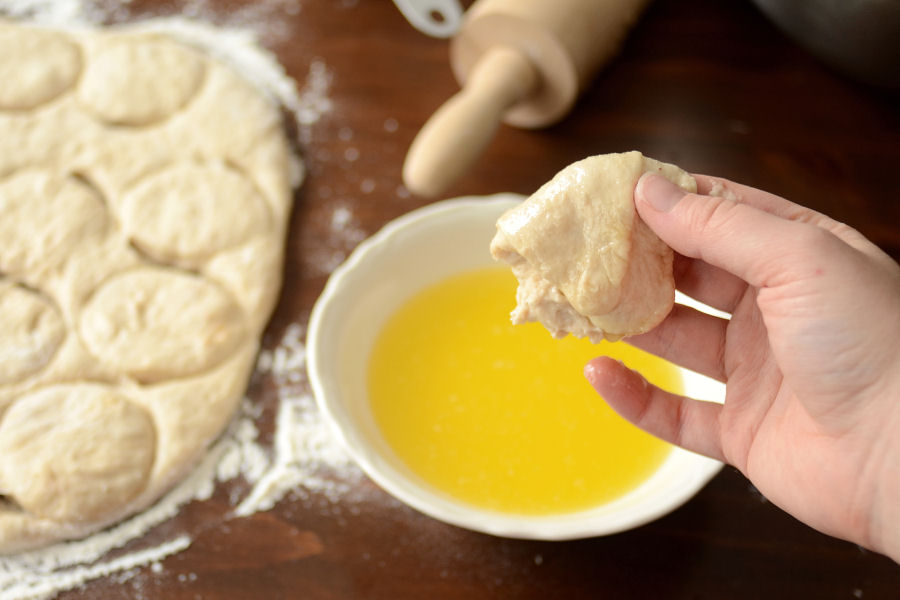 And fold it in half with the butter side up. Now you have a lovely little Parker House roll.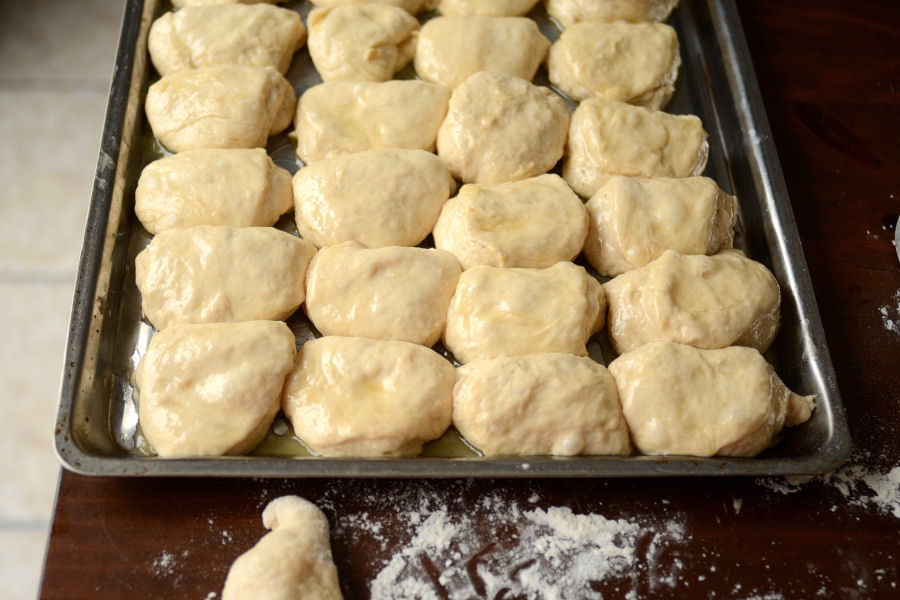 Place on your buttered baking sheet (buttered side up). Repeat with remaining dough, placing the buns close together.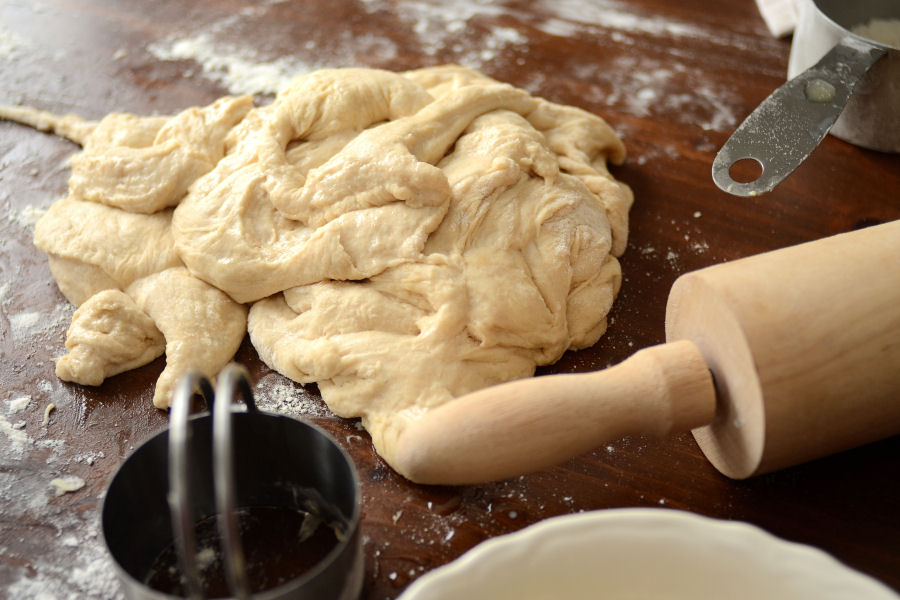 Gather up your scraps and go again!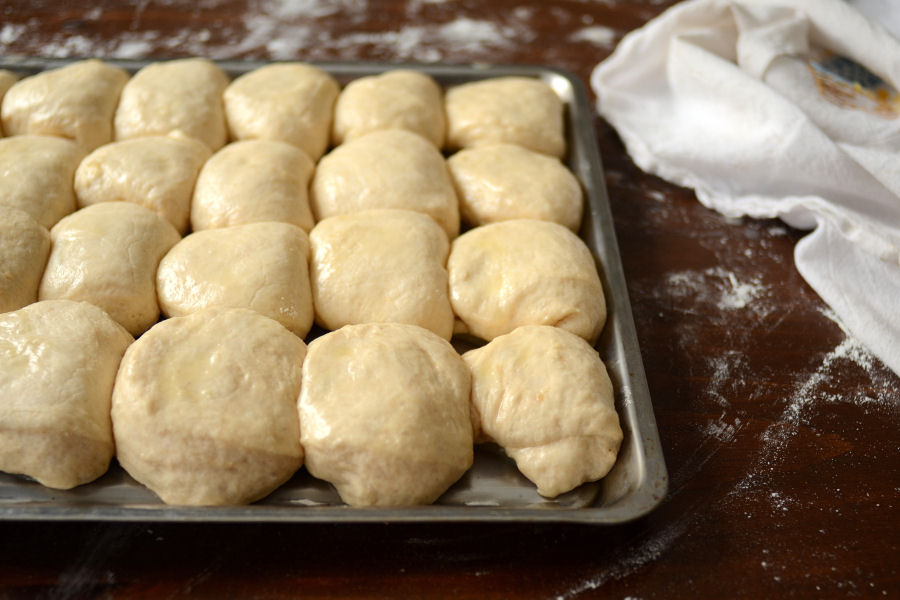 Cover the buns and let rise until nice and puffy. Aren't they beautiful?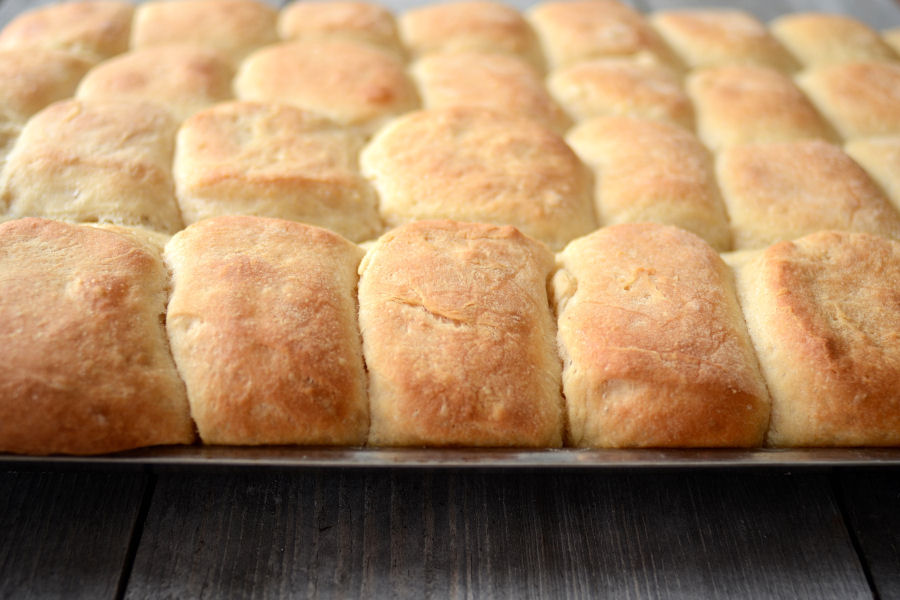 Bake at 375°F until lovely and golden brown. You can brush the tops of the buns with extra butter, if you wish.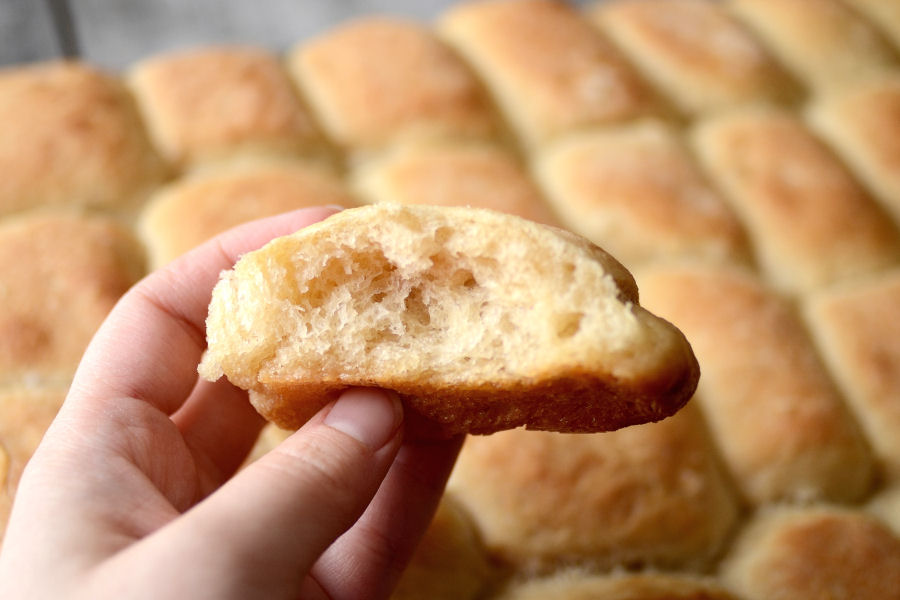 Just look at how pillowy soft they are!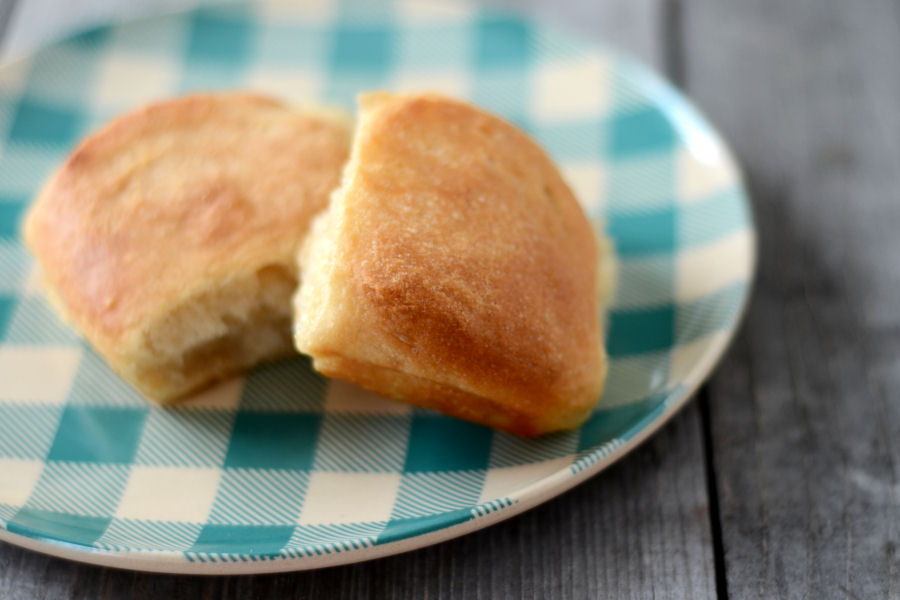 Recipe notes:
1. This dough can be refrigerated for up to a week. You can mix up a big batch and just pull off pieces of dough and bake them for fresh bread throughout the week!
2. You don't have to make Parker House rolls from the dough. Terri suggests cinnamon rolls, pull-aparts and breadsticks.
3. These rolls reheat very well. Just pop them in a 350°F oven for 10 minutes.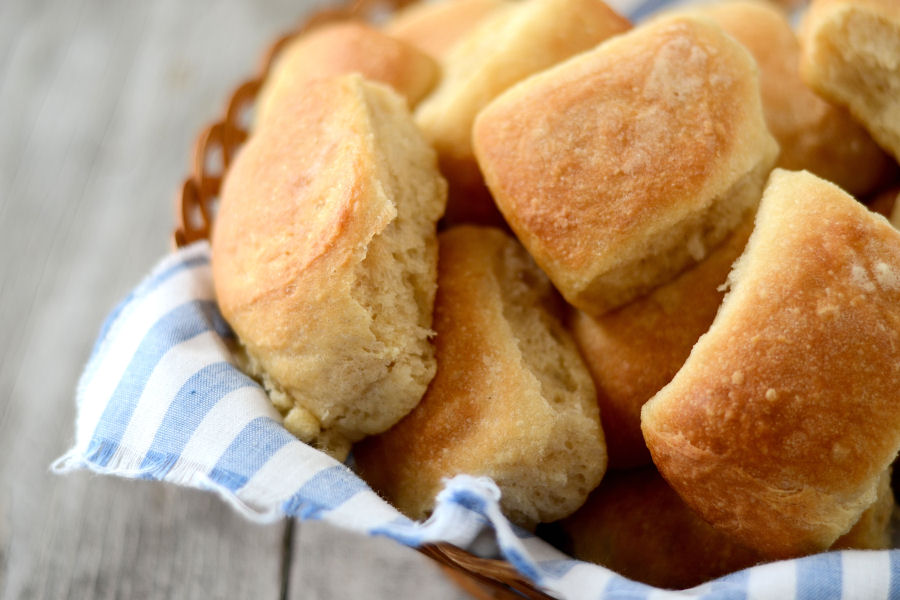 Thanks so much to Terri for sharing these buttery rolls with us. She blogs over at That's Some Good Cookin', where she posts many more lip-smackin' recipes.
Printable Recipe
See post on Terri @ that's some good cookin''s site!
Description
I have no idea why these easy rolls work so well time after delicious time.
Ingredients
3 cups Warm Water
2 Tablespoons Yeast
½ cups Sugar
½ cups Vegetable Oil (canola Works Best)
2 teaspoons Salt
6 cups To 7 Cups White Flour
1 stick Butter
Preparation Instructions
In a large mixing bowl dissolve yeast in warm water with 1/4 teaspoon sugar.
When the yeast has activated, add all other ingredients (except butter) and stir well with a wooden spoon until all ingredients are incorporated. Avoid over mixing and do not knead the dough. Just stir it. The dough is soft and will be somewhat sticky, not drier like other roll doughs that you may be used to using.
Cover bowl and let dough rise until doubled in bulk. Punch dough down and let it rest for a few minutes.
Melt the butter in a small bowl. Prepare a baking pan by greasing the pan with some of the melted butter.
To shape a Parker House style roll, divide the dough in half and roll out one half of the dough on a well floured counter top until about 1/2-inch thick. Using a round biscuit cutter, cut out circles of dough. Stretch the dough just a little lengthwise and dip one half into melted butter. Fold dough over in half and place on the pan. Place the rolls close to each other in rows. Repeat with remaining half of dough. Work the left-over dough from the two dough halves together to finish making your rolls. You should be able to get 32 rolls on a large baking sheet (4 rolls across and 8 rolls down).
Cover rolls and let rise again until almost doubled in size. Bake at 375ºF for 20 minutes or until the rolls are golden brown. Brush hot rolls with additional butter if desired.
Note: This dough can be kept in the refrigerator for at least a week and the dough just pulled off as you wish to use it to make cinnamon rolls, scones, pull-aparts, hot rolls or bread sticks during the week.


_______________________________________
Newly-married Erica Kastner shares her wonderful recipes and amazing food photography on her blog, Cooking for Seven. She also writes about crafts and posts more of her beautiful photography in her personal blog, EricaLea.com. There really isn't much that this amazing young lady can't do, and we're thrilled she does some of it here.