Please join us in welcoming our newest Tasty Kitchen Blog contributor, Faith Gorsky of An Edible Mosaic. She's been sharing her wonderful and often exotic recipes with us for some time now (almost 100 recipes and counting!), and we're so proud to have her here. As you can see from her pick for her first guest post, she just fits right in perfectly. Glad to have you, Faith!
_______________________________________


Growing up in a suburb of Buffalo and working in a pizzeria during high school means I'm a wing-lover from way back. This is why when I saw Tasty Kitchen member Shelbi Keith's recipe for Cauliflower Buffalo Wings, I knew they were happening in my kitchen ASAP.
Now, if you're skeptical about whether a vegetable can really have Buffalo wing flavor, have no fear. I'm going to let you in on a little secret: it's all in the sauce! Frank's Hot Sauce is the sauce of choice for balanced heat and flavor, and a little bit of butter rounds it out. That's it, straight-up. Shelbi nailed it. (Of course, for a milder sauce, you can increase the amount of butter and decrease the amount of hot sauce to taste.) I won't be surprised if this recipe makes another appearance in my kitchen very soon.
Here's what you'll need to make this: cauliflower, butter, hot sauce, flour, garlic powder, milk, and blue cheese dressing (for serving).
Take note, I only used half of a cauliflower because I picked up what had to be the largest head of cauliflower I've ever seen in my life at the farmers market. I got it home and it weighed in at five pounds! If your cauliflower is a more normal size, use the whole head.
Chop it up into pretty florets.
Mix up the batter (just milk, flour, and garlic powder).
Dip each cauli floret into the batter, letting the excess drip off. Arrange them up all nice and purty on a baking sheet that you sprayed with cooking spray (or lined with a Silpat liner and sprayed lightly with cooking spray).
Give the tops a little spritz with cooking spray, and into the oven they go. Shelbi cooked hers at 450ºF for 18 minutes, but noted that, before the 18-minute mark, they burned a little on the bottom before they had a chance to cook through. So I cooked mine at 425ºF until tender, about 20 to 25 minutes. That worked pretty well and the cauli didn't burn!
While the cauliflower cooks, you can whip up the sauce. Melt the butter …
And mix the melted butter with the hot sauce. Done and done.
When your cauliflower is out of the oven, toss it gently with the sauce. Mmm … love that spicy smell!
Plate it up! I like to pile my Cauliflower Buffalo Wings high and deep, like how an order of normal Buffalo Wings would be served at a restaurant, but they are also so pretty plated elegantly the way Shelbi did. Don't forget to serve them with blue cheese dressing and carrot and celery sticks if you want. Try not to dive face-first into that beautiful plate.
Thanks to Shelbi for sharing this delicious take on Buffalo wings! For more good eats, you can check out her site Look Who's Cookin' Now.
Printable Recipe
See post on Shelbi Keith's site!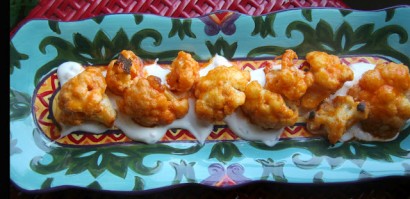 Description
Vegetarian buffalo wings! A perfect appetizer or side dish for your football party.
Ingredients
1 head Cauliflower
1 cup Milk
¾ cups Flour
2 teaspoons Garlic Powder
1 Tablespoon Butter
1 cup Frank's Red Hot Sauce
½ cups Blue Cheese Dressing
Preparation Instructions
Preheat oven to 450 F.
Trim the heat of cauliflower into appetizer-sized pieces. (I bought the pre-chopped kind.) Set it aside.
In a shallow bowl stir together milk, flour and garlic powder.
Dip each piece of cauliflower into the batter and allow the extra batter to dip off. Place on a greased baking sheet. Spray the tops of the florets with cooking oil. Bake for 18 minutes.
Melt the butter in a saucepan over low heat. Mix together melted butter and Frank's hot sauce.
Toss cooked cauliflower pieces with sauce. Serve with a side of blue cheese dressing.
Note: The bottom of my cauliflower pieces burned a little. The burned crust easily pulled off. I tried cooking it for less time and it didn't cook through.


_______________________________________
Faith Gorsky is the writer, recipe developer, photographer, and food stylist behind the blog An Edible Mosaic. She lives in Upstate New York and loves to travel, especially to places steeped in rich culture and history. She also enjoys reading, vintage shopping, watching movies, and is enamored with ancient cultures. She just released her first cookbook, "An Edible Mosaic: Middle Eastern Fare with Extraordinary Flair" (Tuttle Publishing), a collection of authentic Middle Eastern recipes handed down to her from her husband's family.