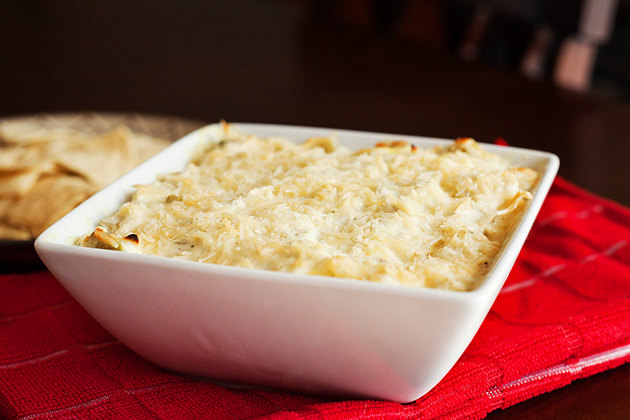 I don't know about you, but this is the time of year that all the delicious holiday recipes start to creep up on me. They tend to creep in places I'd rather not be crept up on, if you know what I mean. Parties, get-togethers, and food gifts … you know how it goes. It's easy to get lost in all the deliciousness and forget the consequences of all those tasty bites.
But all those tasty bites are so hard to resist, right?
When I came across this recipe of Jen's for Artichoke and Jalapeño Ranch Dip, I was hooked right away. But when I saw that it was actually a healthy dip, my guilt-ridden thighs did a happy jiggle.
Yes, my thighs jiggle. Sigh.
This dip is so tasty and full of flavor. With Greek yogurt, ranch seasoning, chunky artichokes, and jalapeños, you'll never notice the missing calories.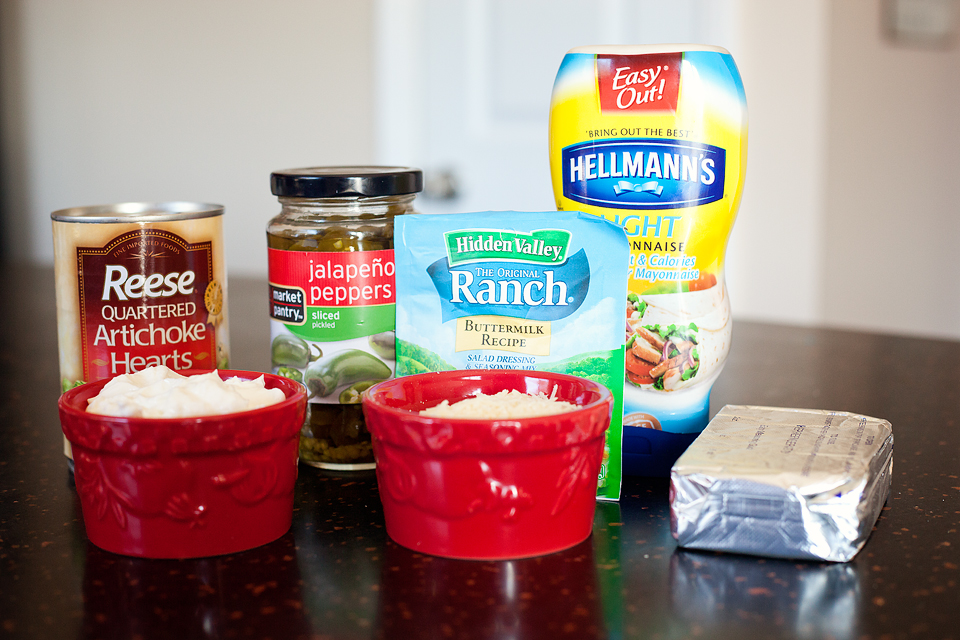 You'll need: Greek yogurt, mayonnaise, cream cheese, ranch seasoning, canned artichokes, pickled jalapeños, and Parmesan cheese.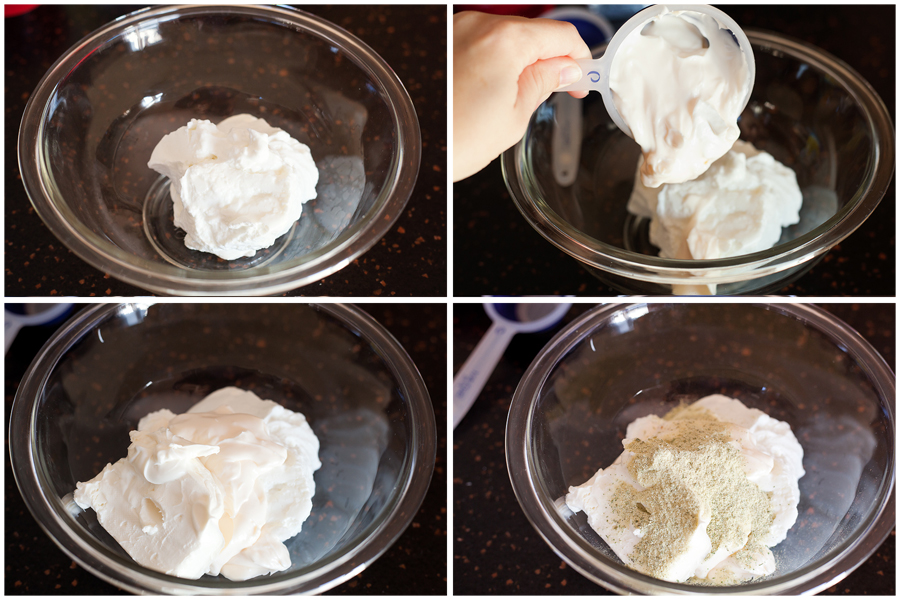 Preheat oven to 350ºF. Spray an oven safe baking dish with cooking spray. In a bowl, mix together yogurt, mayonnaise, cream cheese and ranch seasoning.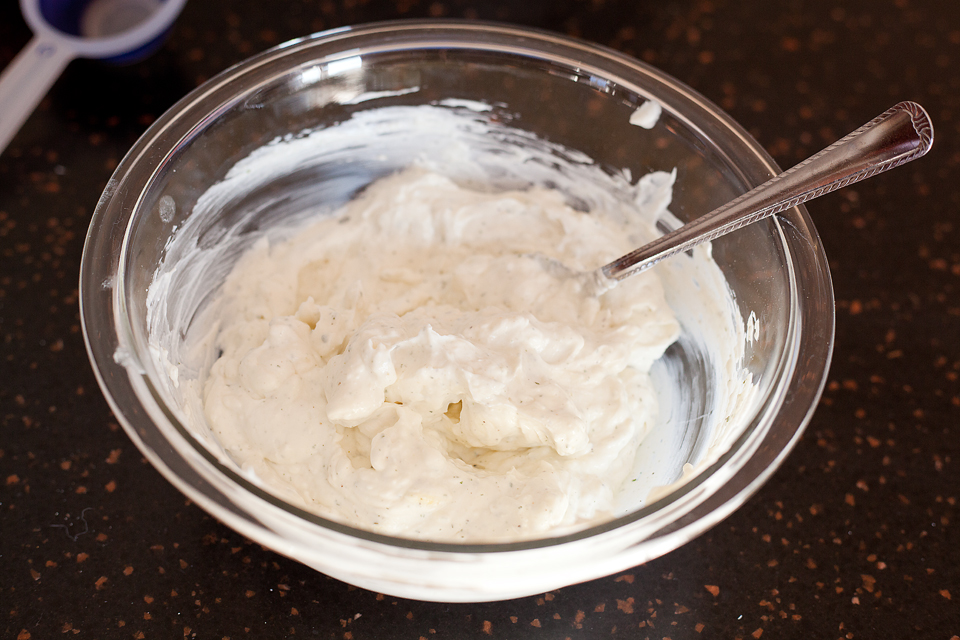 Mix everything until well combined.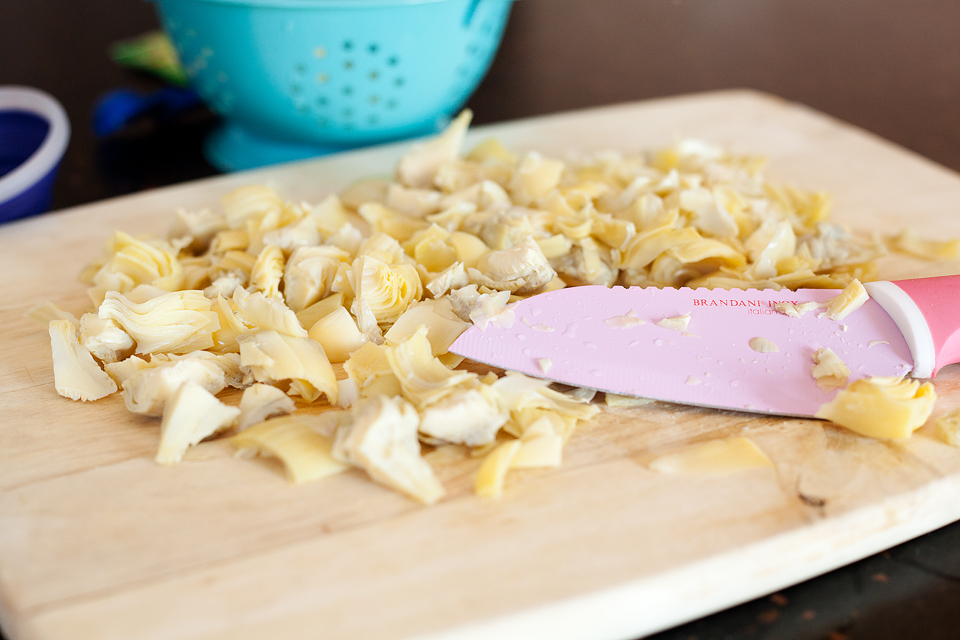 Now roughly chop your artichokes.
Stir in the artichokes, jalapeños, and jalapeño juice. You can add more juice depending on how spicy you want your dip.
Pour the mixture into your baking dish, and sprinkle the Parmesan cheese over the top.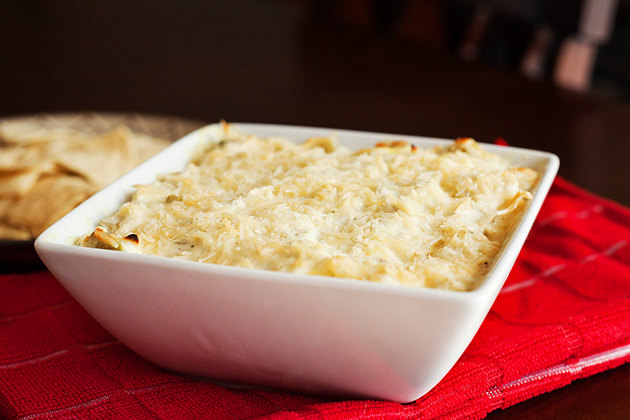 Bake for 30 minutes until the cheese is bubbly.
Now dive in with a nice, crunchy chip. Yum!
I'm so glad Jen shared her delicious recipe with us. This will be a great snack addition to any party spread. It would be just as delicious slathered on a chicken wrap, or grilled up in a toasty sandwich. There are so many possibilities! Head on over and visit Jen's blog, Peanut Butter & Peppers, where she shares her weight loss story and lots of fabulous looking healthy recipes.
Printable Recipe
See post on Jen @ Peanut Butter and Peppers's site!
Description
A hot, creamy, cheesy, spicy dip made with artichokes, jalapenos, cream cheese and ranch seasoning.
Ingredients
1 cup Greek Yogurt, Plain
½ cups Mayonnaise, Reduced Fat
4 ounces, weight Cream Cheese, Fat Free, Room Temperature
2 Tablespoons Ranch Seasoning (I Used Hidden Valley)
14 ounces, weight Canned Artichokes, Drained, Roughly Chopped
½ cups Jalapenos, Pickled, Drained, Sliced
2 Tablespoons Jalapeno Juice From The Jar (to Taste)
2 teaspoons Reduced Fat Parmesan Cheese
Preparation Instructions
Preheat oven to 350ºF. Spray an oven safe baking dish with cooking spray.
In a bowl, mix together yogurt, mayonnaise, cream cheese and ranch seasoning, until incorporated. Stir in artichokes and jalapenos. Add juice from jalapenos, to taste, adding more for a spicy dip. Sprinkle top with Parmesan cheese.
Place in oven and bake for 30 minutes until cheese is bubbly.


_______________________________________
Amber is a stay at home mom who lives in the heart of the Missouri Ozarks. It's a long way from where she grew up, in Wales (yes, way over in the U.K.). The recipes in her blog Sprinkled with Flour include her original creations as well as her family recipes. Go check them out!