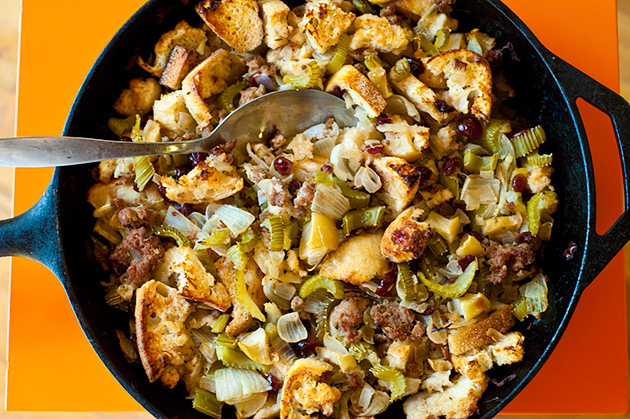 I think that stuffing might be my favorite holiday side. It is so versatile and goes with anything I can dream up. So when I saw a new stuffing recipe by mother-and-daughter tandem Kim and Kelsey, I decided it was definitely worth trying. One can never have too much stuffing in their life.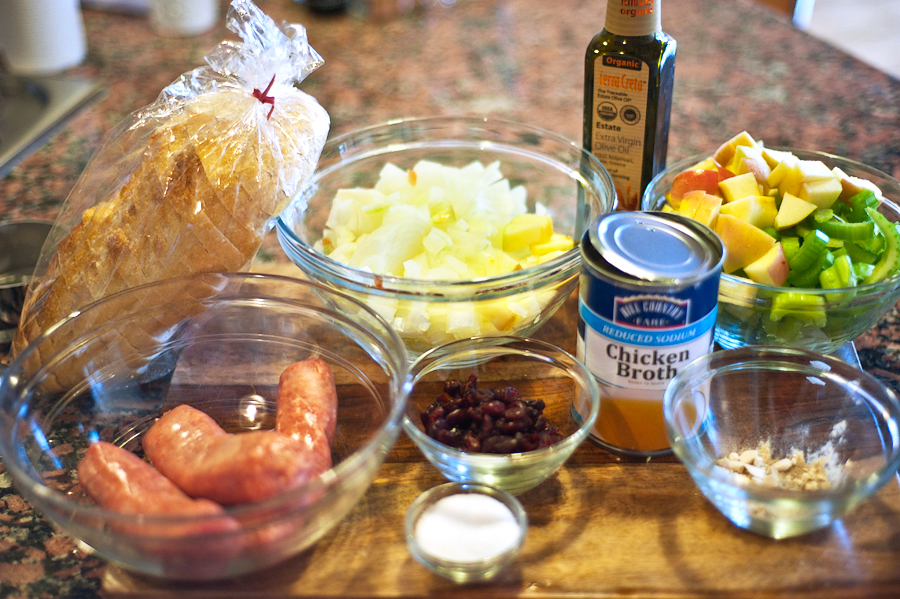 You will need: a loaf of bread, turkey sausage, olive oil, celery, onion, poultry seasoning (or your own favorite mix), salt, apple, dried cranberries, and chicken broth.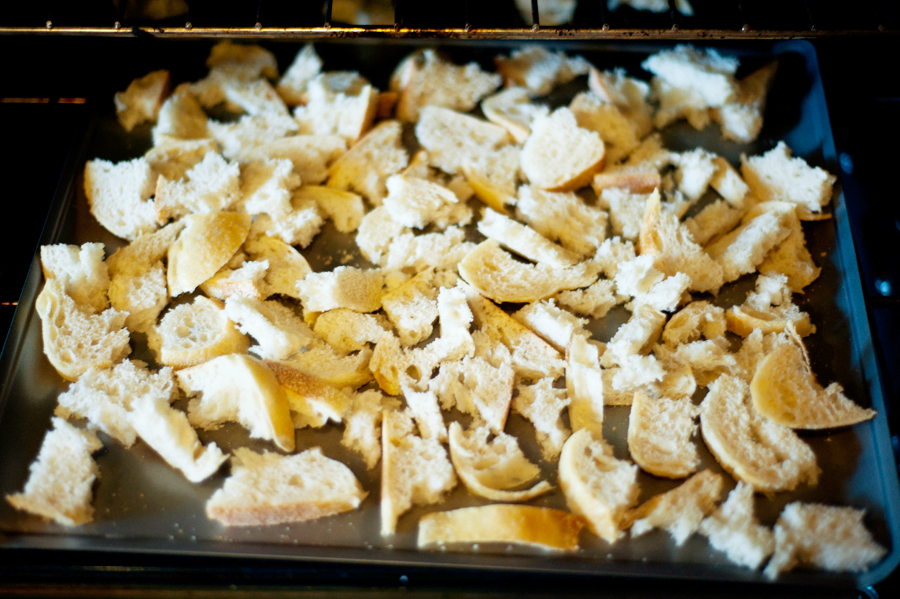 Begin by tearing the bread into small pieces and drying it out in a low oven until it is crunchy.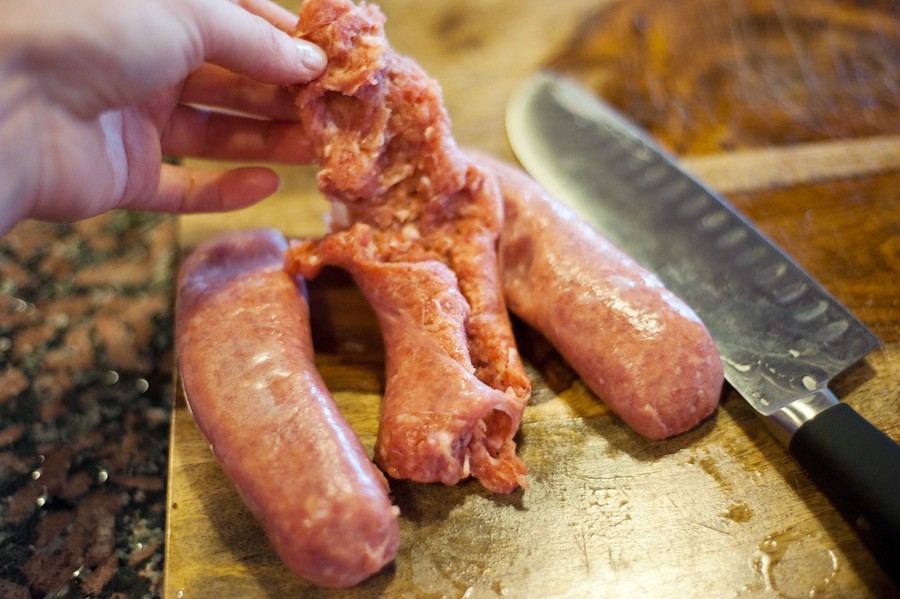 Meanwhile, open the sausage casings and remove the ground turkey.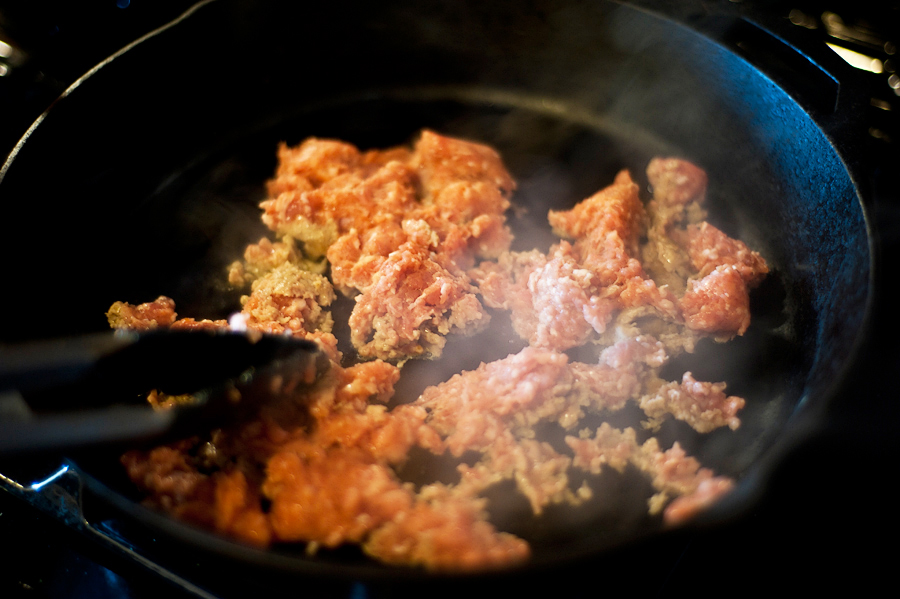 Sauté the meat in a bit of oil until it is nicely browned. Transfer it to a large bowl.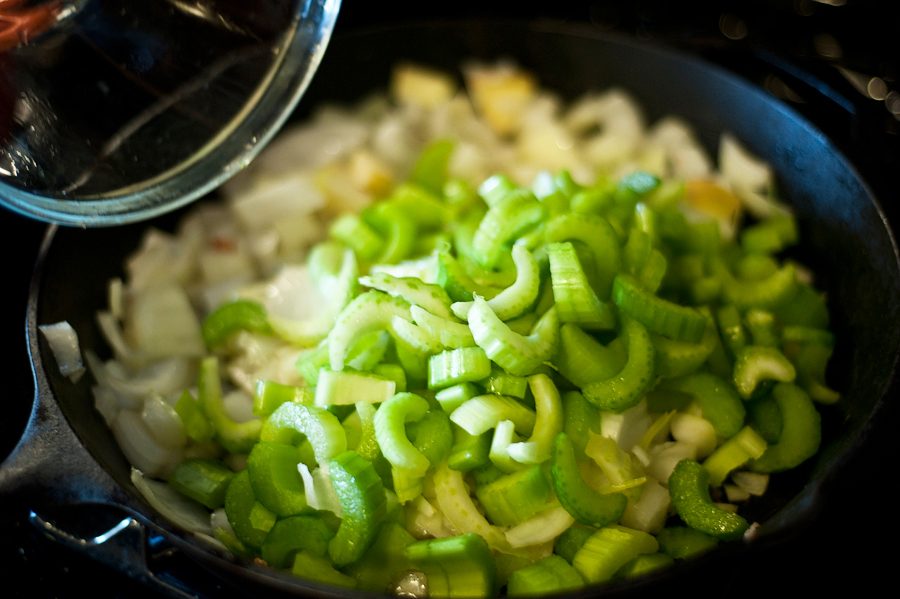 Next, sauté the onion and celery in a bit more oil until they are soft and translucent.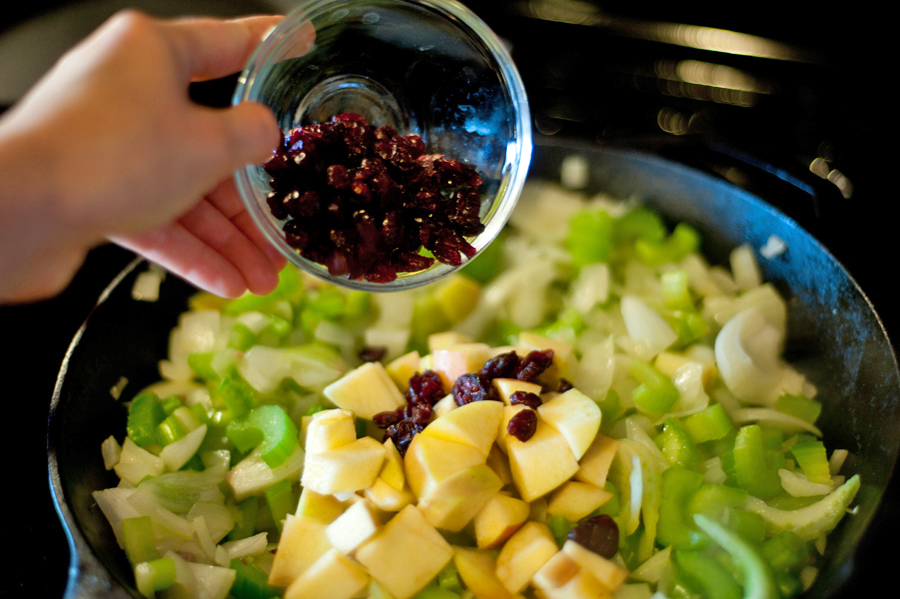 Finish by mixing in the apples and cranberries.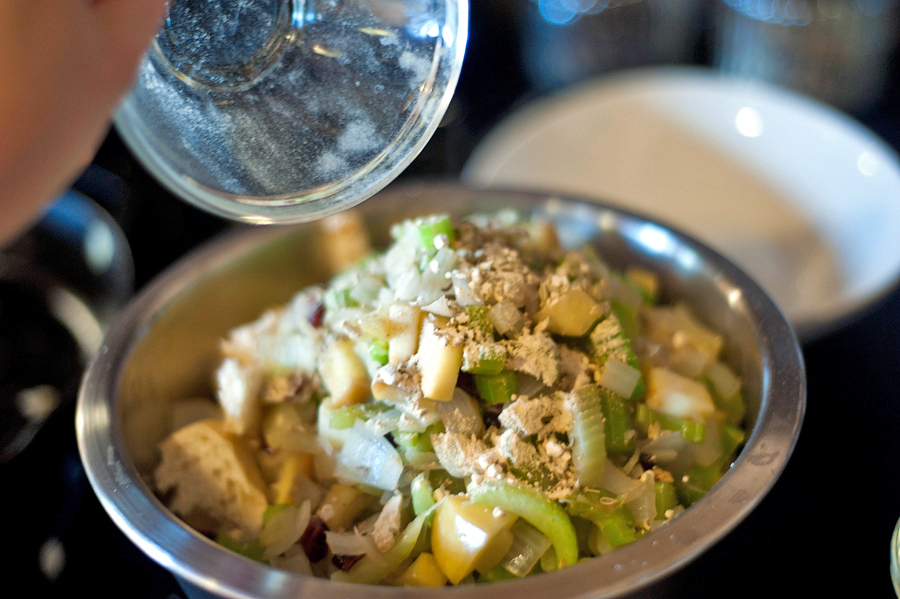 Transfer it all to the mixing bowl with the meat and add the bread.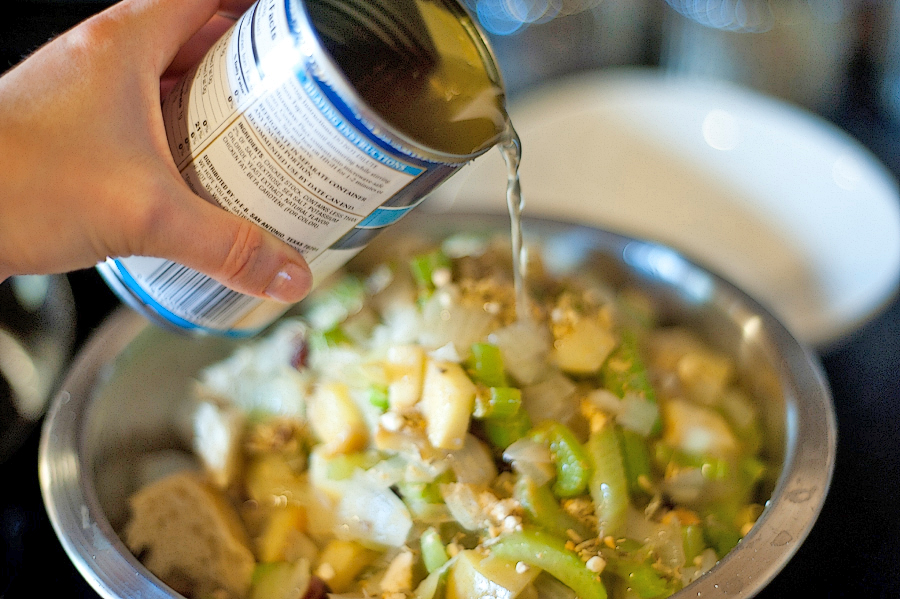 Pour in the stock and mix it all together with a large wooden spoon.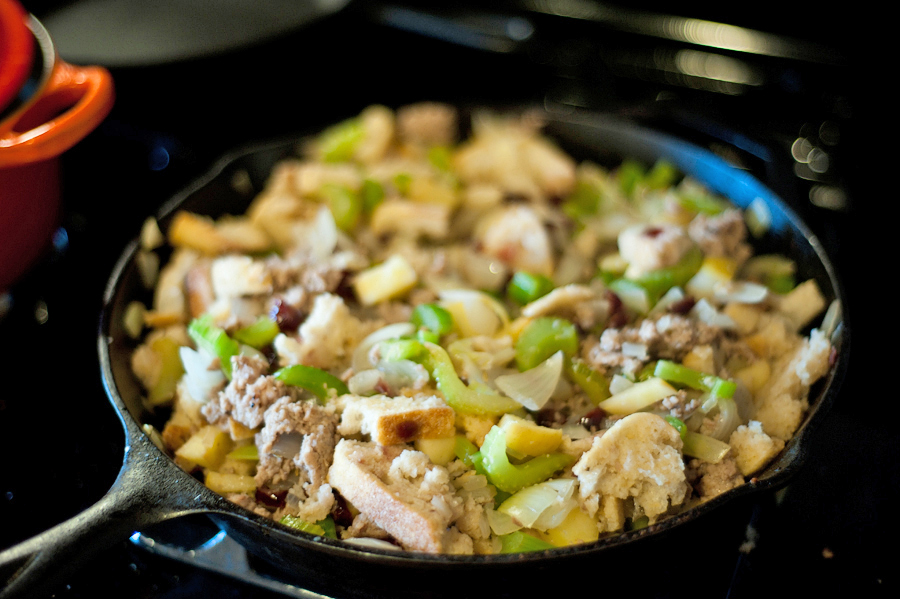 Transfer it into a baking dish or skillet and pop it in the oven.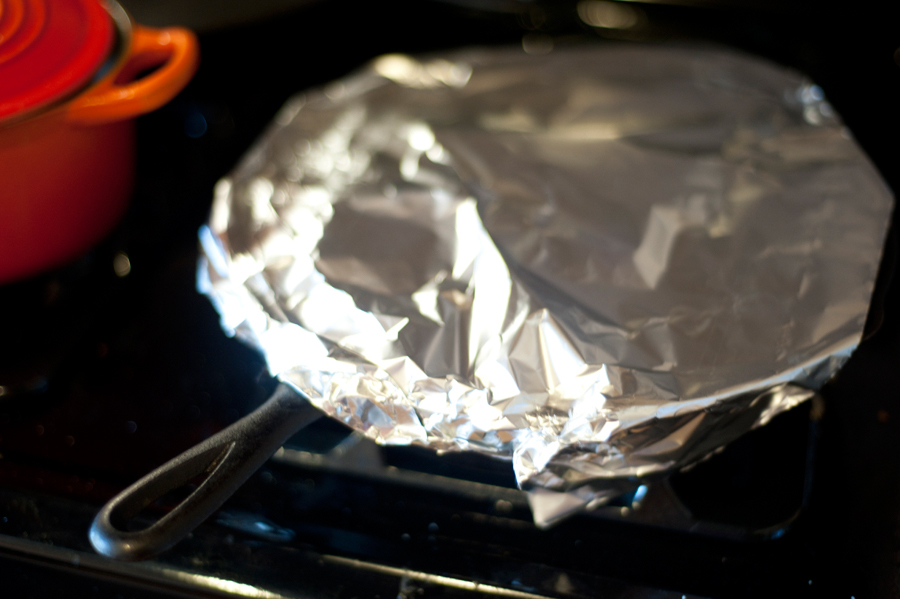 Cover it at first so it cooks through, then toward the end remove the foil so that the top browns.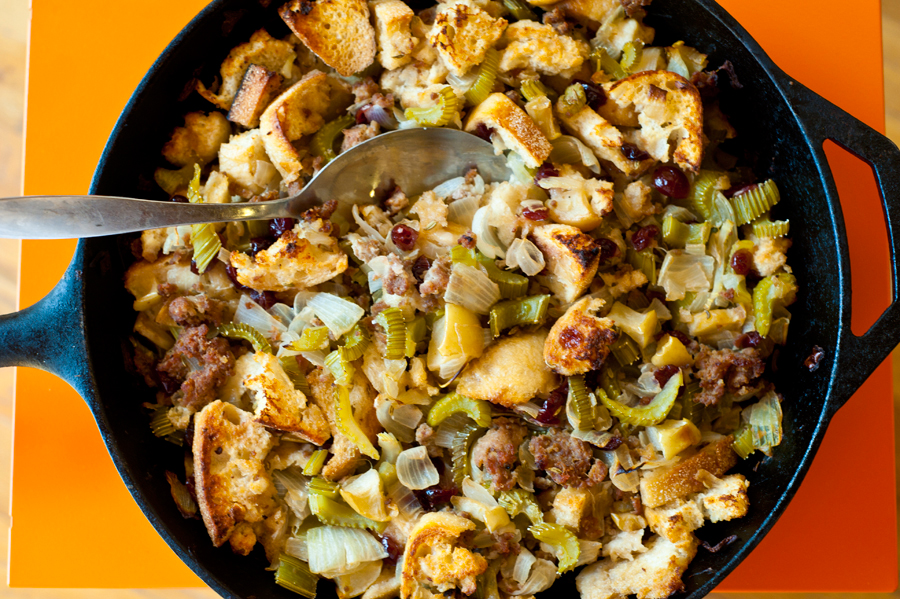 There's nothing like a stuffing with a crusty top!
Thank you to Kim and Kelsey for sharing this delicious stuffing recipe with us. There's nothing better. Check out their website K&K Test Kitchen for more deliciousness!
Printable Recipe
See post on kandktestkitchen's site!
Description
A healthy, delicious alternative to traditional stuffing.
Ingredients
1 loaf Harvest Grain Bread
3 pieces Turkey Sausage Links
2 Tablespoons Olive Oil
4 stalks Celery, Sliced
2 whole Onions, Diced
1 Tablespoon Poultry Seasoning
½ teaspoons Salt
1 whole Honeycrisp Apple, Diced
½ cups Dried Cranberries
½ cups Low Sodium Chicken Broth
Preparation Instructions
Cut the bread into cubes. Try to remove most of the crust. Toast the bread cubes for 15 minutes at 350°F, flipping them once. Put the bread into a large bowl.
While you are toasting the bread, cook the sausage. Heat a medium skillet over medium-high heat. When the skillet is hot, remove the sausage from the casing and add it to the skillet. Cook it, breaking it into small pieces, until it is cooked through. Add the sausage to the bread cubes.
Add the olive oil to the skillet, and then add the celery, onions, poultry seasoning, and salt. When the celery and onions begin to soften, add the apples and cranberries. Cook for another 5 minutes.
Add the celery, onion, apple mixture to the sausage and bread. Pour the chicken broth over everything and mix it well. Transfer the stuffing to a buttered casserole dish, with a lid or covered in aluminum foil, and cook for 20 minutes at 400°F. Uncover and cook for another 15 minutes.
Alternatively, you could stuff the stuffing into your turkey. In that case, let the stuffing come to room temperature before you stuff the turkey (never put hot stuffing in the bird!).


_______________________________________
There's so much to say about Georgia, we don't know where to start. Leaving Wall Street for the French Culinary Institute, followed by a stint at the Gramercy Tavern and La Chassagnette in France, her passion for food and food traditions are evident and inspiring. Visit her site at Georgia Pellegrini, where you'll find more recipes, photos, learn all about her wonderful books Girl Hunter and Food Heroes, and enjoy her latest adventures.