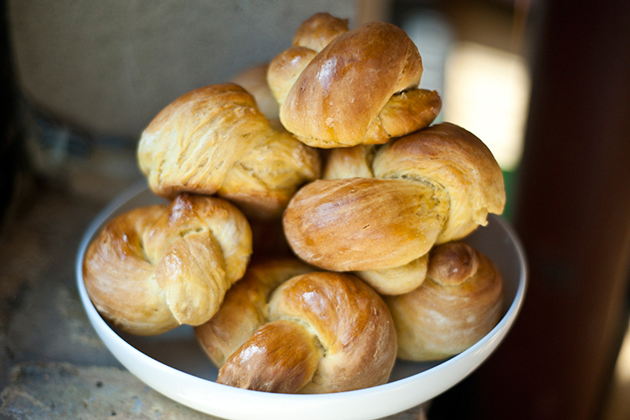 These rolls, a variation of the Sweet Potato Garlic Knots from Tasty Kitchen members Neil and Jessica, were so fun and easy to make. I loved that you could use pumpkin puree or sweet potato puree and how well they fit in to a holiday dinner. And they're beautiful, too!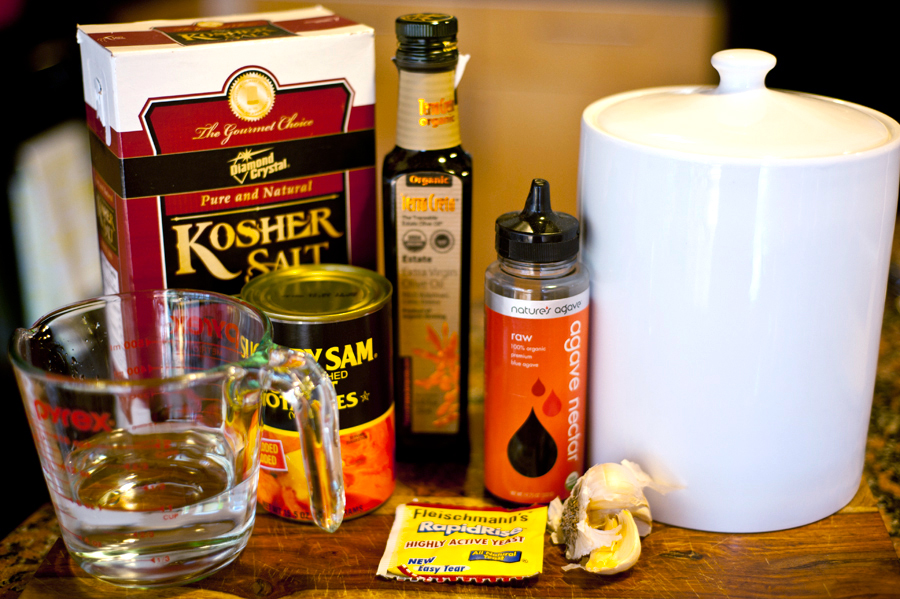 To make them you will need: warm water, active dry yeast, honey or agave nectar, olive oil, sweet potato or pumpkin puree, flour and salt. If you want to make the original version, you'll need some garlic, too.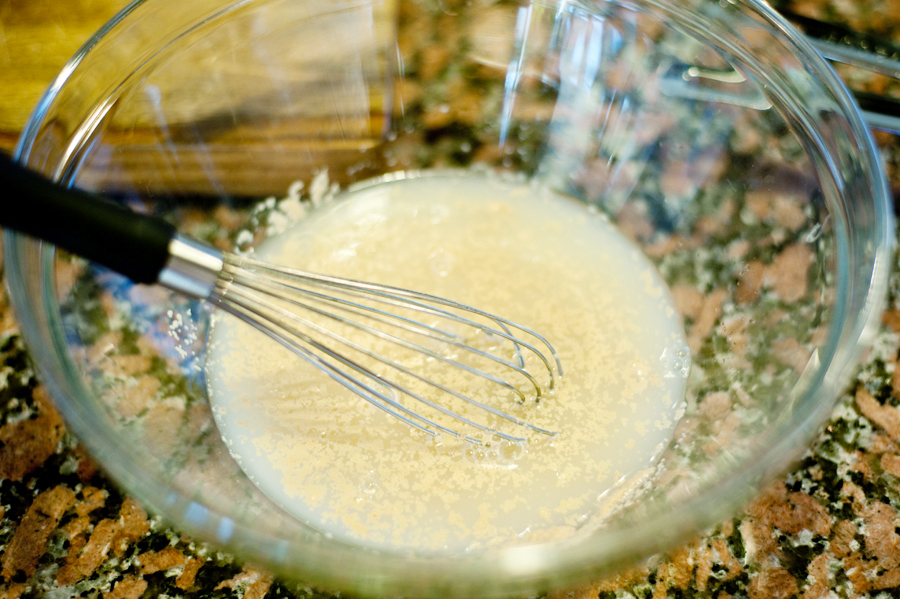 Begin by mixing warm water and yeast together in a bowl. Let it sit to activate the yeast.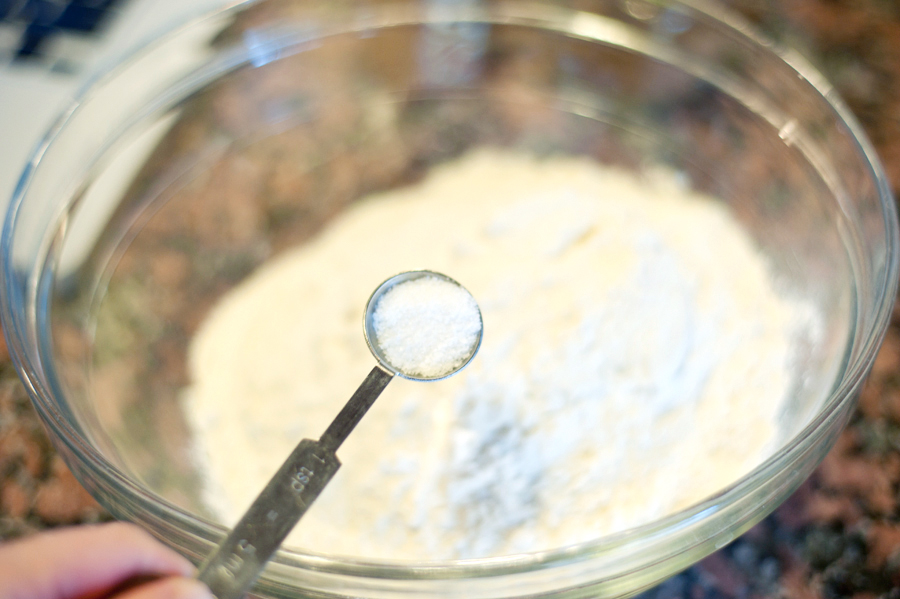 Meanwhile, mix together the dry ingredients: salt and flour.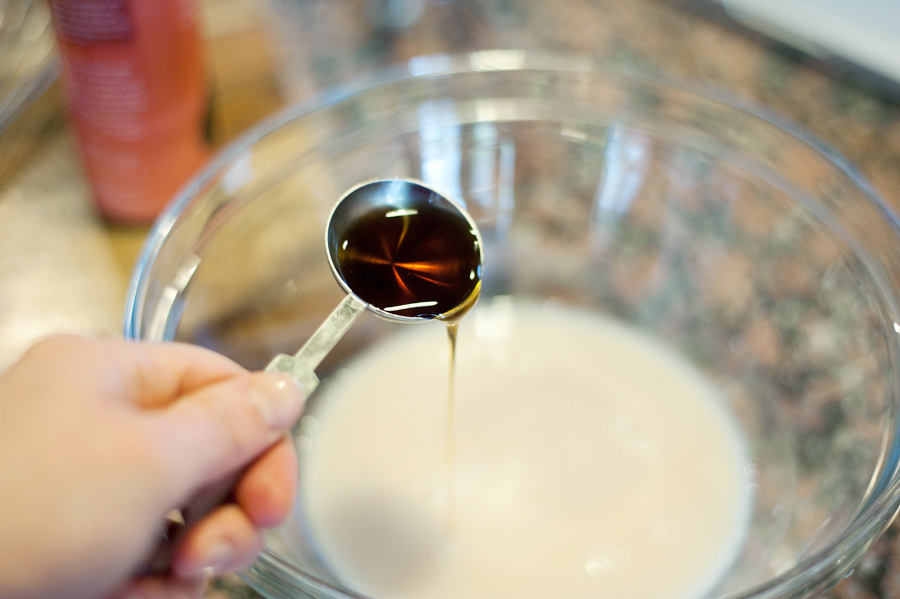 Then when the yeast and flour have developed, finish combining your wet ingredients to the yeast and water mixture, including the agave …
Olive oil …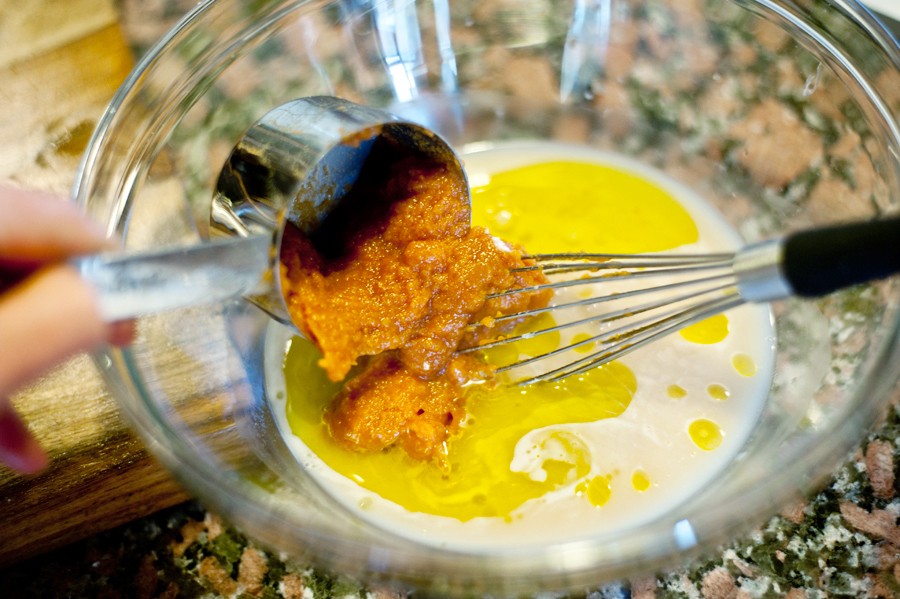 And sweet potato puree. Mix them well.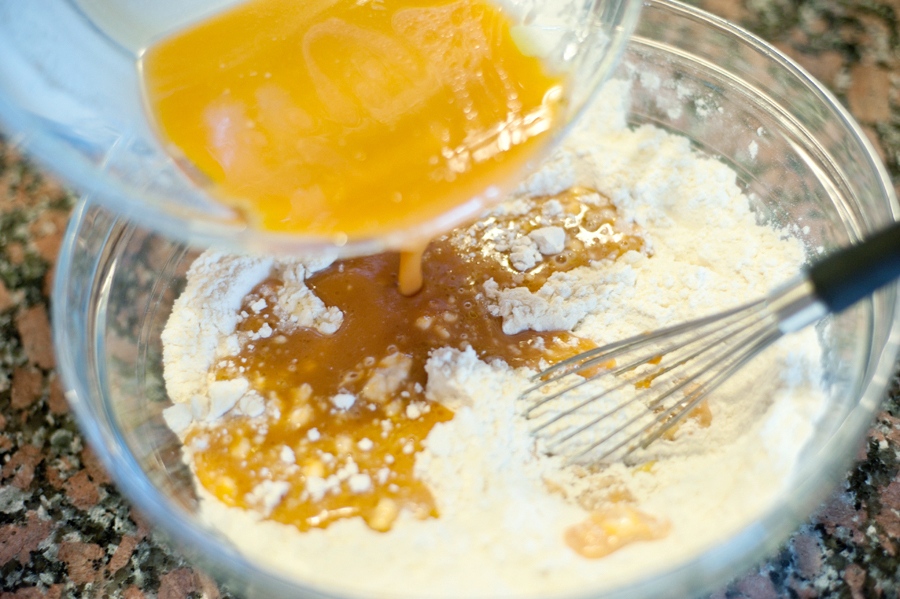 Combine the wet ingredients into the dry ingredients and mix them well.
Create a uniform ball with your hands, making sure to gather all of the dry bits from the bowl.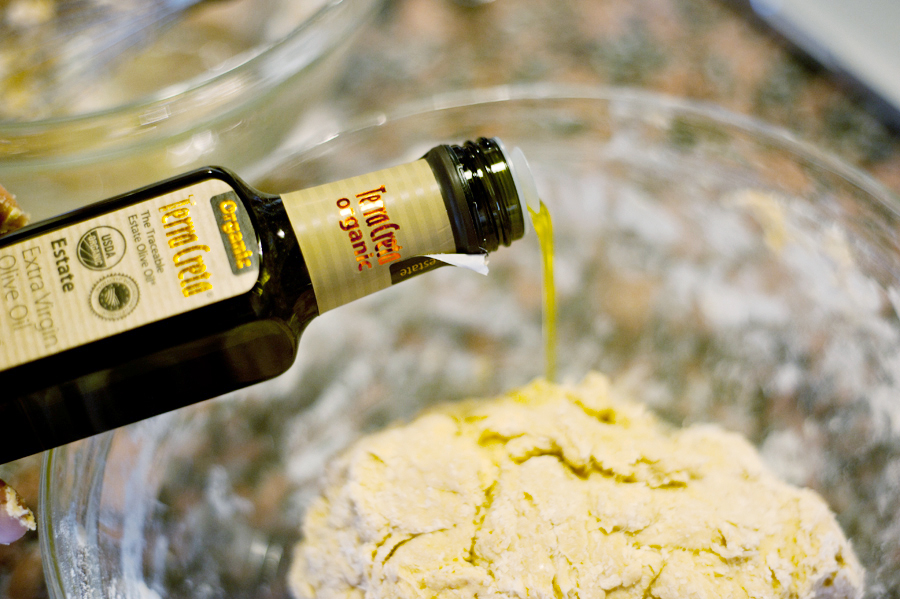 Drizzle a bit of olive oil and rub it around to keep the surface from drying out.
Then cover with a wet paper towel and let rise for 2 hours.
It will have about doubled in size when it is ready.
Divide the dough into small balls that will fit into the palm of your hand.
Roll them out into long pieces …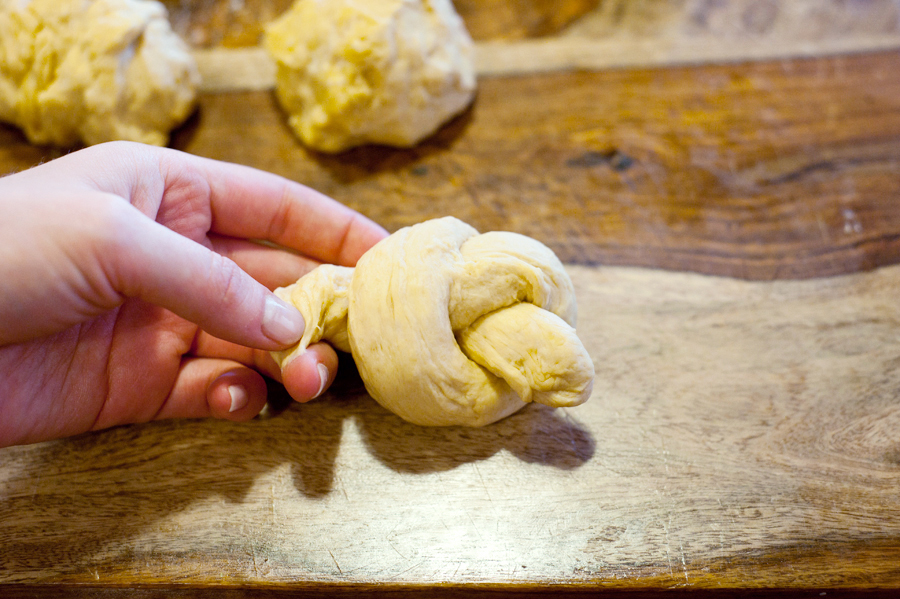 And then tie your knots! Tuck in the ends, too.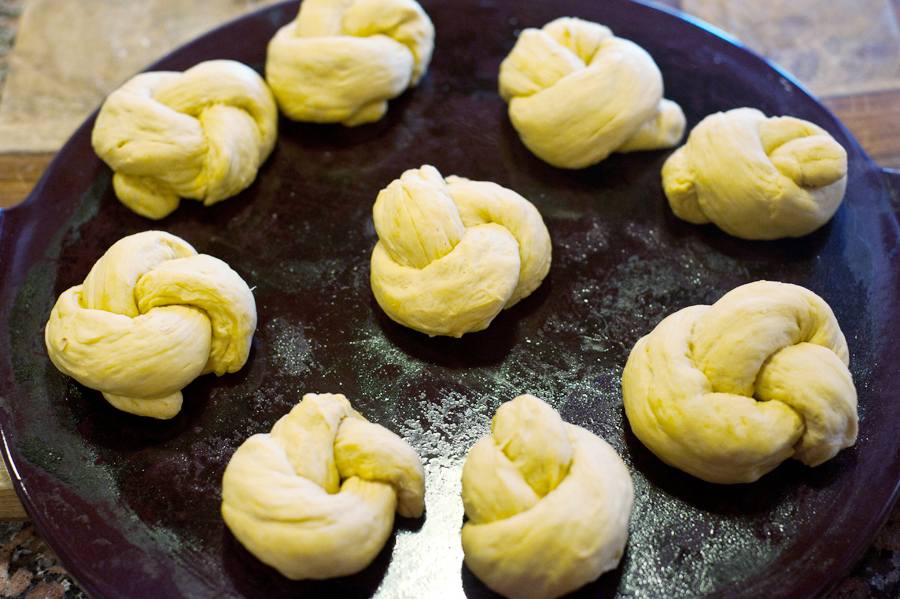 Place them on a pizza stone if you have one, so they become crispy on the outside, and bake for 10-15 minutes until they are golden brown.

When they are ready, you can brush them with olive oil. If making garlic knots, brush with a mixture of olive oil and minced garlic.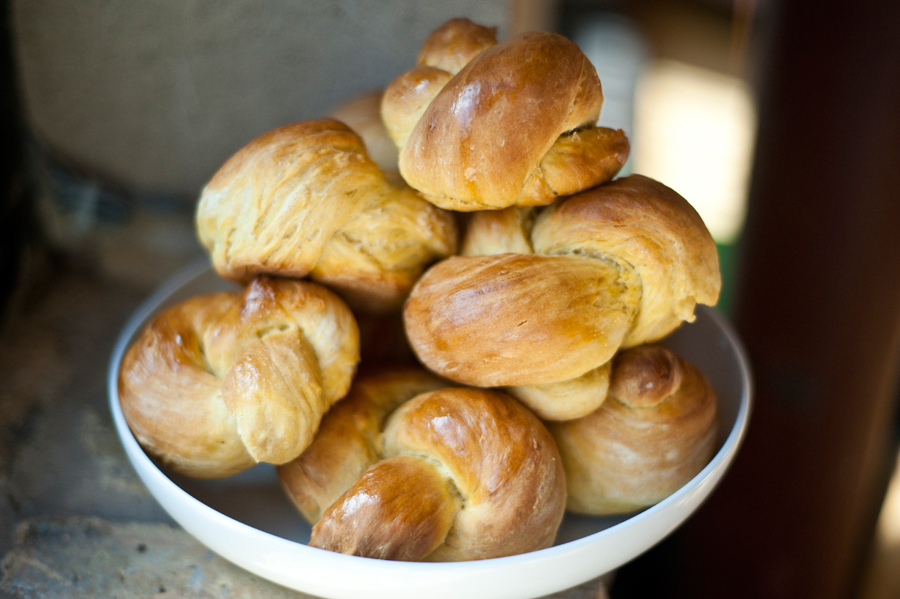 They are a beautiful color and shape, delicious, and perfect for a holiday meal. Thank you to Neil and Jessica for sharing this with us! Check out their website Kohler Created for other delicious recipes.
Printable Recipe
See post on Neil and Jessica [at] Kohler Created's site!
Description
Easy Sweet Potato Garlic Knots.
Ingredients
1 cup Warm Water
1 envelope (7g Envelope) Active Dry Yeast
2 Tablespoons Honey Or Agave Nectar
2 Tablespoons Olive Oil,, Plus More To Oil The Bowl
½ cups Sweet Potato Puree (fresh Or Canned)
3-½ cups Unbleached Bread Flour
1-½ teaspoon Coarse Kosher Salt
Minced Garlic And Olive Oil, To Brush On Baked Knots
Preparation Instructions
Note: To make sweet potato puree, wash and peel sweet potato and cut into 1-inch squares. Place in a large pot and add enough water to cover. Bring to a boil over high heat and boil for 20-25 minutes or until soft. Remove from heat and drain into a colander and return to the pot. Mash and allow them to sit while you prepare your other ingredients.
1. Pour warm water into a medium bowl and slowly whisk in yeast. Let sit for 10 minutes, then add honey, olive oil and mashed sweet potato. Whisk until thoroughly combined and smooth.
2. In a separate bowl, mix flour and salt. Slowly stir in wet ingredients and continue to stir until it becomes impossible to stir more. Then use your hands to continue mixing and slowly start kneading your dough, adding more flour to your hands to keep it from sticking.
3. Once you've created your dough ball, add olive oil to the bottom of your bowl and roll the dough ball in it until it is coated. Cover with Saran wrap or a damp towel and store in a dry place (I use my microwave) for two hours.
4. Around the last 15-minute mark, preheat your oven to 425 degrees. Divide your dough into pieces you can easily hold in your fist and roll them into long strips around 8 or 9-inches long. Don't worry if they're skinny, they'll still get fat when they bake. Tie each into a knot, tuck the edges under each side, then place each on the pizza stone.
5. Bake until golden, around 10-15 minutes. Brush with minced garlic and olive oil immediately after removing from oven. Allow to cool 3-5 minutes.


_______________________________________
There's so much to say about Georgia, we don't know where to start. Leaving Wall Street for the French Culinary Institute, followed by a stint at the Gramercy Tavern and La Chassagnette in France, her passion for food and food traditions are evident and inspiring. Visit her site at Georgia Pellegrini, where you'll find more recipes, photos, learn all about her wonderful books Girl Hunter and Food Heroes, and enjoy her latest adventures.