Is there anything that epitomizes autumn more than soup made of sweet potato or butternut squash? After a brisk walk through crunchy leaves, bright colors muted and cheeks pink with the chill, nothing warms you to your toes more than a bowl of hearty soup. And the beauty of this Roasted Sweet Potato & Quinoa Soup from Tasty Kitchen member Tara Noland? There's no cream, so it can be filed under the comforting-bu-healthy category.
Now, let's get cooking.
Here's what you'll need for this recipe: a large sweet potato, olive oil, carrots, half of a sweet onion, garlic, vegetable broth, quinoa (though it's going to be pre-cooked, unlike what's shown in this picture), a little butter, panko breadcrumbs and Parmesan cheese. Oh yes, and some salt and pepper.
Preheat the oven to 400ºF. Peel and dice the sweet potato (about ¾-inch cubes).
Place the cubes on a baking sheet and give them a nice little rub with some olive oil and salt.
Roast the sweet potatoes in the oven until they are tender when pierced with a fork, about 20 minutes.
Heat the remaining olive oil in a large saucepan set over medium heat. Add the chopped carrots, sweet onion and garlic, and sauté until the vegetables are tender. Add the sweet potatoes and stir to combine.
Pour in the vegetable or chicken broth and give it a stir. Bring the mixture to a simmer and cook until the vegetables are very tender, 20 to 30 minutes.
Now it's time to pull out the blender. But first, allow the soup to cool for at least 10 minutes. Believe me, you don't want to skip this step. (Hot, pureed sweet potatoes do not look good on the ceiling when the lid of the blender blows off!) Of course, you could also use a handheld blender for this job.
Puree the cooled vegetable mixture until it is smooth.
Return the pureed soup to the saucepan, stir in the cooked quinoa and add salt and pepper, to taste.
And now for a quick topping. Don't skip this step; it really adds some great texture to the soup.
Melt a little butter in a small skillet. Add the panko breadcrumbs and cook, stirring frequently, until light golden brown. Stir in the Parmesan cheese.
Divide the soup between bowls and top each portion with some of the toasted breadcrumbs and minced parsley. Serve it up!
Thanks so much to Tara for this recipe. Be sure to check out Tara's blog, Noshing with The Nolands for more mouthwatering recipes (I have my eye on her apple crisp with caramel sauce).
Printable Recipe
See post on Tara Noland @ Noshing With The Nolands's site!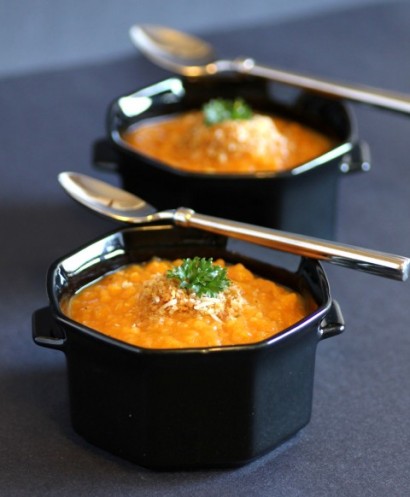 Description
This is where healthy and tasting great meet!
Ingredients
1 whole Very Large Sweet Potato
3 Tablespoons Olive Oil, Divided
½ whole Large Sweet Onion, Diced
2 whole Carrots, Diced
1 clove Garlic (large), Minced
32 ounces, fluid Chicken Or Vegetable Stock
Sea Salt And Pepper, To Taste
1 cup Cooked Quinoa
1 Tablespoon Butter
½ cups Panko Crumbs
⅓ cups Parmesan Cheese, Finely Grated
Parsley, To Garnish
Preparation Instructions
Preheat oven to 400ºF.
Peel and large dice sweet potato. Place sweet potato on a rimmed baking sheet and drizzle with 2 tablespoons olive oil and sea salt. Roast in the oven for 20 minutes.
In a large pot, heat the remaining tablespoon of oil and saute onion, garlic, and carrot until tender. Add potato to the onion mixture and add the chicken stock. Simmer for 20-30 minutes until all vegetables are completely tender. With a hand blender or standing blender, mix until pureed. Adjust seasoning. Add quinoa and reheat.
For the panko topping, melt the butter in a small fry pan and add the panko and cook until lightly browned. Add the Parmesan and stir to combine.
Top each bowl of soup with the panko crumbs and garnish with the parsley.


_______________________________________
Dara Michalski is a doll and a sweetheart who clearly knows her way around the kitchen. She blogs at Cookin' Canuck, where she shares her flavor-packed recipes and fun, engaging writing. The photography's pretty incredible, too.