One of the many things I love about living in Michigan (besides having a baseball team in the World Series *wink* GO TIGERS!) is the many cider mills. They usually have  hayrides, lots of fresh pressed apple cider, paper bags full of a variety of crisp apples and let's not forget those freshly fried doughnuts, which are personally my favorite.
Aimee's recipe for Apple Cider Donuts pretty much has all the above wrapped into one delicious doughnut. See, the apple cider is actually IN the doughnuts and they're baked, which for some people (meaning me) is a lot less stressful then deep frying. But all this goodness doesn't just stop there.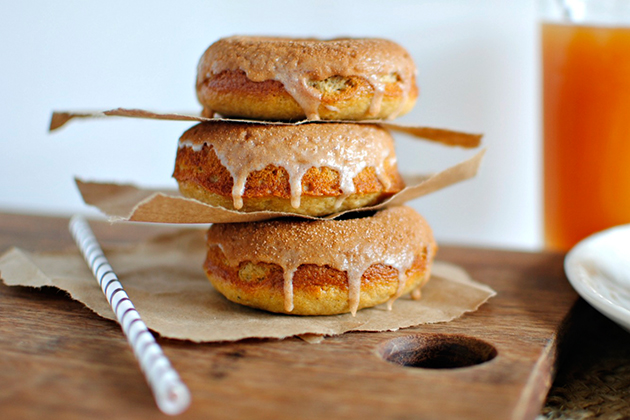 After the doughnuts cool, you dunk them into the most delicious glaze. And even that has cider in it—and it's beyond amazing. And just when you think you're done, you're not. After you dunk the doughnuts in the cider glaze, you dip them in cinnamon sugar. I'm not joking. It gives your teeth a little textural "crunch" before they sink into the soft glaze-dripped doughnut. Oh.My.Word.
Now scroll down and see for yourself. I just hope you have cider on hand because I'm pretty certain you'll want to make these as soon as possible!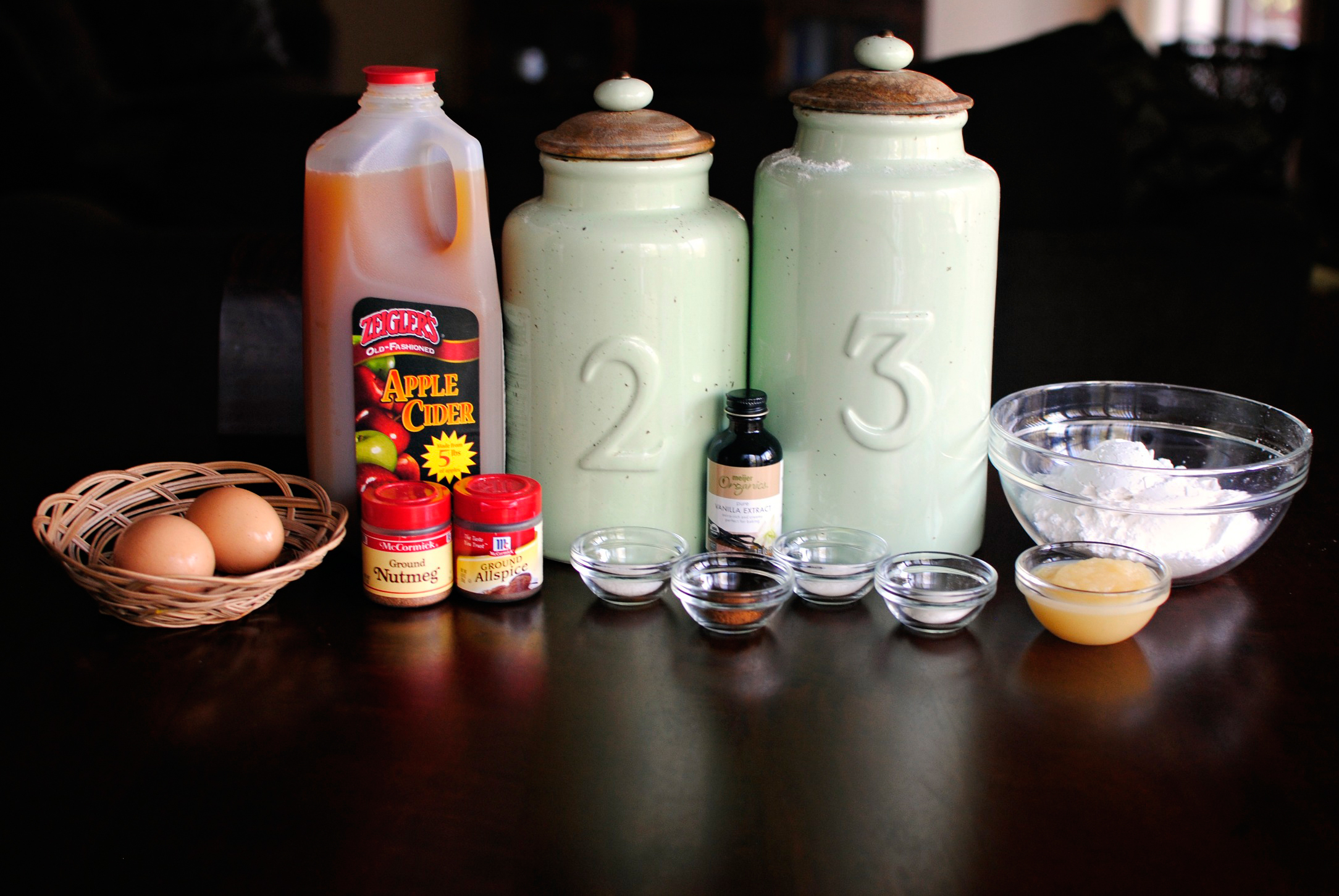 The ingredients are pretty simple and straightforward. Besides picking up the apple cider, I had everything else on hand.
 





Start by combining the all-purpose flour, sugar, baking powder, baking soda and salt in a large mixing bowl.

Then measure and add in nutmeg and allspice, then ground cinnamon. This right here smells amazing already!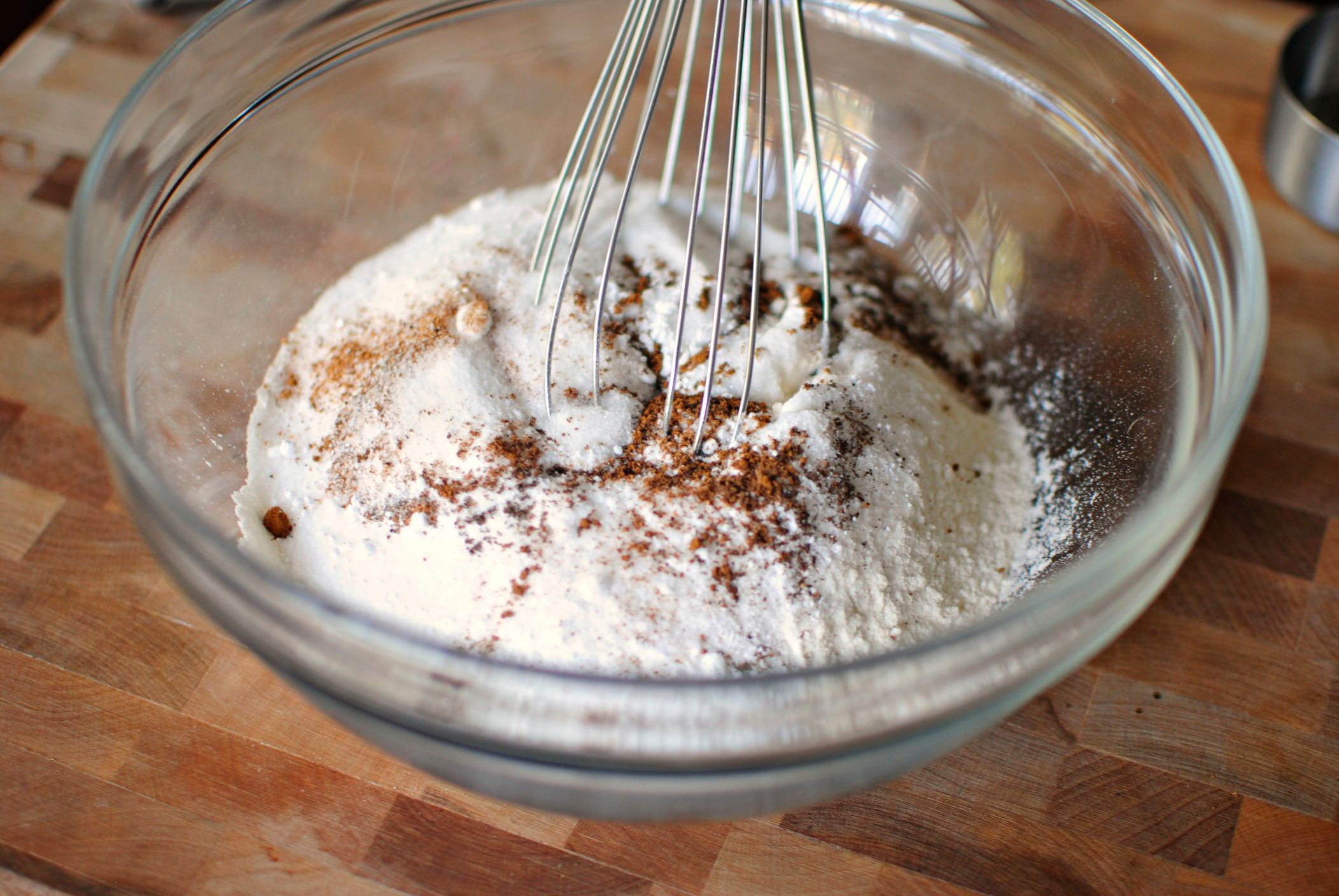 Give it a good whisk or stir to break up any lumps and so everything is blended. Scoot that off to the side for just a moment.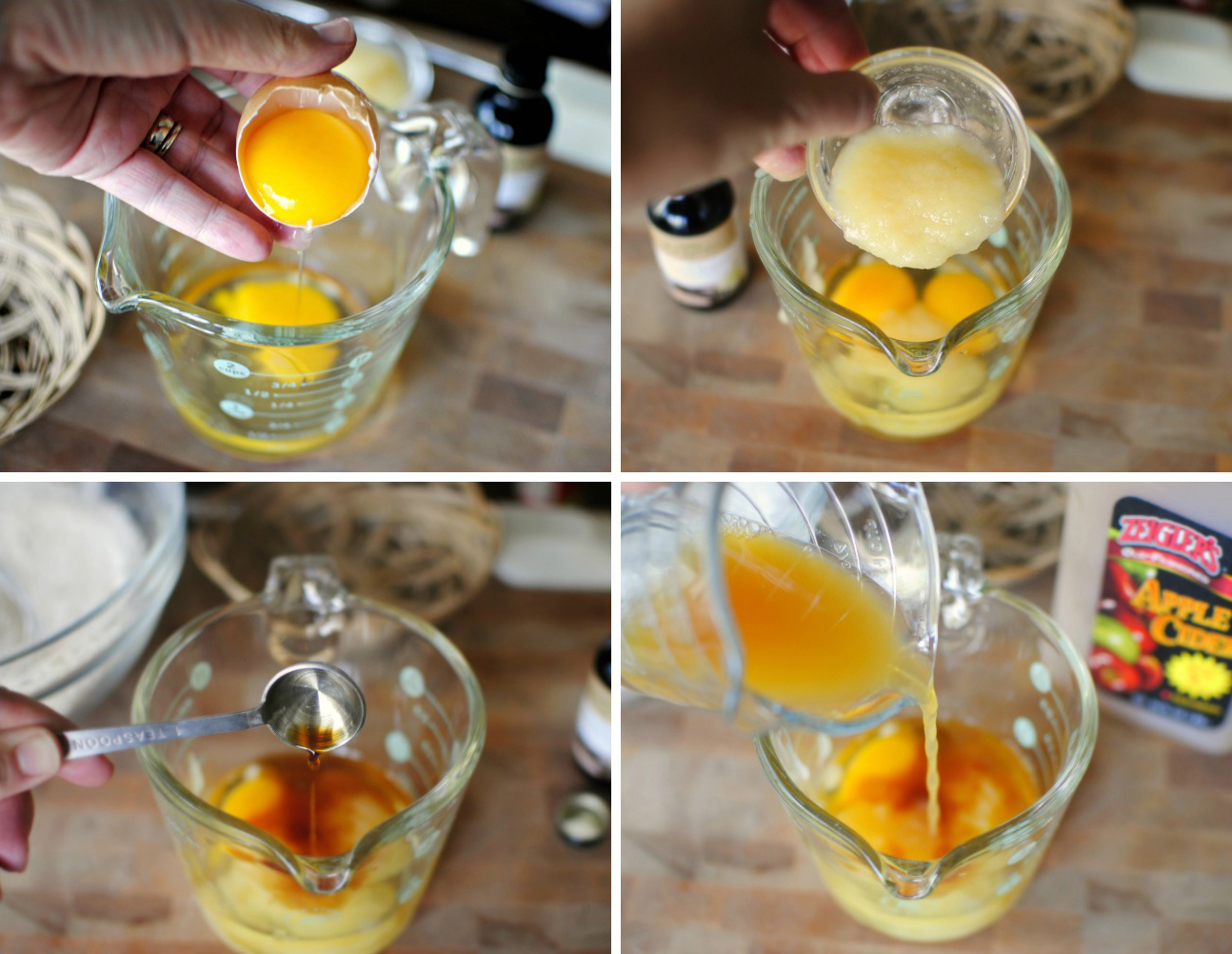 You could do the next step directly in the same bowl and not bother dirtying another bowl, but I couldn't help myself. Combine eggs, applesauce (I used unsweetened), real vanilla extract and then pour in the apple cider.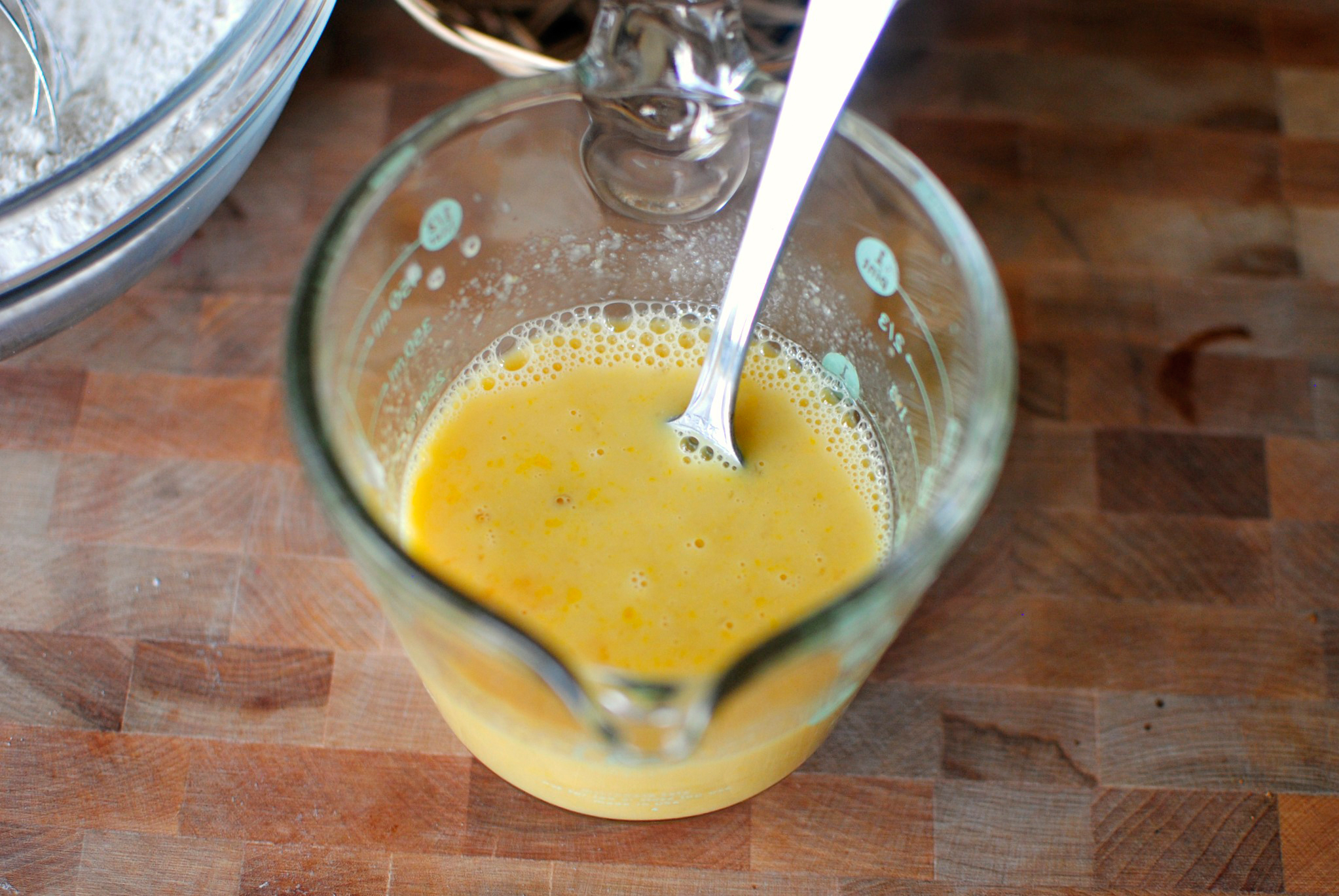 I combined all these ingredients by using a fork just until the eggs were whipped.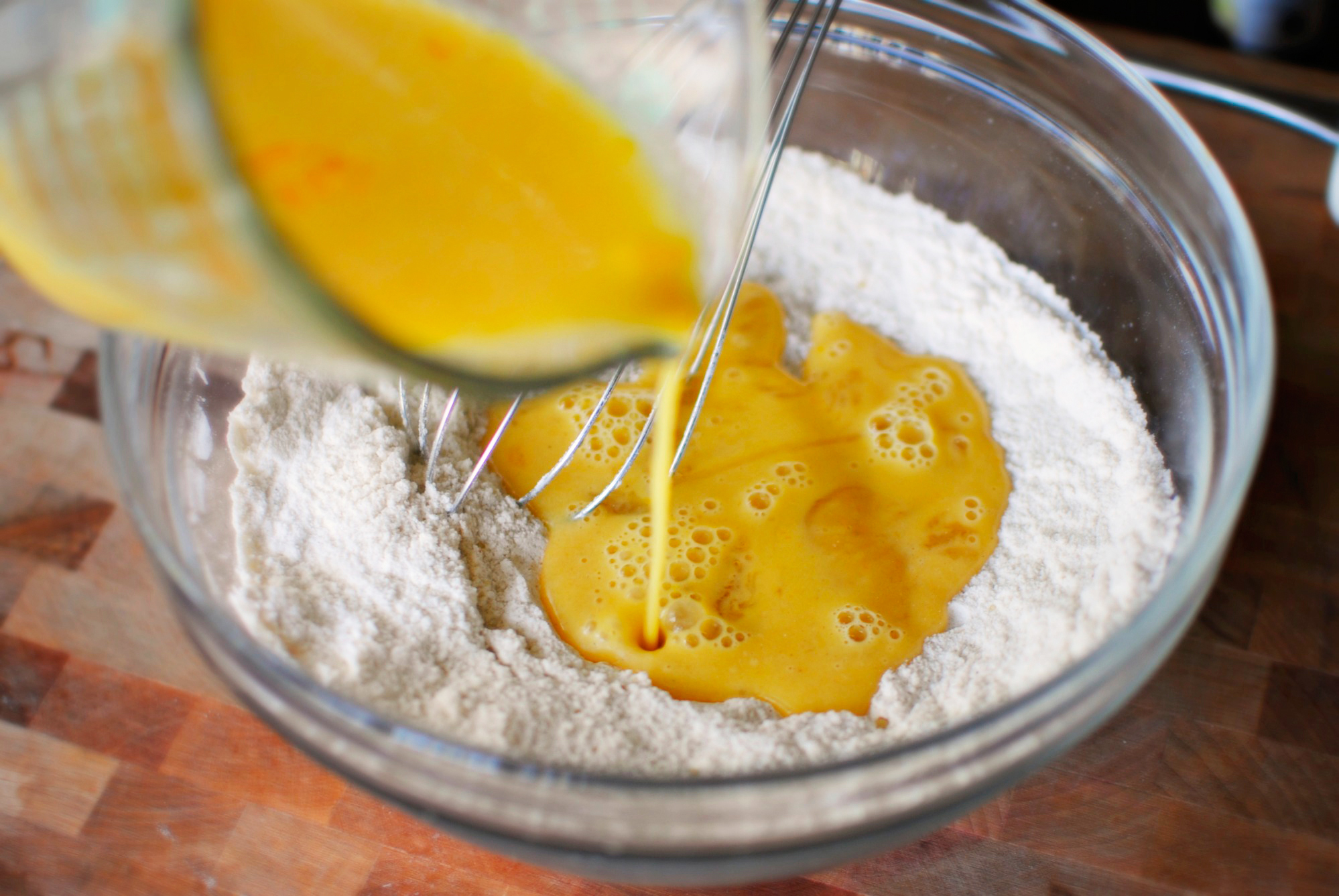 Since I used a different bowl for the wet ingredients, I then poured the wet ingredients into the dry.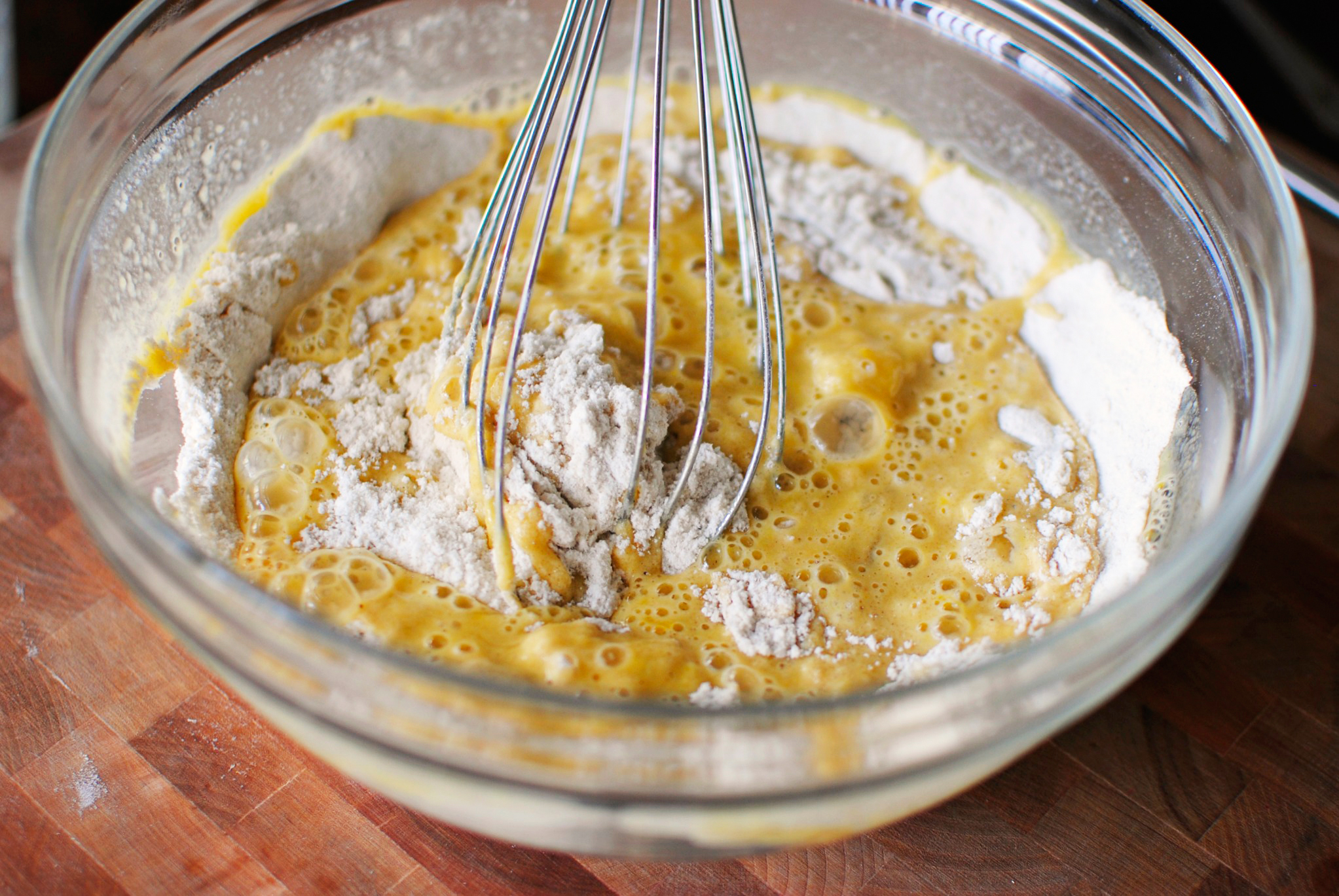 Stir until combined. Easy-peasy.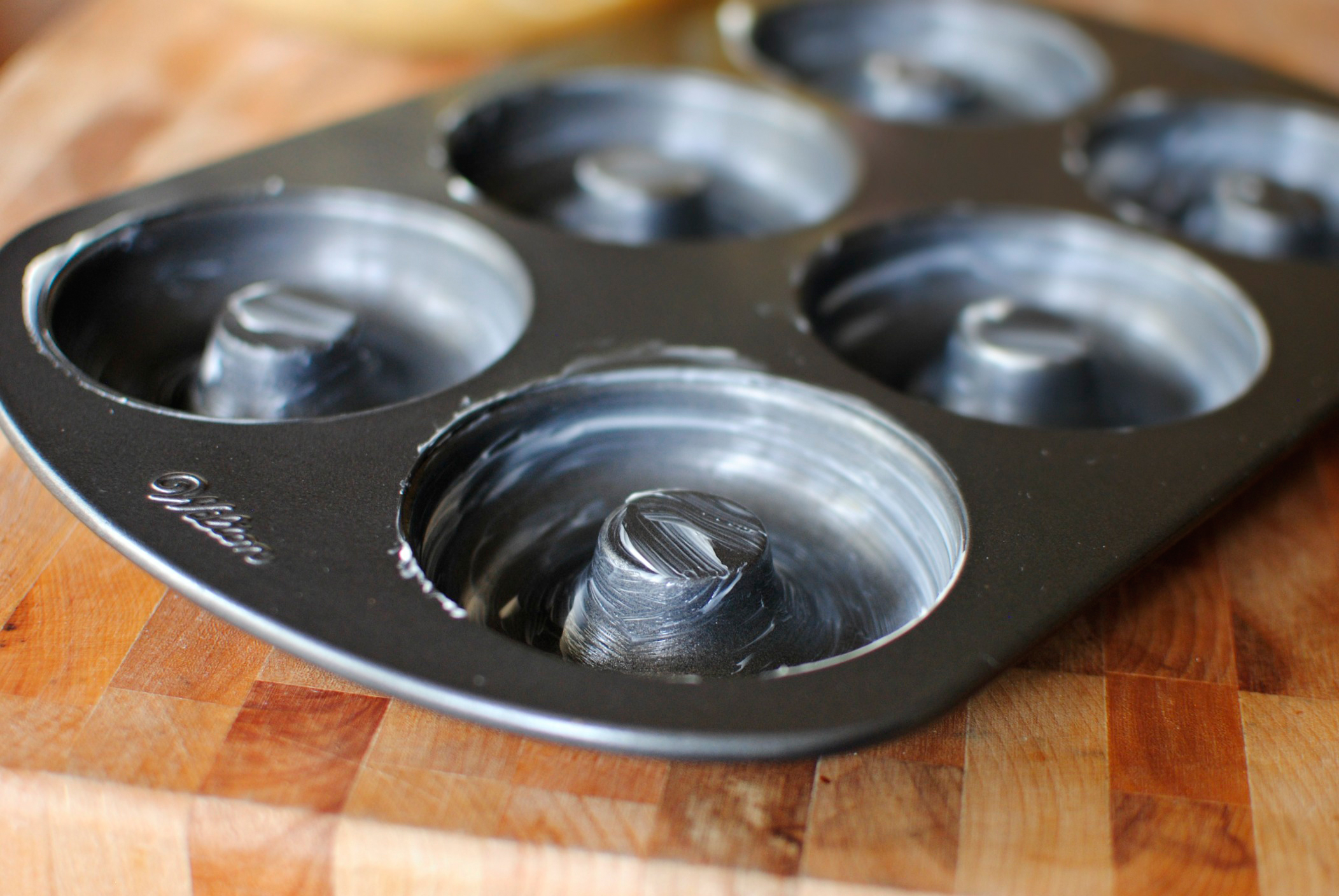 I quickly and heavily buttered my doughnut pan, so I didn't risk these doughnuts sticking.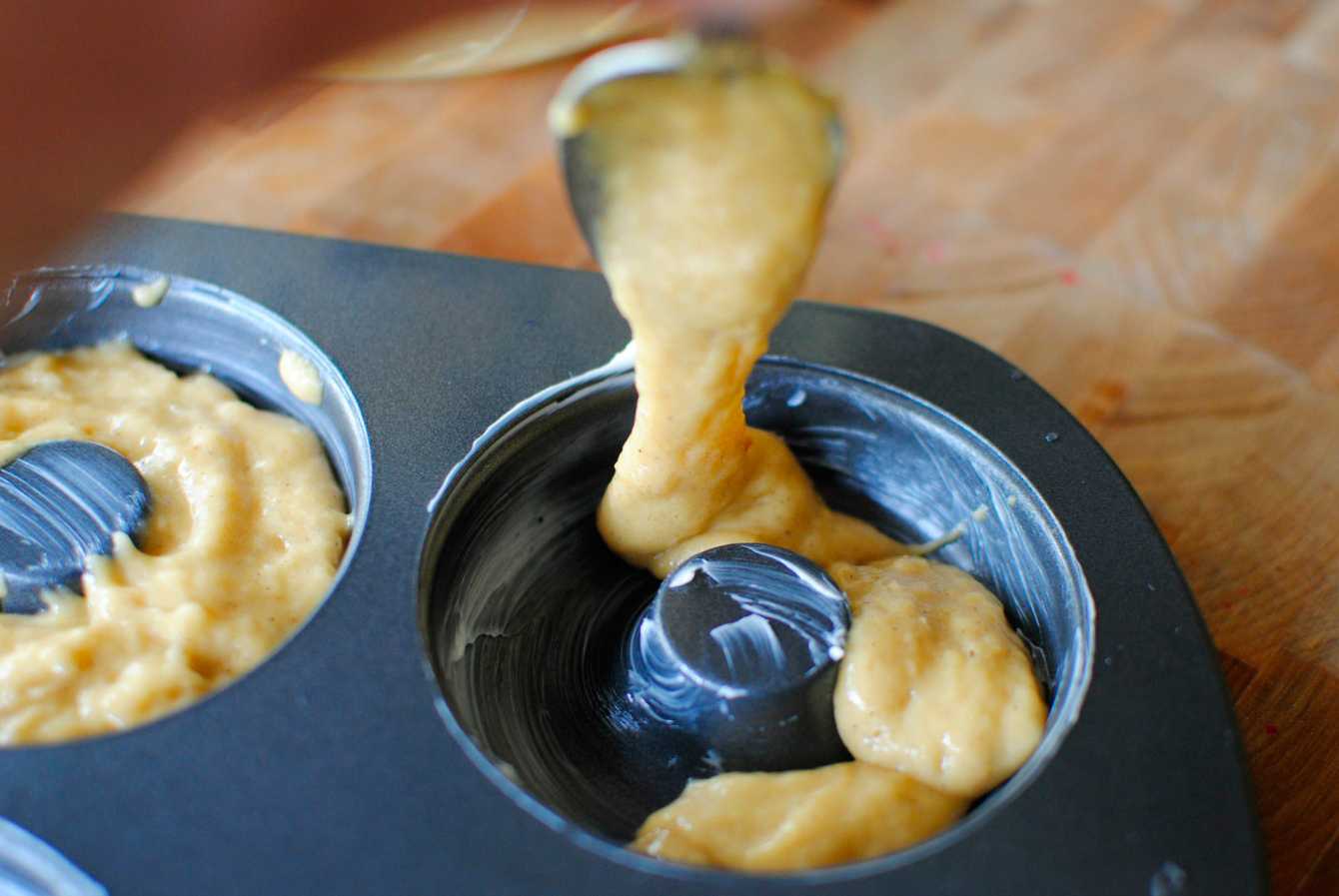 Then I used a spoon and filled each doughnut section.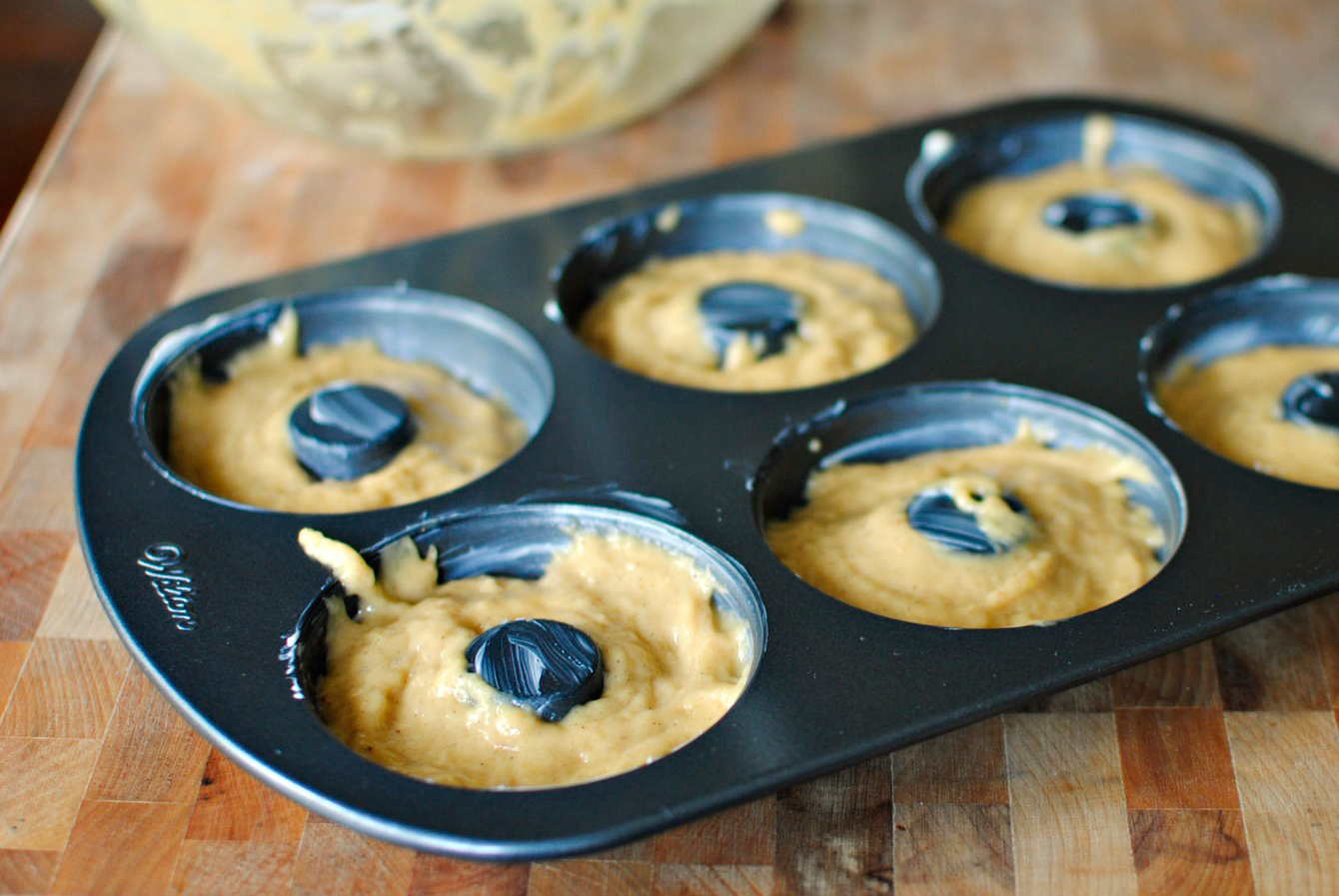 As you can see I'm not the neatest. But I didn't have a large re-sealable bag on hand to pipe in the batter like Aimee suggested. To be honest, that would be a whole lot easier (and cleaner), but spooning it in worked too. Now just bake in a preheated 325ºF oven for 10  minutes. I rotated the pan halfway to ensure even baking.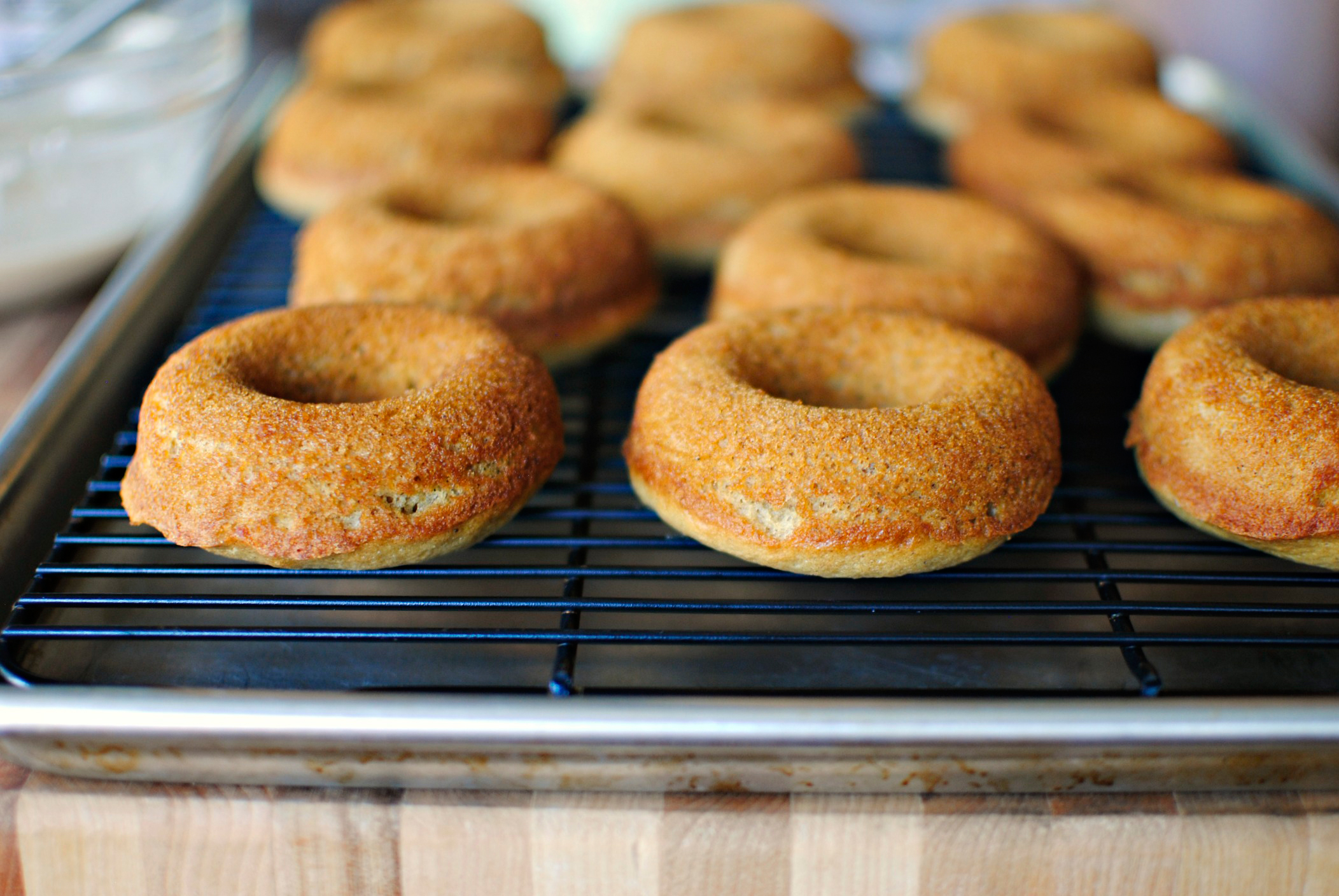 I let the doughnuts cool in the pan for about 10 minutes before carefully removing them from the pan. I used a rubber spatula and they came out wonderfully. I then let them cool for a bit and moved on to making the cinnamon sugar and the cider glaze.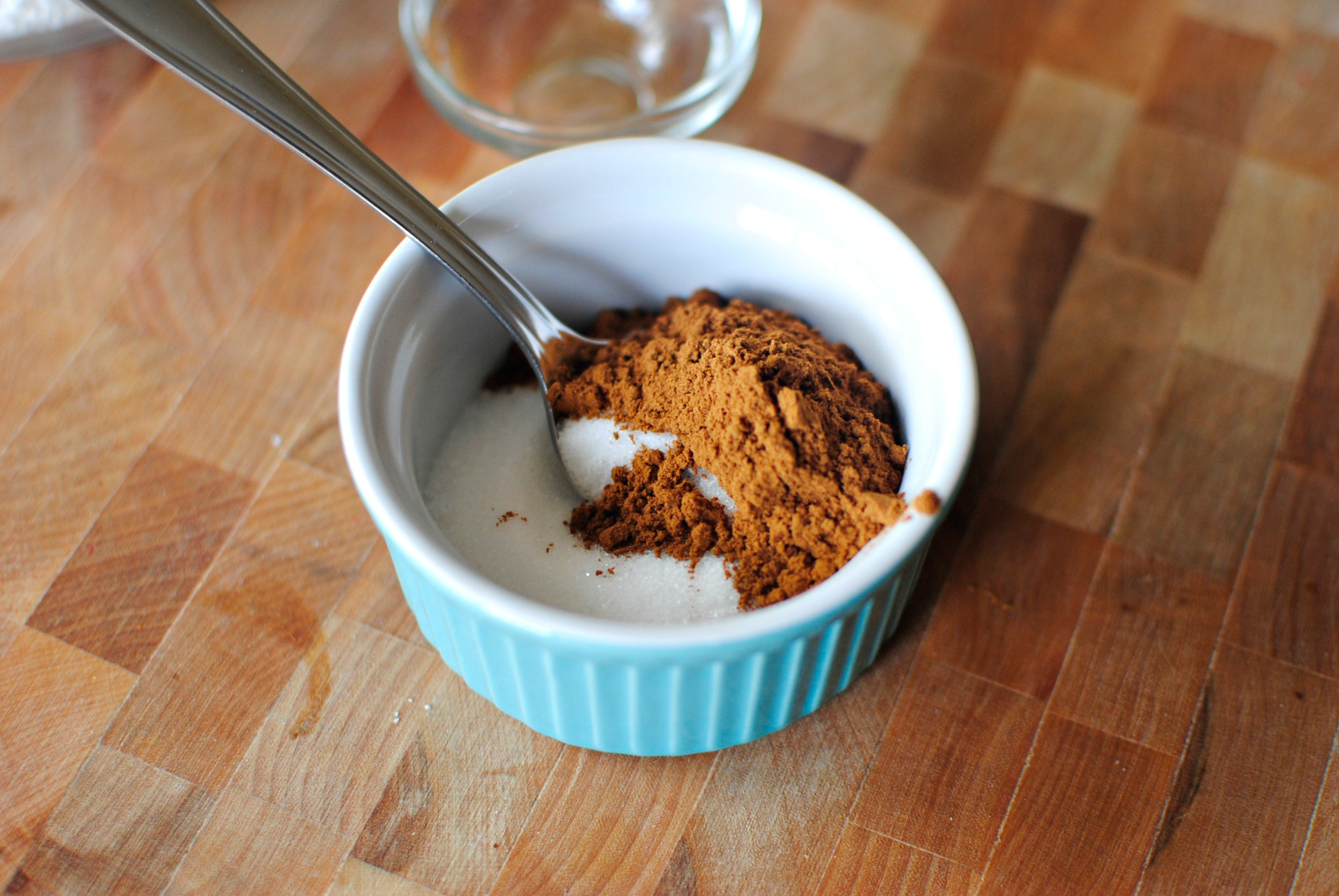 Combine a tablespoon of cinnamon with sugar. Make sure to use a big enough bowl that a doughnut will fit nicely in for dunking.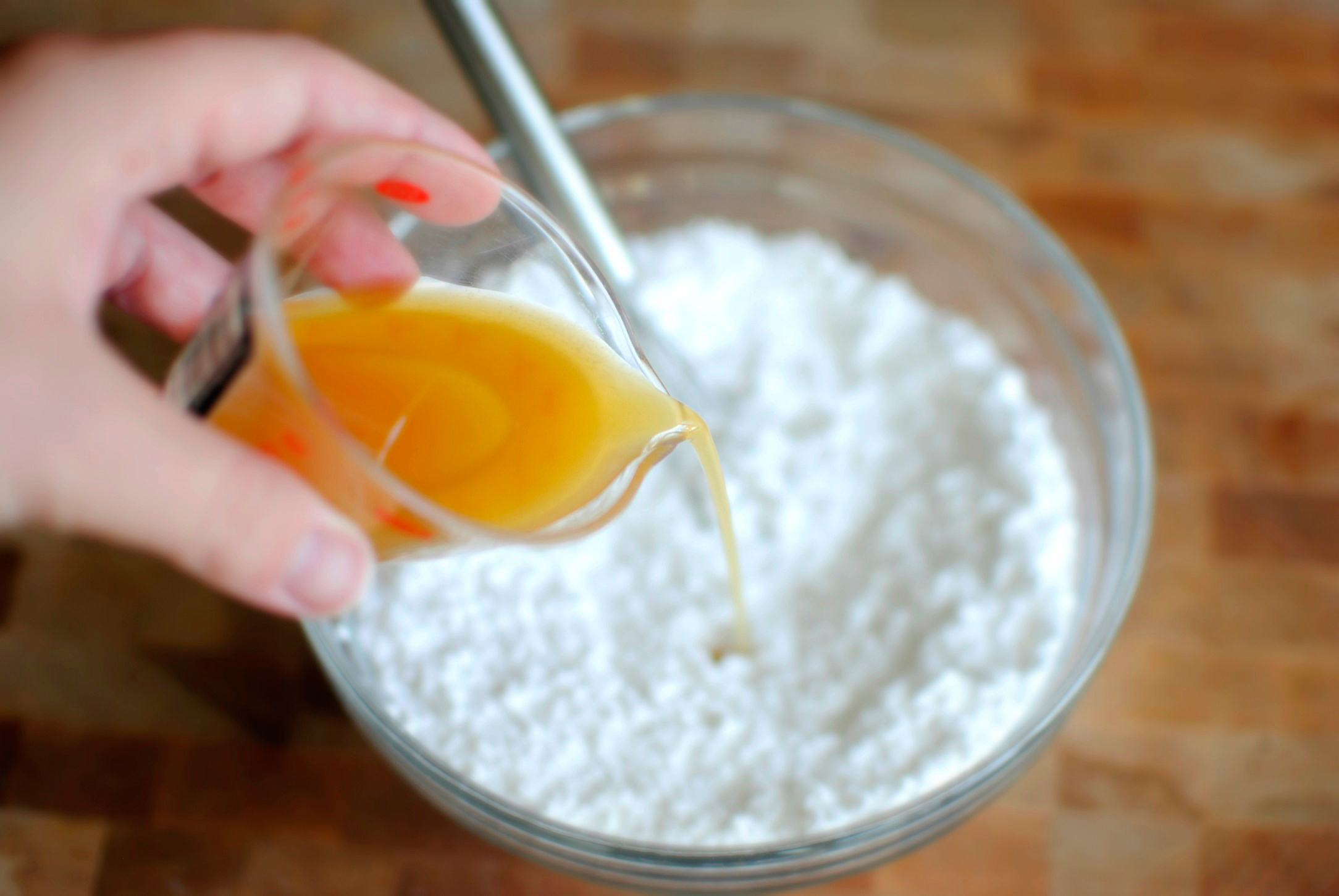 To make the glaze, start by measuring out powdered sugar and then pour in the apple cider. The recipe calls for 2 tablespoons of cider, but I needed to thin it out a tad more so I used a total of 3 tablespoons.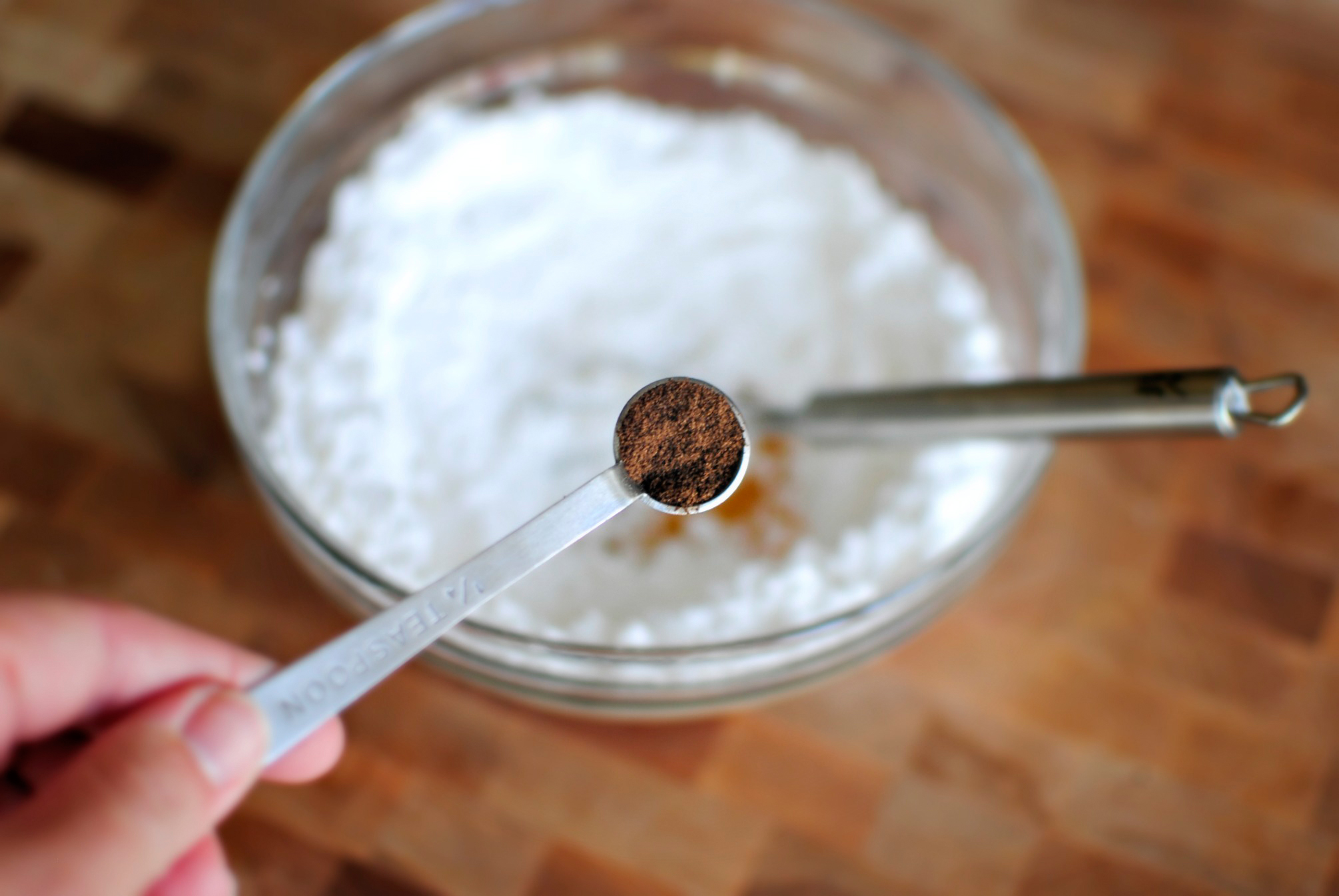 Then add in allspice.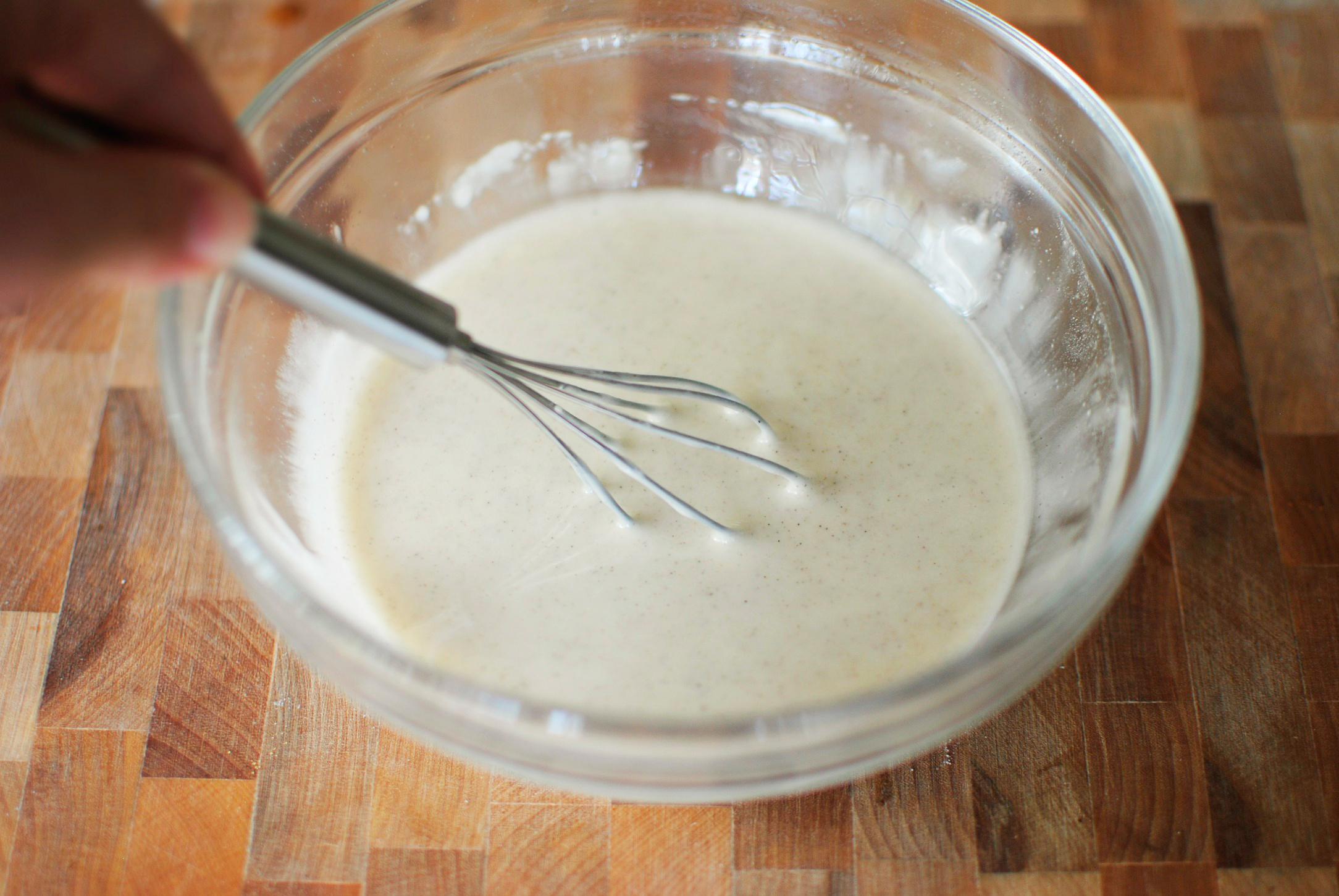 Whisk until completely combined and there are no lumps remaining.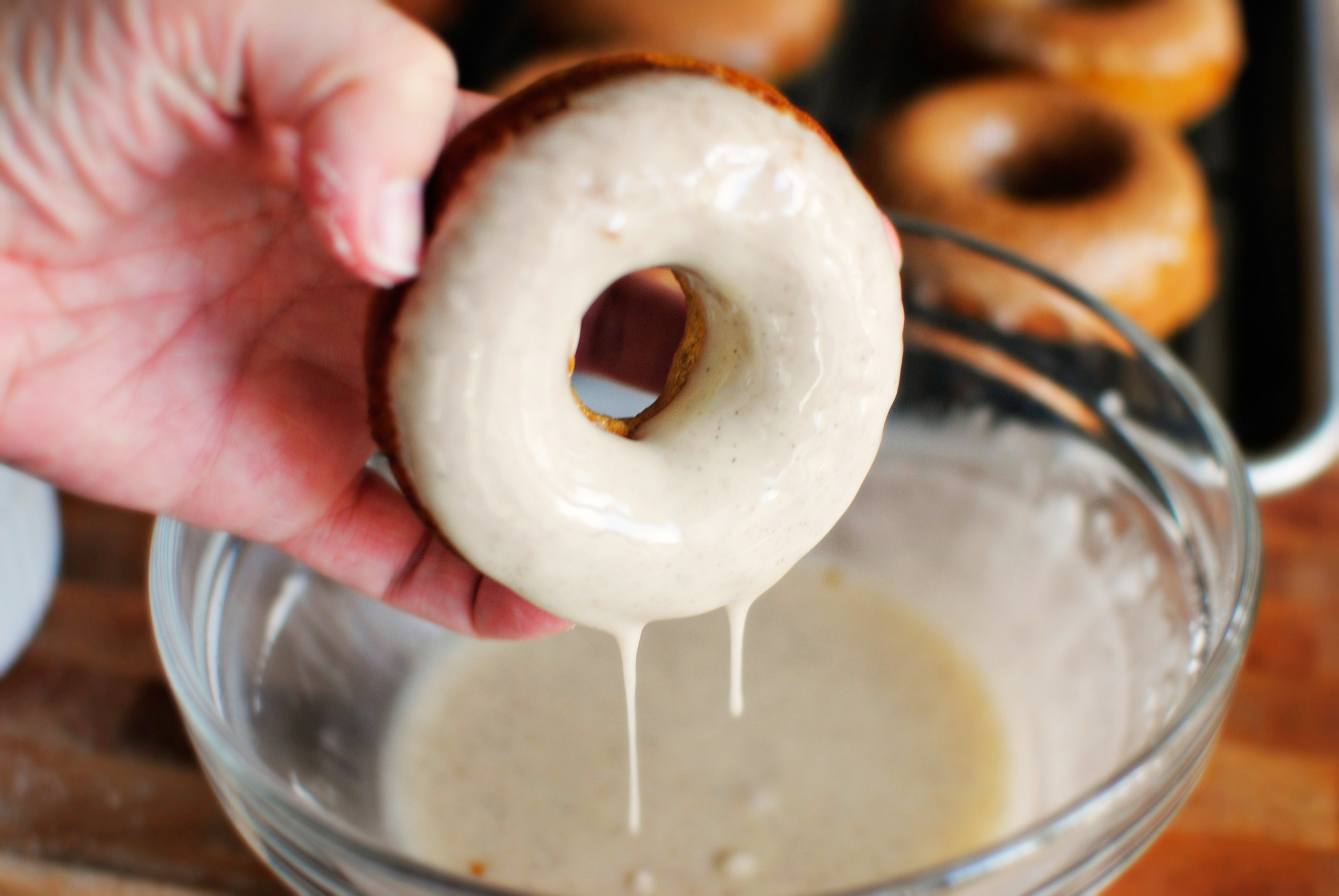 Dunk the doughnuts into the glaze. Ohhh yeah!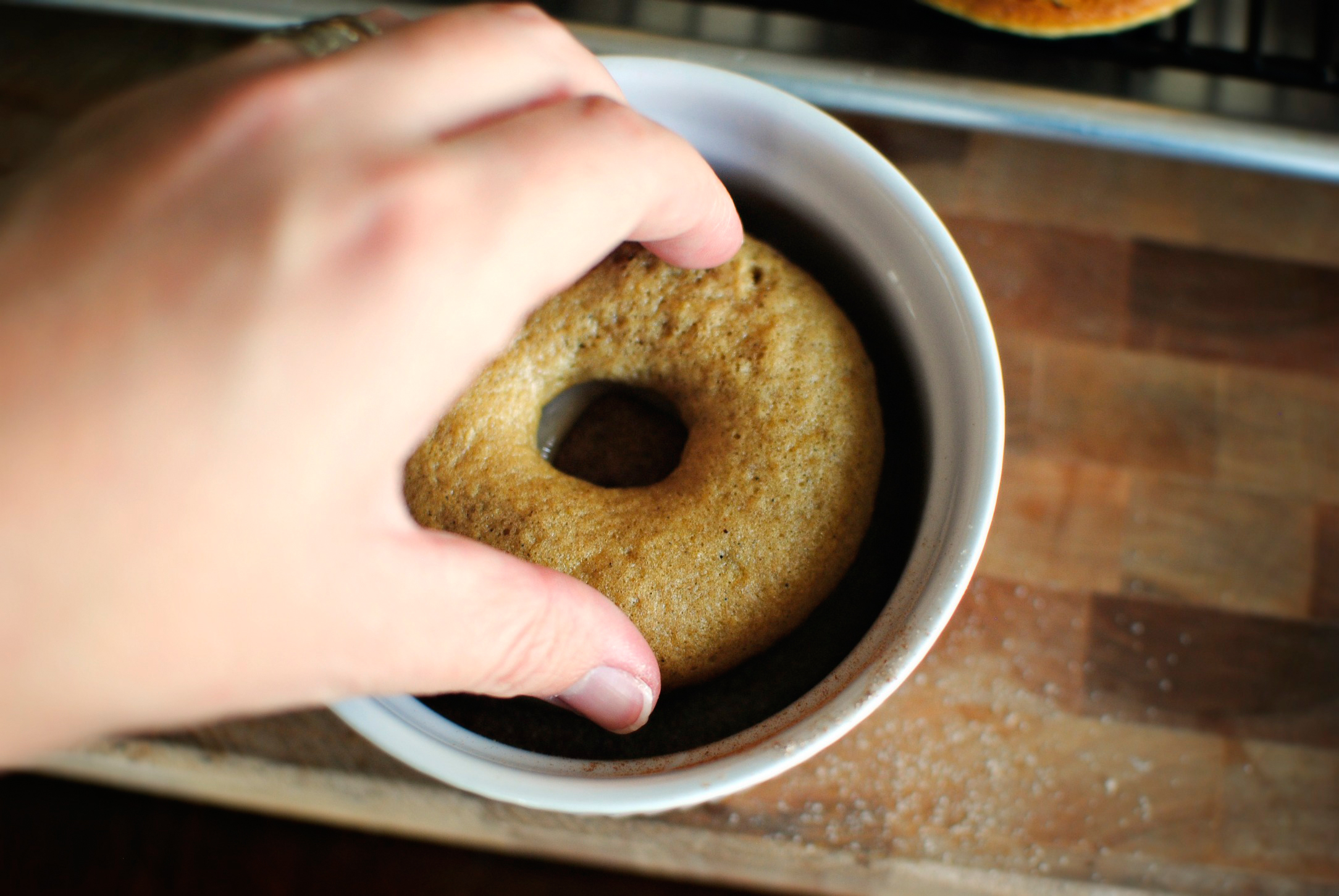 And then immediately dip it into the cinnamon sugar.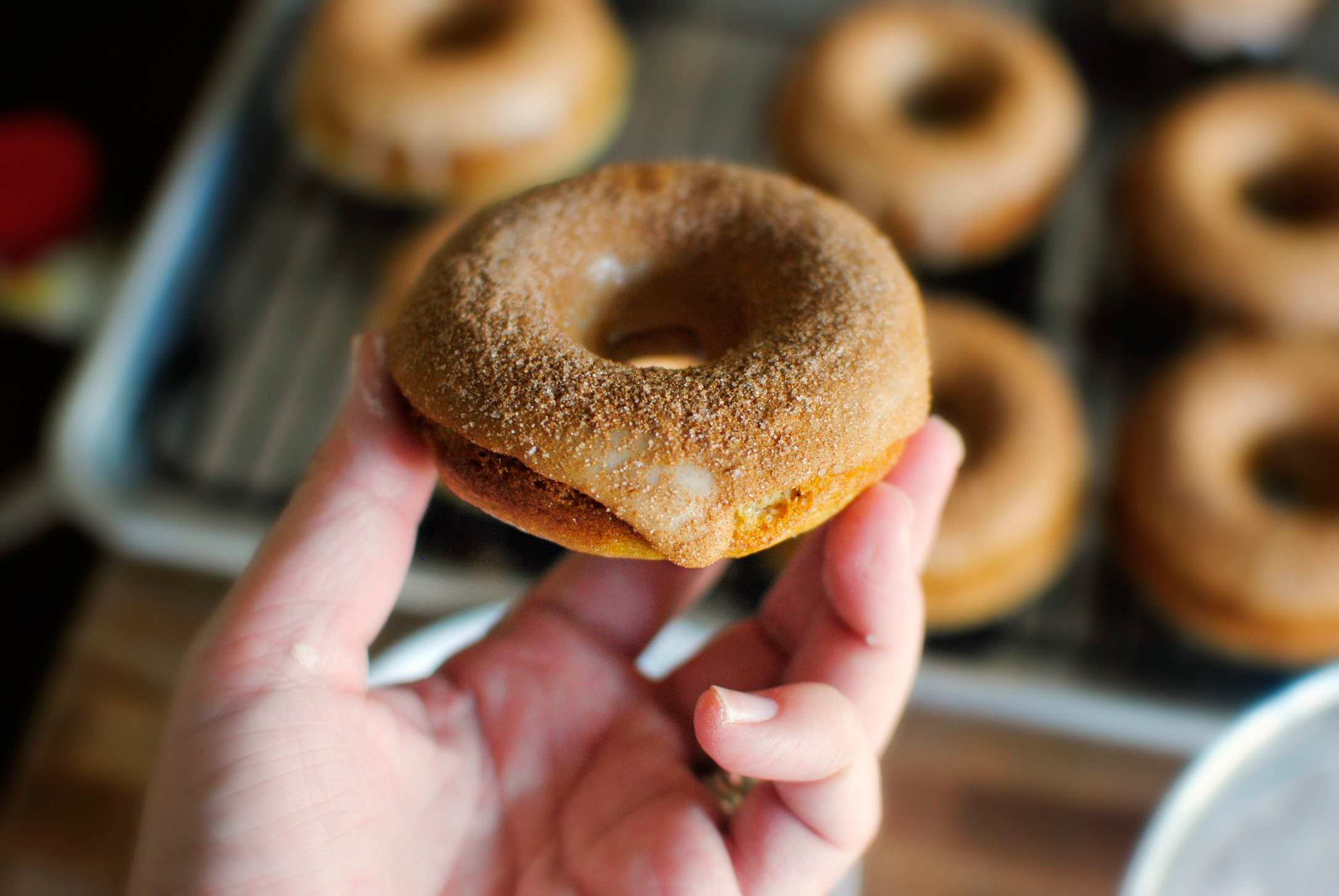 See what I mean? Now just set on a wire rack set over a sheet pan or paper towels so the glaze has a place to drip and repeat with the rest.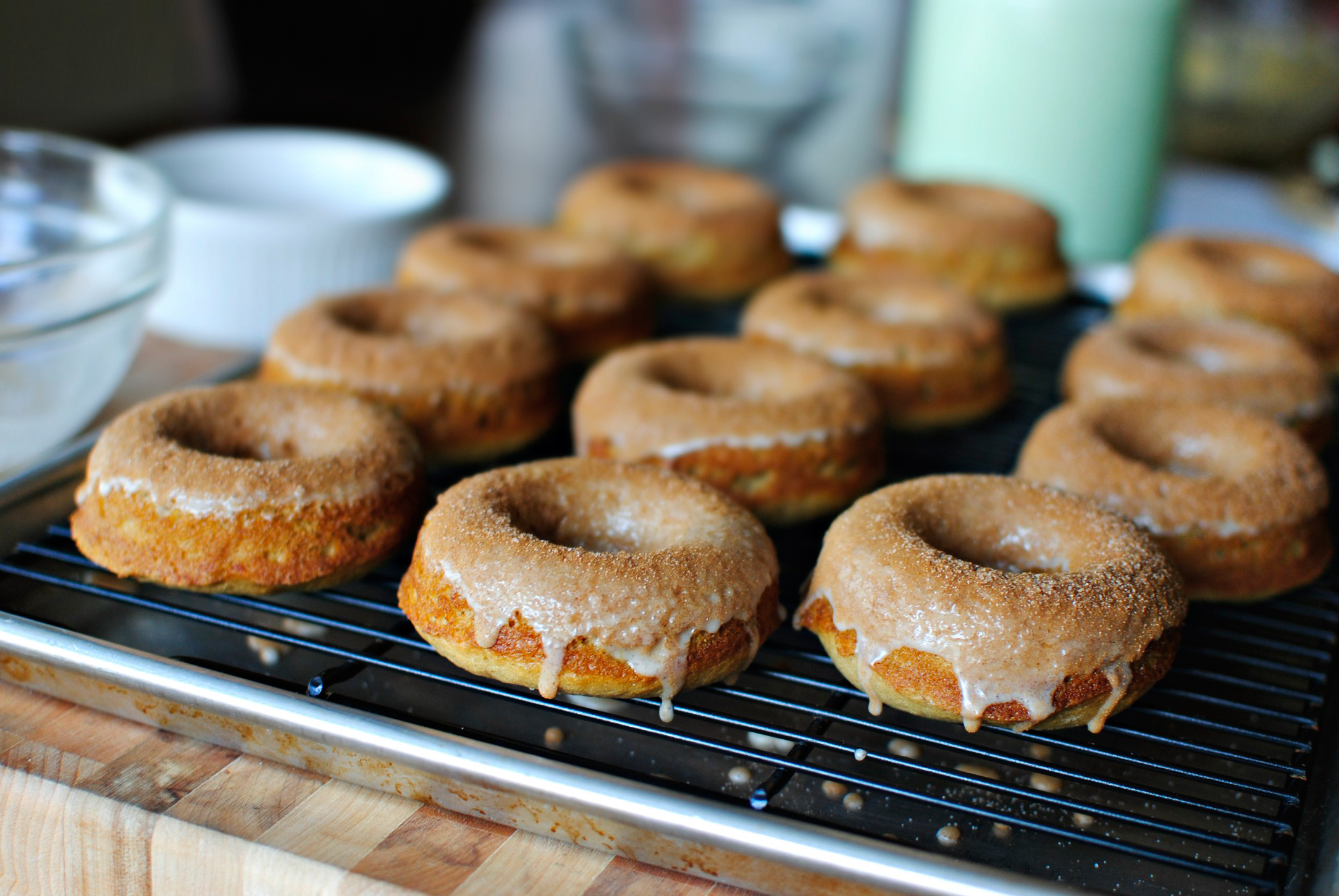 You can let the glaze cool a tad. But really, why even wait another second?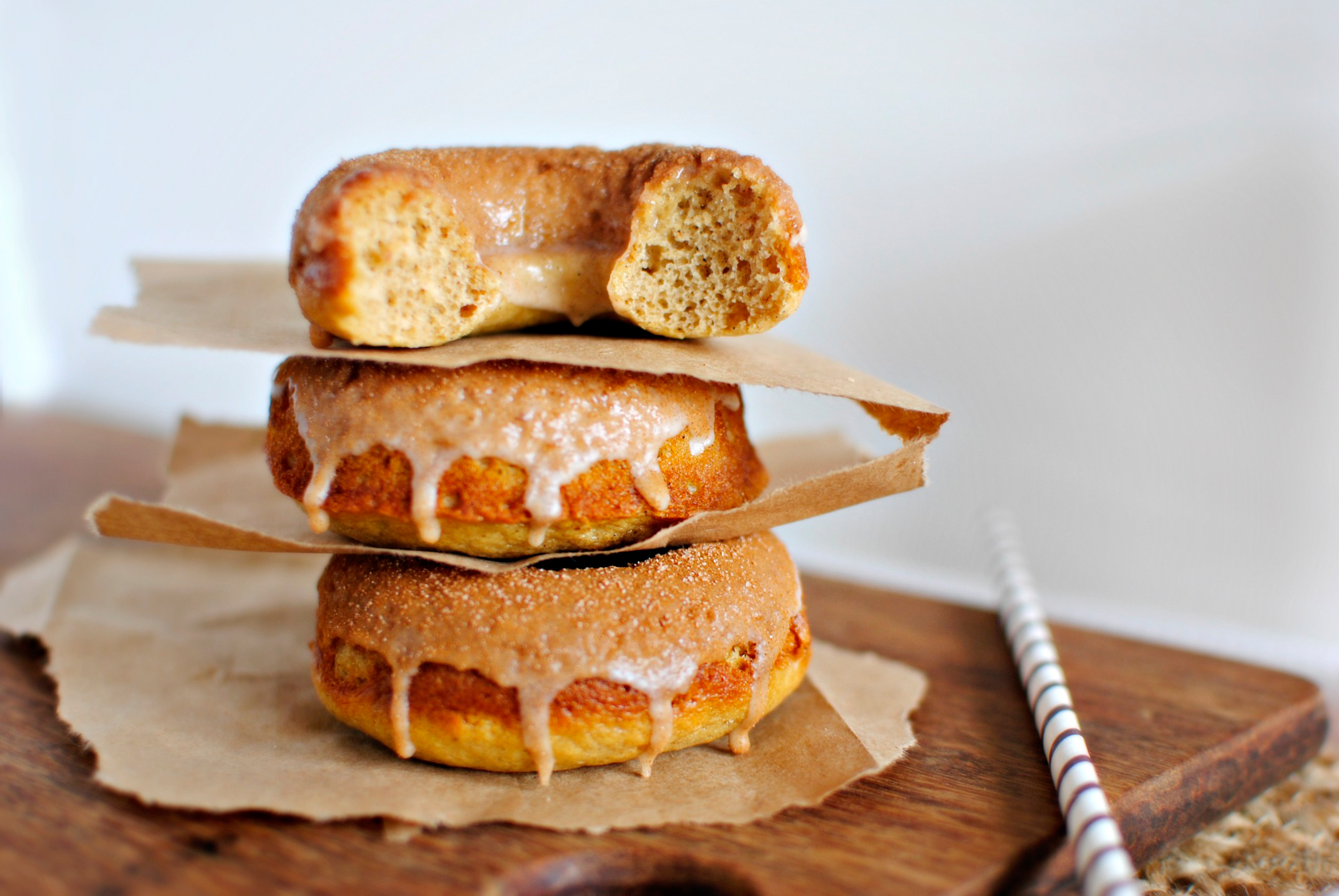 You guys. These doughnuts are nothing short of perfect. The texture of the doughnut is soft and moist, while the flavor of cider is not missed at all. Store them in an airtight container and they'll last for days! Making these perfect for a fun snack in lunches or well, breakfast the next morning!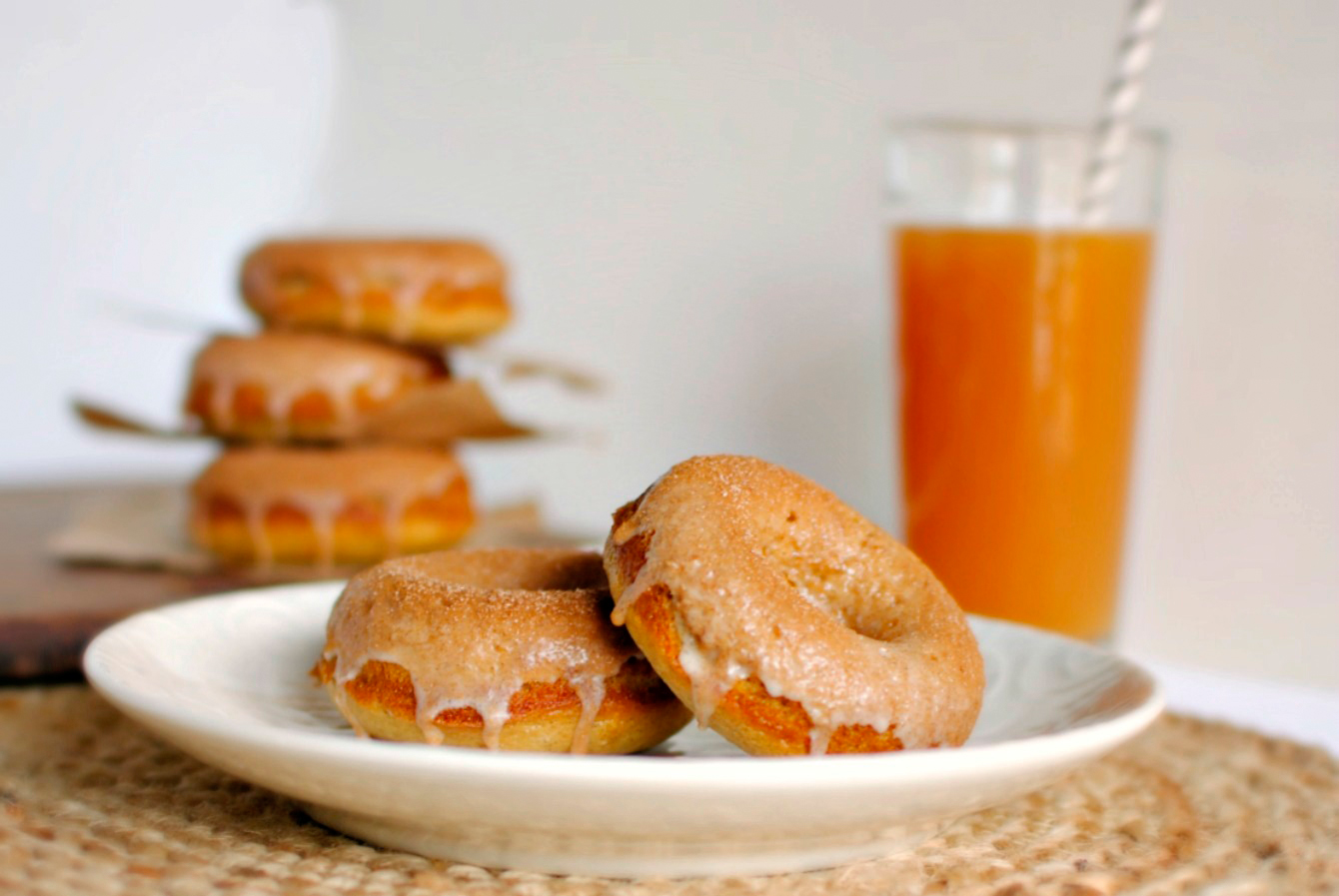 A big thank you to Aimee for sharing this phenomenal recipe! This is definitely a recipe our whole house loved and will be making for years to come. And I can bet you all will just love these too!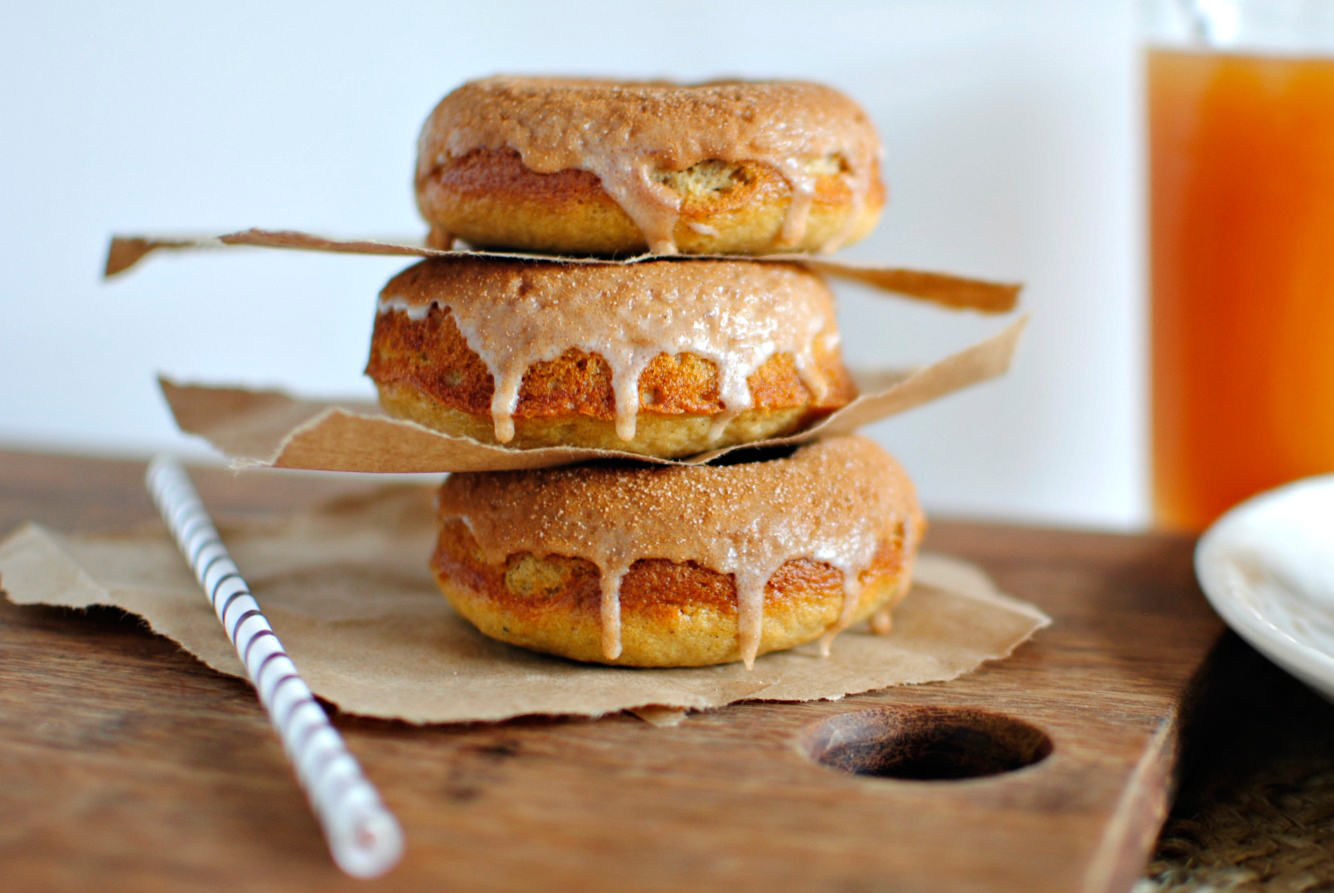 Please take a minute to stop by Aimee's amazing blog Shugary Sweets where she not only dishes up an array of clever treats to suit any sweet tooth but other delicious easy to make recipes as well. You can also find her recipes here on Tasty Kitchen in her recipe box!
Note: the only change I made was to 3 tablespoons of apple cider (instead of two) in making the glaze.
Printable Recipe
See post on Shugary Sweets's site!
Description
Bake these donuts for a perfect fall breakfast!
Ingredients
FOR THE DONUTS:
2 cups Flour
¾ cups Sugar
1 teaspoon Baking Powder
1 teaspoon Baking Soda
1 teaspoon Salt
¼ teaspoons Nutmeg
¼ teaspoons Allspice
½ teaspoons Cinnamon
½ cups Apple Cider
¼ cups Applesauce
2 whole Eggs
1 teaspoon Vanilla Extract
FOR THE TOPPING:
2 Tablespoons Apple Cider
1-¼ cup Powdered Sugar
¼ teaspoons Allspice
¼ cups Sugar
1 Tablespoon Cinnamon
Preparation Instructions
In a large mixing bowl add flour, sugar, baking powder, baking soda, salt, nutmeg, allspice, and cinnamon. Mix until blended. Add in the apple cider, applesauce, eggs, and vanilla extract. Beat for about 2 minutes until smooth and creamy.
Lightly grease a doughnut pan (I use Norpro brand). Pour batter into a large Ziploc bag, seal the bag, and snip off the corner. I find this the easiest and cleanest way to get batter into pan without dripping. Pipe the batter into the prepared pan.
Bake doughnuts in a 325ºF oven for about 10 minutes, until they spring back when touched. Remove from the oven and cool slightly before removing from pan.
To make the glaze, whisk together the apple cider, powdered sugar and allspice until completely smooth.
In a separate bowl, mix sugar and cinnamon.
Dip each doughnut into the glaze (top of doughnut only) and then into cinnamon/sugar mix. The glaze will run down the sides and coat nearly the whole donut. Allow to dry on a cooling rack. Enjoy!


_______________________________________
Laurie is the force behind Simply Scratch, a blog that documents her efforts to find and create recipes that are made simply from scratch. (We think it's sweet that her mother-in-law helped her set up her blog and get started.) We love her recipes; they're not just tried and true, but they look gorgeous as well. Check out her blog and you'll become a fan too.