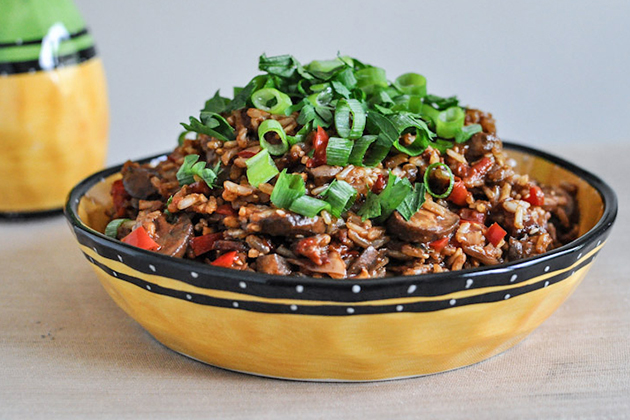 If ever there was a recipe made for me, this would be it. Bacon, chocolate AND a savory dish? I'm all over this. Before trying it, I never even tasted mole rice. I've heard delicious things about it and of course, had multiple people suggest it to me since it has—duh—chocolate in it. But I held out, and now I'm sort of glad I did since my first experience was a homemade one, and an incredible one at that. The minute I spied Andrea's recipe for Mole Rice, I knew it would be mine.
Oh, and as a side note, I definitely thought (like years ago) that mole rice was pronounced "mole"—like one of those scary litter critters in the ground. Um, no. I later learned that (maybe in college?) it was pronounced "mo-laaaay" and proceeded to say the word in my head for about two weeks straight in disbelief.
All embarrassing mispronunciations aside, let's get cooking.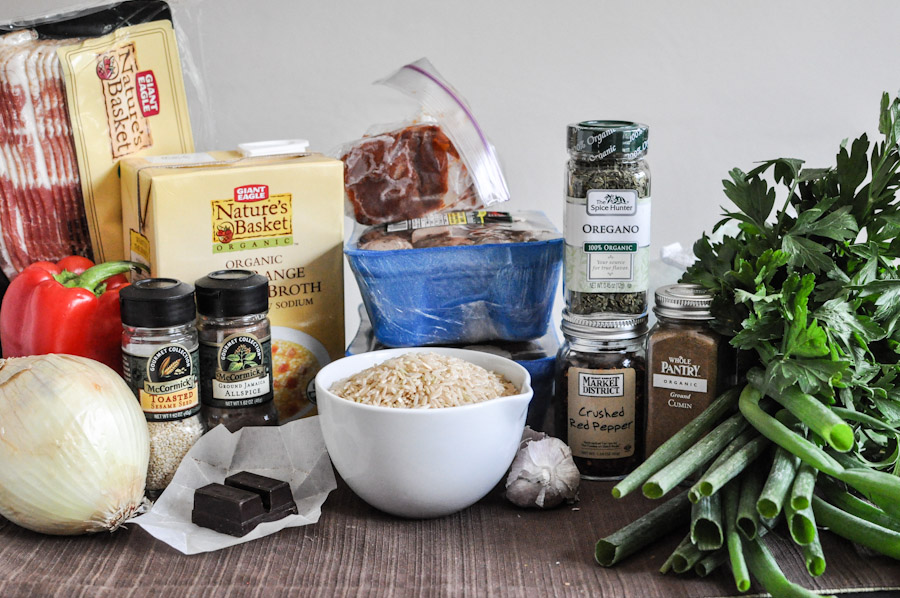 Here is everything you need: bacon, a red pepper (chopped), an onion (chopped), chicken stock, sesame seeds, allspice, semisweet chocolate (chopped), tomato paste, mushrooms, rice, garlic, dried oregano, cumin, red pepper flakes, fresh green onions and fresh parsley. It seems like a lot, but it's super simple. And please don't mind my trashy mid-defrosted tomato paste in a plastic bag. Keeps perfectly in the freezer. Try it.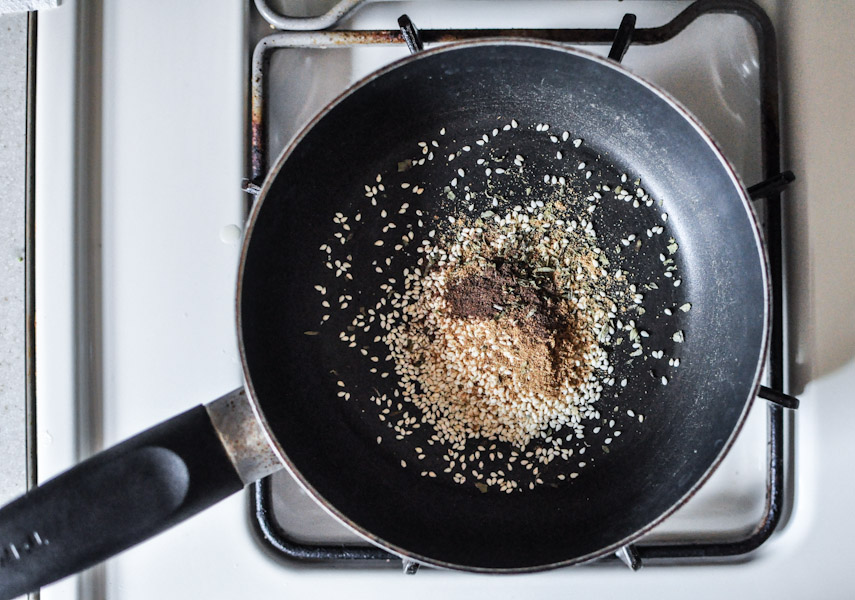 First up, toast your sesame seeds, cumin, allspice and oregano. Oh my. Smells so good.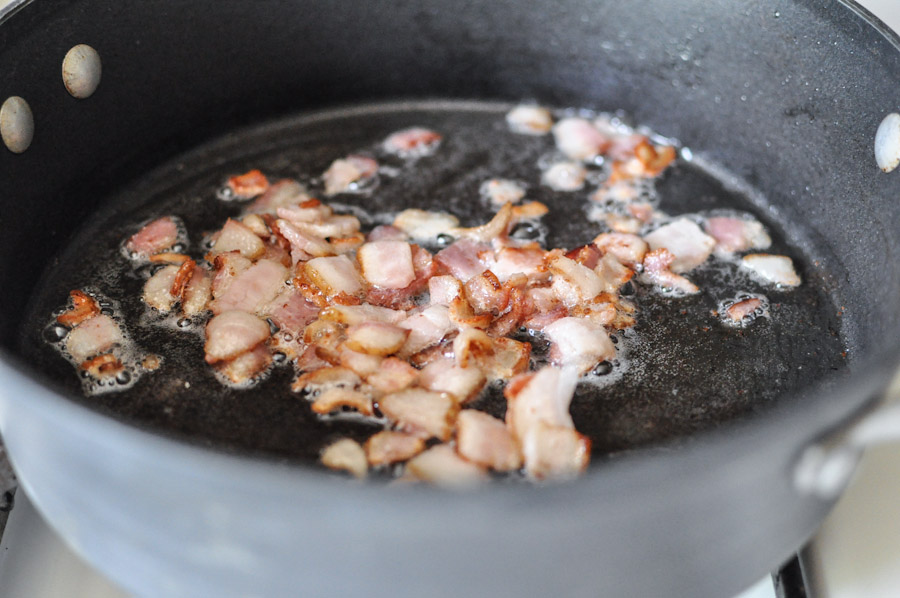 Next, and obviously my favorite part: fry your bacon in a large skillet. I chose to chop mine up first just to skip a step later and so it would cook a bit quicker. Once it is crispy and the fat has been rendered, remove it with a slotted spoon and let drain on a paper towel.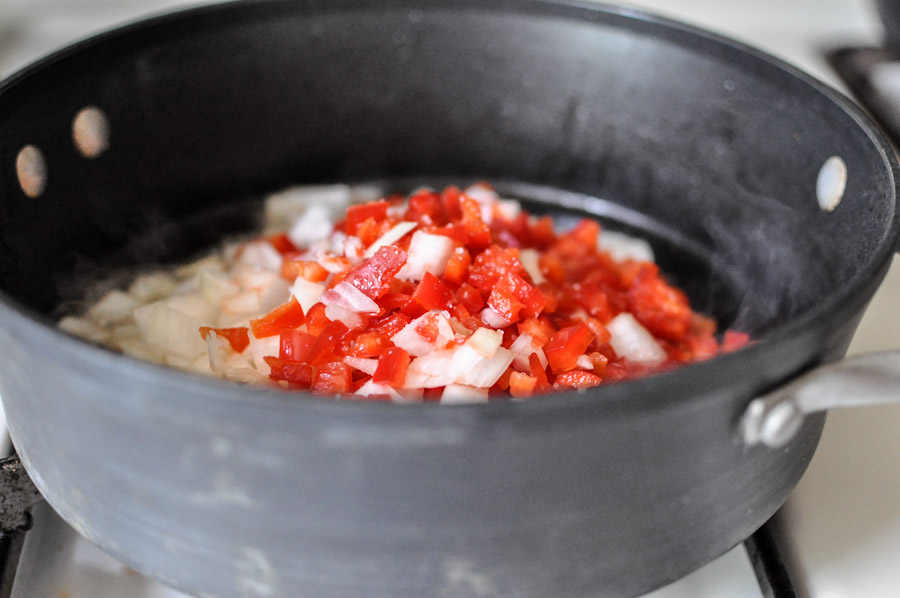 Add in your onions, peppers and garlic with a pinch of salt. Cook until soft.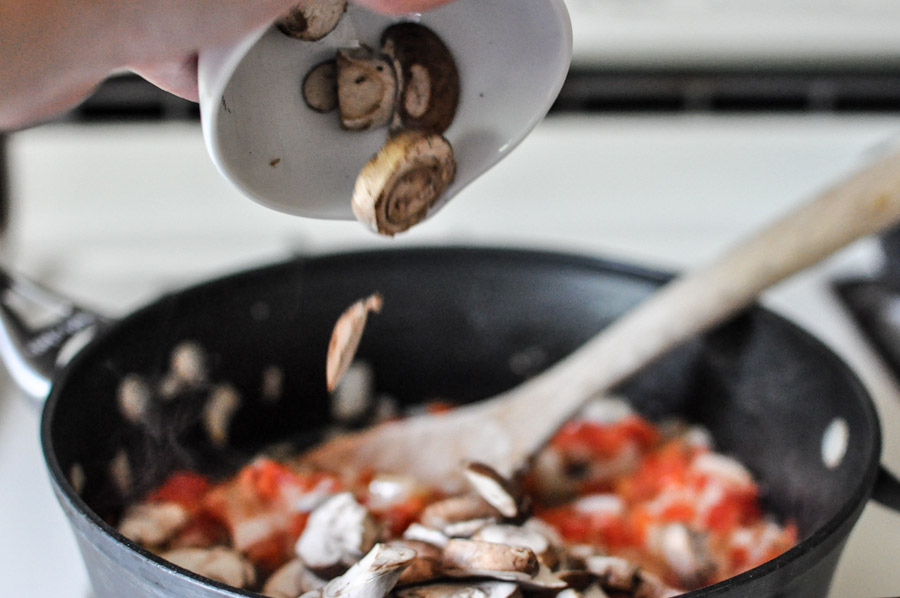 Now add in your mushrooms. Cook those until they are soft too, about five minutes or so.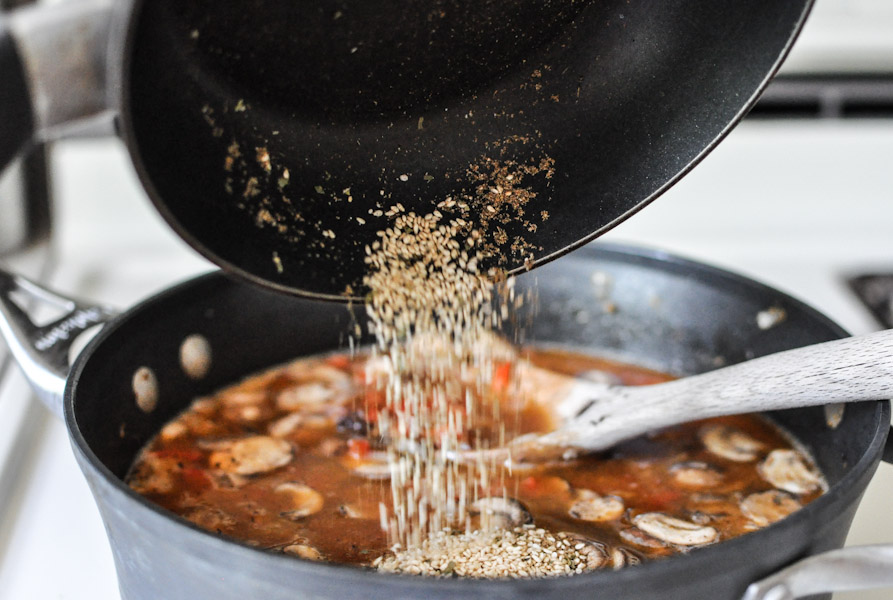 Once the vegetables are juicy and fragrant, add in your tomato paste, chicken stock, toasted spices and chopped chocolate. Bring that whole shebang to a boil.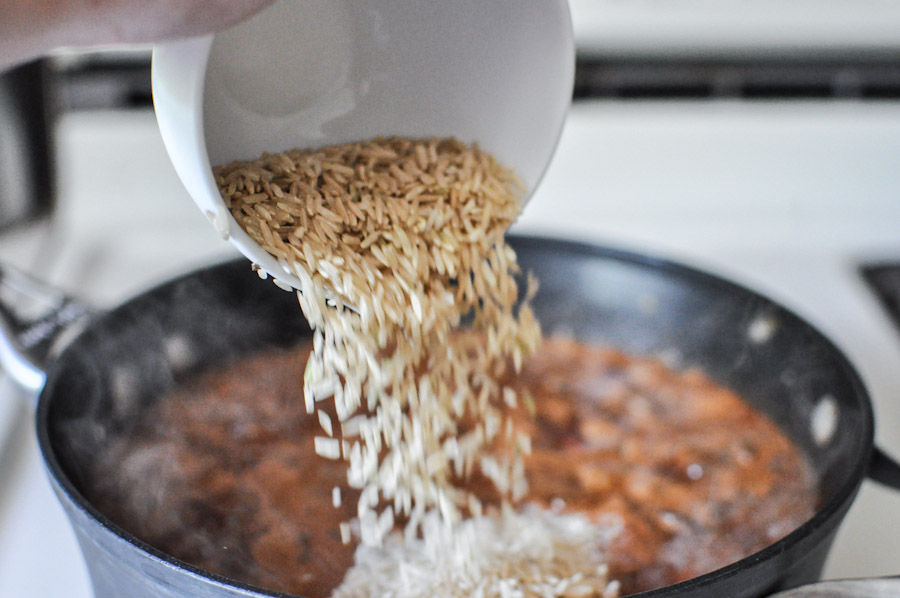 As the mixture is boiling, add your rice. I used the brown jasmine rice from Trader Joe's and it was phenomenal.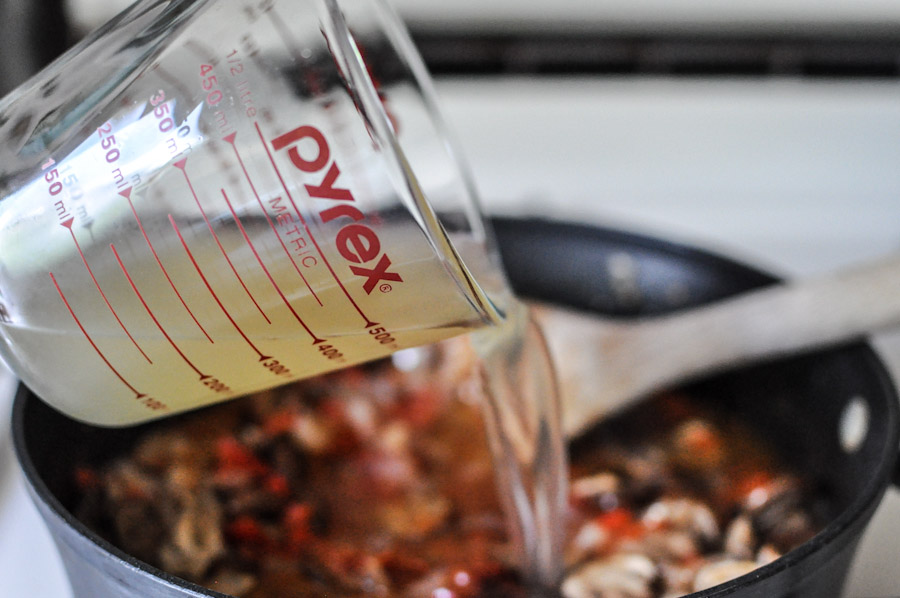 At this point, reduce the heat to low, cover and cook for 30-35 minutes. Stir once or twice during cook time to make sure the rice is absorbing the liquid, and if it's absorbing it too quickly, add more stock. I can't even tell you how incredible your kitchen will smell.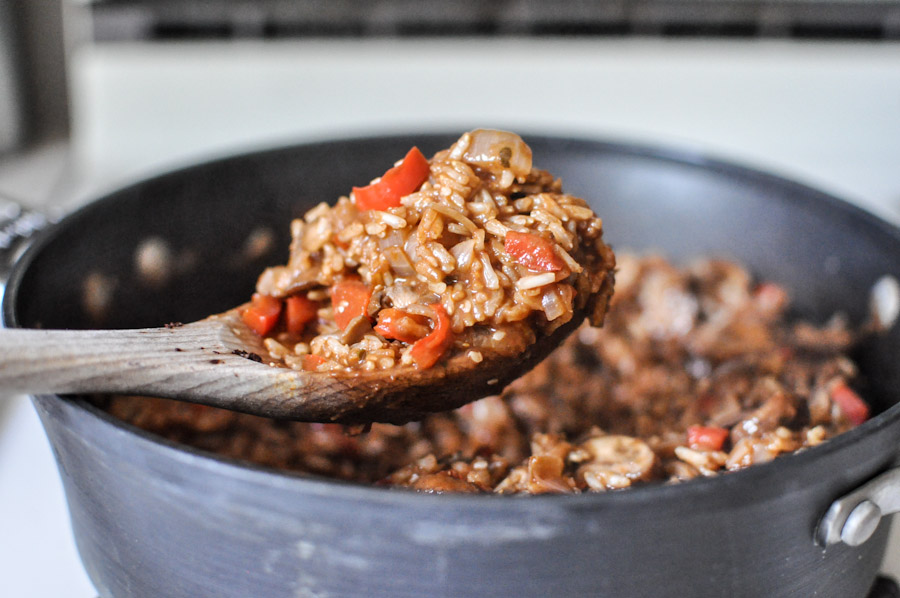 Once it's finished, remove it from the heat and let it sit for five minutes or so as it comes together. I interpreted this instruction as "grab a fork and eat as much as you can before serving it to others."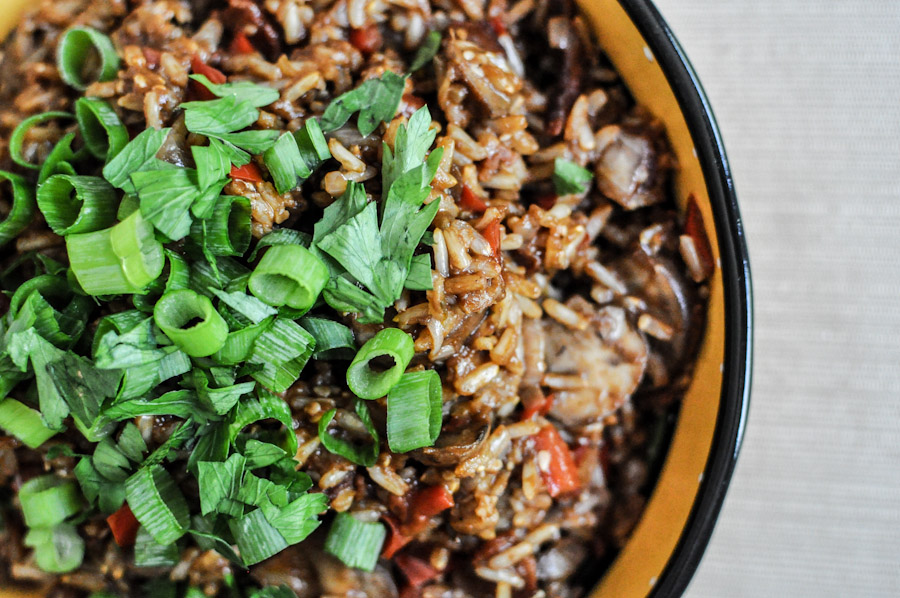 After 5 minutes, stir in the bacon then drop some sliced green onions and torn parsley on top. I also think cilantro would be a fabulous addition, but I pretty much put cilantro on every single thing I eat daily. It might just be me.
Serve that goodness up! This was hearty enough for me to eat simply as a meal, but it would be a great side dish for a number of recipes. My husband ate some with enchiladas one afternoon and then again with grilled chicken at dinner. The only way I can describe how fantastic this is, is to tell you that it absolutely bursts with flavor. So robust and so layered. If you couldn't already tell, we adored it.
Thanks so much to Andrea for the wonderful recipe, and for sharing something incredibly delicious that pushed me outside of my cooking comfort zone. Be sure to check out Andrea's blog, Recipes for Divine Living, where she shares more of her passion for food.
Printable Recipe
See post on Andrea's site!
Description
I love the flavor of the toasted spices and chocolate in this recipe, not to mention the bacon. Delicious!
Ingredients
1 Tablespoon Sesame Seeds
1 teaspoon Dried Oregano
½ teaspoons Cumin
¼ teaspoons Allspice
3 strips Bacon
1 Red Pepper (or Color Of Your Choice) Chopped
1 Onion, Chopped
3 cloves Garlic, Minced
1 pinch Red Pepper Flakes
2 cups Mushrooms, Sliced
2-½ cups Chicken Broth
6 ounces, weight Tomato Paste
1 ounce, weight Semi-sweet Chocolate, Chopped
1 cup Rice, Uncooked
Salt And Pepper
Green Onions, Chopped For Garnish
Fresh Parsley Chopped For Garnish
Preparation Instructions
Toast/cook sesame seeds, oregano, cumin and allspice in a skillet over medium heat for 30-35 seconds. Set aside.
Cook bacon and set aside. To the same skillet with bacon drippings, sauté red pepper, onion, garlic and red pepper flakes with a pinch of salt and pepper until softened. Add mushrooms and cook until soft.
Increase heat to high and add chicken broth, tomato paste, chocolate and toasted spice mixture. Bring to a boil; add rice and reduce heat to low. Cover and cook till tender and liquid is absorbed, 30-35 minutes. Stir rice after 15-20 minutes to make sure it's not sticking and has enough liquid left to cook completely. Add more stock or water if needed.
Once rice is tender, turn off heat and let stand for 5 minutes. Stir in chopped bacon; check for seasoning, adding salt and pepper if needed.
To serve, top with chopped green onions and parsley.


_______________________________________
Jessica Merchant is a personal trainer turned food writer and blogger. Her blog, How Sweet Eats, is where she proclaims her love for all things sweet, all things bacon, and everything else in between. She works her magic in her Pittsburgh kitchen, which she shares with her husband of 2 years.