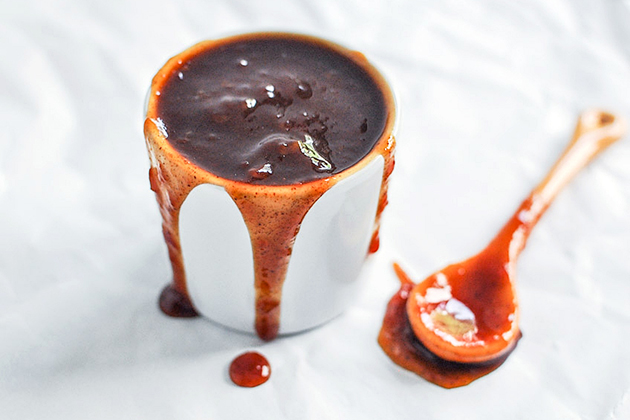 For years, I have been trying desperately to like coffee. Not because I need the caffeine, and not even because my friends drink it, but because I absolutely adore coffee-flavored foods (read: ice cream, cupcakes, frosting, steak rubs) and it drives me mad that I can't enjoy the beverage. Plus, I do want to look all cool and casual sitting in a coffee shop and sipping something warm and frothy that has a cute little heart design in the foam. And why can't actual coffee just TASTE like a frappuccino with ice cream and mocha and whipped cream and tons of sugar?
It's so not fair.
But it completely makes sense that the minute I saw Kay's recipe for Coffee BBQ Sauce, I was itching to try it. My husband is the king of condiments in our house, and while he seriously uses cups of ketchup on things like burgers and fries, and while I seriously roll my eyes every single time and scream, "Stop! You're ruining it!"… BBQ sauce is my favorite go-to dip or topping. I just couldn't resist.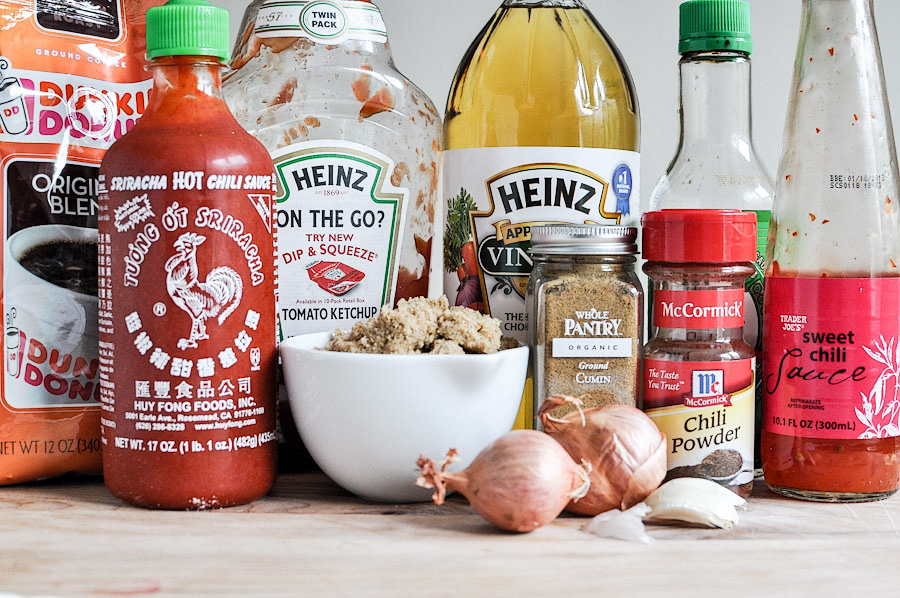 This sauce is so super simple. To start, you need coffee (so brew a strong pot!), ketchup, your favorite hot sauce, apple cider vinegar, soy sauce, sweet chili sauce, chili powder, cumin, shallots, garlic and brown sugar.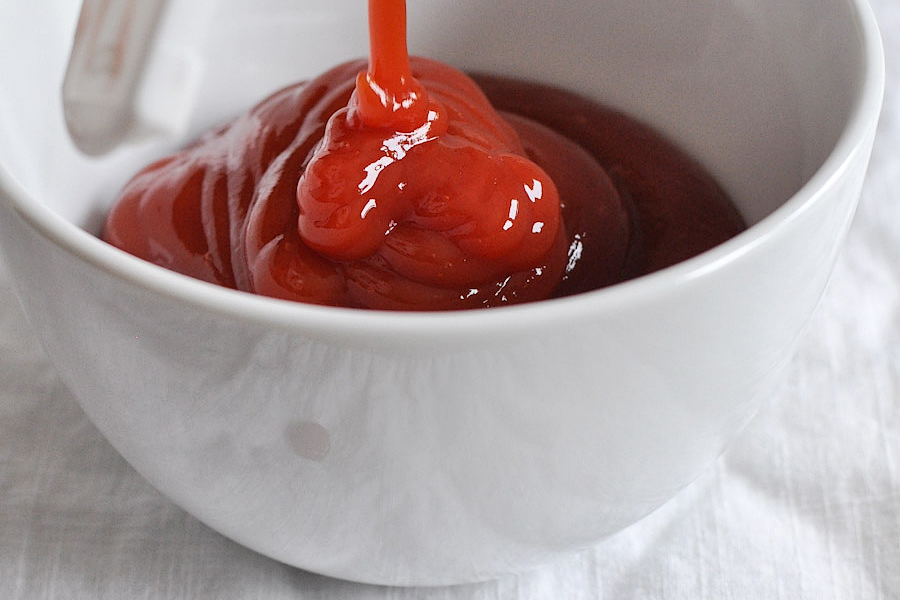 Measure out your ingredients.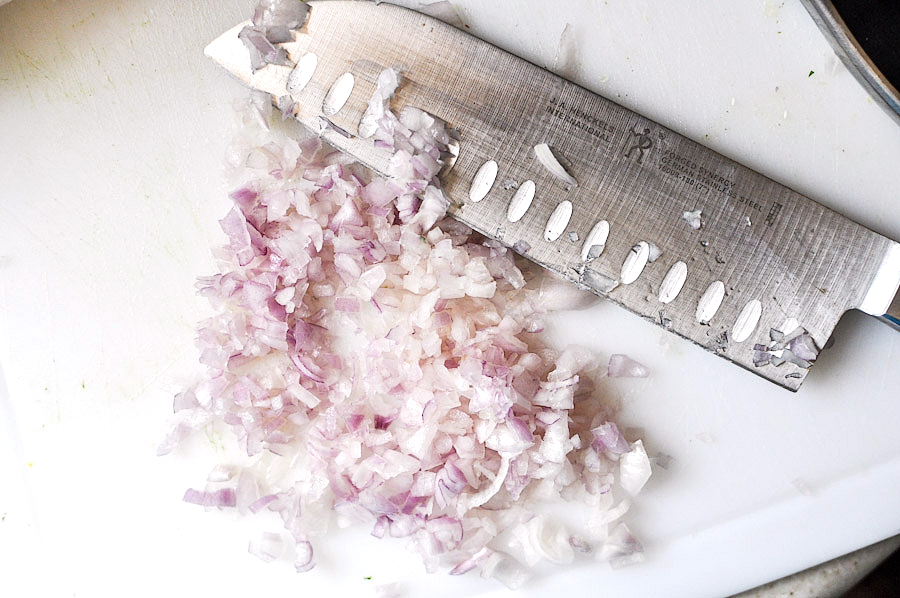 Chop up your onion and garlic.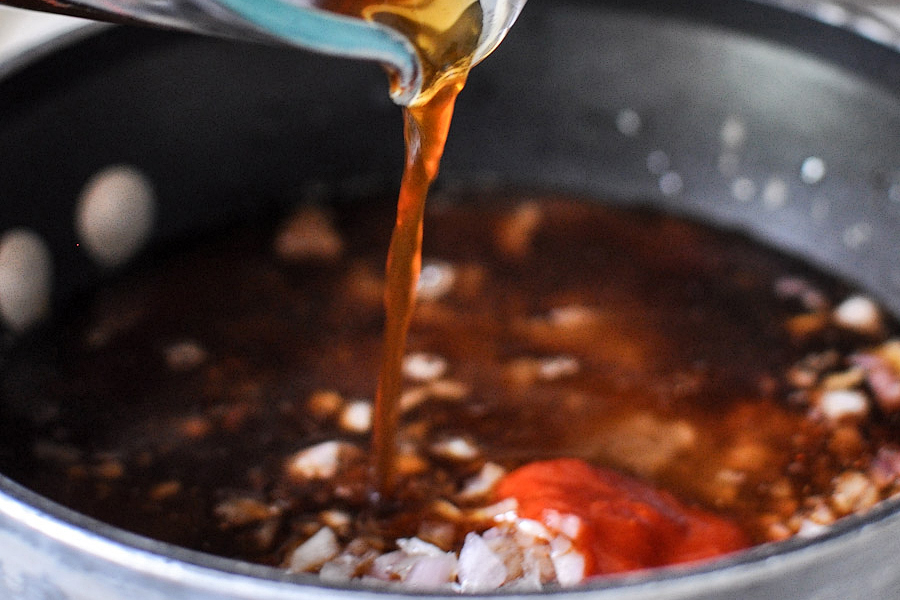 And combine it all in a saucepan.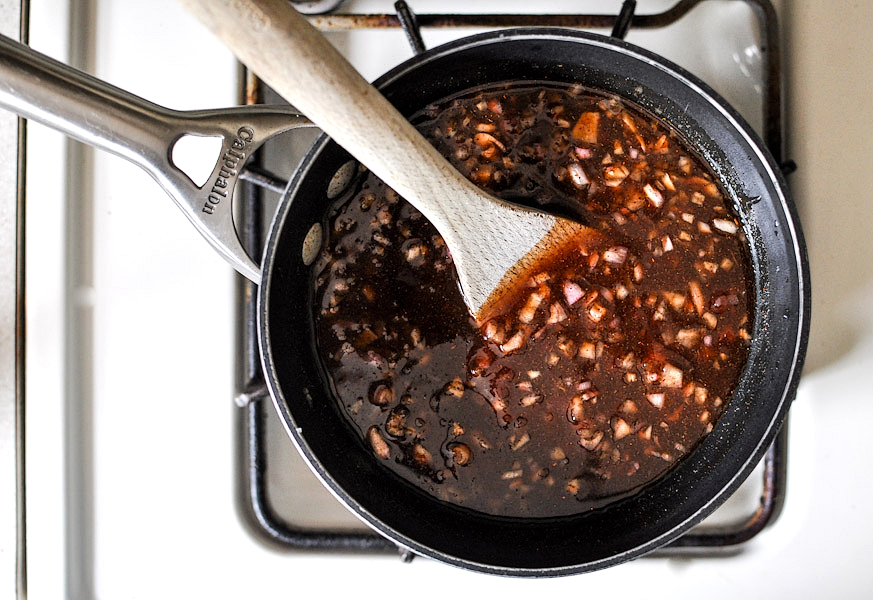 Mix it up well …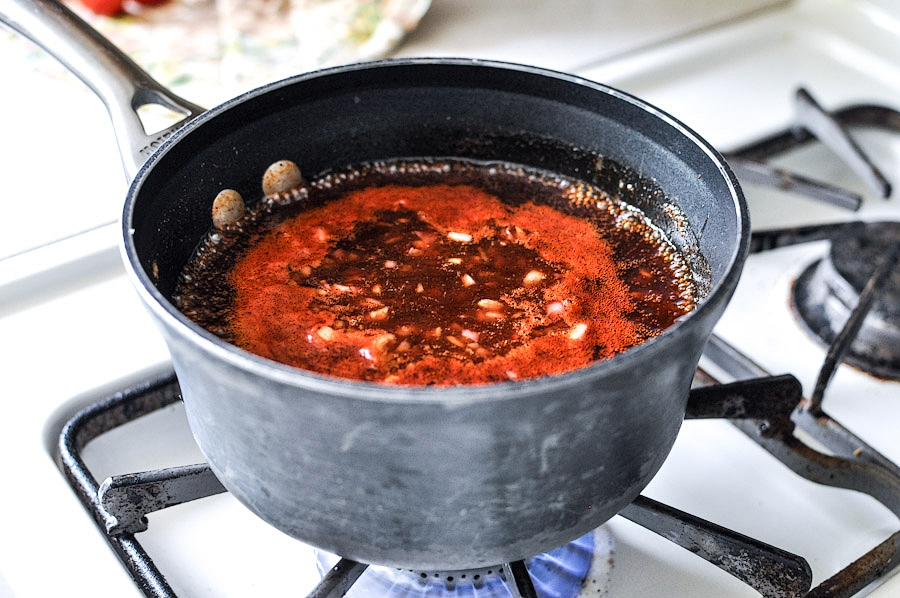 And allow it to come to a boil. Then reduce to a simmer to cook for about 40 minutes or so.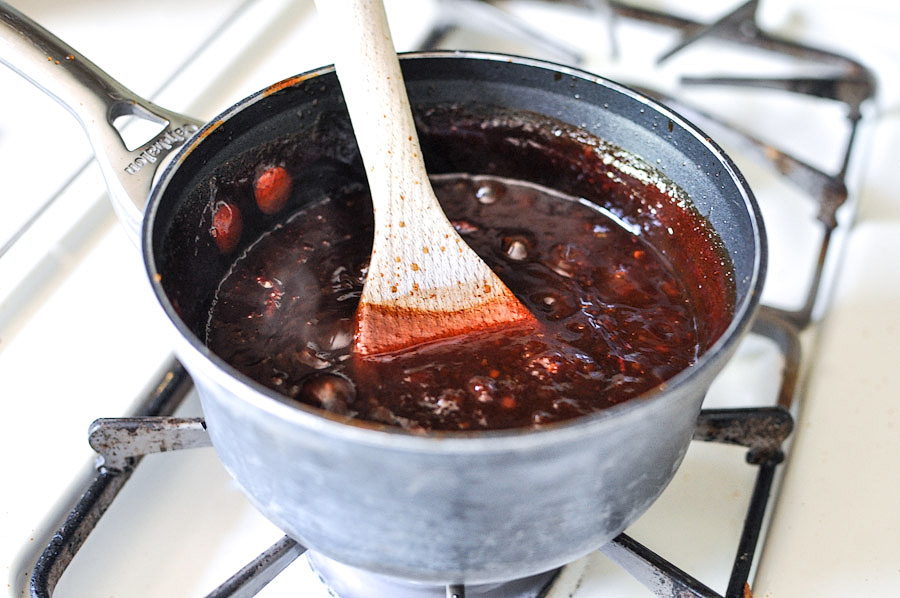 As it cooks, it will bubble and thicken and become just like your favorite BBQ sauce, all tangy and delicious.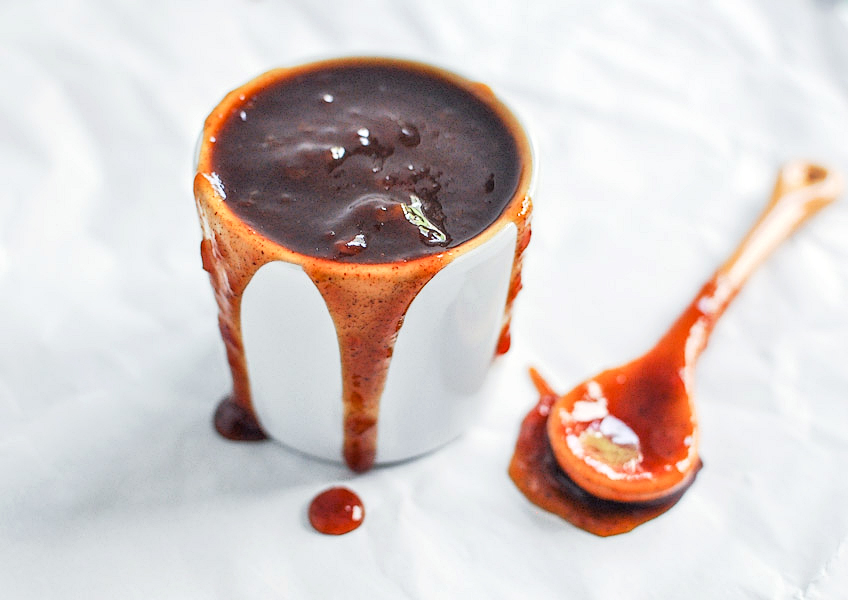 And after a few hours of sitting at room temperature, it's good to go.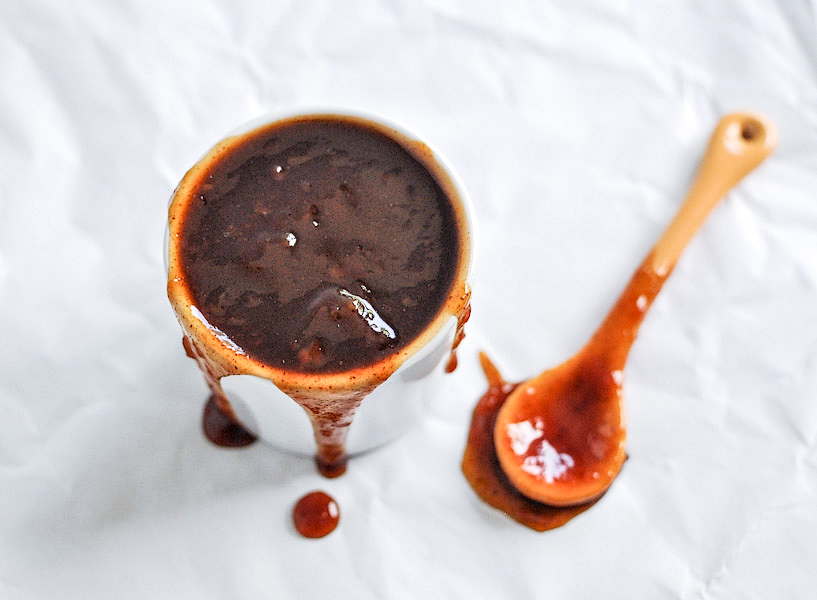 This sauce has the perfect consistency and a great balance between a little tanginess and a bit of sweetness. You can taste the coffee—but just a hint of it, and in such a delicious, rich way. We've been enjoying this on steak and chicken, and I think it's one of the best homemade BBQ sauces I've made. It's different from a few other staple sauces I've whipped up before, and yes, I find it highly appropriate to have all different kinds of BBQ sauce in the fridge at all times.
Thanks so much Kay for the recipe! Check out her blog The Church Cook, where she serves up incredible dishes every week.
Printable Recipe
See post on The Church Cook (Kay Heritage)'s site!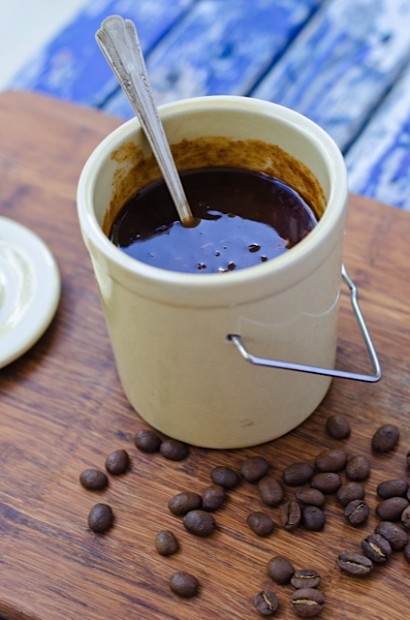 Description
Rich, flavorful, coffee BBQ sauce.
Ingredients
½ cups Strong Brewed Coffee
1 cup Ketchup
¾ cups Firmly Packed Brown Sugar
½ cups Apple Cider Vinegar
½ cups Finely Chopped Shallots
½ cups Sweet Red Chili Sauce
2 cloves Garlic, Grated
2 Tablespoons Soy Sauce
2 Tablespoons Ground Cumin
2 Tablespoons Chili Powder
1 teaspoon Sriracha Or Tabasco Sauce
Preparation Instructions
Stir all ingredients in a medium sauce pan. Bring to simmer then reduce the heat to low until flavor melds, about 40 minutes, occasionally stirring the sauce. Cool to room temperature and serve. Will keep for about 2 weeks or more in the refrigerator.
Makes about 2 1/2 cups.


_______________________________________
Jessica Merchant is a personal trainer turned food writer and blogger. Her blog, How Sweet Eats, is where she proclaims her love for all things sweet, all things bacon, and everything else in between. She works her magic in her Pittsburgh kitchen, which she shares with her husband of 2 years.