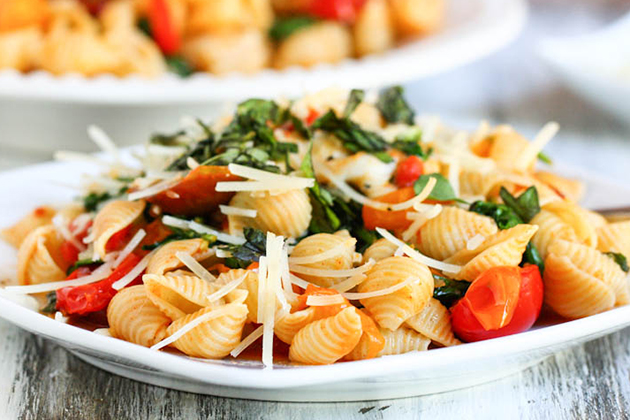 I love a good pasta dish, and this Smoky Tomato, Roasted Red Pepper and Arugula Pasta by Cassie (Tasty Kitchen member BakeYourDay) is just perfect for a delicious late-summer meal!
It contains pretty much all my favorite things (besides chocolate). I seriously cannot get enough of this pasta! After you try it, you too, will understand it's magical addictive properties. After making it the first time, I ate it for three meals straight and I have to say, it tastes almost better the next day!
Followed by some chocolate, of course.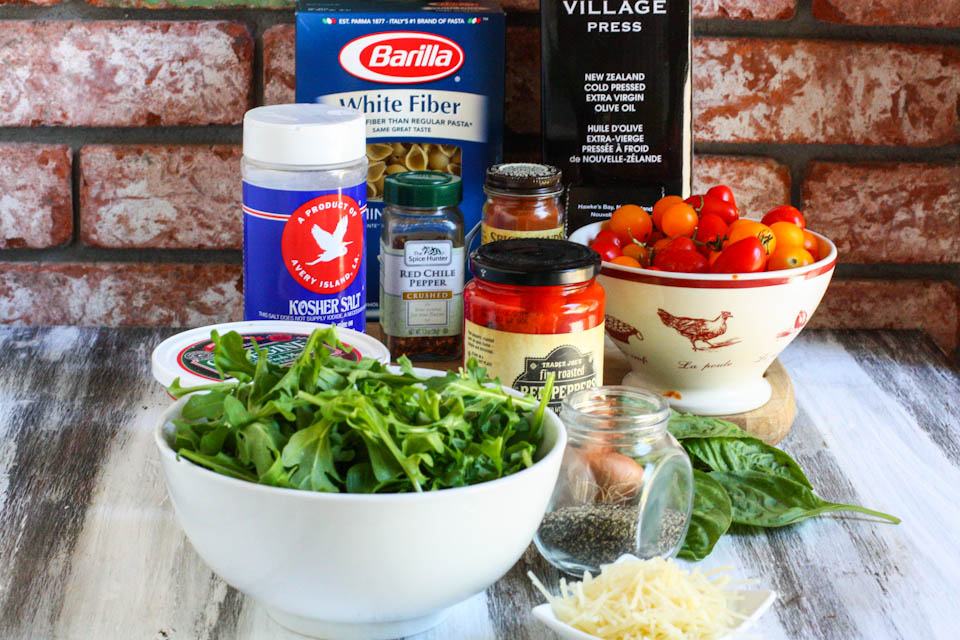 Here are the ingredients. You probably have a few of these things on hand already. Get ready to grab your pasta (I used small shells), olive oil, cherry tomatoes, roasted red peppers, fresh arugula, fresh basil, smoked paprika, salt, pepper, red pepper flakes, a shallot, a clove of garlic, fresh mozzarella cheese and Parmesan cheese. The next time I make this (and there will a next time very soon, trust me), I'm going to add some spicy chicken sausage!
First, cook your pasta in boiling salted water and save a little of the cooking water for later. (Don't fret if you forget to save some pasta water. I did and my pasta still came out perfect!) Set drained pasta aside.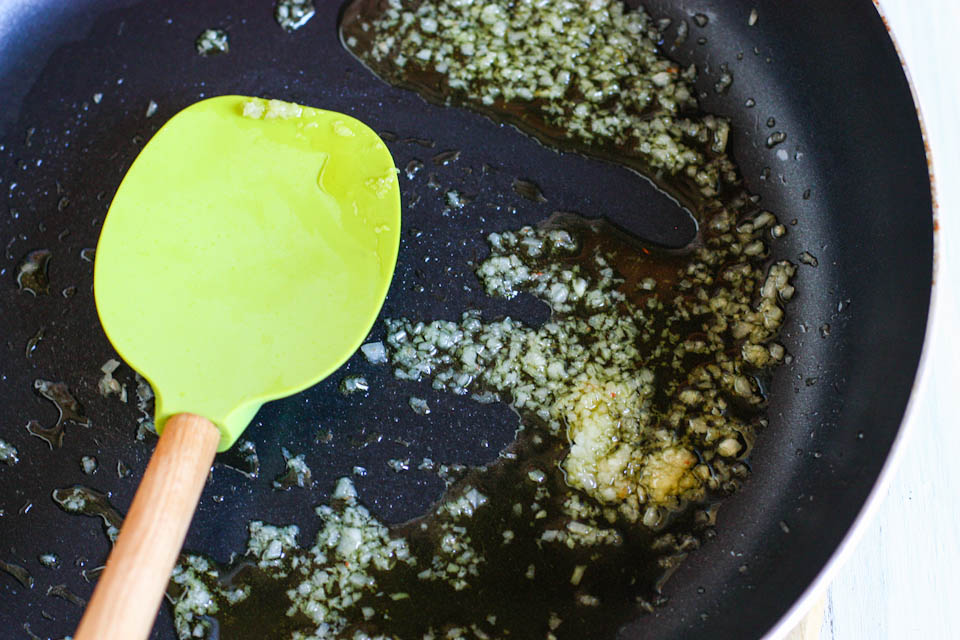 Heat some olive oil over medium heat and add the garlic and shallot. Saute until the shallot is soft, about four minutes.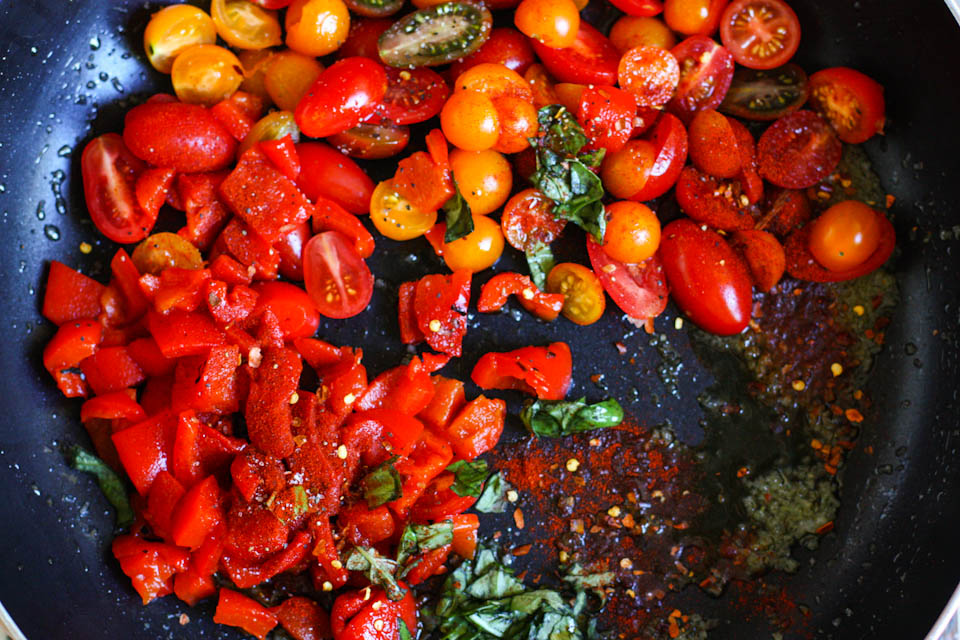 Then add the cherry tomatoes, a little bit of the fresh basil, smoked paprika, red pepper flakes, roasted red peppers and a pinch of salt. Cook over medium heat for five minutes.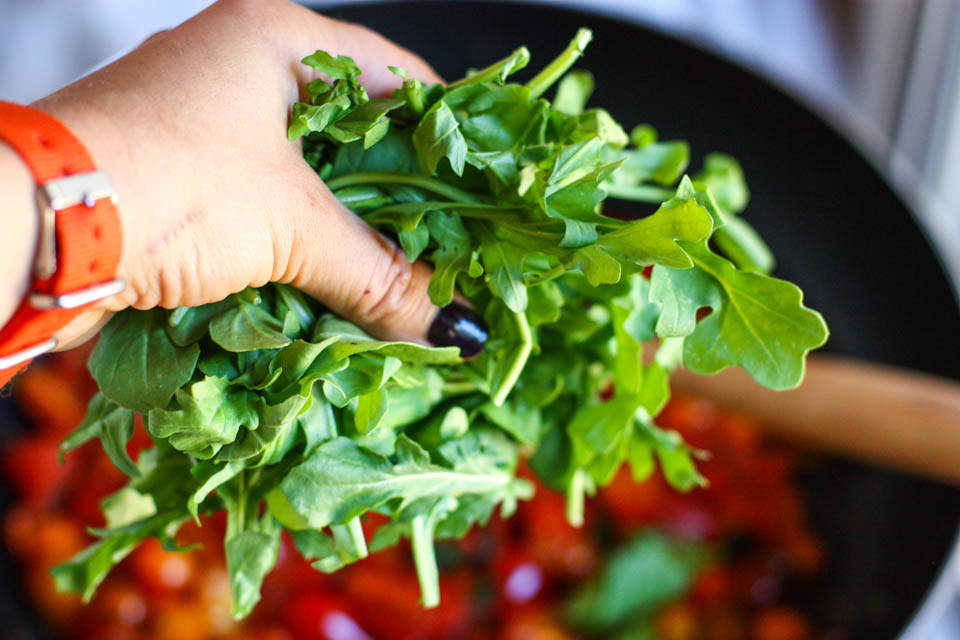 Add the arugula to the pan! Arugula is such a nice addition here; I really love its peppery bite.
You'll want to keep cooking until the arugula wilts. This won't take long!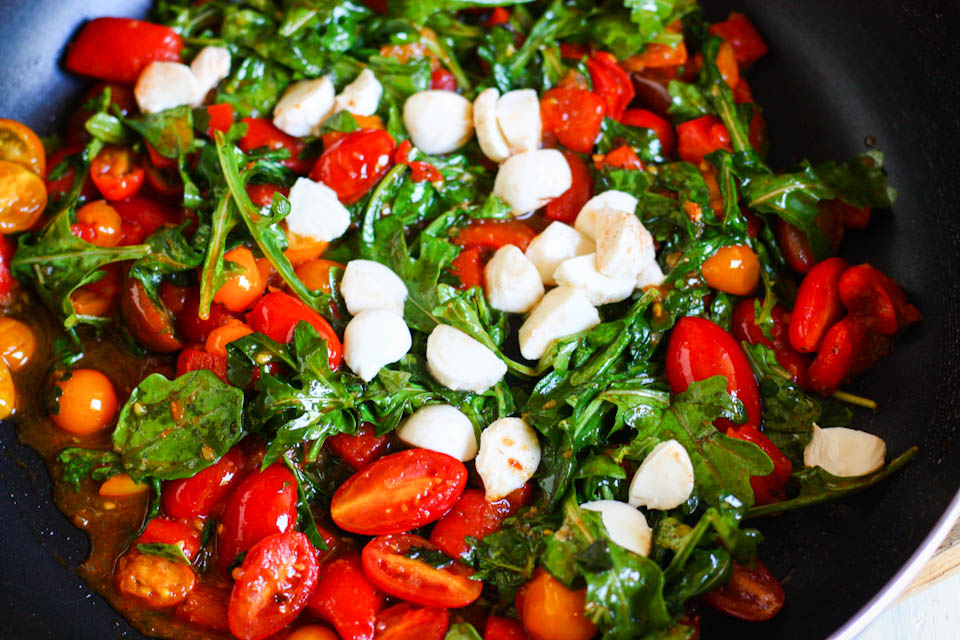 After the arugula wilts, toss in the fresh mozzarella. This is my favorite part! I adore fresh mozzarella so much, especially when it gets all melted and creamy. Mmm.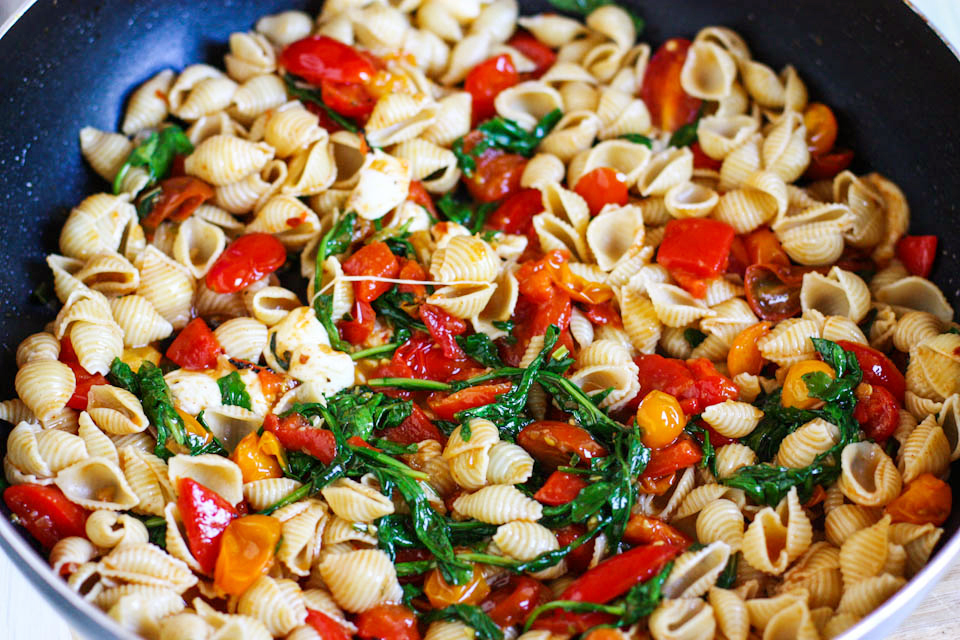 Stir in the pasta (and cooking water, if using). Season with a little additional salt and some pepper here.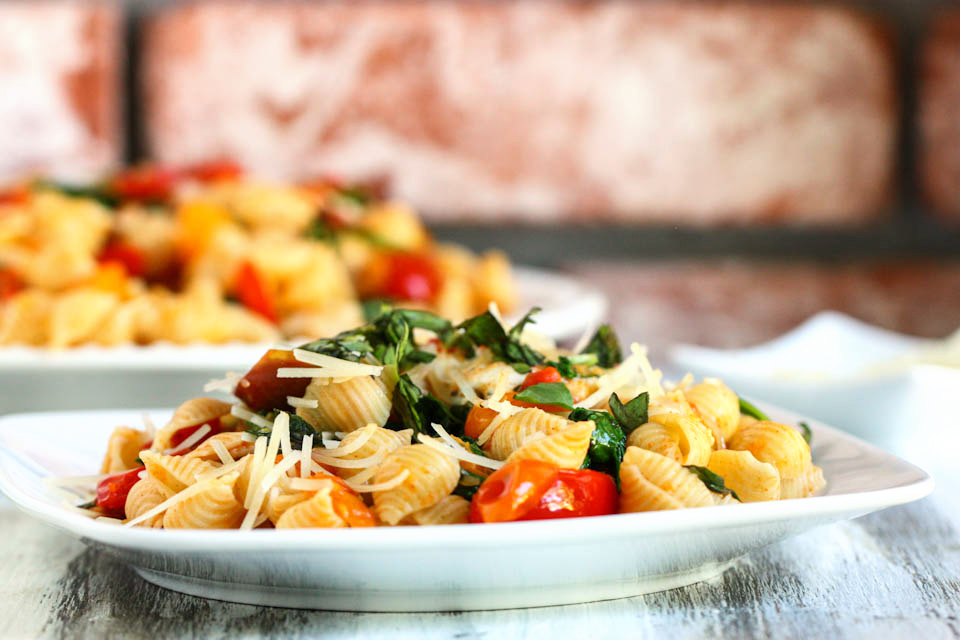 Serve the pasta with a sprinkle of Parmesan cheese and you're set! Dinner is DONE.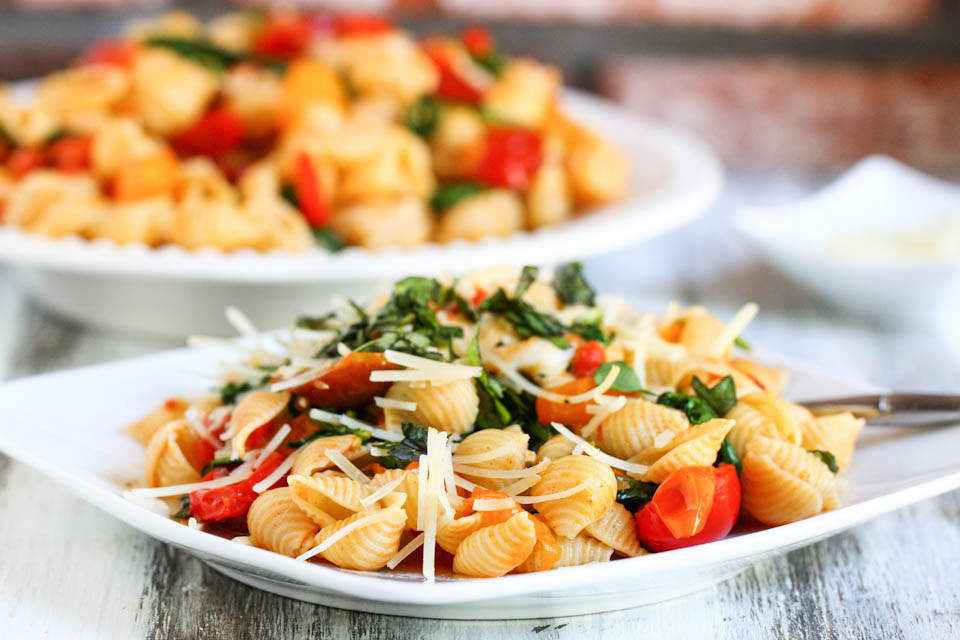 Trust me guys, you don't want to miss out on this one. It's fabulous.
Thanks again, Cassie, for sharing this recipe! Don't forget to visit her blog, Bake Your Day for more of her amazing recipes.
Enjoy!
Printable Recipe
See post on BakeYourDay's site!
Description
Fresh veggies and pasta with smoky seasonings and fresh mozzarella.
Ingredients
8 ounces, weight Pasta
2 teaspoons Olive Oil, Divided
1 whole Shallot, Minced
1 clove Garlic, Minced
1 cup Grape Tomatoes, Halved
½ cups Roasted Red Peppers, Chopped
¼ cups Fresh Basil, Chopped, Divided
1 teaspoon Smoked Paprika
½ teaspoons Crushed Red Pepper Flakes
½ teaspoons Salt
¼ teaspoons Black Pepper
2 cups Fresh Arugula
2 ounces, weight Fresh Mozzarella Cheese, Diced
¼ cups Parmesan Cheese
Preparation Instructions
Cook pasta according to package directions, reserving 1/4 cup of the pasta cooking water.
While the pasta cooks, heat 1 teaspoon of olive oil in a large pan over medium heat. Add the shallot and garlic and cook until soft and fragrant, about 6 minutes. Add the tomatoes, roasted red peppers, half of the basil, smoked paprika, crushed red pepper flakes, salt and pepper and stir to combine. Let the mixture cook for another 5-6 minutes until the tomatoes begin to soften.
Add the arugula to the pan and drizzle the remaining 1 teaspoon olive oil over the arugula. Stir it to combine and cook until the arugula wilts. Turn the heat to low and stir in the mozzarella cheese. Add the cooked pasta and the pasta water and stir until combined. Top with Parmesan cheese.


_______________________________________
Jenna is a food writer who has worked as a pastry chef and bread baker. Her blog Eat, Live, Run has great recipes, travel stories, and the perfect slogan: "Celebrating life, one crumb at a time."