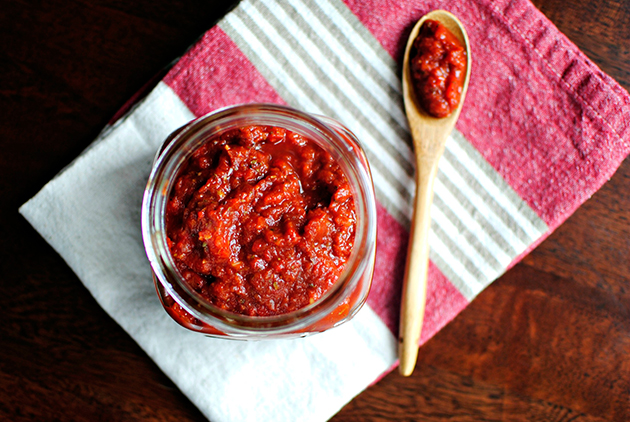 It all started when I went off searching for a pizza sauce. I wanted, no needed a sauce with flavor, flair … and with roasted red peppers. So I typed in the words "roasted red pepper pizza sauce" into the Google search bar on my desktop, and wouldn't you know it, up popped the link to Leanne's recipe in Tasty Kitchen. Call it luck or call it fate, I'll call it all that AND I'll call it the best pizza sauce I've ever had. Period.
You know as well as I do that homemade pizza sauce is always a key factor when making a great pizza. But homemade pizza sauce that calls for roasted red peppers is not only brilliant but amazing and it's so easy to make too! Just throw it all in a food processor and you'll have a thick and flavorful sauce for your pizza in seconds.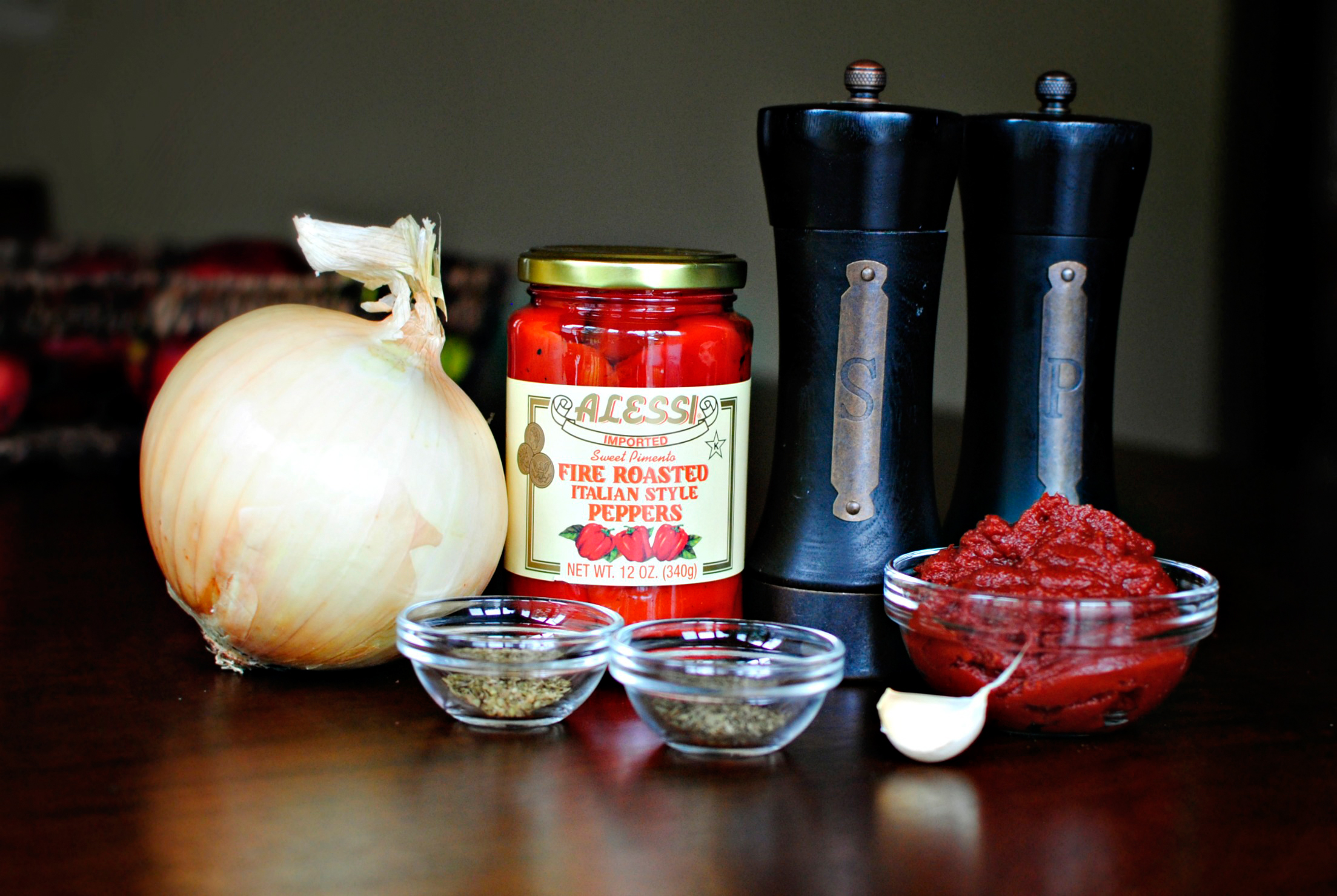 The ingredients are simple enough: an onion, a jar of roasted red peppers, tomato paste, a garlic clove, oregano, basil and the ever important salt and black pepper. You could make this 100% from scratch by roasting and peeling your own red bell peppers (I'd say you would need about 2 large or 3 small) but who wouldn't like a little help in the kitchen every now and again?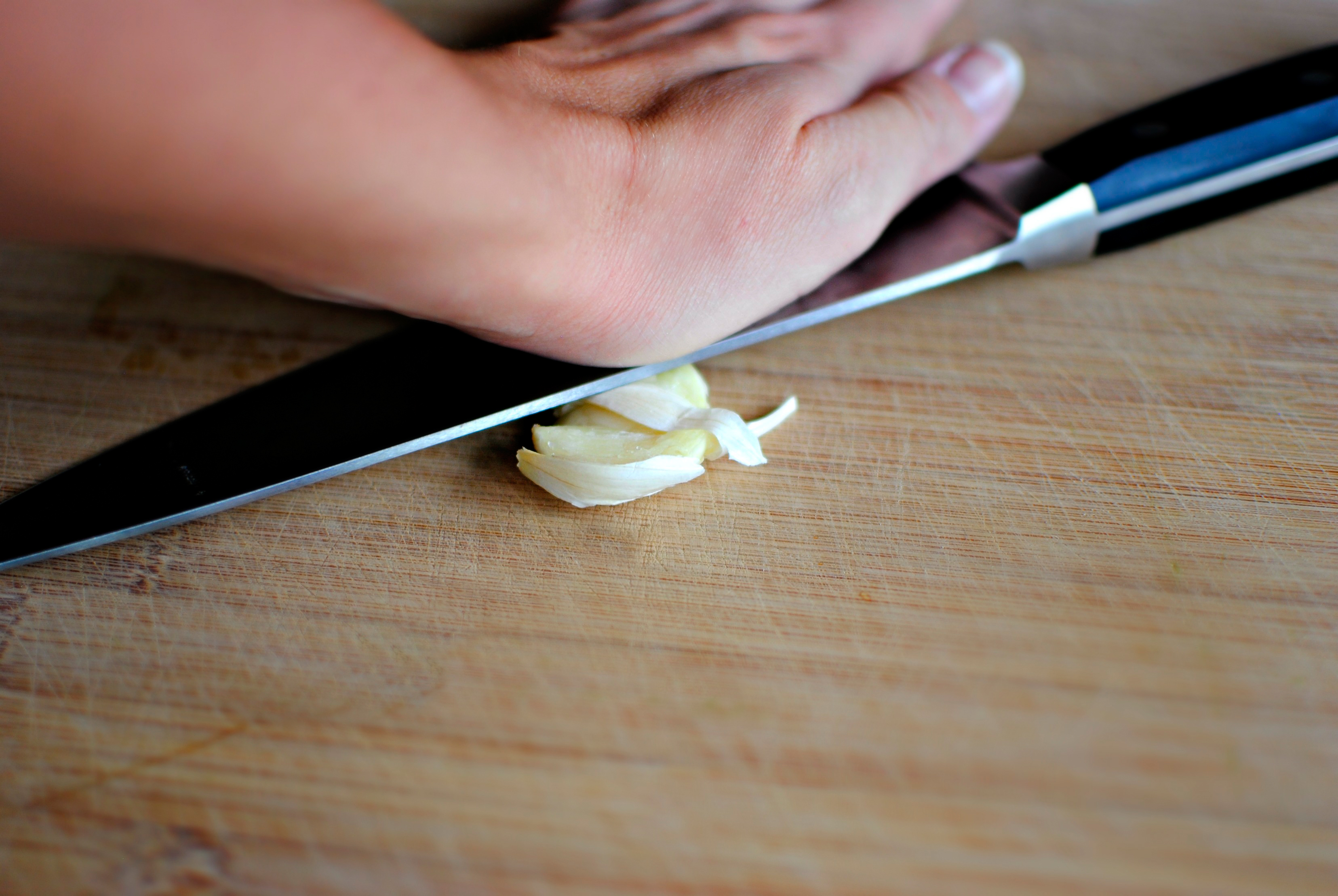 Start by smashing and peeling one garlic clove.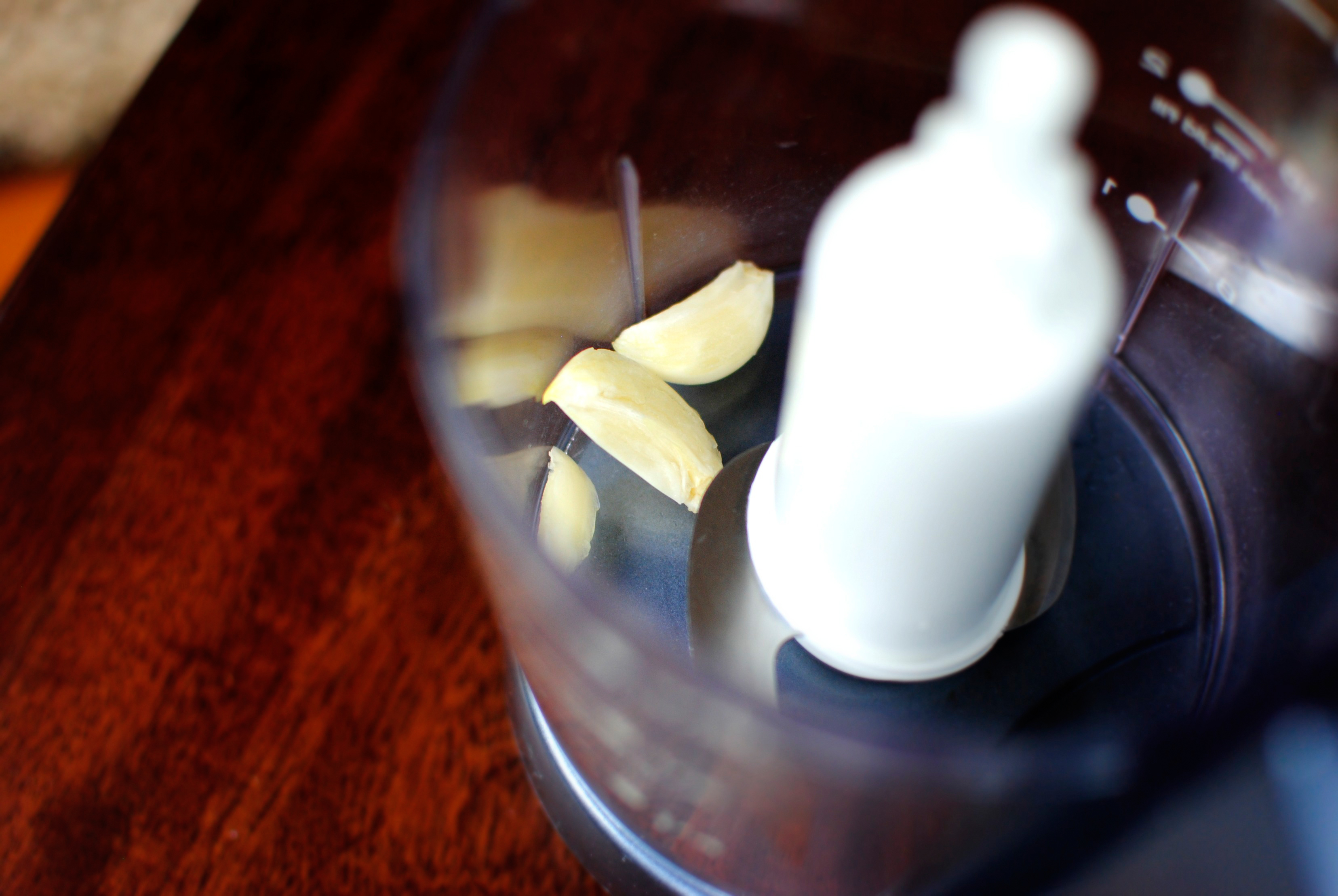 Toss the garlic into a food processor. If you have a mini one then that will be just the perfect size for this recipe.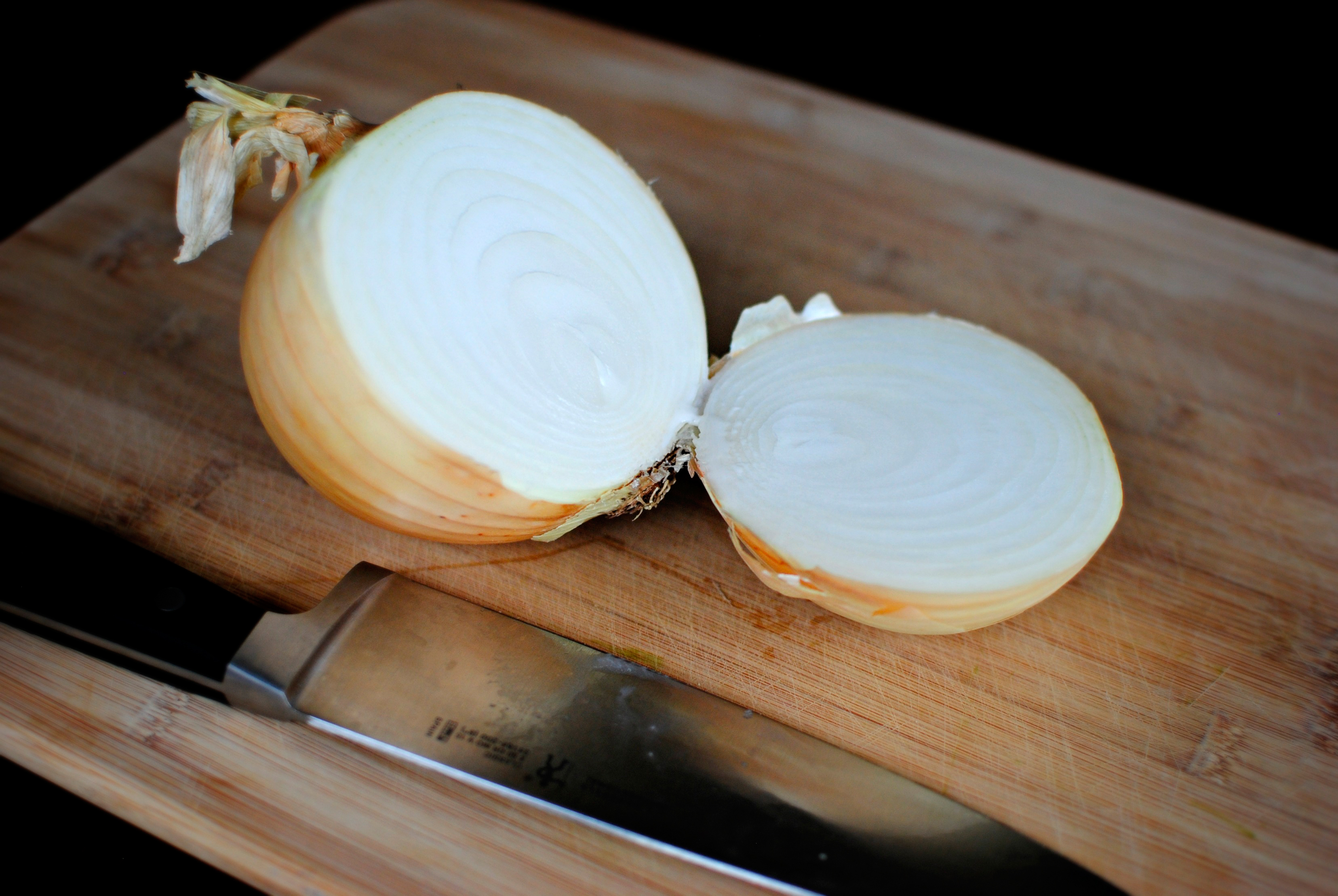 The original recipe calls for white onion, and since all I had on hand was the Spanish variety, I made a slight alteration. Also, since the Spanish onion was the size of a softball on steroids, I only used a third of that big guy.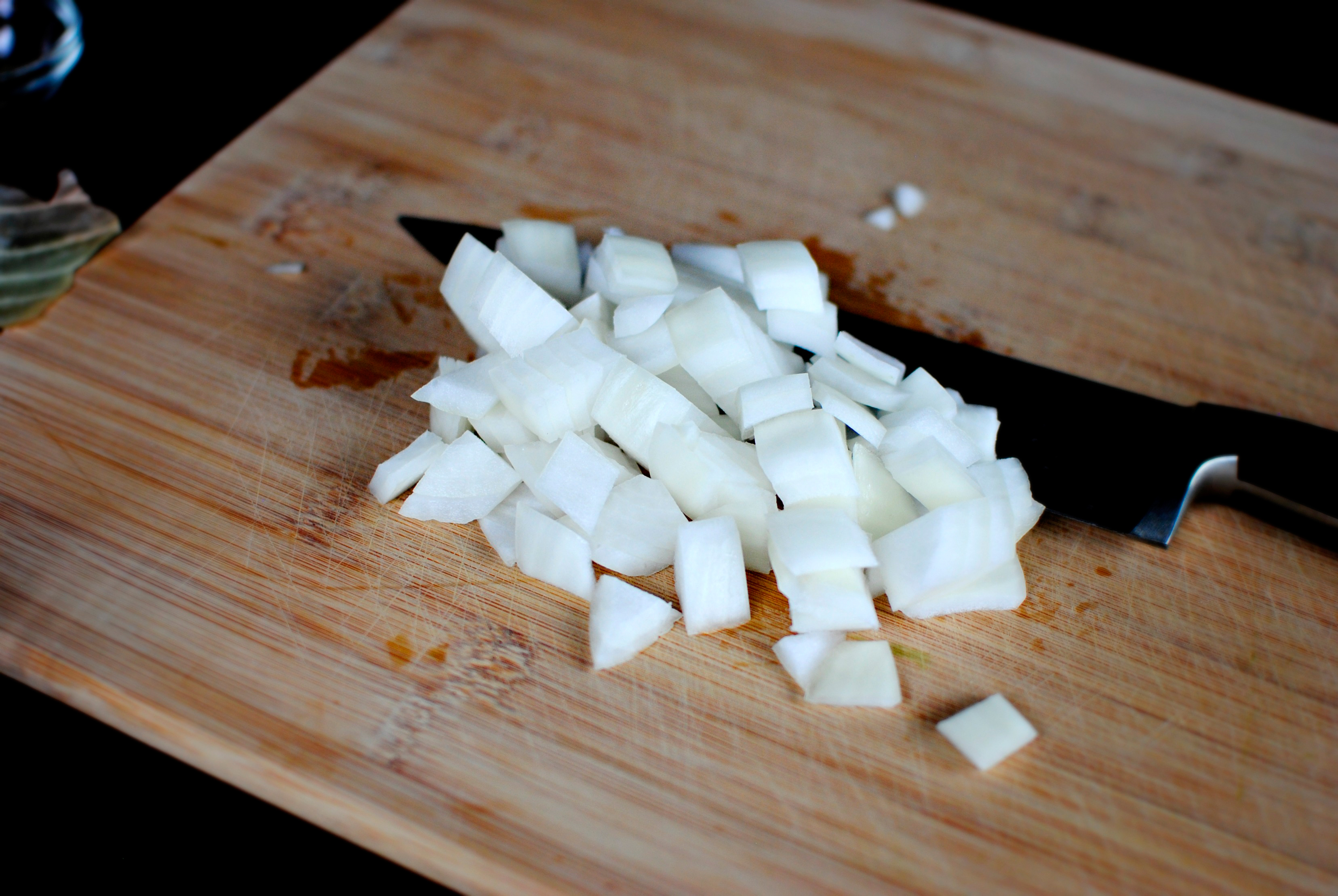 Next just give the onion a rough chop. Nothing perfect or pretty, it just helps the food processor out a tad.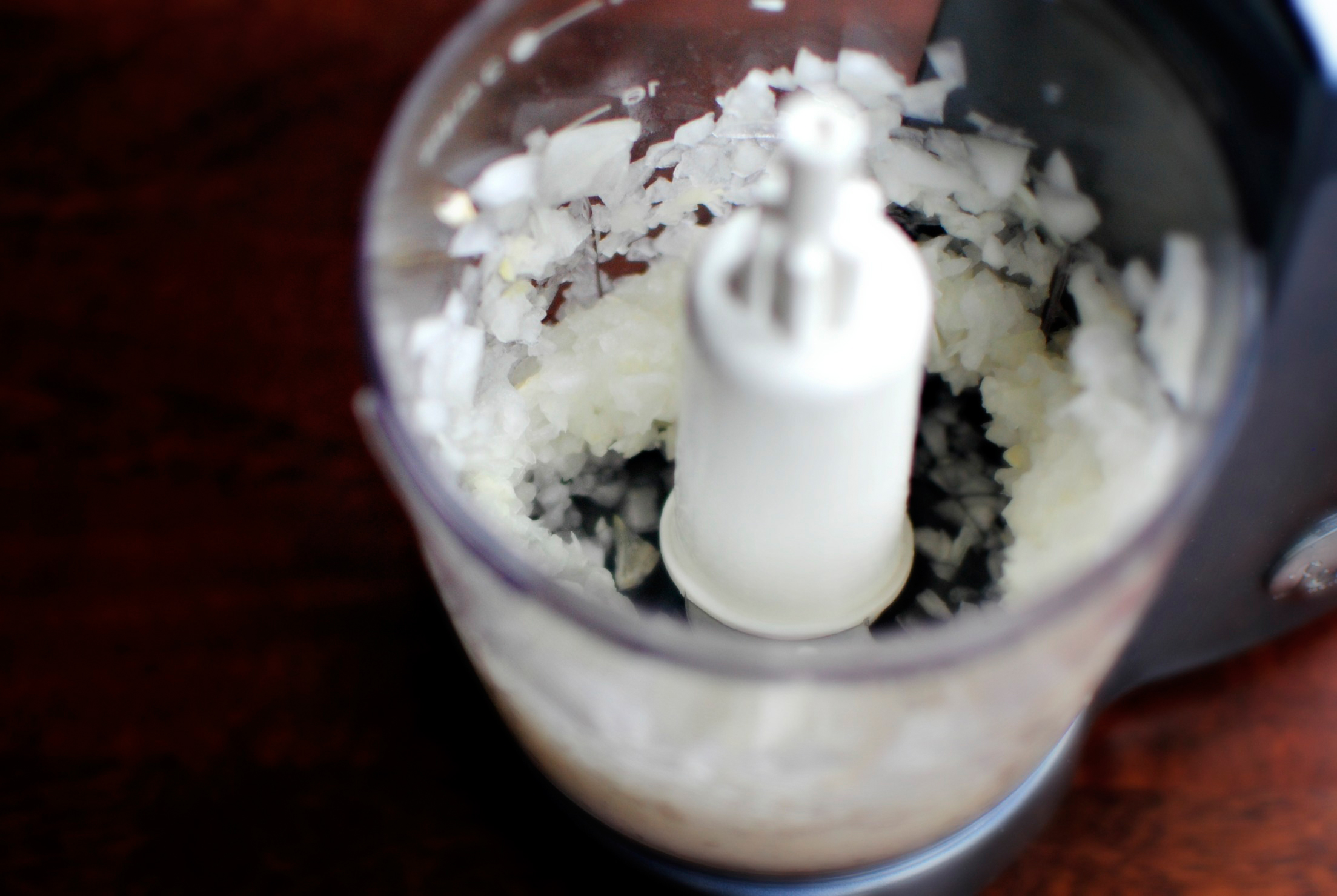 Add in the diced onion and secure the lid. Give it a quick pulse to mince up both the garlic and onion.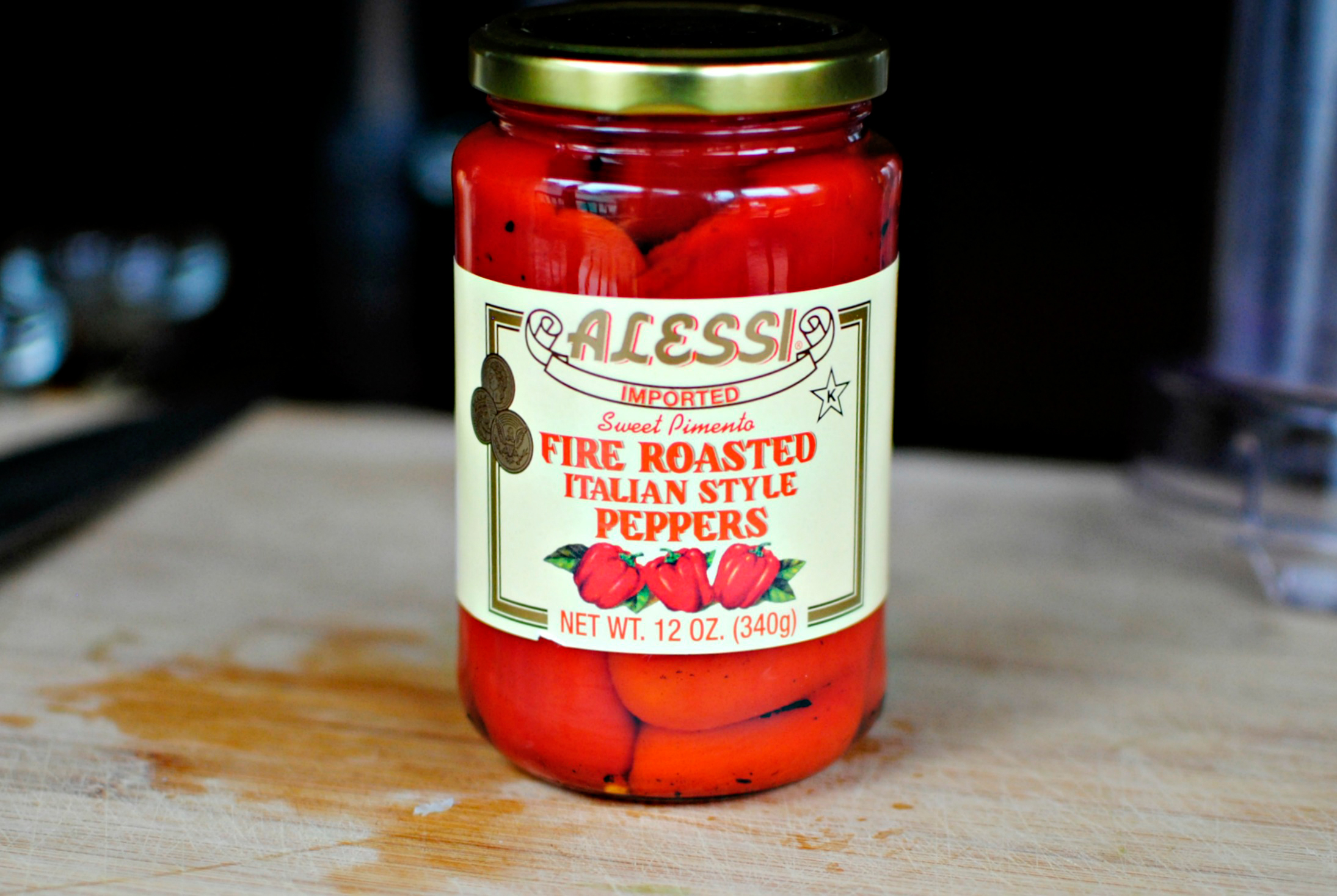 I only had a 12-ounce jar of peppers in my pantry, so I used what looked like 6 ounces to me and added it into the food processor.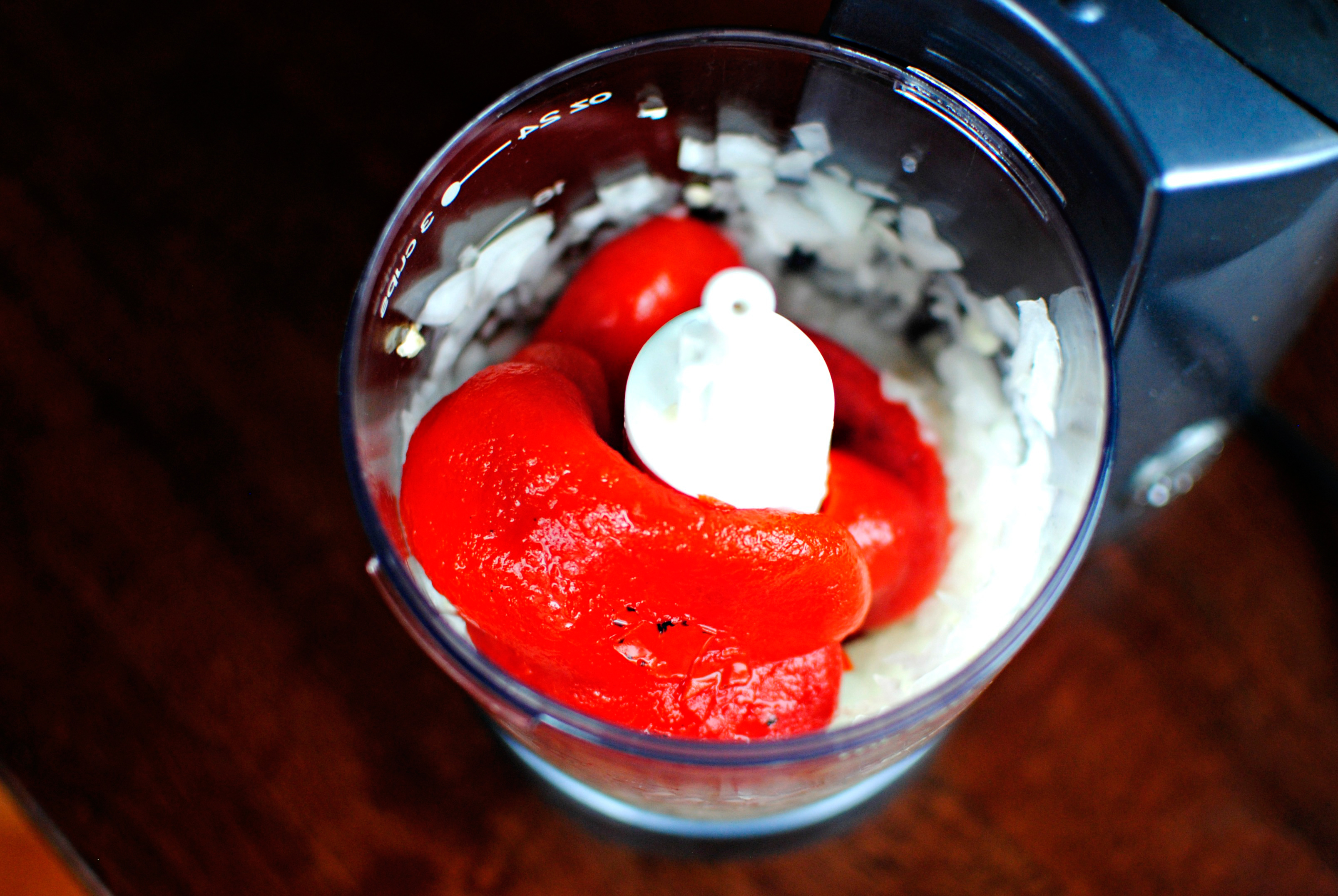 Whether you end up adding 6 or 8 ounces of peppers, it shouldn't matter. You really can't screw this up.
(P. S. Charred bits make me happy.)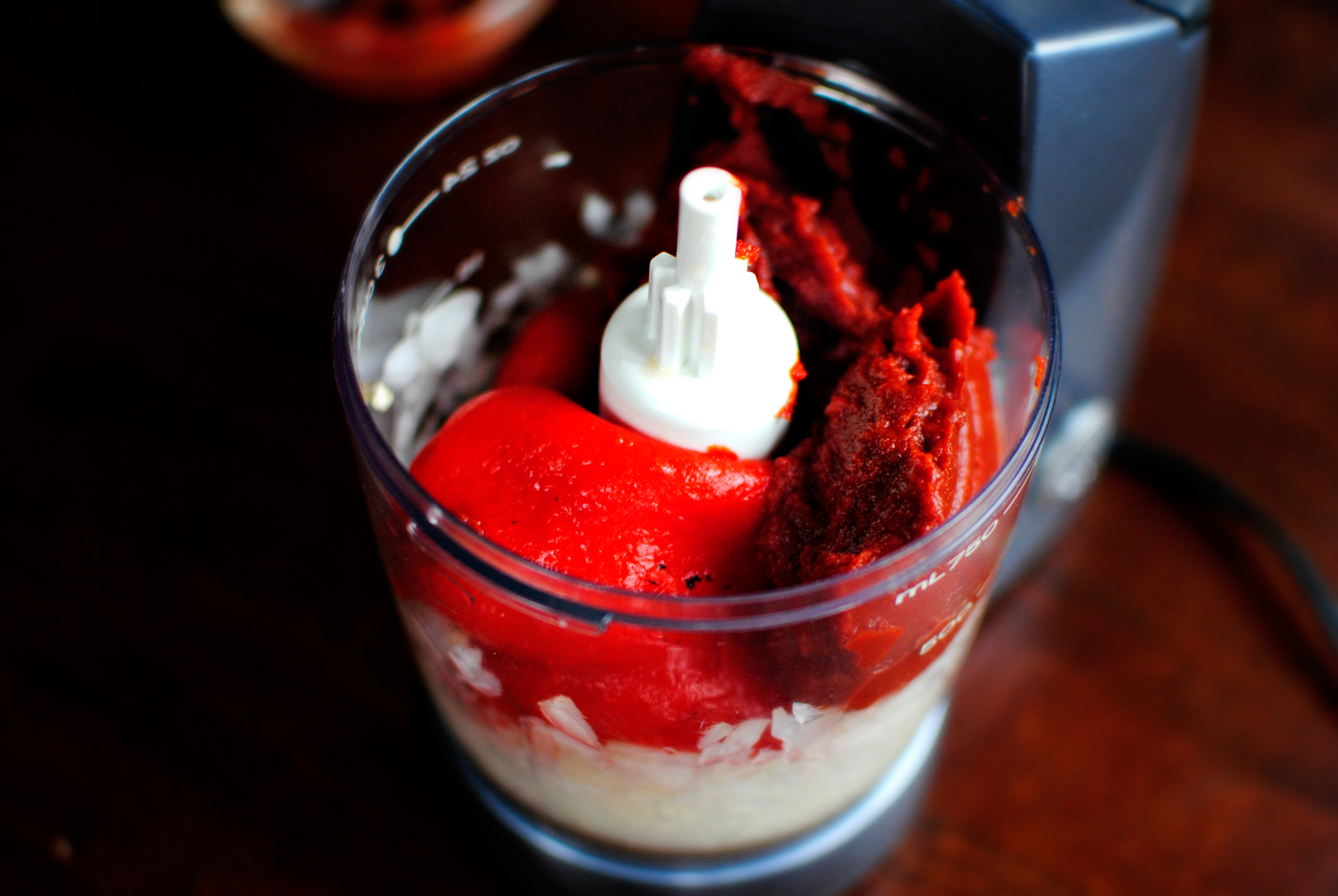 All that's left to do is add in the 6 ounces of tomato paste.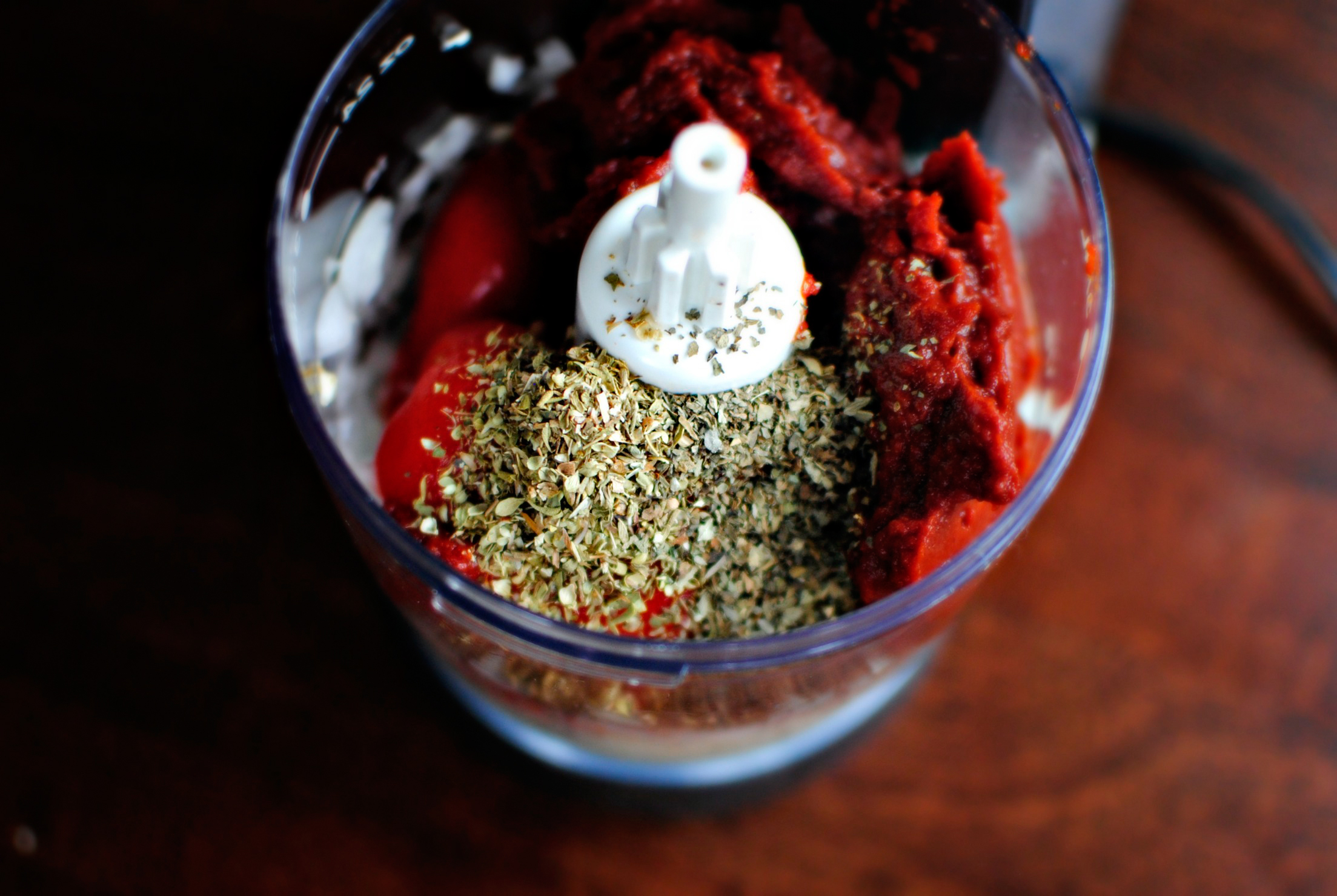 Then the black pepper, a dash of salt and a teaspoon of both dried basil and dried oregano.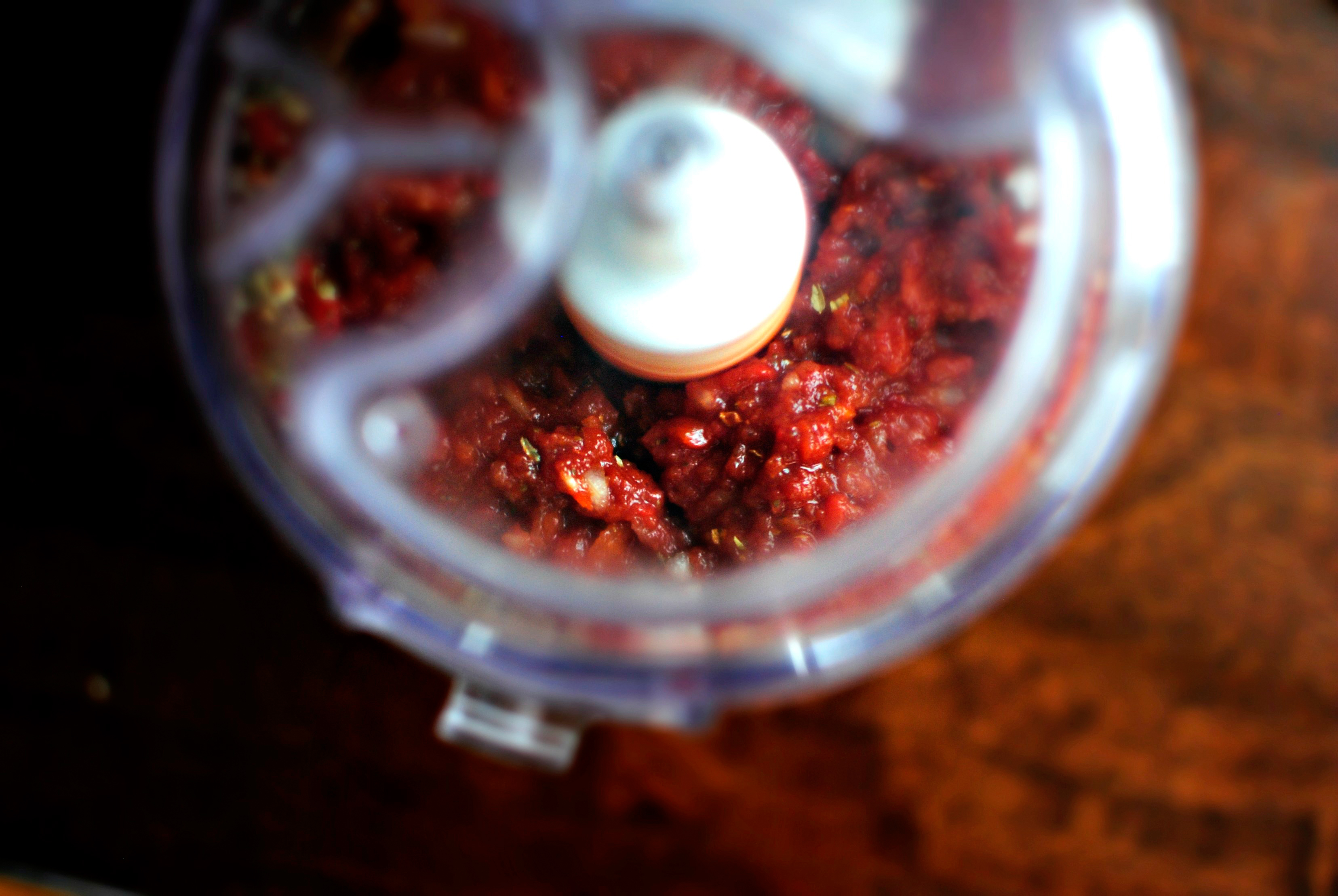 Secure the lid one last time and give it a go on high speed until completely blended.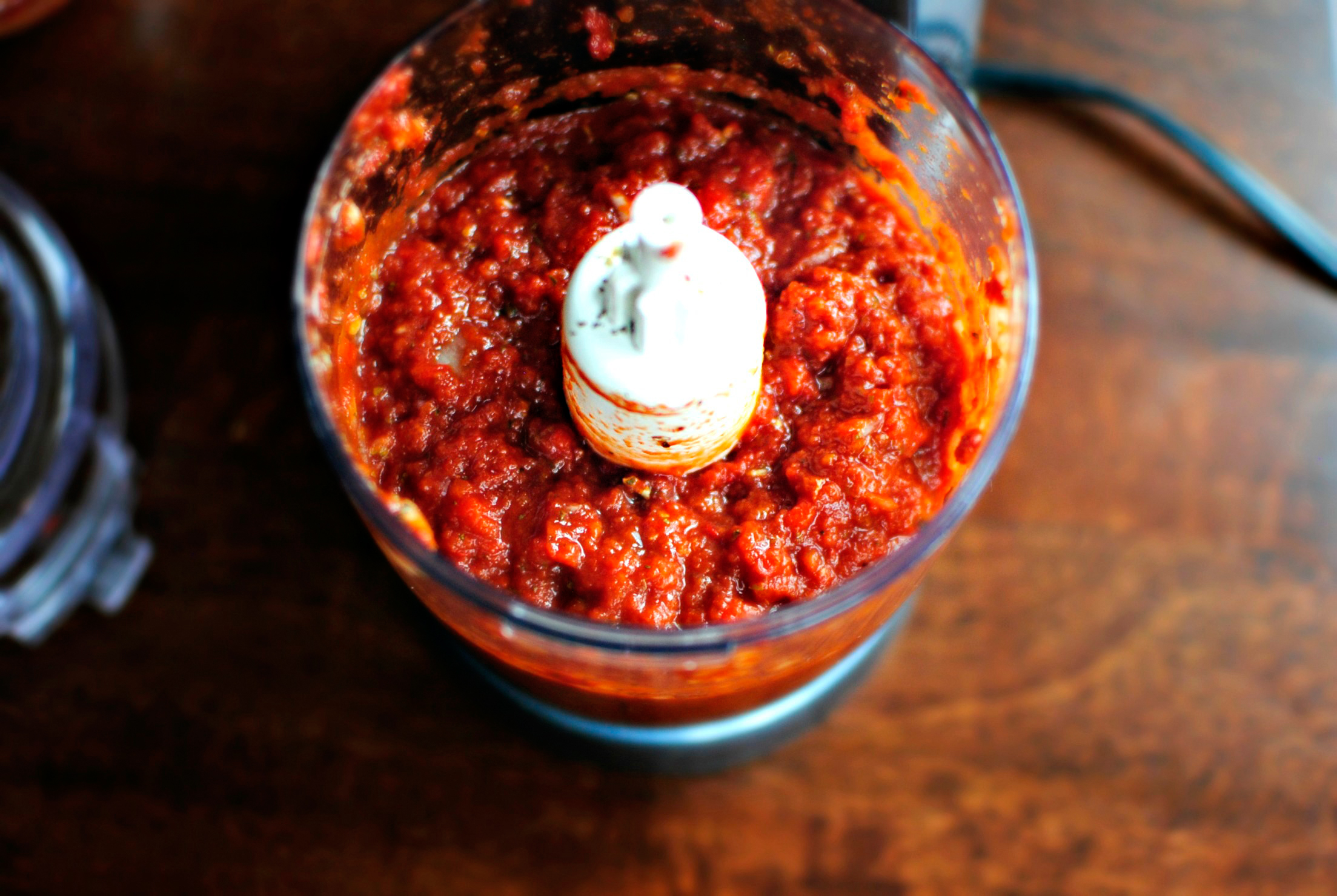 It should still be thick and a little on the chunky side, where you can still see flecks of the spices and a little bits of onion. And if you wanted to add a little heat, just throw in a pinch or two or three of red pepper flakes and your mouth will be happy.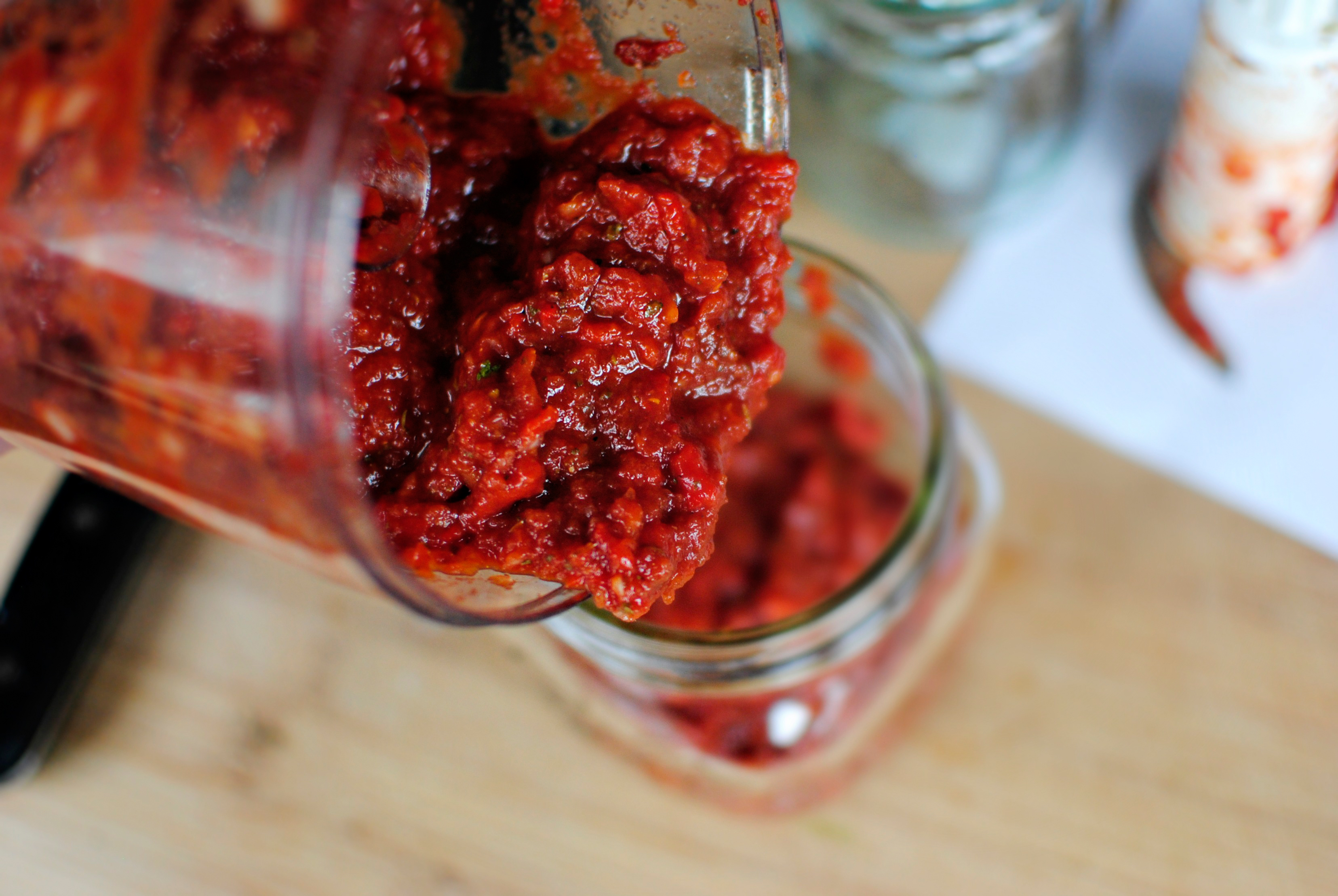 Pour the pizza sauce into a container that has a snug fitting lid and refrigerate until ready to use. This recipe makes a little over a cup of pizza sauce.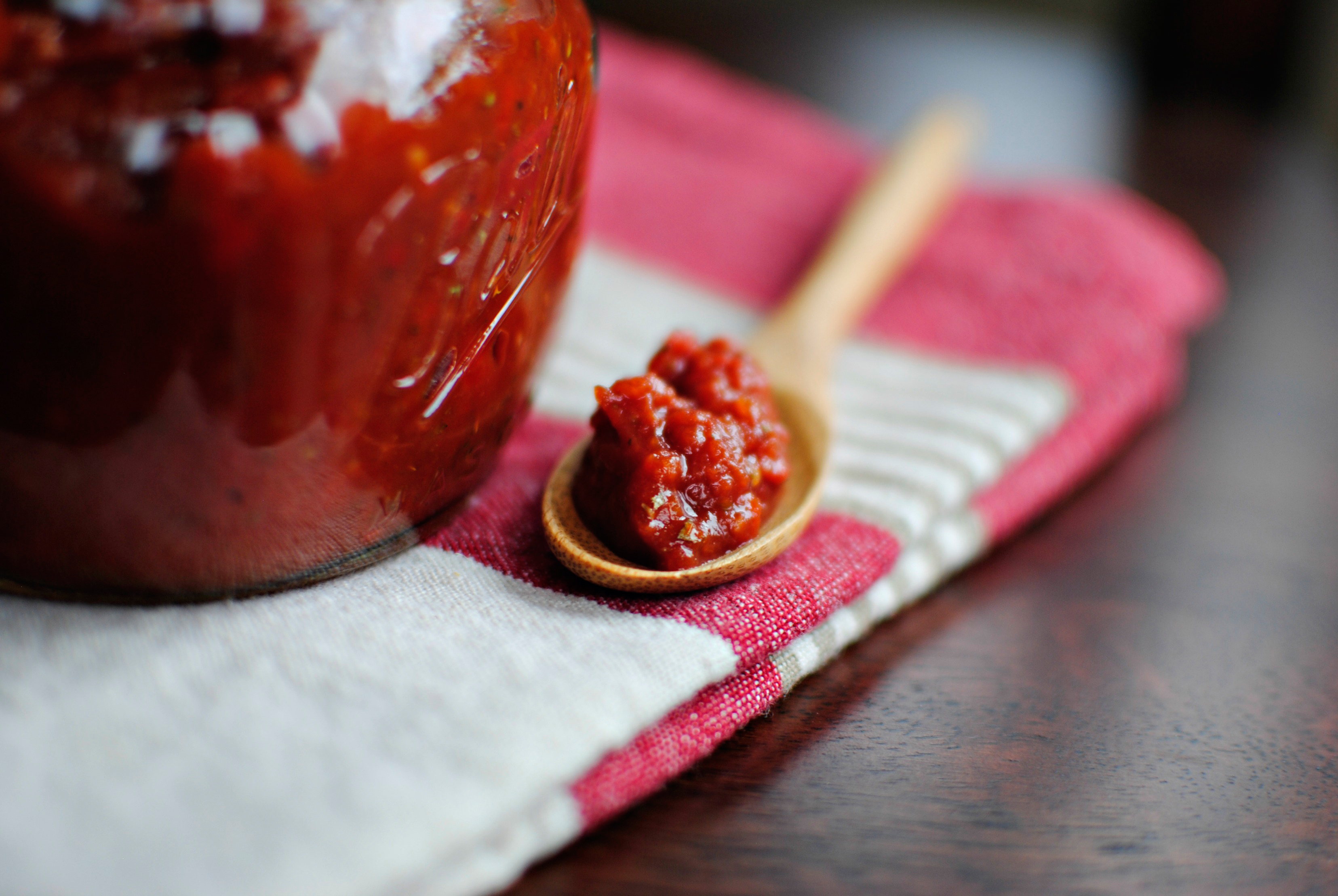 I, of course, had to make pizza right away. After a finger-swipe tasting of the sauce, I simply could not wait.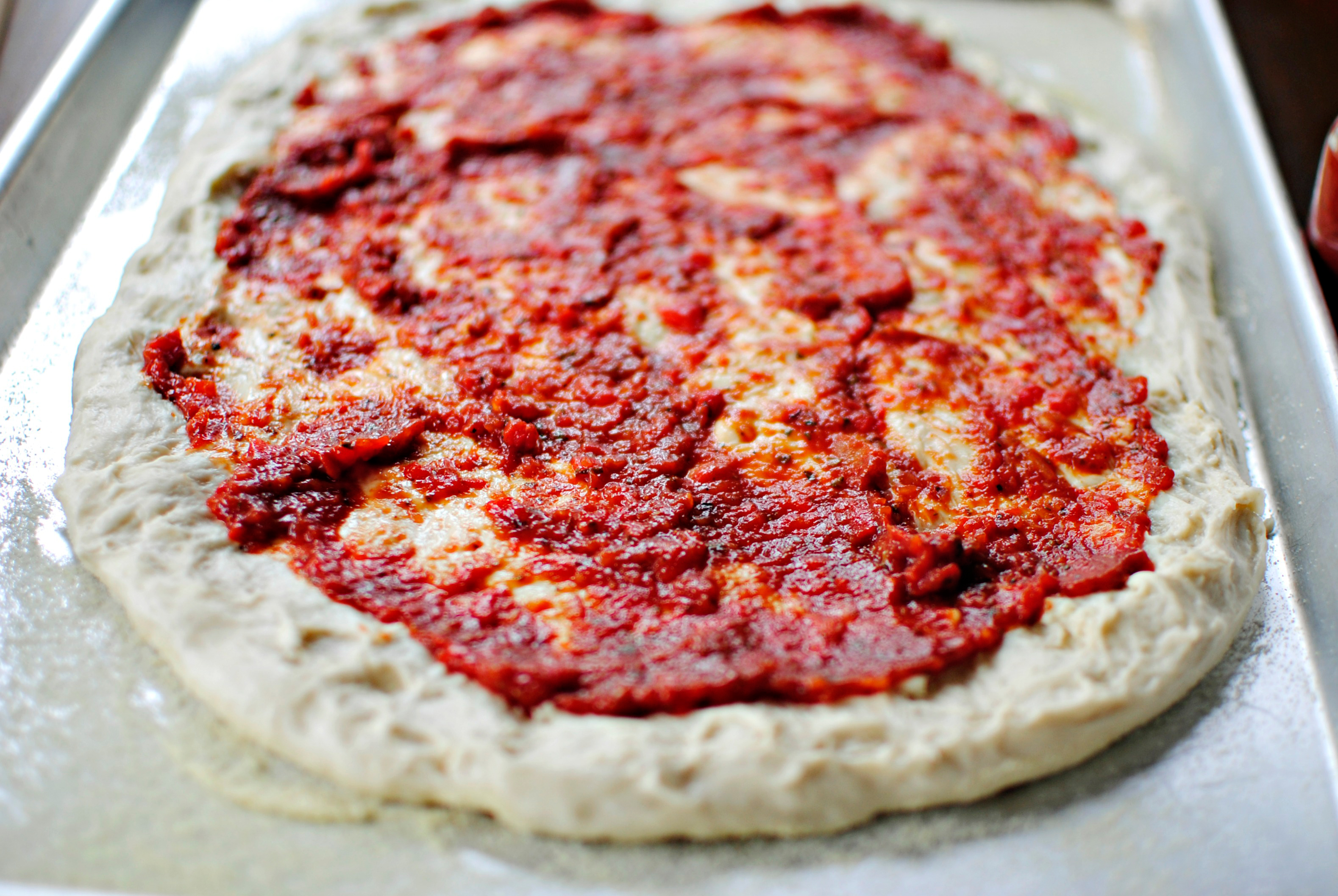 And as I smeared the tasty sauce on the un-baked pizza dough, I admired its color and texture. It really is a thing of beauty!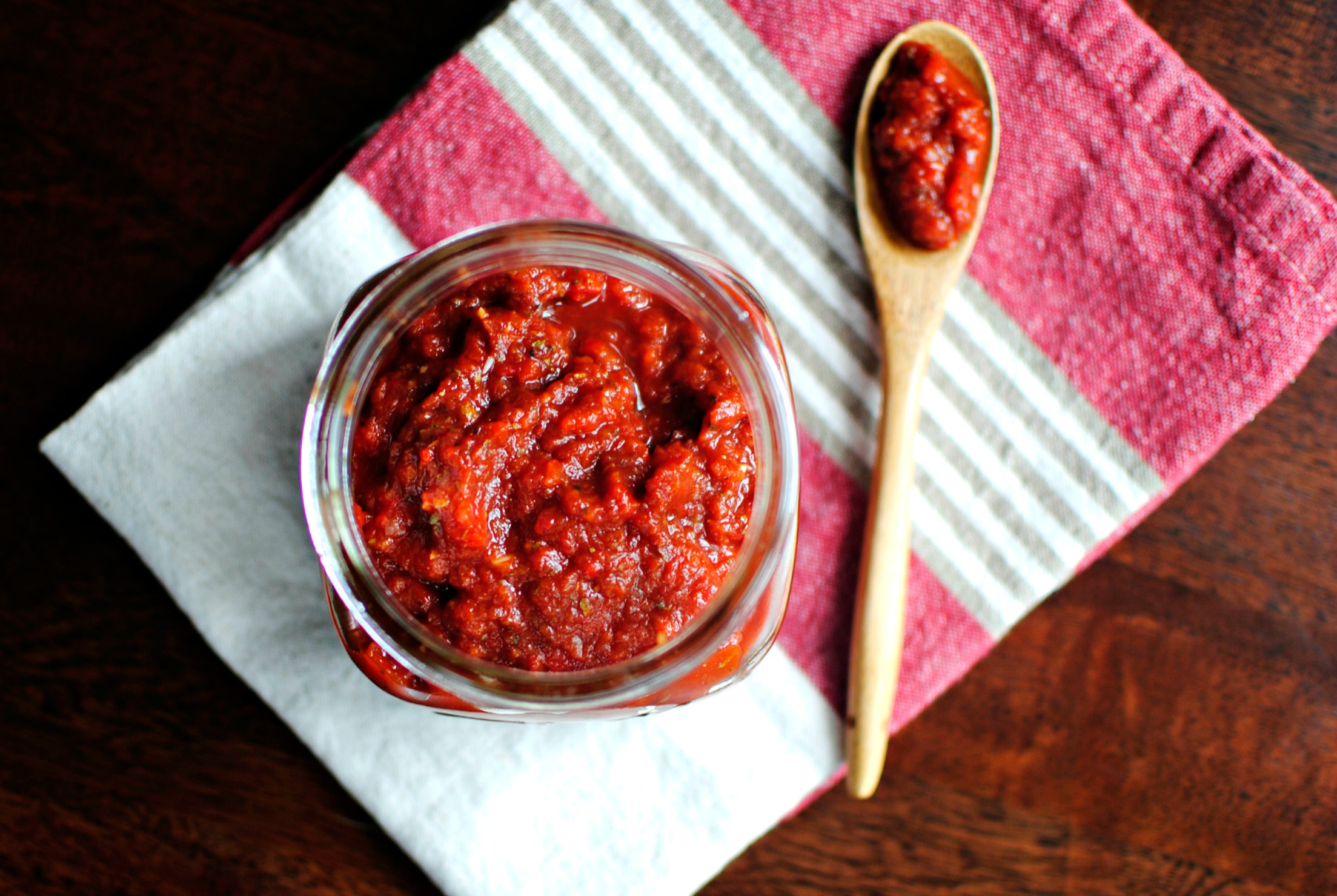 Now, since you've seen this scrumptious sauce, I'm guessing you're craving pizza. So don't wait another minute! Make it for lunch, make it for dinner! I just know it'll be a huge hit in your home as it was in mine.
A big "thank you" goes out to Leanne for sharing this recipe with us. I know I'll be making this pizza sauce for years to come; in fact, I'm sure I'll never go back to making regular pizza sauce ever again. It's hands down one of the best I've had the pleasure of making (and eating)!
Printable Recipe
See post on funfoodlove's site!
Description
The roasted red peppers add just the right flavor to the sauce, making it more interesting than your basic tomato sauce. We used this on our grilled pizzas with fresh mozzarella and chicken. It was the perfect combination.
Ingredients
6 ounces, weight Tomato Paste
6 ounces, weight Jar Of Roasted Red Peppers
1 clove Garlic
½ whole White Onion
1 teaspoon Fresh Ground Pepper
1 dash Salt
1 teaspoon Basil
1 teaspoon Oregano
Preparation Instructions
Mix all sauce ingredients in a food processecor. I use my Tupperware Quick Chef.
To use, spread sauce mixture over grilled pizza dough. Use toppings of choice on pizza. We used slices of fresh mozzerella and grilled chicken. Put pizza back on the grill to melt cheese, about 5 minutes in a 450-degree grill.


_______________________________________
Laurie is the force behind Simply Scratch, a blog that documents her efforts to find and create recipes that are made simply from scratch. (We think it's sweet that her mother-in-law helped her set up her blog and get started.) We love her recipes; they're not just tried and true, but they look gorgeous as well. Check out her blog and you'll become a fan too.