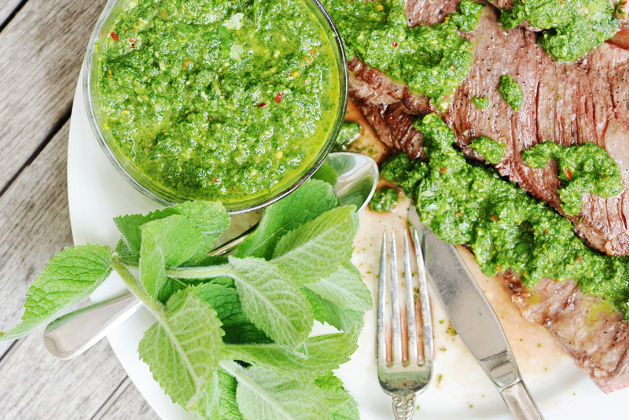 There's nothing like a big piece of meat grilled on a summer afternoon, all juicy and salty, with a lovely tangy sauce on the side to complement it. The sauce in this Grilled Hanger Steak with Cilantro Mint Chimichurri recipe from Sommer> (TK member aspicyperspective) was just so wonderful that I would eat it with any meat I put on the grill. And it's such a wonderful thing to make in advance and have on hand; it will dress any dish up.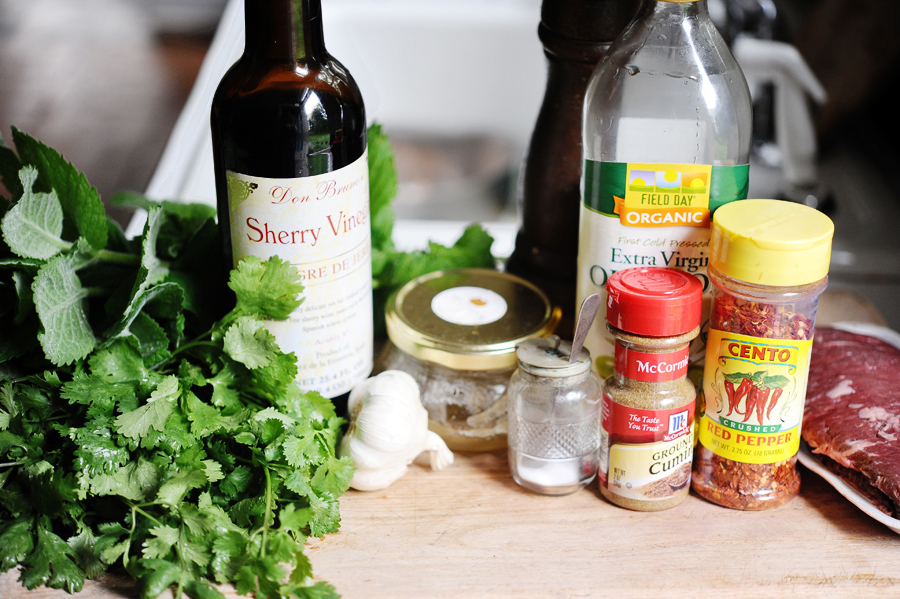 You will need: hanger steak, salt and pepper, fresh cilantro, fresh mint, garlic, red wine vinegar (I used sherry vinegar and it was great), ground cumin, honey, crushed red pepper, and olive oil.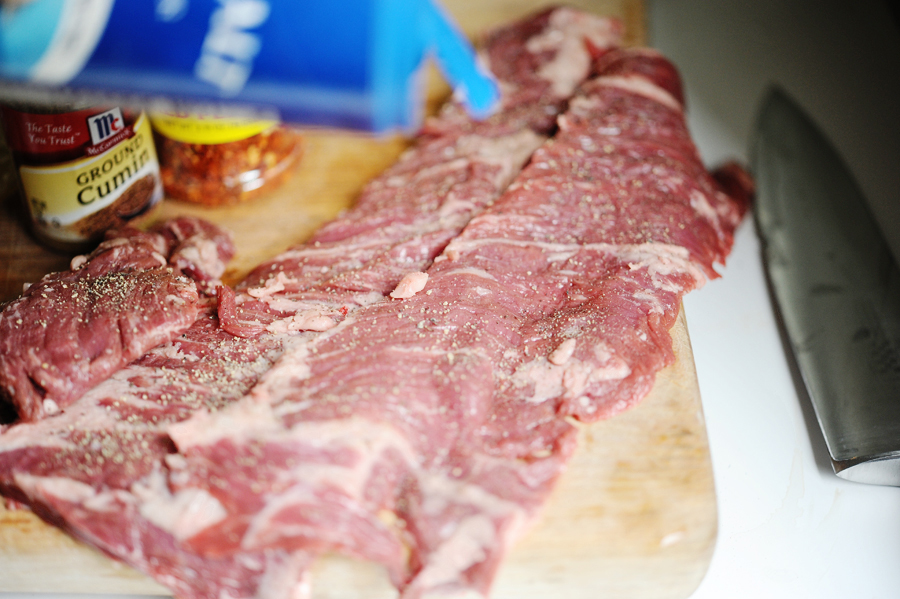 Get the grill nice and hot. With a thin steak you're only going to give it a quick sear so the grill will need to be sizzling. Season the steaks with salt and pepper on both sides.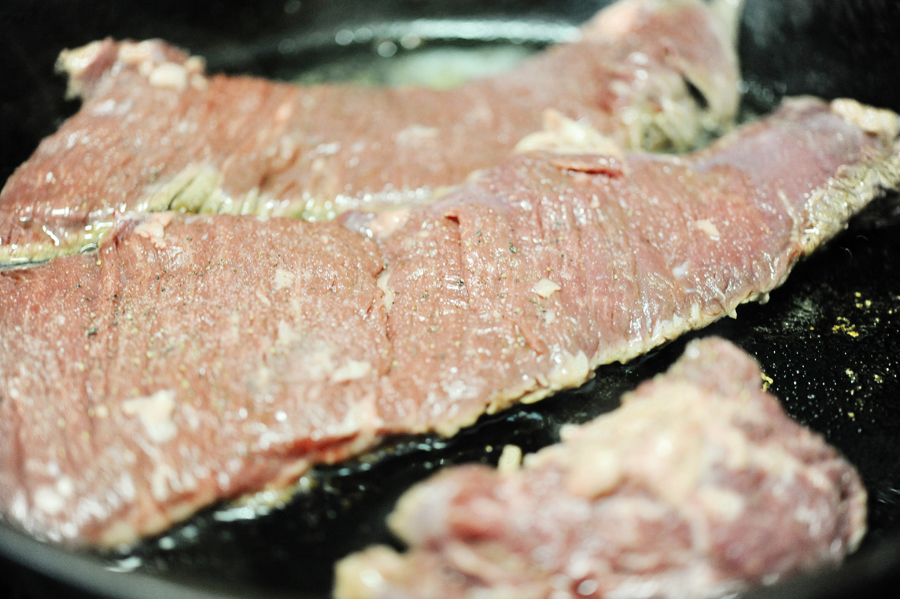 Sear them on both sides, about 2-minutes on each for medium rare. And by the way, you can use a skillet instead of a grill if that's what you have. It will still be delicious!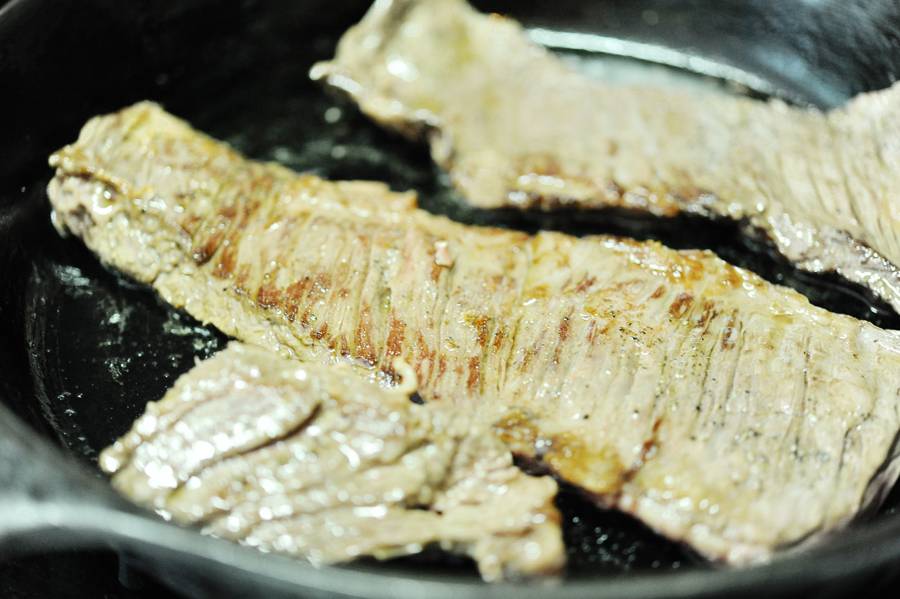 Once you give them a quick sear on both sides, remove from the heat and cover with foil to rest for 5-10 minutes so the juiciness stays within the meat.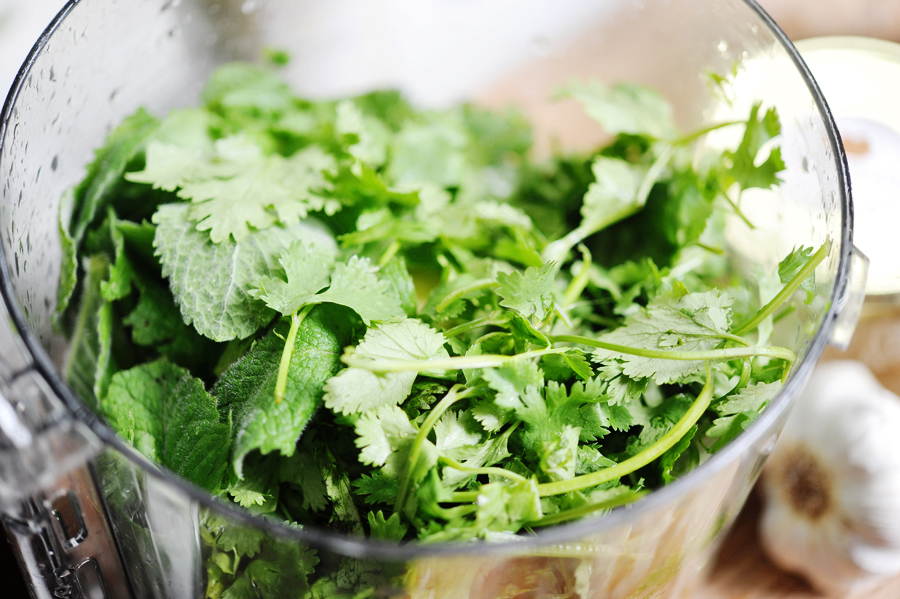 Meanwhile, get your sauce ready by combining all of the ingredients in a food processor. First the cilantro and mint …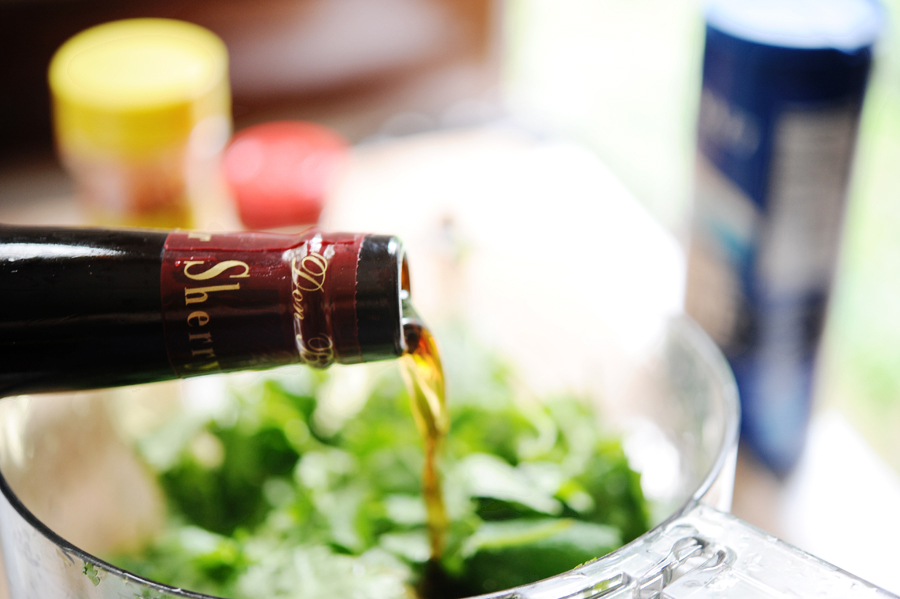 Then the vinegar …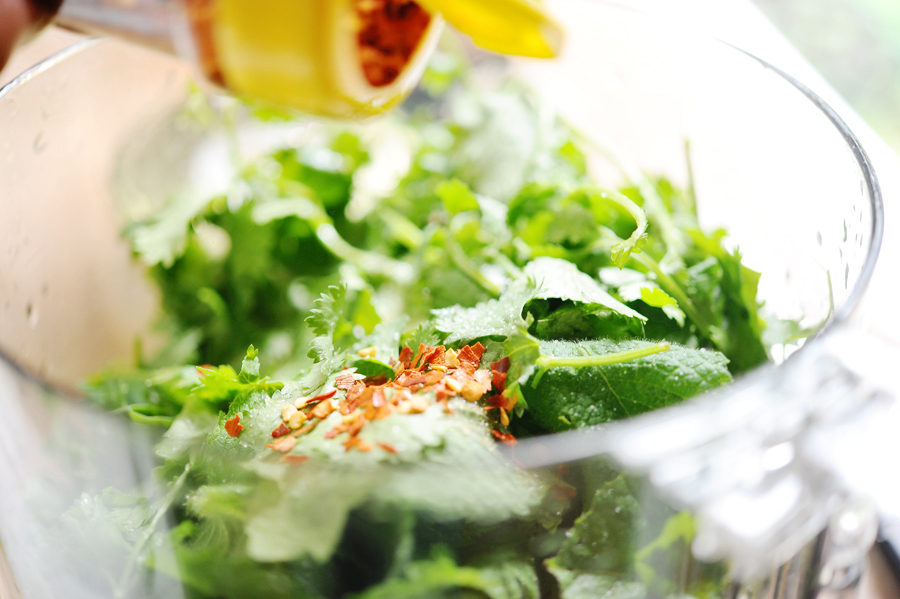 Red pepper flakes for some spice …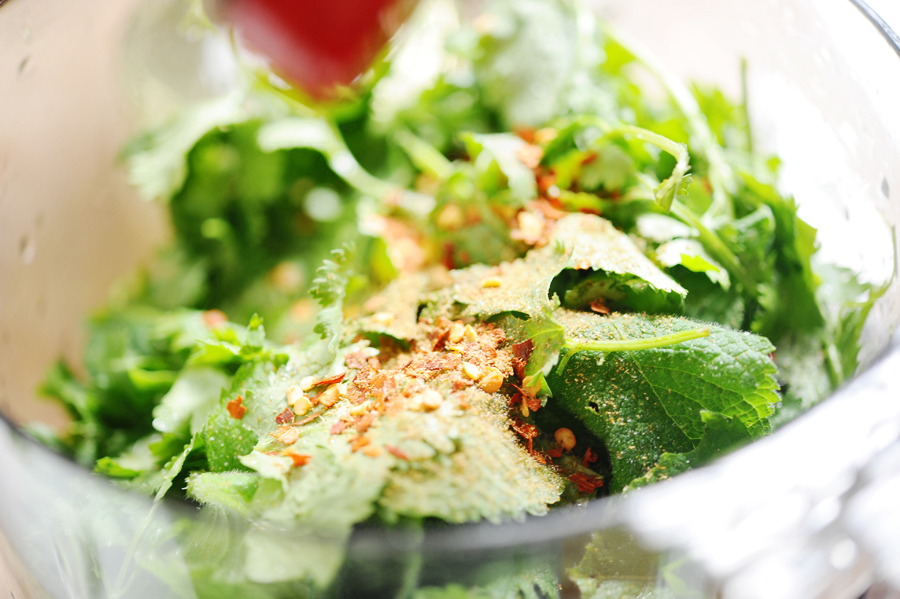 Cumin for some earthiness …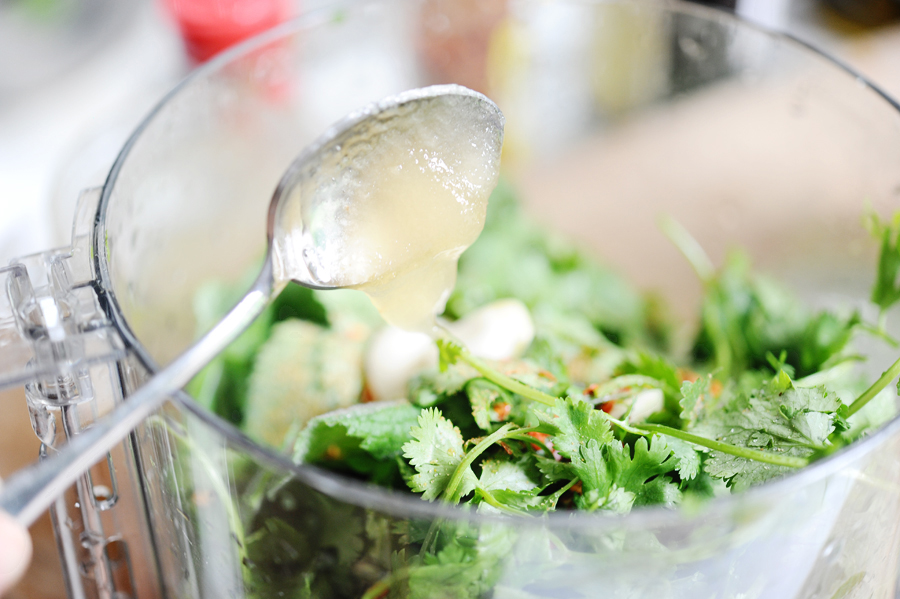 Honey for some sweetness …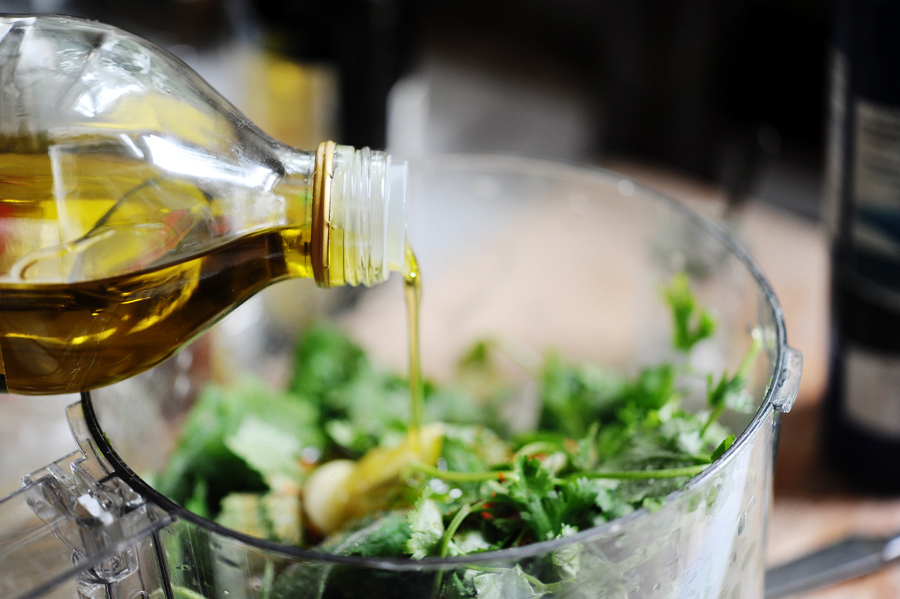 And some olive oil to make it all smooth and luscious.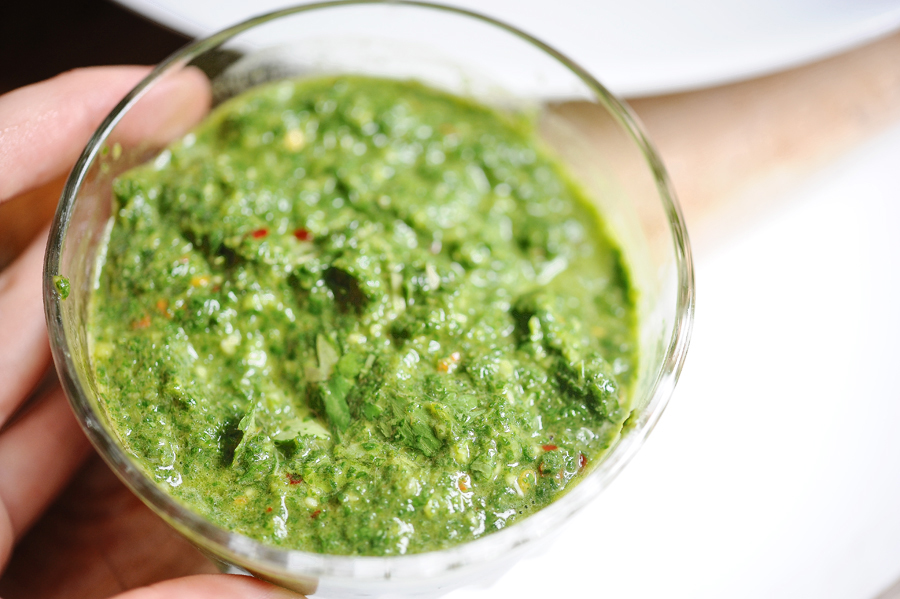 Puree it until mostly smooth, but still full of lumps, herbs and flavor.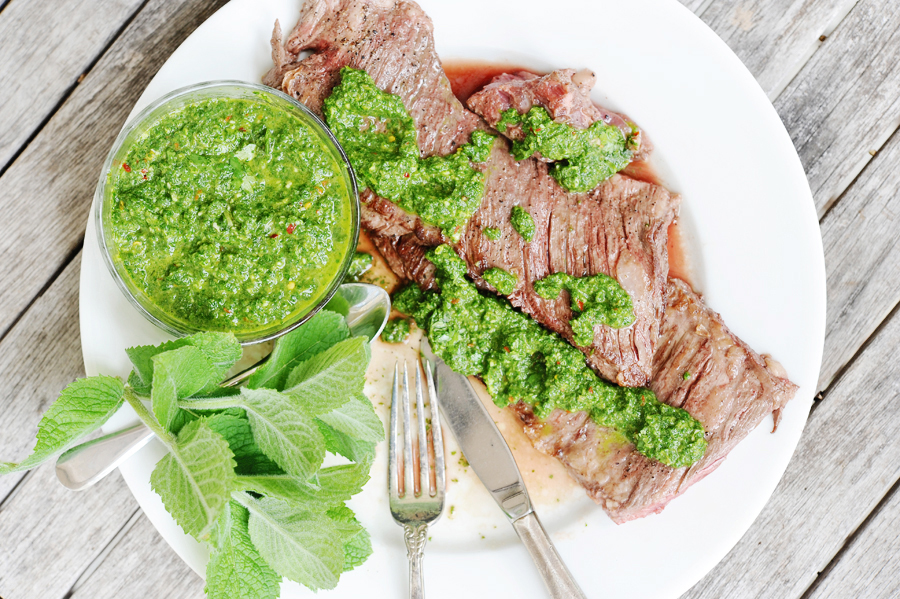 Slice the hanger steak or serve it in big strips with a good dose of this amazing sauce.
Thank you to Sommer for this killer sauce! Take a peek at her website A Spicy Perspective for more deliciousness.
Printable Recipe
See post on aspicyperspective's site!
Description
Charred juicy hanger steak with a bold and tangy sauce!
Ingredients
FOR THE HANGER STEAK:
2 pounds Hanger Steak
Salt And Pepper
FOR THE CHIMICHURRI:
1 bunch Fresh Cilantro
1 bunch Fresh Mint
3 cloves Garlic, Peeled
3 Tablespoons Red Wine Vinegar
1 Tablespoon Ground Cumin
1 teaspoon Honey
1 teaspoon Salt
½ teaspoons Crushed Red Pepper
¾ cups Olive Oil
Preparation Instructions
Preheat the grill to high heat.
Sprinkle the hanger steaks with salt and pepper on all sides. Grill the steaks for 2-3 minutes per side for medium-rare, just over 3 minutes per side for medium.
Remove the steak from the heat and cover with foil to rest. (Never cut into to a steak before it's had time to rest 5-10 minutes to redistribute all the juices.)
Meanwhile, place all the ingredients for the chimichurri in the food processor. Puree until mostly smooth.
Slice the hanger steak into 1/2 inch pieces and serve warm with chimichurri sauce drizzled over the top with side of Bush's Texas Ranchero Grillin' Beans.


_______________________________________
There's so much to say about Georgia, we don't know where to start. Leaving Wall Street for the French Culinary Institute, followed by a stint at the Gramercy Tavern and La Chassagnette in France, her passion for food and food traditions are evident and inspiring. Visit her site at Georgia Pellegrini, where you'll find more recipes, photos, learn all about her wonderful books Girl Hunter and Food Heroes, and enjoy her latest adventures.