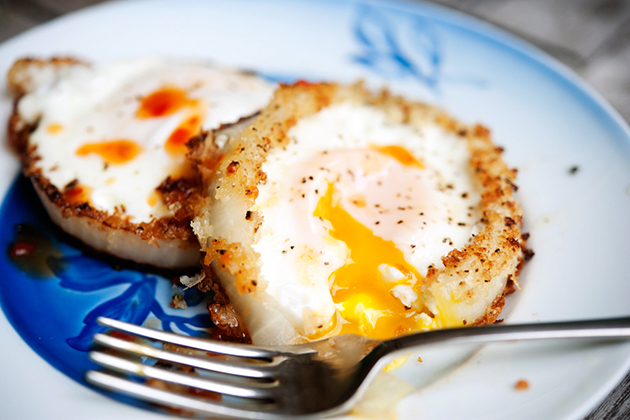 Seeing as I grew up with chickens roaming around the back yard, I eat eggs most mornings for breakfast. It's just what I enjoy and I'm a creature of habit. So I'm always seeking new ways to prepare them in the mornings and these Onion Ring Eggs shared by kissmywhisk was one that I definitely had never tried before.
The recipe was inspired by a post on Apron Strings (mom Donna is a Tasty Kitchen member, too!) that used a sautéed onion as a ring mold for eggs (they're Tasty Kitchen members too!), but Carrie added the extra crunch of panko. It was so delicious that I also made it for dinner one night.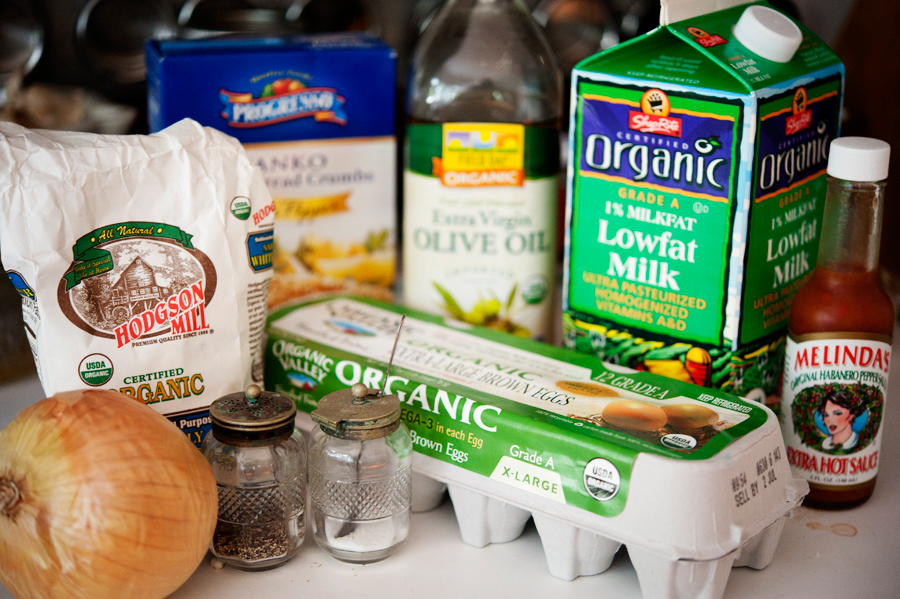 You will need: a large onion, flour, panko bread crumbs, oil, milk, hot sauce (for garnish), eggs, salt and pepper.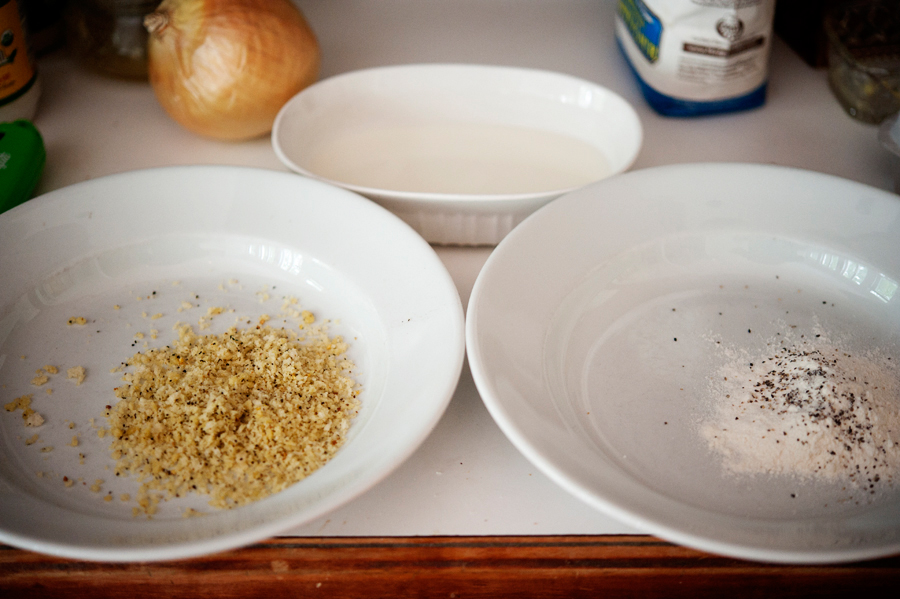 Begin by distributing the flour, breadcrumbs and milk into three bowls. Season the flour with salt and pepper while you're at it.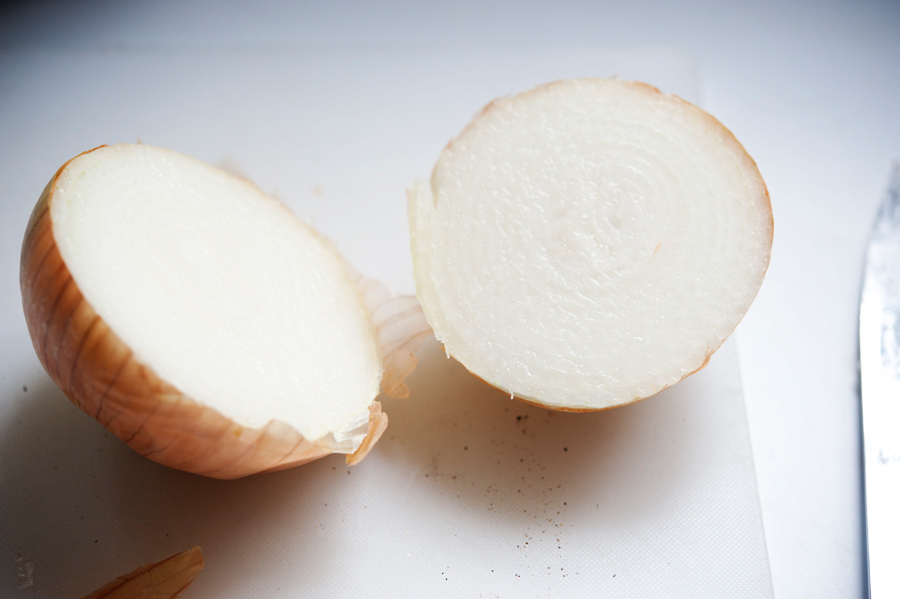 Cut an onion in half in the center where it is widest.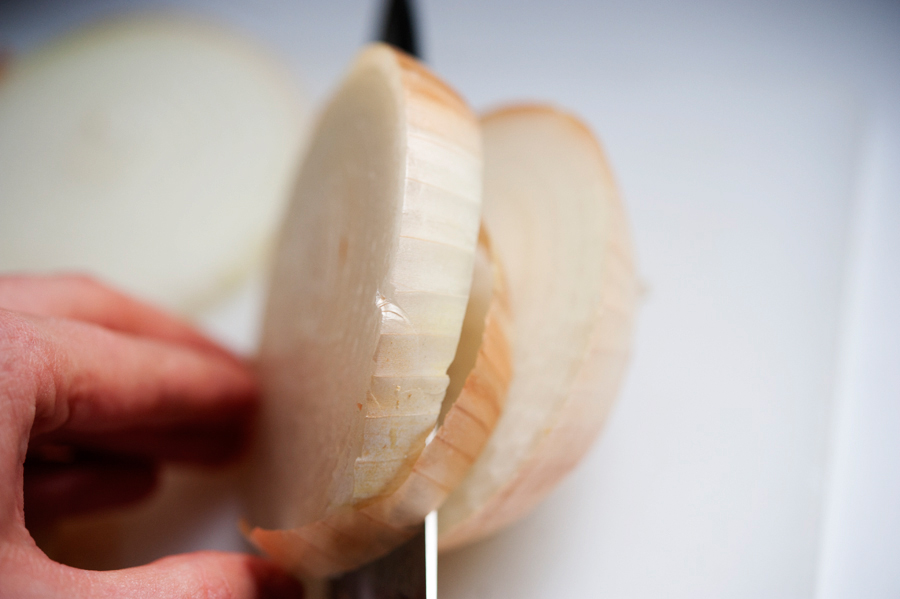 Then cut a thick slice, about ¼-inch.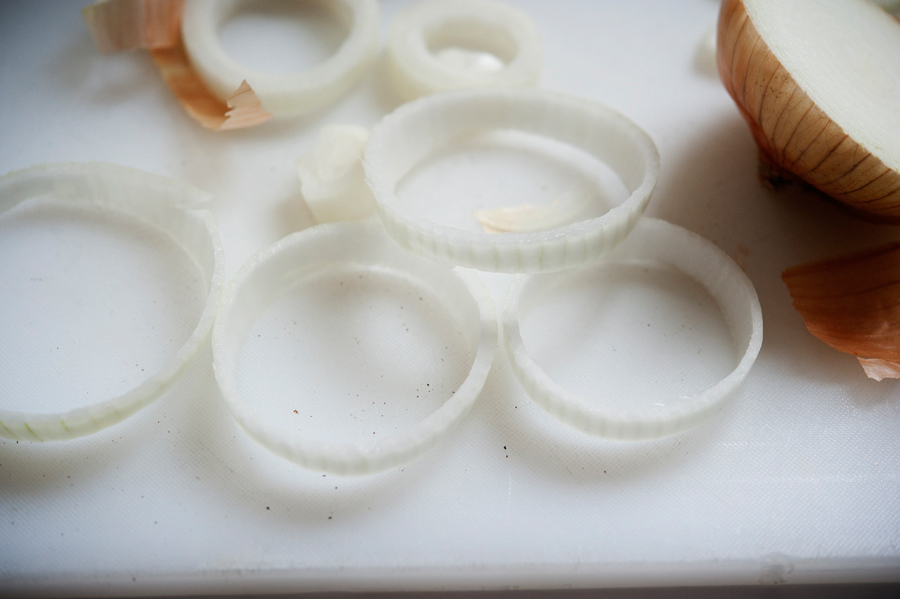 Separate the rings and set aside the biggest ones.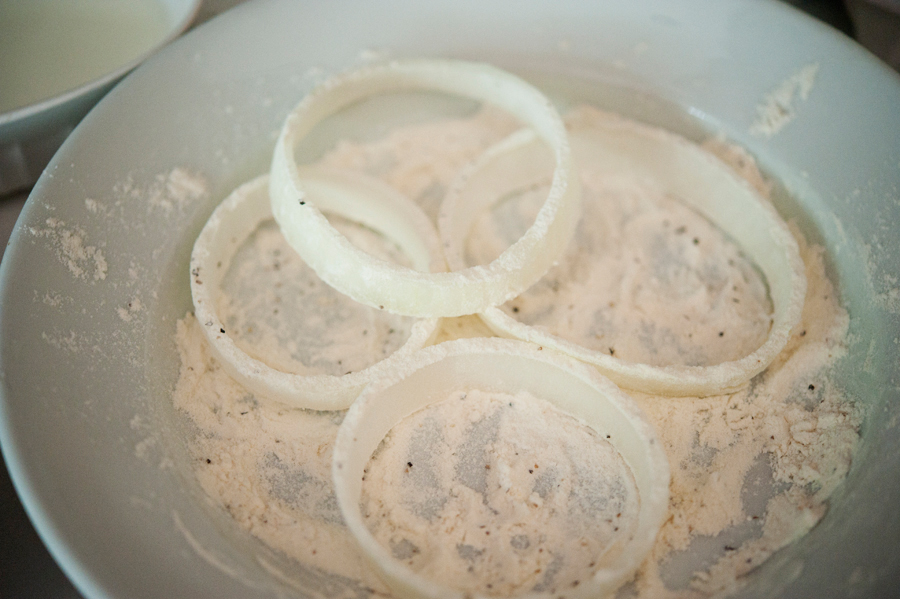 Dust them in flour.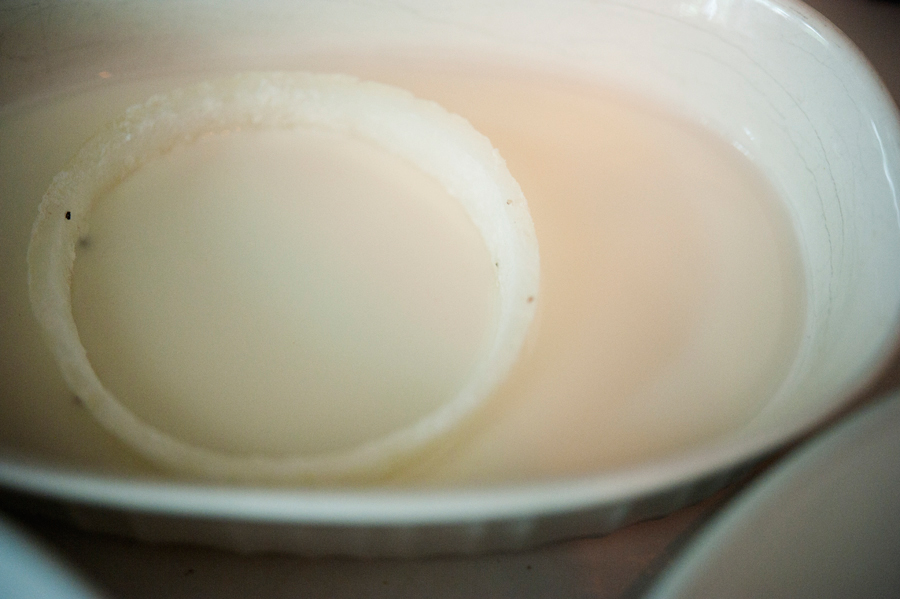 Then in some milk.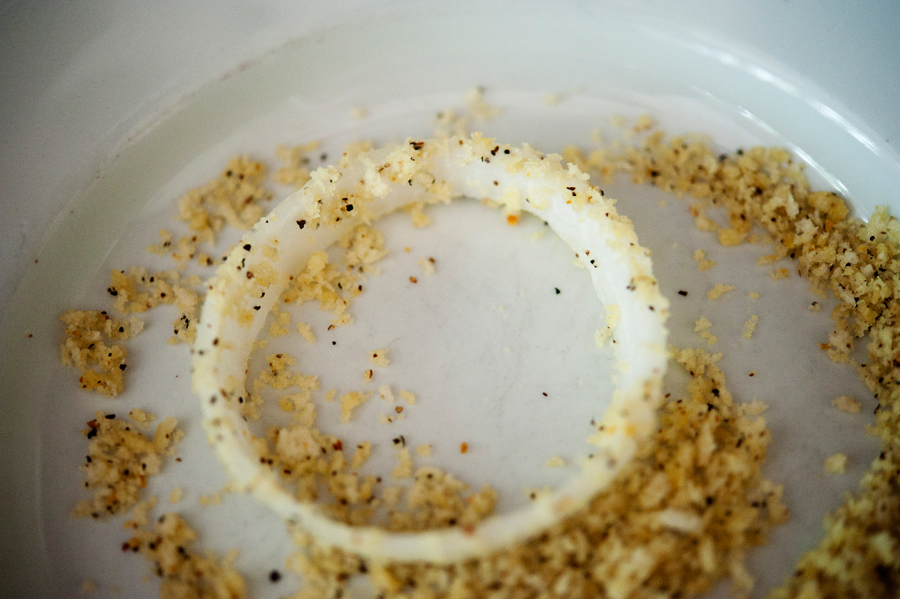 Then in some panko. You won't get a full coating this way, but it doesn't really need it. If you're looking for more of a true onion ring style, you could combine flour, and a dash of salt, and then whisk in beer until you get a pancake batter consistency. That will give you a heavy-duty coating. But this was lovely for a breakfast.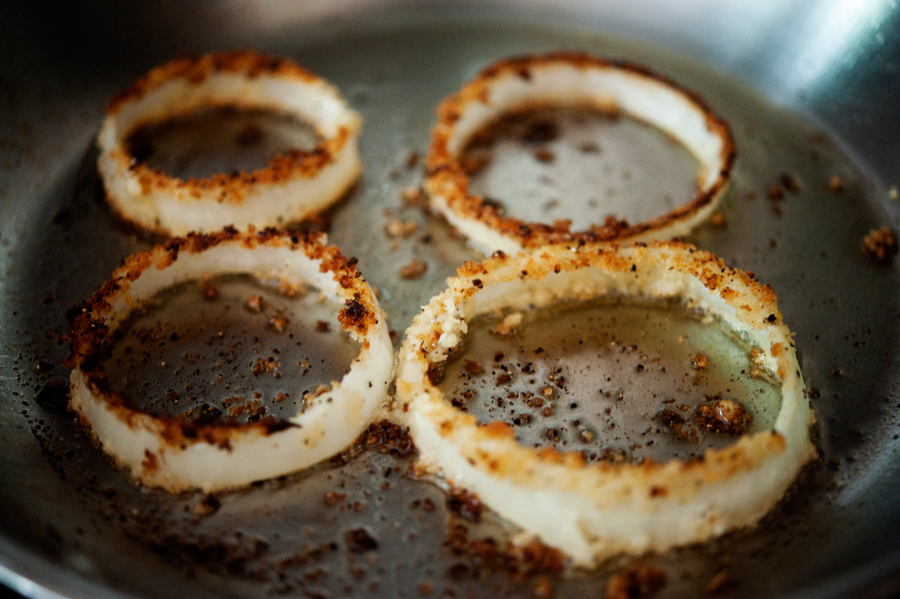 Brown the onions on all sides in the pan. They will become soft.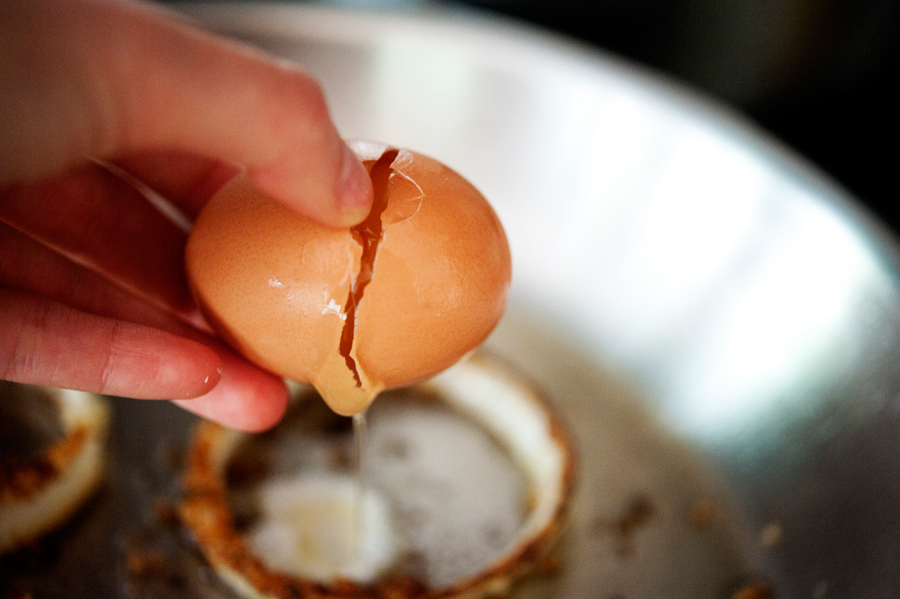 Crack your eggs one at a time and drop them in the center of the onion ring.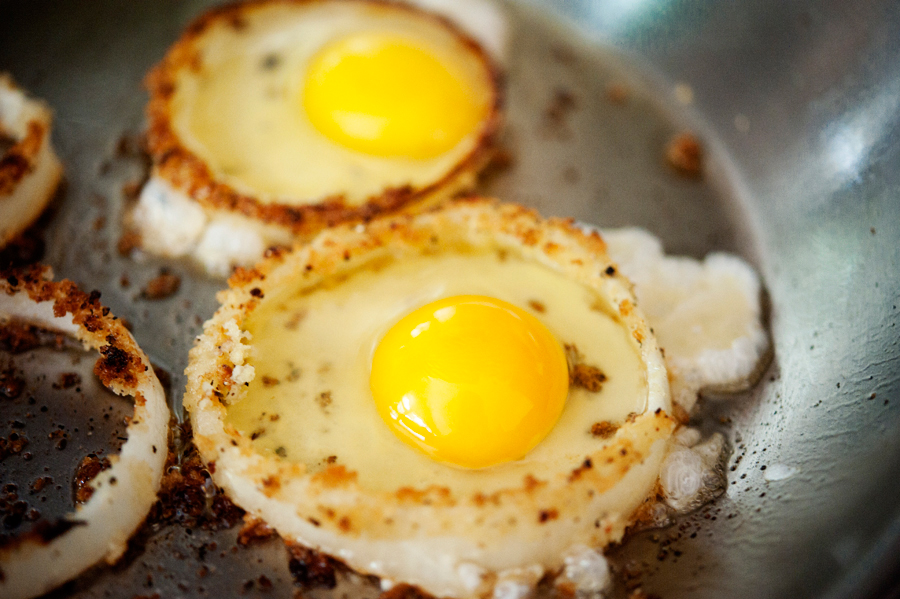 Let them cook on one side until the whites firm up.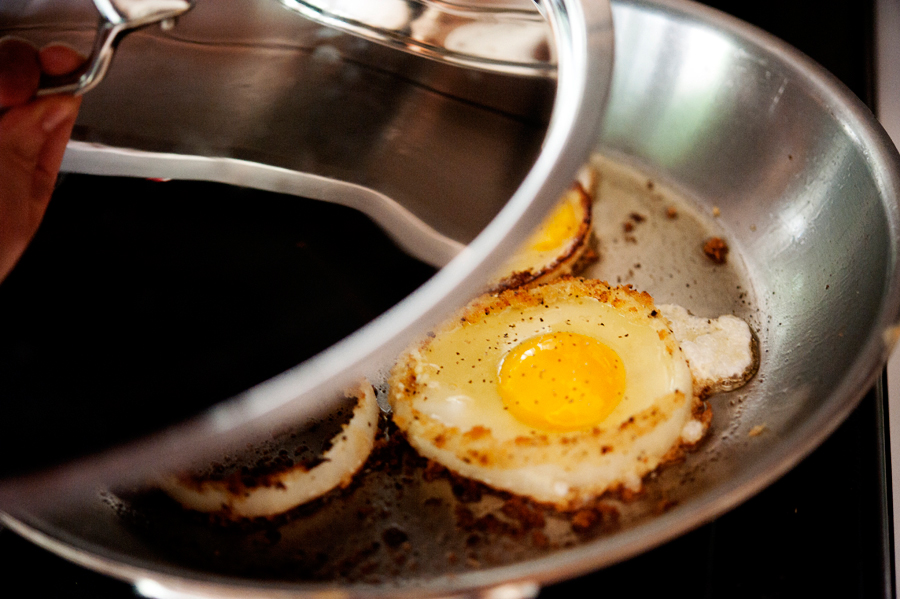 Then add a bit of salt and pepper to the top and cover them to help the tops finish cooking.
You could also go wild here and add cheese, herbs or anything else you'd like on the top.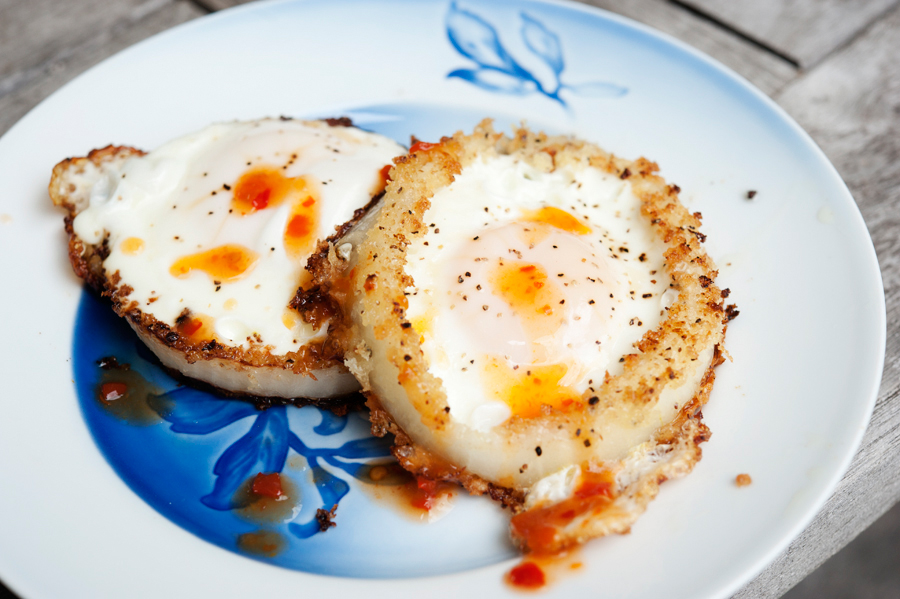 Garnish with a few good dashes of your favorite hot sauce.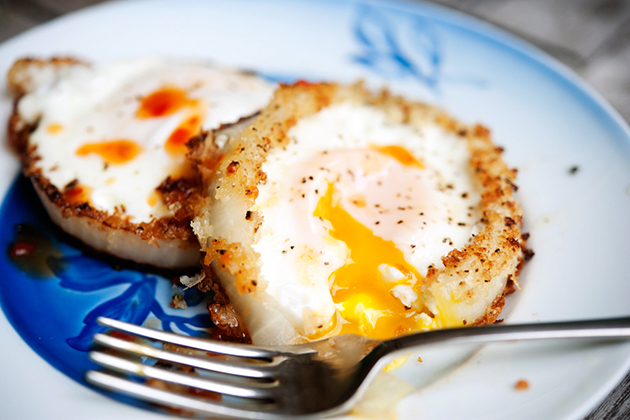 And dig in! This was heavenly. They are now officially in my breakfast repertoire. Check out all of Carrie's fabulous recipes on her blog Kiss My Whisk!
Printable Recipe
See post on Kiss My Whisk's site!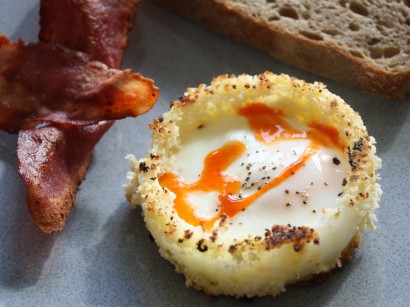 Description
A fun twist on egg-in-the-hole and a great excuse to have onion rings for breakfast!
Ingredients
2 whole Large Onion Rings, Sliced Thick From A Large Onion
½ cups Flour
1 teaspoon Salt, Divided
1 teaspoon Ground Black Pepper, Divided
½ cups Milk Or Buttermilk
¾ cups Panko Crumbs
¾ cups Olive Oil
2 whole Eggs
Hot Sauce, To Serve
Preparation Instructions
Use the largest 2 outside ring layers of a large onion.
Combine flour, 1/2 teaspoon of salt and 1/2 teaspoon of pepper in a small bowl. Add milk to a second small bowl and panko to a third.
Add olive oil to non stick pan, so there is about 1/4 inch of oil in the pan and preheat over medium high to high heat.
Dredge onions in flour, then dip in milk and coat with panko. Add breaded onions to hot oil; once the bottom side browns, flip over. You can use tongs to brown thick sides of onions as well. Just do the best you can, that's what I did!
Once onions are browned on all sides, reduce heat to medium and carefully crack eggs into the center of the onion. Sprinkle eggs with remaining salt and pepper and then cover. Cook for about 4 to 6 minutes, until egg is cooked and yolk is still runny (cook longer if you don't want an over-easy egg).
Carefully use spatula to remove from pan and place on a plate. Garnish with a sprinkle or drizzle of hot sauce and enjoy!
Recipe inspired by Donna and Anne of Apron Strings.


_______________________________________
There's so much to say about Georgia, we don't know where to start. Leaving Wall Street for the French Culinary Institute, followed by a stint at the Gramercy Tavern and La Chassagnette in France, her passion for food and food traditions are evident and inspiring. Visit her site at Georgia Pellegrini, where you'll find more recipes, photos, learn all about her wonderful books Girl Hunter and Food Heroes, and enjoy her latest adventures.