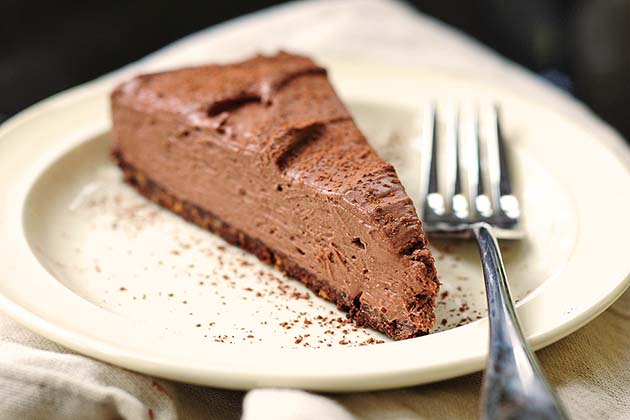 Can I tell you a secret? I've only made a real cheesecake once before. I was a nervous wreck waiting to see if it would crack, and wondering if I'd be able to loosen it from the pan without a total mess. It turned out just fine, but I've yet to make another since. I know, I'm silly. But I have been seeing a bunch of no-bake cheesecakes lately, served up in cute individual dishes. Up until last week I had yet to try a recipe for one myself, but then I discovered this recipe from Tasty Kitchen member, Anna, for a No-Bake Chocolate Cheesecake. This recipe has a little sumpin' sumpin' that tempted me to give it a go: a Biscoff cookie crust. Yes indeedy. Biscoff + chocolate? It had my name written all over it.
Fair warning: This is one rich and indulgent cheesecake. A small piece (about 1/12 of the whole) is the perfect serving size. My daughter said she wanted some whipped cream to top it with, but I think she's lost her marbles. It was quite satisfying enough with a light dusting of cocoa powder. And the crust? Wow. Totally a crust that will be used for other desserts in the future.
Want to see how it goes together?
You'll need: Biscoff cookies, cocoa powder, melted butter, cream cheese, powdered sugar, vanilla, bittersweet chocolate, semisweet chocolate, whipping cream, and more cocoa powder for dusting. (The recipe calls for chopped chocolate, but I used a combo of both bittersweet chocolate chips and semisweet chocolate chips, which worked quite nicely.)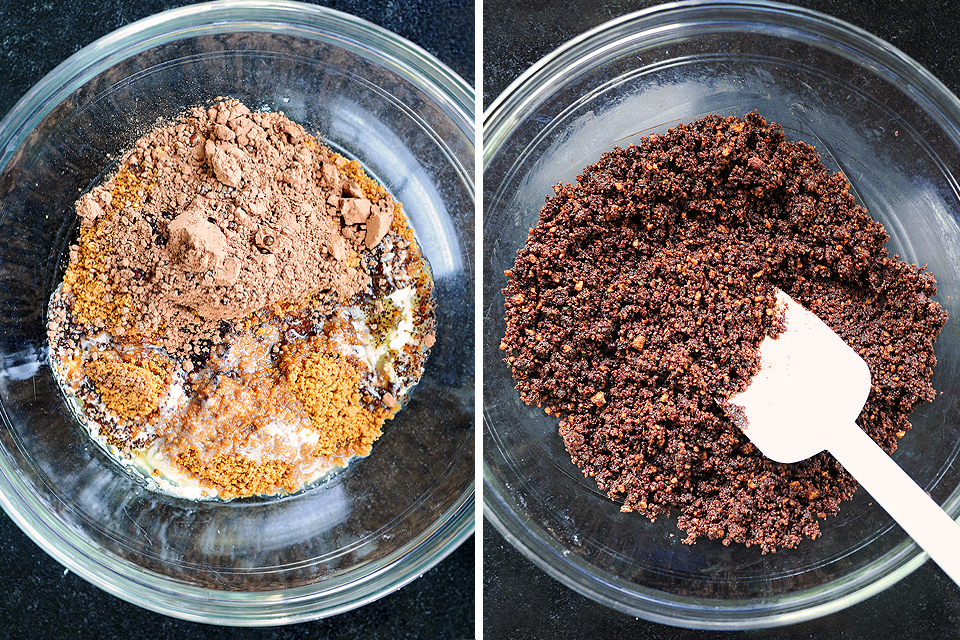 For the crust, combine the cookie crumbs, 4 tablespoons cocoa powder, and butter.
Firmly press in bottom of a springform pan. I like to use a flat-bottomed glass to evenly press the crust out. Once the crust is ready, set aside.
I almost decided on individual serving dishes to avoid the worry of whether or not it would loosen from the pan, but opted for the whole cheesecake route with no trouble whatsoever. This recipe could easily be prepared using individual servings, but just remember, it's very rich, so you may want to make the servings on the small side.
Now for the chocolate cream cheese goodness. Begin by beating the cream cheese until smooth.
Next add the powdered sugar, beat well, and then the vanilla.
Combine all well until smooth.
Over a double boiler (or like me, use a glass bowl that sits nicely over a pot), melt the chopped chocolate. Once the chocolate is melted (sorry, no melty chocolate picture) let it cool slightly. Once cooled, gradually stream the melted chocolate into the cream cheese mixture.
Mix slowly until combined well. Try not to eat it all with a spoon at this point. Restraint is a good thing.
In a separate bowl, whip the cream until soft peaks form.
Gently fold the whipped cream into the chocolate cream cheese mixture.
Take your time mixing the whipped cream into the chocolate cream cheese mixture until combined. You don't want to overbeat the mixture or the whipped cream won't be whippy any more.
Now you're ready to fill the springform pan. Add the chocolate cream cheese mixture to the prepared Biscoff crust and spread until smooth and even. Chill covered at least 8 hours in a refrigerator until set.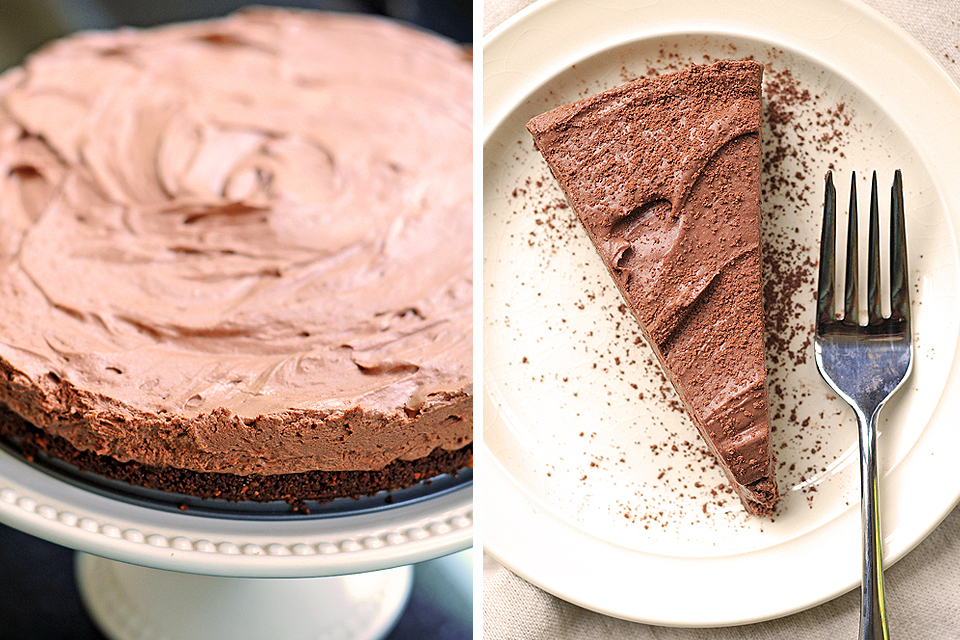 Once set, carefully loosen the springform pan to release the cake.
Serve, dusted lightly with remaining cocoa powder, and enjoy! And if you like Biscoff cookies and chocolate, you will most definitely enjoy.
A big thanks to Anna for introducing me to this no-bake cheesecake option. You can check out Anna's other creations at her site, Crunchy Creamy Sweet.
Printable Recipe
See post on Anna's site!
Description
Biscoff cookies crust and creamy chocolate filling make this decadent dessert. No oven required, which makes it perfect for summer!
Ingredients
7 ounces, weight Crushed Biscoff Cookies
4 Tablespoons Unsweetened Cocoa Powder
¼ cups Butter, Melted
16 ounces, weight Cream Cheese, Softened
3-¾ ounces, weight Powdered Sugar
1 teaspoon Vanilla Extract
5-¼ ounces, weight Bittersweet Chocolate, Chopped
5-¼ ounces, weight Semisweet Chocolate, Chopped
½ pints Whipping Cream
¼ cups Unsweetened Cocoa Powder, For Dusting
Preparation Instructions
In a medium mixing bowl, stir together cookie crumbs, cocoa powder and butter. Stir until all combined. Press firmly onto the bottom of a springform pan. Set aside.
In a large mixing bowl, beat cream cheese for 1 minute, until smooth. Add powdered sugar and beat again. Add vanilla extract and mix again.
Melt chocolate over a double boiler. Let cool slightly. With your mixer on slow speed, add the chocolate into the cream cheese mixture, pouring slowly.
Whip the cream until stiff peaks form. Fold in gently to chocolate and cheese mixture.
Pour the filling over the crust. Refrigerate for at least 8 hours, preferably overnight.
When the cheesecake is set, run a sharp knife around the edge to loosen from the pan. Gently open the latch and release the cheesecake.
Before serving, dust with cocoa powder and garnish.


_______________________________________
Amy Johnson is a blogger who writes about food, travel, the home (both inside and out), and various observations and random musings about anything and everything. Visit her blog She Wears Many Hats for a dose of deliciousness, practicality, hilarity, or just plain fun. She lives in South Carolina with her husband and two children.