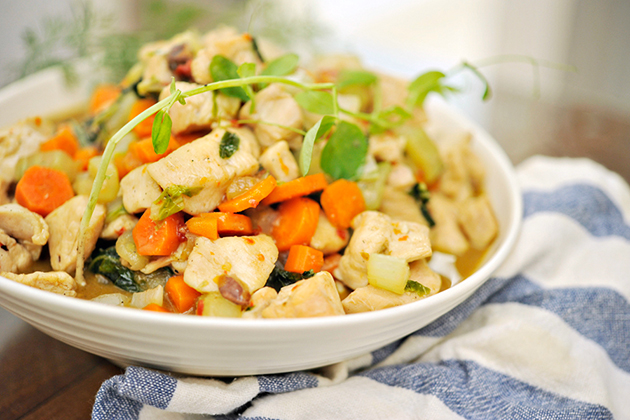 I never imagined myself making Authentic Kung Pao Chicken with such ease in my home kitchen. But I did, thanks to Becky (The Vintage Mixer) and this delicious yet easy recipe.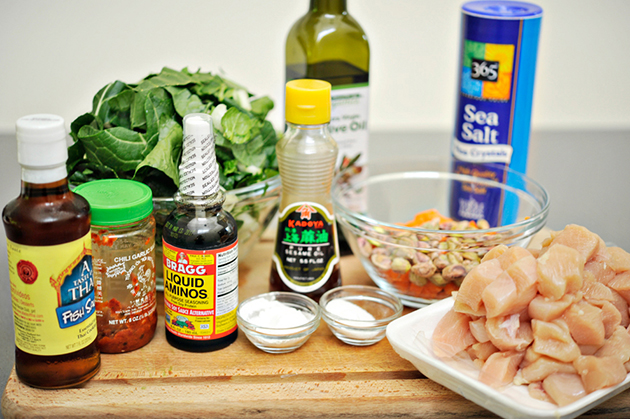 To stir this up, you will need: chicken breasts, salt, cornstarch, soy sauce (I used liquid aminos), peanuts, cooking oil, carrot, Chinese lettuce root or celery (I used bok choy), Chinese oyster sauce or fish sauce, sugar, sesame oil, and Sichuan hot pepper paste.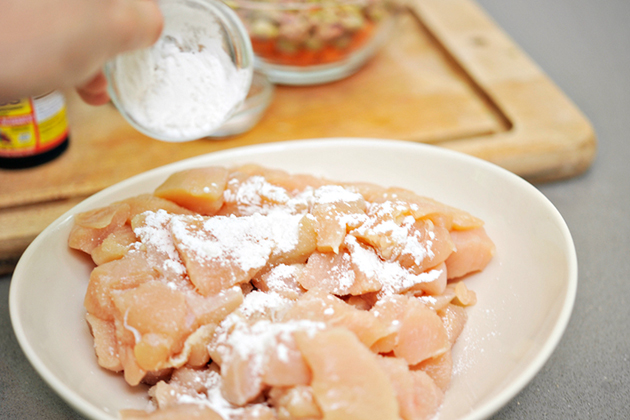 Once the chicken has been diced, sprinkle it with a bit of cornstarch or flour, which will help it brown and thicken the sauce.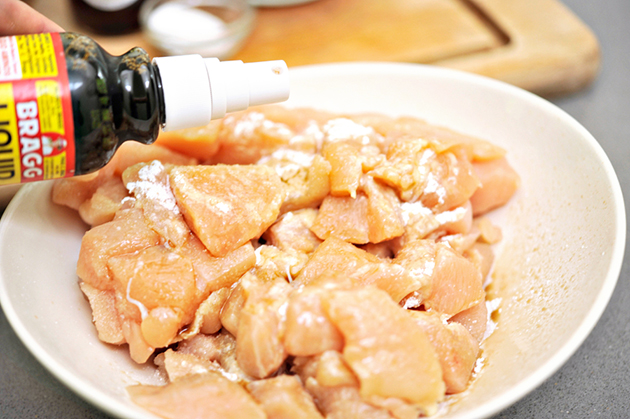 Add the soy sauce next to give it some flavor.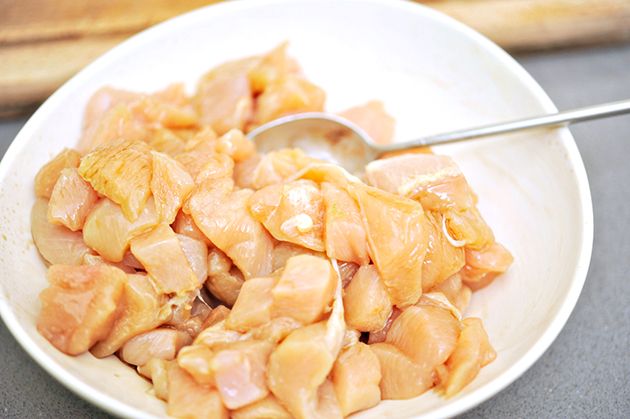 Stir it and let it marinate.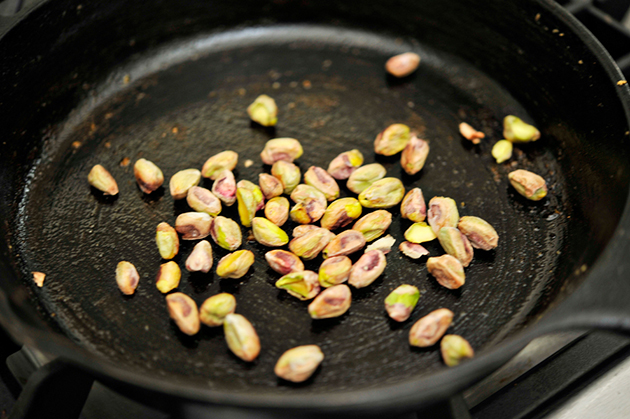 Meanwhile, toast your peanuts, or in my case, pistachios! That's what I had on hand and I love 'em so I went for it.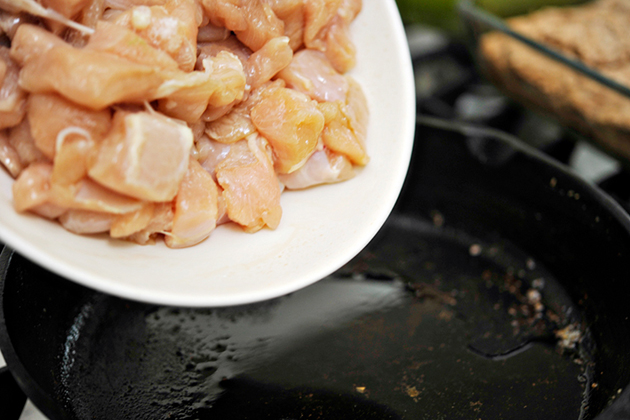 Once the nuts have been browned, remove them from the heat and brown the chicken in the skillet.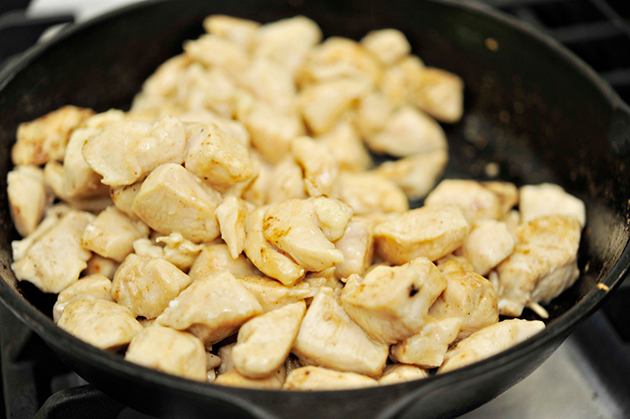 Cook and turn until browned on all sides, then remove to a plate with a slotted spoon.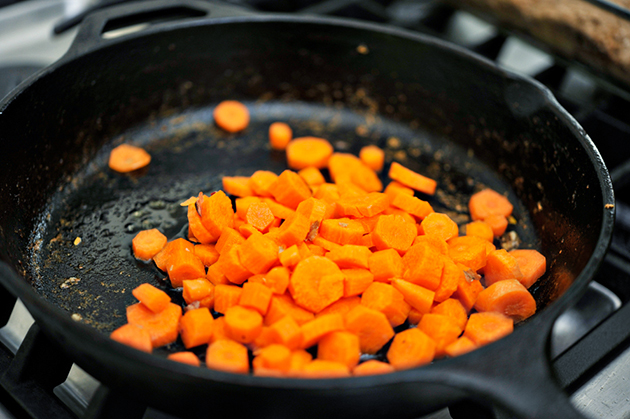 Next add the carrots until they are browned.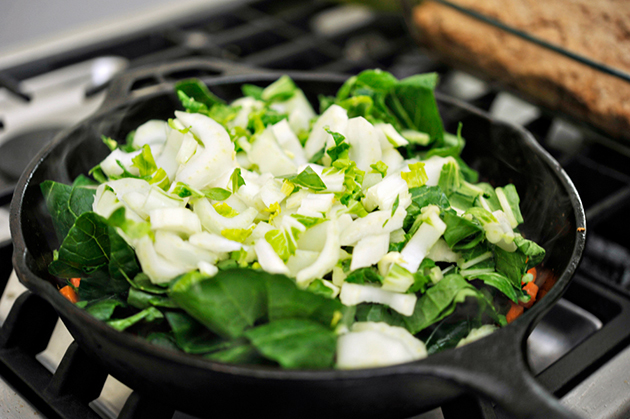 Then toss in your celery, lettuce root, or in my case, sliced bok choy!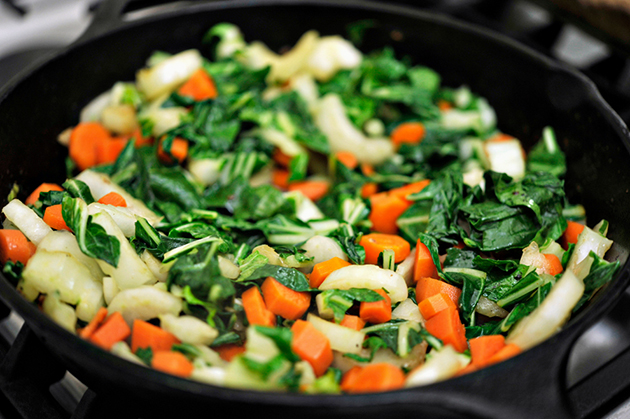 Saute them well on high heat.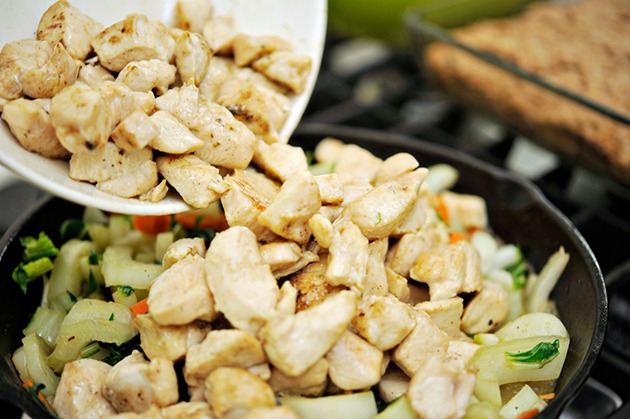 Return the chicken to the pan and stir it together.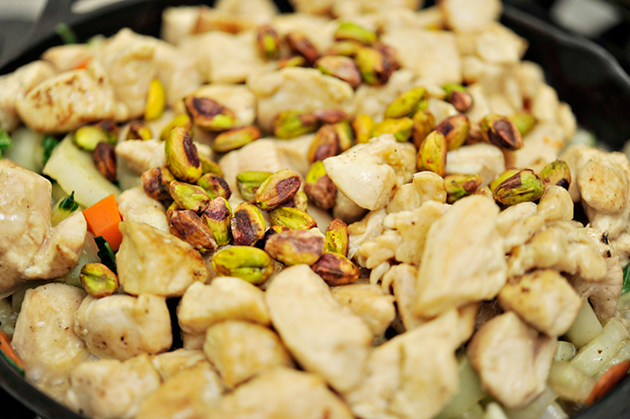 Add the pistachios and stir them in as well.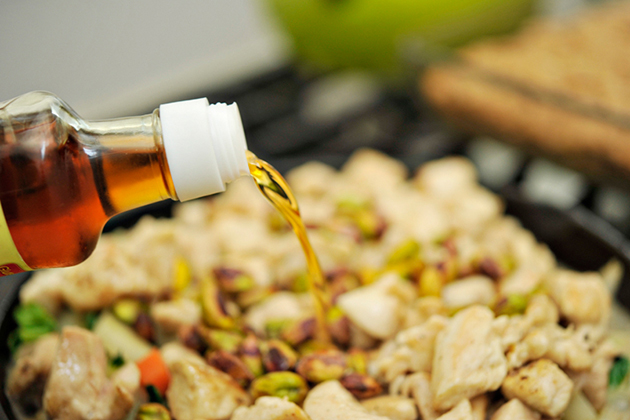 Then add the flavorings: oyster or fish sauce …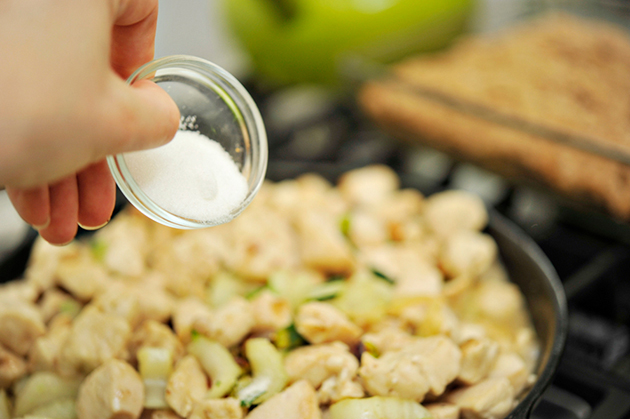 A dash of sugar …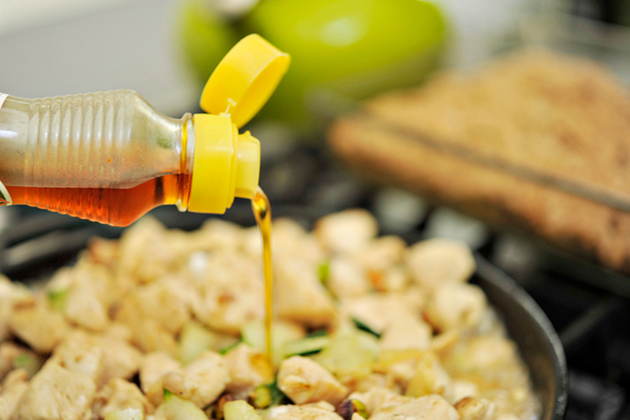 Sesame oil …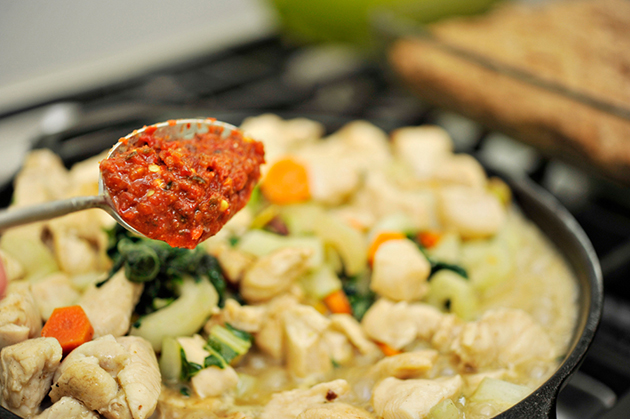 Garlic chili paste …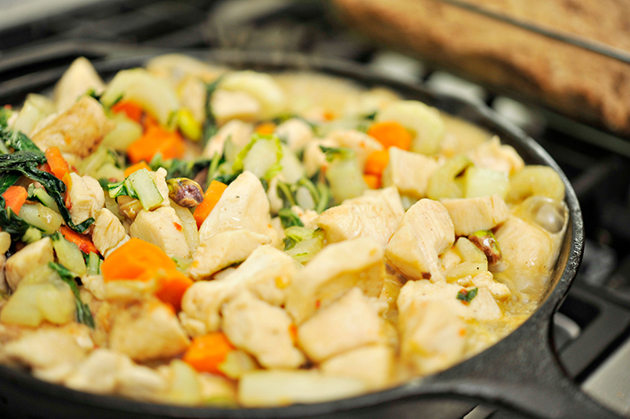 And let it all simmer so that the flavors combine.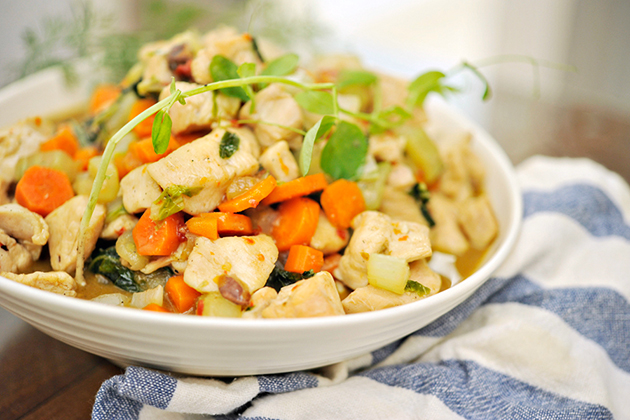 You will love this dish! It was just as tasty as takeout.
Thank you Becky for this glorious dish! Be sure to check out her website Vintage Mixer for some more beautiful looking recipes.
Printable Recipe
See post on The Vintage Mixer's site!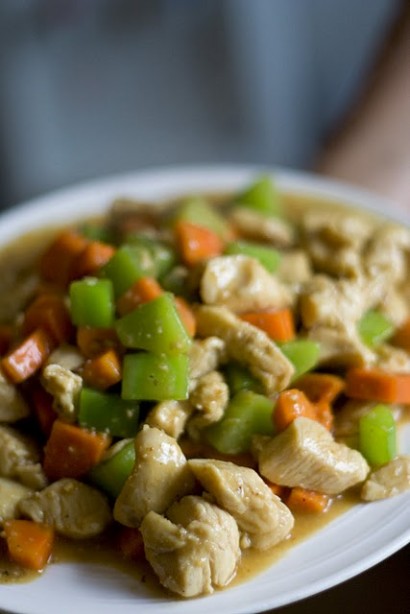 Description
After my recent adventure traveling to China, I brought back one of America's favorite Chinese recipes that I'm excited to share with you. It was taught to me by a local Chinese chef in the city of Kunming.
Ingredients
3 whole Chicken Breasts, Diced
1 teaspoon Salt
1 teaspoon Cornstarch
1 dash Soy Sauce
½ cups Peanuts
1 whole Carrot
¼ cups Cooking Oil
1 whole Carrot, Diced
1 stalk Chinese Lettuce Root Or Celery
3 Tablespoons Chinese Oyster Sauce
1 Tablespoon Sugar
½ teaspoons Sesame Oil
1 teaspoon Sichuan Hot Pepper Paste
Preparation Instructions
In a small bowl, combine diced chicken, salt, cornstarch, and soy sauce. Mix thoroughly and let sit a few minutes. Meanwhile, dry-roast the peanuts. Heat a wok or skillet to medium high heat and add peanuts, tossing occasionally till peanuts begin to "pop." Reduce heat to medium/low and continue to roast 3-4 more minutes. These peanuts can be crushed or added whole to the stir-fry (later).
Heat cooking oil in the wok or skillet over medium/ high heat till oil begins to ripple or shimmer. Add chicken and stir-fry 2-3 minutes, then remove chicken only using a slotted spoon so the oil stays in wok. Add carrots and lettuce root and stir-fry 1-2 minutes till just beginning to turn tender-crisp. Return chicken to the pot and add peanuts (crushed or whole), oyster sauce, sugar, sesame oil, and hot pepper paste if you want the dish to be spicy. Add a little water to thin the sauce if desired. Stir to mix, then allow sauce to come to a boil. Stir again and serve.


_______________________________________
There's so much to say about Georgia, we don't know where to start. Leaving Wall Street for the French Culinary Institute, followed by a stint at the Gramercy Tavern and La Chassagnette in France, her passion for food and food traditions are evident and inspiring. Visit her site at Georgia Pellegrini, where you'll find more recipes, photos, learn all about her wonderful books Girl Hunter and Food Heroes, and enjoy her latest adventures.