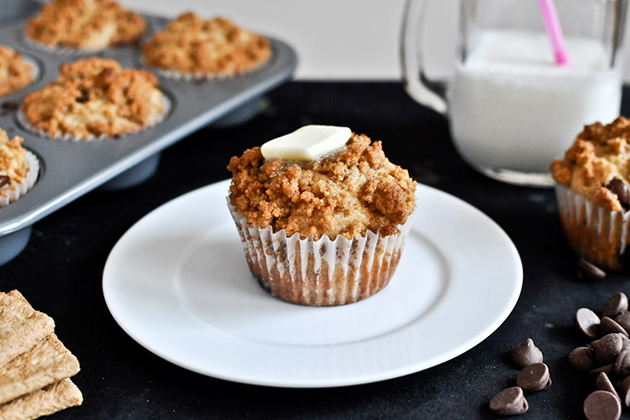 If there is anything I love, it's a warm muffin topped with butter. If there is anything I love more than that, it's a warm muffin topped with butter and studded with melty chocolate chips. And if there is anything I love even more than THAT? It's a muffin, with the butter and the chocolate chips, that tastes like a cookie. And that's what we have here.
I have a very odd and fascinating obsession with all things graham crackers. Most likely because I adore all things s'mores related, but even more so because I totally freak out over graham cracker crusts. You know, tightly packed crumbs with butter and a bit of sugar? So good when it hits your lips. I could eat an entire graham cracker pie crust without any filling and be satisfied. And probably sick, but whatever. Totally worth it! And don't tell anyone, but sometimes as an easy dessert I melt butter in a bowl inside the microwave, then mash in graham cracker crumbs with a fork. And eat it. Just when you thought you knew it all …
So when this recipe for Graham Cracker Chocolate Chip Muffins from Michelle popped up on my screen, I knew it had to be made. So it was! Let's do this.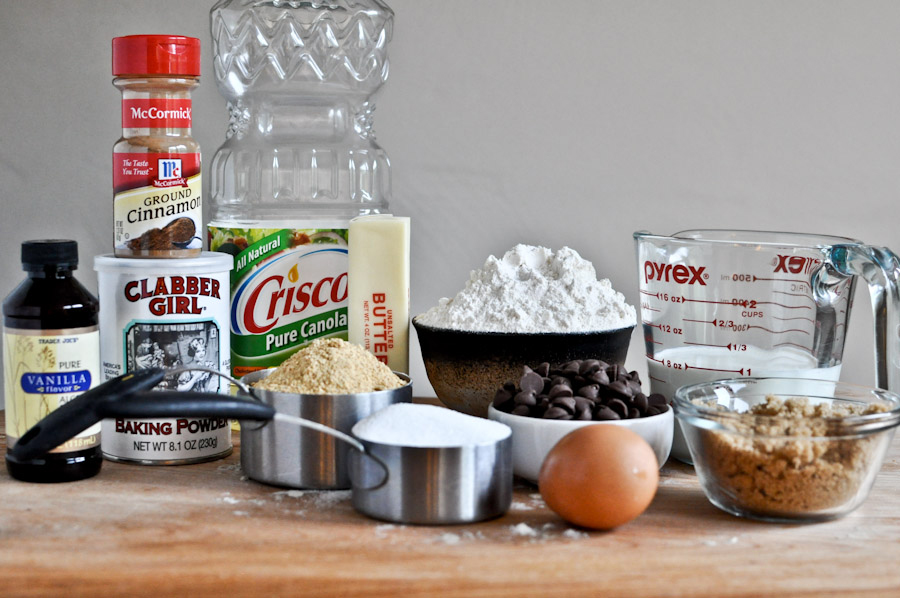 Here's what you'll need. Looks promising already, doesn't it?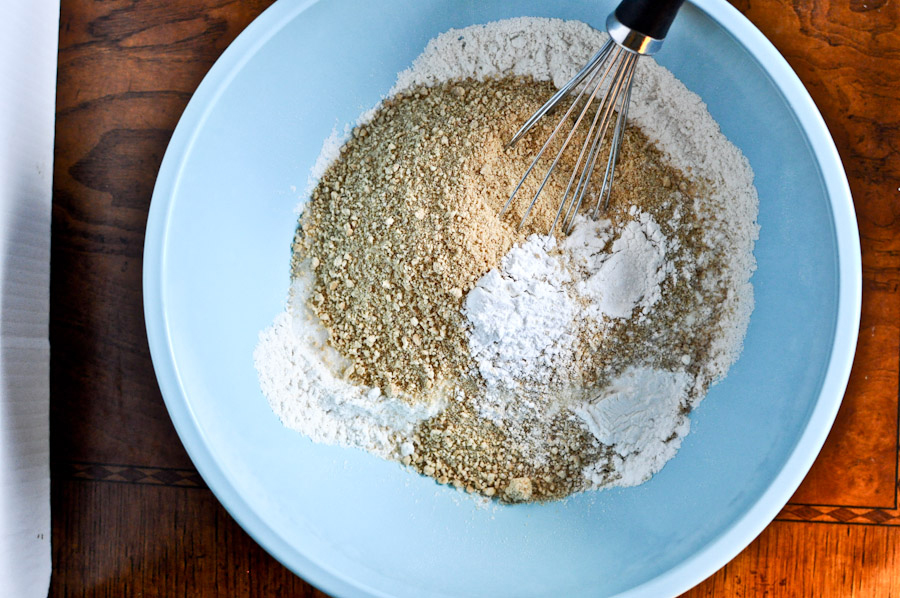 To begin, combine the flour, graham crumbs, granulated sugar, baking powder and salt in bowl and whisk it together. Set that aside.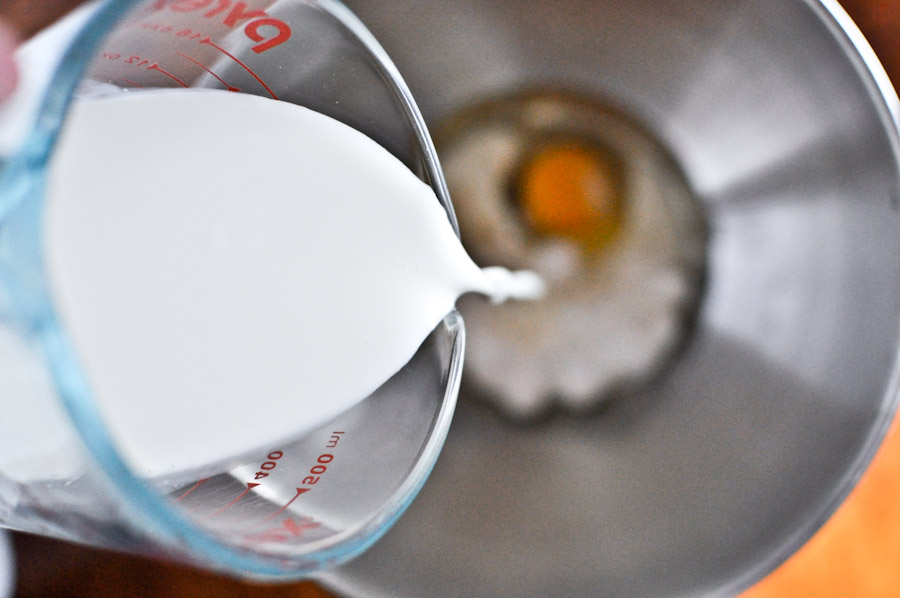 In the bowl of your electric mixer, add oil, egg, vanilla extract and whole milk. Mix it all up, then with the mixer on low speed, add in the dry ingredients slowly.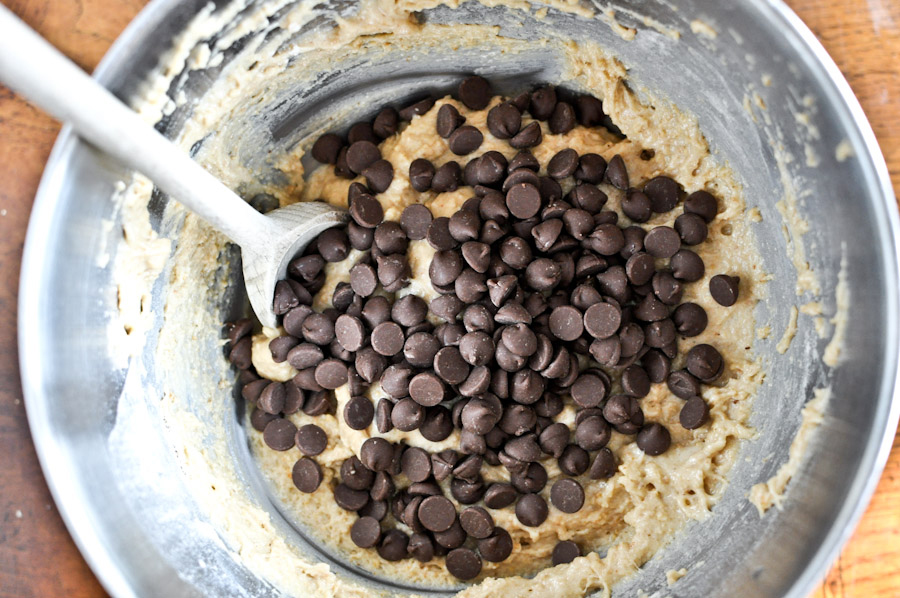 Once the batter has come together, fold in some chocolate chips. It's gettin' good.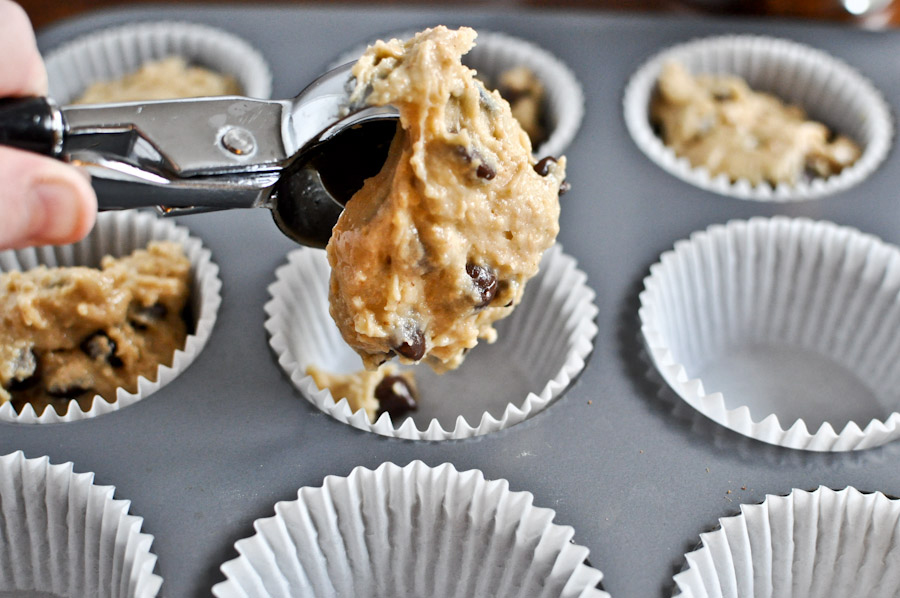 Fill each muffin cup a little over halfway. Eat a little batter if you want.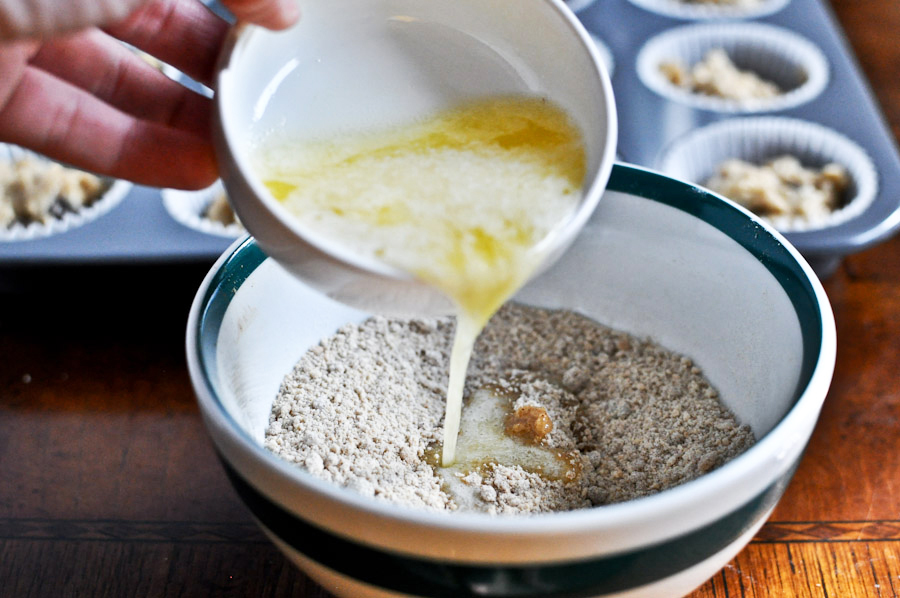 In a small bowl, stir together flour, brown sugar, cinnamon and graham cracker crumbs. Then pour butter over top. Instead of eating this with a spoon, mix it together until it resembles wet sand. It's difficult, I know.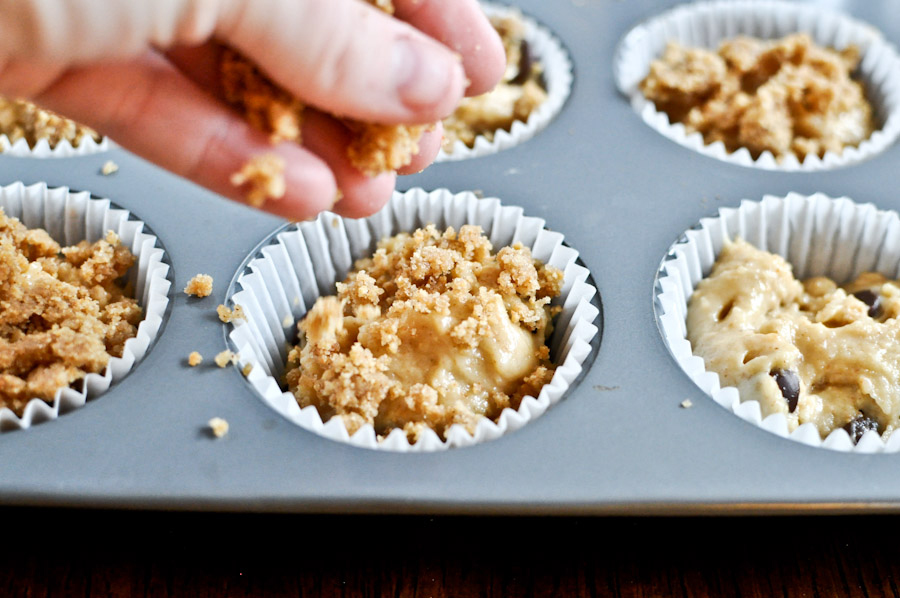 To each muffin with the graham streusel, then place them in the oven to bake right up.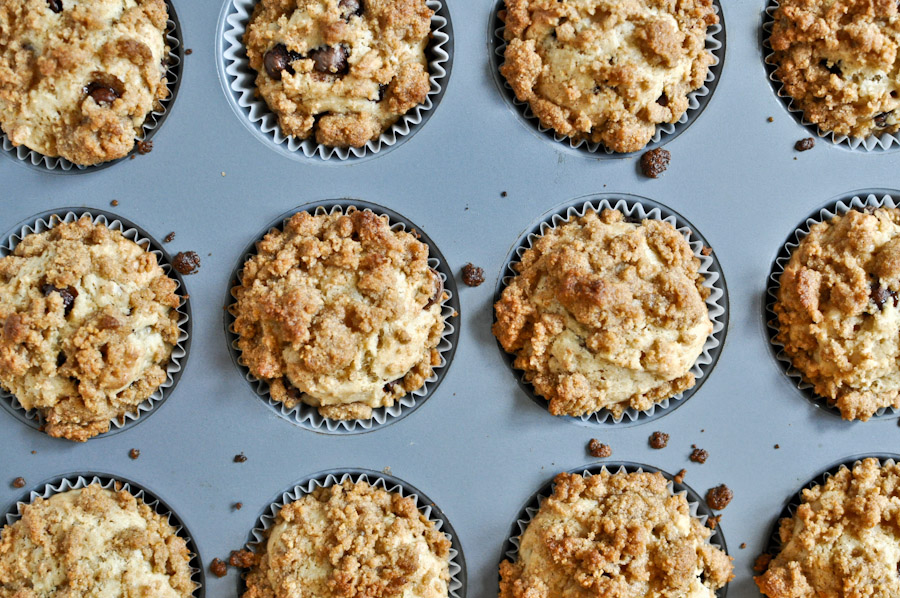 And about 15 minutes later, you have a pan full of this. Oh yes.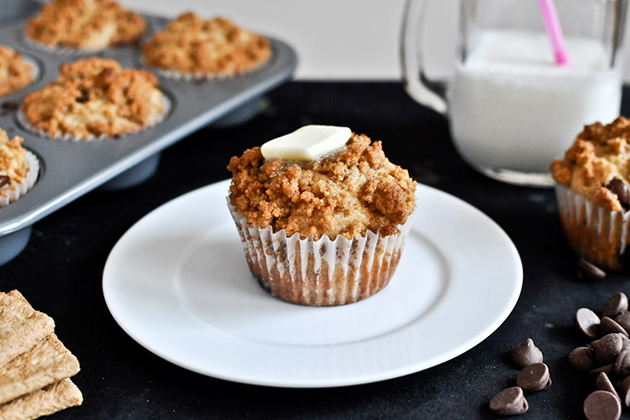 Serve the muffins immediately, with a large pat of butter on top.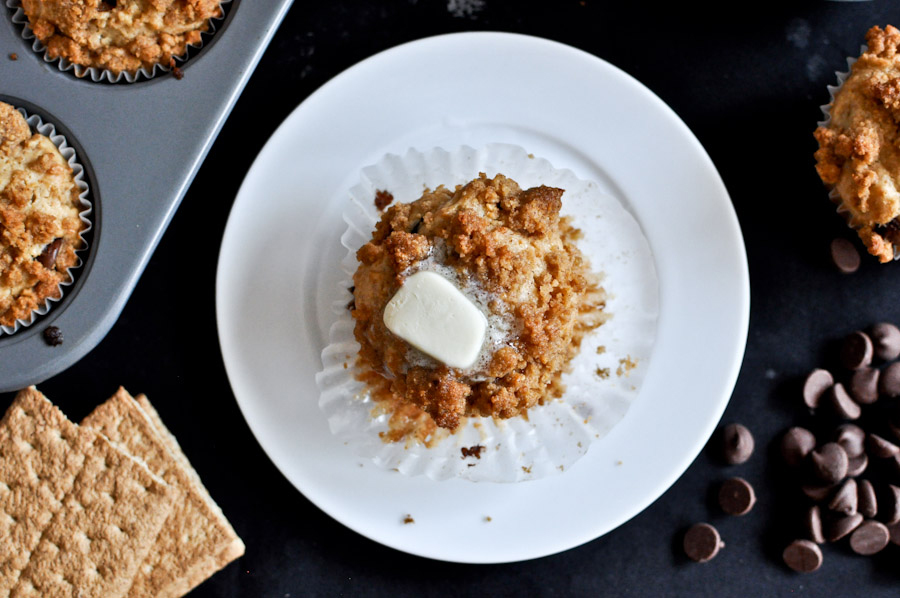 Seriously, is there anything better in this world that a warm, steaming muffin with a butter river running through it? I think not.
Thanks so much for the recipe Michelle! Be sure to check out her blog for more tasty creations as well as creative crafts! And definitely make these muffins.
Printable Recipe
See post on Michelle Day's site!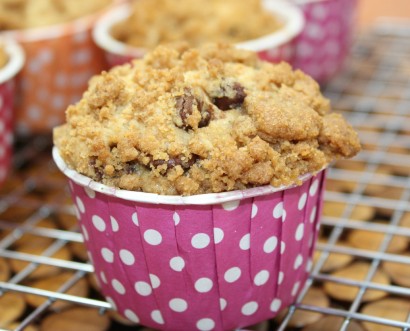 Description
Moist delicious muffins that taste like a warm cookie right out of the oven.
Ingredients
FOR THE MUFFINS:
2 cups Flour, All Purpose
1 Tablespoon Baking Powder
½ teaspoons Kosher Salt
½ cups Sugar
1 cup Graham Cracker Crumbs, They Can Have Small Bits In Them
1 cup Whole Milk
⅓ cups Canola Or Vegetable Oil
1 whole Large Egg
2 teaspoons Vanilla Extract
¾ cups Milk Chocolate Chips
FOR THE TOPPING:
¼ cups Flour, All Purpose
¼ cups Light Brown Sugar, Packed
¼ cups Graham Cracker Crumbs
½ teaspoons Cinnamon
3 Tablespoons Butter, Melted
Preparation Instructions
Preheat oven to 400ºF. Line muffin tins with liners or spray well with cooking spray and set aside.
For the muffins, in a medium bowl whisk the flour, baking powder, salt, sugar, and graham cracker crumbs until blended. Set aside.
In the bowl of a stand mixer, combine the milk, oil, egg, and vanilla and beat until incorporated. Add the dry ingredients and mix until just combined. Add the chocolate chips and stir in by hand.
Using an ice cream size scoop, fill each muffin liner or tin with 1 scoop, about 2/3 full.
For the topping, in a bowl mix the flour, brown sugar, graham cracker crumbs, cinnamon and stir to combine all the dry ingredients well. Add the melted butter and mix well until crumbly and looking like wet sand.
Top each muffin with 1 heaping tablespoon of crumb topping.
Bake for 16-19 minutes or until a toothpick inserted into the middle comes out clean.
Moist, delicious muffins that taste kind of like a warm cookie. Makes 15 muffins.
Enjoy!
Recipe adapted from Dwell on Joy.


_______________________________________
Jessica Merchant is a personal trainer turned food writer and blogger. Her blog, How Sweet Eats, is where she proclaims her love for all things sweet, all things bacon, and everything else in between. She works her magic in her Pittsburgh kitchen, which she shares with her husband of 2 years.