Are you ready for some smoky heat? Well, you have definitely come to the right place. This salad is filled with the flavors of summer: fresh lettuce, ripe avocado and tomatoes. Top that with herb and spice-infused rice, black beans and corn, plus some chipotle shrimp and you have one very satisfying meal.
These Chipotle Shrimp Salad Bowls from Tasty Kitchen member Bev Weidner can pack a punch of heat, but you have some control the level of heat by adjusting the amount of marinade you use to cook the shrimp. If you're the kind of guy or gal that likes a good sweat-inducing amount of heat, then use every last drop of that marinade. If that's not you, then scrape/shake most of the marinade and chipotle pepper from the shrimp before cooking them. It's up to you.
Let's get cooking.
Here's everything you're going to need for this recipe. Packed with flavor!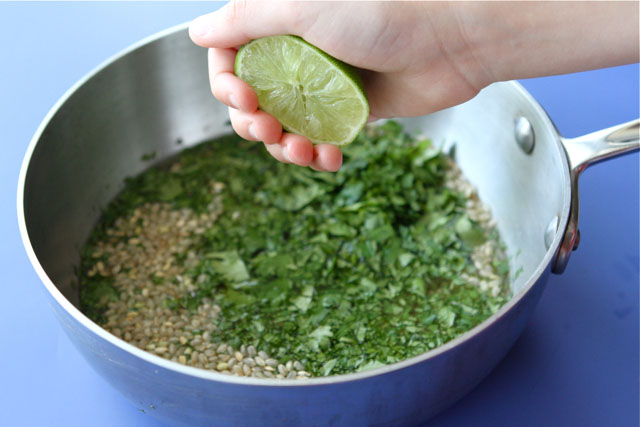 Using a rice cooker or a saucepan, combine the rice with water, chopped cilantro and the juice of a ½ lime. Bev recommends brown jasmine rice for this recipe, which would work beautifully. I only had regular brown rice on hand and it was a great substitute.
Cook the rice according to the package instructions, fluff and squeeze in more lime juice.
Puree the chipotle peppers and the adobo sauce in a food processor until smooth.
Pour the pureed chipotle peppers into a resealable plastic bag and add the shrimp.
Seal the bag and gently massage the shrimp (they like that) until they are coated with the sauce. Bev recommends sticking them in the fridge to marinate for "at least 2 Tom and Jerry episodes." My kids are big Tom & Jerry fans, so I happen to know that two episodes last about 20 minutes.
In a small saucepan, heat the olive oil over medium-low heat. Add the defrosted corn, black beans, ground cumin, chili powder, salt and pepper. Keep warm on low heat until you're ready to assemble the salad.
Chop up a bunch of romaine lettuce for your salad.
Heat a large skillet over medium-high heat. Bev recommended a medium skillet, but I found the shrimp fit a little better in a large one. You really don't need any oil to sauté with because there is plenty of liquid in the marinade. However, if you're nervous about your pans, coat them with cooking spray first.
Okay, so here's where you have to make a decision. If you want to go easy on the heat (which I suggest), shake and/or scrape a good deal of the marinade off of the shrimp. The shrimp will still have plenty of flavor and heat. How much of the marinade you use is completely up to you and your taste buds.
Sear the shrimp for 2 minutes, flip over and sear for 1 additional minute. Remove from the pan.
Divide the romaine lettuce between two large plates or bowls, followed by the rice, corn and bean mixture.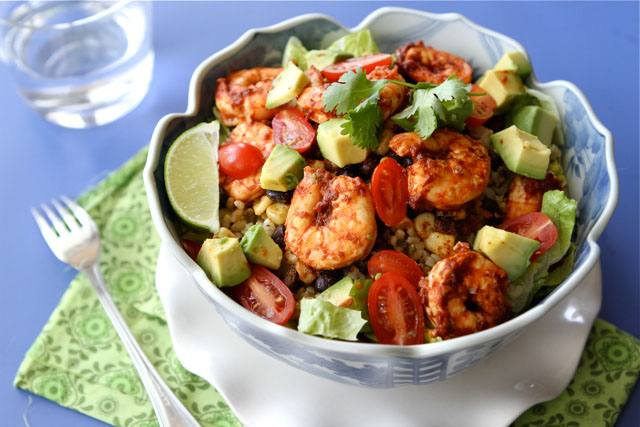 Top with the shrimp, avocados and tomatoes. Squeeze more lime over top and serve.
Thanks so much to Bev Weidner for this recipe. Be sure to check out Bev's blog Bev Cooks. Not only does Bev take beautiful photos and come up with mouth-watering recipes, but she is completely nutty (I mean this as a compliment) and will give you a good chuckle with every one of her posts.
Printable Recipe
See post on Bev Weidner's site!
Description
If you need to climb in, go right ahead.
Ingredients
1 can (7.5 Oz. Size) Chipotle Peppers In Their Adobo Sauce
1 pound Frozen Raw Shrimp, Thawed, Peeled And Deveined
½ cups Brown Jasmine Rice
½ cups Freshly Cilantro, Chopped
1 whole Lime, Divided
1 teaspoon Extra Virgin Olive Oil
½ cups Frozen Corn
½ cans (14.5 Oz. Size) Black Beans, Drained And Rinsed.
1 pinch Coarse Salt And Freshly Ground Pepper
1 teaspoon Ground Cumin
1 teaspoon Chili Powder
2 heads Romaine Hearts, Sliced Into Thin Ribbons And Chopped
1 whole Avocado, diced
½ cups Cherry Tomatoes
Preparation Instructions
Puree the chipotle peppers and their sauce in a small food processor until smooth. Pour into a small baggy. Dump the shrimp into the baggy and squish the sauce all around them, getting everything all coated. Stick in the fridge and marinate as long as you want, at least 2 Tom and Jerry episodes.
In the meantime, cook the rice in a rice cooker (or the traditional way) with the cilantro and the juice from 1/2 the lime. Once cooked, give another squeeze of lime juice into it.
Heat the oil in a small saucepan and add the corn and beans. Season with a pinch of salt and pepper, along with the cumin and chili powder. Keep heated on low until you're ready to assemble.
Layer the shrimp in a medium skillet (you don't need any oil as the marinade is plenty liquidy) and sear the shrimp one on side for 2 minutes. Flip and sear another minute.
Evenly divide the romaine over 2 large plates or dinner bowls. Top with rice, corn and beans, shrimp, avocado and tomatoes.
Garnish with more lime and another giant squeeze of lime juice!


_______________________________________
Dara Michalski is a doll and a sweetheart who clearly knows her way around the kitchen. She blogs at Cookin' Canuck, where she shares her flavor-packed recipes and fun, engaging writing. The photography's pretty incredible, too.