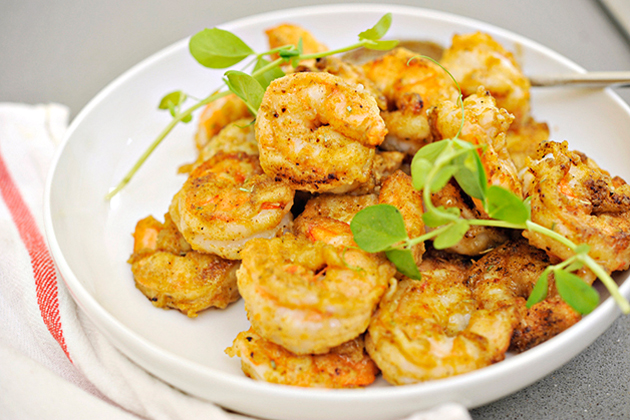 This barbecued shrimp recipe from Food Orleans was utterly wonderful. There was just enough breading and seasoning without it dominating the flavor of the shrimp, but enough to give it a great texture. Jennifer explains that New Orleans style barbecued shrimp is buttered, not barbecued. I'm down with that.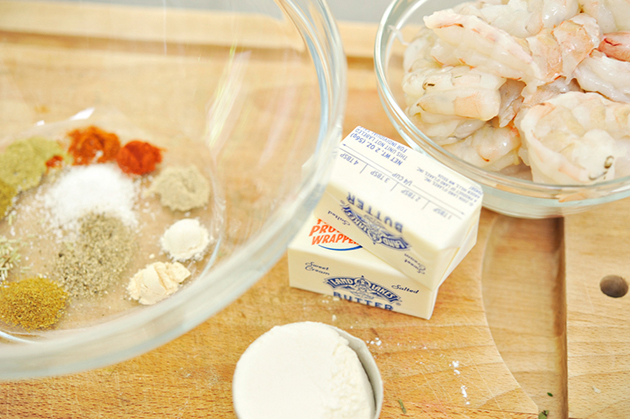 Here is what you will need: onion powder, garlic powder, white pepper, dried thyme, dried oregano, dried rosemary, ground cumin, cayenne pepper, paprika, kosher salt, cracked black pepper, all-purpose flour, shrimp (shelled and deveined), and unsalted butter.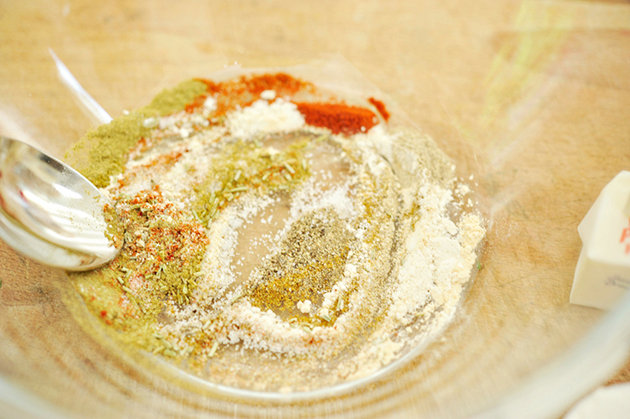 Combine all of the spices together!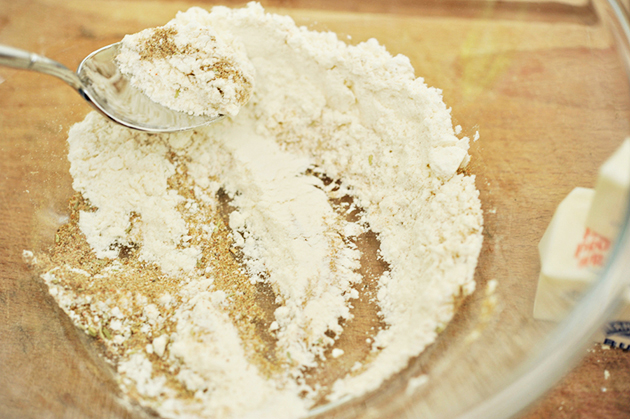 Then whisk in the flour.
Pat your shrimp dry and then throw them in the bowl.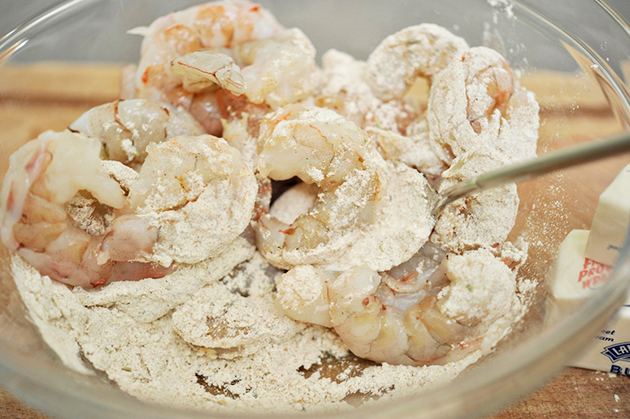 Give them a nice toss in the mixture, making sure to scoop it all from the bottom.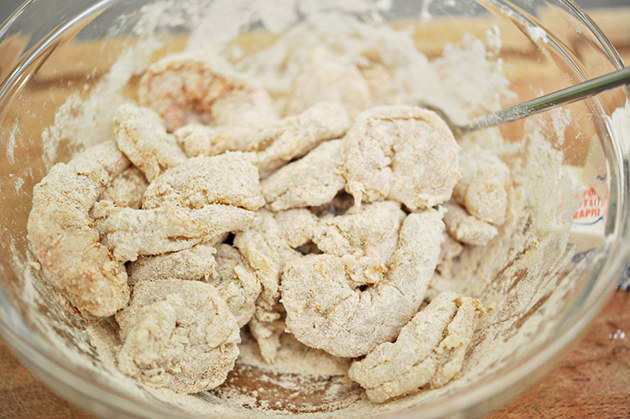 Like so. You want a nice coating so that all of the flavor gets used up.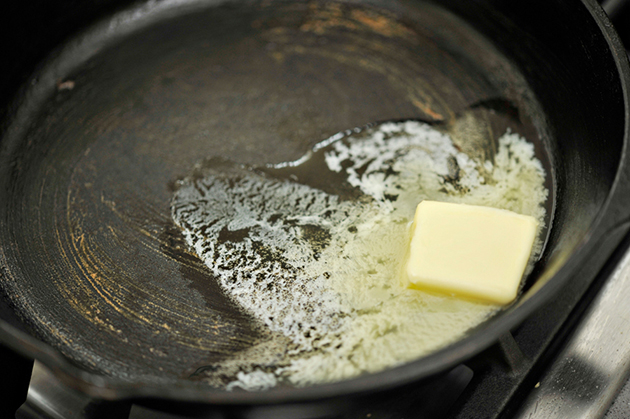 Meanwhile, in a skillet melt a good dose of butter. If you want extra juice to sop up with the bread, you'll want extra butter. Or if you just want to gobble the shrimp up without the bread, you won't need quite as much.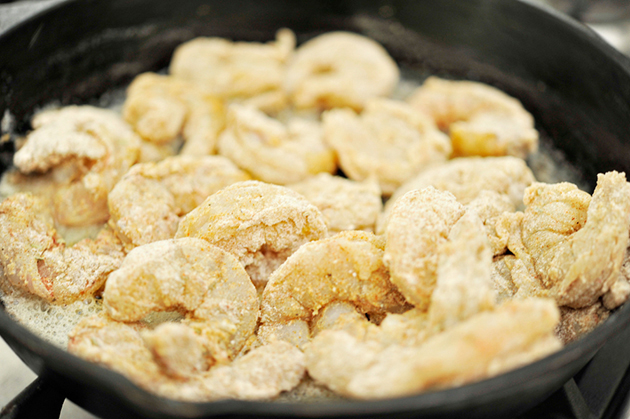 Add the shrimp to the skillet in one layer.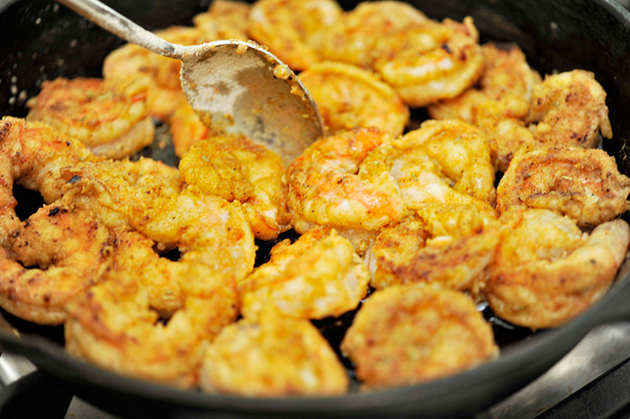 After about 3 minutes, when things are nice and golden brown on one side, turn them over one at a time and let them brown on the other side. They'll curl and firm up and turn reddish under the breading once they're ready.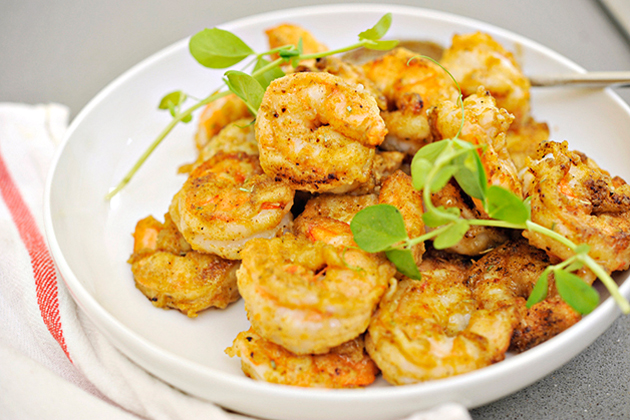 You can serve this with bread if you have extra sauce, or it would also be wonderful with some greens as part of a salad. It was such an addictive dish, thanks so much to Jennifer for sharing it with us! Check out her blog Food Orleans for more deliciousness.
Printable Recipe
See post on food orleans's site!
Description
New Orleans-style barbecued shrimp isn't barbecued—it's buttered. Serve small portions as tapas, for the love of all that's holy.
Ingredients
¼ teaspoons Onion Powder
¼ teaspoons Garlic Powder
¼ teaspoons White Pepper
¼ teaspoons Dried Thyme
¼ teaspoons Dried Oregano
¼ teaspoons Dried Rosemary, Crumbled
¼ teaspoons Ground Cumin
½ teaspoons Cayenne Pepper
1 teaspoon Paprika
1 teaspoon Kosher Salt
1 teaspoon Cracked Black Pepper
¼ cups All-purpose Flour
1 pound Shrimp, Shelled And Deveined
6 Tablespoons Unsalted Butter
4 slices Ciabatta Or Other Bread, For Serving
Preparation Instructions
Combine onion powder and the rest of the spices in a small bowl. Mix well and taste it a little bit; the mixture should be very tasty and spicy, so add more of anything you think it needs. Add flour and mix well.
Pat shrimp dry with paper towels, then toss to coat with spice mixture.
Heat a medium cast-iron or other heavy skillet over high heat. Add butter and swirl pan to melt.
When butter is just melted, add shrimp to pan and cook without disturbing for about 2 minutes. Turn shrimp over and cook another 3–4 minutes, or until curled and opaque throughout.
Serve shrimp and butter drizzled over bread. Gracious.


_______________________________________
There's so much to say about Georgia, we don't know where to start. Leaving Wall Street for the French Culinary Institute, followed by a stint at the Gramercy Tavern and La Chassagnette in France, her passion for food and food traditions are evident and inspiring. Visit her site at Georgia Pellegrini, where you'll find more recipes, photos, learn all about her wonderful books Girl Hunter and Food Heroes, and enjoy her latest adventures.