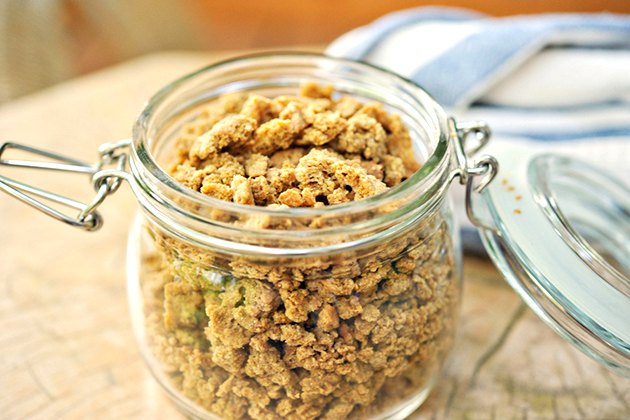 Homemade cereal, what a revelation! Zoe Dawn's recipe for homemade grape nuts thrilled me. I've made homemade granola before, but never grape nuts. So I was excited to give this a try. And I have to say, I liked it even more than the kind you get in the store.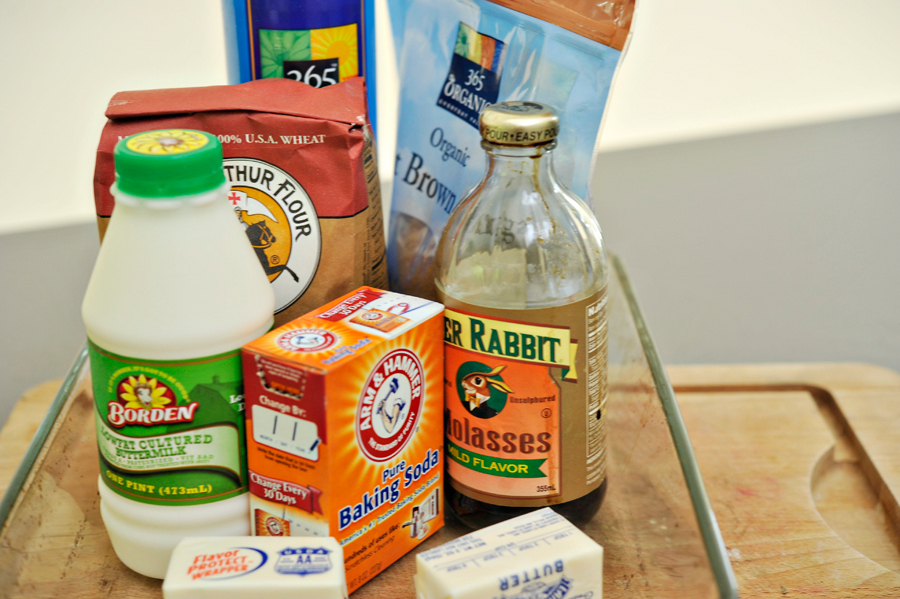 You will need the following things: sprouted whole wheat pastry flour (I used regular whole wheat flour and it worked well!), light brown sugar, baking soda, salt, molasses, buttermilk, and butter.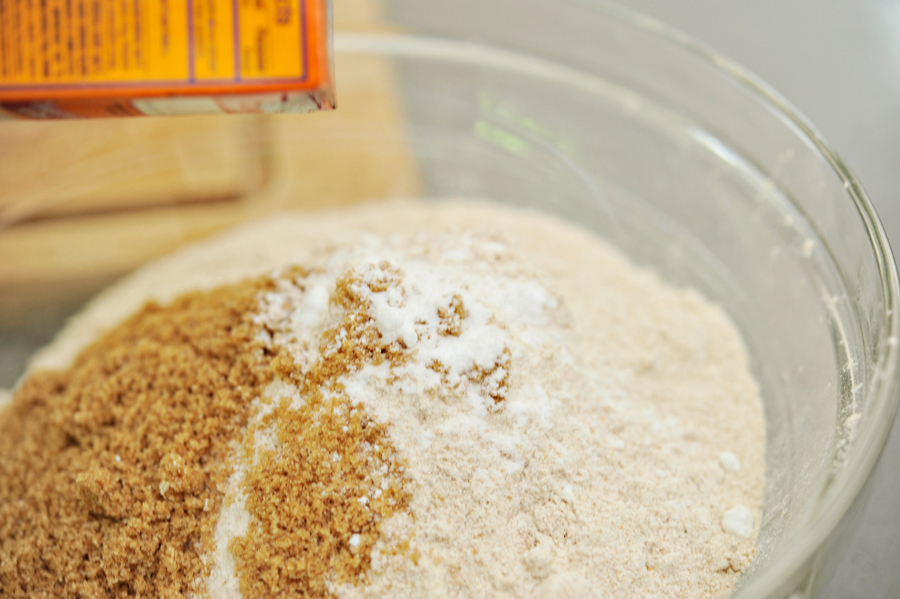 Start by combining the dry ingredients in a bowl, including baking soda …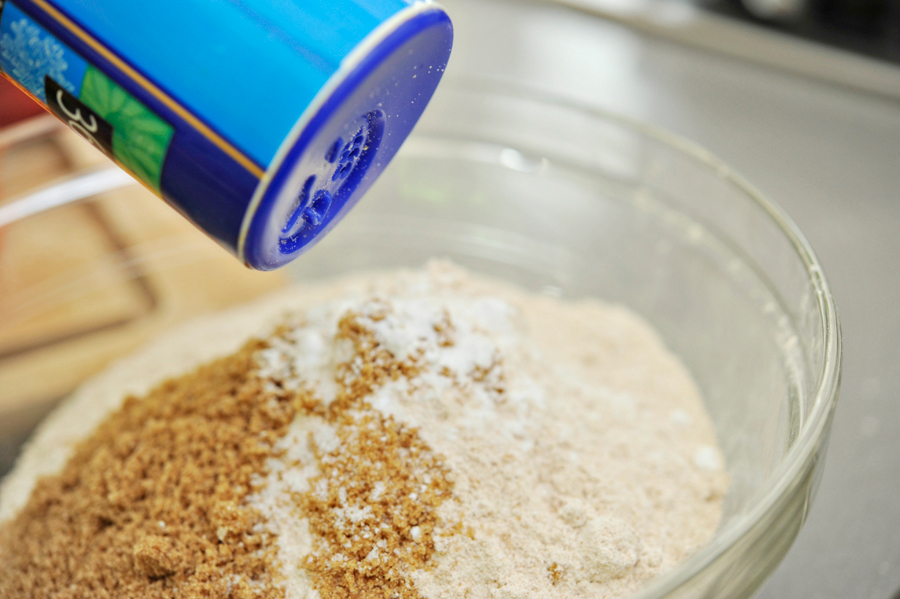 And a good dash of sea salt.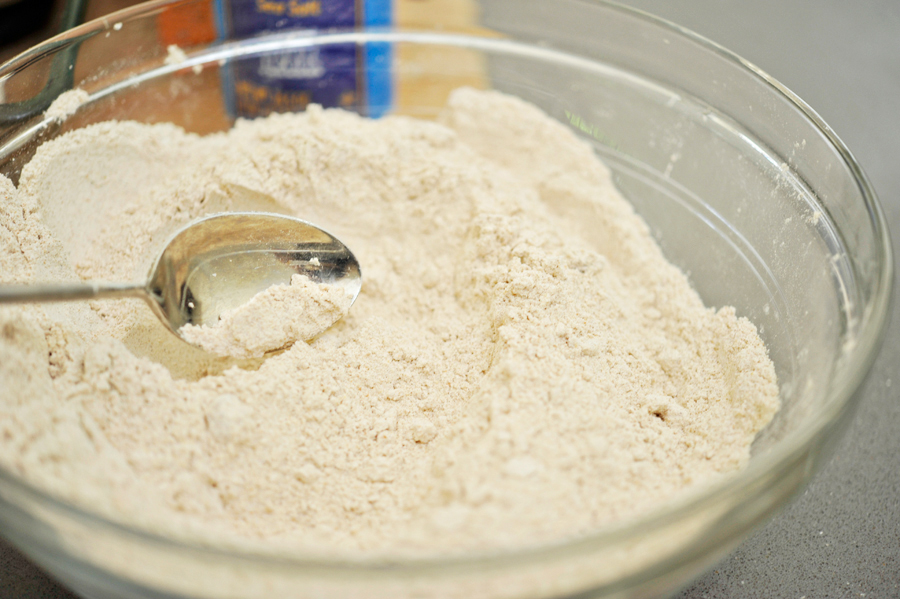 Combine it all together well.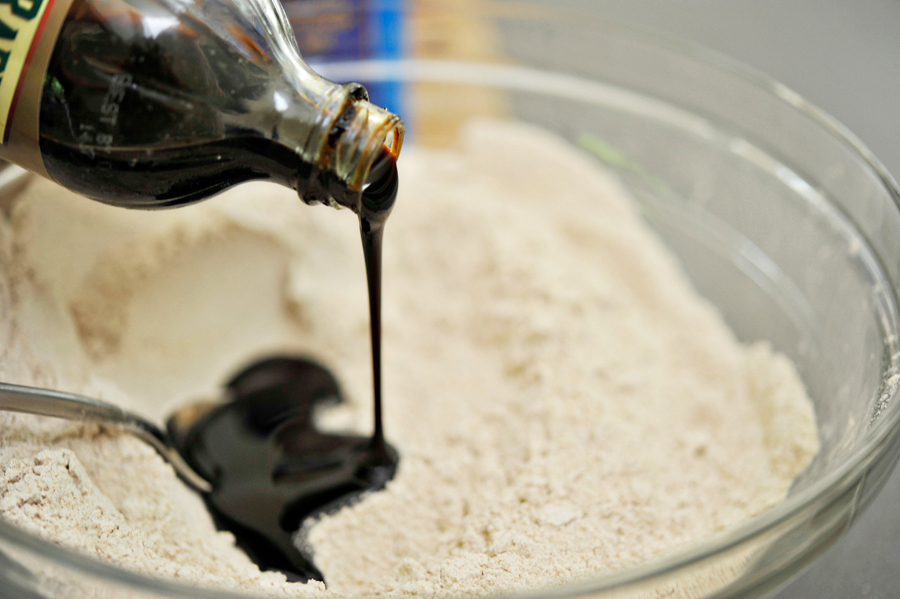 Then begin to pour in the wet ingredients. First the molasses …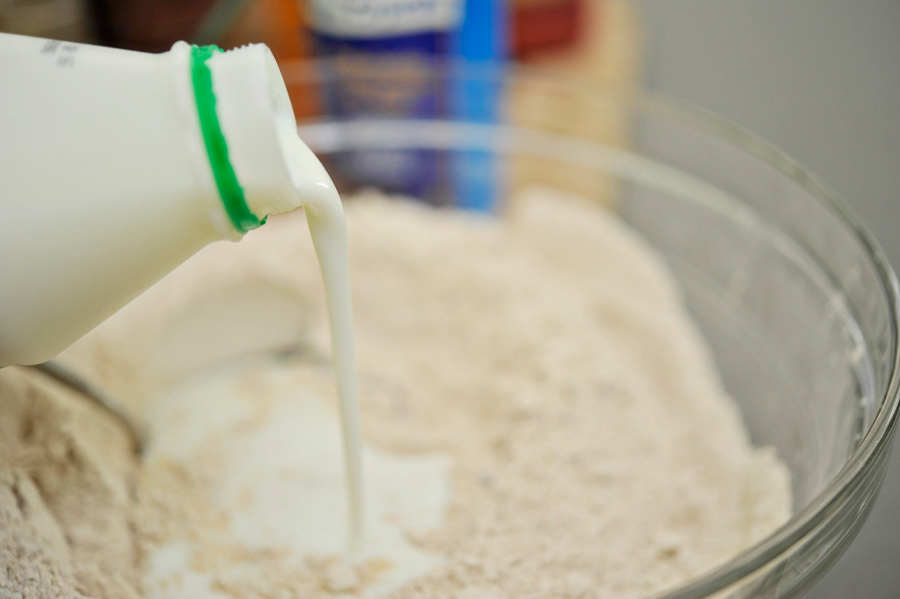 Then the buttermilk …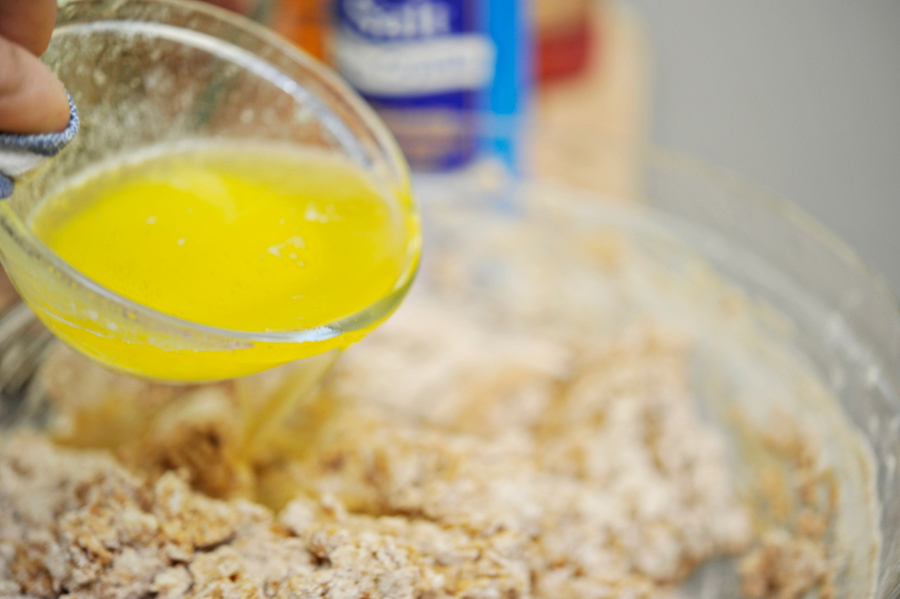 Then the melted butter.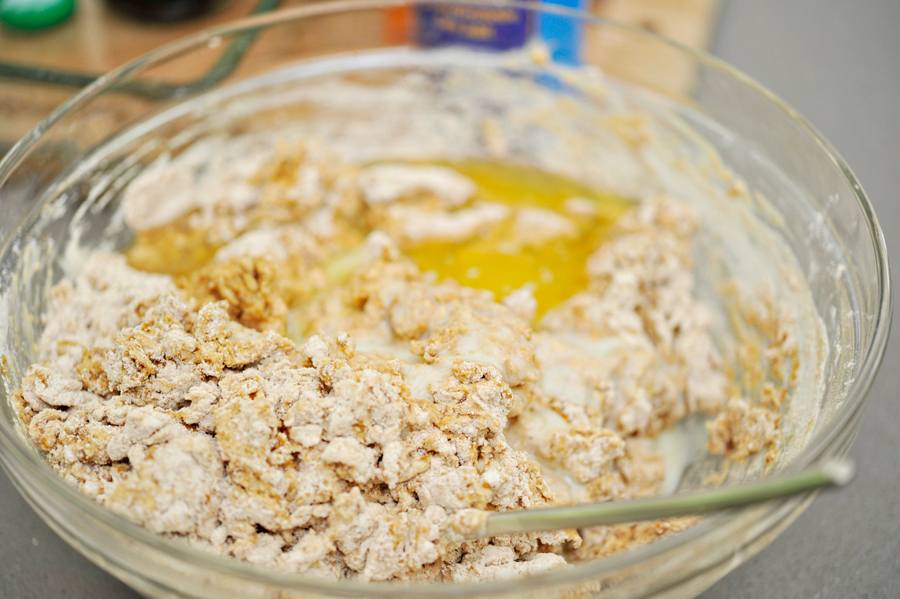 Give it a nice stir.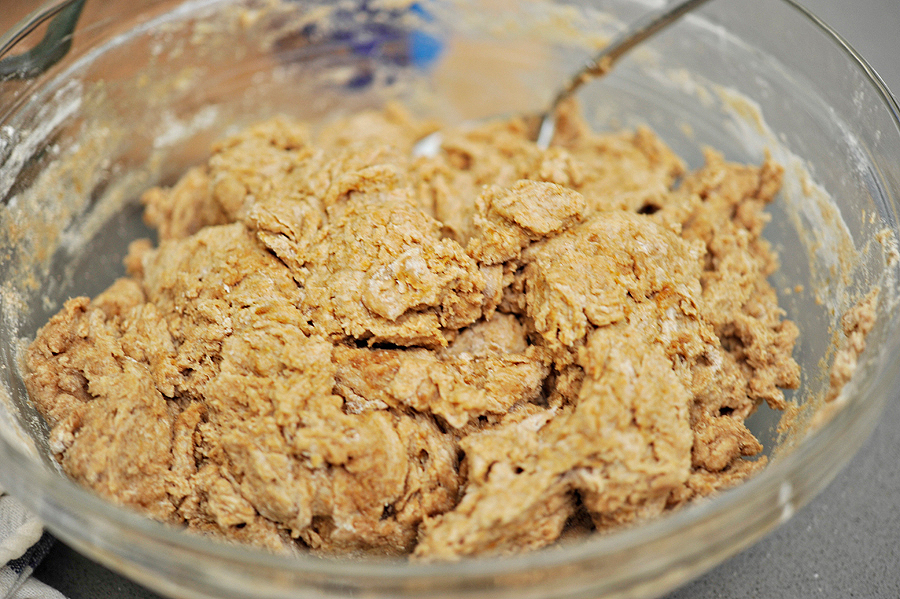 It will start to come together until it is uniform in color and texture but not especially wet.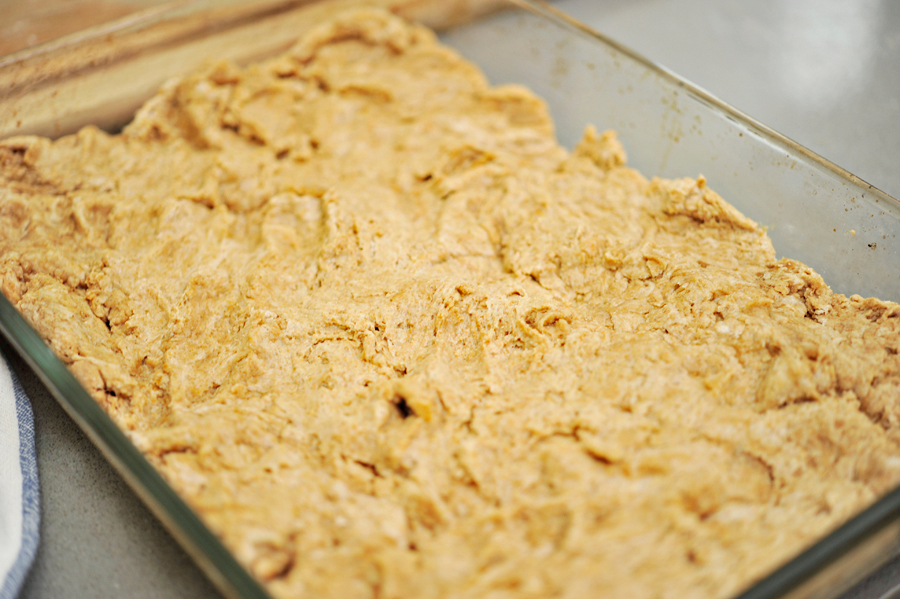 Press it into a baking dish and put it in the oven to bake.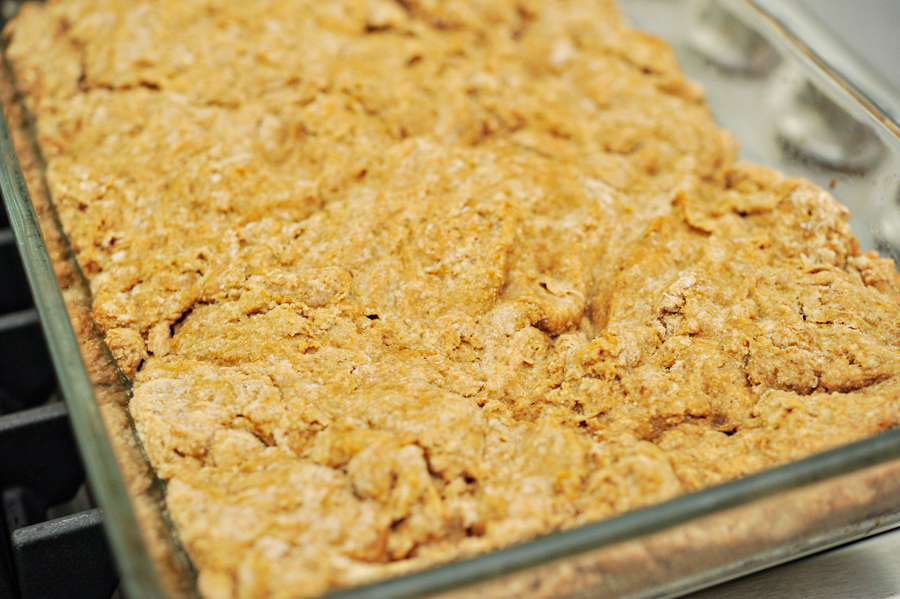 Once it comes out of the oven, let it cool completely in your baking dish.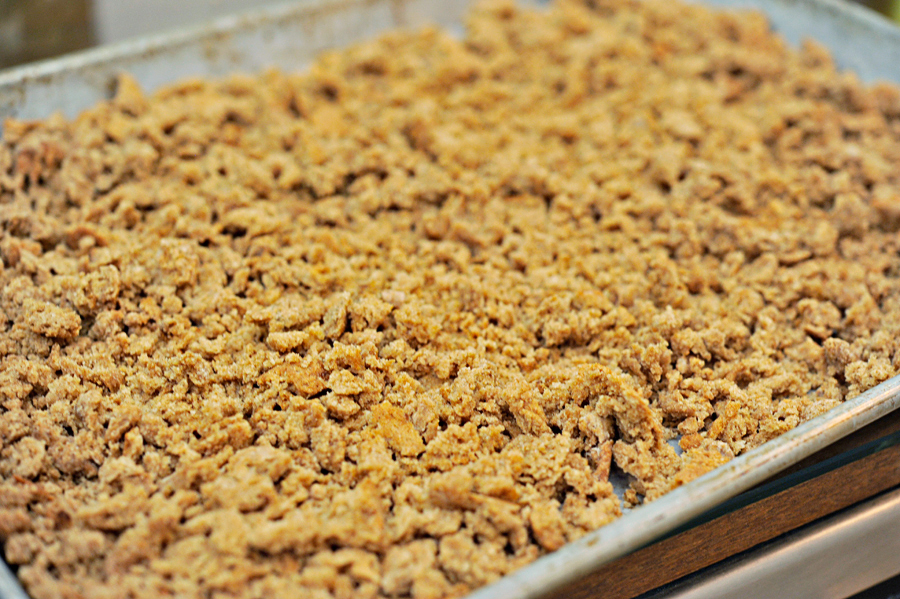 Once it's cool, preheat the oven to 275ºF and crumble the mixture with your hands as fine or coarse as you would like your grape nuts to be. You will need several trays for this. Or you could cut this recipe in half to begin with if you don't want quite so much on hand!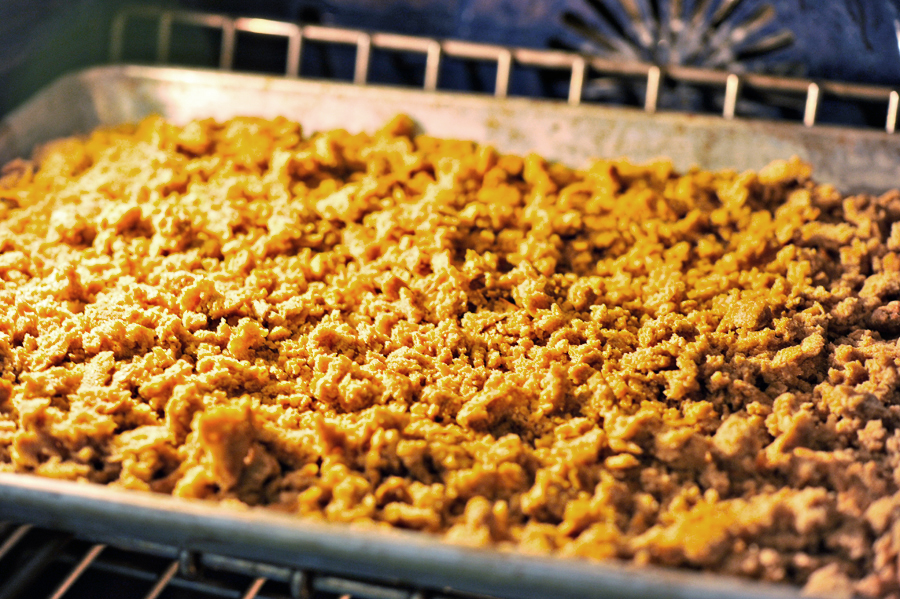 Place the sheet trays in the oven so that the coarse mixture dries out slowly.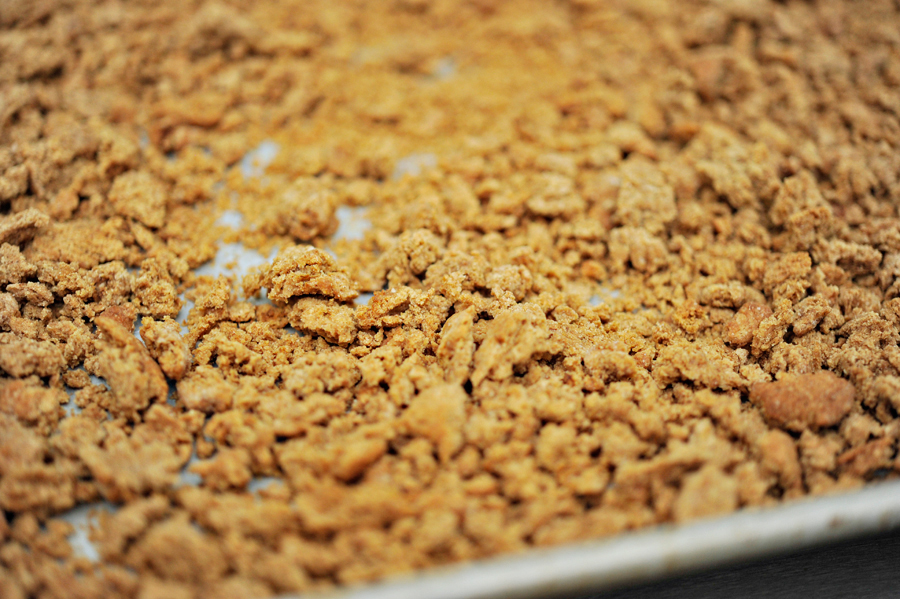 Let it cool out of the oven once it is firm, and once cool, store it in airtight containers.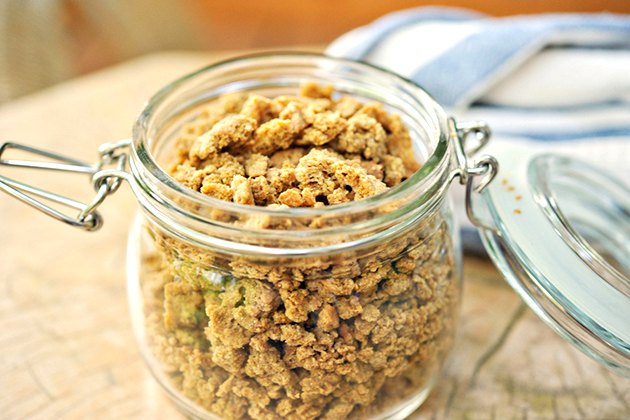 This was so much better than grape nuts from the store. It had a better texture and the flavor was fabulous. Thank you so much to Zoe Dawn's for this homemade breakfast cereal idea!
Printable Recipe
See post on zoedawn's site!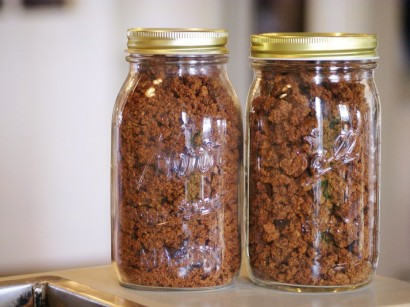 Description
Mmmm. Everything you want in a breakfast cereal: crunchy, hearty, lightly sweet, and healthy! The cook time is long but for the most part, you don't have to do much to it.
Ingredients
4-½ cups Sprouted Whole Wheat Pastry Flour
½ cups Scant, Light Brown Sugar
1-½ teaspoon Baking Soda
1 teaspoon Salt
½ cups Molasses
2 cups Buttermilk
½ cups Butter, Melted
Preparation Instructions
Mix the dry ingredients together. Stir in the wet ingredients. Spread in a greased 9 x 13 inch baking dish. Bake at 350ºF for about 30 minutes or until a toothpick inserted near the center comes out clean. Cool completely.
Cut the cake into squares and crumble with your fingers. If you prefer a finer, less chunky grape nut, grate the squares on a cheese grater. Put the crumbles onto two large baking sheets with sides. Bake at 275ºF, stirring every 15 minutes, for a total of 60 to 90 minutes, or until grape nuts are dry. The timing will depend on the size of your little pieces. Cool on the baking sheets and then transfer to jars for storage. Will keep for several weeks. I'm sure they would freeze, too, if you want to try it.
Yield: about 3 quarts, depending on the size of your grape nuts.


_______________________________________
There's so much to say about Georgia, we don't know where to start. Leaving Wall Street for the French Culinary Institute, followed by a stint at the Gramercy Tavern and La Chassagnette in France, her passion for food and food traditions are evident and inspiring. Visit her site at Georgia Pellegrini, where you'll find more recipes, photos, learn all about her wonderful books Girl Hunter and Food Heroes, and enjoy her latest adventures.