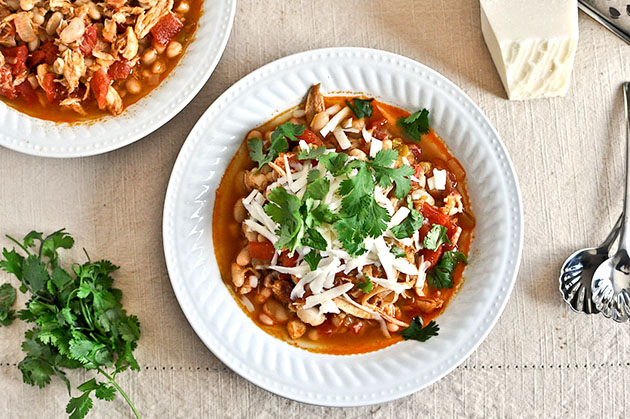 With spring quickly approaching in the next few weeks, I fear my warm and comforting soups may be on their way out. I easily love a bowl of soup no matter the season, but sometimes the thought of standing over a large stock pot for a few hours just isn't as appealing as laying outside in the green grass. Especially when you sweat like a man.
However! This year I'm saved. I ran across this Smoky White Bean Chicken Chili from Tasty Kitchen member Terri, and the moment I spied bacon and smoked paprika in the recipe, I was sold. To my surprise, this soup was completed in just a little over an hour and packed more flavor that I ever could have imagined. It's pretty healthy too—bonus points!
The ease of this soup is a huge plus. It calls for a store-bought rotisserie chicken, but feel free to roast your own and use your own stock if you have some on hand. It also makes a pretty large pot of chili, so if you're cooking for one or two, you'll have lots of leftovers to freeze for those super busy nights. Let's get started!
Here's what you need: a rotisserie chicken, chicken stock, cannellini beans, diced tomatoes, diced green chilis, bacon, a large onion, garlic, smoked paprika, cumin, garlic powder, onion powder, chipotle chili powder, fresh cilantro and some cheese for topping if you wish. Also have some salt and pepper on hand for seasoning. If you can't find chipotle chili powder, the regular stuff should do just fine.
As a note, the first thing I did before beginning was to prepare all my ingredients. I opened all the cans, I stripped the meat from the chicken, chopped my bacon, onion and garlic and combined all my spices. This makes the process much, much easier.
First up, add the chopped bacon to a hot pot and let sizzle away! Mmmm. Definitely my favorite part. I need a bacon candle.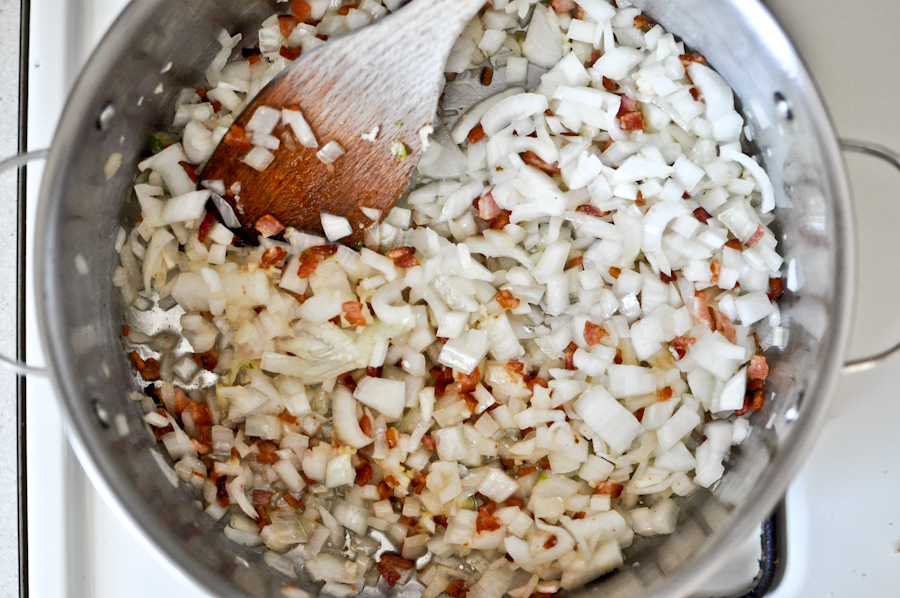 After the bacon has crisped a bit and rendered some fat, throw in the diced onion. Give the mixture a good stir to coat, then cover and let cook over medium-low heat for about 20 minutes, stirring occasionally, while the onions get all caramelly. If you have not taken the meat off your chicken or opened your cans, now is a great time to do so. If you have, now is a great time to clean up your kitchen. I just wish I would take my own advice.
After about 20 minutes, the onions should be soft and look like this. And in that pot of heaven you have two of the most delicious building blocks of flavor. Inhale.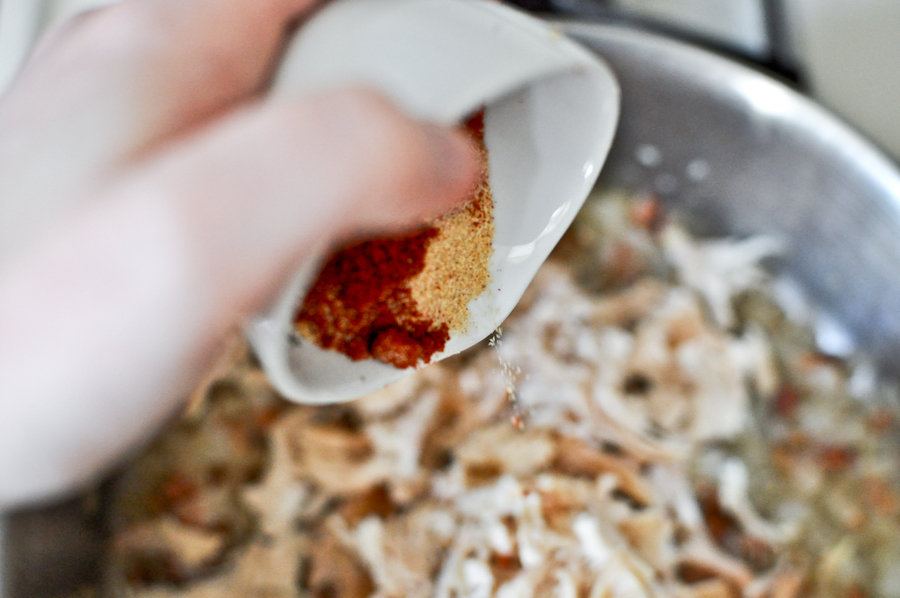 Next up, add your spices and your chicken. Don't leave out the dark meat! So. Much. Flavor. I wish I could go back in time to all the Thanksgivings I spent shunning dark meat and eat my way to the present day.
Stir the whole mixture to coat, and let it cook (with the lid on) for another 10 minutes so the flavors can mesh.
The only thing left to do is add everything else to the pot. Super simple, right? Throw in the tomatoes, beans, green chilis and chicken stock. Give the soup a good stir and bring to a boil.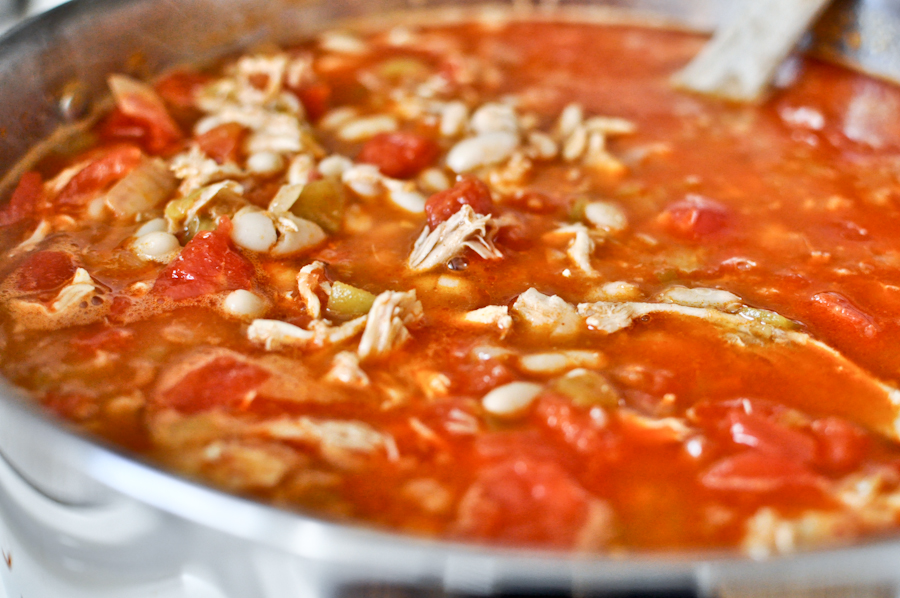 Once boiling, reduce heat to a simmer and let cook uncovered, stirring occasionally, until the liquid has reduced to your preference. I let mine simmer for about 20 minutes, then it was good to go. I also couldn't take it anymore and was starving. The smell is intoxicating!
Serve it up in a big bowl, topped with your favorite cheese (the recipe calls for cotija; I used Monterey Jack) and a bunch of fresh cilantro. I also suggest a few handfuls of blue corn chips on the side for dipping and crunching over top. Trust me on this.
I still can't get over how much flavor this chili has for being a fairly simple recipe. It was one of the most delicious versions of chicken chili we have tried in quite a while, and I just couldn't get enough. It's been the star of our lunches and dinners for days and I'm ready to make another batch.
Thanks so much to Terri for the fabulous recipe. Be sure to check out her great blog, That's Some Good Cookin', for more incredibly delicious and comforting dishes.
Printable Recipe
See post on Terri @ that's some good cookin''s site!
Description
The smoky flavors of bacon, chipotle chili powder, smoky paprika, cumin, and roasted tomatoes bring depth to this super easy and healthy chili.
Ingredients
4 slices Bacon, Chopped
1 whole Large Onion, Diced
3 cloves Garlic, Chopped
1 whole Rotisserie Chicken, Shredded Or Diced
1 teaspoon Smoky Paprika
1 teaspoon Ground Cumin
1 teaspoon Onion Powder Or Granulated Onion
½ teaspoons Garlic Powder Or Granulated Garlic
½ teaspoons Chipotle Chile Powder, Or To Taste
6 cups Chicken Stock Or Broth
1 can (28-ounce Size) Roasted, Diced Tomatoes
4 cans (14.5 Ounce Size) White Beans, Cannelini Or Great Northern
2 cans (4 Ounce Size) Diced Green Chiles
Salt And Pepper, to taste
½ cups Grated Cotija Cheese, Optional For Topping
¼ cups Chopped Fresh Cilantro, For Topping (optional)
Preparation Instructions
In a hot Dutch oven, cook bacon for about 3 minutes.
Add the onion and garlic to the bacon. Lower the heat to medium low and cover pot. Cook, stirring as needed until the onions are translucent and just starting to caramelize. This takes about 30 minutes.
Add the chicken, smoky paprika, ground cumin, onion powder, garlic powder, and chipotle to the pot and continue to cook for an additional 10 minutes (covered) so that the chicken gets infused with the aromatics and the spices.
Stir in the chicken stock, diced tomatoes, white beans, and green chiles. Add salt and pepper to taste. Bring to a slow boil and cook, uncovered, stirring as needed until the liquid has reduced to your level of preference.
For serving, pass the cotija cheese and chopped cilantro for topping as desired.
This is great with cornbread or a crusty bread and a salad.
Note: a can of the white beans can be reserved, pureed or well mashed, and then added to chili for thickening at the same time as the other beans are added to the chili.


_______________________________________
Jessica Merchant is a personal trainer turned food writer and blogger. Her blog, How Sweet Eats, is where she proclaims her love for all things sweet, all things bacon, and everything else in between. She works her magic in her Pittsburgh kitchen, which she shares with her husband of 2 years.