You know when you make a recipe that immediately makes you say, "I have to make this at least once a week"? Well, this is one of those recipes. If you are a fan of shrimp, then this simple Shrimp Martini Appetizer recipe by Tasty Kitchen member 4littlefergusons is a must-try. Not only does it taste good and look pretty (who doesn't love appetizers presented in martini glasses?), but it's really easy to put together. Toss the shrimp with cilantro, stuffed olives, tomatoes, garlic, jalapeno and lemon juice, and you're done. Ba-da-bing, ba-da-boom (I like to pretend I still live in New York).
Now, let's get started.
Here's everything you will need for this recipe: shrimp, cilantro, tomatoes, pimento-stuffed olives (the little guys), a jalapeno pepper, garlic, salt and lemon juice.
Set a medium saucepan of water over high heat and bring the water to a boil. Add shrimp and cook until shrimp is cooked through, about 1 minute.
Do everything in your power to avoid overcooking the shrimp. Overcooking + shrimp = rubbery mess. Not good.
Drain the shrimp.
Immediately plunge the shrimp into ice water to stop it from cooking. Aren't they pretty in pink?
In a medium-sized bowl, combine chopped cilantro …
Seeded and diced tomatoes …
Chopped stuffed olives (the little ones) …
Seeded and chopped jalapeno pepper …
Garlic and salt.
Squeeze in fresh lemon juice. You're almost there.
Add the cooked shrimp and give everything a gentle stir.
Garnish with extra olives, serve and dive in.
Thanks so much to 4littlefergusons for this great recipe. I will be making this for a quick lunch or serving it to guests as an impressive but easy appetizer. Be sure to check out the blog 4 Little Fergusons, where adorable Tonya talks about her life with four little ones and posts recipes as tempting as this one.
Printable Recipe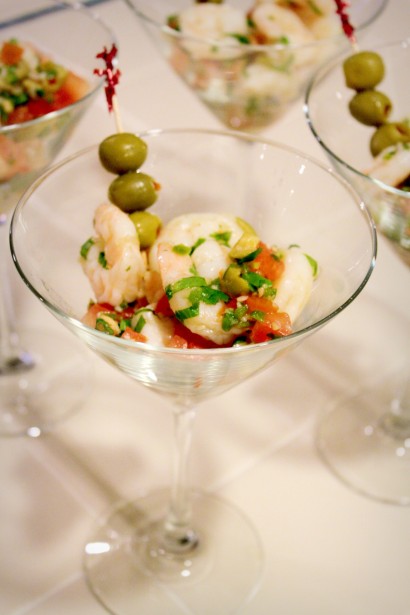 Description
These appetizers are DIVINE and just gorgeous to look at!
Ingredients
½ pounds Shrimp, Peeled
1 Tablespoon Chopped Fresh Cilantro
2 whole Plum Tomatoes, Seeded And Chopped
8 whole Pimento-stuffed Spanish Olives, Coarsely Chopped, Plus More Left Whole For Garnish
1 whole Jalapeno Pepper, Seeded And Minced
1 clove Garlic, Minced
¼ teaspoons Salt
1 Tablespoon Fresh Lemon Juice (from About 1/2 Lemon)
Preparation Instructions
Cook shrimp in boiling water until it turns pink. Drain. Place shrimp in ice water until chilled; drain again.
In a small bowl combine cilantro, tomatoes, olives, jalapeno, garlic and salt. Squeeze lemon juice over all and stir.
Add shrimp and toss gently. Serve immediately or refrigerate until serving time. Spoon shrimp mixture into 4 martini glasses, garnish with a toothpick of Spanish olives.


_______________________________________
Dara Michalski is a doll and a sweetheart who clearly knows her way around the kitchen. She blogs at Cookin' Canuck, where she shares her flavor-packed recipes and fun, engaging writing. The photography's pretty incredible, too.