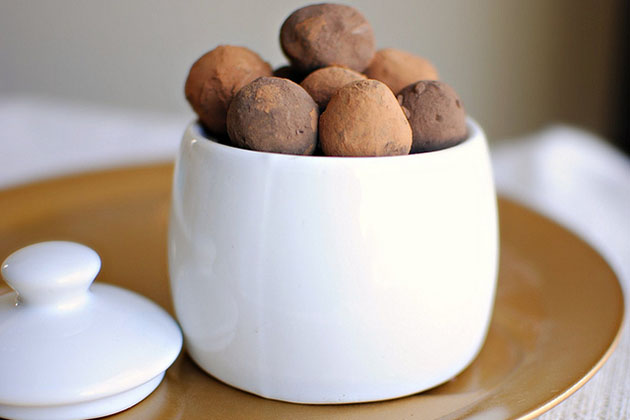 Mayan Chocolate Truffles. Oh my heavens. Just the name alone gets me excited all over again. These chocolaty delights have a little sweet, a little spice and a whole lot of sass. When I saw Kari's recipe, I found myself suddenly craving chocolate in truffle form.  
 
Kari a.k.a. Craftinomicon probably doesn't realize the phenomenon her recipe created in my household. My children were actually campaigning to clean their rooms for more truffles! I was promised back rubs and washed dishes, too. All of this just to get their little mitts on more! Needless to say the truffles only lasted a whole twenty-four hours—but most definitely the best chocolate-filled twenty-four hours of my life. Amen.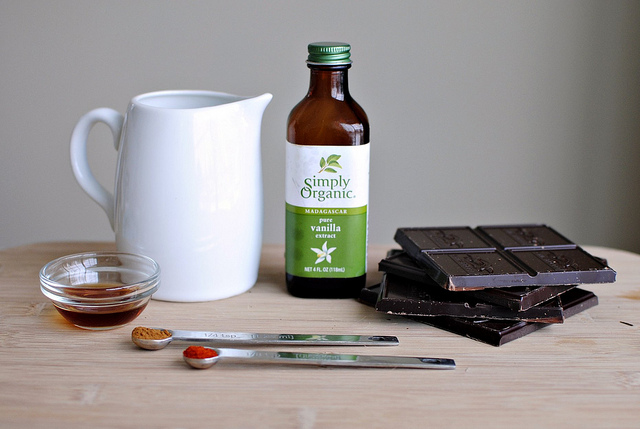 These truffles are actually pretty darn simple to make, and yet they taste as if you purchased them from a fancy-schmancy chocolate shop!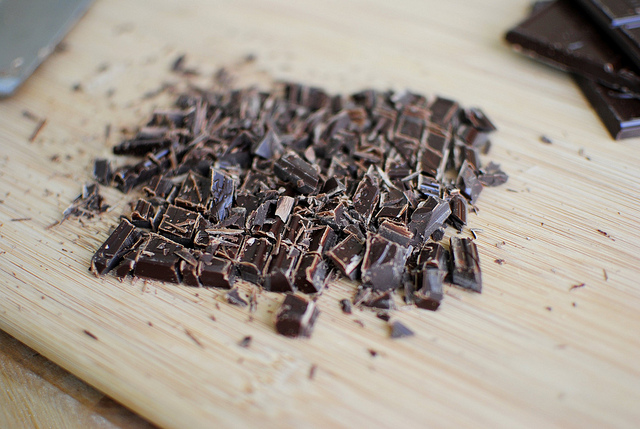 Start by finely chopping up eight ounces of dark chocolate. For this recipe, I used the sixty percent cocoa bars by Ghirardelli.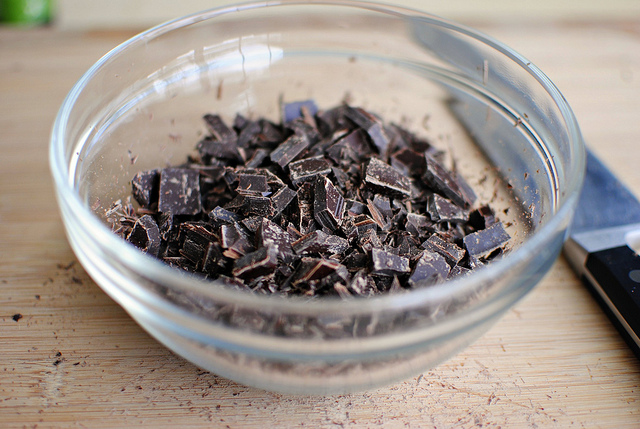 Keep the size pretty uniform so they melt easily. Now just toss the chocolate bits into a small heat-safe bowl.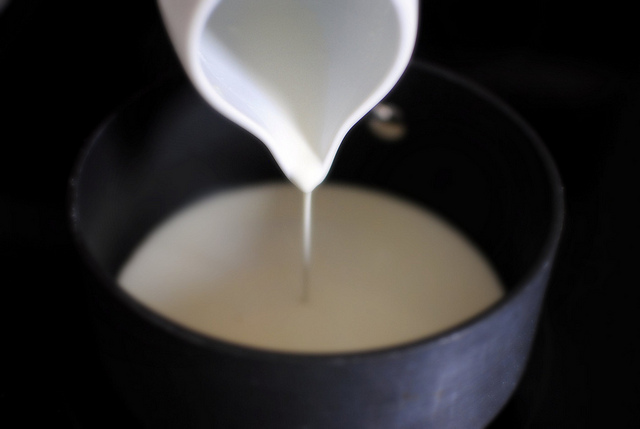 Next add a half cup of heavy cream to a small sauce pan. Heat the cream until tiny little bubbles start to form around the edge of the pot.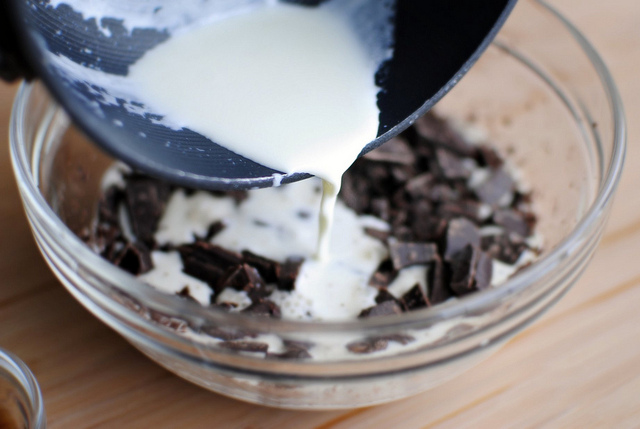 Then immediately pour the hot cream over top of the chopped chocolate.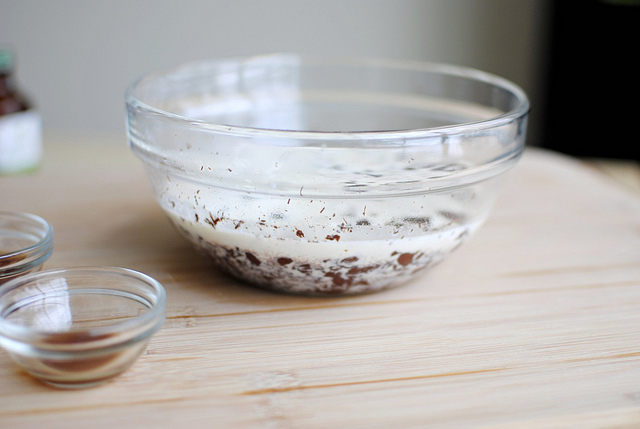 Let it sit for a few minutes. The warm cream is working its magic, softening up the chocolate.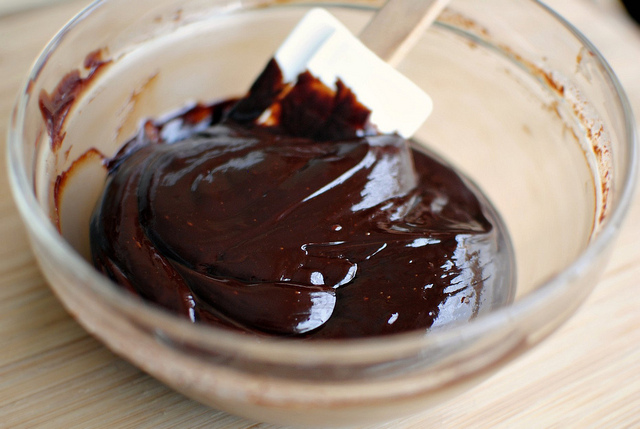 After a few minutes have passed; slowly stir and combine the two together.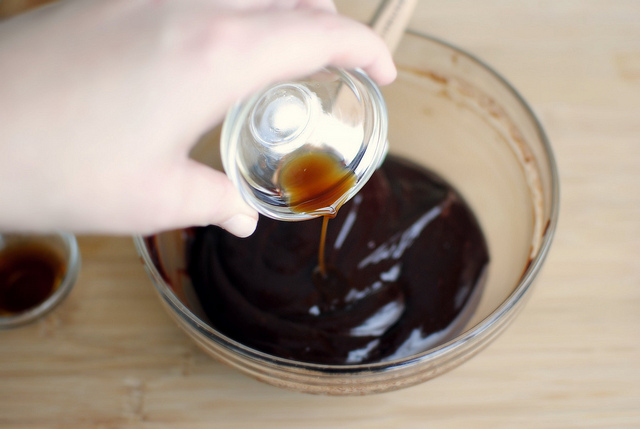 Add in a quarter teaspoon of vanilla.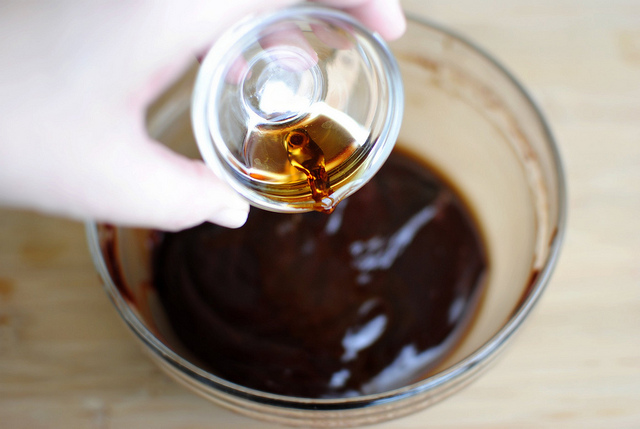 Then a tablespoon of strong brewed coffee. Kari also suggests trying a coffee flavored liqueur. Oh man, I bet that would be lovely, too!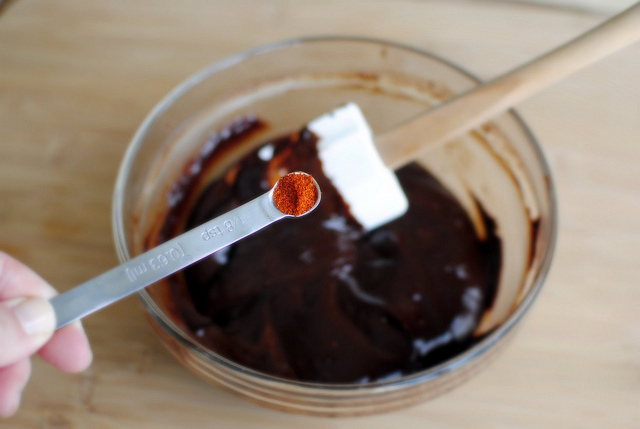 Measure and add in a quarter an eighth of a teaspoon of cayenne. It's enough to give these truffles some heat without knocking your socks off.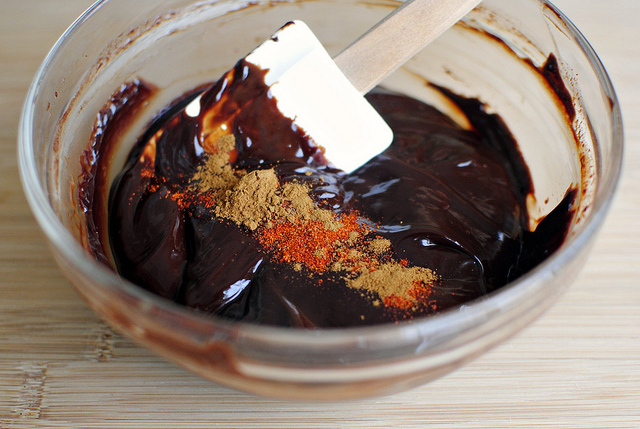 A quarter teaspoon of cinnamon is next. This definitely complements not only the chocolate but the cayenne. It smells pretty darn heavenly, too.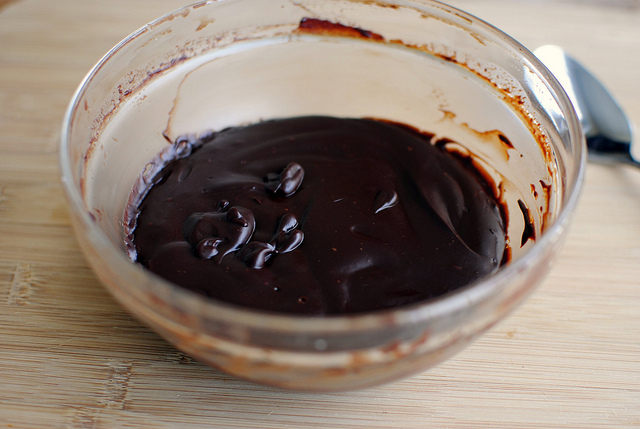 Stir and let this sit at room temperature for at least one hour. It's hard but you can do it! I then popped the mixture into the fridge for about 15 minutes to firm up a tad.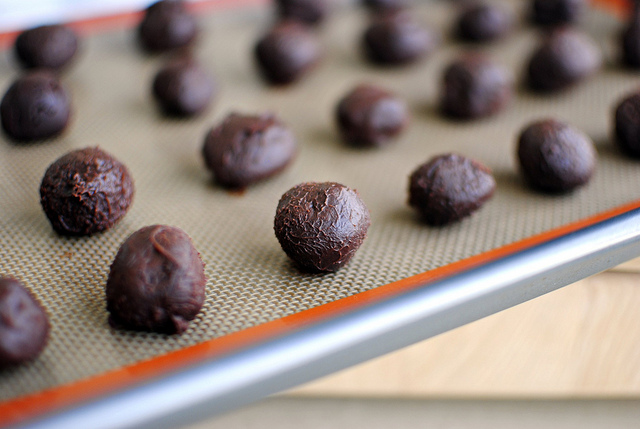 With a spoon, scoop and shape into haphazardly-shaped balls. This will get messy, so heads up! They don't have to be perfect because they go back into the fridge for thirty more minutes to completely firm up.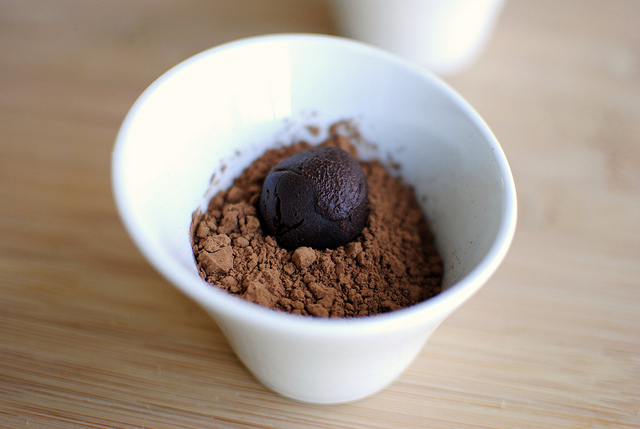 Next, just re-roll and scoot them around in some sweetened cocoa powder. Some other coating suggestions are powdered sugar, toasted coconut and candy melts. The options are really endless.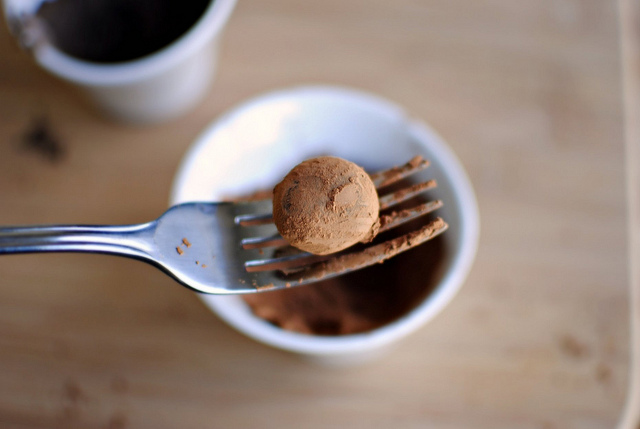 Keep repeating until all truffles are coated.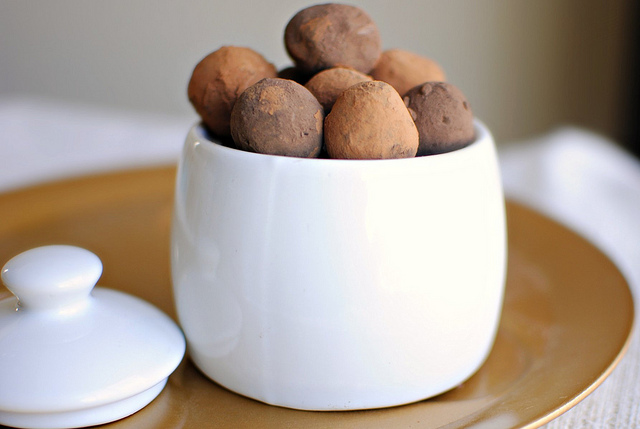 Like magic, I guarantee these will disappear right in front of your eyes. So decadent and rich but it's that subtle kick of cayenne and cinnamon that makes these truffles absolute perfection.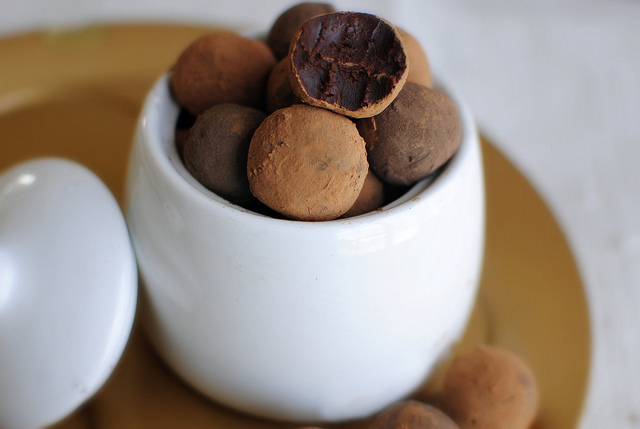 You guys really need to try these, I promise you they are truly exceptional! You can find more of Kari's recipes in her recipe box here on Tasty Kitchen. And if you're looking for fun and innovative craft ideas, be sure to stop by Kari's website The Craftinomicon! 
 
Thanks so much for sharing this recipe Kari! 
Printable Recipe
See post on craftinomicon's site!
Description
Dark Chocolate truffles with some kick!
Ingredients
8 ounces, weight Dark Chocolate
½ cups Heavy Cream
¼ teaspoons Vanilla Extract
¼ teaspoons Cinnamon
⅛ teaspoons Cayenne Pepper
1 Tablespoon Coffee Or Coffee Flavored Liqueur
Optional Coatings: Powdered Sugar, Cocoa Powder, Toasted Coconut, Etc
Preparation Instructions
Cut up your chocolate as finely as you can (try to get uniform pieces so they will all melt the same, or you will be left with little chunks in the truffles). Place the chocolate into a heat safe bowl (I use a glass mixing bowl).
In a small saucepan, heat your cream just until it comes to a boil (bubbles will begin forming around the edges). Add the heated cream to the chocolate and allow to sit a few minutes.
Add in your vanilla, cinnamon, cayenne and coffee flavored liqueur (you could also use just a Tablespoon of regular fresh brewed coffee). * You do not have to add the cinnamon and cayenne, but I find it adds a nice flavor to the truffles.
Whisk everything together until it is smooth. If you happen to have a few larger chunks, do not fear, you can place the bowl into the microwave for 10 seconds, then remove and stir again. Do this until your mixture is smooth, then allow the bowl to sit at room temperature for 1 hour (and good luck not "tasting" it every time you walk past for that hour).
With a small spoon or cookie scoop, scoop out small balls of the truffle mixture and place on a cookie sheet (to avoid a huge mess I generally line my sheet with parchment or wax paper) and place these into the fridge for 30 minutes to set.
Take out and gently roll to form round balls, then roll these into any coating you want (toasted coconut, powdered sugar, cocoa, roasted almonds, candy melts, etc.) If you want a hard outer coating I highly recommend the candy melts–you can get them in several colors as well. You could also fancy it up with a sprinkling of some sea salt if you are into the sweet and salty flavor. I have made these several different ways and no one has ever complained.


_______________________________________
Laurie is the force behind Simply Scratch, a blog that documents her efforts to find and create recipes that are made simply from scratch. (We think it's sweet that her mother-in-law helped her set up her blog and get started.) We love her recipes; they're not just tried and true, but they look gorgeous as well. Check out her blog and you'll become a fan too.