Eating chicken wings is one of my favorite pastimes. I usually eat the spiciest ones I can get my hands on, but this sweet recipe for Oven Baked Chicken Wings with Sweet BBQ Sauce from Dine & Dish looked so delectable that I decided they must be tasted.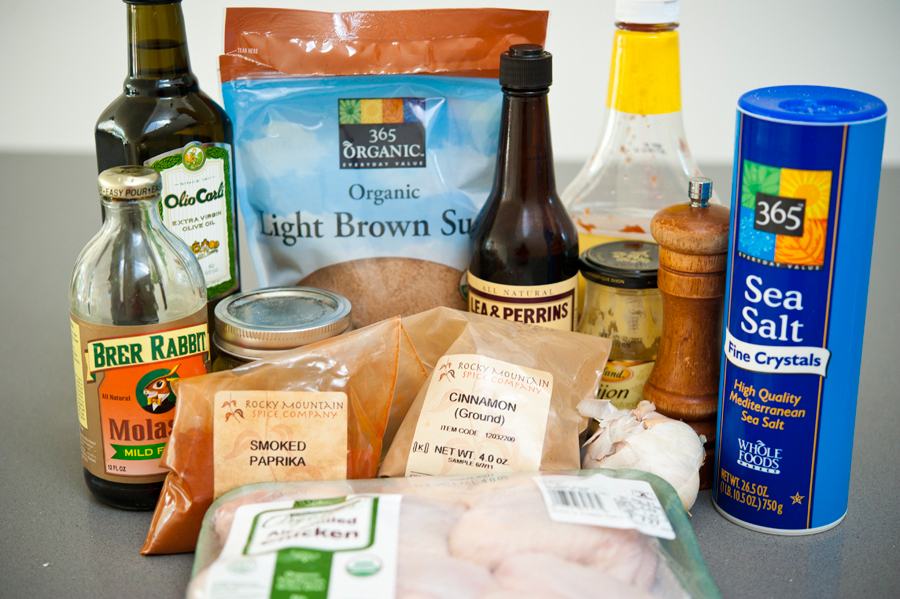 You will need: honey, molasses, ketchup, cinnamon, paprika, seasoned salt, fresh cracked black pepper, salt, minced garlic, Worcestershire sauce, mustard, brown sugar, olive oil, and chicken wings.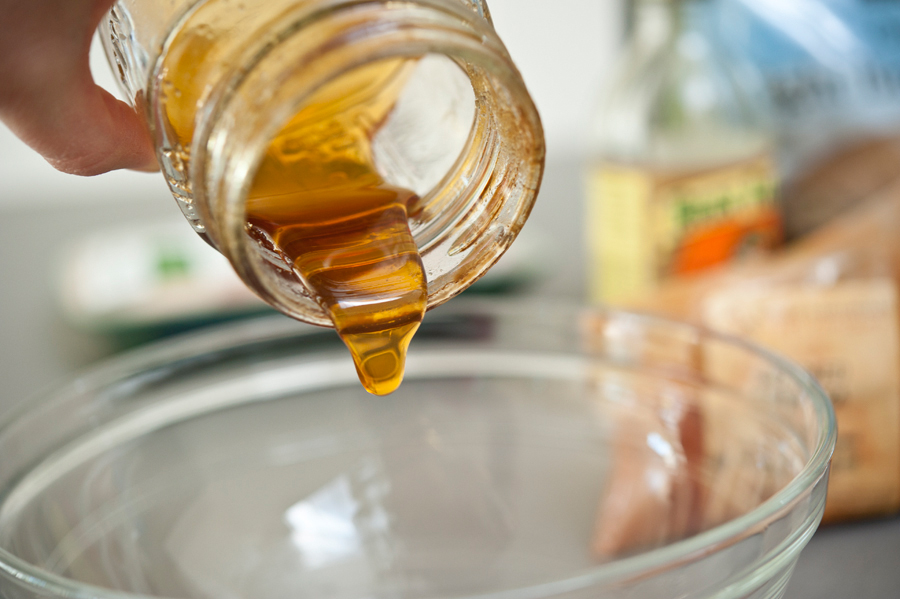 In a bowl you'll start pouring in your ingredients. First, the honey.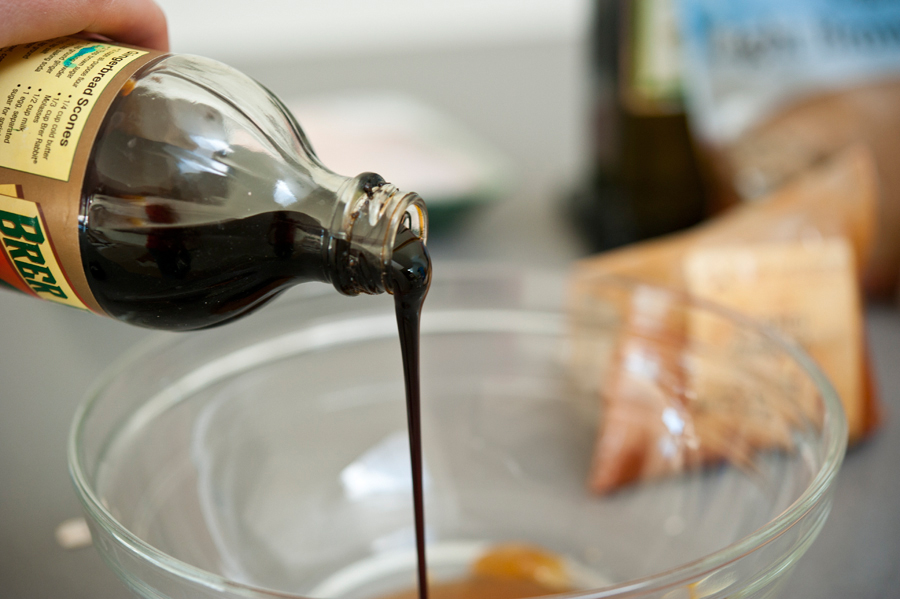 Then molasses …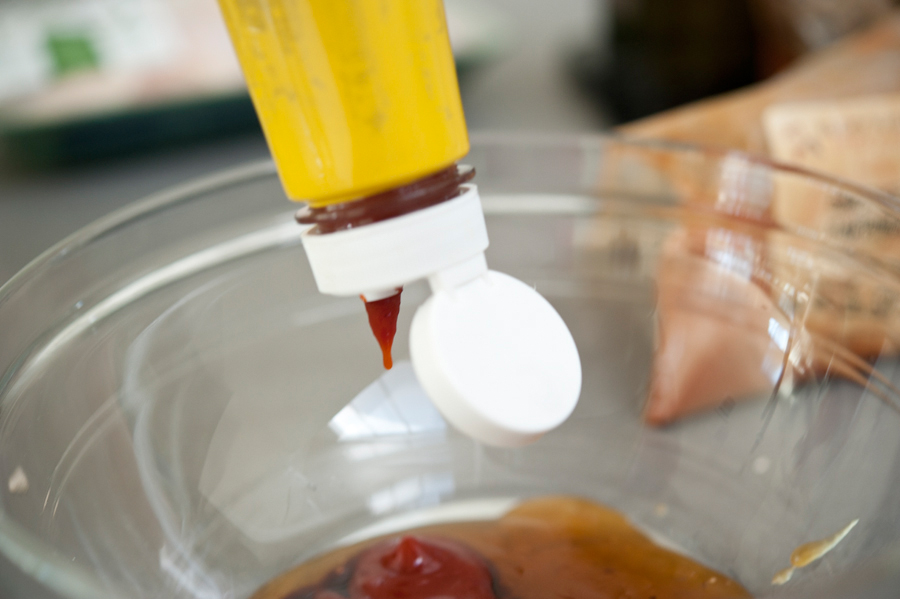 A few squirts of ketchup …
Next the cinnamon. This ingredient, I have to say, just made the dish otherworldly. I had never had cinnamon on chicken wings and it was amaaaazing.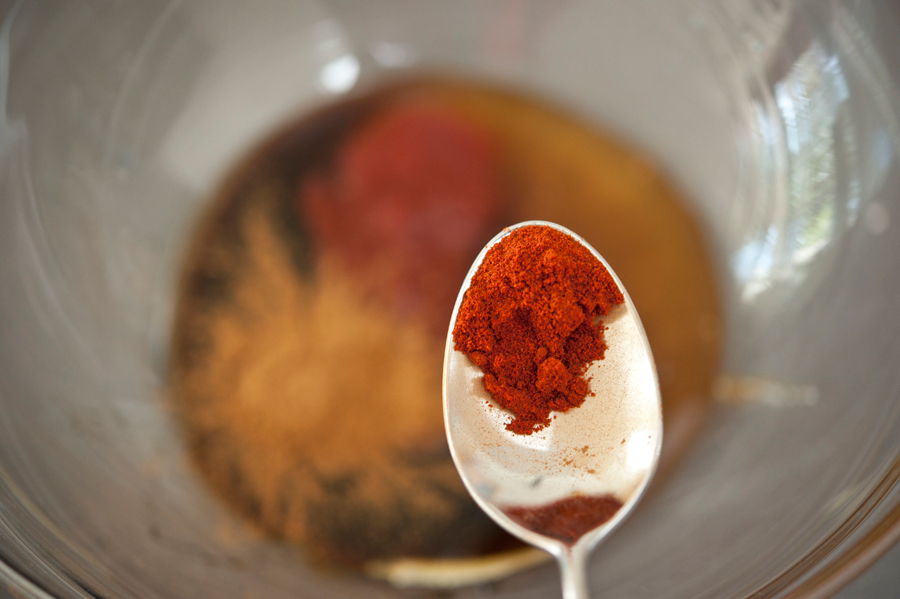 Then comes the paprika. I used smoked paprika, which gave it a nice flavor. But any kind will do.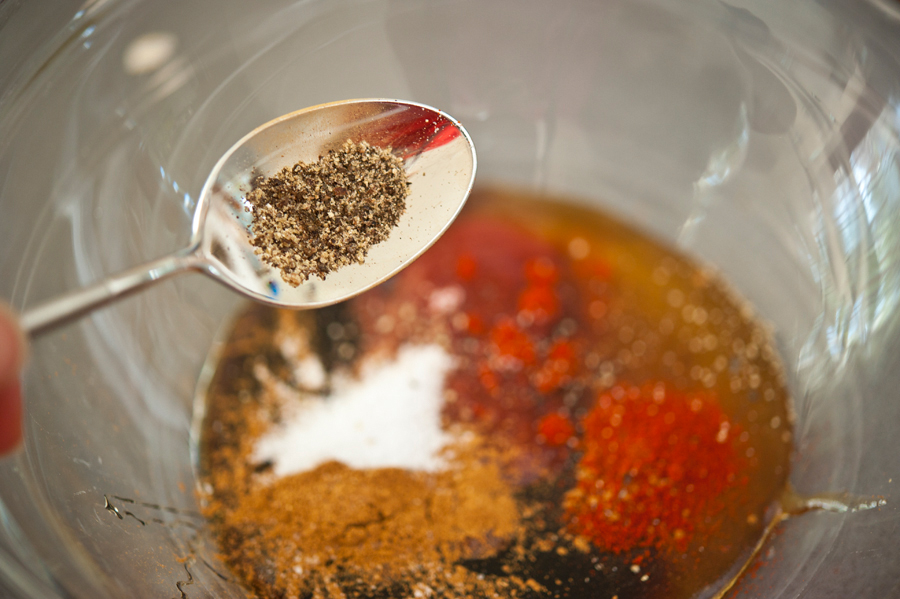 Next some cracked peppa.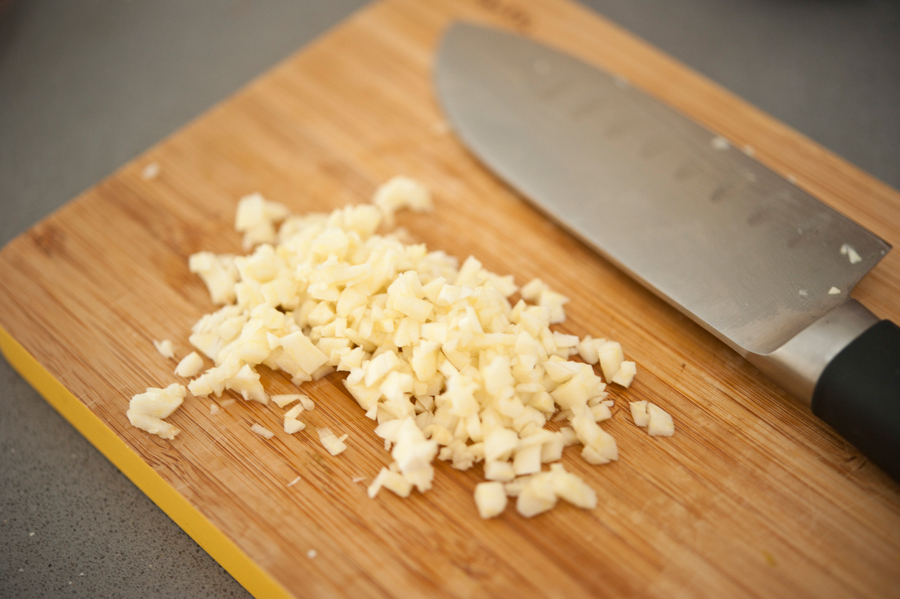 Chop up some garlic as finely as you'd like. I didn't quite mince it because I wanted a chunky sauce but you could make it a paste for a smoother consistency.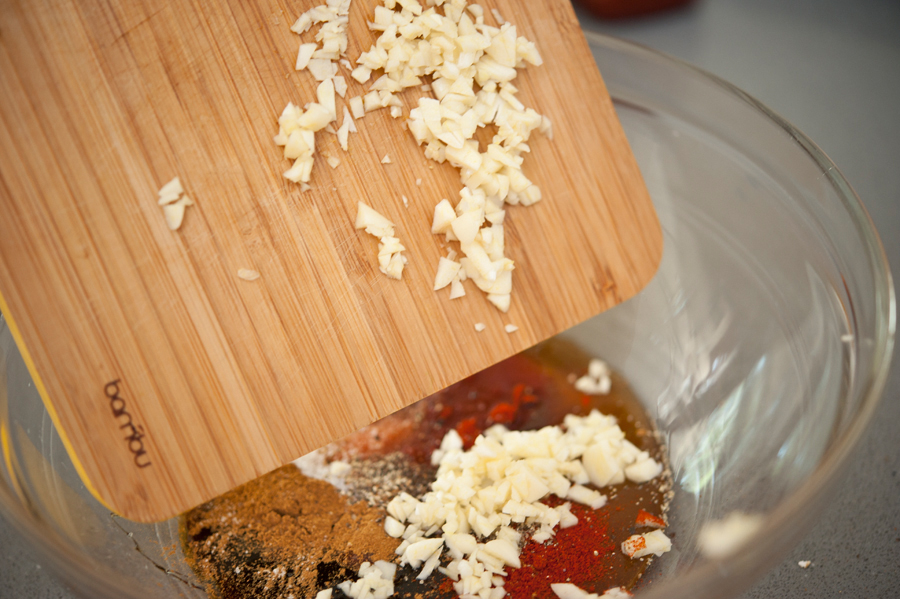 Add that to your bowl as well.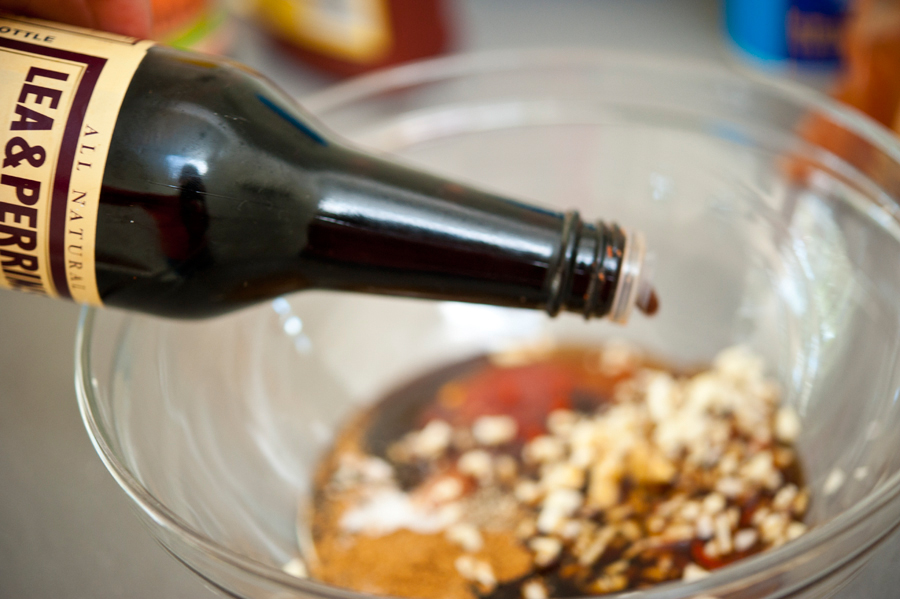 A little Worcestershire …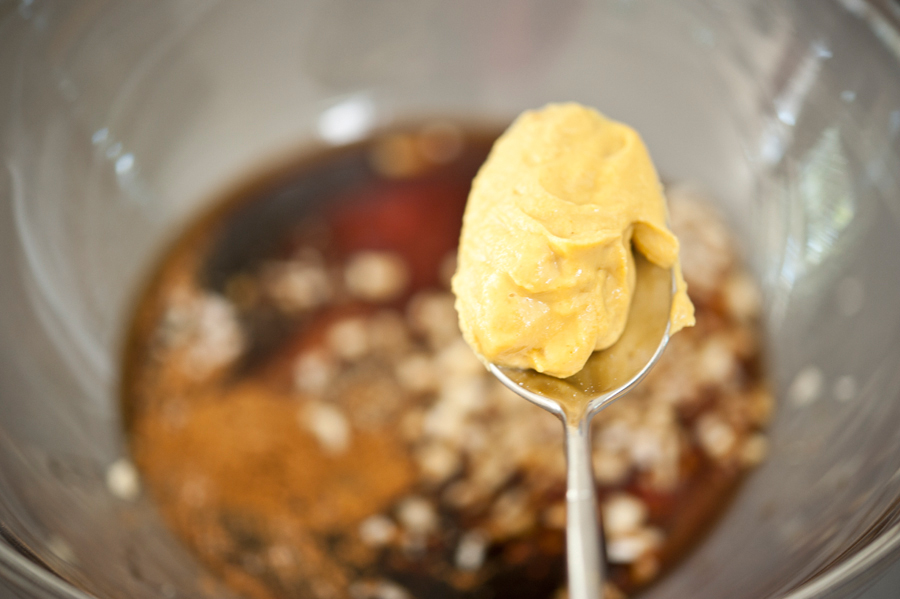 Some mustard of any sort.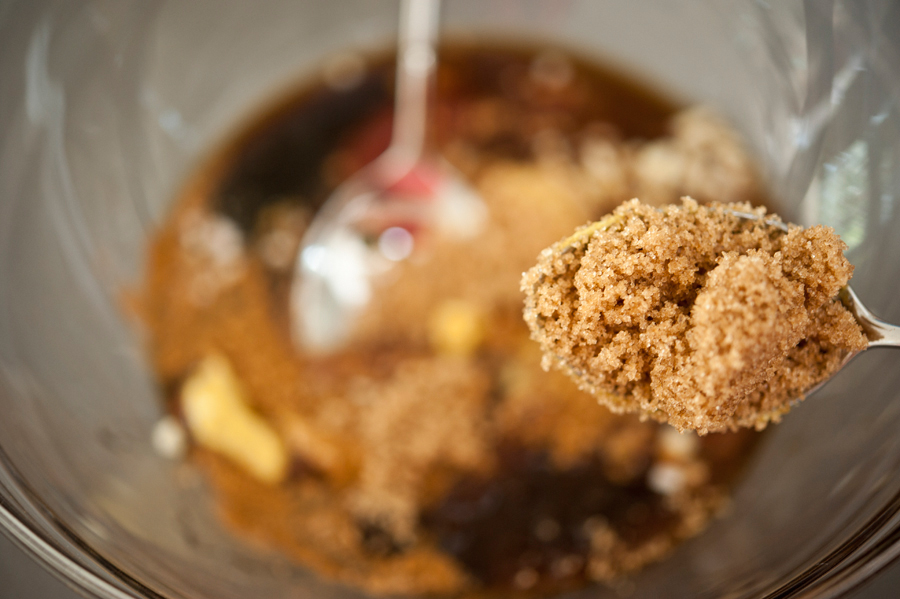 And some brown sugar, which will caramelize so nicely as it bakes.
Give it all a nice stir.
It will be smooth and chunky and syrupy at once.
Line a sheet tray with foil, then drizzle on some olive oil and spread it around.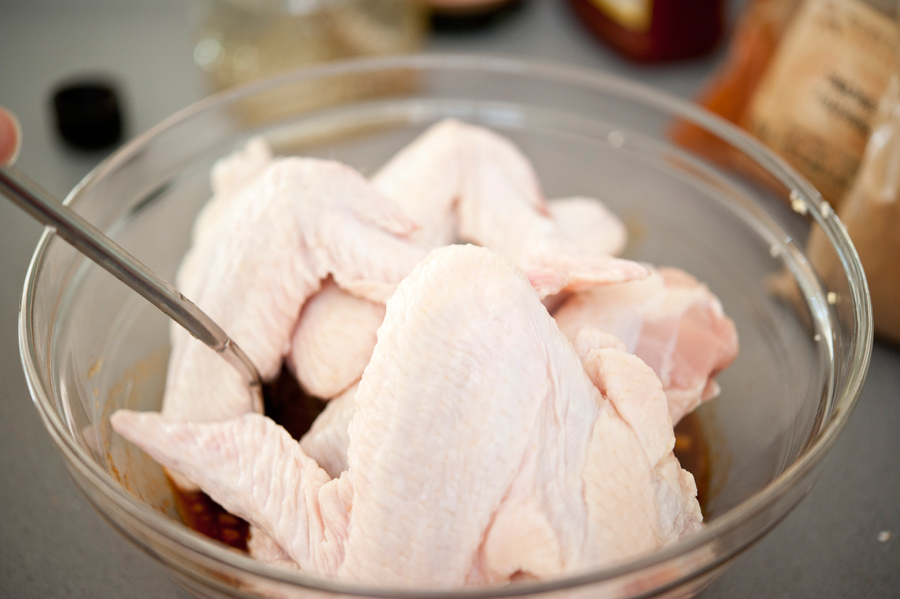 Add the chicken wings to the bowl, or you could add all of this to a big plastic bag and shake it. You'll also notice that I'm using wings that haven't been separated at the joints. You can separate them or get them pre-separated so you have a wing tip and a drumette. Or you can be different and keep them large and whole.
Toss them nicely so the sauce is coated evenly.
Place them in the oven and let them bake for an hour.
Halfway through cooking, they'll look something like this.
Turn them over so that the sauce caramelizes on top and the bottom gets some sauce on it too.
They will be shiny and beautiful.
And you will eat them in one sitting. They are finger lickin' gooood.
Thank you Kristen for this recipe! Check out her food blog Dine & Dish for many more fabulous dishes!
Printable Recipe
See post on dineanddish's site!
Description
A new favorite of mine, these tempting Chicken Wings with Sweet BBQ Sauce hit the spot and are so easy for a quick weeknight meal!
Ingredients
1 cup Honey
¼ cups Molasses
⅓ cups Ketchup
⅛ teaspoons Cinnamon
½ teaspoons Spanish Paprika
1 Tablespoon Seasoned Salt
⅛ teaspoons Fresh Cracked Black Pepper
¼ teaspoons Kosher Salt
¼ teaspoons Minced Garlic
2 Tablespoons Worcestershire Sauce
1 Tablespoon Mustard
1-½ cup Packed Brown Sugar
4 Tablespoons Olive Oil
2 packages (14 Oz. Family Pack) Chicken Wings
Preparation Instructions
Preheat oven to 375 degrees F.
In a medium bowl, whisk together all ingredients except the olive oil and chicken wings. Line a metal baking sheet with aluminum foil and drizzle with olive oil.
Pour barbecue sauce over chicken wings in a large resealable plastic bag. Seal tightly and shake until sauce is well distributed.
Arrange chicken wings with sauce on aluminum foil-lined baking sheet. Bake in the preheated oven for 1 hour or until crisp and cooked through.


_______________________________________
There's so much to say about Georgia, we don't know where to start. Leaving Wall Street for the French Culinary Institute, followed by a stint at the Gramercy Tavern and La Chassagnette in France, her passion for food and food traditions are evident and inspiring. Visit her site at Georgia Pellegrini, where you'll find more recipes, photos, learn all about her wonderful books Girl Hunter and Food Heroes, and enjoy her latest adventures.